I will show you how to make zoodles without a spiralizer! It is so easy. You can use a mandoline, a cheap handheld spiralizer, a potato peeler, or even a box grater to get the job done. And then I will teach you how to cook zoodles so that they don't turn into a soggy watery mess! You really can have perfectly al dente zoodles every time! Originally posted April 16, 2020.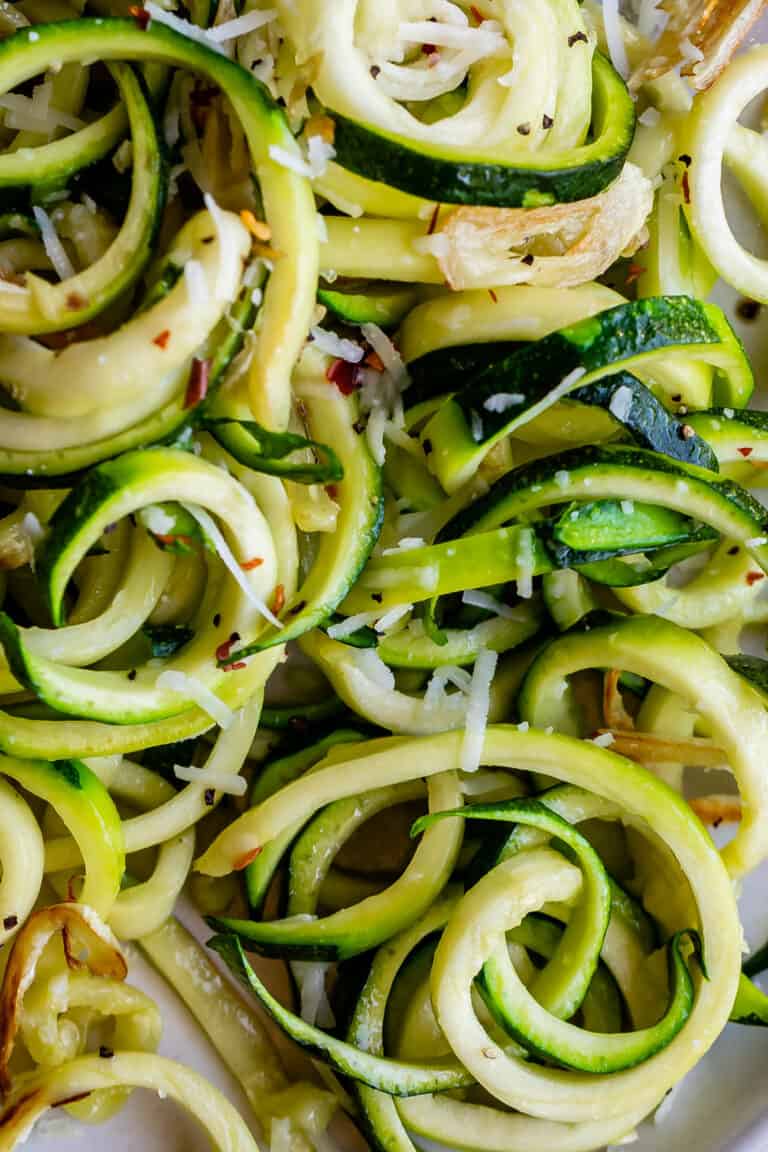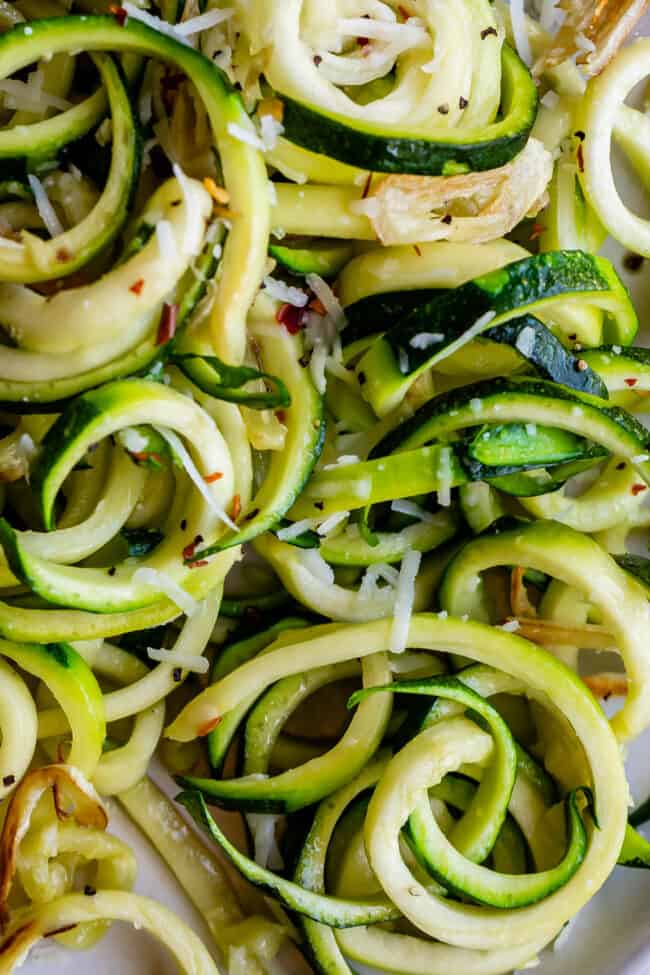 The other night I was lying in bed, halfway asleep in the crook of my husband's arm. Sounds cozy, right? But then I was rudely awoken by a Kindle slamming into my face. I guess Eric was reading it, fell asleep, and it slipped out of his hand. On my face. Nothing like sleep-induced face injuries to keep the romance alive, right guys?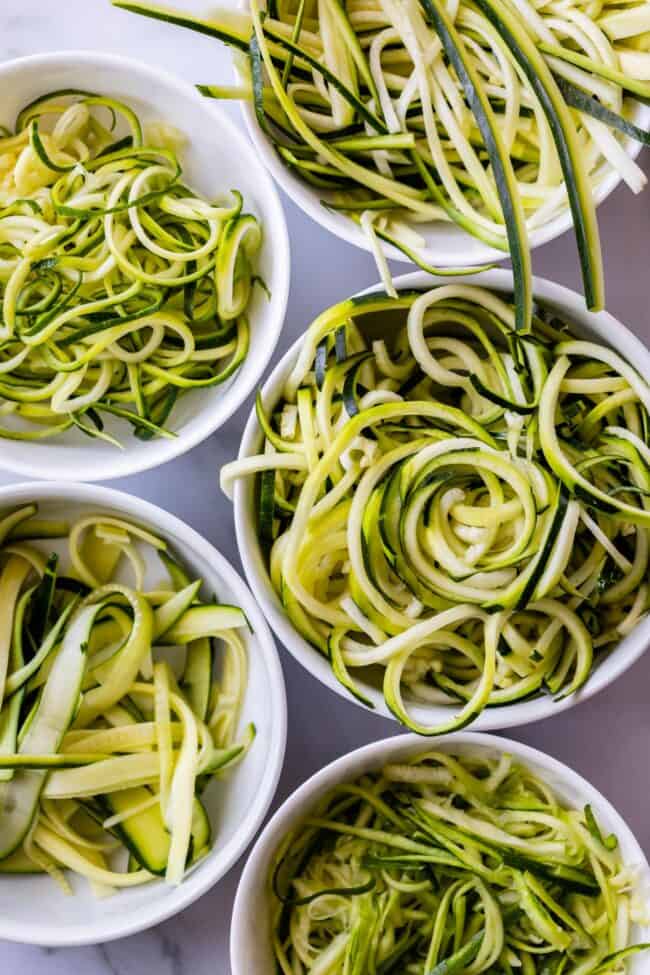 So how's your Quarantine Fourteen coming along? Or is it the Quarantine Cuarenta (40)?? It used to be called the Freshman Fifteen. But during the apocalypse? There is a reason no one can find yeast or flour at the grocery store: we're all crying into our sourdough and chocolate chip cookies.
I mentioned that I started a diet almost exactly when the quarantine started, and I'm still going strong over here (though I did take a break for ham and potatoes on Easter).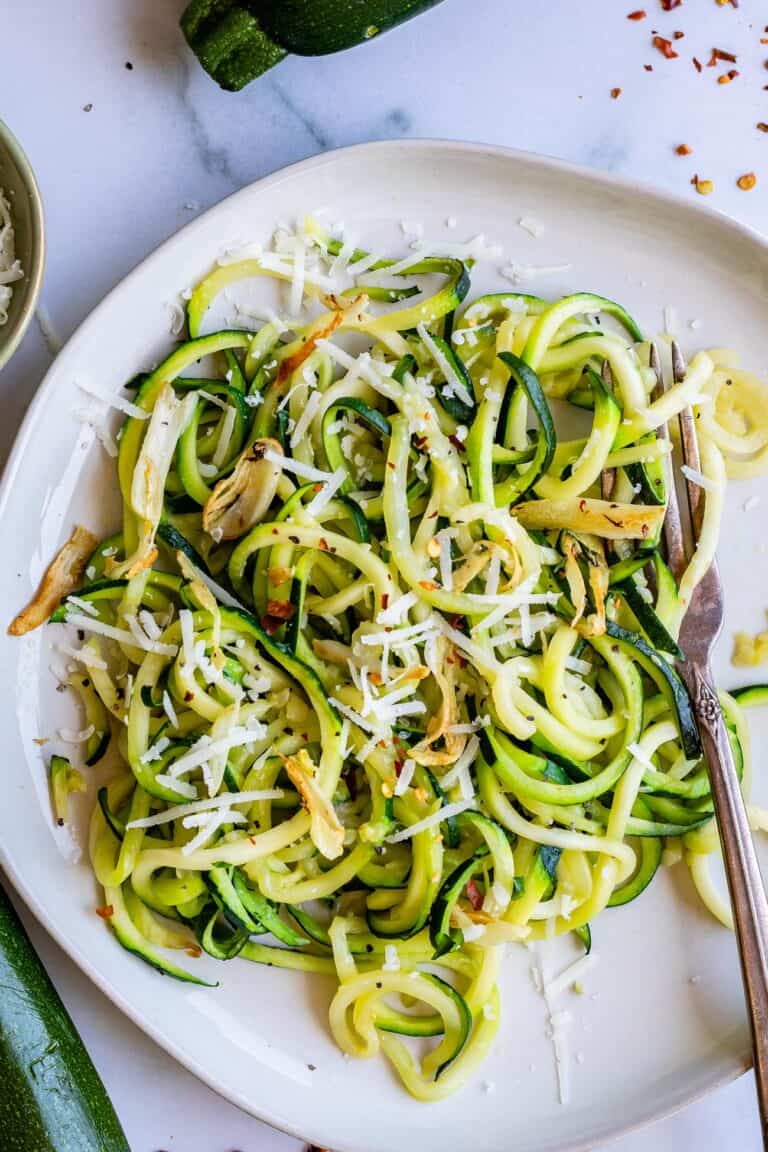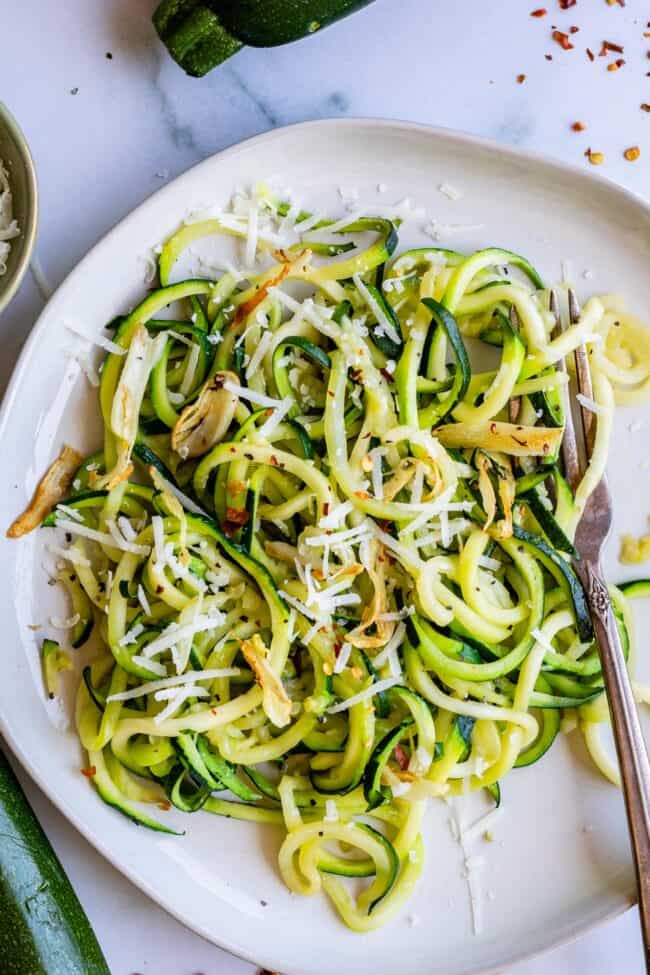 These zoodles and cauliflower rice are saving me. I eat one or the other probably every day. So if you are feeling a little carb heavy lately, swap your next spaghetti night for some zoodles! They are super easy to make and low calorie.
Zucchini is a a great substitute for regular pasta, because it tends to take on the flavor of whatever you put it with (kind of like spinach). I love to pair it with jarred marinara sauce for a super easy weeknight meal! Really you could pair it with any sauce you would normally put on pasta.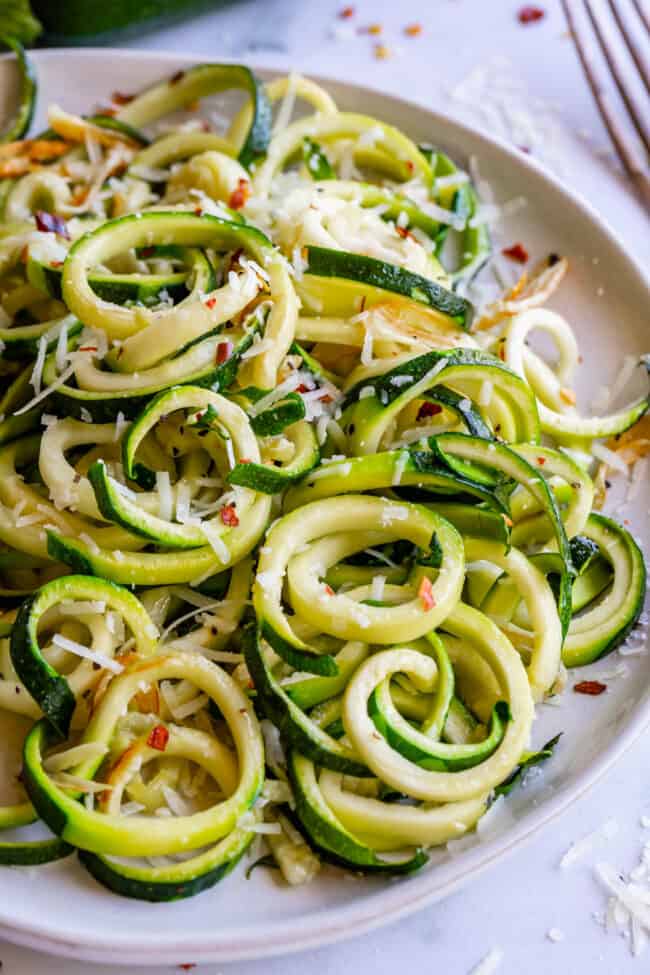 The biggest complaint that people have with zoodles is that they get soggy and watery. And that's no bueno. I will show you exactly how to avoid zucchini Niagara falls. But first up:
What are zoodles?
A zoodle is a zucchini that has been sliced into noodle-shape. So it's a zucchini-noodle. A z-oodle. Get it? Adorable right?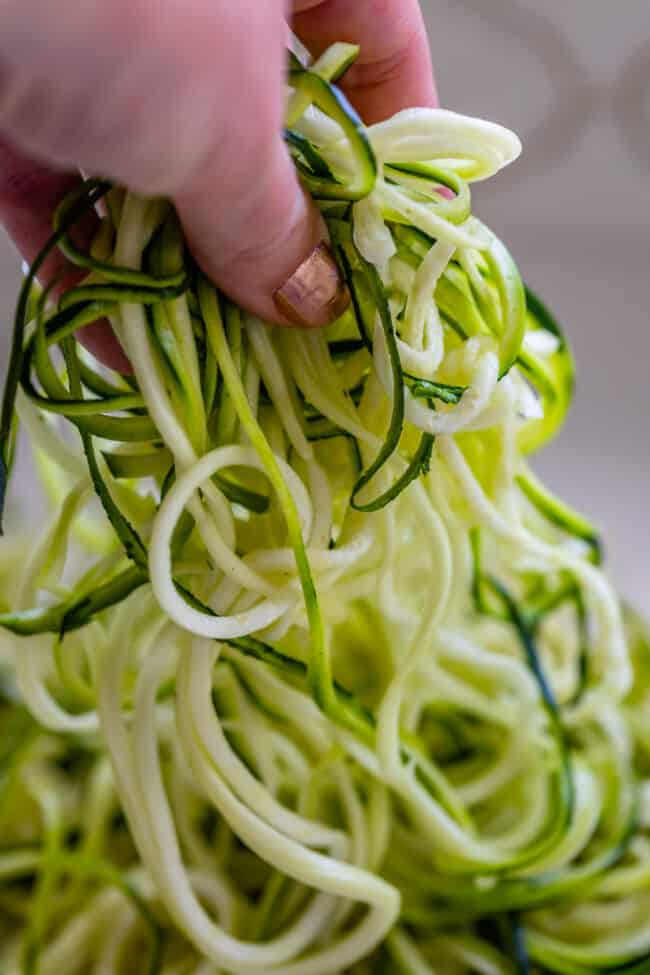 Ah, 21st century vocabulary. You should see all the red squiggly underlines every time it says "zoodle" on the draft of this post. How long before zoodle makes it into the dictionary?? Also interesting note: in Britain zucchini are called "courgettes." What? Okay UK. (Do they call zoodles courg-oodles?)
How to make Zucchini Noodles without a spiralizer
It's really pretty simple. Spiralizers are easy to use, but they take up a lot of kitchen storage space. If you have the space and plan to make zoodles on the regular, then it's probably worth it to buy a spiralizer. But for the rest of us with small kitchens, there are other options:
mandoline
handheld spiralizer
potato peeler or julienne peeler
box cheese grater
How to make Zoodles with a mandolin
The mandoline (using the julienne blade) is my favorite tool for making zoodles. I don't own a spiralizer, and if I did I'm sure that would be my favorite tool, but I don't have anywhere to store one more kitchen gadget.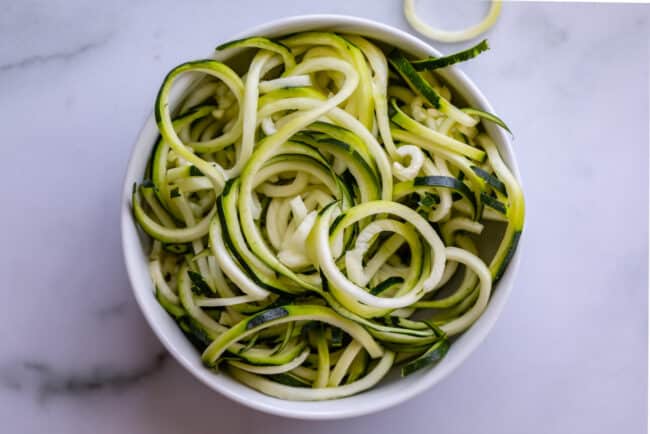 But the mandoline is pretty great. I love it because you can adjust the setting to however thick you want your zoodles to be. All of the other non-spiralizer options I have listed here make pretty thin zoodles.
Thick zoodles are best because they hold their shape and don't dissolve into a watery mess when you cook them. It is really easy to get al dente zoodles when they are thick. I like them to be about the thickness of a chopstick, or maybe a bit thinner than that.
There are two ways to get zoodles using the julienne blade on your mandoline. You can push the zucchini lengthwise down the julienne blade, and this will give you long straight strips of zucchini.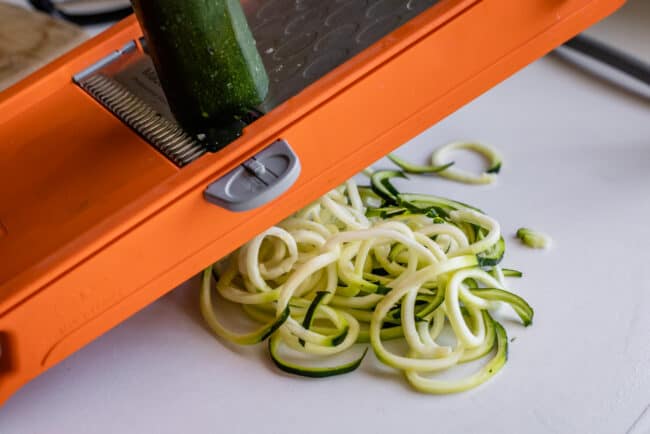 But my favorite way to do it is to twist the zucchini on the julienne blade, like you're twisting a pencil in a sharpener. This results in perfectly curly and long strips of zoodle heaven. It's fast and easy. Just make sure you don't slice your fingers off. Mandolines are ruthless. The one I linked to up there comes with a metal glove to protect your hand, which is pretty nice.
Use a hand held spiralizer
A hand held spiralizer is my second favorite method. This is the one I have. It's even more like a giant pencil sharpener; you twist the zucchini into it and zoodles come out the other end. You have to use some force but it's really not to bad once you get into the rhythm of it.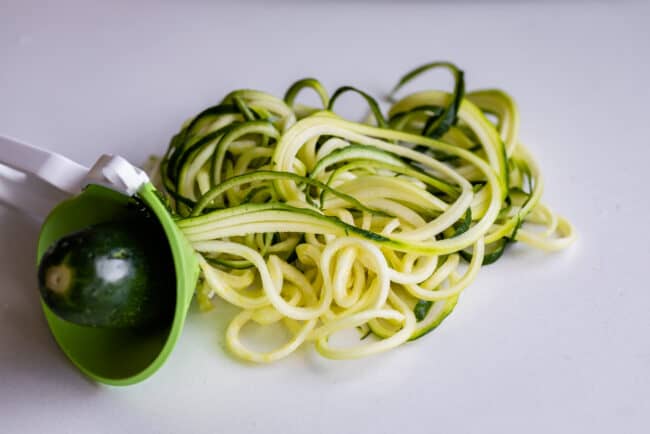 You can't beat this one for storage space. You can fit it in a drawer next to your potato peeler.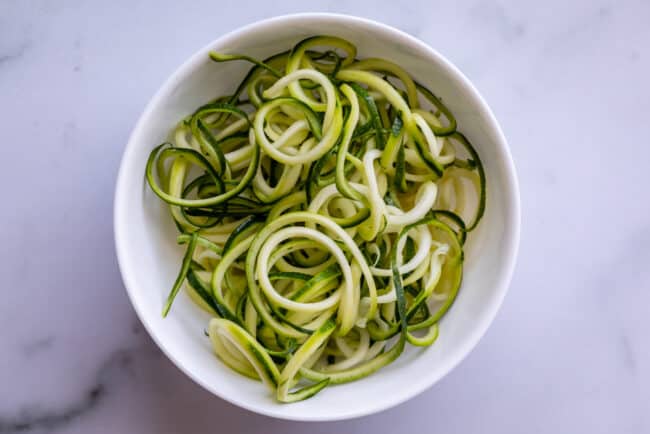 The Kuhn Rikon handheld one that I have is $17-20, but there are other handheld ones on the market that are cheaper, like this Veggetti one ($8) or this Oxo Grips one ($15). They all have pretty good reviews.
How do you make zucchini noodles with a potato peeler?
And speaking of potato peelers, you can use one to make zoodles if you don't have anything else. Peel the zucchini into ribbons, using as much force as possible for a thick zoodle. Then layer the ribbons on top of each other and slice into long thin strips with a knife. This is not my favorite method because I like thick zoodles, and these ones are going to turn out pretty thin, resulting in more watery zoodles if you are not careful.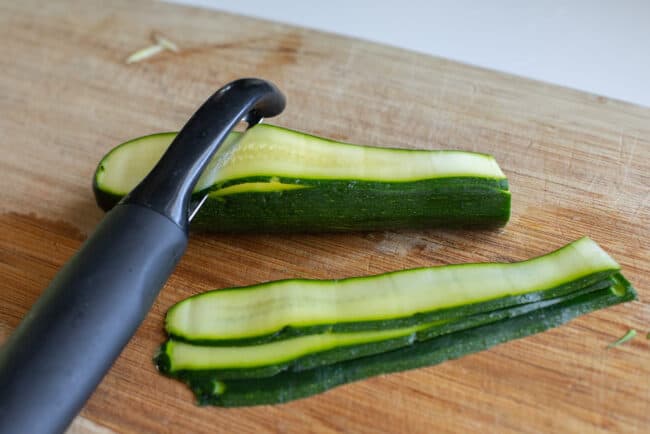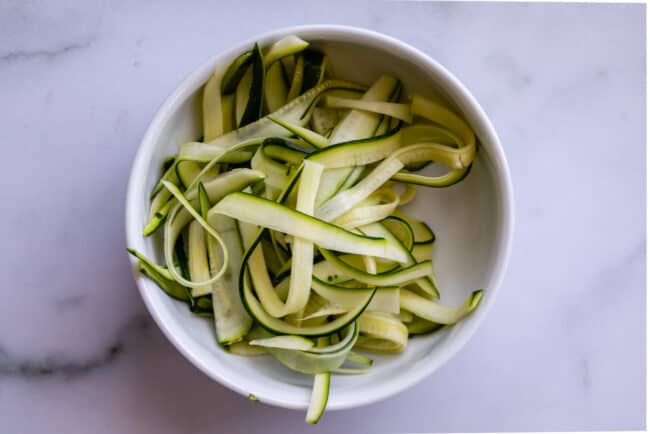 You can also use a julienne peeler, if you have one. Although I imagine the zoodles would be pretty thin.
Use a box cheese grater
And as a last resort, you can even make zoodles with a box grater. Grate it lengthwise and try to make the strands as long as possible. These "noodles" are going to be very thin and will release a ton of water. I would try to squeeze some of the water out in a paper towel before sauteing. Not my favorite method; it's nearly impossible to get al dente zoodles when they are grated.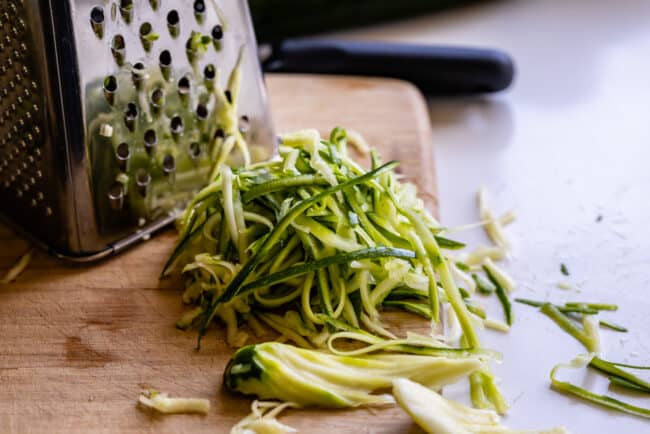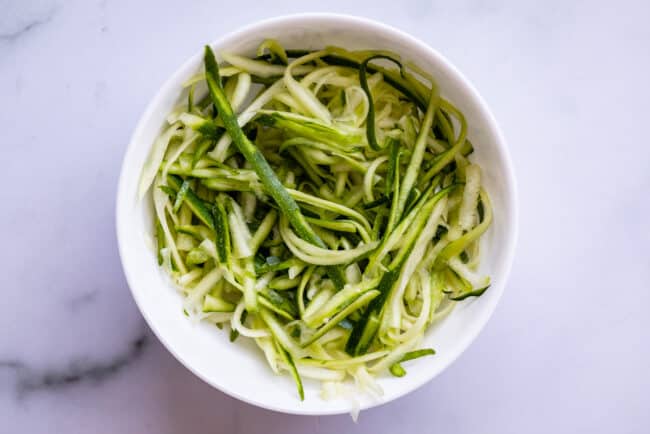 How to make Zoodles not watery or soggy
Zucchini are basically green, solidified water tubes that we call a vegetable. (Seriously, they are made up of about 95% water, isn't that crazy?) The minute you bust into one, the cell walls are cut open and start releasing waterfalls of liquid.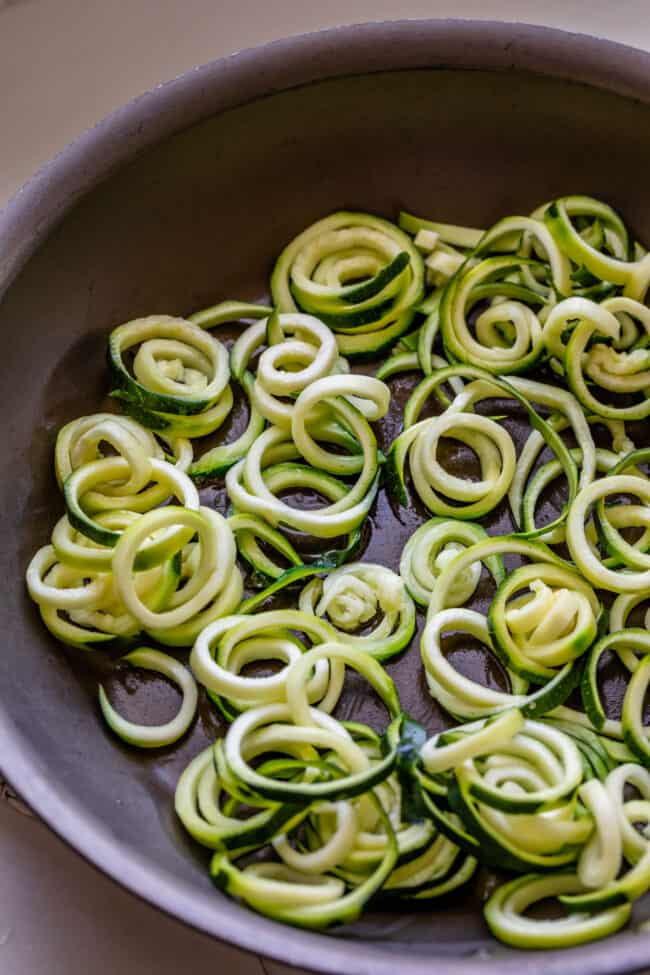 When you cook a zucchini, even more water starts to release. The solution? Saute in small batches. This way the liquid released from the zucchini has a chance to evaporate from the surface of your hot pan. If you add too many zoodles to the pan, they are all going to release their liquid all at once and instead of sauteing, they will just steam each other in the bottom of the pan. Resulting in a sad soggy mess.
The other culprit is salt. Salting a zucchini releases even more water, so if you innocently sprinkle on some salt while it is cooking, the water situation is just going to get worse. The solution? Salt your zoodles after taking them off the heat, immediately before serving.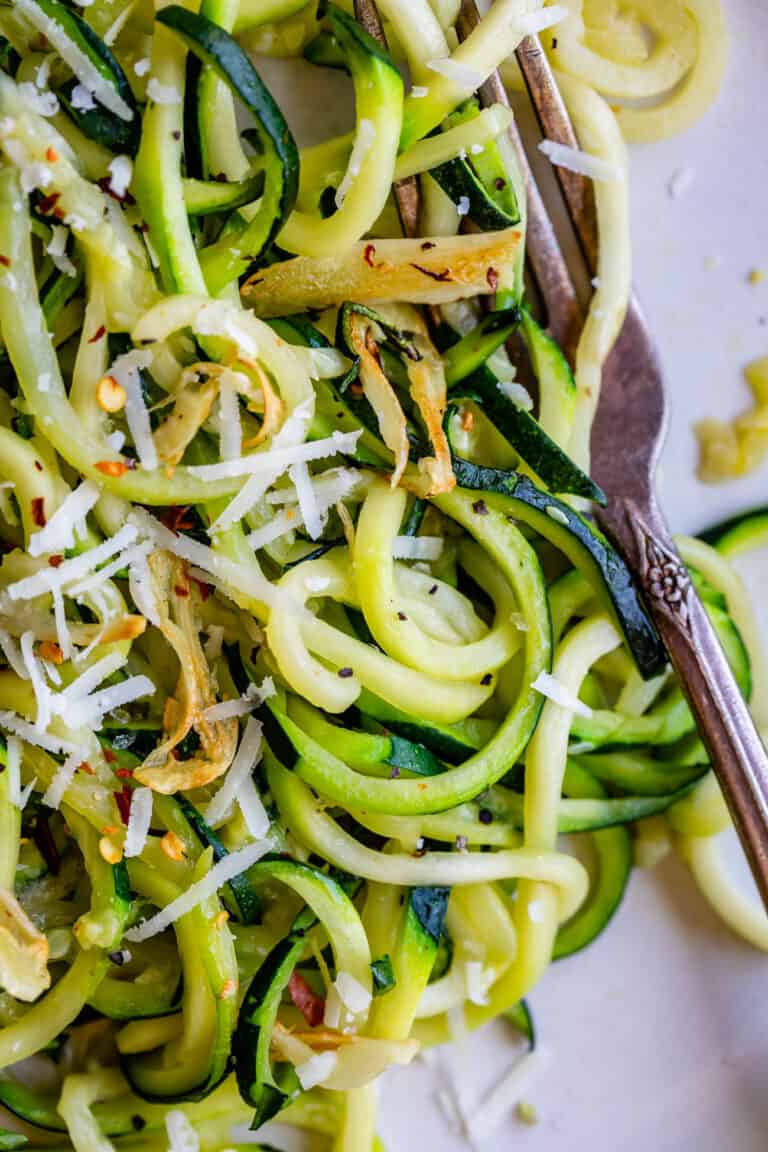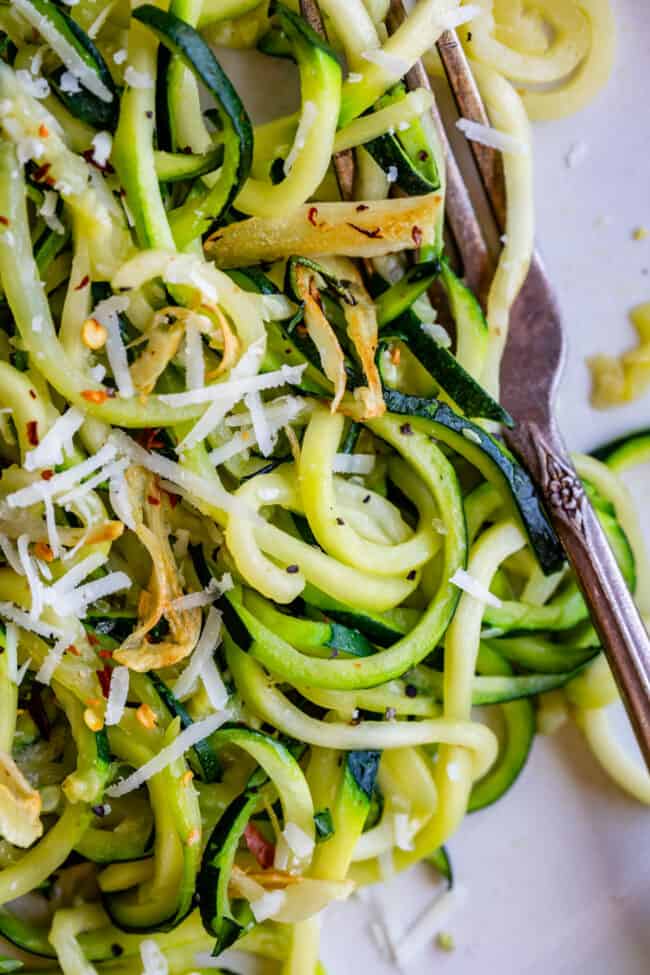 I know this is backwards from what your grandma told you: normally vegetables should be salted at the beginning of the cooking process so that the salt has time to absorb, amplifying the flavor. But for zoodles and the Fight Against the Sog: avoid salting until just before serving.
How do you dry Zucchini Noodles?
Worried about ending up with soggy zoodles? Well, there is actually an extra step you can take to dry out the zucchini noodles before you cook them.
First, spiralize them using whatever method you prefer. Next, spread them out onto a baking sheet lined with paper towels. Sprinkle salt over top, then let them sit for 30 minutes or so. They will release tons of water. Salt is basically the vampire here.
After 30 minutes, pat the zoodles dry gently with paper towels, then proceed with cooking! Now, if you do this, keep in mind the zoodles will already be salty. Be careful not to over salt.
How to cook zoodles
You can cook zoodles any way you cook other vegetables. ("Boil 'em, mash 'em, stick 'em in a stew!" Name that movie. And I'm just kidding, don't mash your zoodles.)
Sauteing zoodles in a bit of oil (in small batches) is by far my favorite method. This gives you perfect al dente noodles every time, because the excess liquid from the zucchini has a chance to burn off from the hot pan. It takes less than 3 minutes per batch, quick and easy.
Boiling zoodles in a pot of boiling water is easy, and if you are really cutting calories it's a good way to cut out the oil necessary to saute. You're not really boiling: blanching is a better description. Bring a pot of salted water to a rolling boil. Add zucchini and cook for about 1 minutes. Drain when they have reached al dente!
Cook zoodles in sauce. If you are making spaghetti (or whatever other warm sauce), toss your zoodles straight into the warming sauce and simmer for a couple minutes until al dente. Done!
Eat zoodles raw. Yes, you can eat zucchini raw. They are really good with a peanut sauce.
Microwave your zoodles. When you microwave vegetables, you're really just steaming them. Microwave in 30 second increments until al dente!
Can you freeze zoodles?
I mean, you can. But they won't be as good. Remember all the water talk up there? There's just no getting around it. When you freeze zoodles, they will be a bit sad and soggy when you cook them later. But if you want to do it, spiralize your zucchini however you like, and freeze in ziplock bags. When you are ready to make it, do not thaw. Dump it straight from the freezer bag into a skillet set over medium heat, cover, and cook for 6-8 minutes. Or dump it straight into a pot of boiling salted water and blanch for 2-5 minutes until al dente.
You CAN refrigerate zoodles ahead of time, which I totally recommend. Freshly sauteed zoodles taste best, so I like to spiralize my zoodles ahead of time and store them raw in the fridge layered between paper towels to absorb any liquid released. Cook as normal when ready to eat.
TL;DR. Here's the short version for how to get the best zoodles ever:
Nobody likes soggy limp watery zoodles:
Make thick zoodles instead of thin ones (mandoline is my favorite tool if you don't have a spiralizer)
Saute them in small batches (1-2 zucchini's worth at a time)
Salt after cooking, just before serving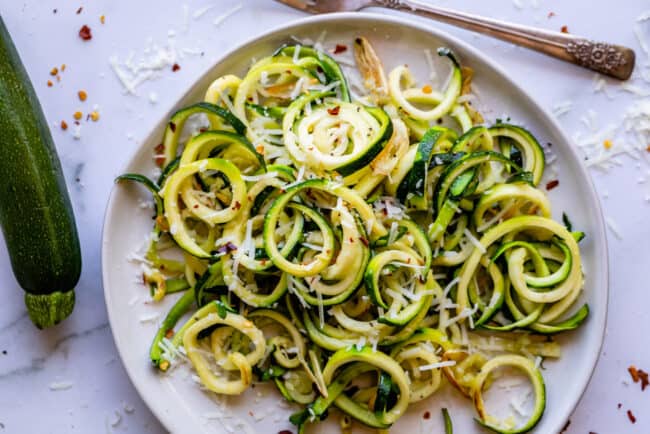 Later this week I will be sharing a healthy Mediterranean inspired veggie sauce to go with these zoodles. It's the whole reason I decided to share this zoodle recipe with you! I'm obsessed! (UPDATE: here is the recipe for Greek Pasta with Chicken or Zoodles)
Facebook | Pinterest | Instagram

How to Cook Zoodles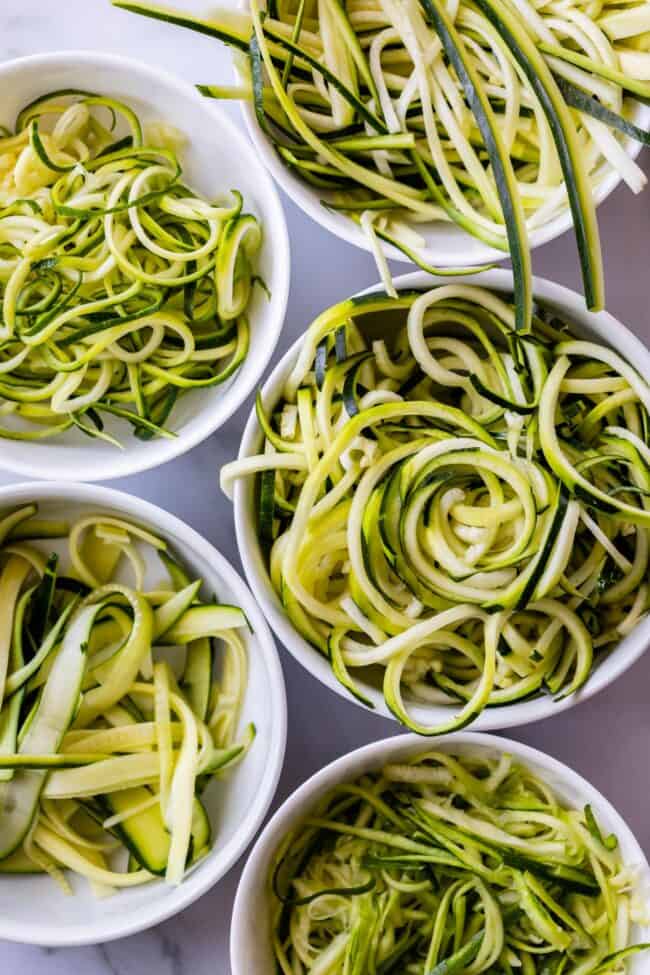 I will show you how to make zoodles without a spiralizer! It is so easy. You can use a mandoline, a cheap and small handheld spiralizer, a potato peeler, or even a box grater to get the job done. And then I will teach you how to cook zoodles so that they don't turn into a soggy watery mess! You really can have perfectly al dente zoodles every time!
Ingredients
Zoodles
1

medium

zucchini

1

teaspoon

olive oil

,

or any oil, or butter

1/2

teaspoon

kosher salt,

more or less to taste
Optional add ins
1

clove

garlic

,

smashed and sliced thin

1

dash

black pepper

1

dash

red pepper flakes

1/4

cup

Parmesan cheese

,

shredded
Instructions
Once you have your zoodles made and ready to go, heat a 12 inch skillet over medium high heat. When the pan is very hot, add 1 teaspoon olive oil (or fat of your choice).

(At this point, if it fits with what your final dish is, I like to add a small clove of minced garlic to the pan. This is optional!)

Add the zoodles into the pan. You only want to add about 1 medium (or 2 small) zucchinis worth of zoodles into the pan at one time. This will help the liquid cook off and give you perfectly al dente zoodles.

Saute the zoodles over medium high heat for 1-3 minutes, until al dente. They will continue to soften after you take them off heat, so err on the side of taking them off too-crisp.

Once you have removed from heat and are ready to serve, toss with about 1/2 teaspoon kosher salt. Voila! Your zoodles are ready to be paired with your favorite sauce.

If you are making this for a bigger crowd, remove the cooked zucchini from the pan and keep warm. Repeat the process of cooking the zucchini in batches until you have the desired amount. Plan for 1 medium zucchini per person (if you are serving it as a main dish).
Zoodles with Garlic and Parmesan:
If you want to make zoodles as a tasty stand-alone meal, add in some crispy garlic and cheese. Spiralize the zucchini as usual. Heat the olive oil over medium high heat. When it is hot, add 1 clove of sliced garlic. Cook until lightly browned and just starting to crisp, about 1 minute. Remove the garlic from the pan and set aside, if you want it crispy (otherwise just leave it in the pan.)

Add the zoodles and cook for 1-3 minutes until al dente. Remove from heat and sprinkle with crispy garlic, 1/2 teaspoon kosher salt, a dash of black pepper, a dash of crushed red pepper, and a sprinkling of shredded Parmesan cheese. Toss and serve. It is one of my favorite light and easy lunches!
Nutrition
Serving:
1
g
|
Calories:
172
kcal
|
Carbohydrates:
8
g
|
Protein:
12
g
|
Fat:
11
g
|
Saturated Fat:
5
g
|
Polyunsaturated Fat:
1
g
|
Monounsaturated Fat:
5
g
|
Cholesterol:
17
mg
|
Sodium:
1581
mg
|
Potassium:
550
mg
|
Fiber:
2
g
|
Sugar:
5
g
|
Vitamin A:
618
IU
|
Vitamin C:
36
mg
|
Calcium:
334
mg
|
Iron:
1
mg
More recipe ideas you are going to love!