Throw out those noodles and make yourself some Zucchini Lasagna! This recipe is full of Italian sausage, ricotta, and mozzarella, but uses zucchini in place of lasagna noodles. It is low carb, keto-friendly, and seriously delicious!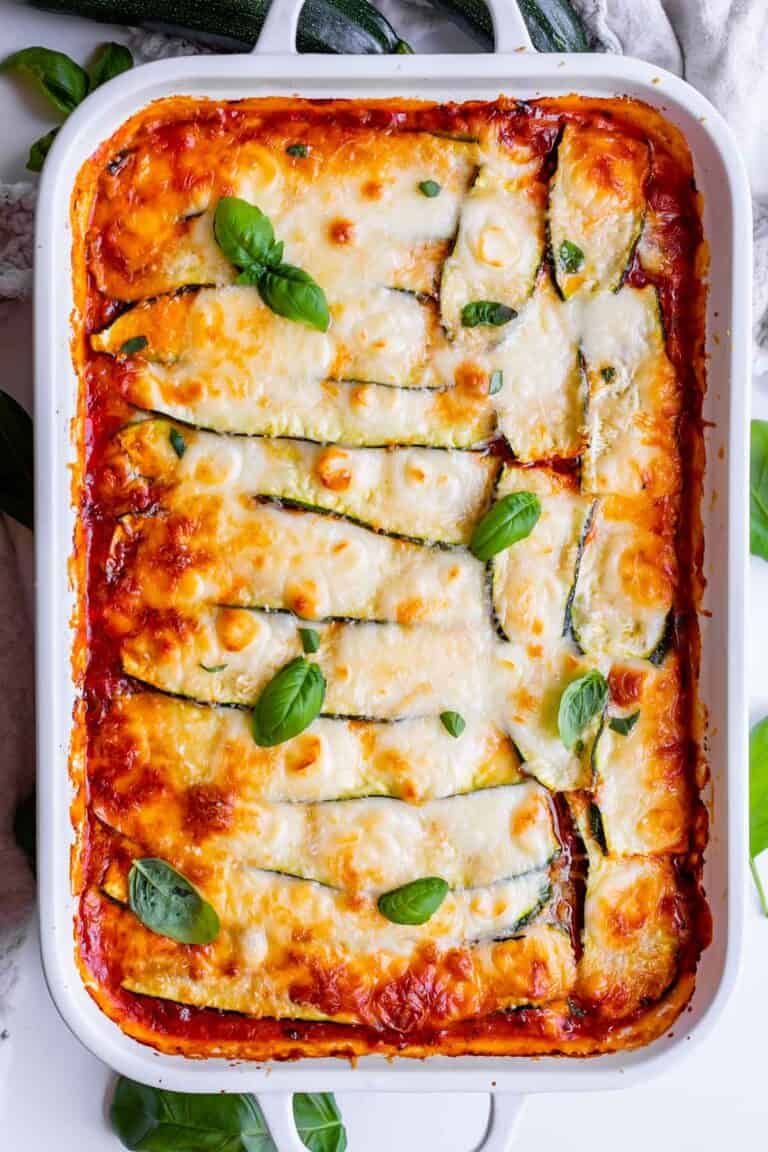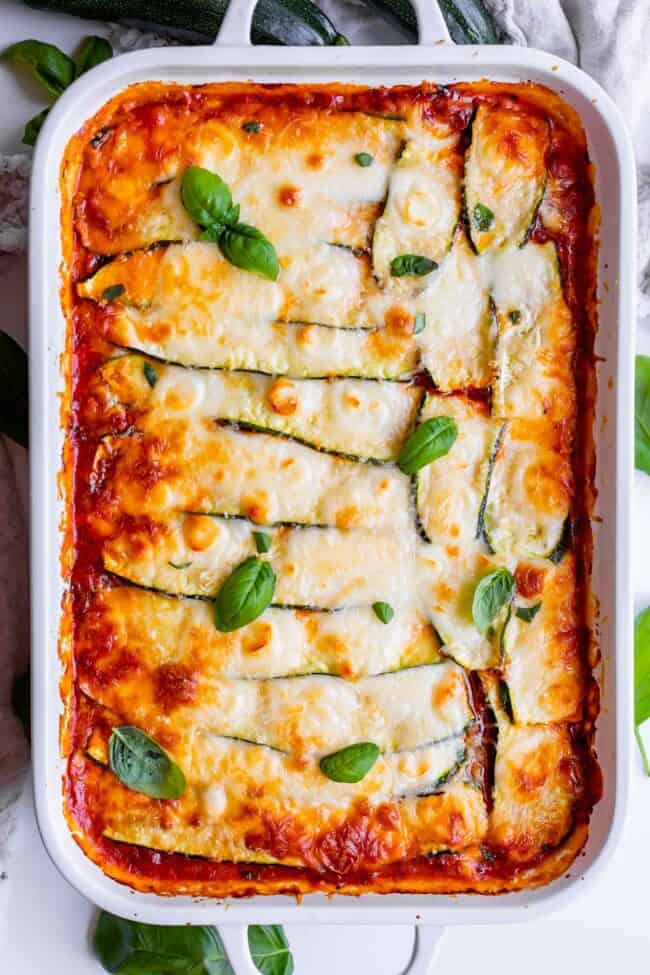 One thing I will never understand about children is their love of disgusting things that are meant to be fun. I just walked barefoot into my garage to get something and stepped on several squishy, soft, slimy somethings.
I was convinced that they were creepy crawlies of some kind, at least that's the conclusion that the reptilian part of my brain drew, because all I was able to defend myself with in that horrifying moment was a scream as long and loud as Wesley's from the Princess Bride.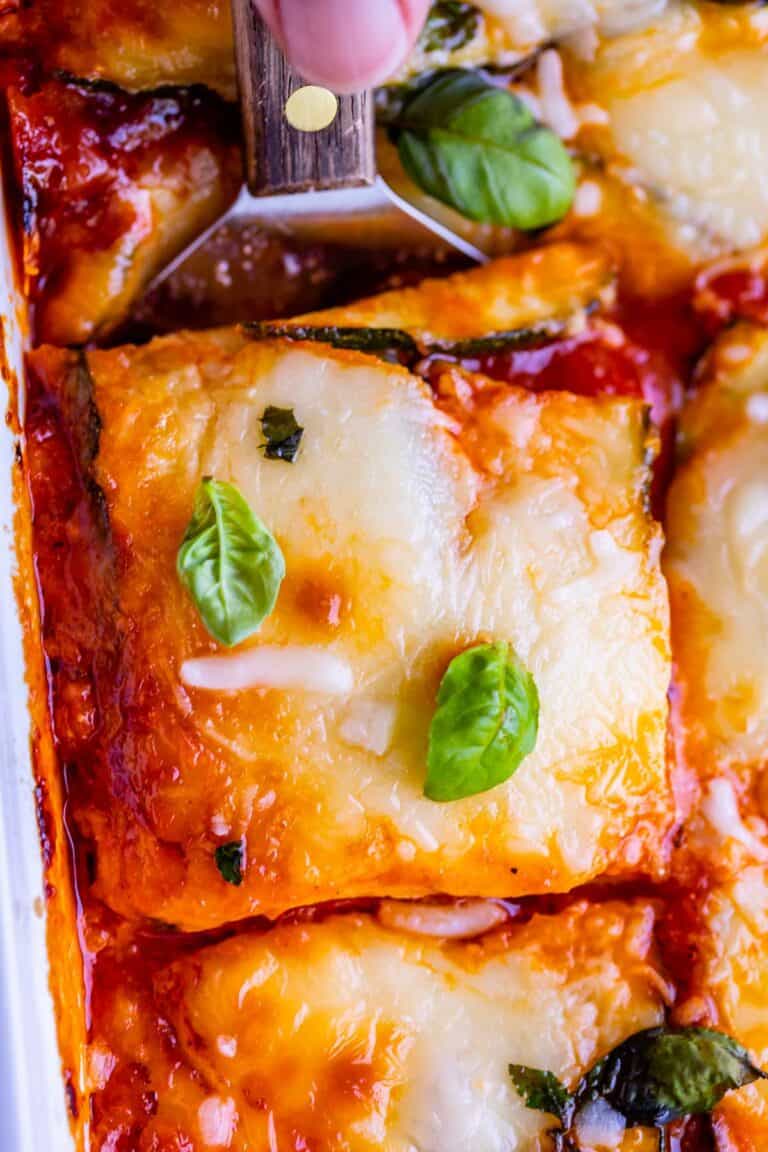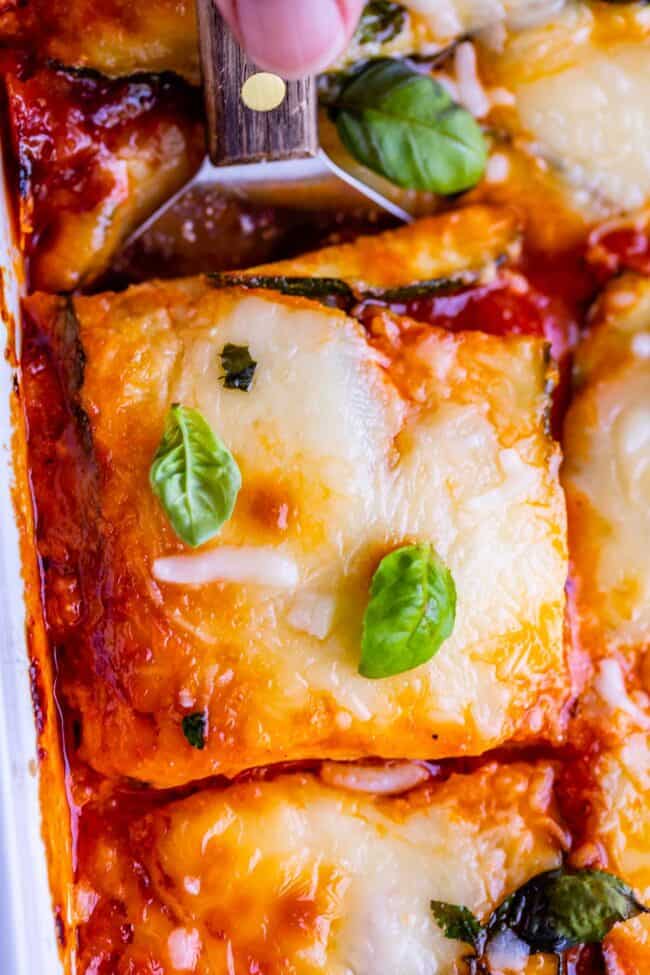 Then I looked down and remembered that my 10-year-old daughter Charlotte had told me less than 3 minutes ago that her balloon filled with "orbies" had popped. Not knowing what "orbies" were, but knowing that it was something that oozed, I ordered her (probably without looking up) to throw it away. She neglected to tell me that they had exploded all over the garage floor.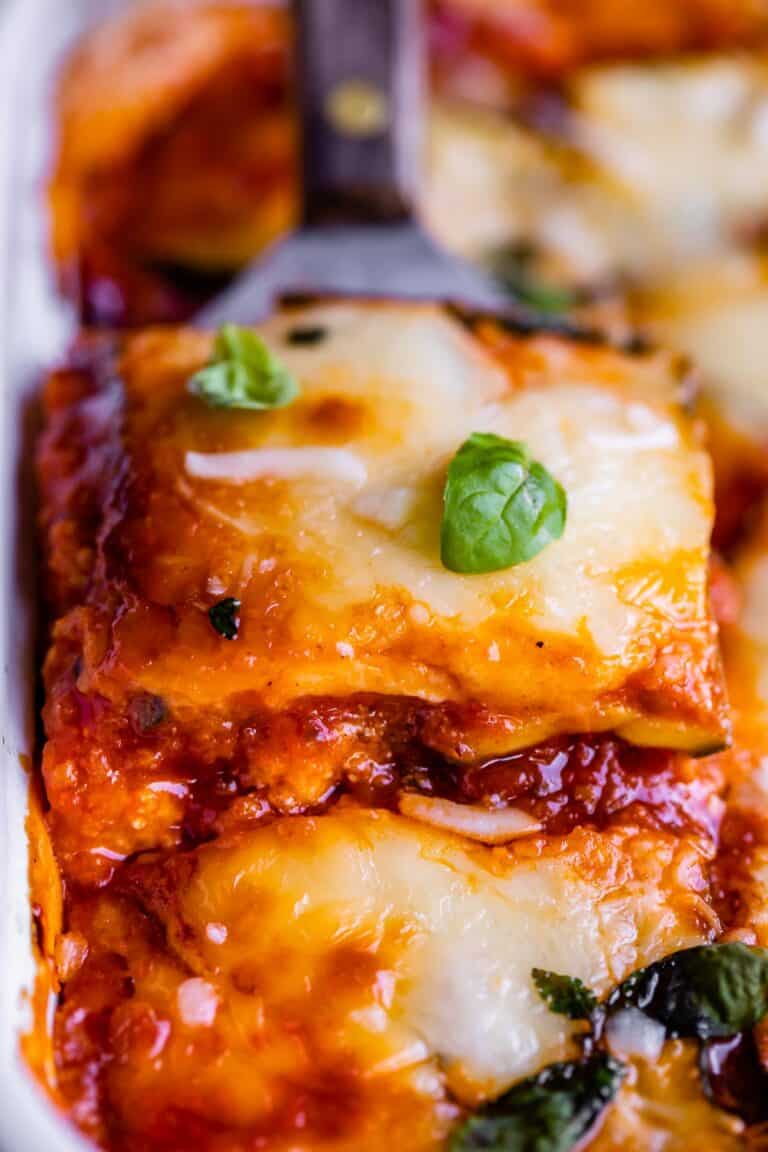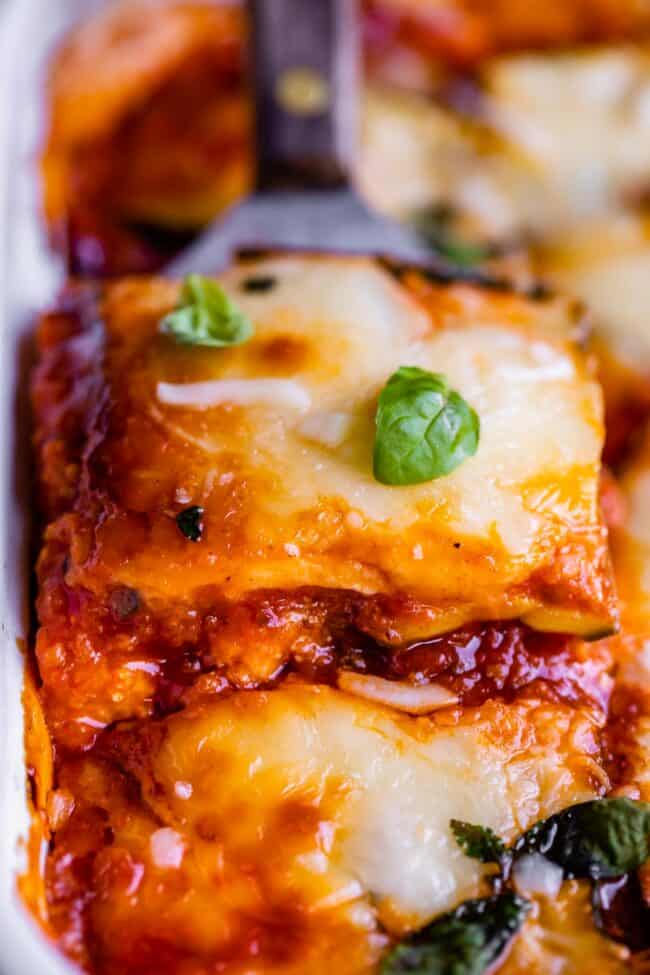 It is amazing how fast your brain works in moments like these. As I wailed and looked down, I had already resolved to either sell our house and move to a country with no bugs, or burn the house down entirely. These were the only options that seemed reasonable in that moment.
And I actually don't think this is unreasonable considering what they say about certain bugs and their ability to live through apocalypses. At least that's all I remember from Wall-E, anyway. Good thing it was just Charlotte and her weirdo orbies, otherwise you might have never heard from me again.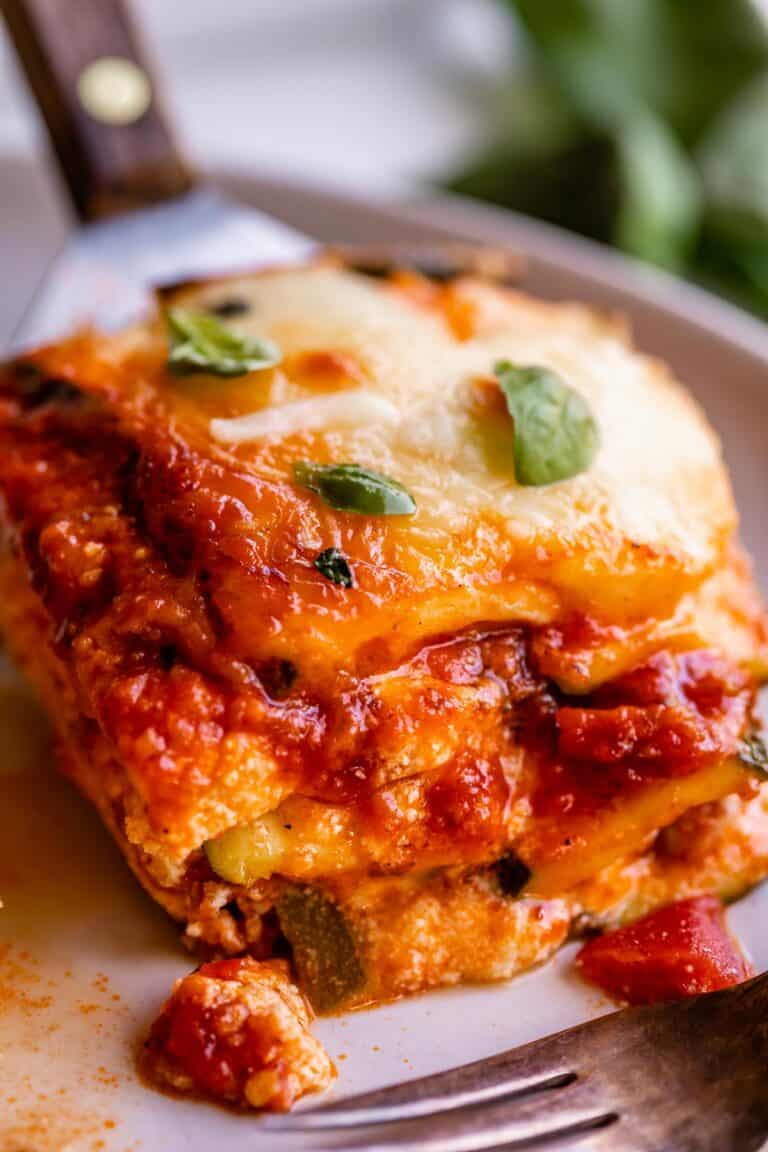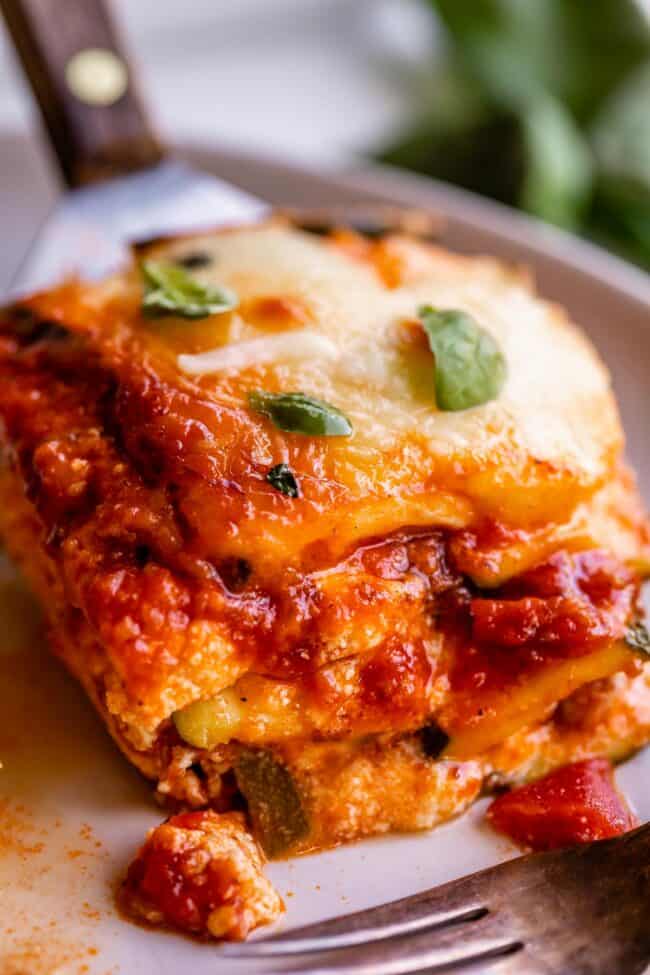 But since I'm still alive and keeping my pyromaniac tendencies under check, let's eat some dinner, huh? Who's ready for some lasagna? God's greatest gift to the Italian kingdom, if you ask me. (Except maybe Fabio.) We're making this lasagna with zucchini! What??
What even is Zucchini Lasagna?
Lasagna made from zucchini?? Yes please! Get that pasta outta here! Zucchini lasagna is exactly the same as regular lasagna, but we are replacing the pasta with zucchini. My brother came over yesterday and tried some of the leftovers. He told me halfway through his plate, "This is really good." Then again a few bites later, "No seriously, this is really good." Ah Nate, thank you for loving vegetables and cheese even more than I do.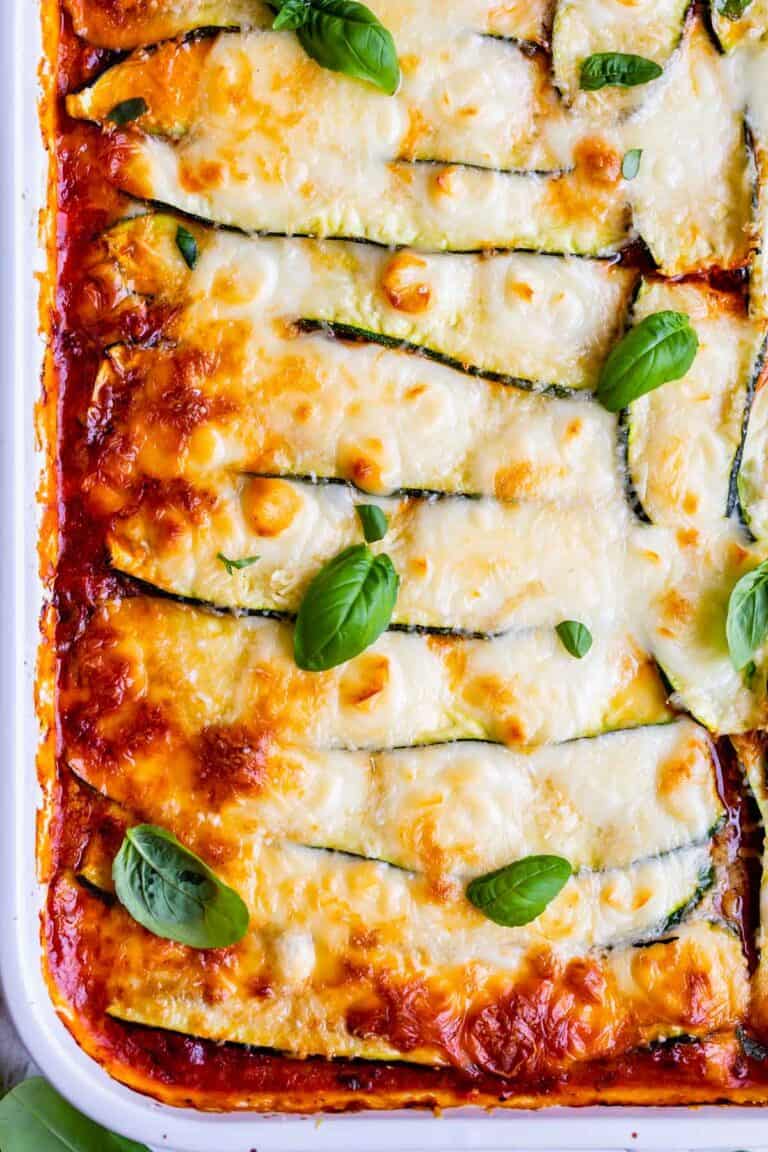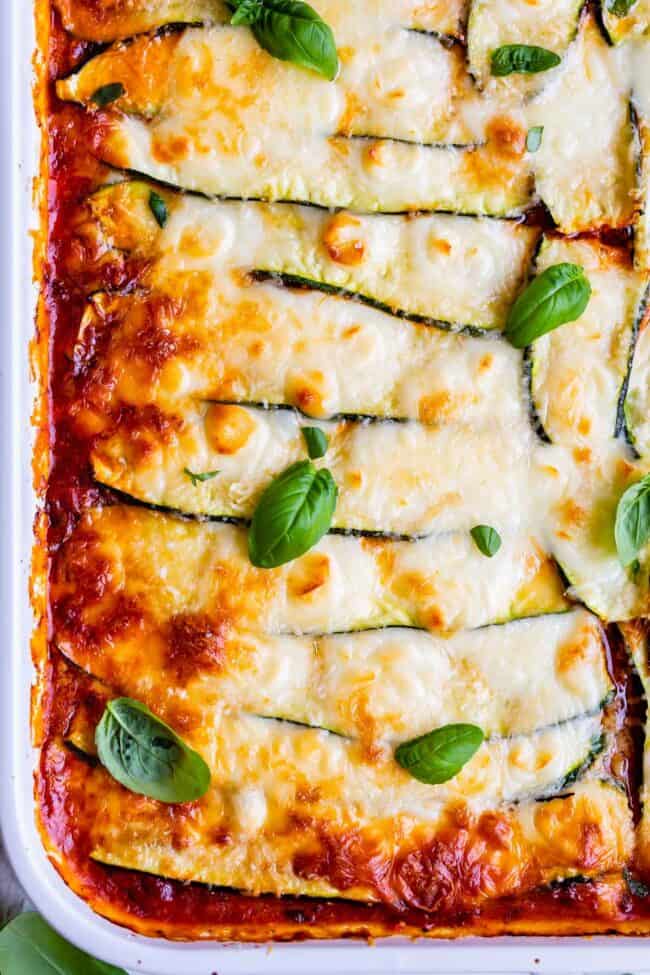 The nice thing about tossing out the pasta and using zucchini is that it makes a super low carb dish that is lighter in calories, and also happens to be gluten free. Bonus, it even has added nutrients thanks to the zucchini. Lighter and healthier, but with all that meaty, cheesy goodness you crave in a lasagna. It is also keto friendly! I do not eat keto so am no expert, but this recipe definitely qualifies as being keto: high fat, low carb, not a grain in sight.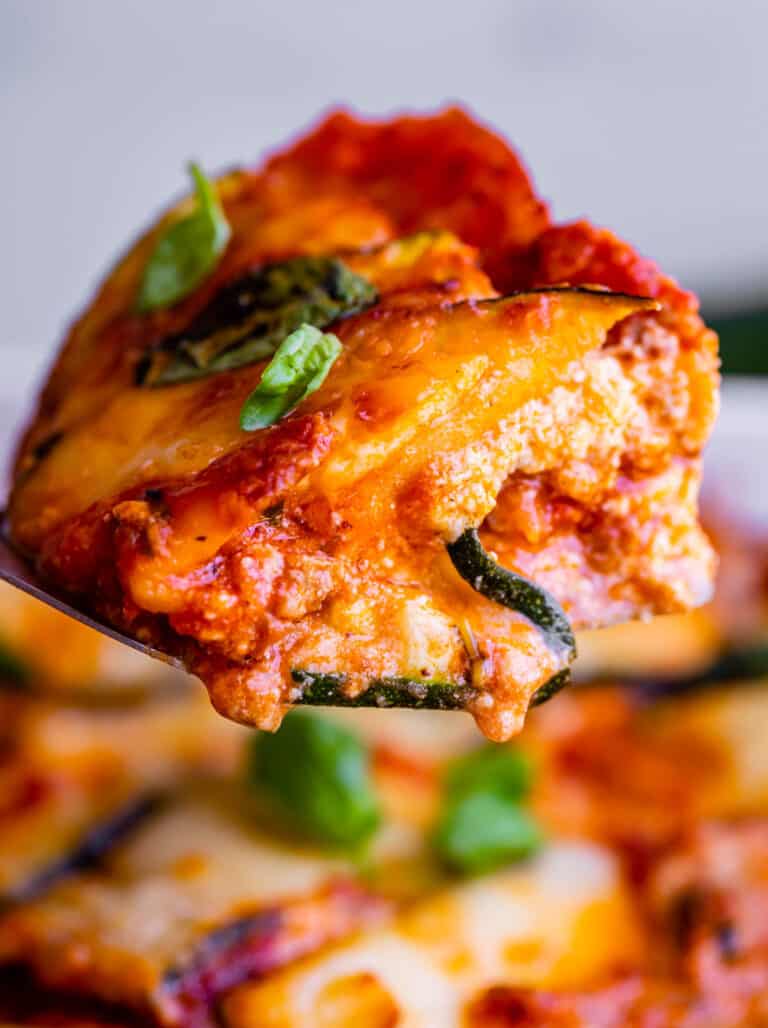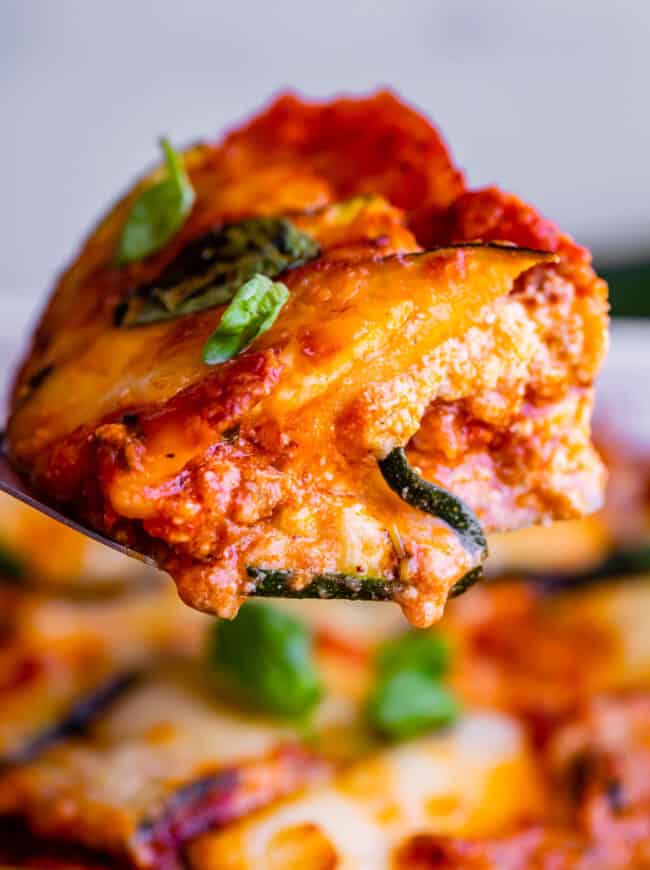 How to make Zucchini Lasagna
This recipe is easy to make, once you have a handle on the process. I go over this in detail below, but here's an overview:
Slice your zucchini using a mandoline if you have one! Or a knife will do.
Lay out all the zucchini and salt them, to get it to release all it's liquid
Make a decent red sauce (I like to jazz up a jar of marinara)
Use lots of cheese. Cheese is life, okay? Ricotta, mozzarella, parmesan, oh my!
First things first, you're gonna need a lot of zucchini. We are starting off with 2 pounds, which is about 5 medium-smallish zucchini. Lop off those ends.


Don't use the giant guitar-sized zucchini from your garden for zucchini lasagna. The bigger they get, the more tough and fibrous they get, with a thicker skin and more bitter taste. The smaller the zucchini, the more tender and sweet (and less seedy and watery) the zucchini. Anything up to about 8-9″ inches will work. Save the big guys for Zucchini Bread!
How to slice zucchini for a lasagna
The goal is to get very thin, uniform slices, about 1/8 inch thick. Slicing thinly is important because as you will see in the next step, we have plans to draw moisture out of the zucchini, to achieve a less watery lasagna. This will be easier and more effective on a thinner slice. Be sure to cut the zucchini into lengthwise strips, NOT into rounds!
Mandonline
Listen, if you're going down this route of using vegetables in place of noodles, you're going to need some special tools. It's time to invest. Your best option for slicing zucchini for lasagna (and for Zoodles!) is a mandoline. It will make your job of cutting these zucchini into 1/8 inch slices a breeze.


Make sure you are very careful. These suckers are sharper than Inigo's sword. You can try using one of these chain mail gloves to protect your hand. Mine is actually made of Mithril. Just kidding.
Sheet cutter
Back to the zucchini. I hear you can also use a Kitchenaid sheet cutter attachment for slicing, but I haven't tried it. Anyone want to chime in on the comments?
Regular ol' knife
The good news is that even if you don't have a fancy tool, you can just use a knife.


I think it's easiest to chop the zucchini in half, then slice thinly into sheets. But you can try holding your zucchini vertical on the cutting board and slicing all the way down to get a longer sheet. It's harder to get uniform slices that way though.
How do you make Zucchini Lasagna less watery?
Once you've got all your zucchini sliced, it's time to drain em. Bunnicula style.
Here's the deal, zucchini are about 95% water, with some nutrients and cell structure thrown in there to make it a solid. If you slice up your zucchini and toss it straight into your lasagna, you're going to end up with soup, basically.
So, just as we do for any decent Zucchini Bread, we have to reduce the water content before baking. Your options are to salt, bake/saute, or grill the zucchini.
Salt your zucchini
This is my favorite method by far. It's as simple as salting the zucchini and letting osmosis have its effect.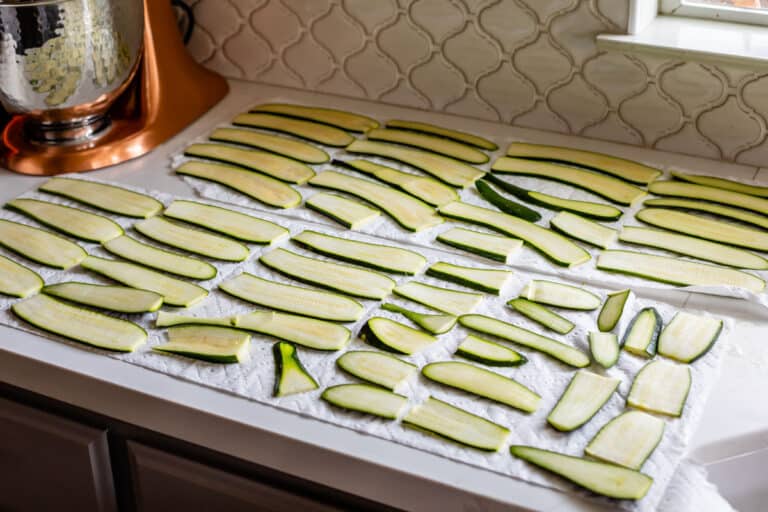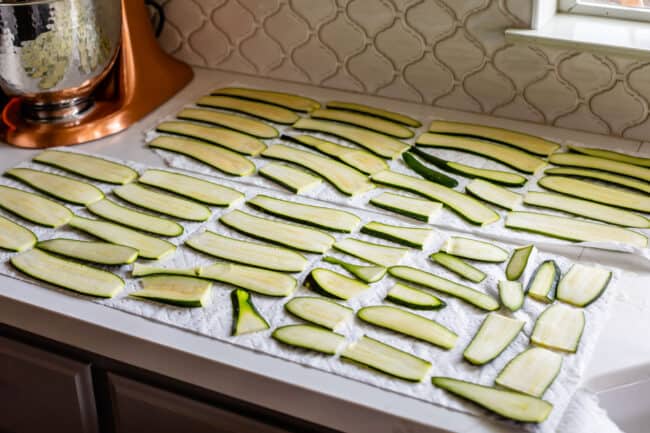 I like to do this right on my countertop. Spread out a bunch of paper towels. Line up the zucchini so they aren't touching. Then sprinkle with about 1 and 1/2 tablespoons kosher salt.
Here is all the water that is released after just 30 minutes! Isn't that crazy? Science, man.


Use more paper towels (or you could do this whole process with tea towels) to blot the zucchini dry. You can blot more than once if you are still working on prepping the rest of the lasagna.
Whatever you do, don't rinse the salt off of your zucchini. No more water, please! Just blot it with towels and many of the remaining salt crystals will be absorbed into the towels. I promise it's not going to be too salty. What's zucchini without a lil salt anyway?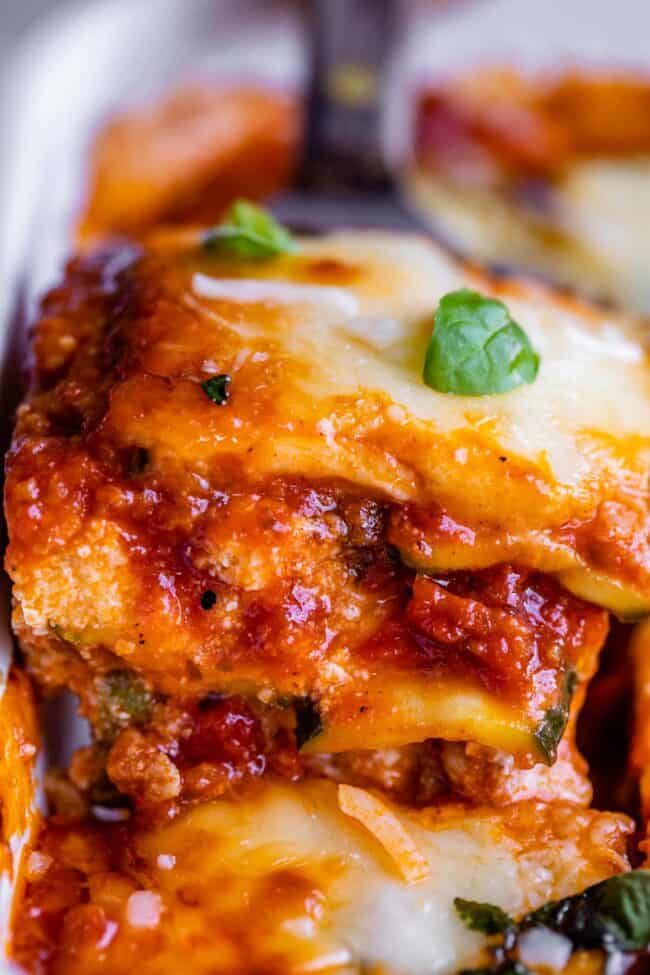 Bake or saute your zucchini
Another method to remove water is to place the zucchini strips on cookie sheets in a single layer and bake at 200 degrees for about 10-15 minutes. They will start releasing water and then you can pat them dry. Or, you can try sauteing the zucchini strips on the stove for about 2-3 minutes per side and then setting on paper towels. But doesn't this sound like a huge pain?? I didn't try this method.
Grill your zucchini
I did try grilling to remove water from my zucchini, on my first test round. SO many recipes call for grilling! I am not a fan! First of all, grilling is like a Huge Event in my mind. You don't just turn on a 500 degree grill real quick. You have to be Mentally Prepared. (Am I alone here??)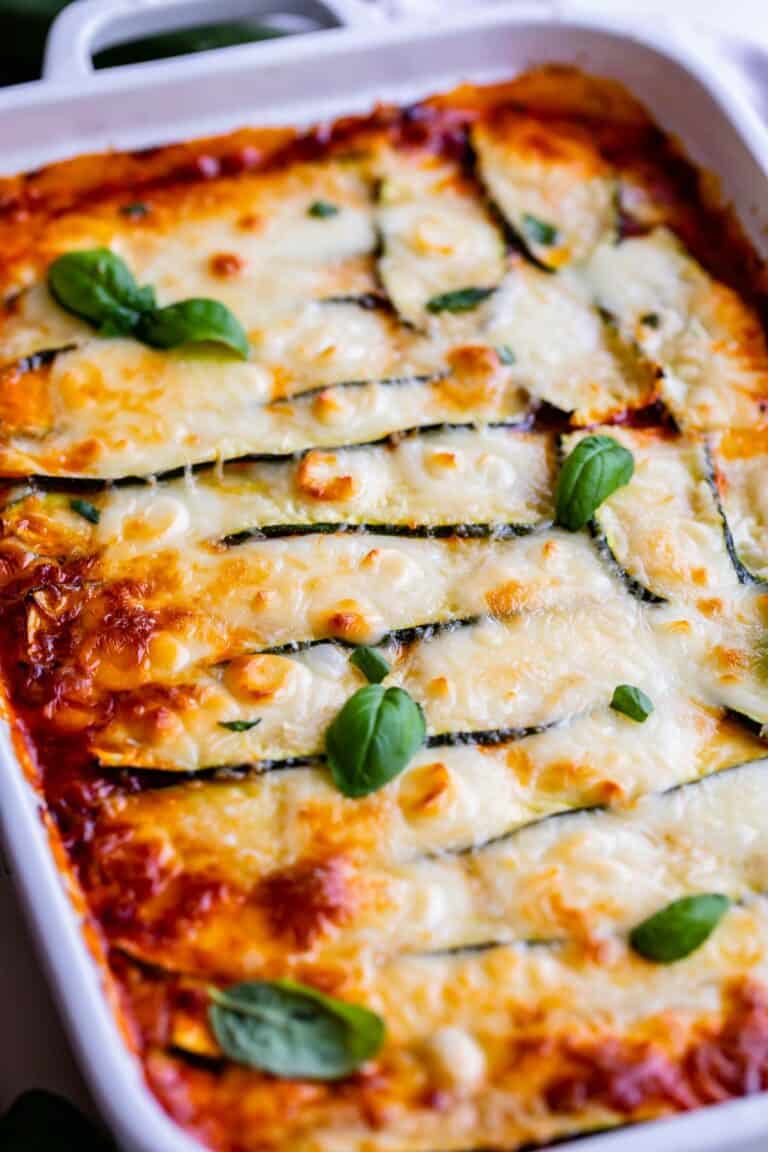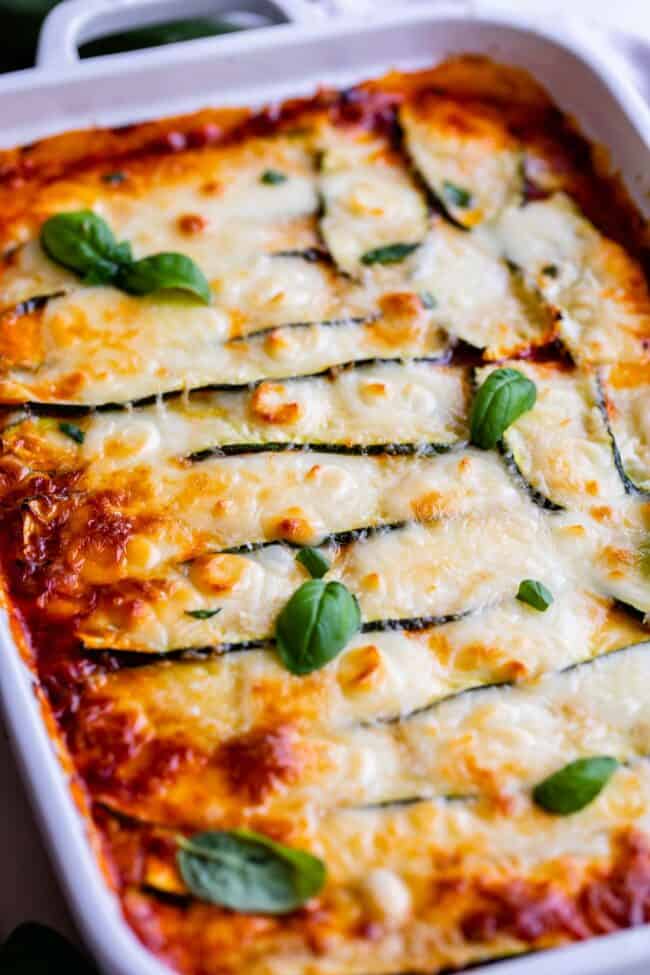 And then, you risk overdoing it. It's pretty easy. Most recipes said to grill on medium about 3 minutes per side. Maybe I just did it too long, but my zucchini ended up kind of shriveled and sad. When I baked it in the lasagna, it didn't have much flavor. And I didn't love the texture. When I eat zucchini lasagna, I want to actually taste the zucchini. I feel like grilling takes out TOO much moisture and leaves you with shriveled flavorless noodles. I suppose I could have grilled less time. But man. So much work. Salting is way easier for my little brain to handle!
Make the marinara sauce
While you are salting your zucchini, it's time to put together your marinara sauce.
Start with a pound of Italian sausage. Crumble it in the pan, then add in a little garlic. Or a lot of garlic. Don't forget to drain it first. Here's how I do it. Usually I line the bowl with foil, then refrigerate so it solidifies, and toss the foil/fat in the trash.


Next add in a good quality jar of marinara and some diced tomatoes. Have you tried Rao's yet?? Not all jarred sauces are created equal. This is the best brand I've found, by far. It's expensive, and I'll tell you why, because olive oil is the second ingredient after tomatoes. Olive oil is expensive. And it's freakin delicious, turns out. You can find Rao's in bulk at Costco! Or on Amazon.


I like to use fire-roasted tomatoes. (There will never be a time when a recipe calls for diced tomatoes that I wouldn't rather use fire-roasted. So much flavor!) Take a minute to drain the can, just turn it upside down with the lid over the sink, nothing fancy. We're just trying to get rid of extra moisture. You wouldn't want to cancel out all your water removal efforts we just made with the zucchini right??
Don't forget to add in some fresh basil. It really takes the flavor up a notch!
Make the ricotta mixture
Now it's time for some cheese. Just look at this deliciousness.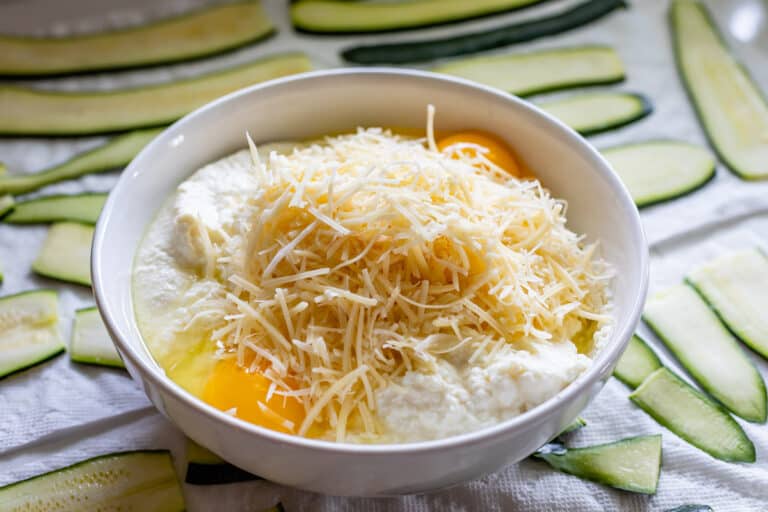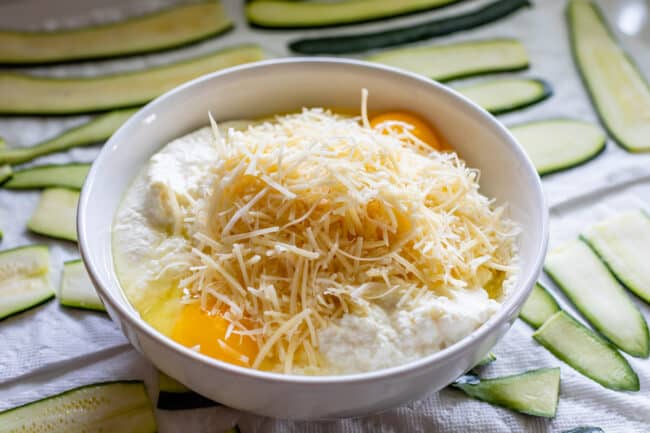 Most lasagna recipes call for a 15 ounce tub of ricotta. And I feel like it's never enough. I'm calling for 3 cups of ricotta, about a pound and a half. I know, I know, this is annoying because now you have to buy two of those tubs (or a giant 2 lb tub) and you are going to have leftover ricotta. I never said it would be convenient guys. I only said it would be worth it. (see notes if you really hate extra cheesy lasagna. weirdo.)
Add in the eggs, parmesan, and a little salt and pepper. Why eggs? They act as a binder to hold the ricotta together. The same reason we add eggs to meatloaf. You want your ricotta in a nice layer, not oozing into the rest of the lasagna as it bakes.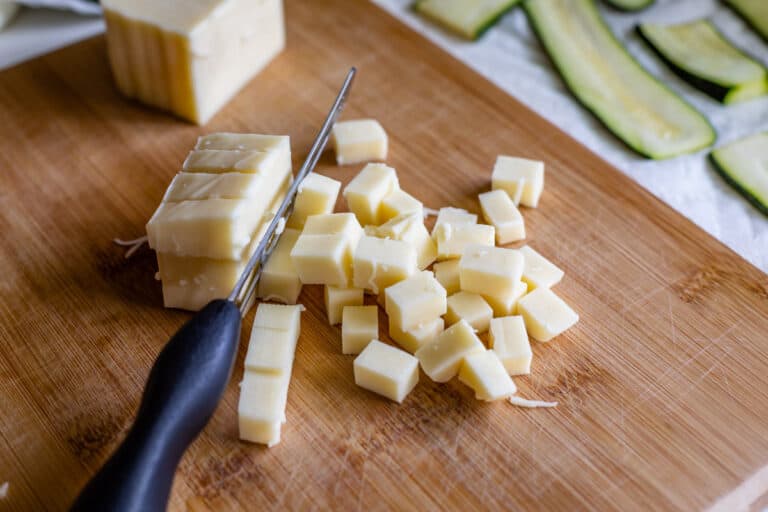 Here's my other favorite thing about this zucchini lasagna recipe: chopped mozzarella. It's so much better than shredded mozz! I use this same method in my Baked Ziti. I love that the cubes melt into little pockets in your casserole. Set aside this cheese for later.
Assemble your lasagna
Now we are going to put it all together!
Start with a little bit of sauce and then a layer of zucchini. Make sure you use 1/3 of your zucchini! I didn't add enough on this layer.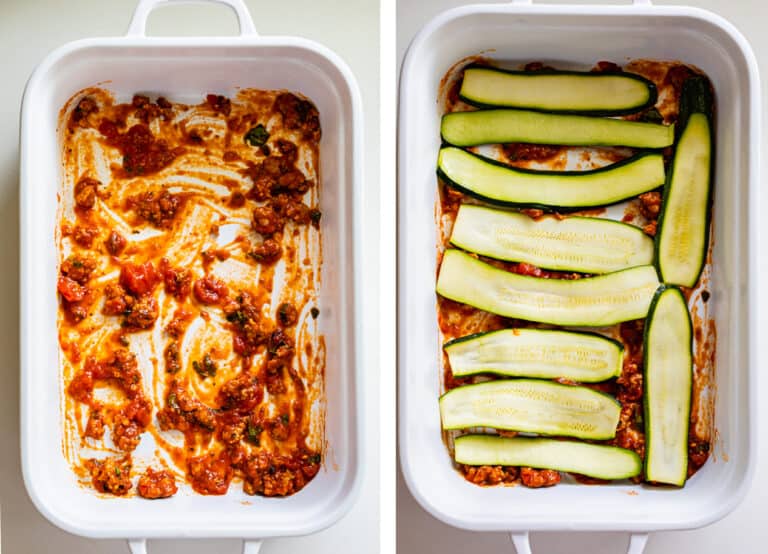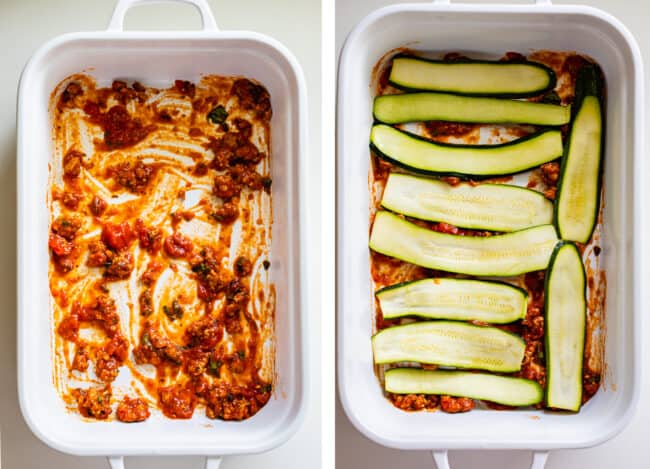 Next spread half of the ricotta over the zucchini, then half the marinara sauce.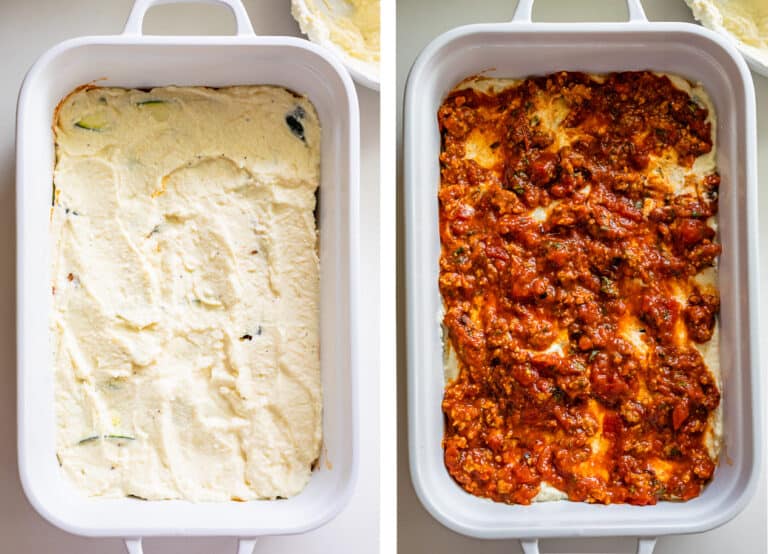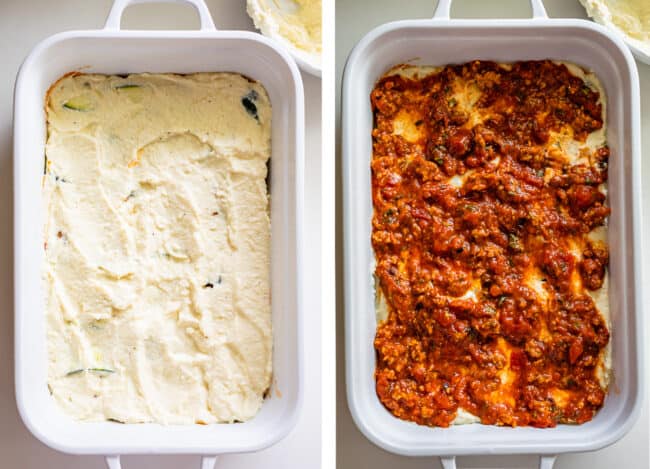 Top with cubed mozzarella, and then more zucchini.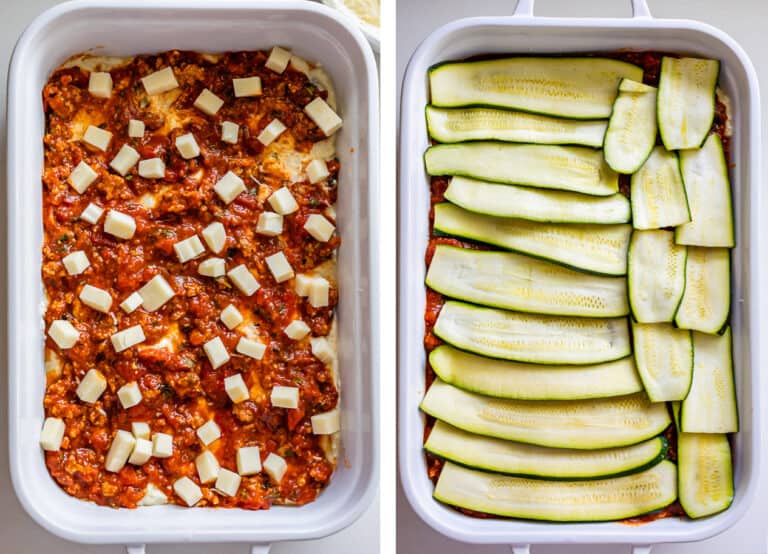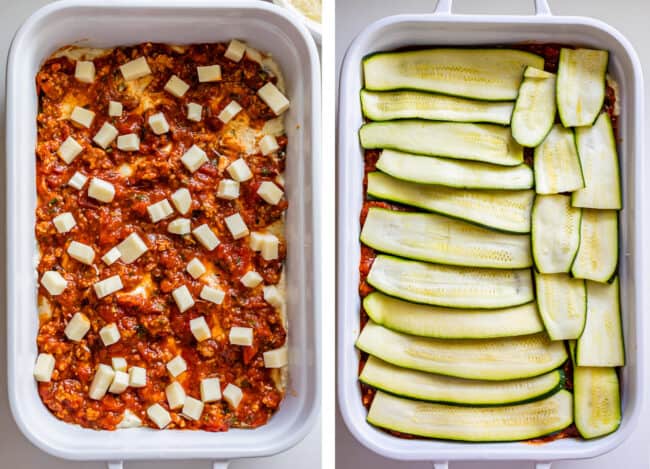 More ricotta, more marinara sauce!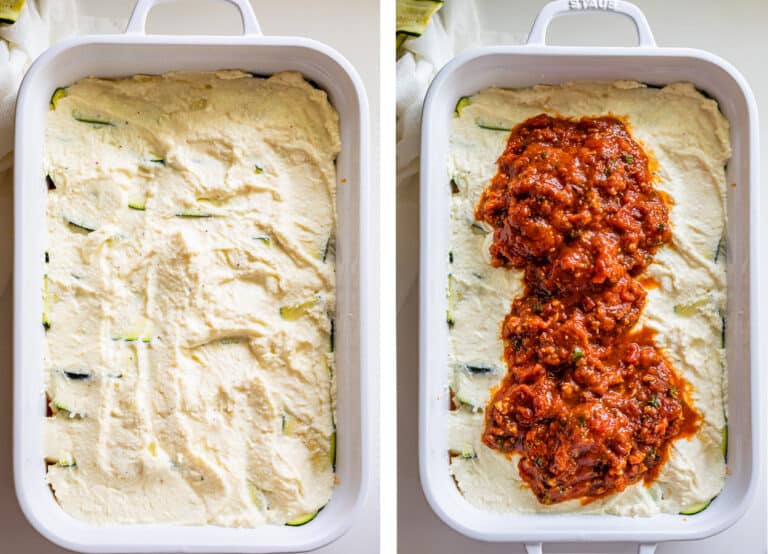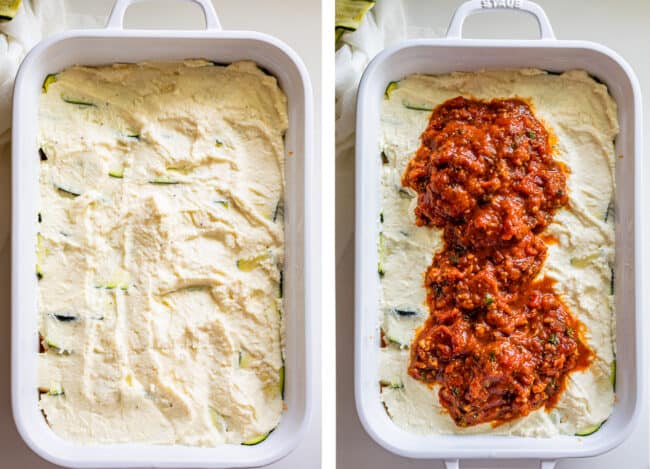 Last layer of zucchini, and then the mozzarella and parmesan on top. Easy!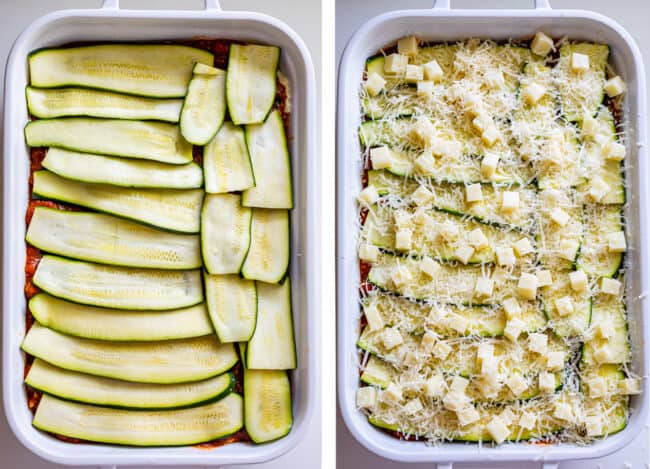 How long should you bake Zucchini Lasagna?
Zucchini Lasagna bakes for about as long as a normal lasagna, about 45-55 minutes. You will know it's done when it is bubbly and starting to brown. Leave it uncovered the whole bake time, this will help evaporate more of the moisture content from the lasagna, which is what we want! Say no to Zucchini Lasagna Soup!
You can turn the broiler on for a couple minutes to get a crispier top if you want, but watch it carefully because the cheese can burn.
Be sure to let the lasagna sit for about 10-15 minutes before cutting into it. This allows the ingredients to reabsorb some of the juices, making it less soupy when you cut into it. Waiting a few minutes also helps avoid you burning your mouth on scalding hot Zucchini Lasagna deliciousness!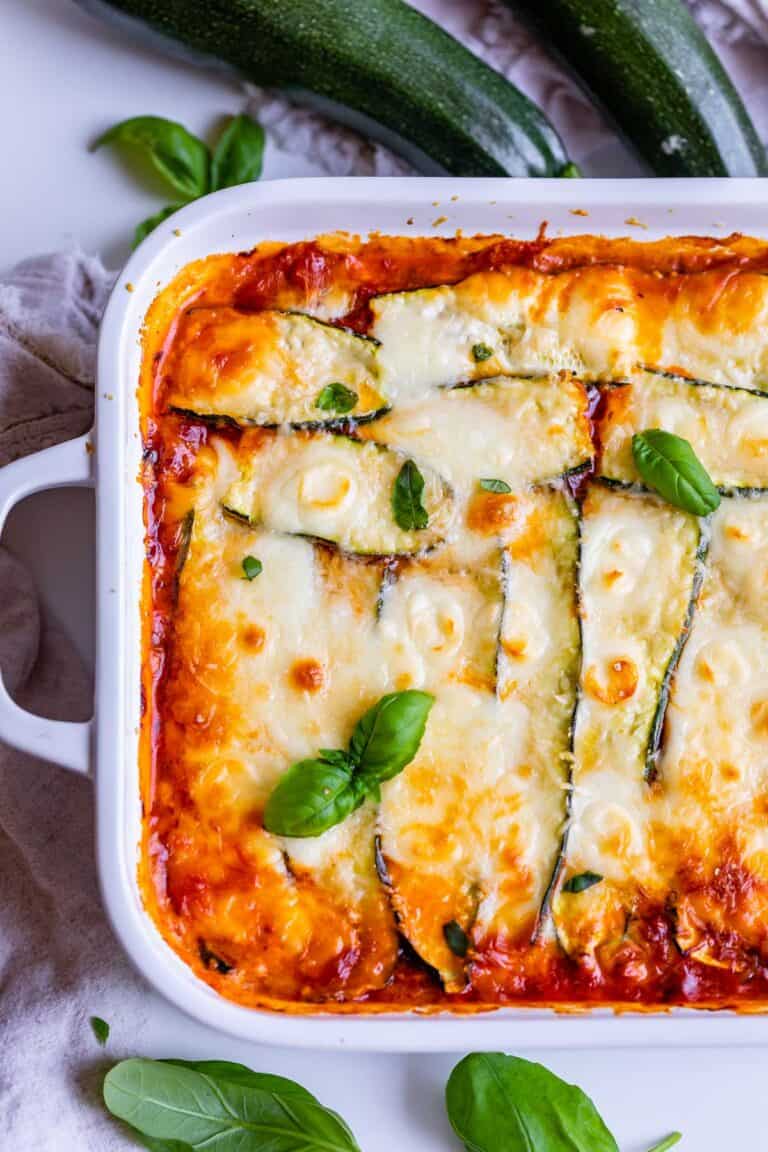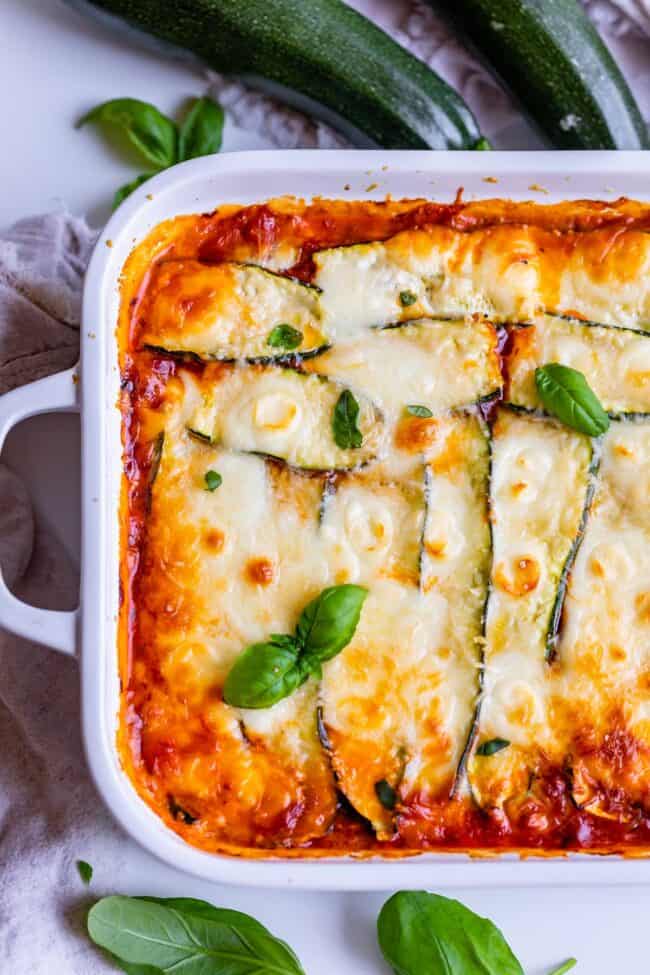 What to serve with Zucchini Lasagna
Serve your beautiful lasagna with something nice and green like Raspberry Avocado Salad, Green Salad with Feta & Beets, or this Apple Gorgonzola Salad. Also, since there are no pasta noodles in this lasagna, you just may feel justified serving up some of The Best Garlic Bread of Your Life, some One Hour French Bread or any other kind of crusty bread! You could try out these super easy Olive Garden Breadsticks (hello I need to update that recipe! But they are so good, even if they're from yesteryear.) Or how about these Garlic Knots? Oh bread, let me count the ways. 
Can you use other vegetables in this lasagna?
Yes totally! Almost any thinly sliced vegetable could work – sweet potato, butternut squash, eggplant, etc. You would need to parboil the harder vegetables like the potatoes and squashes. Similar veggies to zucchini, like other summer squashes or eggplant, will need to have the same treatments to reduce water content. You can also add finely chopped onion, carrots, celery, or mushrooms in with the meat layer. Spinach is another good vegetable that would be simple to add, whether you chop it up and mix it with the meat sauce, or make a separate layer when assembling the lasagna. Bring on the veggies! Look at how healthy we are.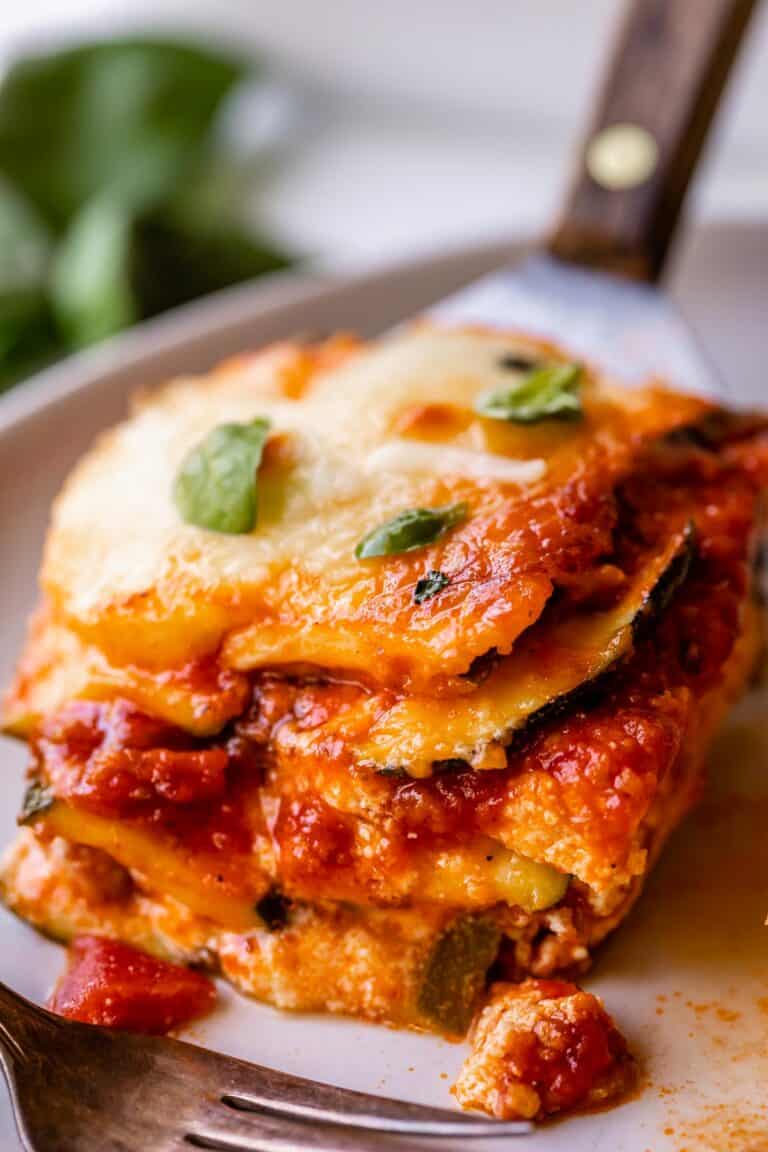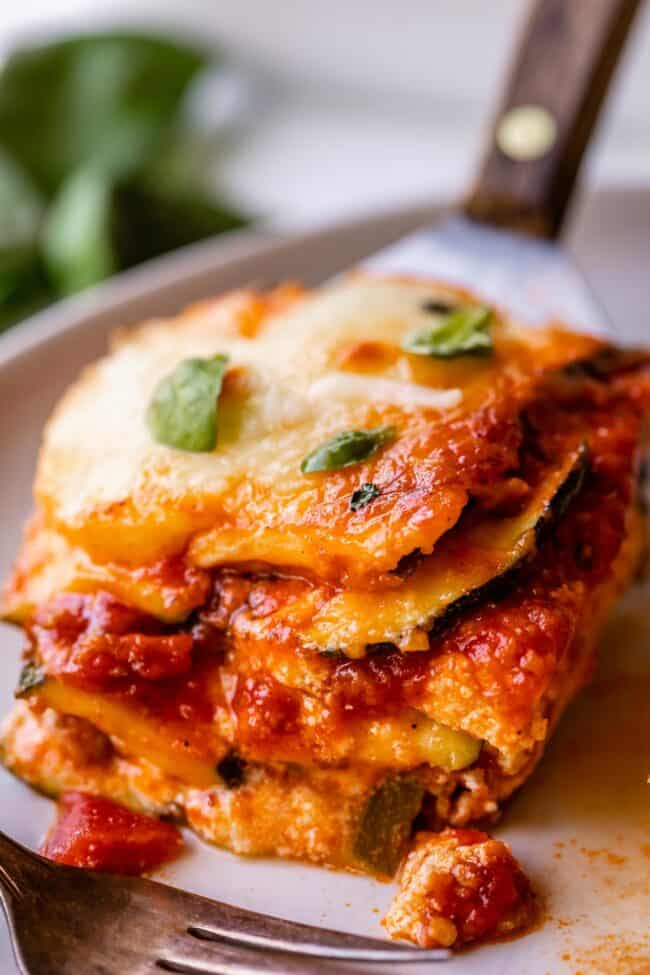 Can you make Zucchini Lasagna ahead of time?
Yes! While you can assemble it ahead of time and bake it within 24 hours, it's best to completely make the lasagna and bake it right away (then reheat later). If you assemble it, store it in the fridge, and then bake it, your lasagna is going to be much more watery than if you had baked it right away. The longer it sits unbaked, the more water will continue to seep from the zucchini.
If you are making this for an event I would bake it completely the day before and store in the fridge (this can actually improve flavors, too!) Let it sit at room temperature about 30 minutes, then bake at 350 for about 20-30 minutes, until the cheese is melted and it's bubbling.
If you can't bake it the day before, I recommend making the meat sauce and ricotta mixture the day before. Store separately in the fridge. You could also chop or shred the mozzarella and store it. Then, on the day of, all you have to do is prep the zucchini and put it all together.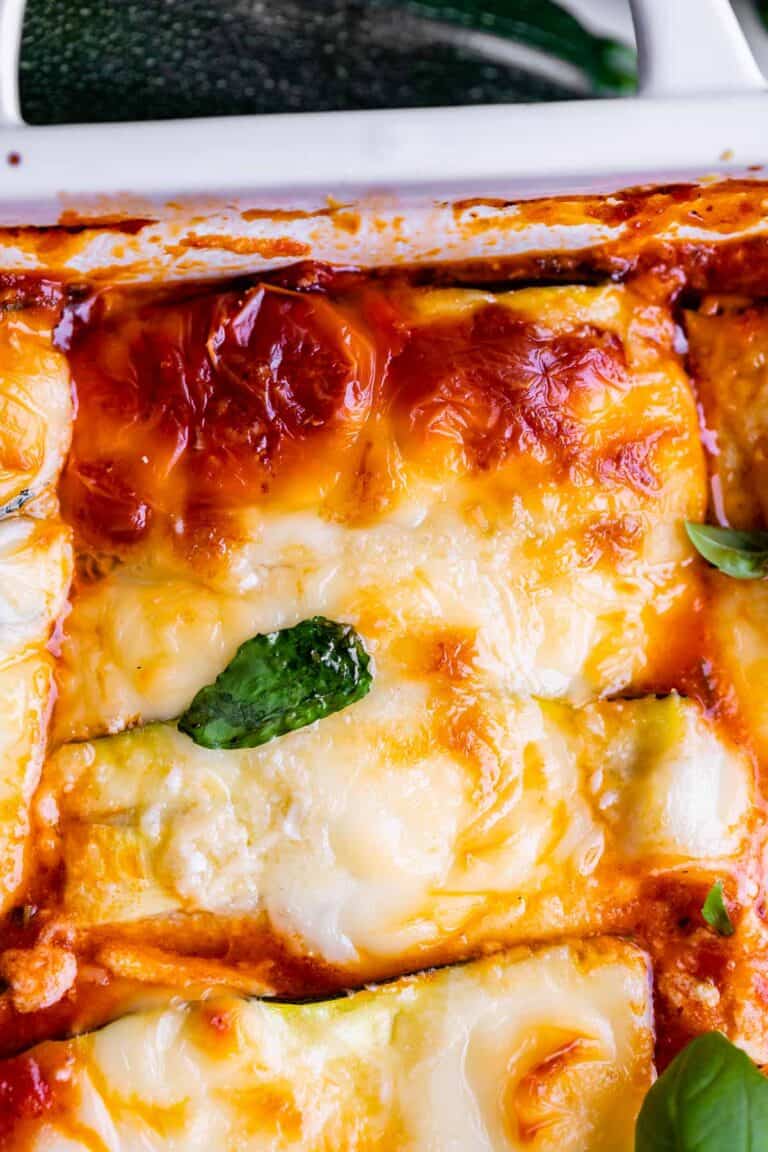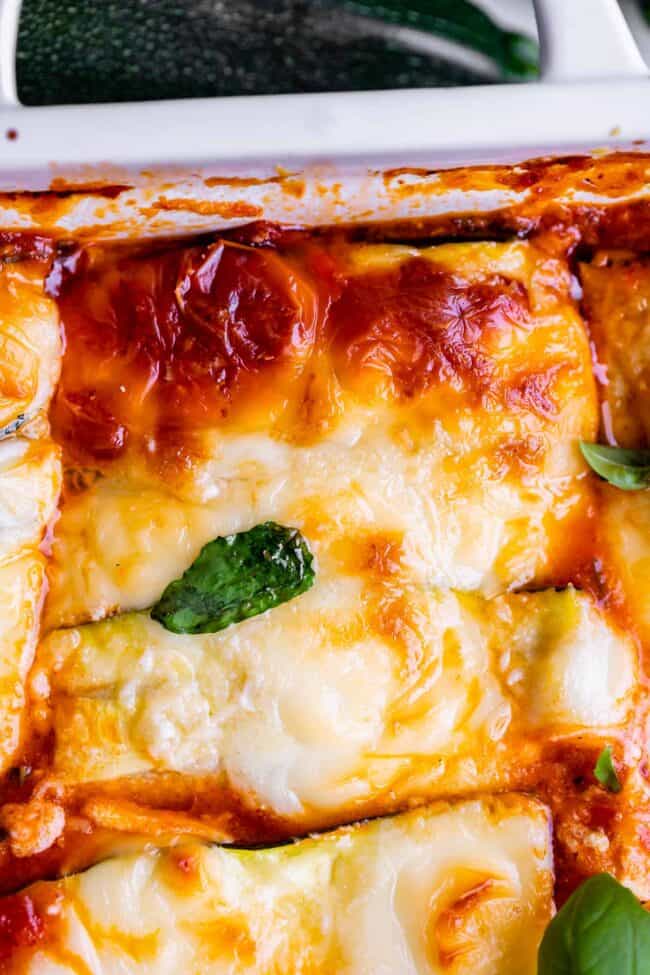 Can you freeze Zucchini Lasagna?
Yes! It actually makes really great meal prep and can be stored in individual pieces or whole in the freezer for 3-4 months. Make sure it is well sealed! Thaw in the fridge and bake at 350, or bake it straight from frozen until it is bubbly and the cheese is melted, at least 45-60 minutes. If you have a small family, you can make this casserole in two separate 8×8 square pans, bake both, and freeze one for another time. I absolutely love myself when I meal prep for future Karen! Do yourself a favor!
More low carb recipes you are going to love!
Facebook | Pinterest | Instagram

Zucchini Lasagna Recipe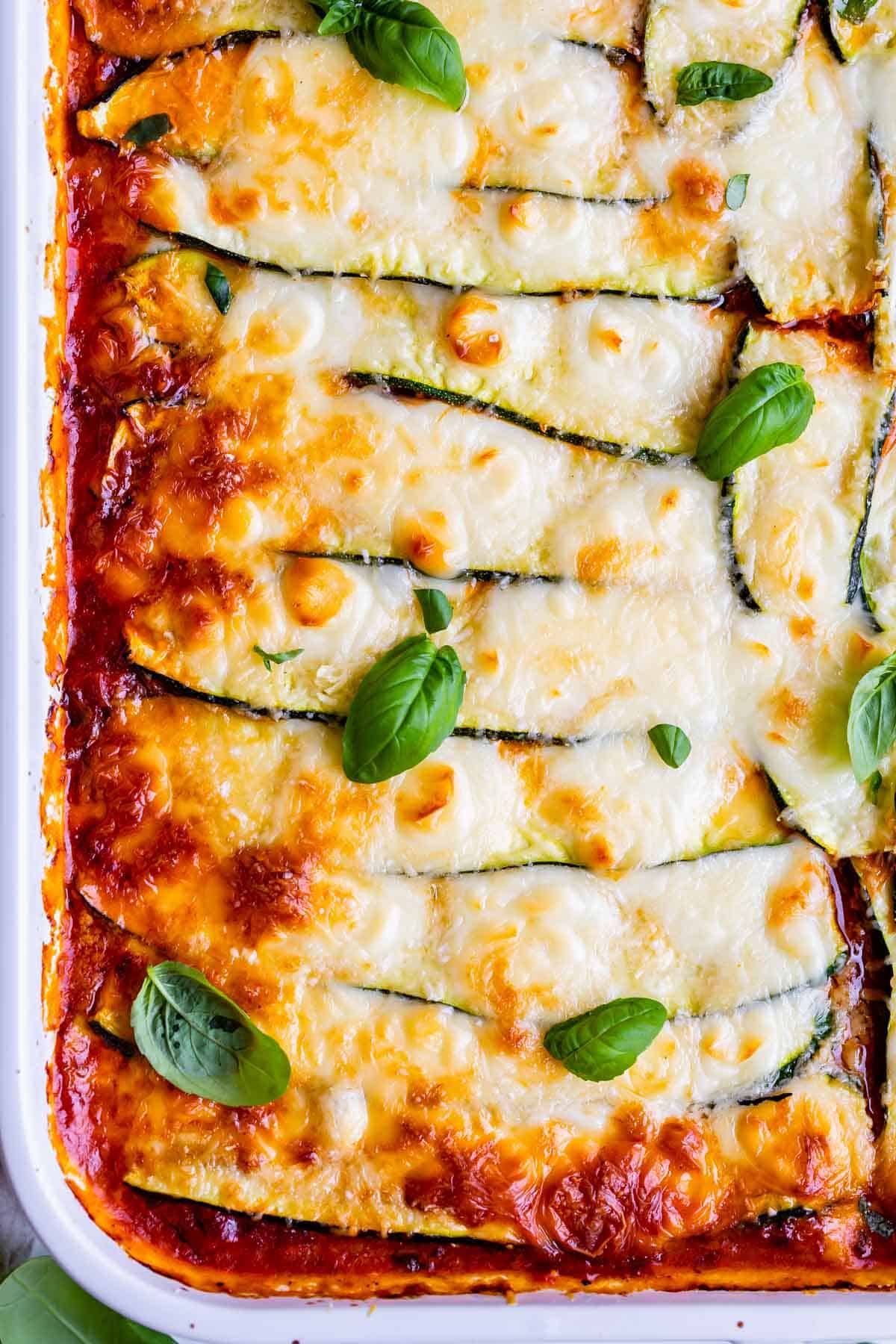 Throw out those noodles and make yourself some Zucchini Lasagna! This recipe is full of Italian sausage, ricotta, and mozzarella, but uses zucchini in place of lasagna noodles. It is low carb, keto-friendly, and seriously delicious!
Equipment
mandoline slicer

paper towels or tea towels
Ingredients
To prep the zucchini
2

pounds

small or medium zucchini

,

about 5 zucchini, sliced 1/8 inch thick

1 & 1/2

tablespoons

kosher salt
For the marinara sauce
1

pound

mild Italian sausage

5

cloves

garlic

,

minced

1

(24-ounce) jar

high quality marinara sauce,

I like Rao's brand

1

(14.5-ounce) can

diced tomatoes

,

drained

2

teaspoons

dried oregano

1

teaspoon

kosher salt

1/4

teaspoon

black pepper

1/4

cup

fresh basil

,

chopped, or use 1 teaspoon dried basil
For the ricotta mixture
3

cups

ricotta

,

about 1 & 1/2 of the 15 oz tubs

2

large

eggs

1

cup

parmesan cheese

,

shredded

1

teaspoon

kosher salt

1/4

teaspoon

black pepper
To assemble
8

ounces

mozzarella cheese

,

cut into 1/2 inch cubes (about 2 cups)

1/2

cup

parmesan cheese

,

shredded

basil

,

to garnish
Instructions
Prepare the zucchini: Chop off both ends of your zucchini. Use a mandoline to slice your zucchini into 1/8 inch thick strips. You can also use a knife to do this, see photos.

Lay out a bunch of paper towels on your countertop (or tea towels). Place the sliced zucchini on the towels, not touching each other. Sprinkle about 1 and 1/2 tablespoons salt over the zucchini. Let them sit for at least 20 minutes; 30 minutes or more is better. (You need to prep your sauce and cheese anyway, you got time.)

Once you notice water pooling on the zucchini, use paper towels to blot the liquid. You can blot more than once if you are still working on your sauce. The idea is to remove as much liquid as possible from the zucchini so that you don't have a watery lasagna. If you are really invested, you can flip the zucchini and salt the other side. (I was not this invested. Zucchini lasagna is just a little watery by nature; embrace it.) And for heaven's sake do not rinse the salt off your zucchini! Water be gone! Just blot it with towels and many of the remaining salt crystals will be absorbed into the towels. I promise it's not going to be too salty.

Prepare the marinara sauce: In a 12 inch skillet, brown 1 pound of Italian sausage over medium heat, crumbling with a wooden spoon. Once it is fully cooked and no longer pink (about 5 minutes), drain the grease. (I turn off the heat, tilt the pan, and remove the grease with a spoon.)

Turn the heat back on to medium and add 5 cloves of minced garlic. Saute until fragrant, about 1 minute (don't let it burn!)

Add a 24 ounce jar of marinara sauce (I love this Rao's sauce). Drain your 14 oz can of diced tomatoes (I just do this in the can over the sink, no need to bust out a colander.) Add the drained tomatoes to the pan with the sausage.

Add 2 teaspoons oregano, 1 teaspoon salt, and 1/4 teaspoon pepper. (Add 1 teaspoon dried basil now if that's what you're using.)

Let the sauce simmer over medium heat for about 5-15 minutes, whatever you have time for. Let it bubble a bit to help evaporate some of the liquid. Remove from heat and add in 1/4 cup chopped basil, if using fresh.

Prepare the ricotta mixture: In a medium bowl, add 3 cups ricotta.* This is about 1 and 1/2 pounds, or 1 and 1/2 of the 15 ounce tubs (or most of a 32 ounce tub). See note.

Add 2 large eggs, 1 cup shredded parmesan cheese, 1 teaspoon kosher salt, and 1/4 teaspoon black pepper. Stir it all together.

To assemble: Preheat your oven to 375 degrees F.

Prepare your mozzarella. You need 8 ounces, or about 2 cups. You can shred it if you want, but I prefer to cut it into 1/2 inch cubes. They melt into these delightful pockets in your lasagna. (I do this in my Baked Ziti too.)

Preheat your oven to 375 degrees F. Use non stick spray to grease the edges of a 9×13 inch casserole dish. Add about 1/2 cup of the marinara sauce to the bottom of the pan, spreading around to the edges.

Add your first layer of zucchini. Use 1/3 of the zucchini slices that you have, using up all the ugly ones on this bottom layer because no one will see them. You can overlap the zucchini a little bit.

Add half of the ricotta mixture and spread over the top of the zucchini.

Add half of the remaining marinara sauce and spread to the edges.

Add half of the cubed mozzarella (about 1 cup).

Layer the next 1/3 of your zucchini slices over the mozzarella.

Add the rest of the ricotta mixture (half).

Add the remaining marinara sauce.

Add the final layer of zucchini slices.

Sprinkle the rest of the mozzarella cubes (about 1 cup) over the top of the zucchini.

Sprinkle 1/2 cup shredded Parmesan cheese over the top of the mozzarella.

Bake the lasagna at 375 for about 45 minutes. You will know it is done when the lasagna is bubbling, and the cheese on top is melted and just starting to brown.

Let the lasagna set up for at least 15 minutes before slicing into it. It's helpful to use a sharp serrated knife to cut through the zucchini when you make the slices, then lift each piece out with a large spoon or spatula.
Notes
*I know 3 cups is an annoying amount. Most recipes call for one 15 ounce tub, and you can totally do that if you want (Use just 1 egg, keep the rest the same). I just like a lot of cheese, what can I say. Use the leftover ricotta to make ricotta toast, or this Bacon Ricotta Crostini. Or just eat it with a spoon and some salt and pepper. Is this weird? Maybe I am weird. Or maybe you should try it. 
Nutrition
Calories:
391
kcal
|
Carbohydrates:
10
g
|
Protein:
24
g
|
Fat:
28
g
|
Saturated Fat:
14
g
|
Polyunsaturated Fat:
2
g
|
Monounsaturated Fat:
10
g
|
Trans Fat:
1
g
|
Cholesterol:
115
mg
|
Sodium:
2271
mg
|
Potassium:
659
mg
|
Fiber:
2
g
|
Sugar:
6
g
|
Vitamin A:
1013
IU
|
Vitamin C:
22
mg
|
Calcium:
422
mg
|
Iron:
2
mg