The best Homemade Pizza Sauce recipe! It takes just a few minutes to throw together from scratch. I love this quick and easy recipe because it is rich and thick; the perfect compliment to your cheesy slice. You can whir it in the blender in 5 minutes, or cook it on the stove for a little more impact. Originally published August 24, 2021.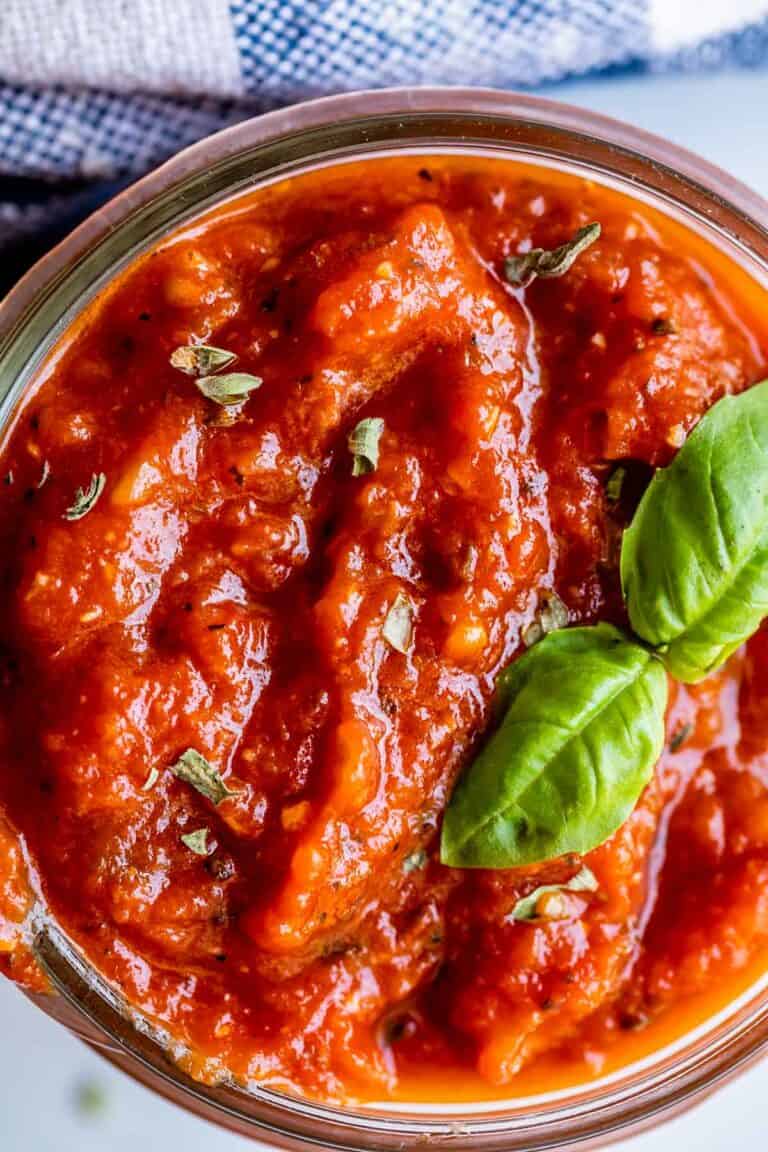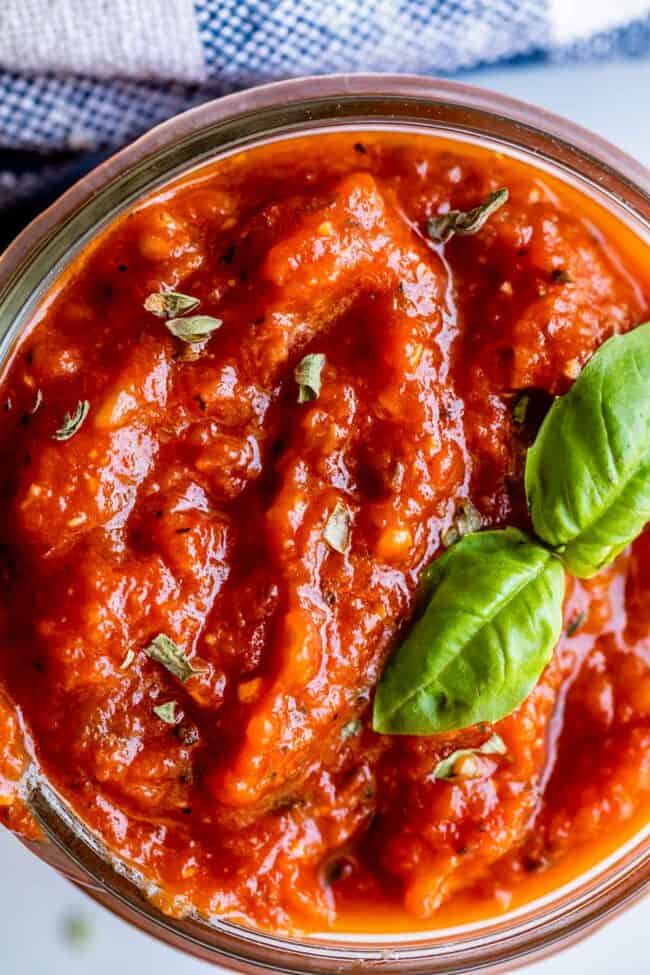 Table of Contents
The other day I made pizza for dinner and I noticed that my 4-year-old daughter Valentine was beginning to nibble all the cheese off of her slice, leaving behind the sauce and crust. I told her, "Valentine, you still need to eat the rest of your pizza because that's dinner. It tastes better with cheese on top."
A few minutes later I came back to find that she had of course eaten all the cheese off her pizza.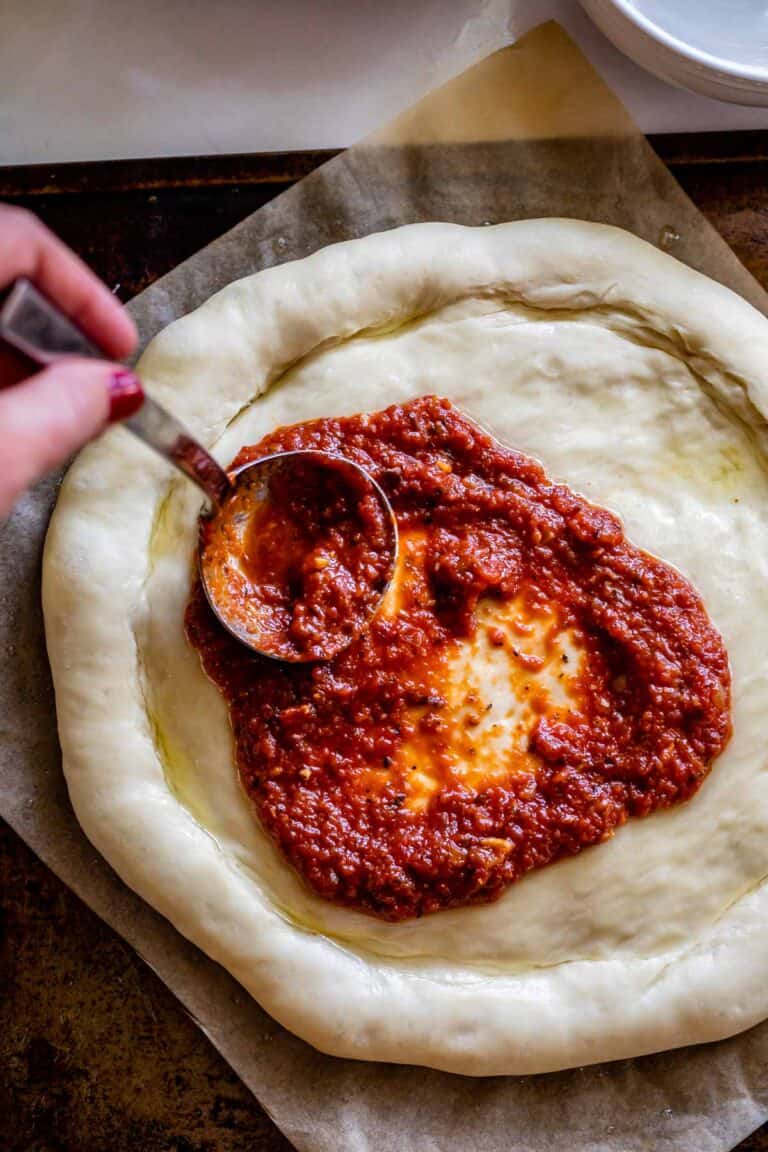 She noticed me noticing and started proclaiming, while taking huge bites, "I LOVE this saucy crust without cheese. It's SO good. I love not having cheese on my pizza right now. This sauce is SO GOOD." The kid was literally reverse psychology-ing herself!
Although maybe she wasn't. This pizza sauce IS really good. You might not even need the cheese. (Lies. You always need the cheese. 'Merica.) But it's true what they say:
This is the Best Pizza Sauce to elevate your pizza
I have a lot of pizza sauce opinions and feelings. SO MANY FEELINGS.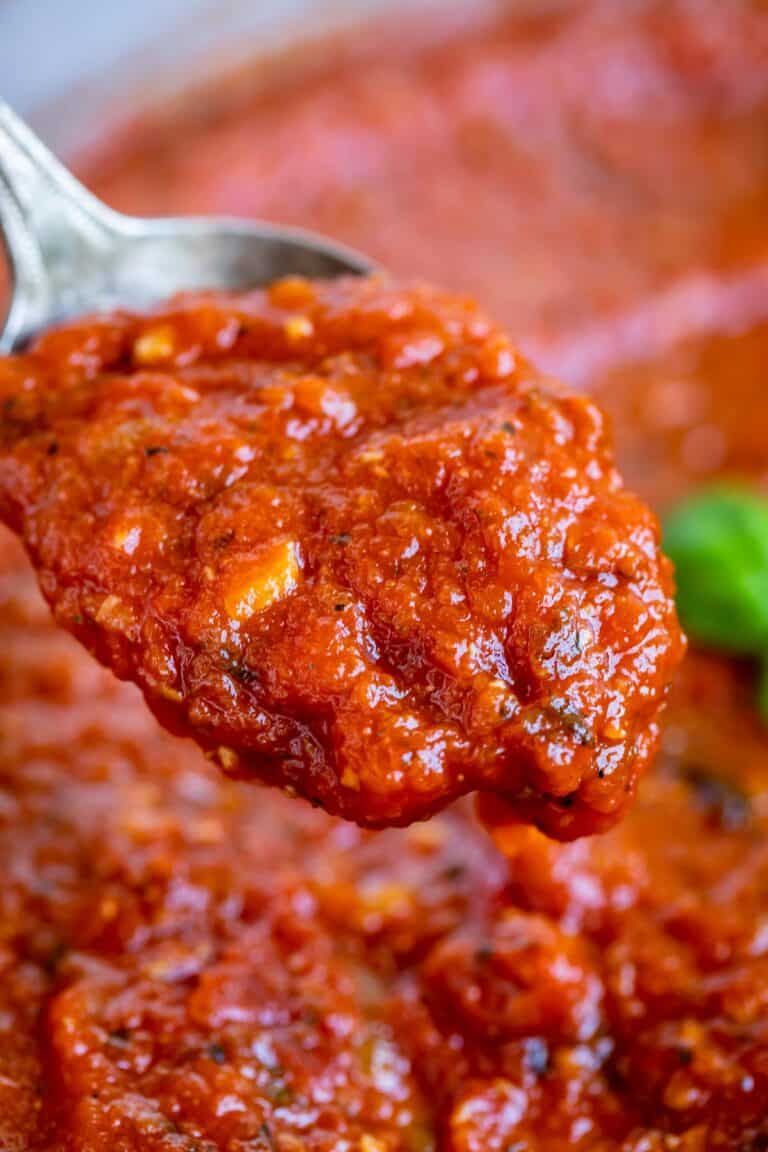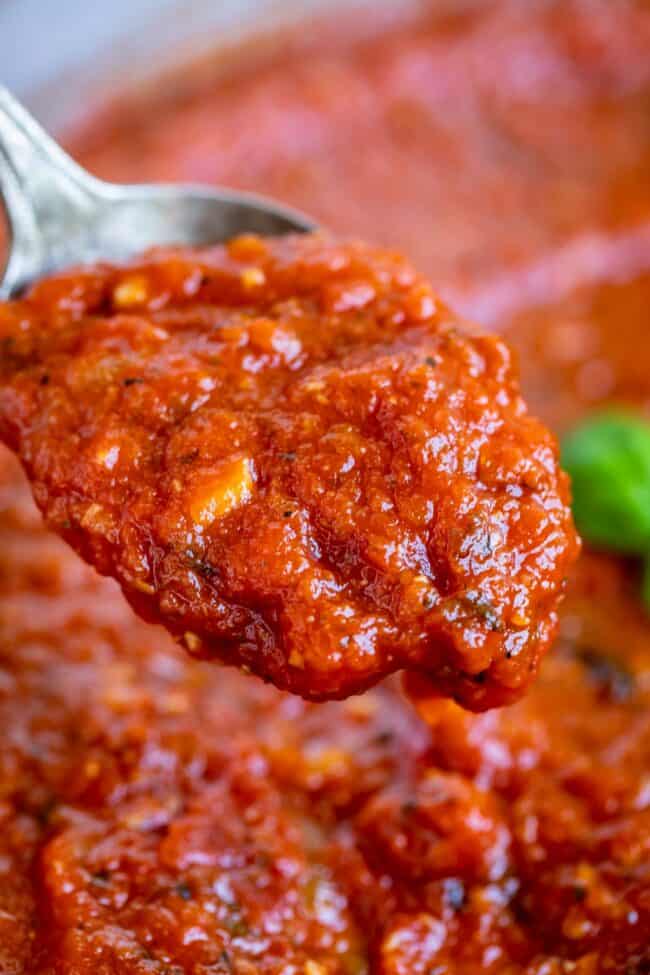 Pizza sauce should be thick. It should have tons of flavor. It should not be bitter or acidic. It should also not be overly sweet (I'm lookin' at you, store-bought pizza sauce. You're the sugary worst.) It should also not be thin and watery. (Sorry, all of Italy 😬)
The star flavor of your pizza sauce? Tomatoes, of course!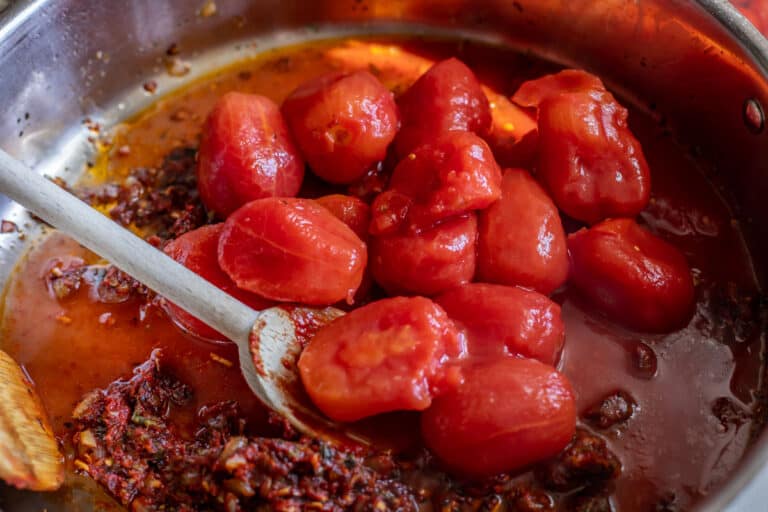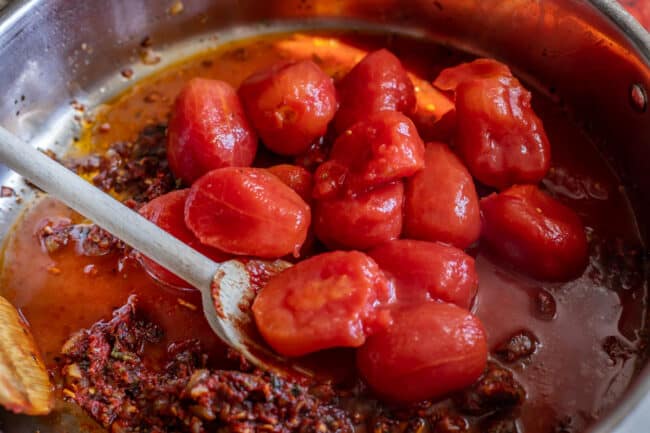 The easiest way to get the best tomato flavor from your pizza sauce is to use the best canned tomatoes. Here's what you probably have available in your store:
canned whole tomatoes (The best option. Whole tomatoes retain the most flavor)
crushed tomatoes (second best option)
tomato sauce / purée (if you must; here is an Easy No-Cook Pizza Sauce Recipe that starts with tomato sauce)
tomato paste (should only be used as an ingredient in pizza sauce, not solo)
diced tomatoes (has additives that help tomatoes hold their diced shape, not what we want.)
Some people swear by San Marzano canned tomatoes because they are from Italy, and Americans think anything from Europe has got to be better ;)
I decided to do a little taste test to see what all the fuss was about.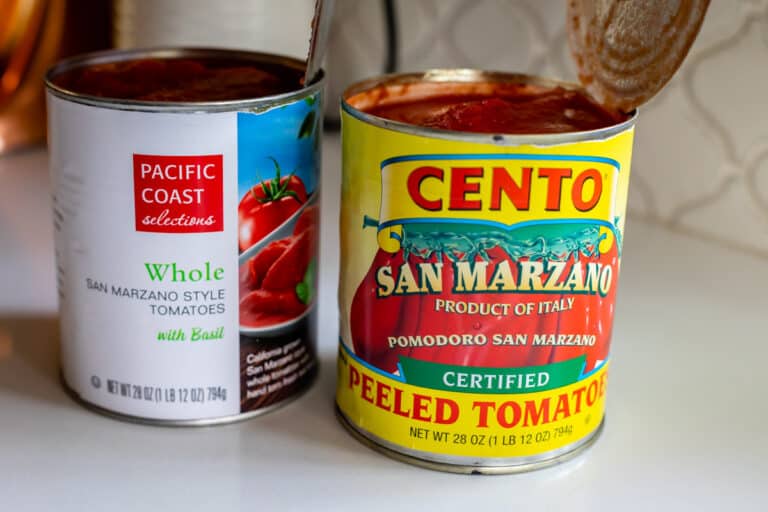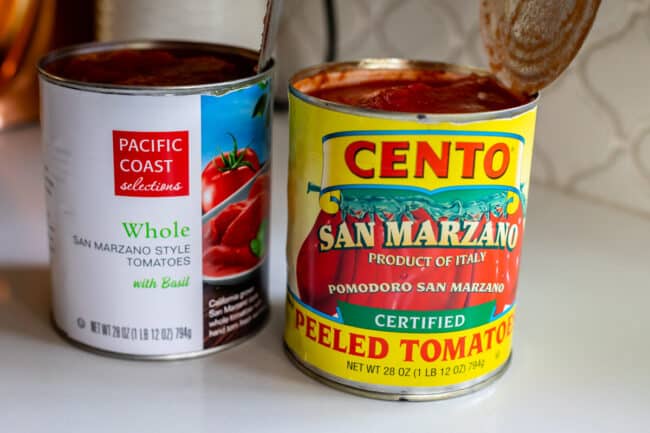 San Marzano Italian tomatoes: I tasted these right out of the can. They are sweet and a little dull? Not impressed. This can cost me $5.69 (I live in Sacramento)
American tomatoes: Right out of the can, these tomatoes are more acidic and sharp. They taste more tomato-y and flavorful to me (probably because this is the kind of tomato I've been eating all my life!) This Pacific Coast brand cost me about $1.50.
I cooked both of them into today's pizza sauce recipe: Once cooked, I really enjoyed both types of tomato. I think I even preferred the Italian tomatoes a little more. (They are so sweet that you don't need to add any sugar at all.) But do I like it $5 more? Maybe not, ha.
If you are really into it, try doing your own taste test. But since most of you reading this are American, and have eaten American tomatoes on basically every pizza you've ever had, I think the cheaper tomatoes are going to taste great to you!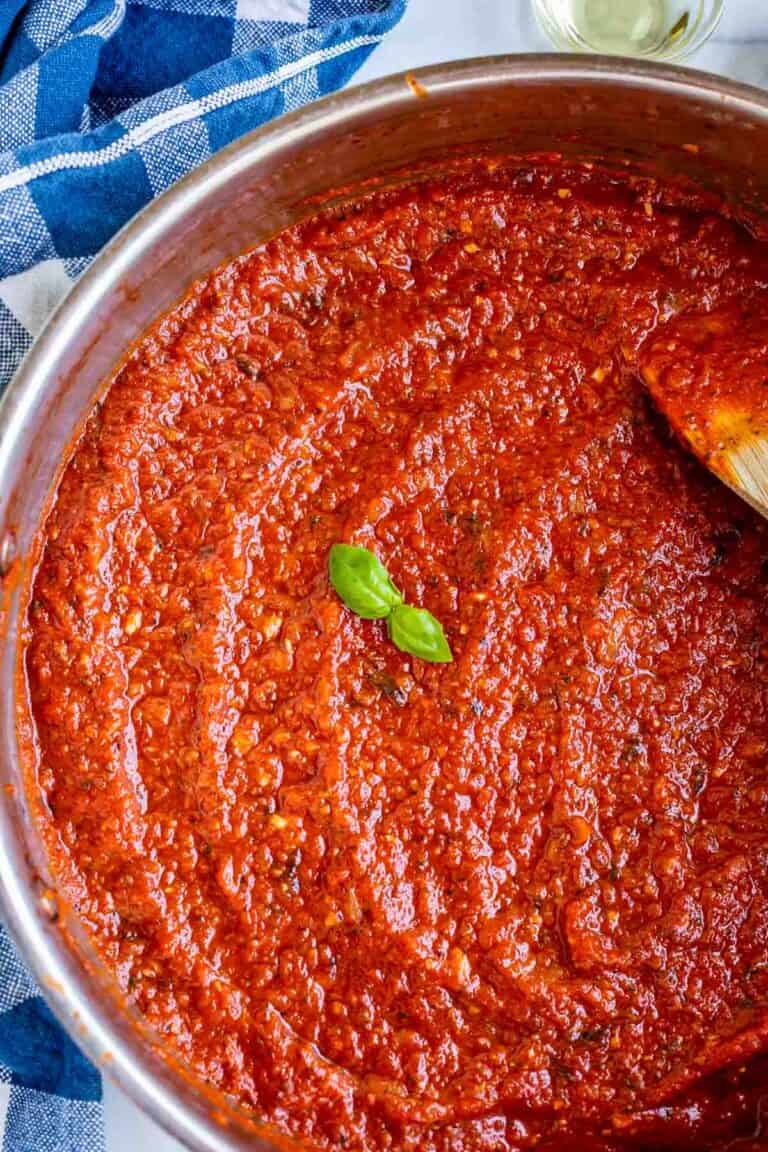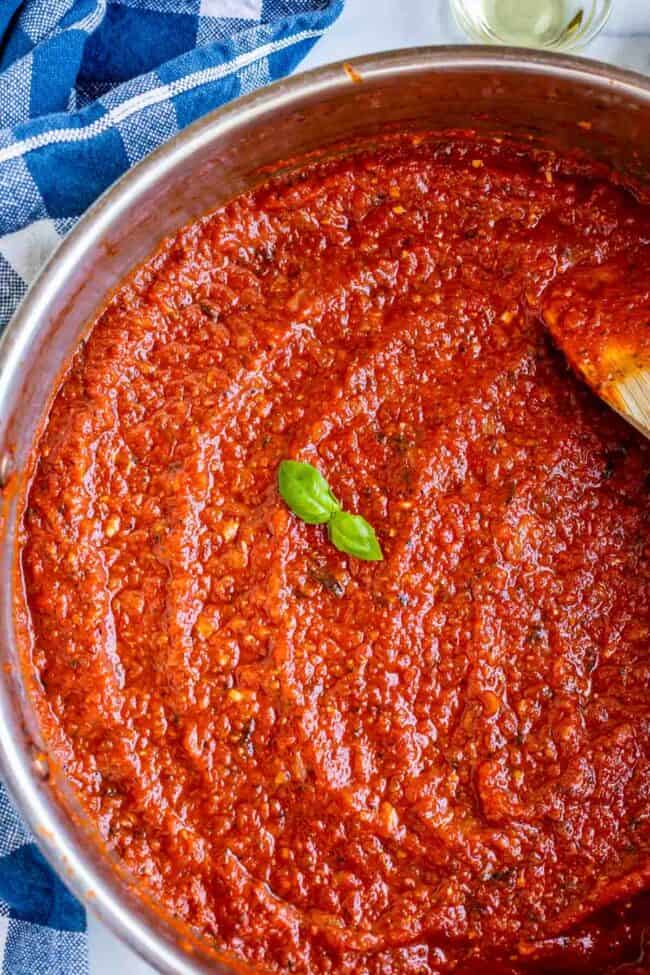 What is in Pizza Sauce?
Now that we've figured out our tomatoes, here's the other stuff you need.
Olive oil
Onion (optional, you can sub dried minced onions in a pinch)
Garlic
Spices (oregano, basil, etc.)
Tomato paste
Canned whole tomatoes
Sugar, if necessary for an acidic sauce
How to make pizza sauce
I promise it is easy! You can make it in the amount of time it takes your pizza dough to rise 20 minutes (the minimum amount of rising time in my opinion).


Start by sautéing some onions in olive oil. If you are feeling too lazy for onions (this is me half the time!) Then just start with the garlic. Make sure you don't burn or even brown the garlic.
Add the spices: oregano, basil, garlic powder, salt, crushed red pepper. Toss in some dried minced onions if you skipped fresh onions.

Add the tomato paste to the garlic and spices and swirl it around to heat it up. Just as we're toasting the spices first, heating up the tomato paste brings out it's beautiful tomato-y flavor!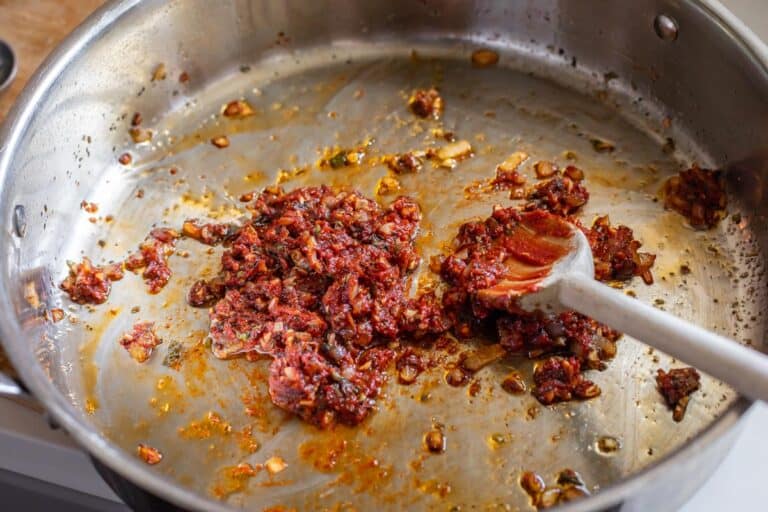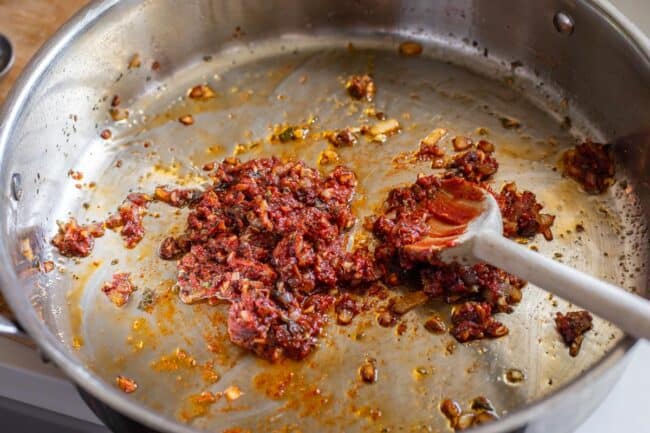 Next add in the whole tomatoes! Or use crushed tomatoes if you must.
Use a wooden spoon to break up the tomatoes as much as you can. Bring the mixture to a simmer and let bubble for 5 minutes or up to 30 minutes! The longer the better, to give the flavors a chance to meld.
After several minutes of simmering, give the sauce a taste and decide if you want to add any sugar. This ingredient is optional! Every can of tomatoes is different, some are going to be sweeter than others naturally. If you taste it and notice an acidic or bitter aftertaste, add in a half teaspoon sugar (or more) to offset that flavor. Don't go crazy. Pizza sauce should not be sweet. Usually 1/2 teaspoon or up to 1 and 1/2 teaspoons will do ya.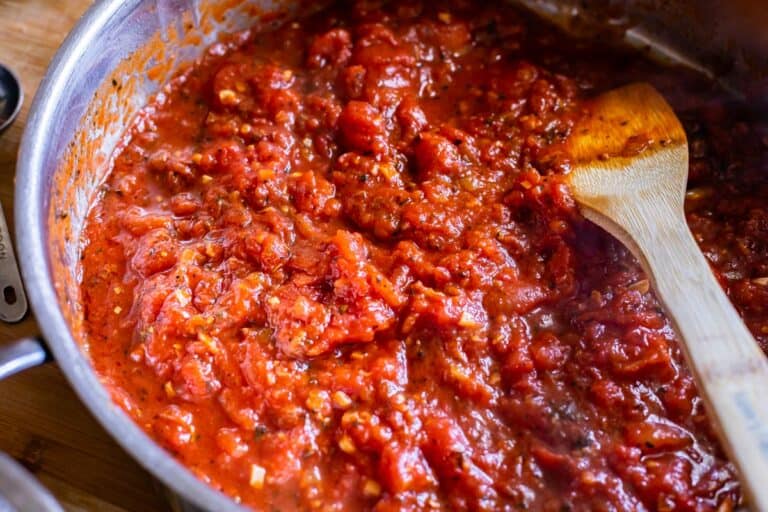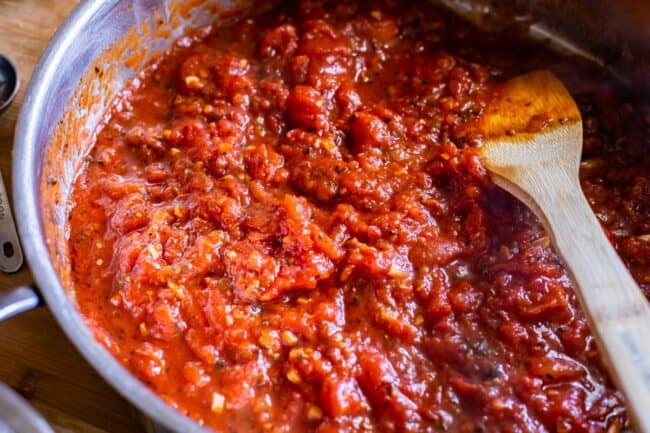 At this point if you are a really good wooden-spoon-breaker-upper, you might be done. If you like a smoother sauce that is not thick and chunky, bust out your immersion blender and puree it! Or you can use a blender if you don't have one (but it's so much easier with an immersion blender!)
Best Pizza Sauce Recipe FAQs
Now for some FAQ: these are some of the most common questions people look up about pizza sauce.
Can you use tomato paste for pizza?
I'm gonna go with a hard no on this one my friends. Have you tasted the stuff?? It's super concentrated. It's made of tomatoes that have been cooked, strained, and cooked again to remove all the liquid. It is meant to be used as a flavorful thickener, like for adding to soup or sauce. It's a great ingredient in pizza sauce (it's in today's recipe!) to bring a richer, thicker texture. But no, you really should not slather it straight up on your pizza dough. Don't be like that.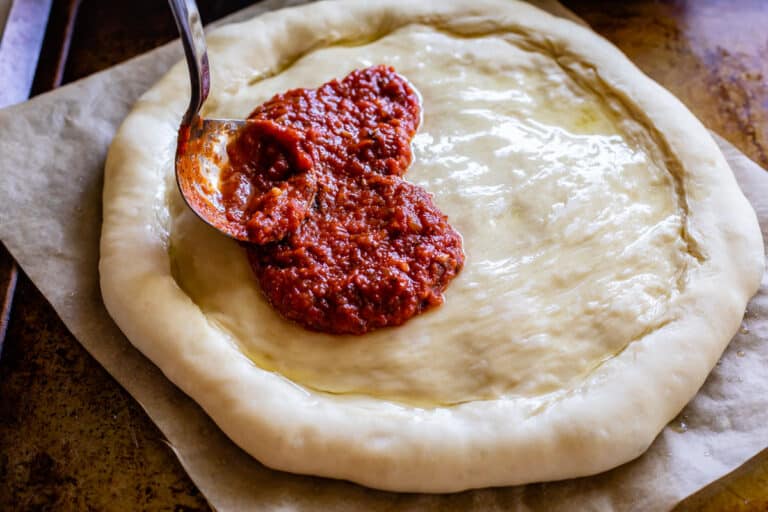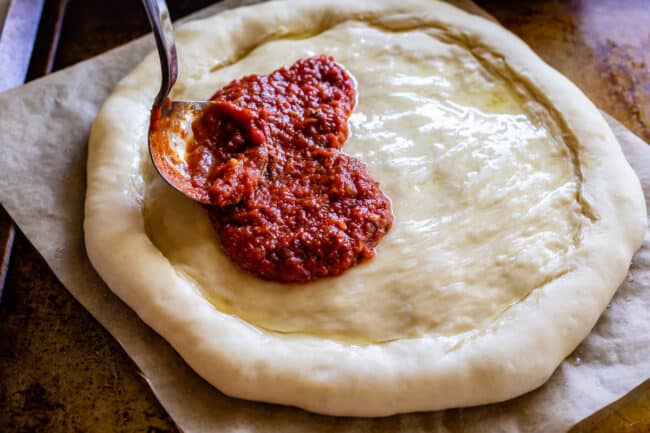 Can I use tomato sauce for pizza?
You can! I have a quick and Easy No Cook Pizza Sauce that requires no blending or cooking. Just open the cans, dump in a bowl, and mix. Is it as delicious as today's cooked pizza sauce recipe? In my opinion, no. You get the best tomato flavor from using canned whole tomatoes rather than tomato sauce, which is cooked and processed. That said, pizza is pizza: even when it's bad, it's good. So don't stress too much if you are in a hurry. Use the no cook sauce.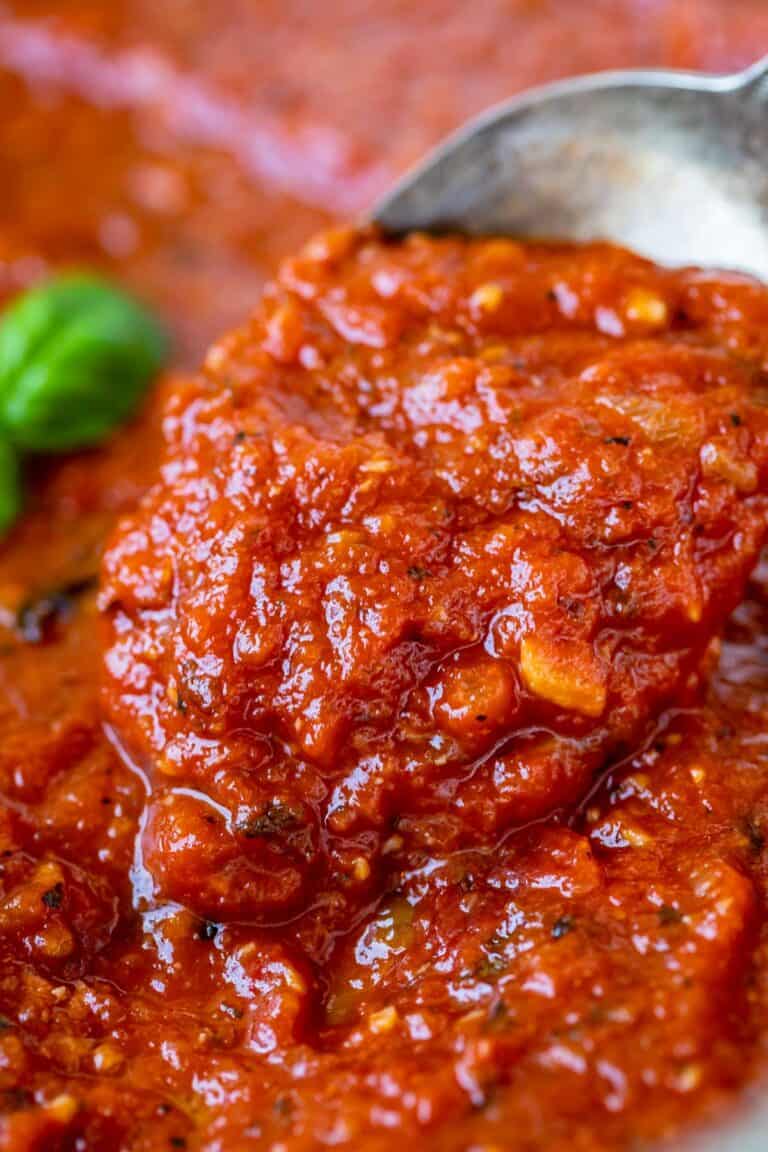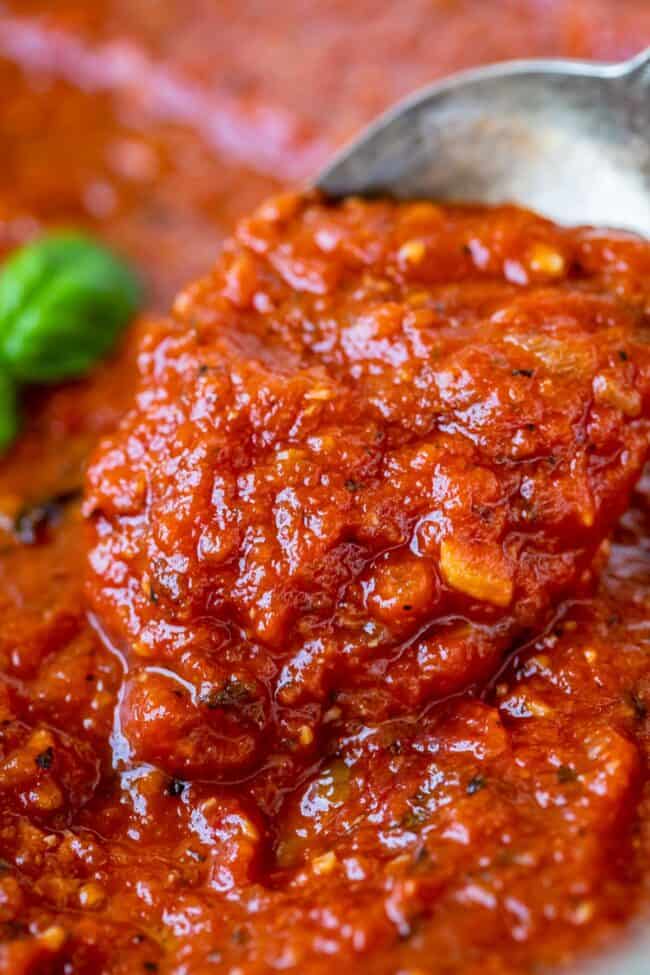 Should pizza sauce be raw or cooked?
Ask an Italian and they will tell you pizza sauce is raw. Straight from the can, high quality tomatoes, crushed with a little salt and pepper.
Ask a New Yorker what goes in their pizza sauce and they will tell you it's a complicated blend of tomato-y ingredients, simmered for hours using their own grandmother's blood sweat and tears.
So really, this issue comes down to personal preference! And personally? I prefer American style cooked pizza sauce. Don't hate me, Italy, I know we've ruined things for you. (No regrets though. I mean have you been to Pizza Hut?? It's freakin amazing. Love, your most basic American.)

What is the difference between Pizza sauce and Spaghetti sauce?
Technically people like to define this by saying that pizza sauce is uncooked and spaghetti sauce is cooked, but I beg to differ. There is something magical that happens to tomatoes when they are heated up. You only need a few minutes: my pizza sauce recipe calls for anywhere from a 5 to 30 minute simmer, whatever you have time for. Marinara or spaghetti sauce tends to have more ingredients and an even longer cook time to really bring out the natural sweetness and acidity of the tomatoes.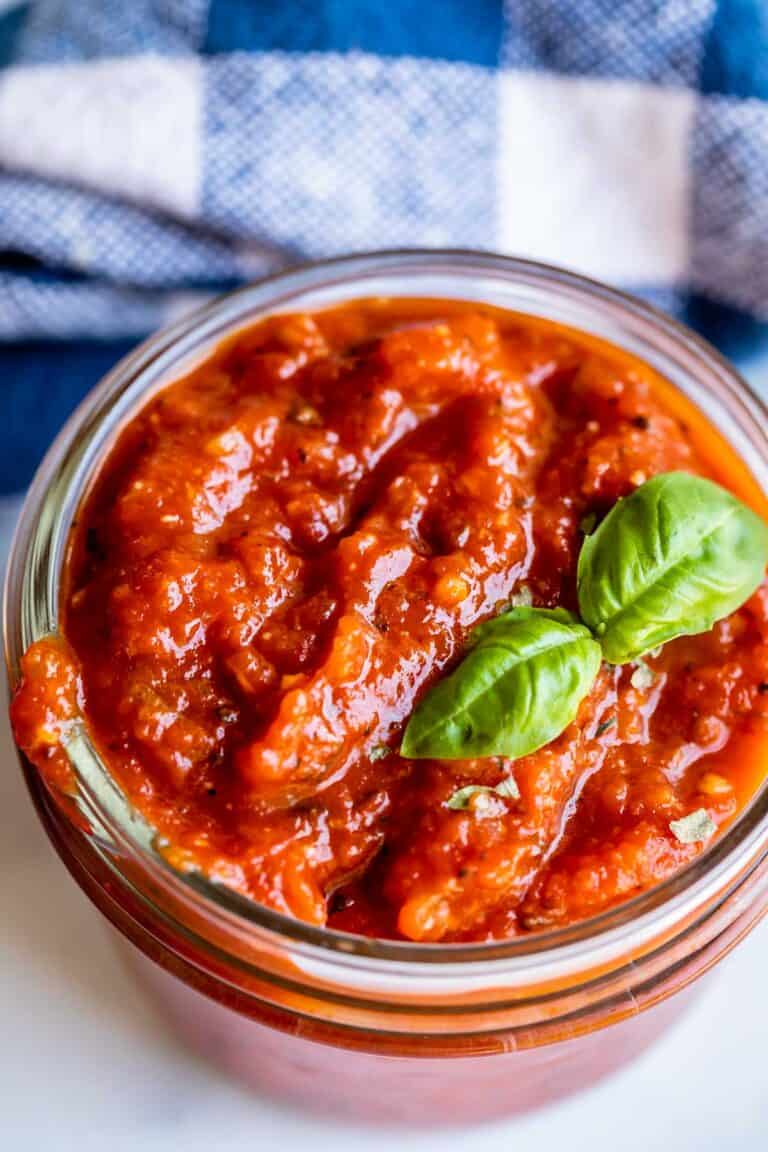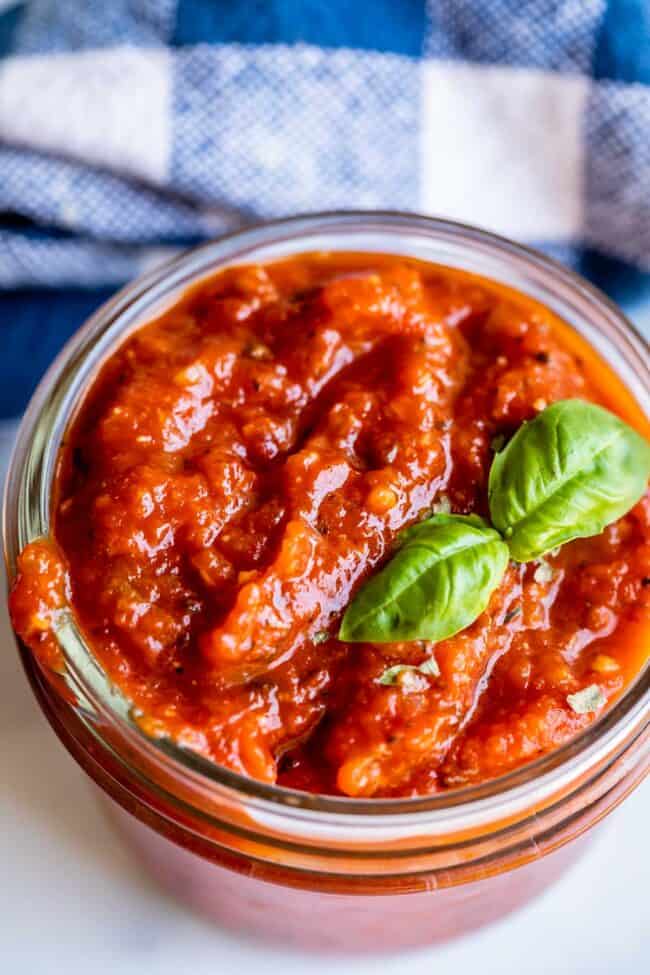 But guess what? If you are in a rush, you can make today's pizza sauce recipe without cooking it. It will still taste great. Toss all the ingredients in a blender (minus the onions! No dragon breath!) and voila, you're done. It will be a little more watery than the cooked version.
And here's a shocker: you can definitely eat this homemade cooked pizza sauce with pasta. It's delish.
Can you use spaghetti sauce on pizza?
To me, spaghetti sauce means meat sauce. And I don't want meat sauce on my pizza. There's nothing to stop you from doing it, but I don't really recommend it. If you're just buying a jar of marinara sauce from the store, you can use it on either pasta or pizza. But why do that when you could make this homemade stuff so easily??
Pizza Sauce Recipe Tips
You are in luck. I have a whole post dedicated to Pizza Dough to get you that killer crust! And another entire post about how to put it all together to make the best Homemade Pizza. You will learn all my tips and tricks for making incredible pizza at home, with no fancy ingredients or tools required. But in a nutshell:
use homemade dough
let the dough rise for as much time as possible
cook your pizza at the highest temperature your oven will go to. Be prepared with towels to wave at your smoke alarm if necessary. IT'S WORTH IT.
get a decent pizza stone. (I know, I know, I said no fancy tools. I lied.) This investment really is worth it if you want a great crust. But a baking sheet will work too.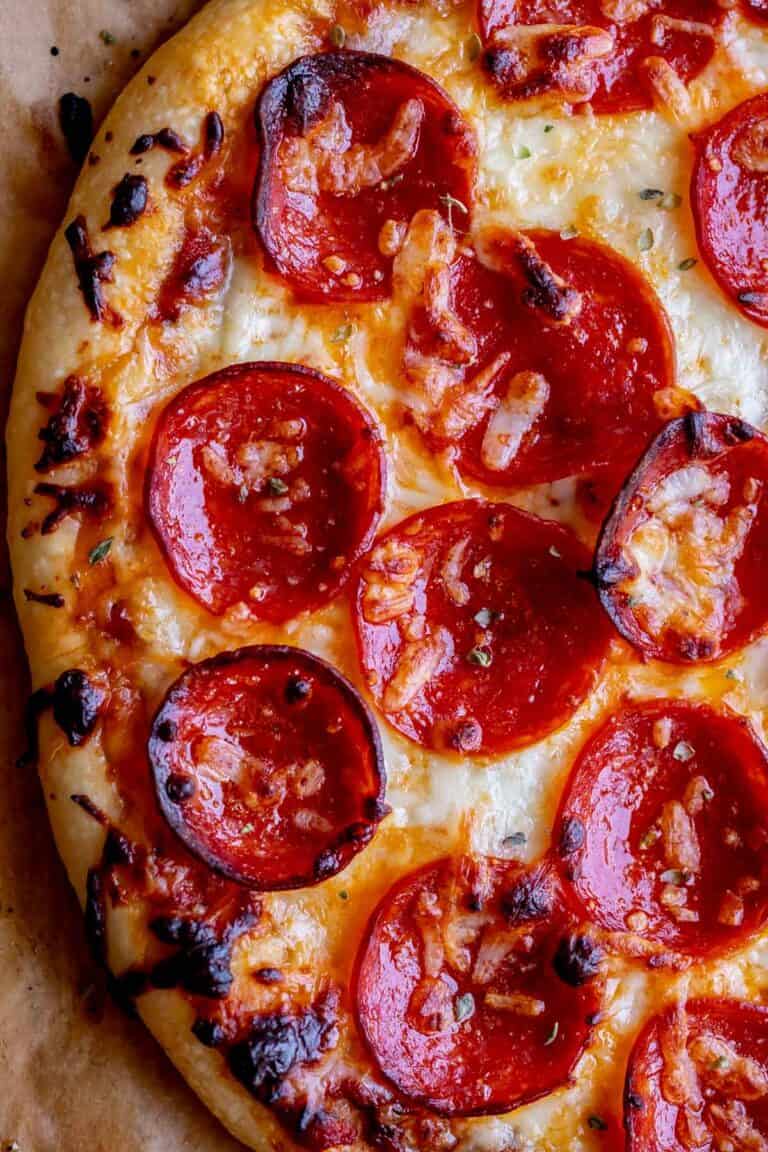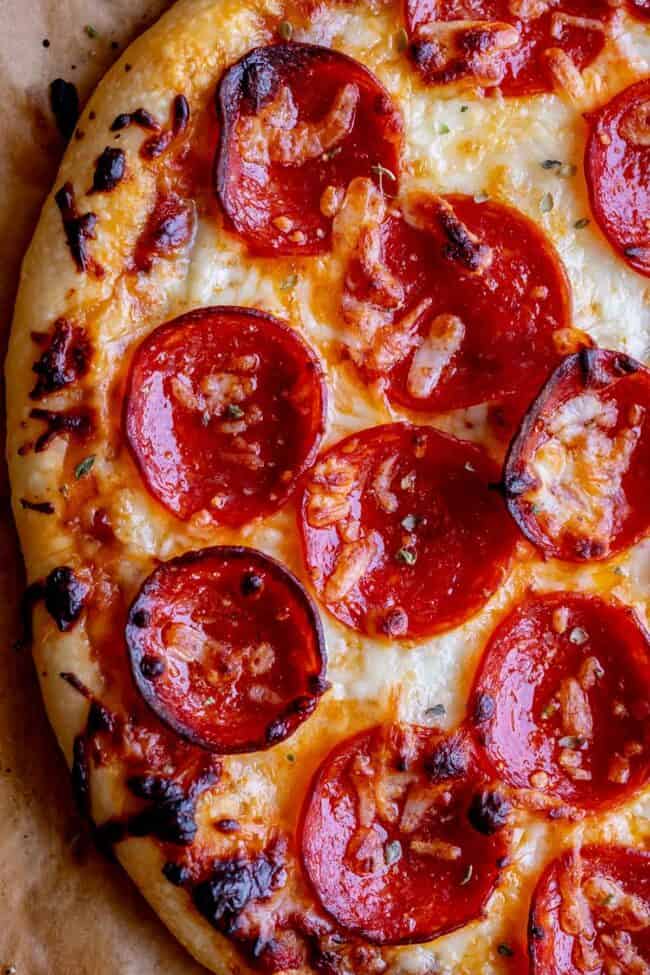 How to store Leftover Pizza Sauce
Can you freeze pizza sauce?
Yes absolutely! Pizza sauce is very forgiving and can even be frozen multiple times. Sometimes I thaw out my stash, don't use it all, and then toss it BACK in the freezer. You can't go wrong.
Let the sauce cool completely and then transfer to a ziplock. I like to fold the top of the ziplock back on itself once so that you don't spill sauce all over the zippy part. If you don't have anyone to hold the bag open for you, place the empty bag in a bowl.
The sauce will keep in the freezer for 3 months at least. Let thaw in the fridge, or I've even used the defrost button on my microwave. (place the ziplock in the microwave and defrost until the edges of the sauce are soft enough to transfer to a bowl, then finish microwaving. Use a cover!) You can also just throw it into a pot on low with a couple tablespoons of water and wait a while til it melts! It's a very forgiving sauce.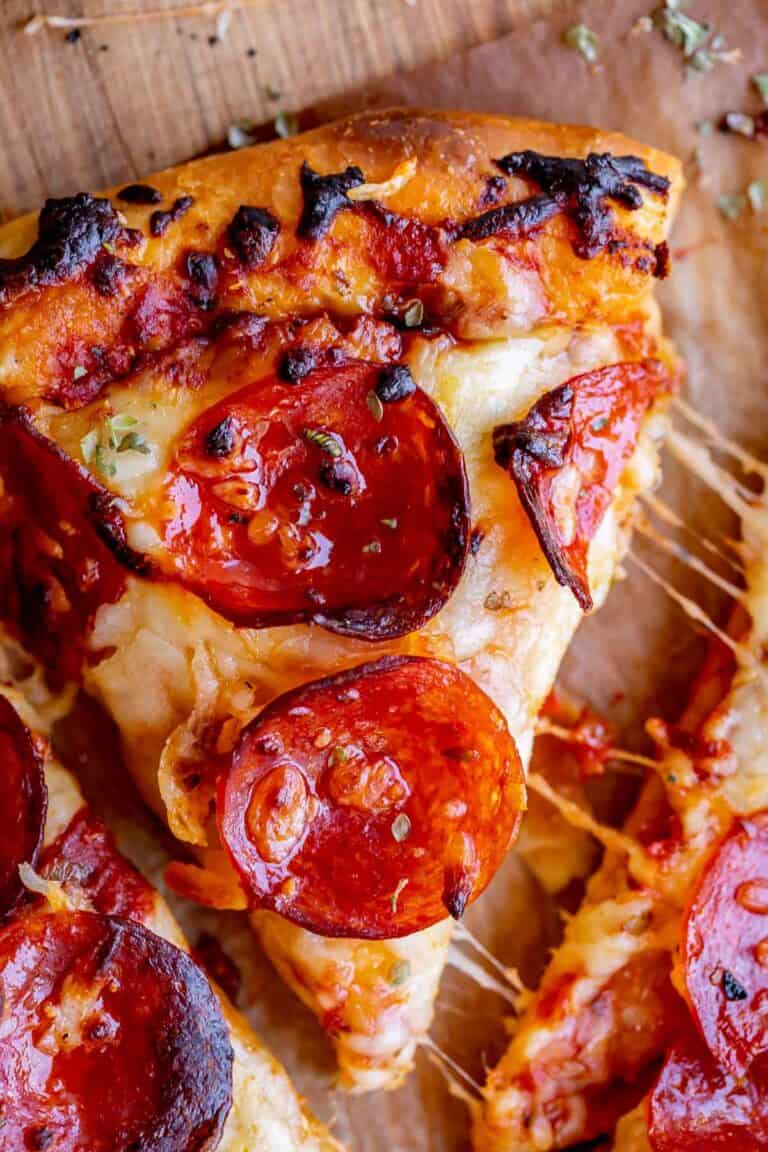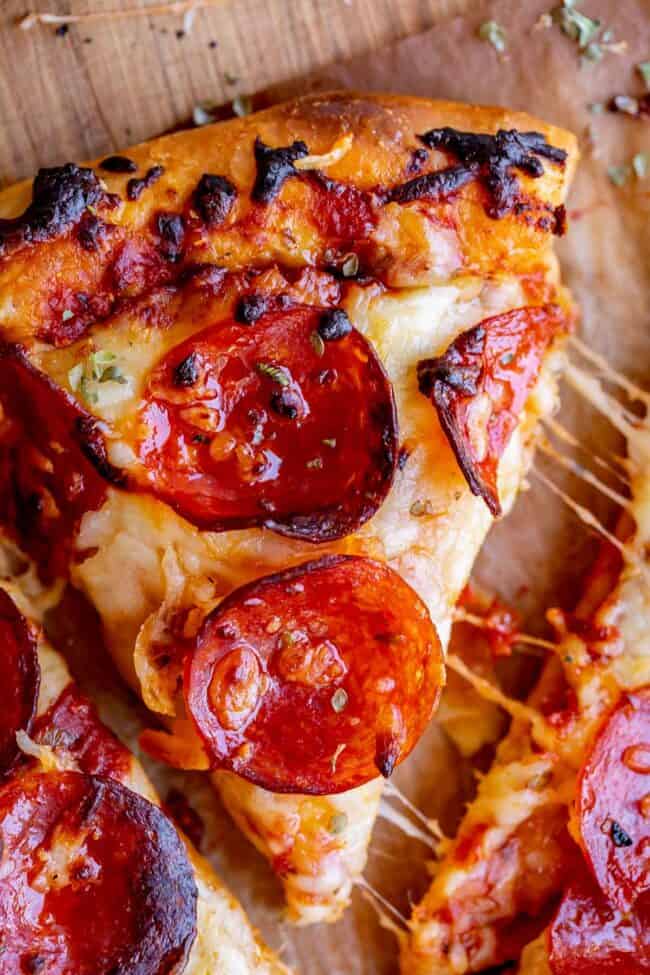 Today's post is first in a 3-part series! Be sure to check out my Easy Pizza Dough Recipe (to get an epic crust) and my Homemade Pizza post to put it all together perfectly! You are going to be a pizza maestro in no time!
More pizza to love:
Facebook | Pinterest | Instagram

Homemade Pizza Sauce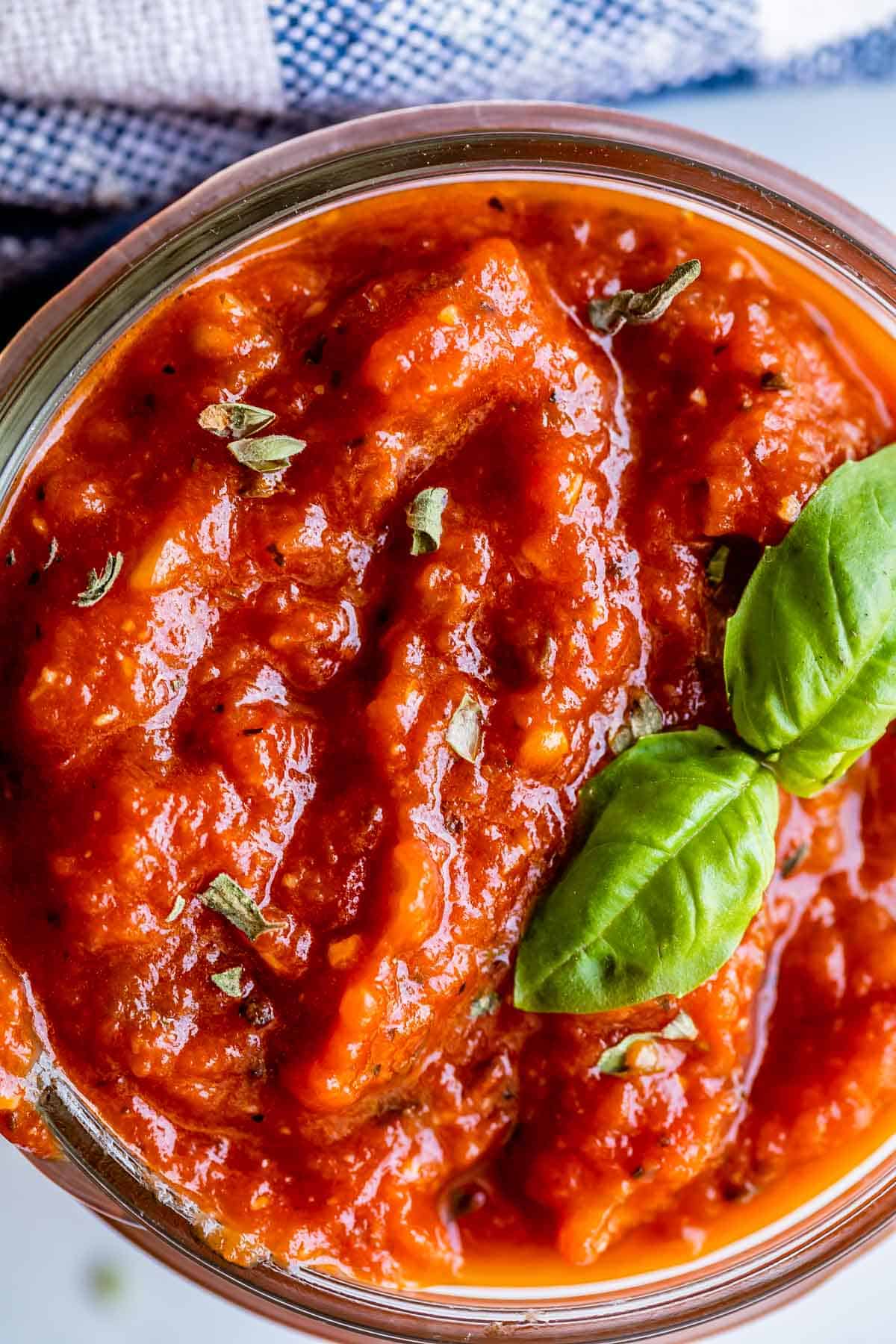 The best Homemade Pizza Sauce recipe! It takes just a few minutes to throw together. I love this recipe because it is rich and thick.
Ingredients
2

tablespoons

olive oil

1/3

cup

onion

,

chopped (optional)

3

cloves

garlic

,

(about 1 tablespoon), smashed and minced

3

tablespoons

tomato paste

2

teaspoons

dried oregano

1

teaspoon

dried basil

1/2

teaspoon

garlic powder

1 & 1/4

teaspoons

kosher salt

1/8

teaspoon

crushed red pepper

,

optional

28

ounces

canned whole tomatoes

,

or 28 ounce can crushed tomatoes

1/2

teaspoon

sugar

,

or up to 1 teaspoon, optional
Instructions
See notes for 5 minute no cook instructions.

Prep all your ingredients first so they are ready to go. Chop 1/3 cup onions, smash and mince 3 cloves of garlic. Open the can of tomato paste (or use this tomato paste in a tube, which is super handy for when you don't need a full can). Open the can of whole tomatoes.**

In a small bowl, add all the spices: 2 teaspoons dried oregano, 1 teaspoon dried basil, 1/2 teaspoon garlic powder, 1 and 1/4 teaspoons kosher salt, and 1/8 teaspoon crushed red pepper if you like (this adds flavor not heat).

Heat a medium skillet over medium heat. When it's very hot, add 2 tablespoons olive oil and swirl to coat.

Add 1/3 cup chopped onions and saute for 3-4 minutes until they are starting to brown. (If you are not using onions, start with heating the garlic for 1 minute, making sure it does not brown. If I'm omitting fresh onions, I like to add 1 teaspoon minced dried onions).

Add 1 tablespoon minced garlic and all the spices you prepped in step 2. Saute and stir for 1 minute until the garlic and spices are fragrant.

Add 3 tablespoons tomato paste. Stir it into the garlic and spread it out a bit in the pan, so that it heats it through. This helps bring out that beautiful tomato-y flavor!

Add the 28 ounce can of whole tomatoes. Break up the tomatoes with a wooden spoon as much as you can. Bring to a simmer over medium or medium low (so that there are slow bubbles coming up but nothing too wild). Let simmer for about 5 to 30 minutes. How long you simmer is really up to you. The longer you simmer, the more time the flavors have to meld together.

Add sugar if necessary. Just as every tomato is different, every can of tomatoes is going to have a different level of acidity. Sometimes sugar is completely unnecessary (like if you use fancy Italian tomatoes). Give your sauce a taste and decide if the acidity is biting back a little too much. If so, start with a 1/2 teaspoon sugar, moving up to 1 teaspoon if you want. Use your best judgment to get the balance just right.

Blend the sauce. (Blending is unnecessary if you like a chunky sauce! If it looks good to you, you're done! I usually skip it) Turn off the heat and use an immersion blender to puree the sauce. If you do not have an immersion blender (why, why??) then let it cool for a couple minutes before transferring to a blender. You will probably have to do it in two batches. Do not fill the blender to the fill line; add less than you think. The sauce is very hot and will expand when blended, which could overflow your blender and splatter you. Take off the little spout on top of the blender and hold a towel over the top of the lid while blending. This will allow steam to escape and avoid any pizza sauce eruptions.

Use the sauce for your favorite homemade pizza! This recipe makes about 4 cups of sauce, enough for about 4 medium pizzas. Here is the recipe for my Easy Pizza Dough, and here is my basic Homemade Pizza Recipe.

Leftovers storage instructions: This sauce will keep in the fridge for 3-5 days. Keep in a sealed container.

Freezer instructions: Add cooled sauce to a labeled ziplock and freeze for up to 3 months. Let thaw in the fridge, or I've even used the defrost button on my microwave. You can also just throw it into a pot on low with a little bit of water and wait a while til it melts! It's very forgiving.
Notes
5 Minute No Cook Pizza Sauce:
Omit fresh onions. Add all the other ingredients to a blender; pulse until it's as smooth as you like. Add 1 teaspoon dried minced onions if desired.
Nutrition
Calories:
121
kcal
|
Carbohydrates:
14
g
|
Protein:
3
g
|
Fat:
7
g
|
Saturated Fat:
1
g
|
Polyunsaturated Fat:
1
g
|
Monounsaturated Fat:
5
g
|
Sodium:
1108
mg
|
Potassium:
548
mg
|
Fiber:
3
g
|
Sugar:
7
g
|
Vitamin A:
453
IU
|
Vitamin C:
23
mg
|
Calcium:
96
mg
|
Iron:
3
mg