Sheet Pan Honey Chipotle Crusted Salmon with Cauliflower Rice
This easy sheet pan dinner comes together so fast! Honey Chipotle Crusted Salmon is paired with roasted Cauliflower Rice and black beans. Top it off with Avocado Coconut Cream! Bake it all on one pan and clean up is a breeze.
We are now going two nights in a row of baking a pan of Christmas cookies from the freezer and eating the ENTIRE PAN in one shot. Which basically means the kids eat 1 or 2 each and the rest I may as well duct tape to my thighs, because let's be real that's where it's going to end up. Well, not all of them. Eric helps a lot. I've never seen anyone throw down Gingersnaps like Eric does. I don't know whether to be disgusted or jealous. (Somehow he doesn't have the same thigh problem that I do. MEN, amiright?)
Eric's family is Swedish and they do NOT mess around when it comes to Christmas cookies. His mom bakes hundreds of Spritz, Cardamoms, Gingersnaps, Butter Pecans, and Swedish Sour Cream Twists every single year.
We had leftover dough from the most recent batch, and I asked Eric whether I should freeze it for later or bake right away. He just said, Well, it's Christmas. (That means yes.)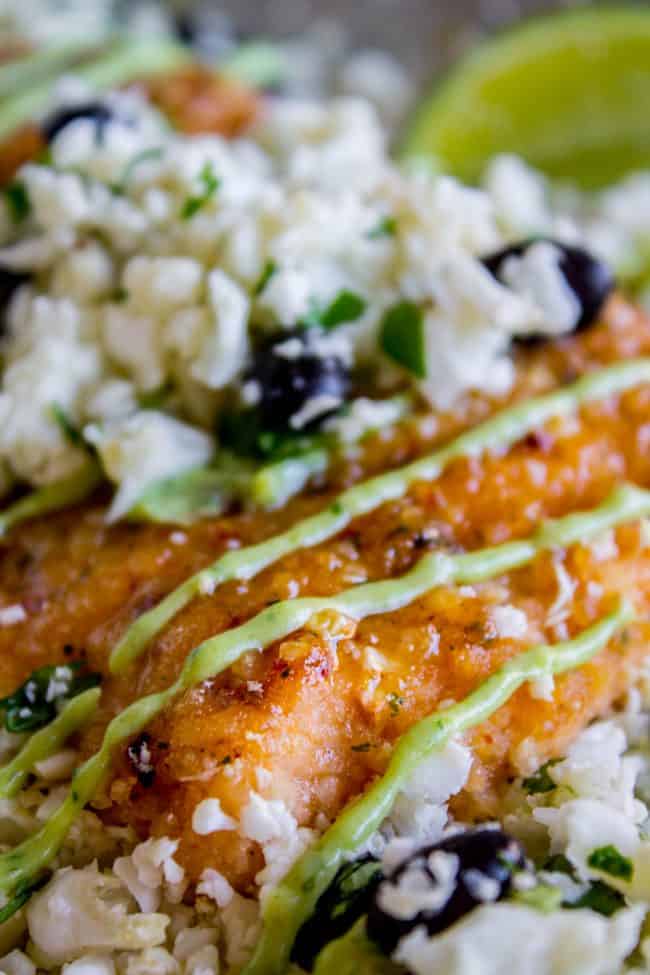 My BFF Sarah just told me that her gingerbread house plans are so elaborate this year that her husband had to draw up architectural plans on the computer. Like, blueprints. For a real house. That is INTENSE. And makes me glad to know I'm not the only crazy cookie lady out there. I guess that's why we're friends!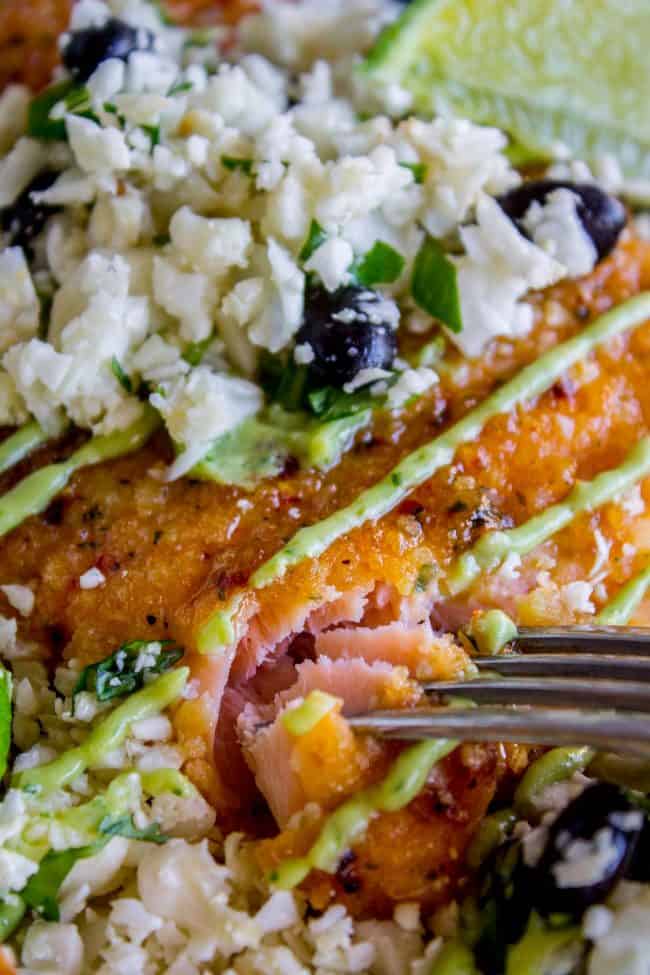 There IS a solution to the thigh problem, guys. The answer is to skip breakfast every day and make the calories up with cookies later in the afternoon. JUST KIDDING don't do that. (What? No, I don't do that, ever.)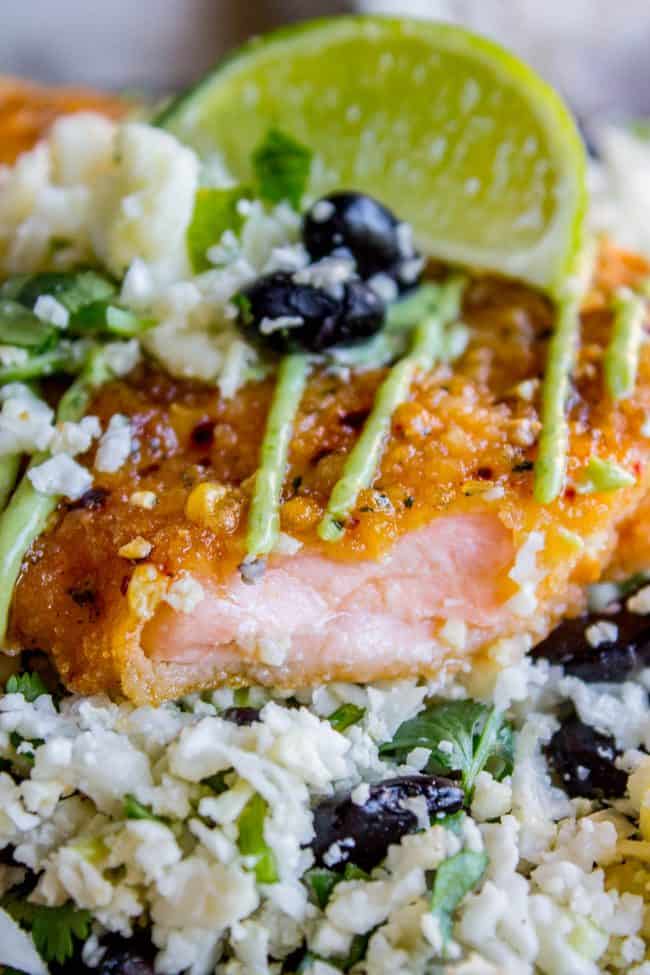 The REAL answer is to eat this salmon for dinner every night. With cauliflower rice and Avocado Coconut Cream! Guys. It's so delicious. My kids asked for seconds. That is a win.
I really really love having healthy dinners on the menu in December, because I really really do have pathetic self control when it comes to cookies. It's nice to be able to balance it all out with some super low carb dinners.
Have you ever made cauliflower rice before? It's not rice. Doesn't taste like rice. It tastes like cauliflower. I just want to make sure we're on the same page here! It's called cauliflower rice because people usually eat it as a substitute for rice (with curry, as a skillet meal, with beefy main dishes, etc.) and because of course it's white and looks like grains of rice. Kinda. I think it's delicious and if you haven't had it, it's definitely worth a try.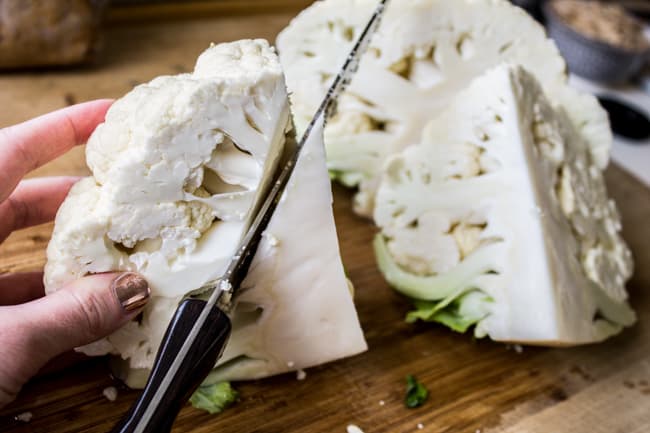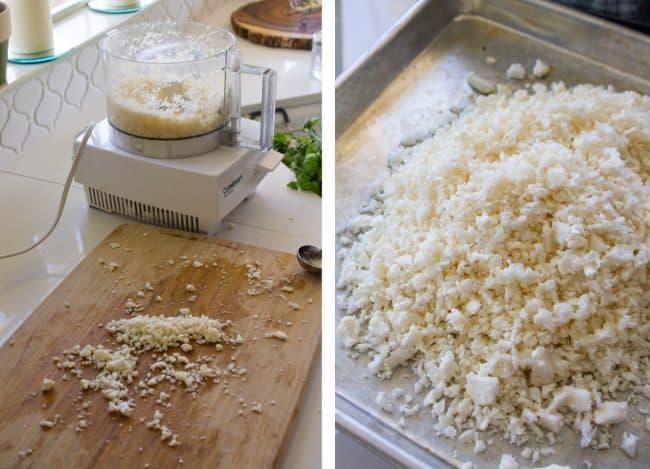 Here's what was left on the cutting board after chopping the cauliflower. No need to add it to the food processor, it's already riced enough! You can see in the photo on the right that the pieces don't need to be super tiny. Some texture is good.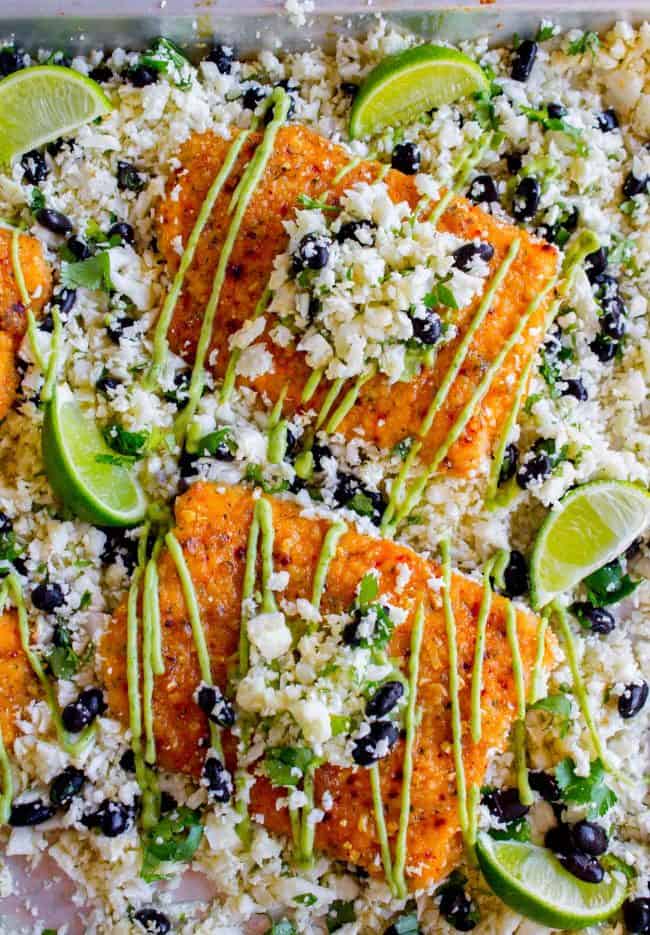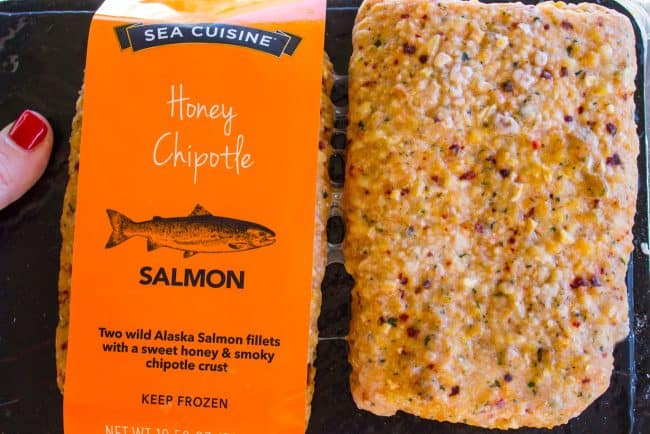 The star of this meal is the salmon for sure! I mean just look at that Honey Chipotle Crust, come on. How can you go wrong. This is another salmon variety from Sea Cuisine. On my last post I featured their Asian Grill Rubbed Salmon for this Sheet Pan Asian Salmon with Broccoli, Carrots, and Rice. It is SO good. I was really excited to try today's crusted version, and it did not disappoint! I love how easy it is to take these straight out of the freezer and pop them in the oven.
This was my first time baking my cauliflower rice instead of sautéing it, and I'm a huge fan. It's no big deal to turn on the oven in the wintertime, and you only have to stir it a couple times instead of babysitting it at the stove. After it has baked for a few minutes, you add the salmon and they cook together on the pan until everything is toasty and flaky and perfect. Add the black beans and Avocado Coconut Cream and voila, dinner. (I forgot to talk about the Avocado Coconut Cream. Coconut Cream, mixed with avocados, cilantro, and lime juice. Oh my!)
This post is sponsored by Sea Cuisine. Thanks for supporting the brands that keep The Food Charlatan chugging along! You guys are the best!
Facebook | Pinterest | Instagram | Twitter
One year ago:  Crispy Swedish Cardamom Cookies
Three years ago:  Cinnamon Honey Butter (huge favorite!)
Six years ago: Mediterranean Pork with Couscous (Crock pot)
Sheet Pan Honey Chipotle Crusted Salmon with Cauliflower Rice
This easy sheet pan dinner comes together so fast! Honey Chipotle Crusted Salmon is paired with roasted Cauliflower Rice and black beans. Top it off with Avocado Coconut Cream! Bake it all on one pan and clean up is a breeze.
Ingredients
1

head

cauliflower

2

tablespoons

olive oil

3

cloves

garlic

,

smashed and minced

1

teaspoon

kosher salt

2 (10.5-oz)

packages

Sea Cuisine Honey Chipotle Salmon

1

tablespoon

lime juice

3

tablespoons

cilantro

,

chopped

1

can

black beans

,

drained

1

teaspoon

garlic

1

tablespoon

cilantro
For the Avocado Coconut Cream
1/2

cup

coconut cream

1 & 1/2

large

avocados

3/4

teaspoon

salt

2

tablespoons

lime juice

1/8

teaspoon

chipotle chili powder

1/4

cup

cilantro
Instructions
Preheat your oven to 400 degrees F. Drizzle a baking sheet with a little olive oil and rub with your hands to coat the pan. Set aside.

Chop the cauliflower in half, then in quarters, and cut out the stem. Chop into 1 inch pieces (See photos)

Add 1/3 of the cauliflower to a food processor.* Pulse in 1-second bursts until it is riced. Remove to the prepared pan. Process the remaining cauliflower.

Add the garlic and 1 teaspoon salt to the cauliflower on the pan and stir.

Spread the cauliflower out into a single layer and bake for 10 minutes.

Remove from the oven and stir thoroughly. Create four spaces on the pan for the salmon. Spray with nonstick spray.

Return to the oven and bake for another 16-20 minutes. You will know it is done when the cauliflower is tender and the salmon flakes with a fork. Check halfway through the second bake to see if you need to stir the cauliflower again.

Drizzle 1 tablespoon of lime juice over the cauliflower. Sprinkle with 3 tablespoons chopped cilantro.

Add the beans to a small bowl and stir in a teaspoon of garlic, 1 tablespoon cilantro, and a healthy dash of salt. (You can serve the beans on the side if that sounds easier to you.)

Meanwhile, while the salmon is in the oven, make the Avocado Coconut Cream. In a food processor, combine the coconut cream, avocado, 3/4 teaspoon salt, 2 tablespoons lime juice, chipotle chili powder, and cilantro. Process until smooth.

Serve the salmon and cauliflower rice with the Avocado Cream.

Garnish with lime wedges.
Notes
*You can also use a cheese grater to get the same effect. It's a bit messy but it works great!
Nutrition
Serving:
1
g
,
Calories:
826
kcal
,
Carbohydrates:
43
g
,
Protein:
54
g
,
Fat:
52
g
,
Saturated Fat:
18
g
,
Polyunsaturated Fat:
8
g
,
Monounsaturated Fat:
22
g
,
Cholesterol:
109
mg
,
Sodium:
1516
mg
,
Potassium:
2517
mg
,
Fiber:
19
g
,
Sugar:
5
g
,
Vitamin A:
390
IU
,
Vitamin C:
112
mg
,
Calcium:
118
mg
,
Iron:
6
mg
Here are some more easy sheet pan meals for those busy December nights!
Sheet Pan Asian Salmon with Broccoli, Carrots, and Rice Noodles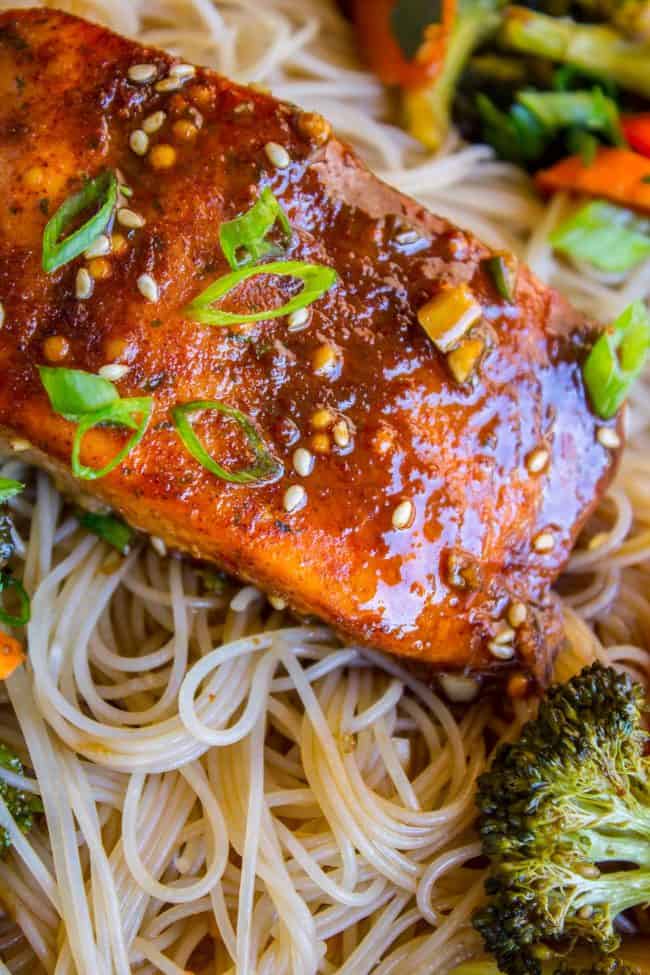 Sheet Pan Curry Chicken and Carrots with Basmati Rice (Biryani)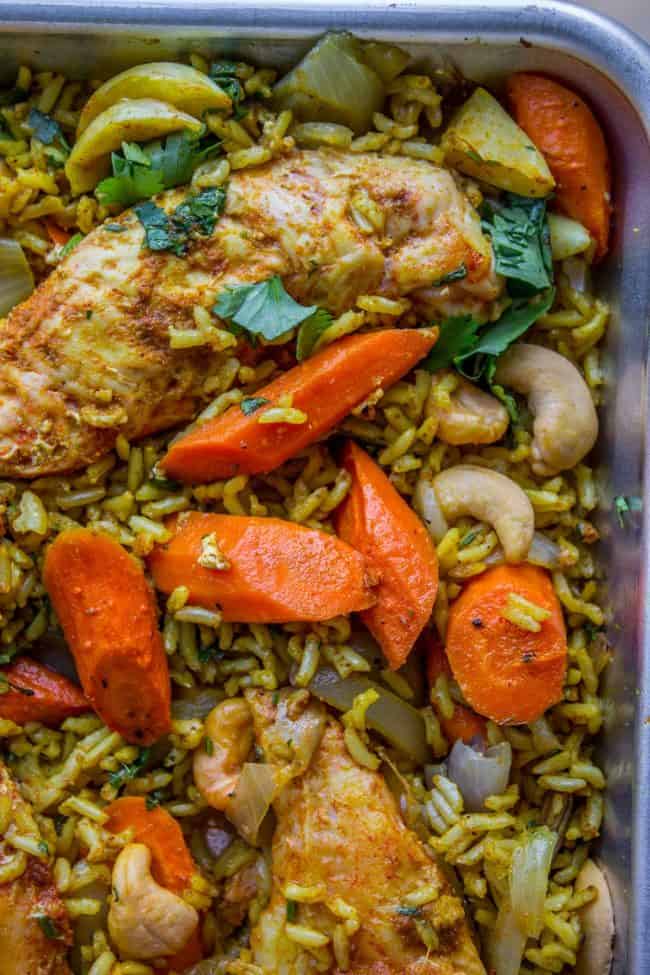 Honey Salmon with Browned Butter Lime Sauce << my mother-in-law requests this every time she comes to visit. It's so good!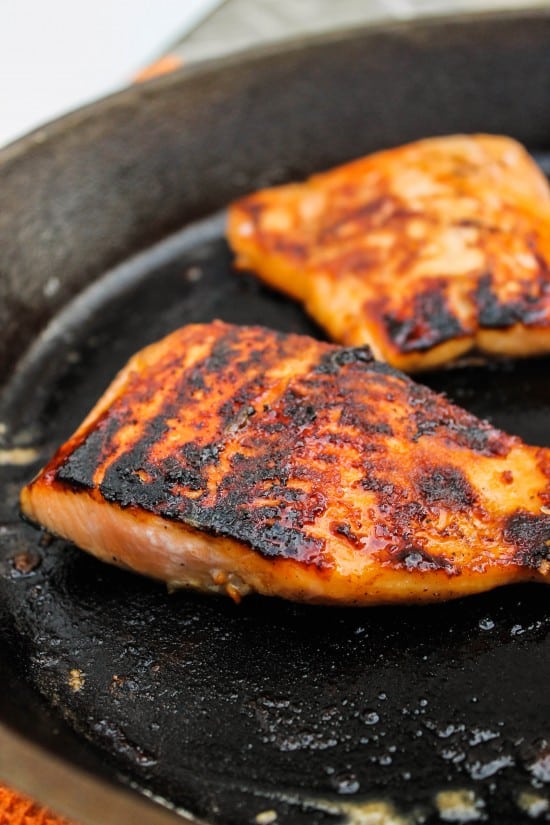 Spanish Cauliflower Rice (to eat with Mexican food) << you could totally add these spices to the cauliflower in today's recipe. It would be delicious!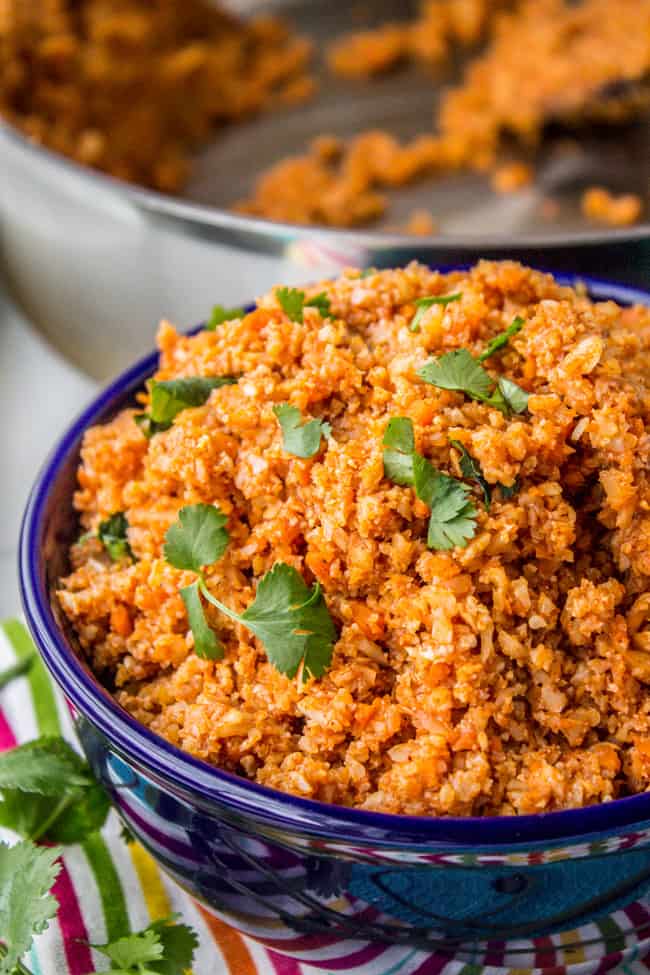 More sheet pan salmon recipes from blog friends!
Walnut Crusted Salmon from Rachel Cooks
Sheet Pan Lemon Basil Salmon from Living Locurto
Cilantro-Parmesan Broccoli Baked Salmon from Reluctant Entertainer
We are a participant in the Amazon Services LLC Associates Program, an affiliate advertising program designed to provide a means for us to earn fees by linking to Amazon.com and affiliated sites.