This riced cauliflower is a great substitute for Spanish Rice! Let's be real here guys: this doesn't taste like rice. But it does taste AMAZING, and is a great side dish for your Mexican food if you are trying to eat low-carb this January!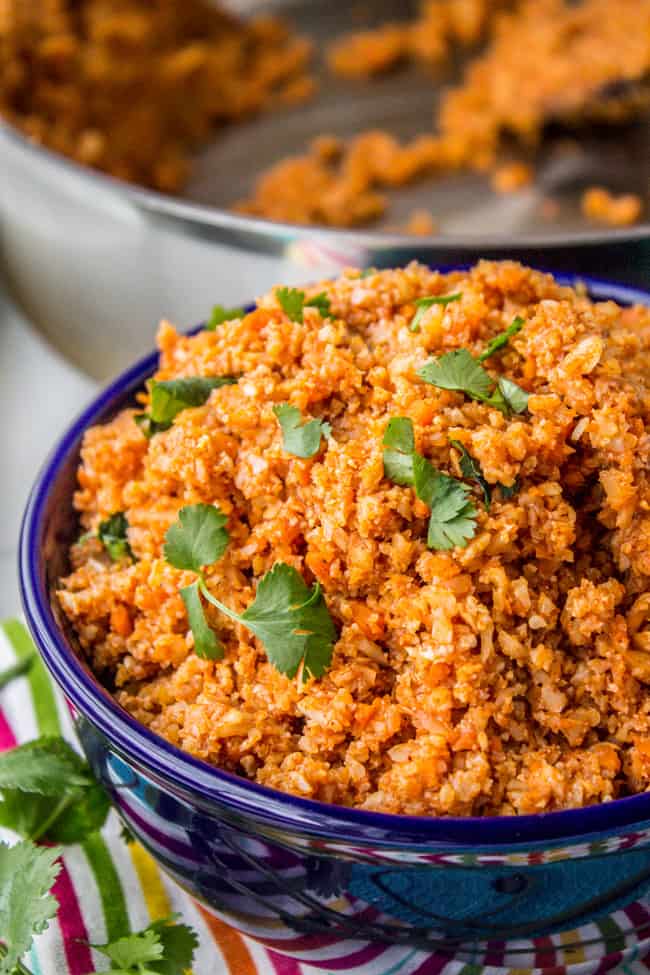 So I'm sitting in a coffeeshop with Truman, working on the computer while he plays with cars. (We come here when Charlotte is in preschool, because it's just far enough away that it would be annoying to have to go all the way home. I don't even drink coffee. Probably management hates me.)
But I was low on their list today, I'm sure.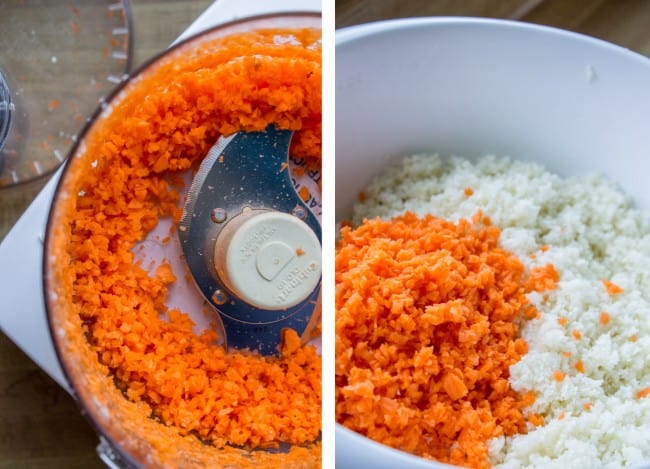 Coffeeshops in downtown Sacramento usually have a few homeless people hanging out on any given day, but on days when it's pouring rain like today, it gets pretty crowded.
A man started making a commotion, yelling crazy stuff. It had just started to get uncomfortable when the man walked right up to Truman and started yelling at him. (It was creepy but there were enough people around that I didn't feel unsafe.) Truth be told, it was kind of making me laugh, because Truman is just sitting there staring at him, wide-eyed, munching on peanuts. It's nice to be 2 sometimes.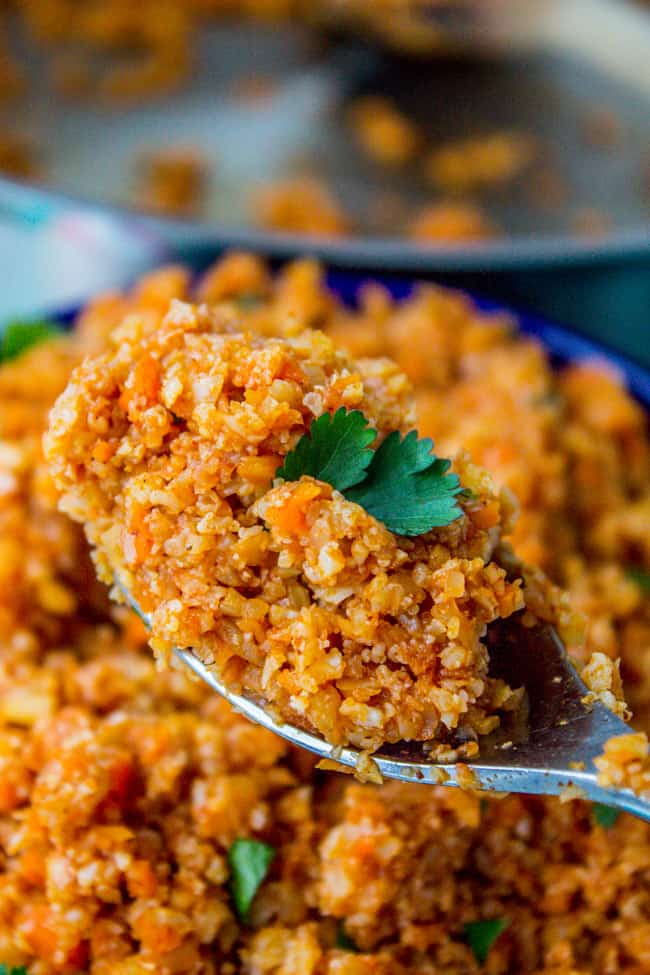 THEN. The guy walks around the corner from us and I can hear the poor employees trying to get him to leave the store. He makes a fuss of course. All the sudden another customer points and yells, "There's a rat!" And I'm thinking, great, now we've got TWO crazies to deal with, what is he even talking about.
And that's when I saw it. A huge rat, running the perimeter of the shop, with poor management chasing it with a broom, meanwhile trying to get a crazy yelling person to leave the premises. People are squealing, everyone is staring, and I'm sitting over in the corner busting up. Truman was of course ridiculously excited. "That was a BIG RAT, Mommy."
I seriously am considering bringing a plate of cookies to those poor baristas next time I'm in. No one should have to deal with yelling customers and R.O.U.S.'s on the same day.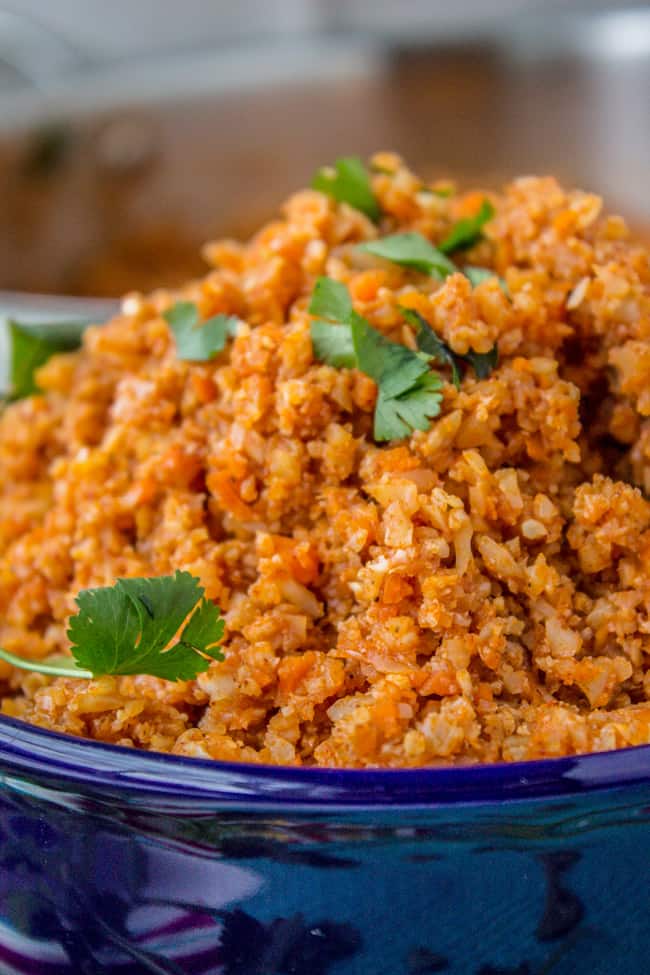 Okay, who's on a diet? (I'm sure you are NOW, after my rat story, right?) But really, are you trying to slim down after the holidays? Cauliflower rice to the rescue!
Have you ever made cauliflower rice? It is a great sub for regular rice. You can eat it as a side with meat, or with curry, or as a base for a casserole. I have an Asian version, an Indian version, and now this Mexican version so you can eat it with your tacos and enchiladas!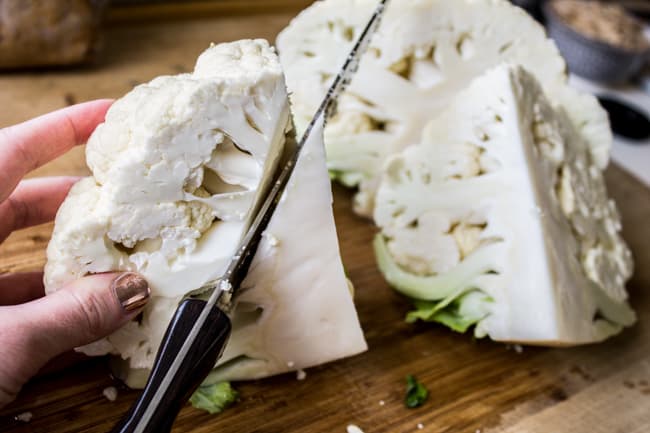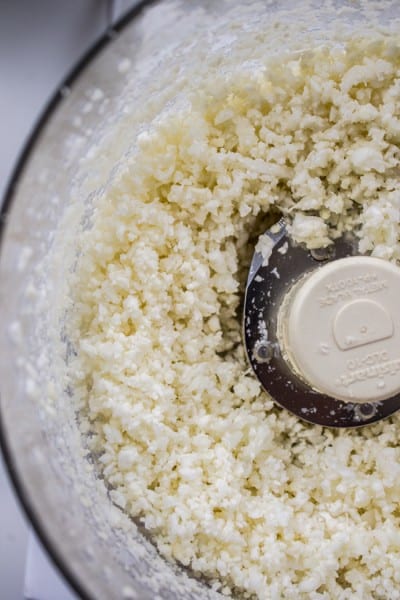 About a year ago I was reading through the post for these Black Bean Burgers, and saw a comment my sister Laura left, talking about a Mexican cauliflower rice that she had created. And then I begged her for the recipe. Thanks Laura! You are a culinary genius!
I think it would go great with salmon. Or chicken. Or enchiladas. Pretty much anything Mexican would be amazing. Laura always pairs it with Traditional Tejano Carne Guisada, a recipe from her husband's grandmother. Serve it with Garlic Lime Chicken for an easy weeknight meal! Or alongside these Chicken, Tomatillo, and Chipotle Chimichangas.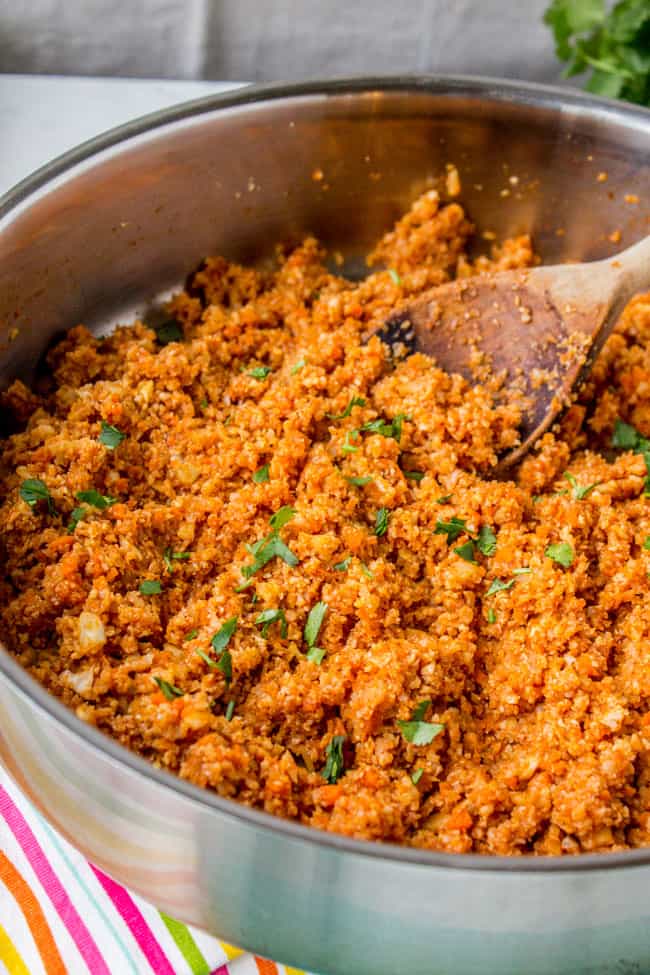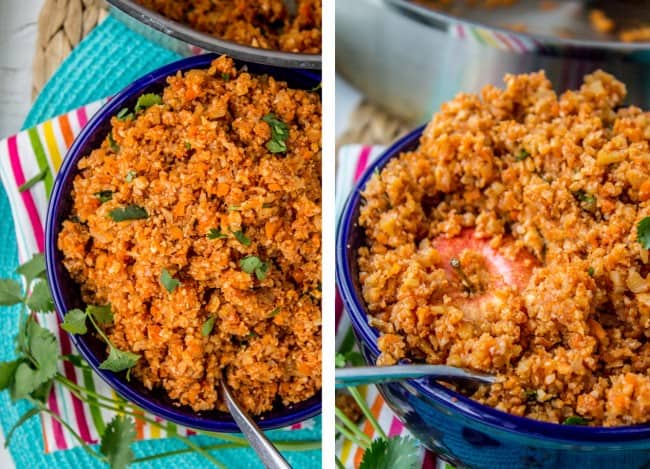 I almost forgot to show you my blooper shot. How else do you think I get the bowl to look so full??
If you make this cauliflower snap a picture and share it on social media using #thefoodcharlatan! I LOVE seeing what you're making!
Facebook | Pinterest | Instagram | Twitter

Spanish Cauliflower Rice (to eat with Mexican Food)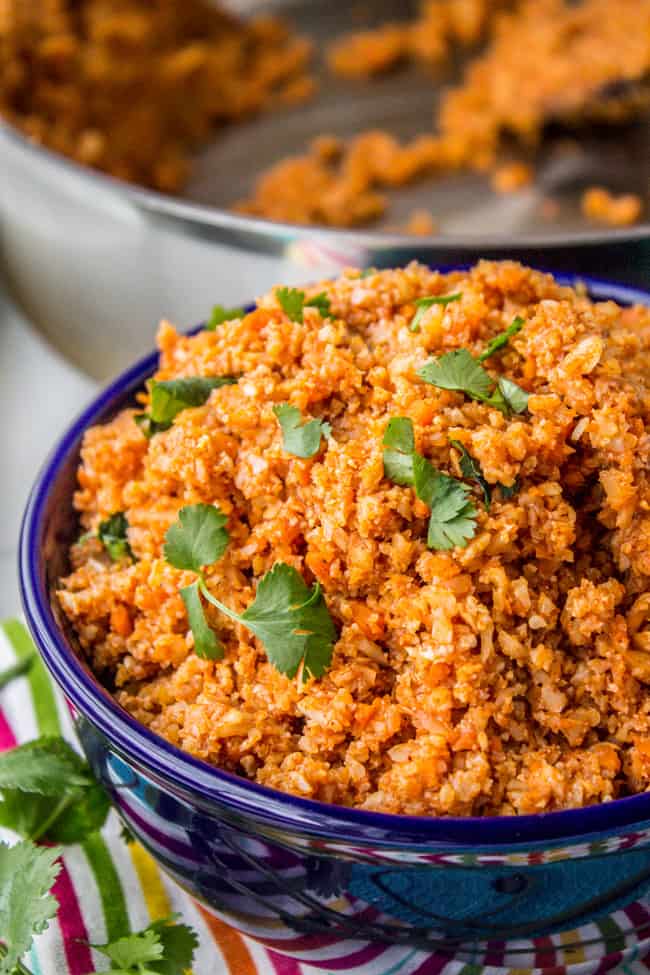 This riced cauliflower is a great substitute for Spanish Rice! A great side dish for your Mexican food if you are trying to eat low-carb this January!
Ingredients
1

large head

cauliflower

2-3

small

carrots

2

tablespoons

butter

1 & 1/2

teaspoons

chicken bouillon

,

*

1

teaspoon

salt

1

tablespoon

chili powder

1

teaspoon

cumin

1

8-oz. can

tomato sauce

,

most of the can

chopped cilantro

,

to garnish
Instructions
Slice the cauliflower in half, then in half again. Cut off the stem from each quarter and discard. (see photos)

Chop the cauliflower into 1-inch pieces. Place 1/3 of the cauliflower into a food processor and pulse in 1-second intervals until it looks like rice. Remove to a bowl and repeat twice more (I usually do 3 batches per head of cauliflower).

Peel a couple carrots and roughly chop. Add to the food processor and pulse again until it looks the same as the cauliflower.

Meanwhile, in a large skillet melt the butter over medium-high heat. Add the chicken bouillon and stir together. When it is hot, add the cauliflower and carrots.

Add salt, chili powder, and cumin.

Stir occasionally for about 7-10 minutes, or until the veggies are tender.

Slowly stir in the tomato sauce. You don't have to add the entire can. Just until it looks good to you.

Cook for another 2 minutes. Add more seasonings to taste.

Remove from heat, sprinkle with cilantro, and serve hot!
Notes
*I use Better Than Bouillon.
Nutrition
Serving:
1
cup
|
Calories:
121
kcal
|
Carbohydrates:
14
g
|
Protein:
5
g
|
Fat:
7
g
|
Saturated Fat:
4
g
|
Polyunsaturated Fat:
1
g
|
Monounsaturated Fat:
2
g
|
Trans Fat:
1
g
|
Cholesterol:
15
mg
|
Sodium:
754
mg
|
Potassium:
759
mg
|
Fiber:
6
g
|
Sugar:
5
g
|
Vitamin A:
4952
IU
|
Vitamin C:
103
mg
|
Calcium:
68
mg
|
Iron:
2
mg
Spanish Cauliflower Rice tastes AMAZING with this Traditional Tejano Carne Guisada. That's what Laura usually pairs it with: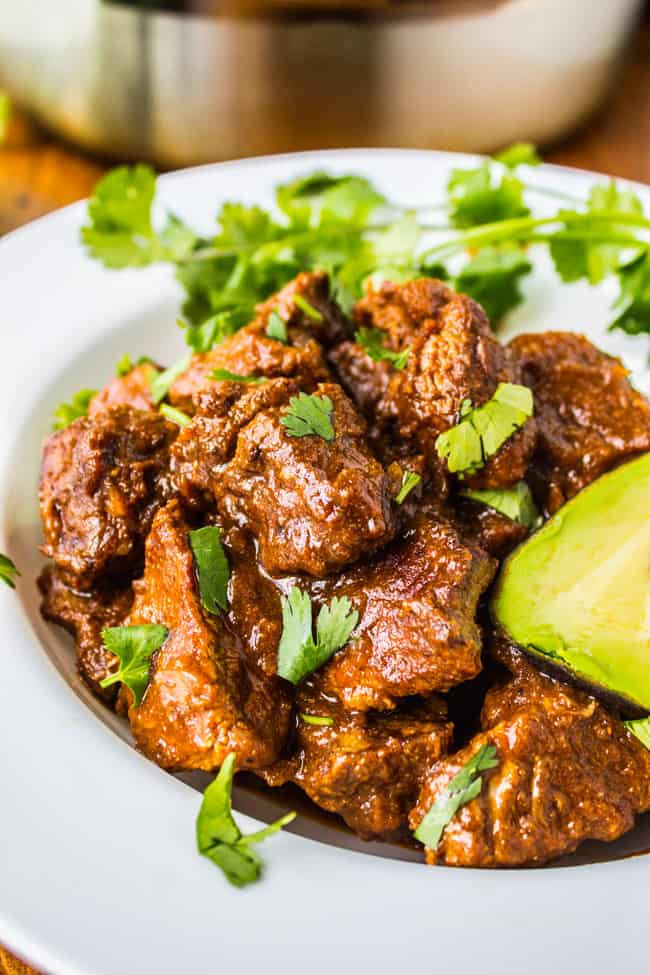 I think it would taste great with this super easy get-dinner-done Garlic Lime Chicken: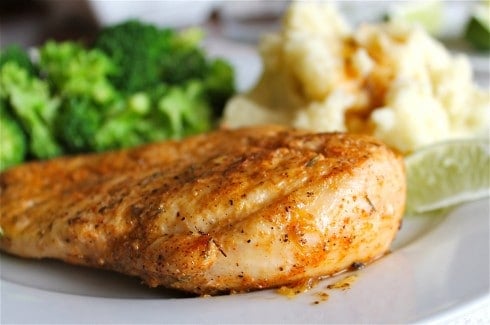 Do you love cauliflower rice? Try these other recipes! 
Asian Cauliflower Rice: << this goes great with this Asian Pork Tenderloin with Ginger Glaze, one of the most popular recipes on my site.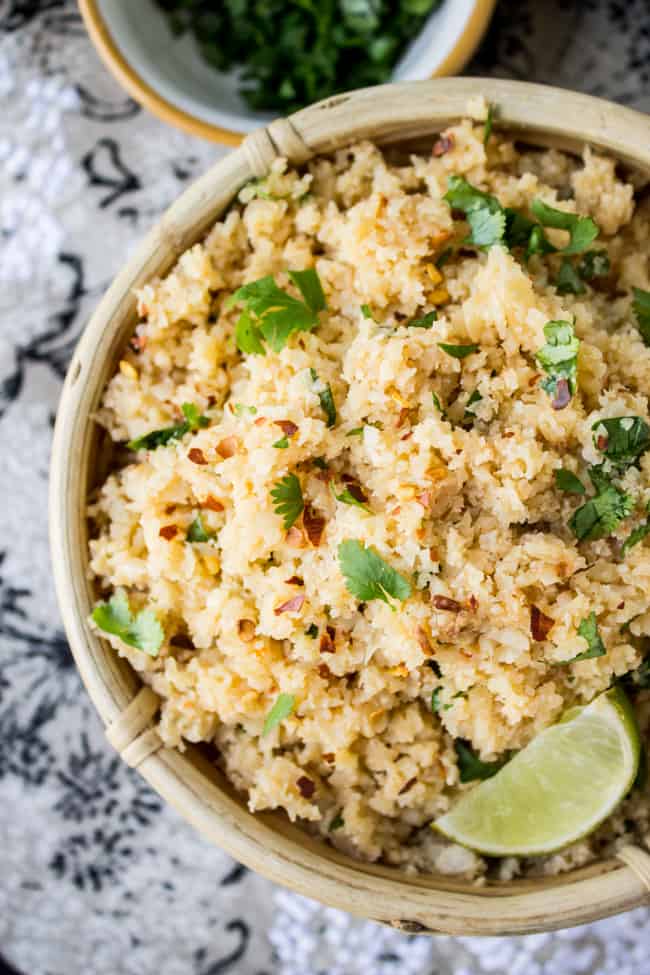 Indian Spiced Cauliflower Rice: << this one goes great with any kind of curry!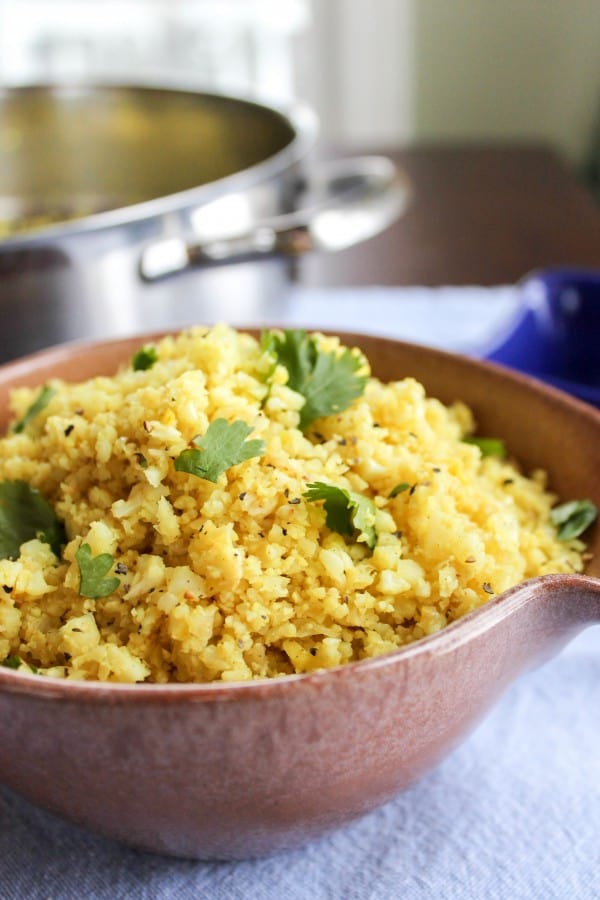 Cauliflower Rice Skillet with Zucchini and Kielbasa: << If you try cauliflower rice one time, TRY THIS ONE. It's a great meal, whether you are dieting or not.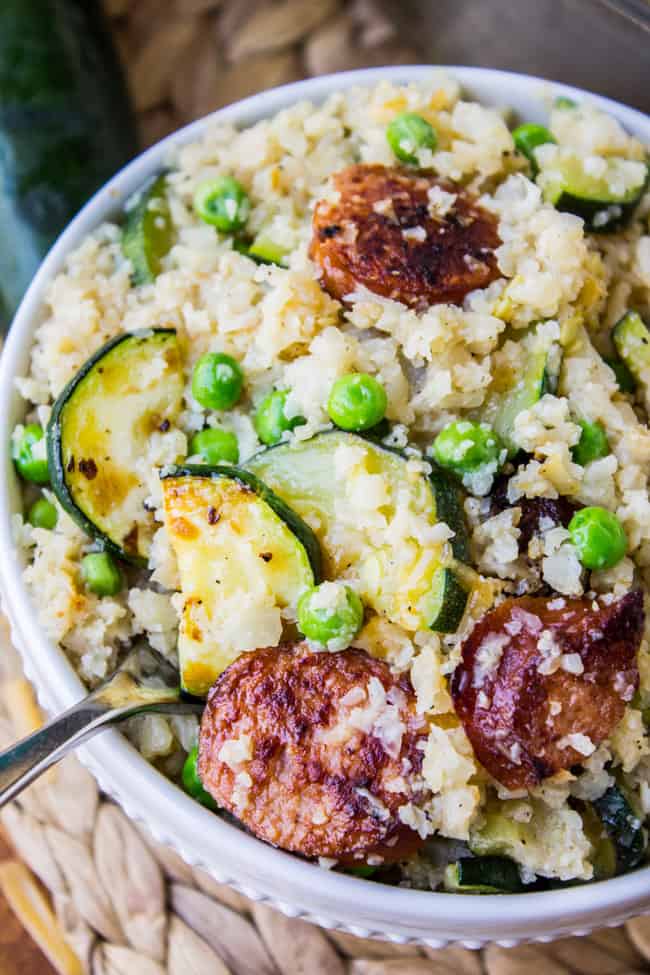 More cauliflower from around blogdom:
How to Make Cauliflower Rice (3 Ways) from One Good Thing By Jilllee
Cauliflower Fried Rice from Iowa Girl Eats
Cauliflower Rice Philly Cheesesteak from Food Faith Fitness