Spritz
A few days ago Eric and I received a box in the mail from our friends Sarah and Brian.  It was obviously a Christmas present.  I was about to start cutting it open (I knew there were going to be cookies in it) and Eric, as usual, said, No, we have to wait until Christmas!
We have this argument every year.  I think Eric must like stale cookies or something.  But I won.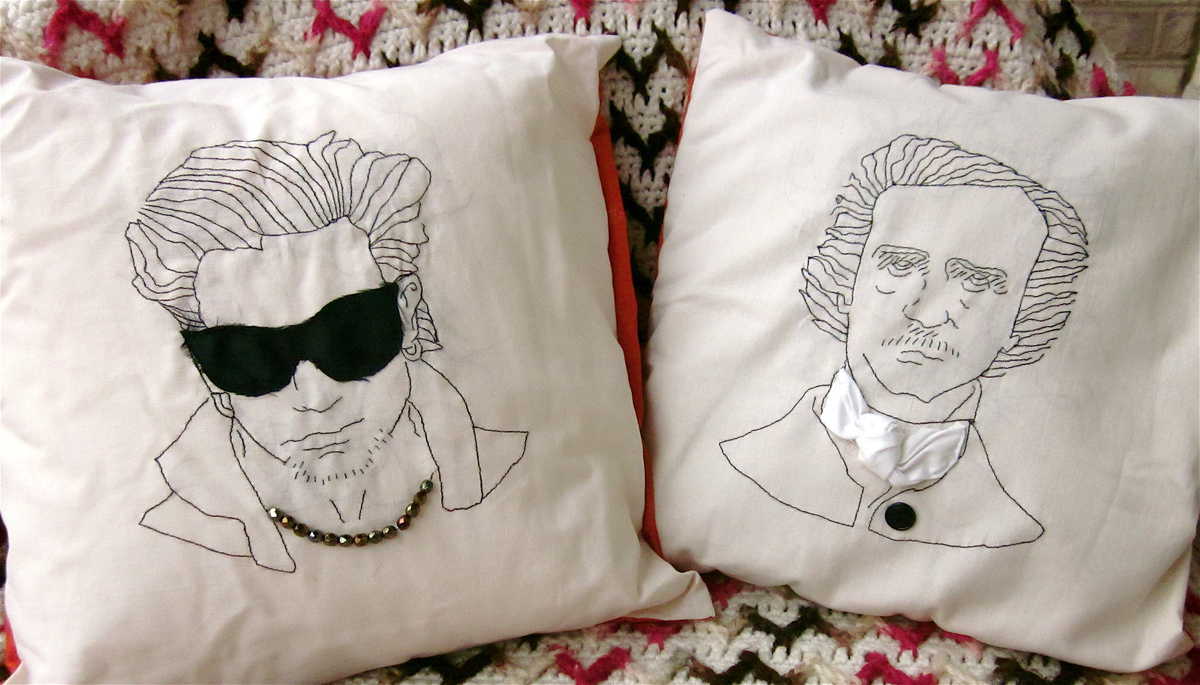 Can you tell who they are?
Edgar Allan Poe…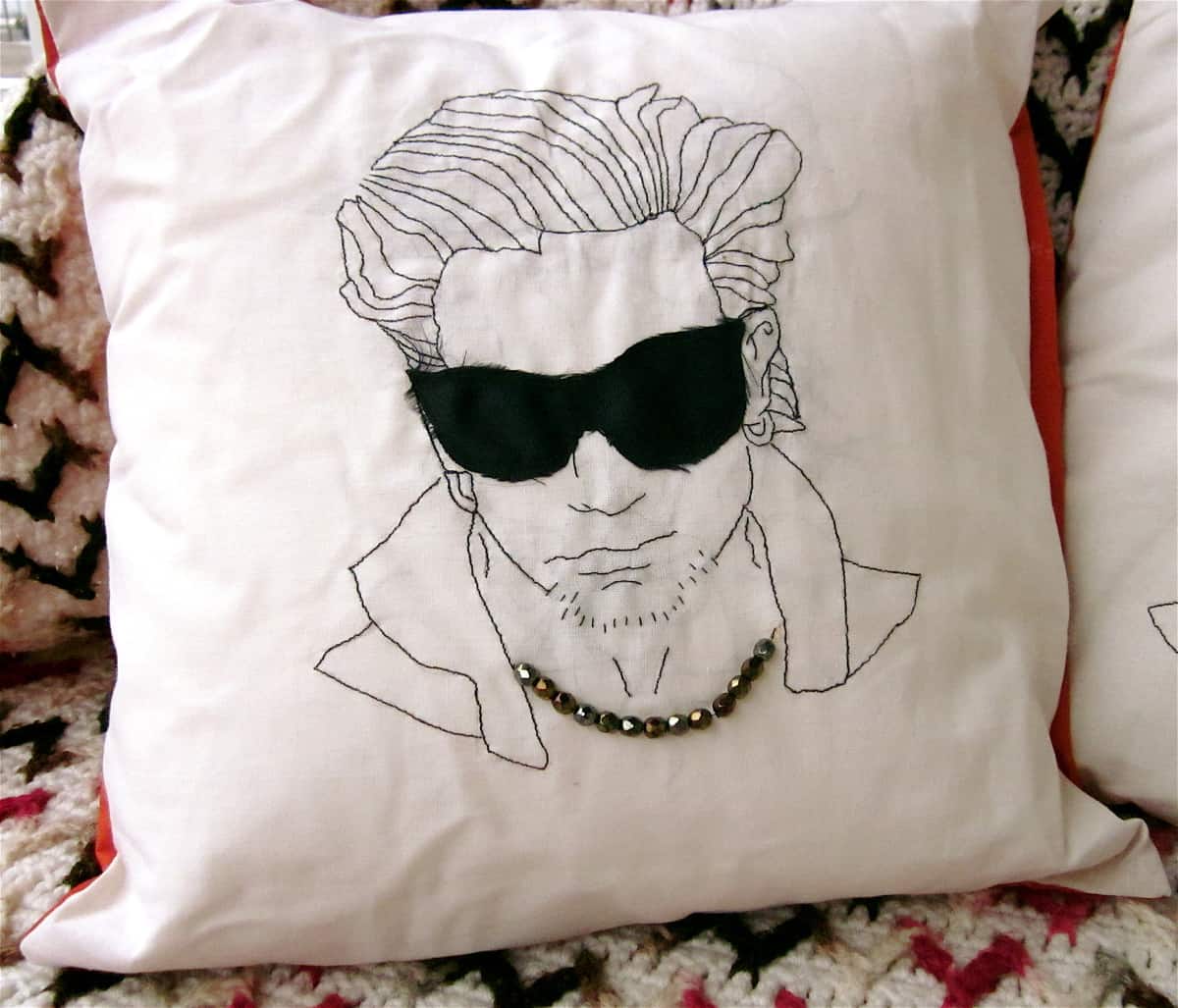 And, you got it, Bono from U2.
We have the most awesome friends ever.  Who else gives you homemade pillows for Christmas that feature your favorite poets?  Eric has a man-crush on Bono and I took an American Gothic Literature course where I fell in love with Edgar Allan Poe's short stories.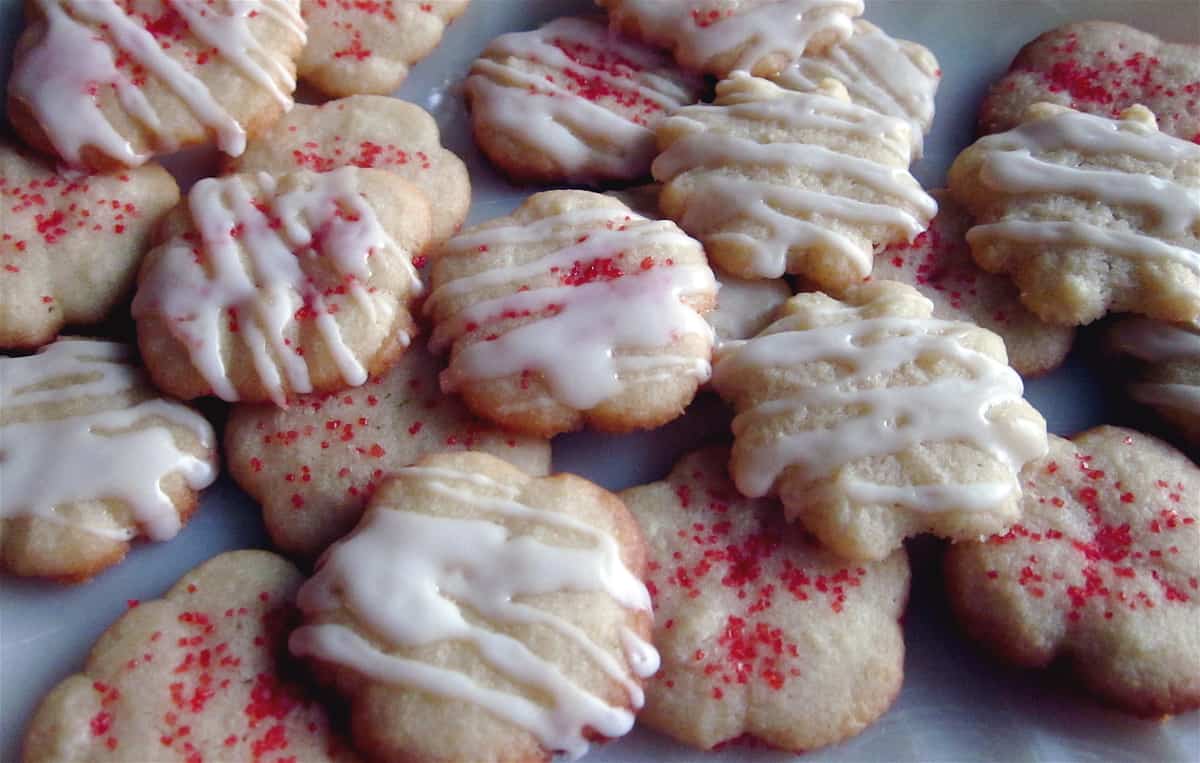 Sarah and I were roommates in college.  (So were Brian and Eric, actually.)  It was not love at first sight; the first time we met was in our dorm room which she had already decorated with anime and "make love not war" posters.  Later she told me that I came in with my snappy blonde hair, talking on my cell phone nonstop and saying "like" all the time and she pretty much decided to hate me right then and there.
But some things were meant to be, and Sarah and I were, well, meant to be.  Sarah loves poetry, and I think our fate was sealed when I wrote a poem for another roommate of ours once when I borrowed some Q-tips from her.  It was something like this:
I have taken
the Q-tips
that were in
the medicine cabinet
and which
you were probably
saving
for your ears.
Forgive me
they were perfect
so white
and so fuzzy.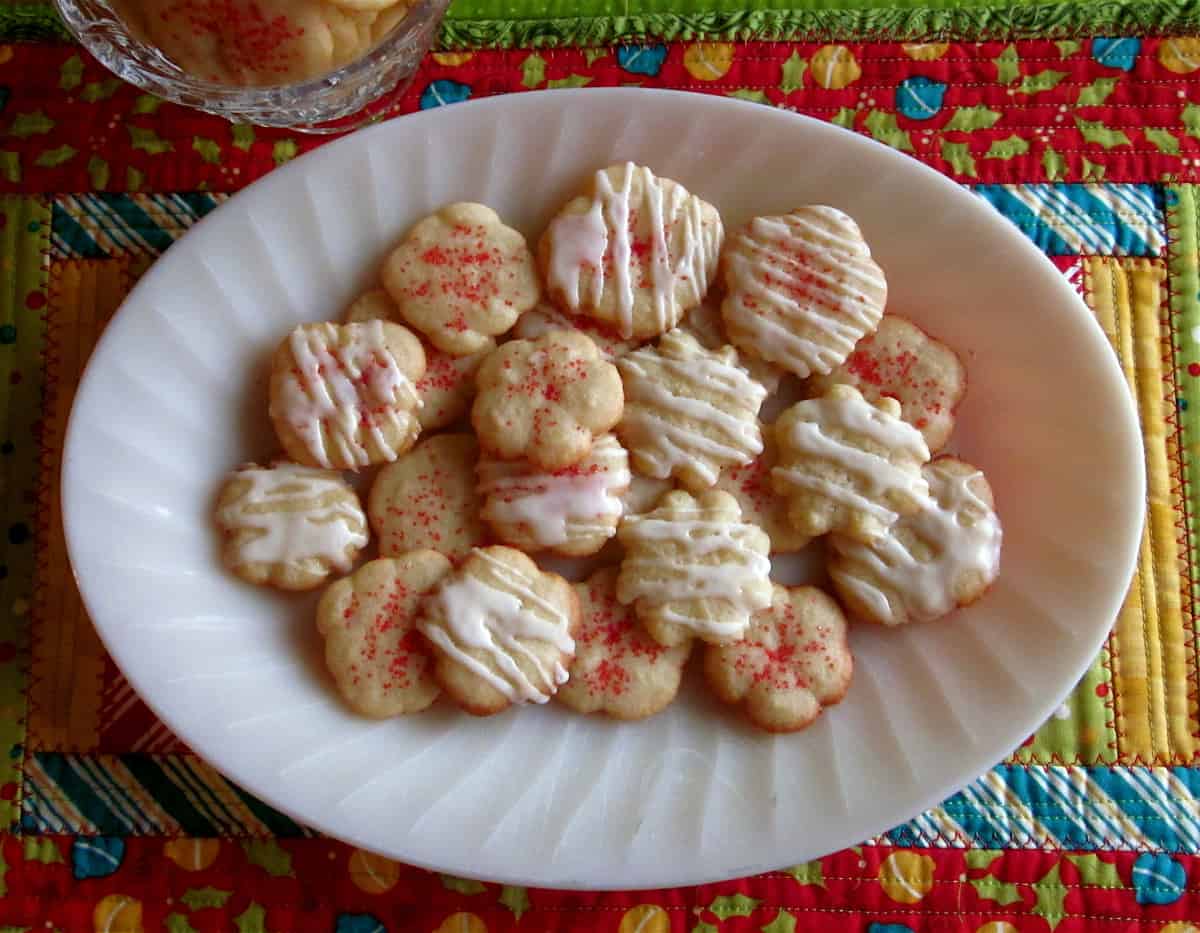 The other roommate didn't get it (and probably thought I was a total freak).  But Sarah, of course, recognized at once that it was a play on the poem This is Just to Say by William Carlos Williams.
Friends who really know you well enough to appreciate your weird Q-tip poems and make you Bono pillows are just the best thing ever, aren't they?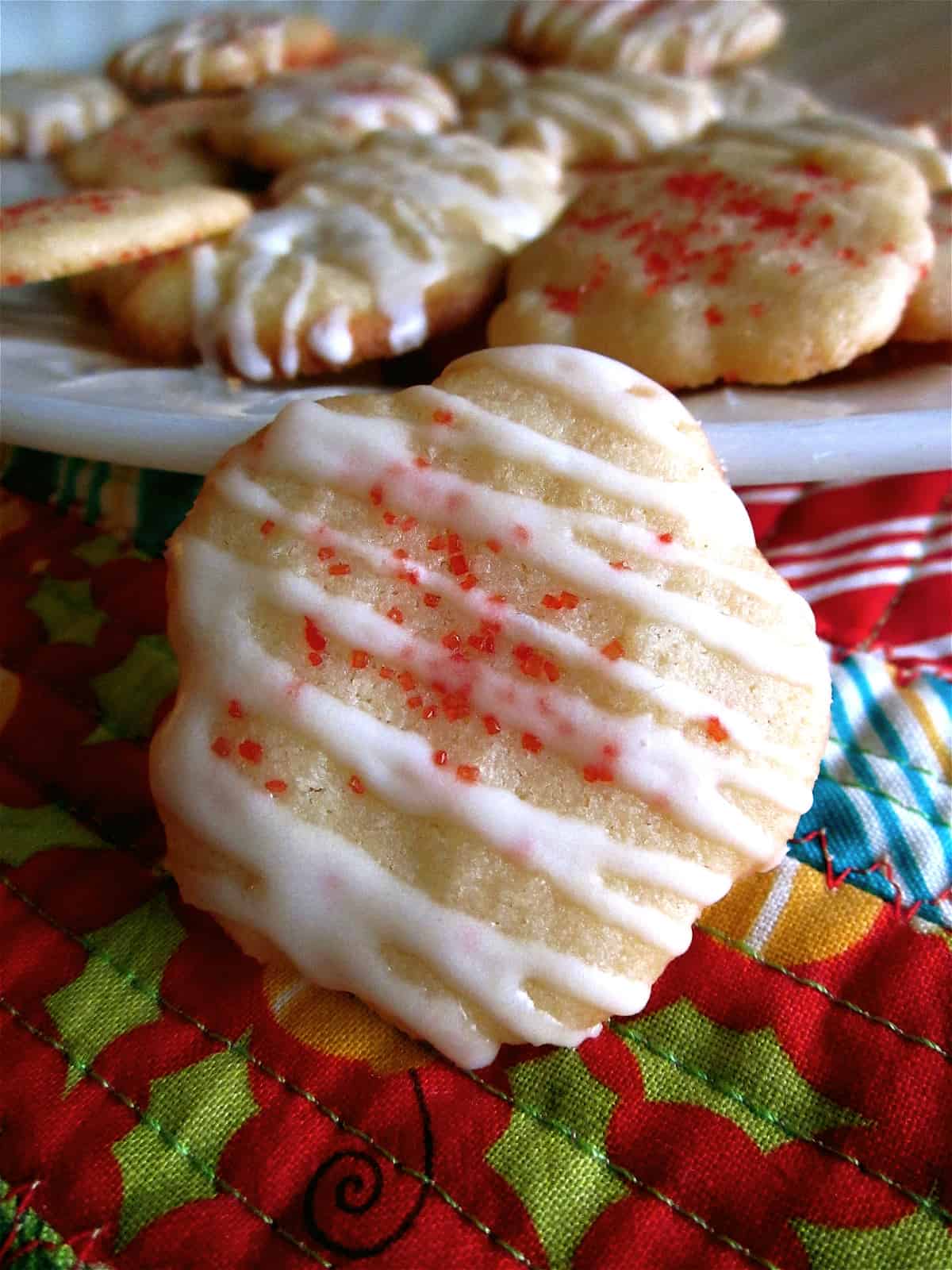 This spritz recipe is another one from Grandma Prudie.  When Eric first described these cookies that they make every Christmas at his house, I was thinking to myself They sound like those hard little shortbread cookies they sell in tin cans. Gross. But never fear.  These are not even comparable to the tin can variety.  Eric's family traditionally puts colored sugar on them, but I decided to add a glazed frosting.  Because how can frosting ever be a bad choice?
print
Did you make this recipe?
Leave a review »
Spritz
Ingredients
1

cup butter

1

cup sugar

1/2

teaspoon baking powder

1/2

teaspoon salt

1

egg

1

teaspoon almond extract

2 1/3

cups flour

colored sugar
If you want to add the icing
1

cup powdered sugar

1/4

teaspoon vanilla

1

tablespoon milk or cream

more milk
Instructions
Preheat oven to 375. Beat butter with mixer until fluffy. Add sugar, baking powder, and salt, and beat until combined. Add egg and almond extract; beat. Add in flour, stirring by hand if your mixer wimps out on you.
Force unchilled dough through a cookie press onto an ungreased cookie sheet. Sprinkle with colored sugar. Bake, starting at about 6 or 7 minutes (these get brown fast so it will depend on your oven.) and checking often. Bake until edges are firm but not brown. Transfer to a wire rack and let cool.
(Icing) In a small bowl combine powdered sugar, vanilla and 1 tablespoon of milk. Stir in additional milk, about a teaspoon at a time, until you get to the drizzling consistency you want.
by The Food Charlatan

If you make this recipe,
share it on Instagram
 using the hashtag
#TheFoodCharlatan
so I can see it!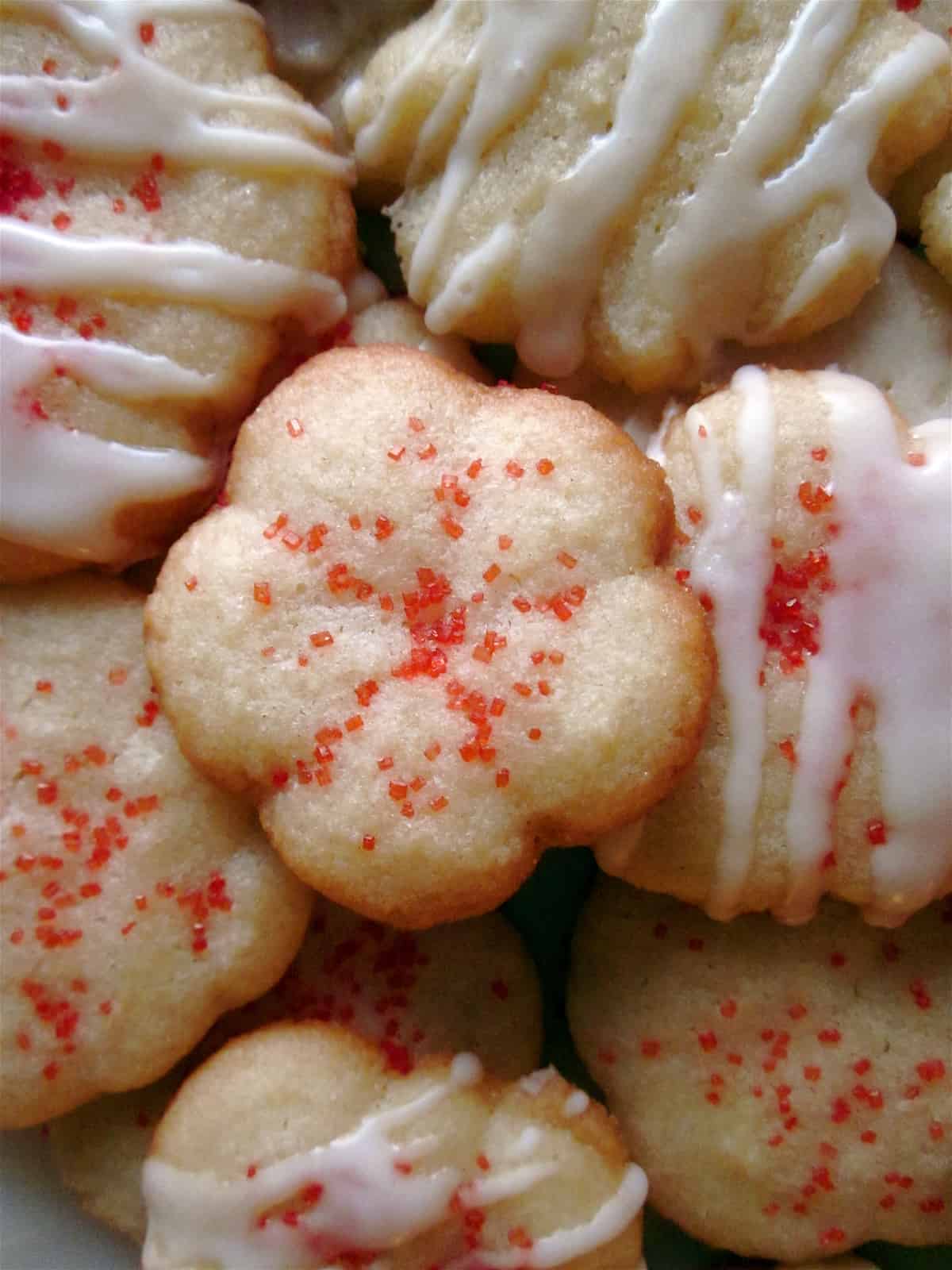 We are a participant in the Amazon Services LLC Associates Program, an affiliate advertising program designed to provide a means for us to earn fees by linking to Amazon.com and affiliated sites.