If you have never paired tender, buttery, pan seared scallops with a creamy wine sauce, you are totally missing out! Toss the whole thing with some fresh linguine and crispy crumbled bacon, and you have a very special dinner for two for Valentine's Day (or any day really, because this stuff is legit.) Originally published February 7, 2019.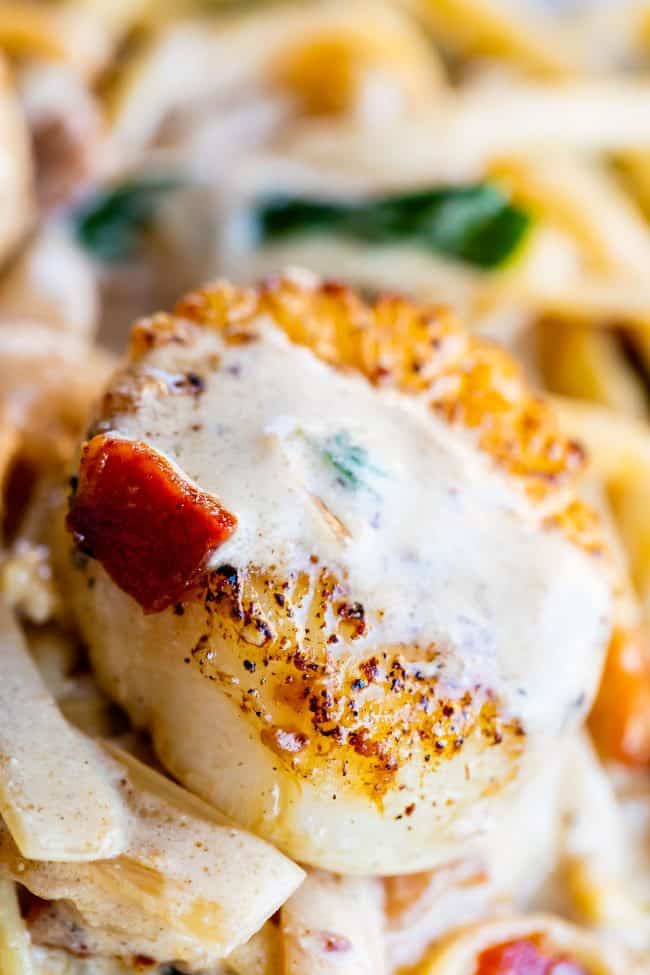 Table of Contents
Eric was out of town this week and I realized I'm completely incapable of adulting without him.
I was in the shower this morning when I heard Charlotte bang on the door over my music that was playing. That was somehow the first moment I heard the incredibly loud blaring of our house alarm. Oh no! Why did someone have to break into our house while I'm naked??
And then my second thought was, oh, one of the kids must have gone outside, and I forgot to disarm the house (the usual cause of our alarm going off). Whew, no robber, just a kid! How dare they walk outside?? (As if that were a crime.)
But I asked Charlotte who went outside, and she pointed at the wide open window in my bathroom, which I had just opened, which of course set off the alarm. Eric is always the one to disarm the house in the morning. How can I be expected to remember these things when he's gone??
Usually when he goes out of town the kids and I fend for ourselves in the kitchen too. I have a hard time being motivated to cook when there's not another adult around. I mean, kids like sandwiches, right? So do I! There, dinner's done in 10 minutes and no food battles.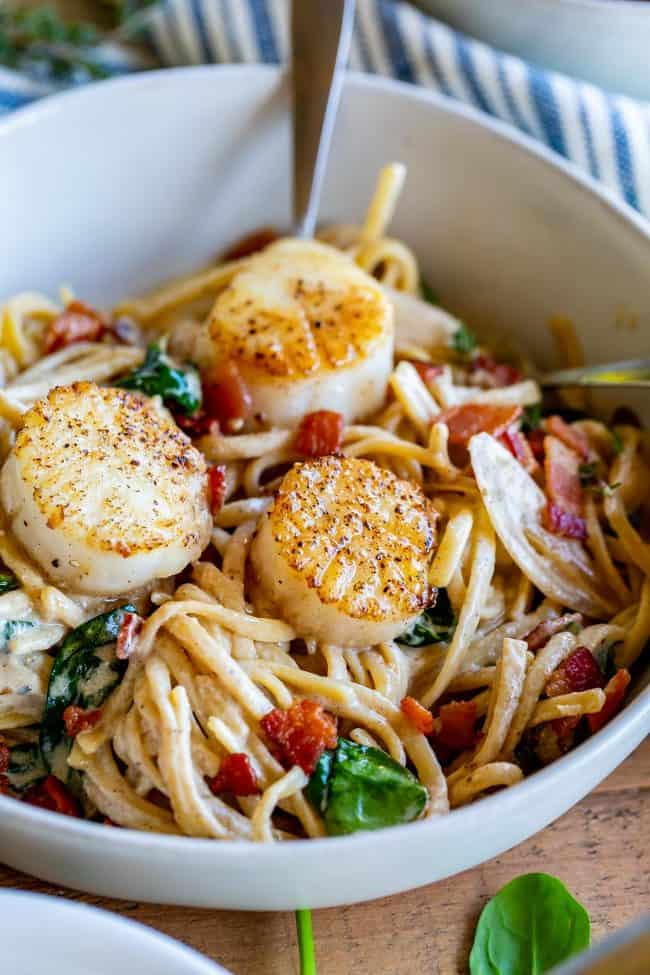 But this time we were eating like kings, because I wanted to try out a fancy Valentine's Day dinner for you! Have you ever had scallops before?
You will love these Pan Seared Sea Scallops
This was my first time making or even eating scallops. I know, I know, do I live under a rock?? But I was one of those kids who hated seafood, and I'm just waking up to the fact that seafood is actually totally amazing and I've been missing out my whole life. I have a lot of new seafood experiences to cover!
I wanted to try making scallops because they just seem so perfect for a sexy dinner for two. For starters, they are crazy expensive (like $20/lb where I live) so that right there makes this special-occasion food. (It's still cheaper to make them at home than get them in a restaurant though, trust me.) On top of that it is SUPER fast and easy to make pan seared scallops, which means it would be really fun to cook these together in the kitchen on a date.

Plus, and most importantly, pan seared scallops are AMAZING. You will not believe how tender, soft, and buttery they are if you have never made them at home. The outside is seared to a beautiful golden crisp, and the inside just melts in your mouth. Dousing it in creamy wine sauce and sprinkling with bacon just puts it over the top.
Pan Seared Scallops with Sauce Ingredients
Here's a quick shopping list to help you gather your ingredients. See the recipe card below for the full ingredients and instructions!
Scallops (8 oz, the best quality you can find)
Thick cut bacon
Shallots
Champagne vinegar (optional)
White wine or champagne (I used Sherry cooking wine)
Chicken broth
Heavy cream
Dijon mustard
Fresh thyme (dried is ok too)
Linguine pasta (8 oz)
Fresh spinach
Parmesan cheese
Substitutions and variations
This recipe does stand up to a bit of "do what you want." Here are some suggestions for what you can substitute to make the dish to your liking.
If you're not a fan of scallops or can't find any locally, substitute shrimp! Buy jumbo unpeeled raw shrimp. You can peel them before or after cooking them.
For the wine, you can choose Sherry cooking wine (or white cooking wine), your favorite white wine, or champagne.
If you are using cooking wine and not champagne, consider adding a splash of champagne vinegar for extra complex flavor.
Don't like seafood? Leave it out altogether and double the bacon.
Switch up the pasta. If you don't have linguine, it's perfectly fine to use any long pasta–think spaghetti, fettuccine, or even angel hair.
How to make pan seared scallops
1 – Buy the freshest scallops you can find, obviously. I don't live on the coast so I just bought the frozen kind from the grocery store, and even these were super delicious and briny. Make sure you buy scallops that haven't been treated with chemicals or water, it messes with the flavor.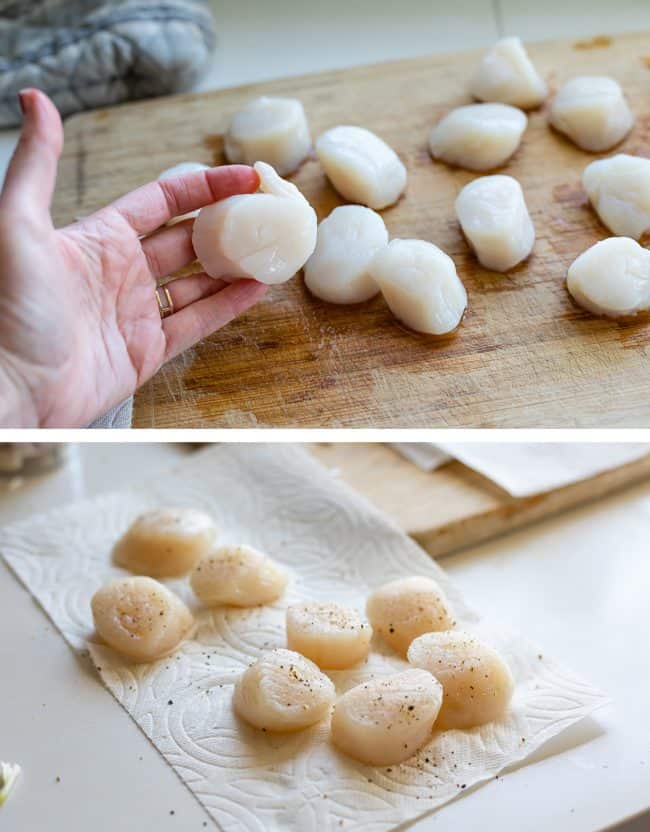 2 – Once you thaw them completely according to package instructions, take a minute to remove the side muscle from each scallop. Just slide it off with your finger, it should be quite obvious. It's easy to do and only takes a second. Sometimes the side muscle falls off on its own and you don't need to worry about it. They are just a little tough, so we don't want them in our final dish.
3 – Once your scallops are prepped and ready, sprinkle with a little salt and pepper and pan sear in some super hot bacon grease. Bacon grease just makes everything better, what can I say? Plus you will already have it from the bacon that you already crumbled. YES BACON. I'm telling you guys, it's a winning combination.
How to make the sauce for Pan Seared Scallops
4 – The creamy wine sauce is also super easy to make. I don't drink alcohol because I'm a member of the Church of Jesus Christ of Latter-day Saints, but I do love the flavor that cooking wine adds to this dish. I used Sherry cooking wine for this sauce. If you drink, you could just buy a bottle of champagne to enjoy while making this! You need 1 cup for the sauce.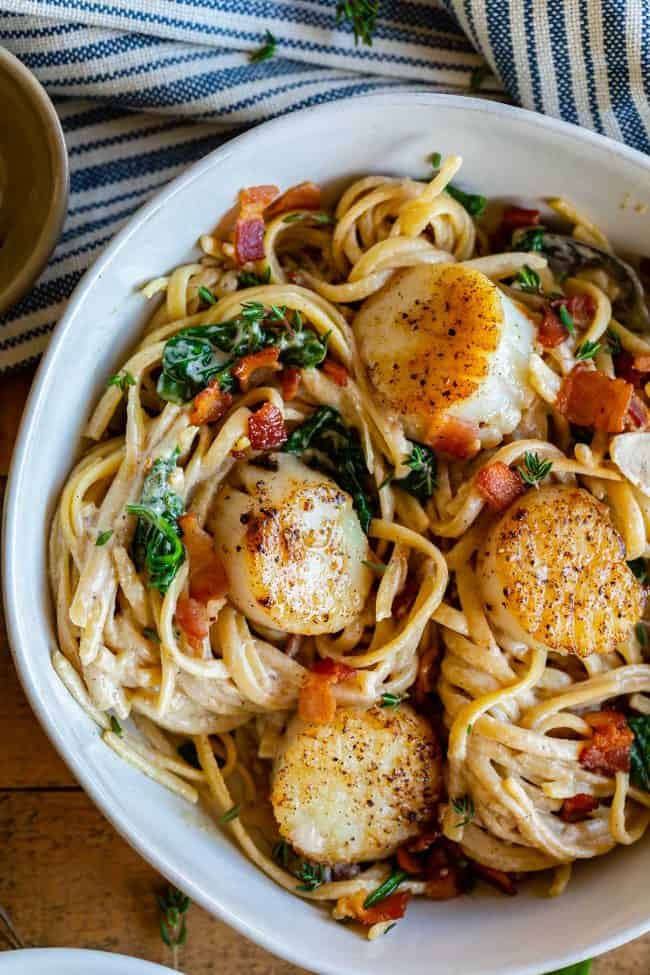 I also added a tablespoon of champagne vinegar to bring in even more of that flavor. It's an expensive ingredient, and it's optional, especially if you are using real champagne and not cooking wine. I already had some in my cupboard, but if you don't see yourself using it again, you can skip it (champagne vinegar does make a really mean salad dressing though).
5 – Once the scallops are seared and the champagne sauce is ready, all you have to do is boil up some pasta and toss in a few handfuls of spinach to wilt at the end. I love the color and texture it adds. Plus, adding spinach means this creamy pasta is totally healthy, right??
I almost forgot to mention, if you are not into seafood much, this is still a killer pasta recipe. Leave out the pan seared scallops and double the bacon! Boom.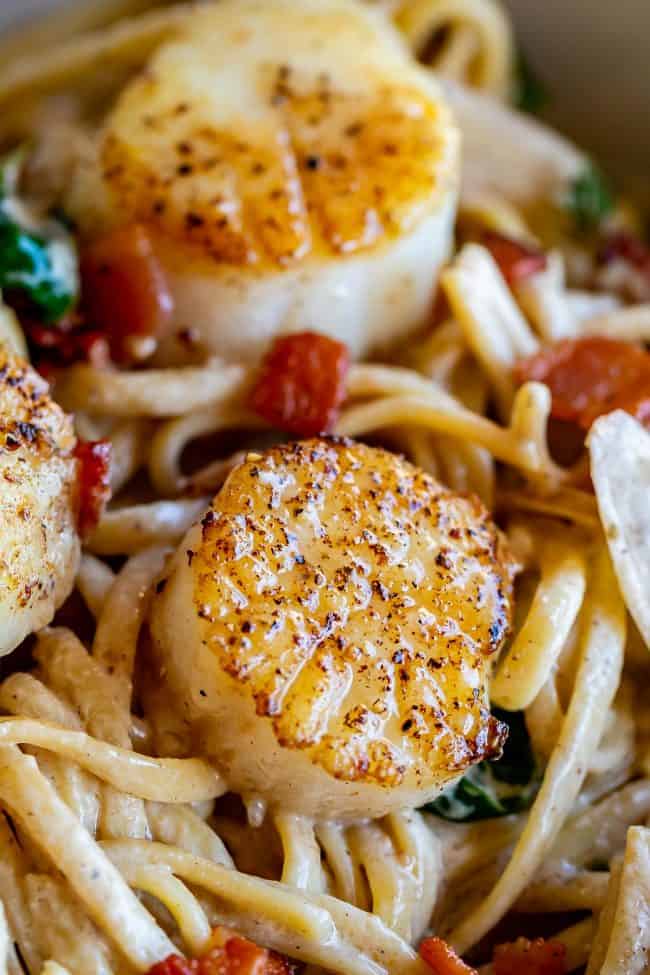 What are you guys doing for Valentine's Day? Going out or staying in? We always celebrate as a family, and then Eric and I go out later when the restaurants aren't so insanely crowded. But I think we will schedule a date night in with these pan seared scallops, and maybe follow it up with a Bob Ross session. Have you guys ever done an at-home paint night? We are not very talented painters (like, at all) but it is kind of fun to buy canvases and follow along making happy little trees!
How to store Pan Seared Sea Scallops
Scallops and other delicate seafood (like shrimp) don't reheat well. If you do have leftovers, you can store them in the refrigerator for 2-3 days and reheat them on low in a pan on the stovetop. I'm usually all about the microwave, but it will blast your scallops with an intense, texture-ruining heat.
You definitely cannot freeze this recipe. The sauce won't stay together, the scallops and pasta will be mushy, the bacon will be limp instead of crispy…don't do it.
Pan Seared Scallops Recipe FAQs
What oil is best for searing scallops?
Trick question! Bacon grease is the best. It gives the scallops amazing flavor (hello, it's bacon). The best part is that you'll already have it on hand from cooking the bacon for this recipe. If you decide to omit the bacon, you can use canola or vegetable oil or grape-seed oil. None of those oils will smoke (like olive oil might) since you're using higher heat to sear the scallops.
Do you rinse scallops before sauteing?
Yes, but just briefly. Soaking them in water could cause them to absorb water and lose flavor. Just rinse them under cool running water and then thoroughly pat dry with paper towels. This way the salt and pepper will stick when you season them.
How long does it take to pan sear a scallop?
Scallops cook really fast. Like, don't walk away from the stove or even check your phone fast. They should be seared for 1 ½ to 2 minutes on the first side, then seared on the other side for an additional minute with the heat OFF. If you overcook a scallop, it will be tough, not tender. If you don't often cook seafood you might be used to ground beef or chicken, both of which are far less fussy than scallops.
More fancy (but easy) Valentine dinners you should try out!
Facebook | Pinterest | Instagram

Scallops Pan Seared in Creamy Champagne Sauce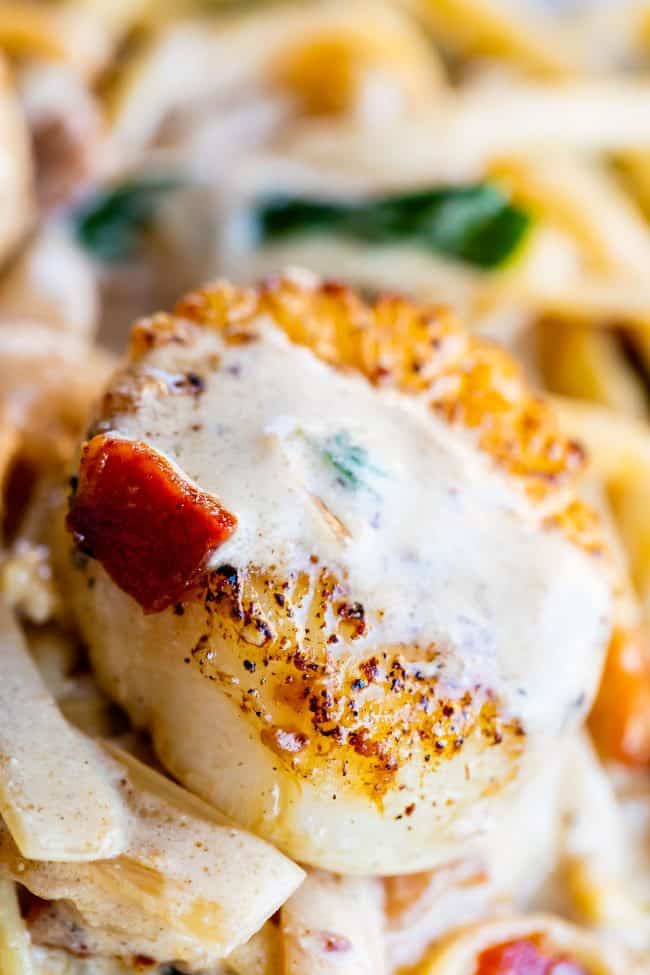 If you have never paired tender, buttery, pan seared scallops with a creamy wine sauce, you are totally missing out! Toss the whole thing with some fresh linguine and crispy crumbled bacon, and you have a very special dinner for two for Valentine's Day.
Ingredients
6

slices

thick-cut bacon

,

chopped

8

ounces

scallops

,

fresh or thawed if they were frozen

salt and pepper

3

large

shallots

,

sliced (about 1 and 1/2 cups)

salt and pepper

2

teaspoons

flour

1

tablespoon

champagne vinegar

,

optional

1

cup

white wine

,

or champagne, I used Sherry cooking wine

1 & 3/4

cups

chicken broth**

1/2

cup

cream

2

teaspoons

dijon mustard

2

teaspoons

fresh thyme

,

or 3/4 teaspoon dried

salted boiling water

,

large pot for pasta

8

ounces

linguine pasta

3-4

cups

fresh spinach

1/4

cup

parmesan cheese

,

shredded (to garnish)
Instructions
In a

large, high sided skillet

, cook the chopped bacon over medium heat, stirring occasionally with a wooden spoon. Cook for about 5 minutes, until the bacon is crisp tender. Remove to a paper towel lined plate and set aside. Turn off the heat and use a spoon to transfer some of the bacon grease to a small bowl. Leave about 2-3 tablespoons of bacon grease in the pan (for searing scallops).

While the bacon is cooking, prepare the scallops. Make sure they are completely thaw (run under cool water until they are thaw.) Use your fingers to remove the side muscle from each scallop, if they are there (sometimes it just falls off and you don't need to worry about it. It's not difficult to find. The side muscles are just a little bit tough, which is why we are removing them.)

Pat each scallop dry with a paper towel, then sprinkle with a little salt and pepper. Don't go too crazy, scallops are naturally briny.

Turn the heat on to medium high. When the bacon grease is very hot and shimmery (but before it smokes! or it will turn black instead of golden) add all the scallops to the pan, one at a time, with at least 2 inches of space in between each scallop.

Sear scallops on medium high heat for about 1 and 1/2 to 2 minutes, or until there is a golden crust on the bottom. If you look at the side of the scallop, it should look cooked about 1/3 of the way up.

Carefully flip each scallop, then immediately turn off the heat. Let the other side sear for about 1 minute.

Remove the scallops to a plate and set aside.

Add 1 tablespoon of the bacon grease that you removed back into the pan. Add the shallots to the hot pan (medium high heat). Cook for about 3 minutes, stirring occasionally. Sprinkle with salt and pepper.

Add 2 teaspoons of flour and cook for 1 more minute.

Add 1 tablespoon champagne vinegar. This is optional (and expensive) so you can skip it if you want. I like the flavor it adds.

Add 1 cup champagne or white wine. I use a Sherry cooking wine. Turn the heat up to high and cook for about 2 minutes, until it has evaporated some.

Add 1 and 3/4 cup chicken broth (see note). Continue cooking over high heat for about 3 minutes, until it starts to thicken.

Turn off the heat and stir in 1/2 cup cream, 2 teaspoons dijon mustard, and 2 teaspoons fresh thyme.

Add the scallops to the pan and coat with sauce to heat through. Keep the burner on low if your pasta is not ready yet.

Meanwhile, prepare the pasta. Bring a medium pot of water to a boil. Add 1/2 tablespoon of salt (or just add salt until it tastes like the ocean).

Add the linguine and stir. Keep stirring occasionally until the pasta is almost al dente, about 7 minutes. In the last minute of cooking time, add a few large handfuls of spinach to the water. Drain the pasta and spinach and return it to the pot.

Add about 1 cup of the sauce to the pot of pasta and stir. (if your sauce is not finished, drizzle pasta with olive oil, to keep it from sticking.)

Divide the pasta between two plates. (see note). Top with scallops and plenty of sauce.

Microwave the bacon for about 20-30 seconds to warm it.

Sprinkle each plate with bacon, fresh thyme, and shredded parmesan cheese.
Notes
**When I cook with chicken broth, I almost always use Better Than Bouillon Chicken Base. So for this recipe, I used 1 and 3/4 cup water and 1 and 3/4 teaspoon chicken base.
To plate the pasta so that it looks nice and twirly like in a restaurant, use tongs or a carving fork. Stick it in the center of the pasta and start twirling. Place a spoon underneath and lift it up, spinning the whole time, then transfer to your plate. It takes a bit of practice, I'm still learning!
Adapted from the Bride and Groom First and Forever Cookbook.
Nutrition
Serving:
1
serving
|
Calories:
1224
kcal
|
Carbohydrates:
80
g
|
Protein:
46
g
|
Fat:
71
g
|
Saturated Fat:
31
g
|
Polyunsaturated Fat:
9
g
|
Monounsaturated Fat:
26
g
|
Trans Fat:
1
g
|
Cholesterol:
189
mg
|
Sodium:
2263
mg
|
Potassium:
1639
mg
|
Fiber:
9
g
|
Sugar:
17
g
|
Vitamin A:
5341
IU
|
Vitamin C:
44
mg
|
Calcium:
346
mg
|
Iron:
7
mg