These Butter Pecan Cookies are a Swedish classic! A buttery, brown-sugar-rich shortbread dough, nestled under a pecan half.  They are perfect for cookie plates or to enjoy with some coffee or milk. Only 6 ingredients! So easy.
Originally published December 8, 2017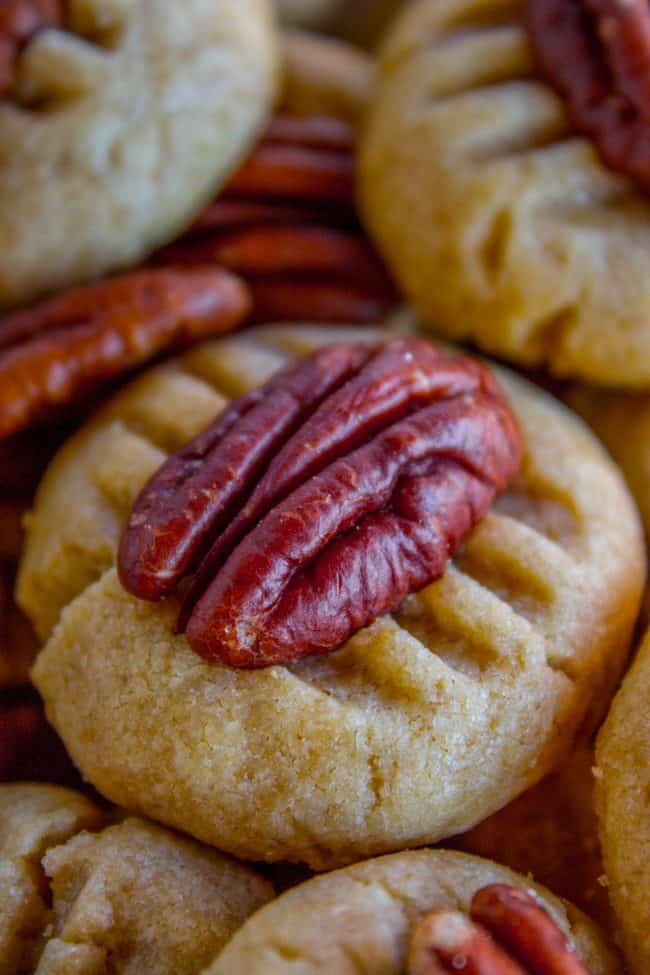 It's Christmas cookie season!! All the cookies, all day long! These Butter Pecans are the FIRST Christmas cookie I bake every year, without fail. They are a HUGE family favorite. It's seriously impossible to eat just one. They are nice for cookie swaps because one batch makes 50-60 small cookies.
I started my blog in October of 2011, and posted this recipe for Butter Pecans just a couple months later on December 12, so you can tell that they are a priority recipe!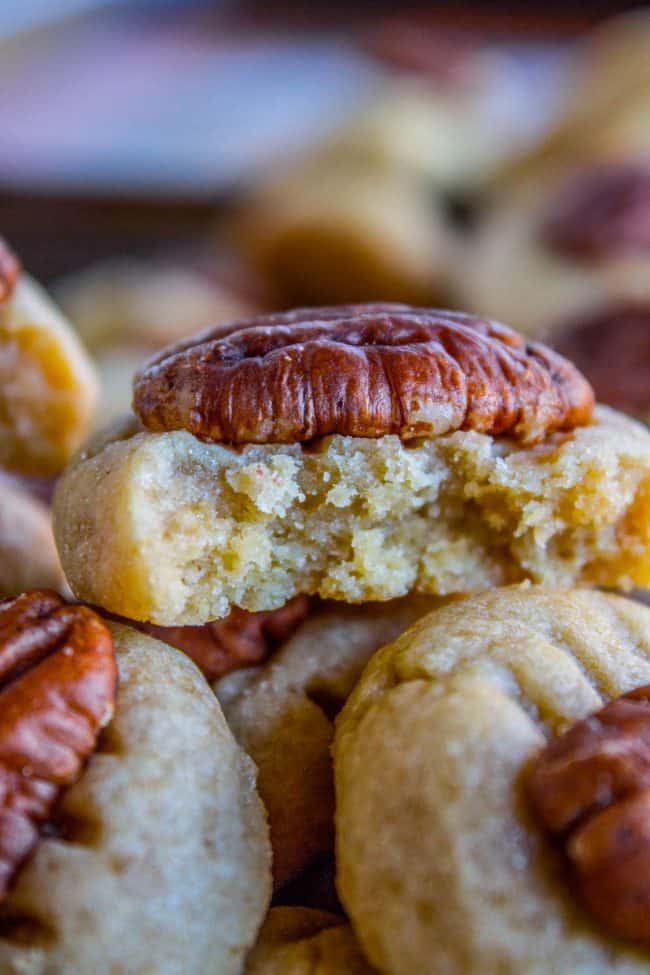 My blog is still somewhat of a journal for me, and I can't handle deleting my old "entries" when a post needs updated photos. (My thoughts on tomato aspic have not changed one bit, so here they will stand.) Here is the original post from 2011:
Butter Pecan Cookies (Traditional Swedish Recipe)
Eric's great-grandmother was Swedish. Grandma Prudy cooked a lot of traditional recipes from her native country that have been passed down. Eric's family still uses many of the recipes*, especially around Christmas. They have a special dinner on Christmas Eve with traditional Swedish meatballs, boiled potatoes, rye bread, and of course tomato aspic.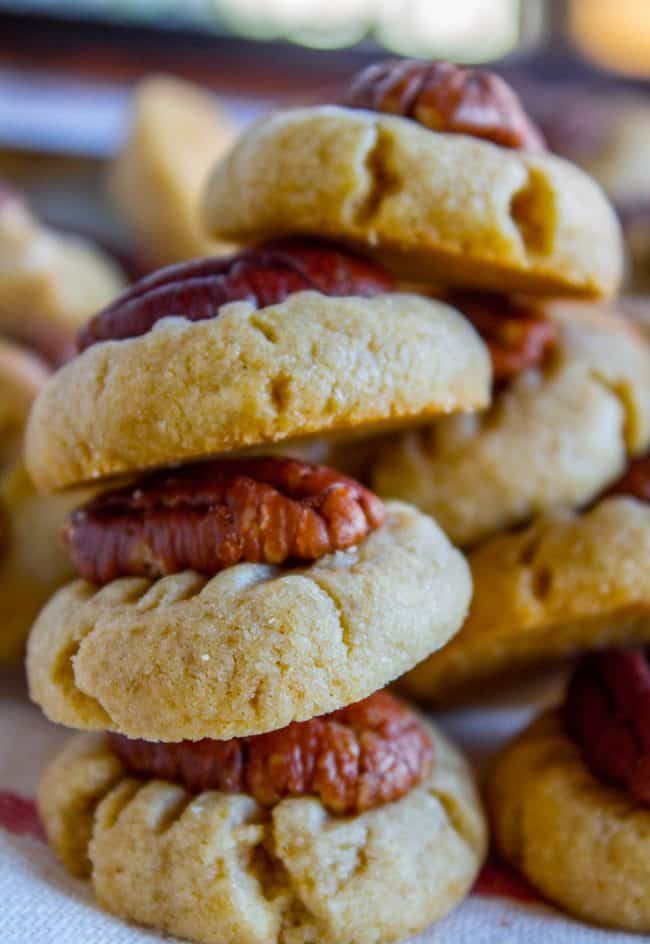 I am all about tradition, don't get me wrong. Traditions are about family togetherness and I love them. I especially love them when they are delicious. Unfortunately tomato aspic does not fall under this category. How can you love what is essentially a tomato jello, even if it is dressed up in a bundt mold? I am not alone; even Eric admits that tomato aspic is revolting. In fact, I'm pretty sure that Bumpa (Eric's grandpa, Prudie's son) is the only one who eats the stuff every Christmas. This is the same man who also eats pickled herring on a regular basis. Just sayin'.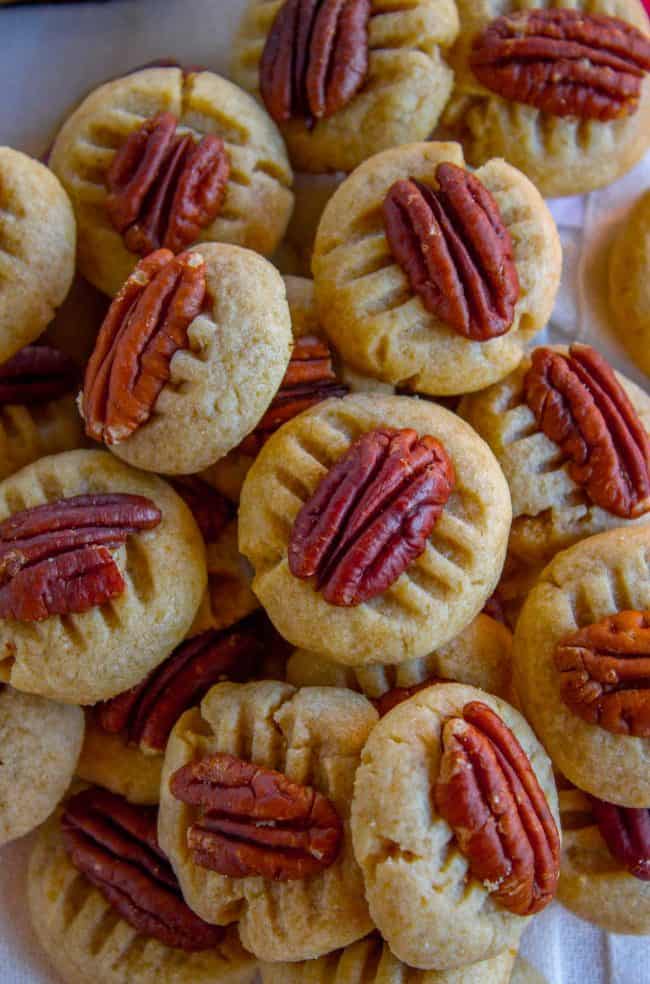 The first year we were married, Eric and I went to my parent's house for the holidays. We have our Christmas traditions too, and those traditions usually include lots of mashed potatoes and tri-tip. But to make Eric feel more at home, I decided to try to recreate his family's Christmas Eve dinner, even down to the tomato aspic.
The meatballs turned out awesome. I even won the meatball contest. (My brother-in-law, whose family is hardcore Italian, insisted on having a meatball contest to prove "once again" that northern Europeans (and their meatballs) are inferior to their southern neighbors. Boo-ya.)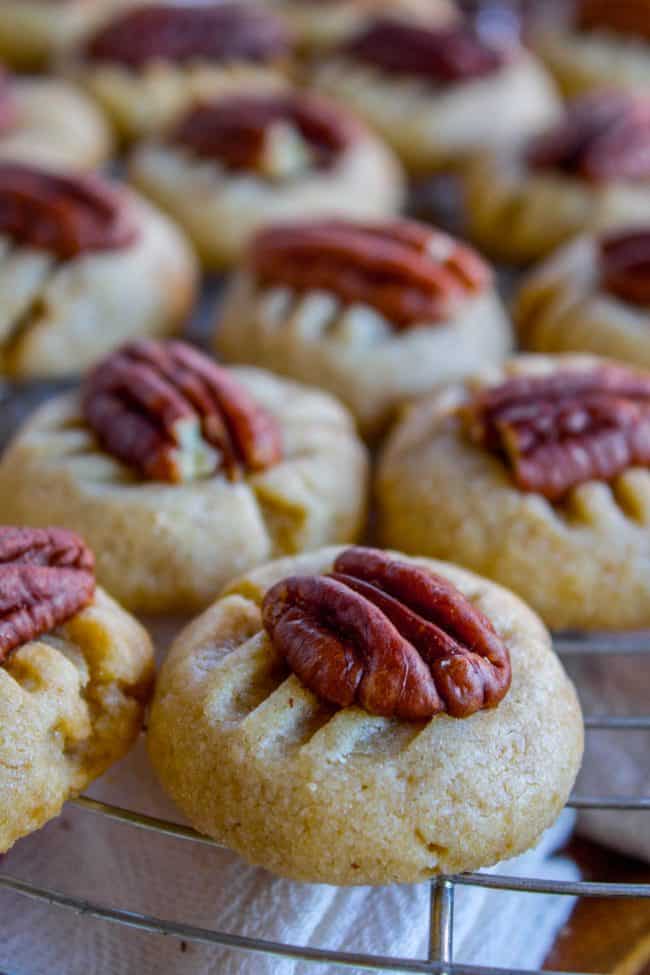 Meatballs, check. The potatoes were good. The rye bread was good. The tomato aspic? Didn't set up. So when we flipped that bundt mold over, instead of revealing our magnificently shaped (if nothing else) tomato jello, out came tomato soup with chunks of gelatin floating in it. Yum.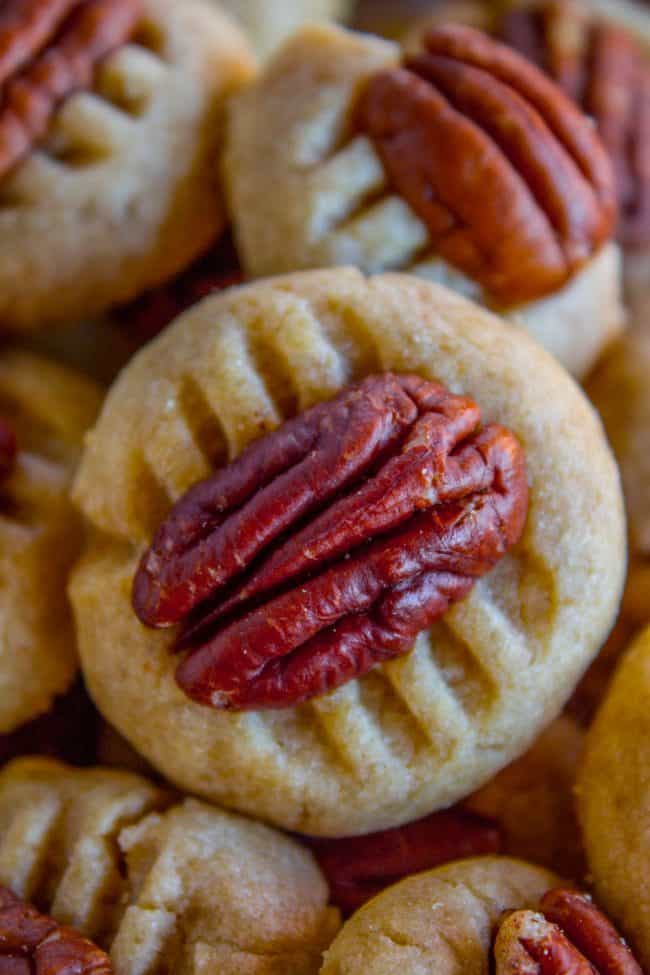 Even if the tomato aspic tradition is doomed to die on this generations watch, Grandma Prudie's Swedish cookie tradition is one that is bound to stick around. These Butter Pecans have 6 ingredients and are incredible. I'm usually not one for pecans (or any nuts, for that matter), but these cookies are addictive. Especially since they are tiny; it's easy to throw down 8 or 9 before you've even realized what's going on. Long live Butter Pecans. Tomato aspic, rest in peace.
*Karen from Christmas Present chiming in. Here are some of Prudy's famous cookie recipes I've shared since Butter Pecan's original publication in 2011: Spritz, Gingersnaps, Sour Cream Twists, and Cardamom Cookies. There are so many more, I need to get on it!
Here's one of the original photos from 2011: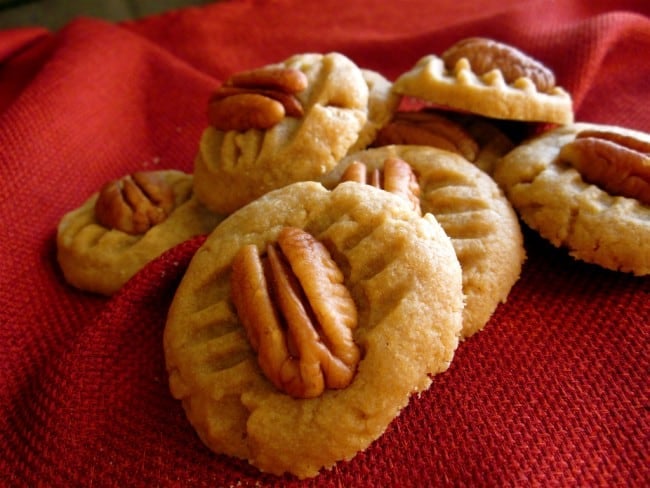 More Christmas cookies to love!
Facebook | Pinterest | Instagram | Twitter

Easy Butter Pecan Cookies Recipe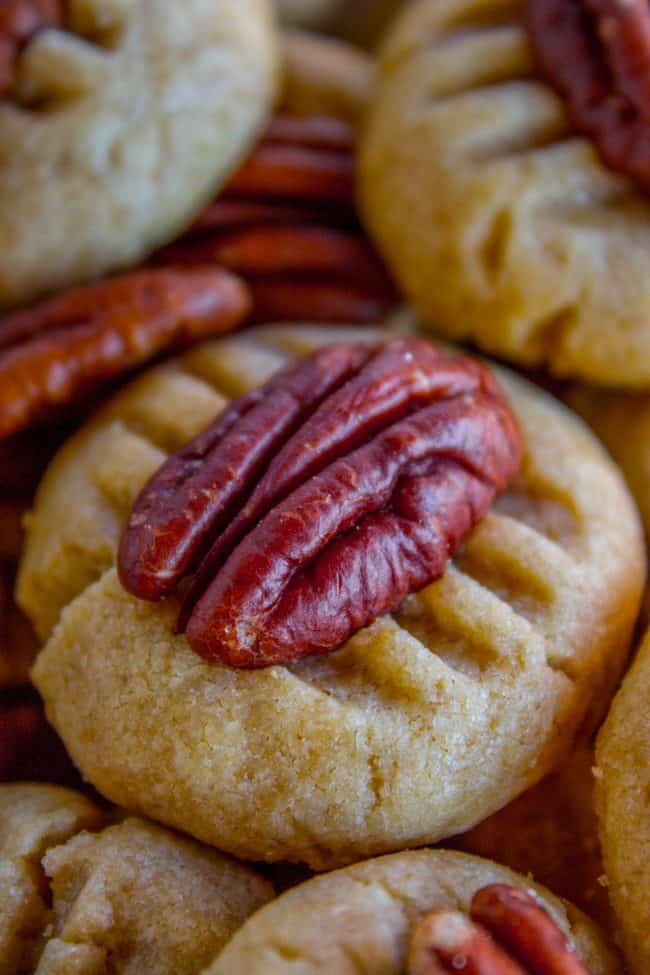 These Butter Pecan Cookies are a Swedish classic! A buttery, brown-sugar-rich shortbread dough, nestled under a pecan half. Only 6 ingredients! So easy.
Ingredients
1

cup

salted butter

,

softened

2/3

cup

brown sugar

,

packed

1

egg yolk

2

cups

all-purpose flour

,

spooned and leveled

1/2

teaspoon

salt

,

I use kosher salt

50-60

pecan halves
Instructions
In a large bowl or

stand mixer

, cream butter and brown sugar. Beat it for at least 2-3 minutes, stopping to scrape the sides and bottom.

Add the egg yolk and beat well.

Add the flour & salt. Mix until it forms a ball, scraping the sides and bottom of the bowl. When all the flour is incorporated, stop beating. (Over beating makes for a tough dough.)

Cover the bowl and chill for about an hour. (If you are doubling the recipe, be sure to chill for more like 2-3 hours. They will bake flat if the dough is not cold. You can freeze the dough too, if you want.)

Form the dough into 1 inch balls. Place on the cookie sheet with one inch of space in between each cookie.

Flatten each ball once with a fork. If the fork is sticking, dip it in flour, then press on the cookie.

Press a pecan on top, perpendicular to the fork marks.

Bake at 350 for 6-8 minutes or until they are no longer shiny on the top or edges.* I don't let mine get brown, or if they do, it is a very small amount on the bottom edges.
Notes
This recipe is from Grandma Prudie, Eric's great-grandmother.
*The cook time on this recipe is MUCH DEBATED. I like to cook for a minimal amount of time (6-8 minutes) until the cookies are just cooked through. This way they are soft and stay that way for a few days. Kris, Eric's mom, likes very crunchy cookies and will leave them in the oven until they are brown and very crispy. The choice is yours!
You can chill the dough for up to 3 days before using. If you need longer than that, throw it in a Ziploc in the freezer. It will keep a long time! Let thaw on the counter until cold, then shape into balls. You can even shape the cookies, including the fork marks and the pecans, then store them in a tight container in the fridge or freezer, then bake up to 2-3 days later.
Nutrition
Serving:
1
cookie
|
Calories:
73
kcal
|
Carbohydrates:
7
g
|
Protein:
1
g
|
Fat:
5
g
|
Saturated Fat:
2
g
|
Polyunsaturated Fat:
1
g
|
Monounsaturated Fat:
2
g
|
Trans Fat:
1
g
|
Cholesterol:
13
mg
|
Sodium:
57
mg
|
Potassium:
16
mg
|
Fiber:
1
g
|
Sugar:
3
g
|
Vitamin A:
119
IU
|
Vitamin C:
1
mg
|
Calcium:
6
mg
|
Iron:
1
mg