I am recently OBSESSED with these Honey Sriracha Salmon Bowls! It is my new favorite last minute weeknight dinner. Salmon rice bowls look fancy but everything comes together so fast! A quick marinade and then a hot sear for the salmon, plus cucumbers, edamame, avocado, and sushi rice. You will feel like a super human after eating all this green stuff! Such an easy recipe.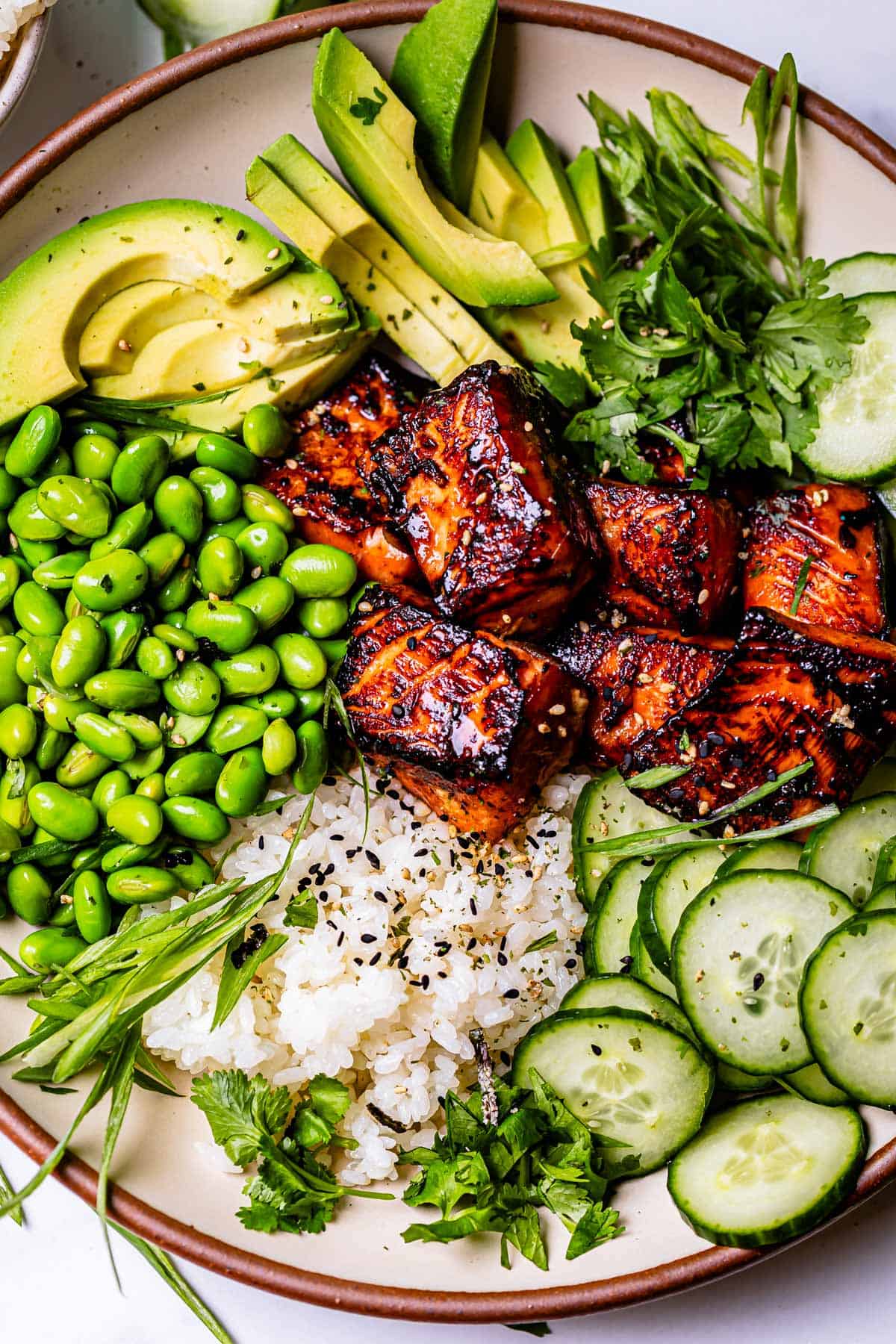 Table of Contents
So Edison, my 3-year-old, saunters into the kitchen the other day, munching on a piece of pizza.
Wait, what? Pizza?? It's 8am!
"Edison, what are you eating?" (shock brings out the stupid questions in me)
"Aw, just some pizza Mom."
"What pizza? Where did you get it??"
"Oh, just from outside." (we did indeed have pizza for dinner last night. The dots are starting to connect.)
"What do you mean, WHERE outside??" (I can't stop with the double question marks guys, it was a very distressing moment)
"Oh, don't worry Mom, not on the ground. It was on the fire thing!" (He means the fire pit. This is not encouraging.)
"Edison, when you leave food outside overnight it gets bugs on it." (Said with an admirable measure of calm, if I do say so myself.)
He says reassuringly, "Oh don't worry Mom, I ate all the bugs."
GAAAAAHHHHHHHHHH
The thing is, I will never know the truth. Did he really eat the bugs? OR IS HE JUST MESSING WITH ME?? All bets are off with this kid, I swear. He's an animal. Here he is just last week after he thought it would be a good idea to jump off the trampoline onto a TREE.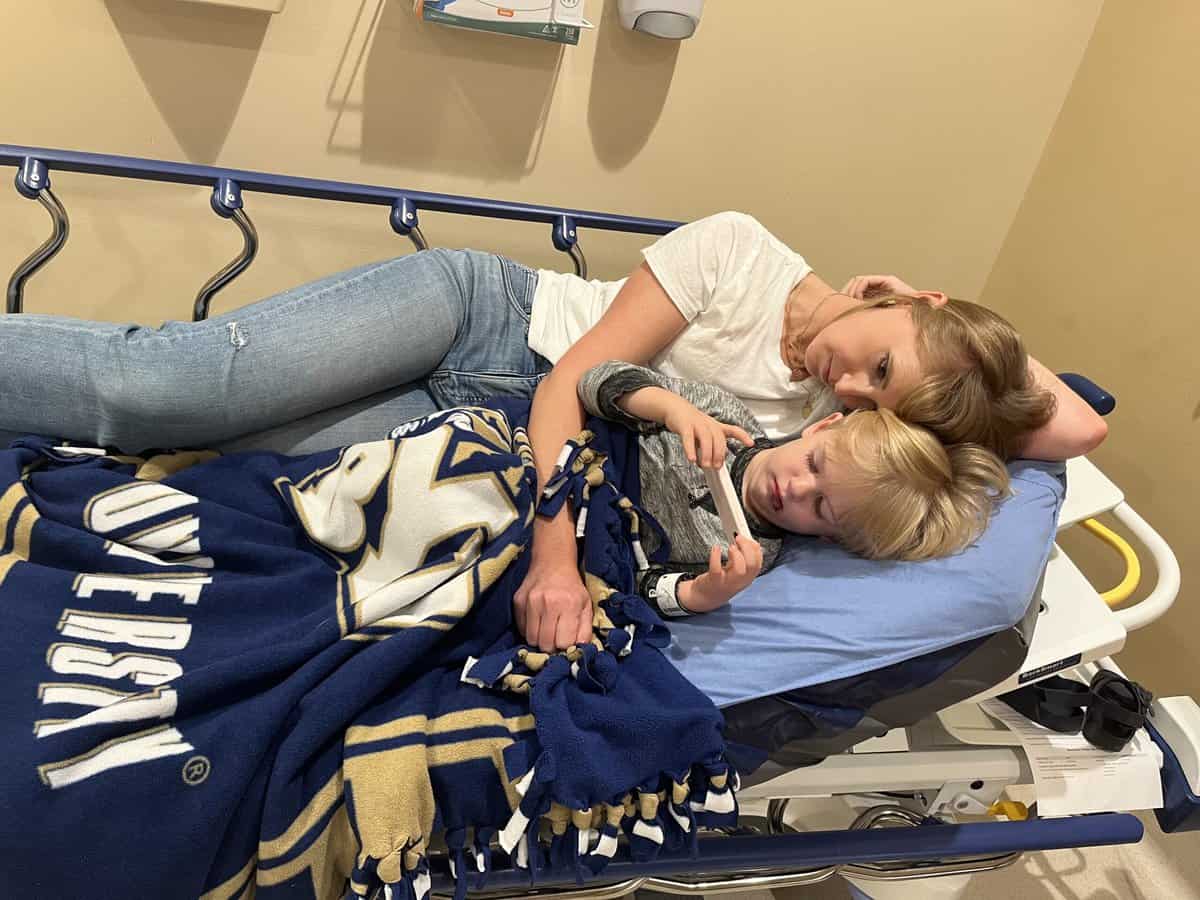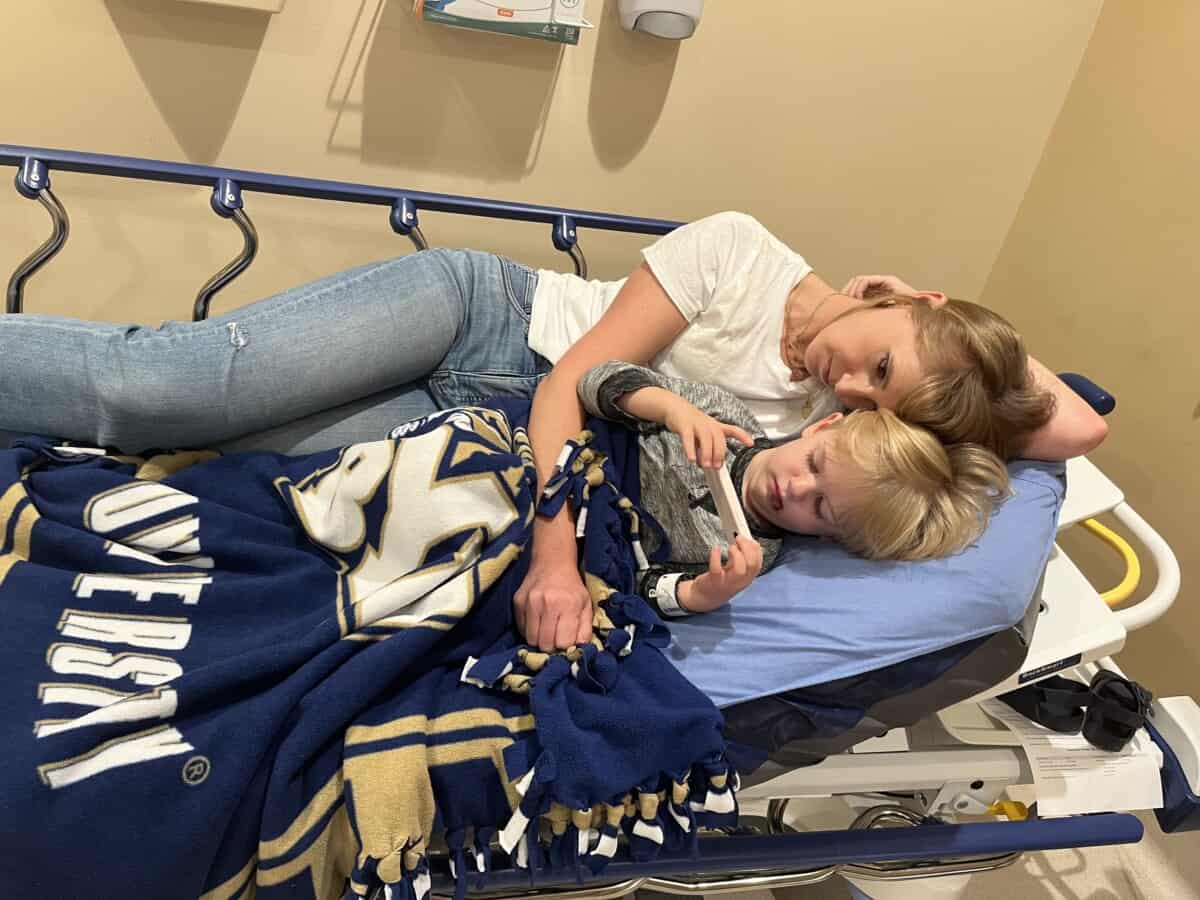 Only 2 stitches and at least 4 hours of uninterrupted PJ Masks shows in the ER. Who won, here, exactly? I think Edison did.
Okay, before you call the cops, I feel like I need to provide evidence that I actually DO feed my children healthy, bug-free meals, ones that are nourishing, especially after hospital visits…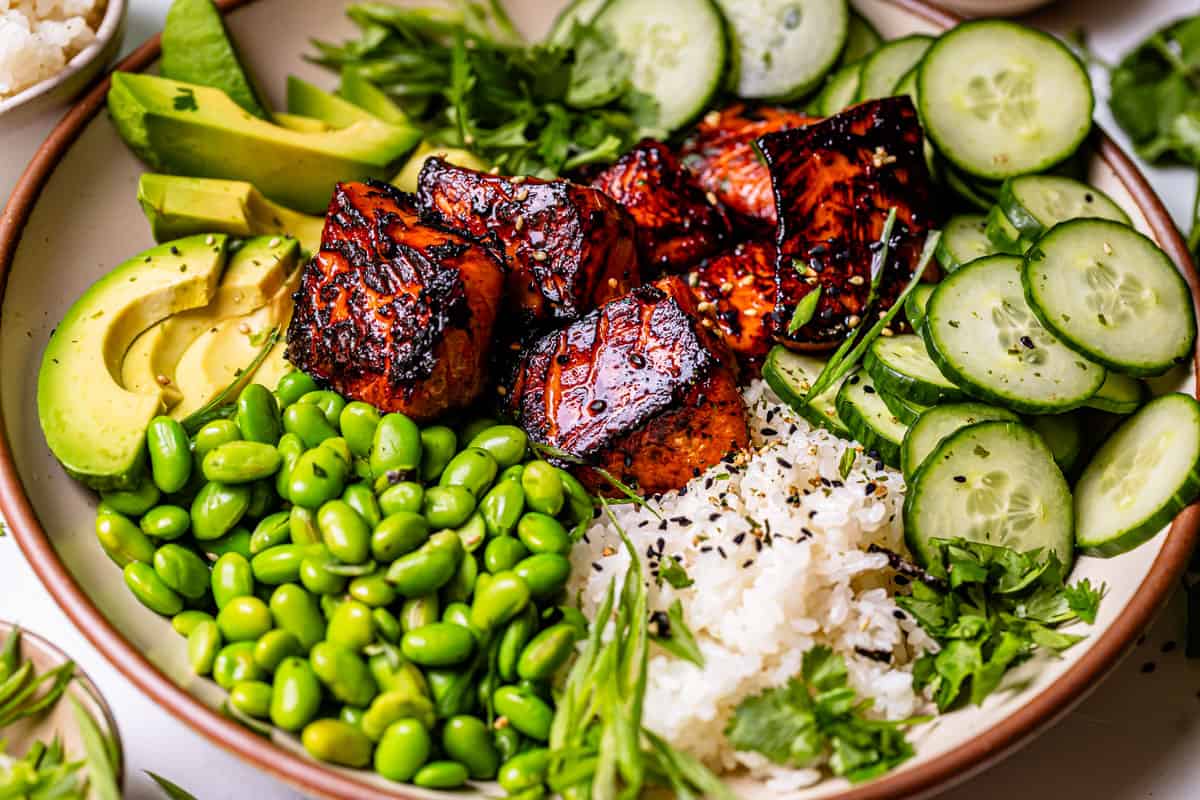 BOOM, doesn't this Salmon Bowl solve all our problems?? Maybe sorta kinda? Let me tell you all about it!
Salmon rice bowl recipe
My family has been eating these Honey Sriracha Salmon bowls on repeat lately, and no one is complaining. (My kids LOVE salmon, I think they found out how much it costs and choose it to spite me.)
I always use frozen salmon. I'm just fancy like that. (Just kidding, I am cheap and never plan ahead.) Salmon is a great last minute weeknight dinner because it thaws lightning-fast. I always take the vacuum sealed bags and toss them in a bowl of water, and voila, 30 minutes later, thawed salmon ready to go.
From there, it's just a quick marinade in some pantry ingredients (plus garlic and ginger), searing the heck out of it, and then adding the rice, spicy mayo, and toppings. It looks like a lot, but it really comes together fast, especially when you make it all the time like I do.
You can also switch out the toppings for whatever you have on hand. No cucumber? Swap for shredded carrots! No green onions? Finely dice a red onion! No avocado? Add in some shredded green lettuce! It's completely customizable.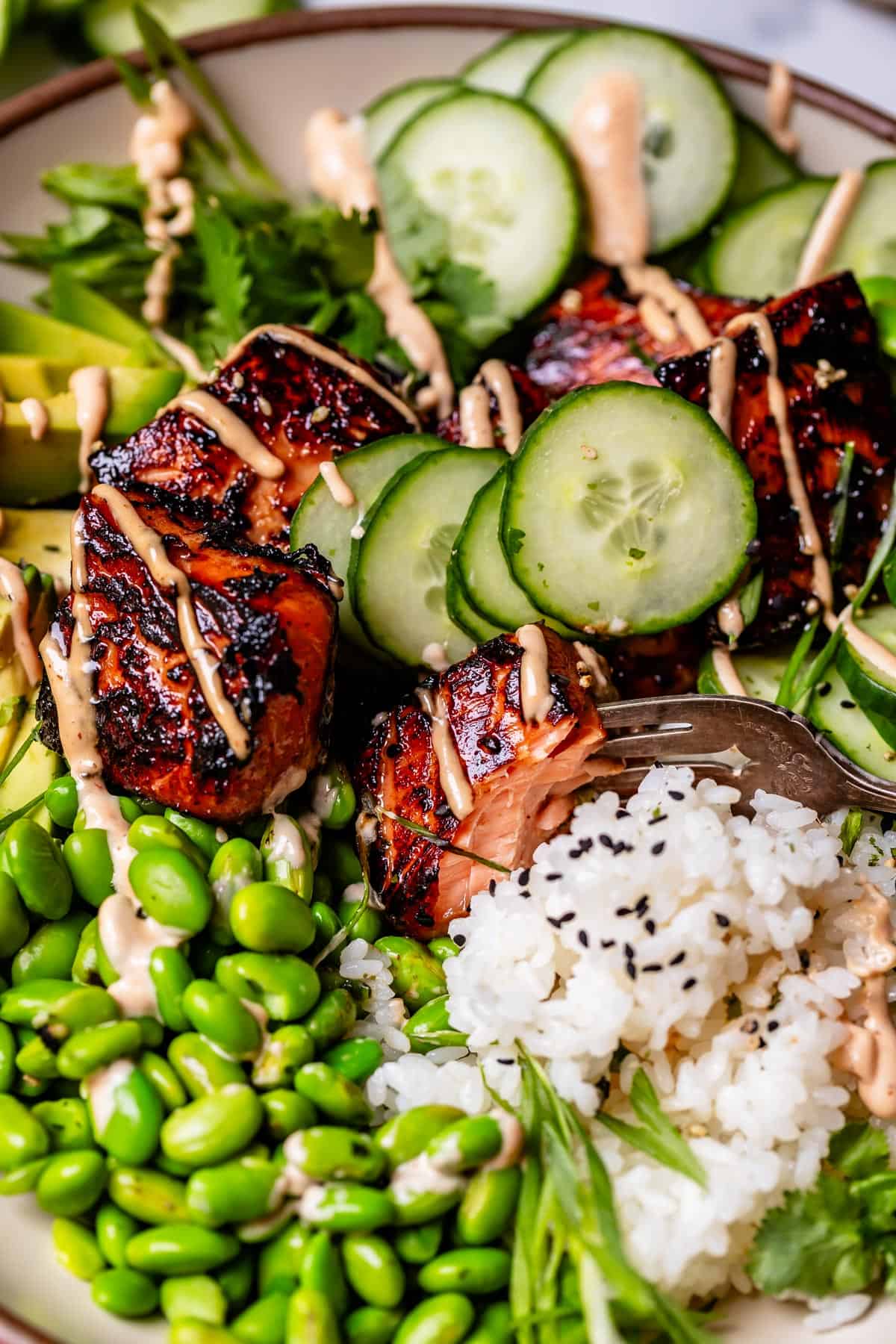 Blackened salmon bowl ingredients
Don't be fooled by the long ingredient list! These salmon bowls come together fast. A good majority of the ingredients are either part of the marinade for the salmon, or toppings for the bowl once the fish and rice are cooked.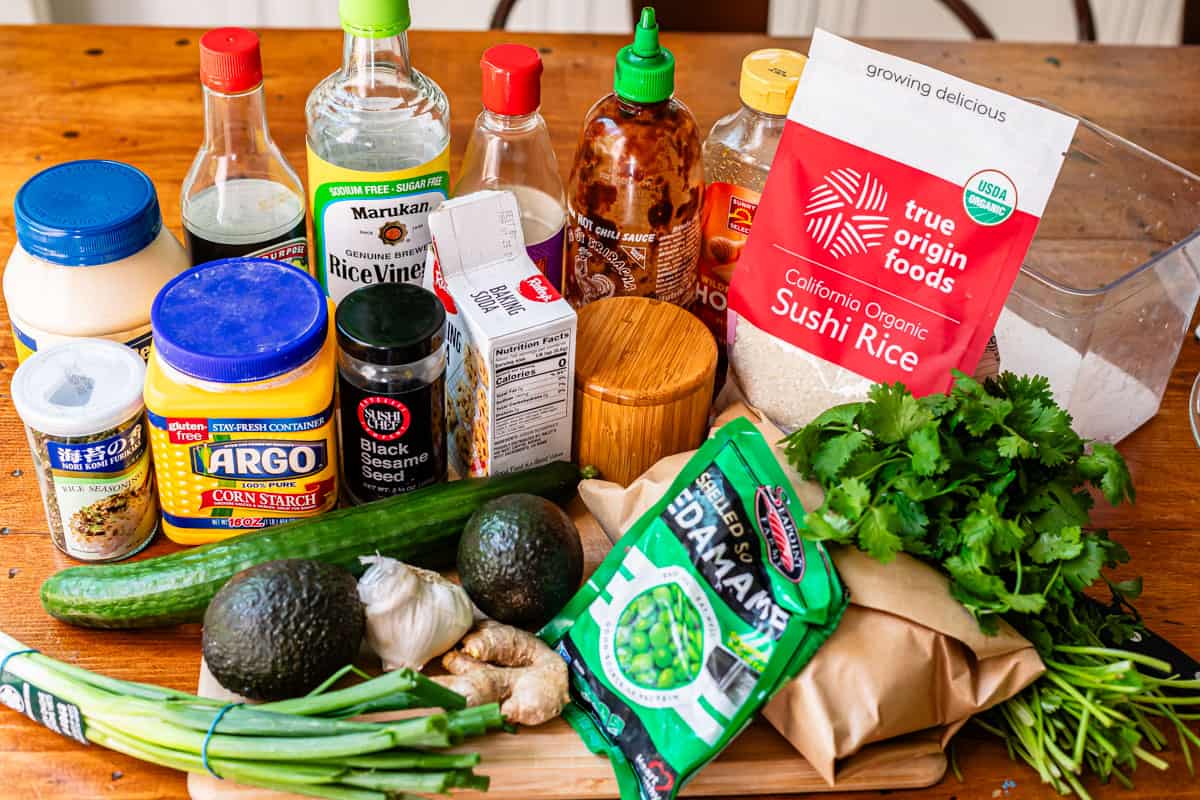 Don't cook from here, go to the recipe card at the bottom of the post! This is just to give you an idea:
Salmon marinade
salmon filets
cornstarch
baking soda
soy sauce
Sriracha, or your favorite hot sauce
honey
sesame oil
garlic
fresh ginger
Rice & Sriracha mayo ingredients
sushi rice
granulated sugar
Sriracha, or your favorite hot sauce
rice vinegar
mayonnaise
Bowl toppings
English cucumbers
edamame
avocados
green onions
cilantro
black sesame seeds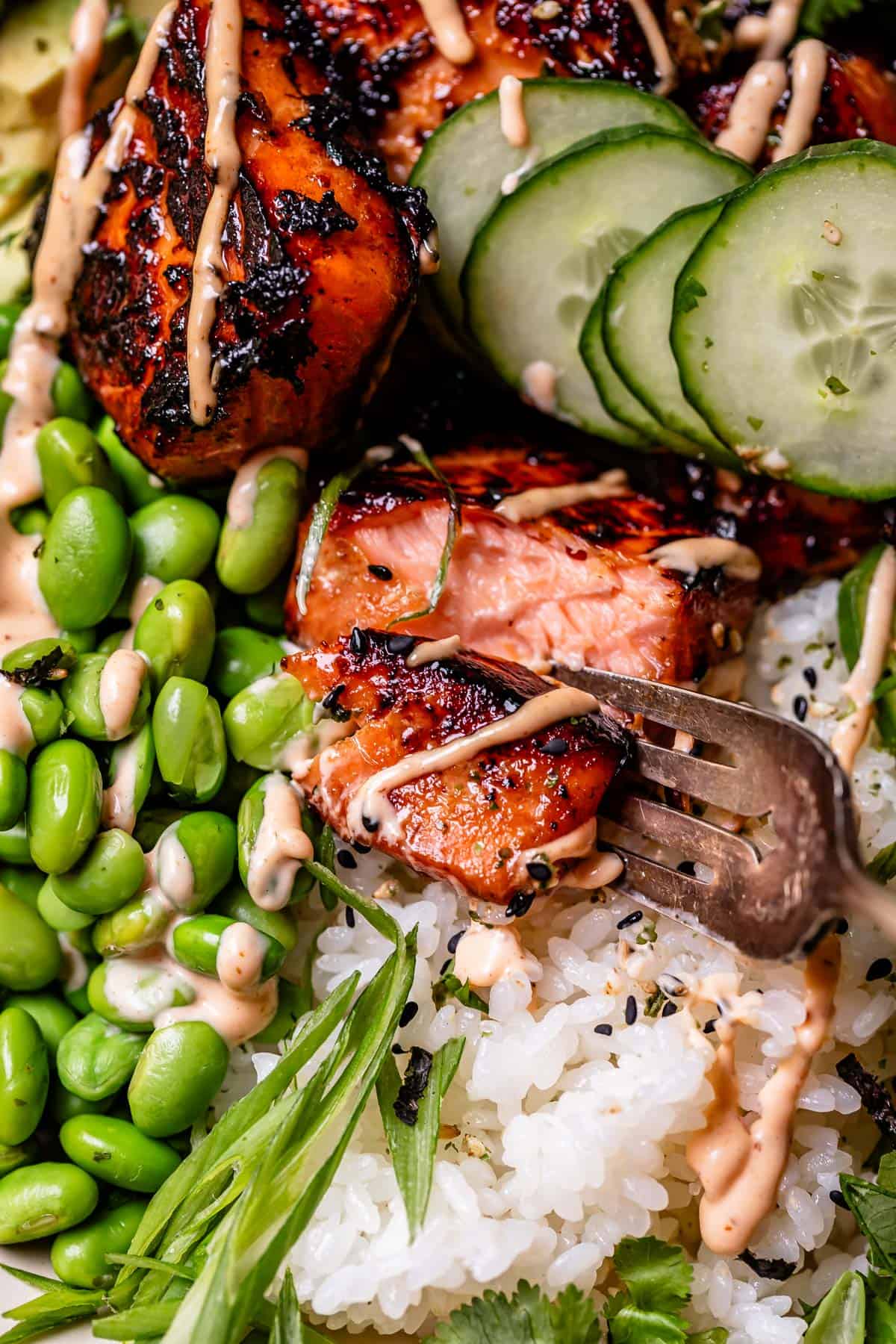 How to make a salmon bowl
First we start off with some cornstarch and baking soda. Excuse me, what? Are we making dinner or cookies??
Adding baking soda and cornstarch to the marinade for this salmon makes the salmon get SUPER crispy when you sear it in the hot pan. The edges get all fizzy and reactive and the cornstarch makes it viscous and thick so the marinade sticks to the salmon…it's a beautiful thing!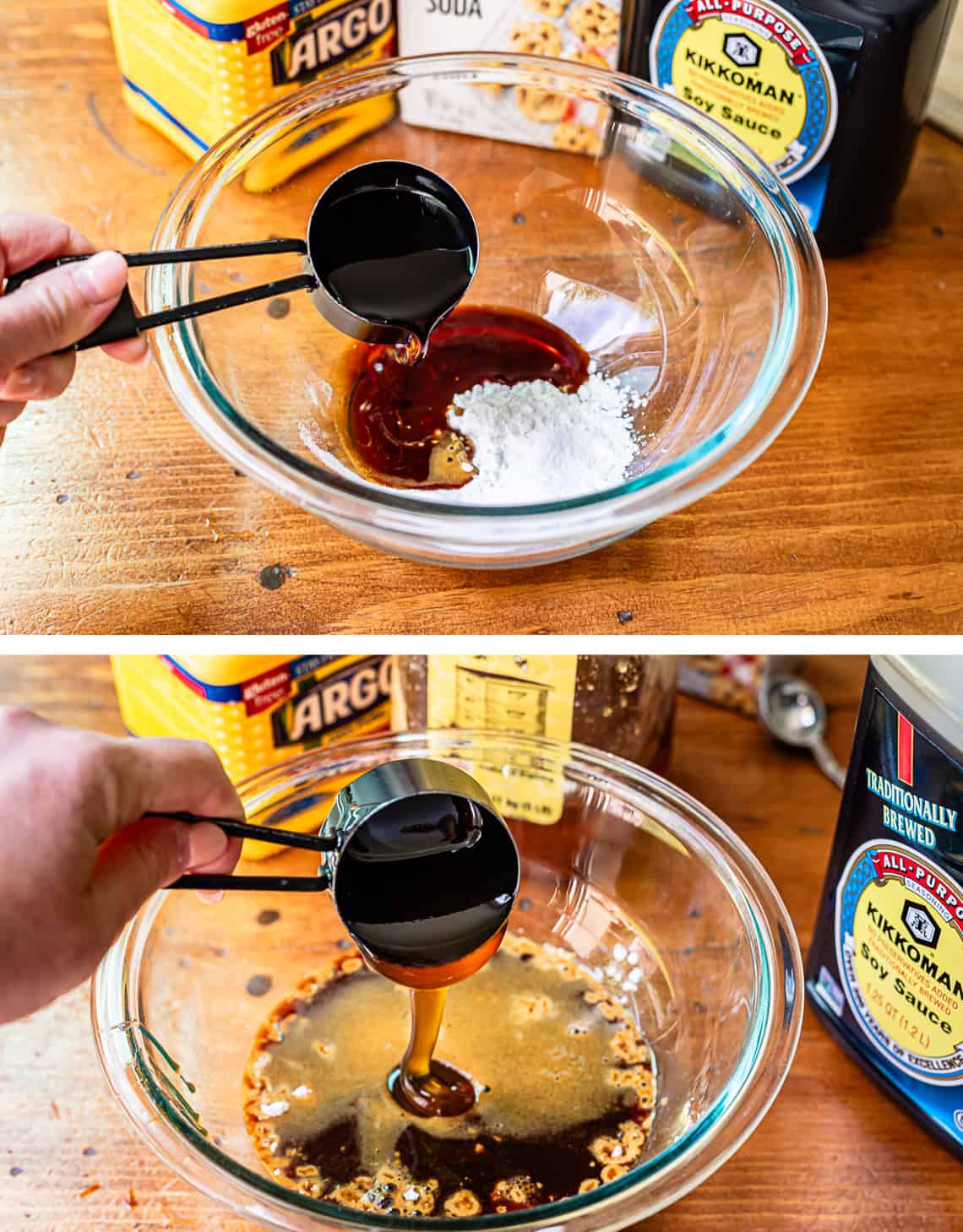 Add in some soy sauce and honey.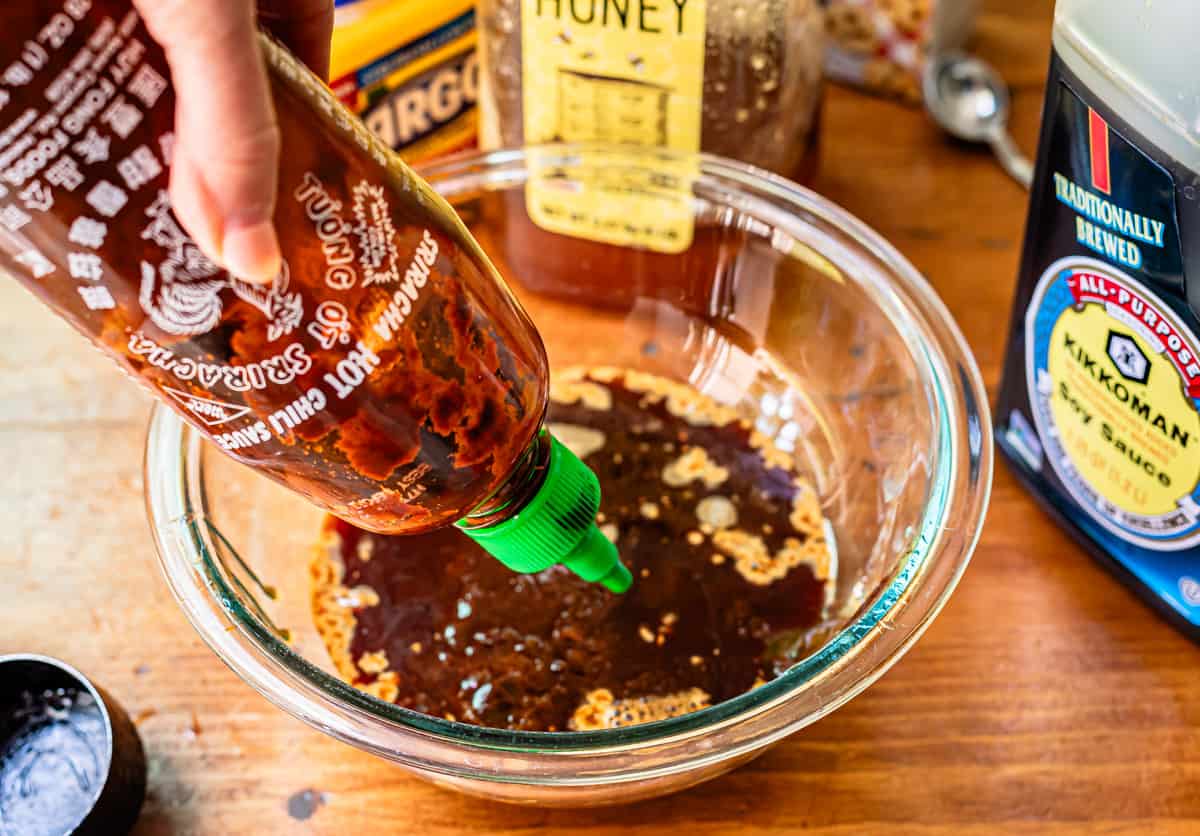 Then a squirt or two of sriracha. You can use any hot sauce you like! I know sriracha can be hard to come by these days! If you are out, don't steal any off the tables from your local restaurants. Just use Tobasco people, calm down. Or add a pinch of cayenne pepper!
Now it's time to add in some garlic and ginger. Have you ever used a spoon to peel your ginger? SO much easier than a peeler.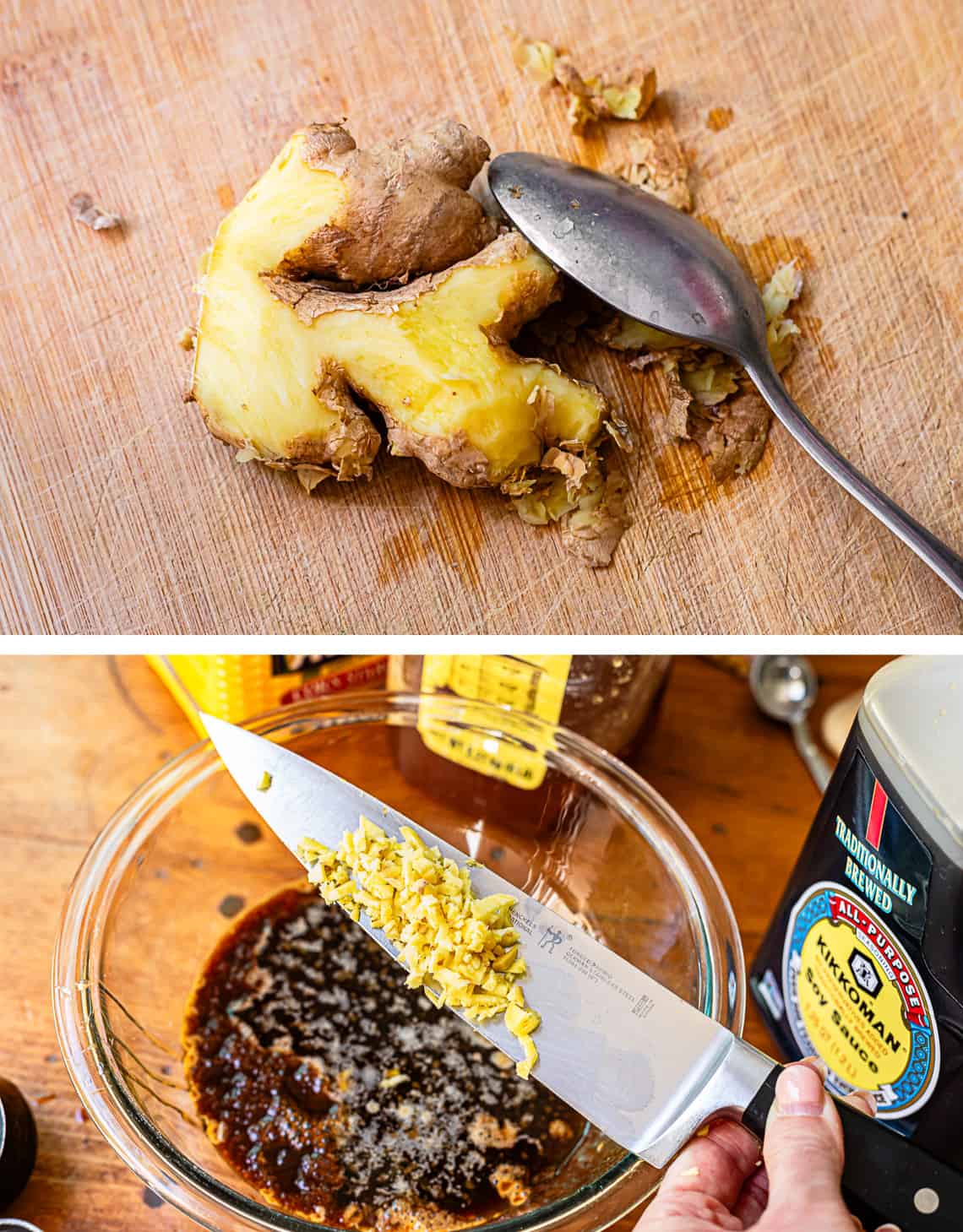 Mince it up and add to the bowl.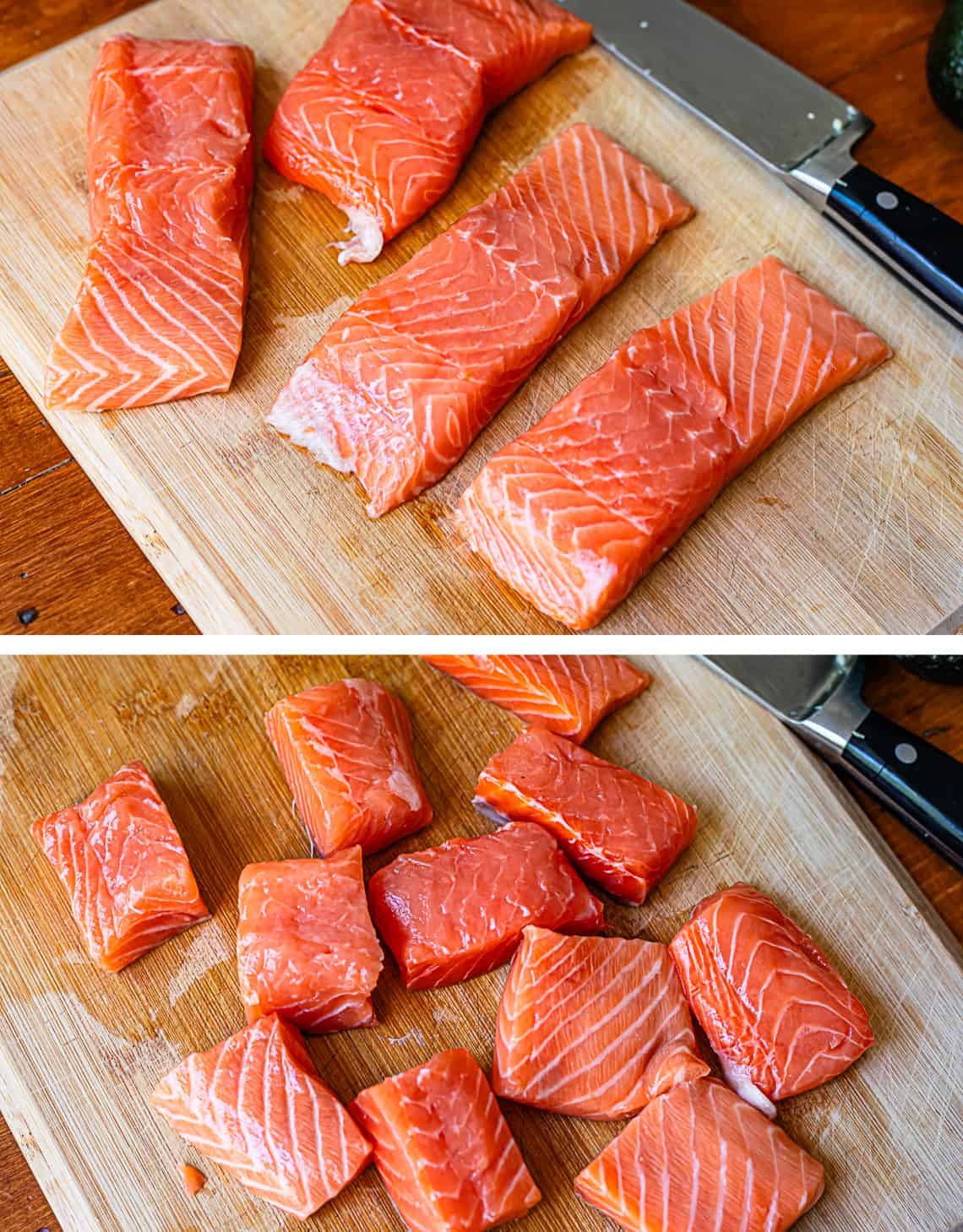 Next chop up your salmon. I like to chop each filet into 3-4 pieces.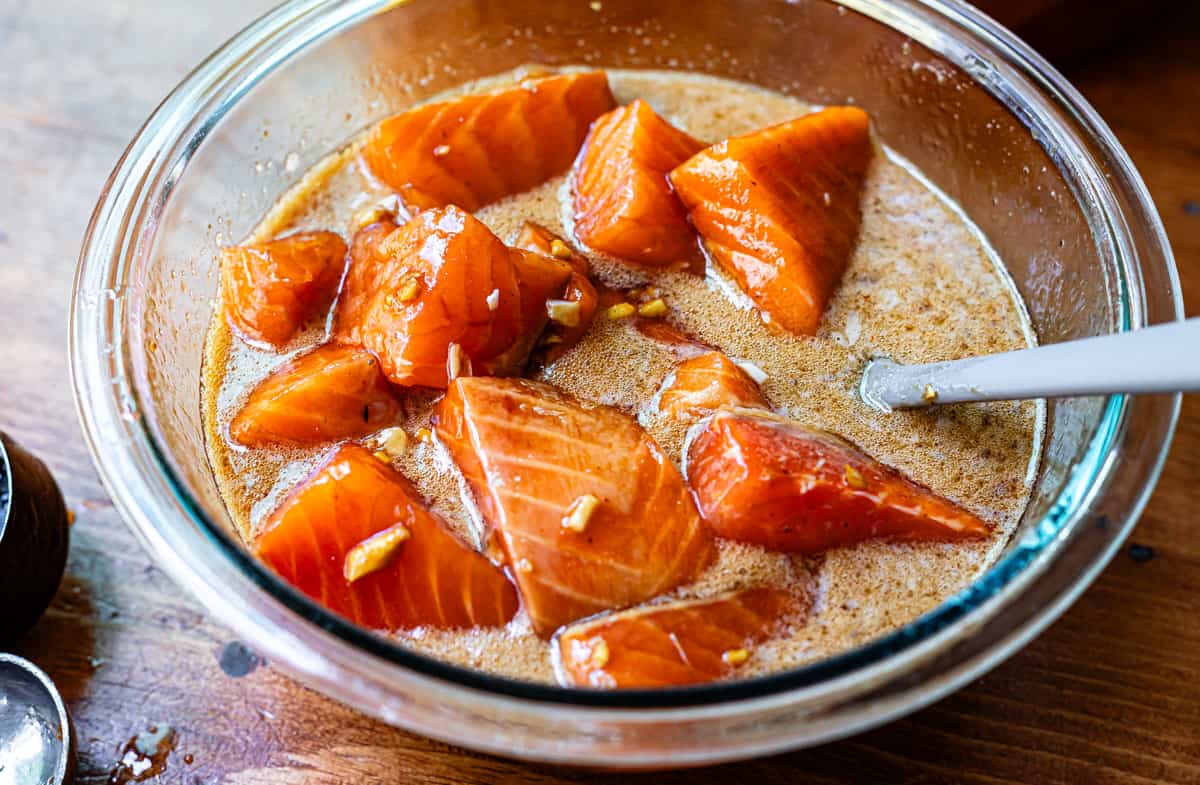 Here she is! You can let this salmon marinate for as little as 10-15 minutes. Or you can marinate for up to an hour! Don't go longer than that. Salmon is delicate, and too long of a marinade will start to break down and "cook" the fish. It will turn out mushy, no thank you.
Now let's make the rice. Rinse your rice until the water runs clear (or don't. I often skip this when I'm in a hurry and nobody died. Rinsing rice makes it a little bit less gummy.)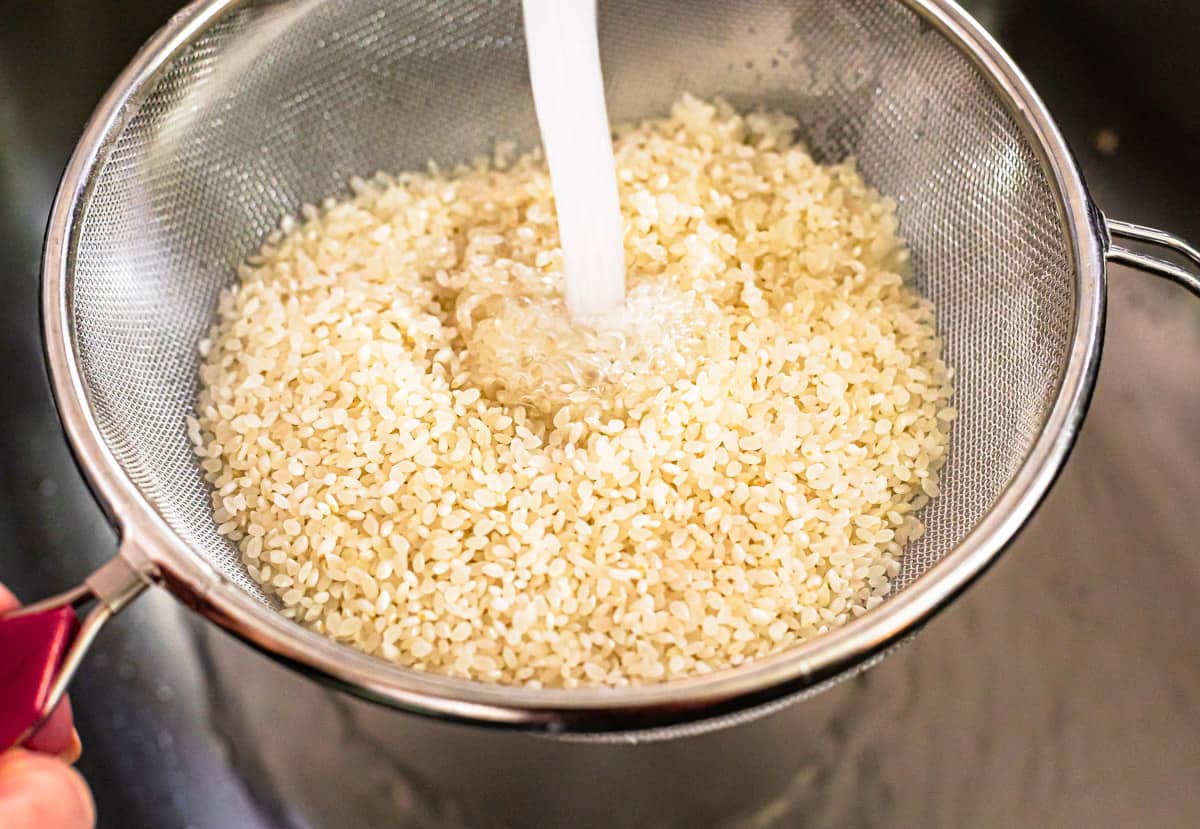 While your rice is cooking, make a simple mixture of rice vinegar and sugar. If you let it sit for a few minutes, the sugar will dissolve completely, if you are ready to pour it on the rice and you still see granules, microwave it for a few seconds until it is dissolved.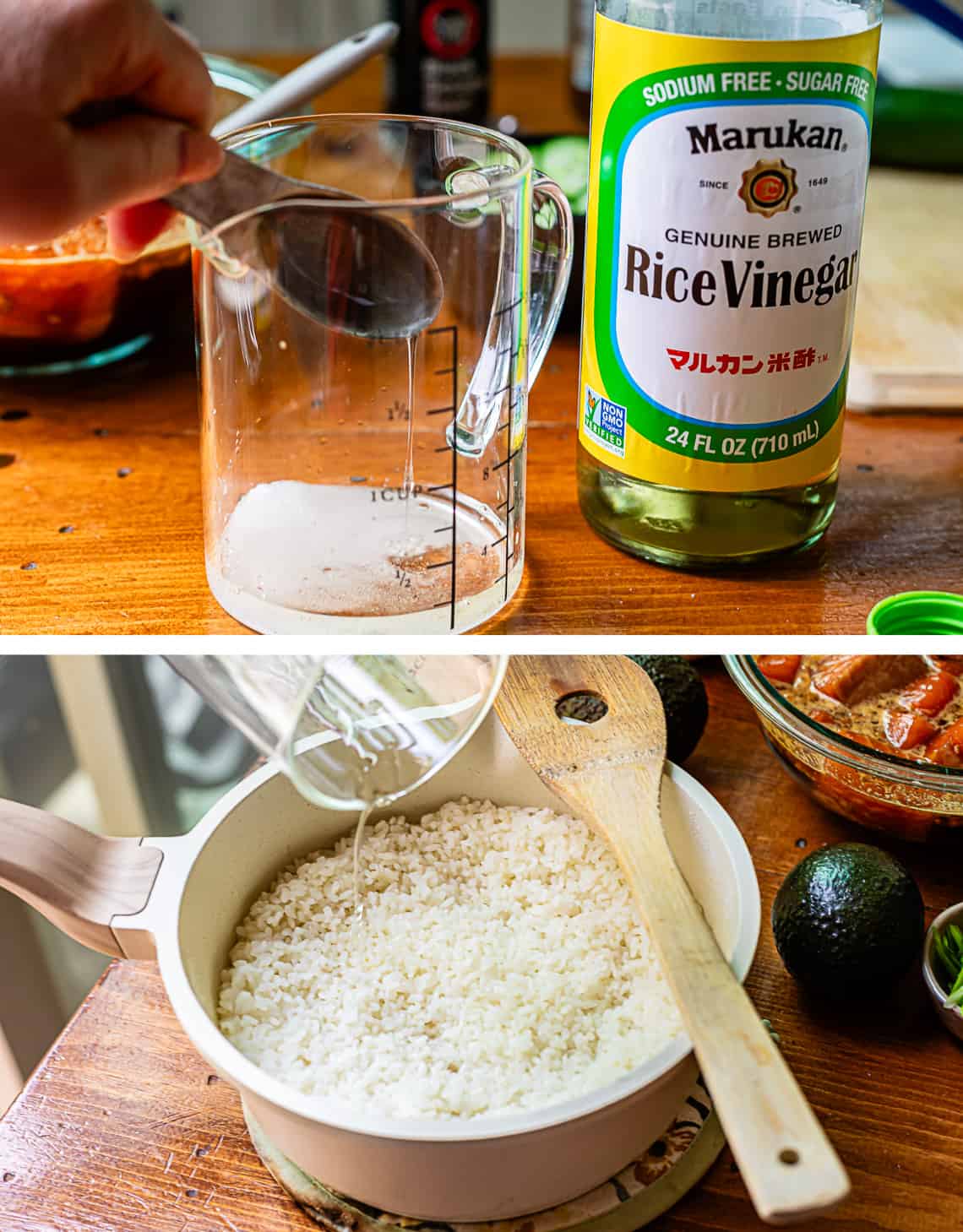 Pour the rice vinegar and sugar mixture over the sushi rice and fold it in.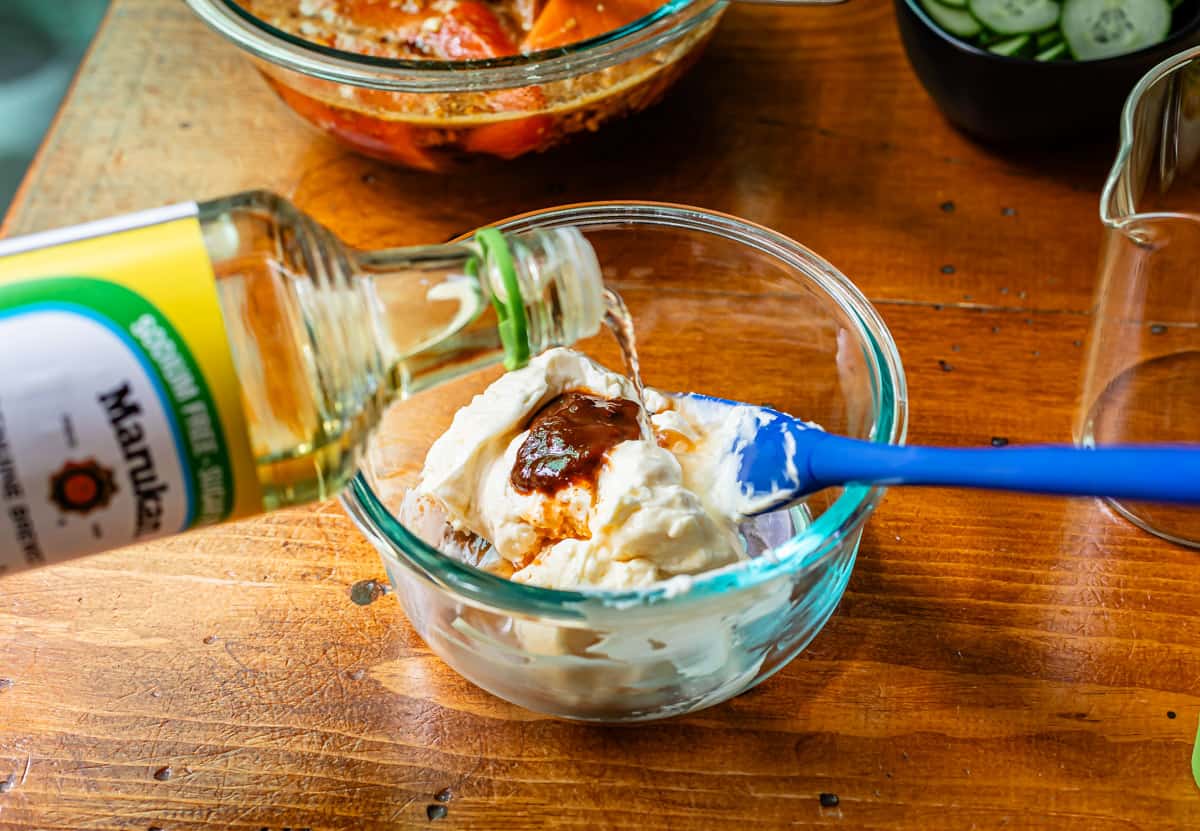 Stir together some mayo, sriracha, and a splash of rice vinegar for more bite. I love to slather this stuff on EV-ER-Y-THING.
Prep all your other ingredients at this point: slice the cucumber, microwave the edamame, slice the avocado, chop the cilantro and green onions. Have you ever cooked with edamame? It's relatively new for me. I LOVE it. So easy to just throw a steam bag in the microwave and snack on it.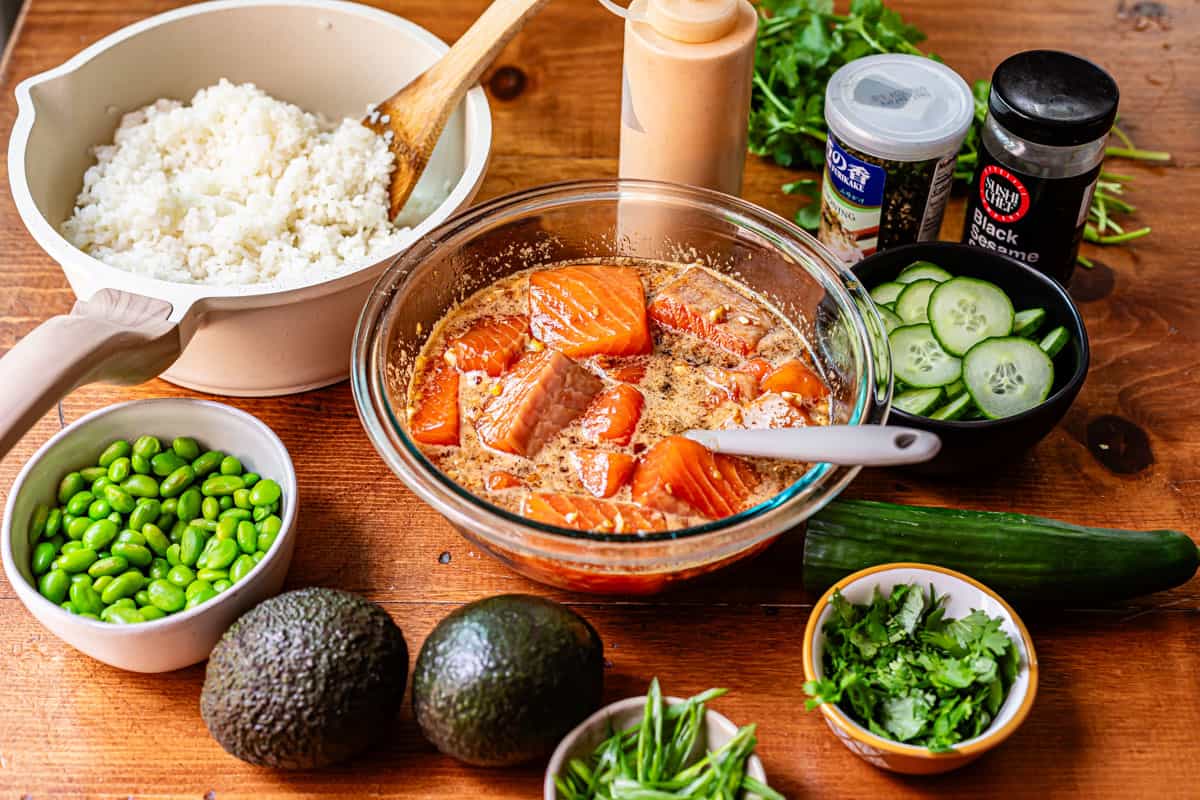 Now it's time to sear the salmon! Turn the burner up to "screaming hot." It's somewhere just below high heat. Let the pan heat up by itself with no oil for a good 1-2 minutes.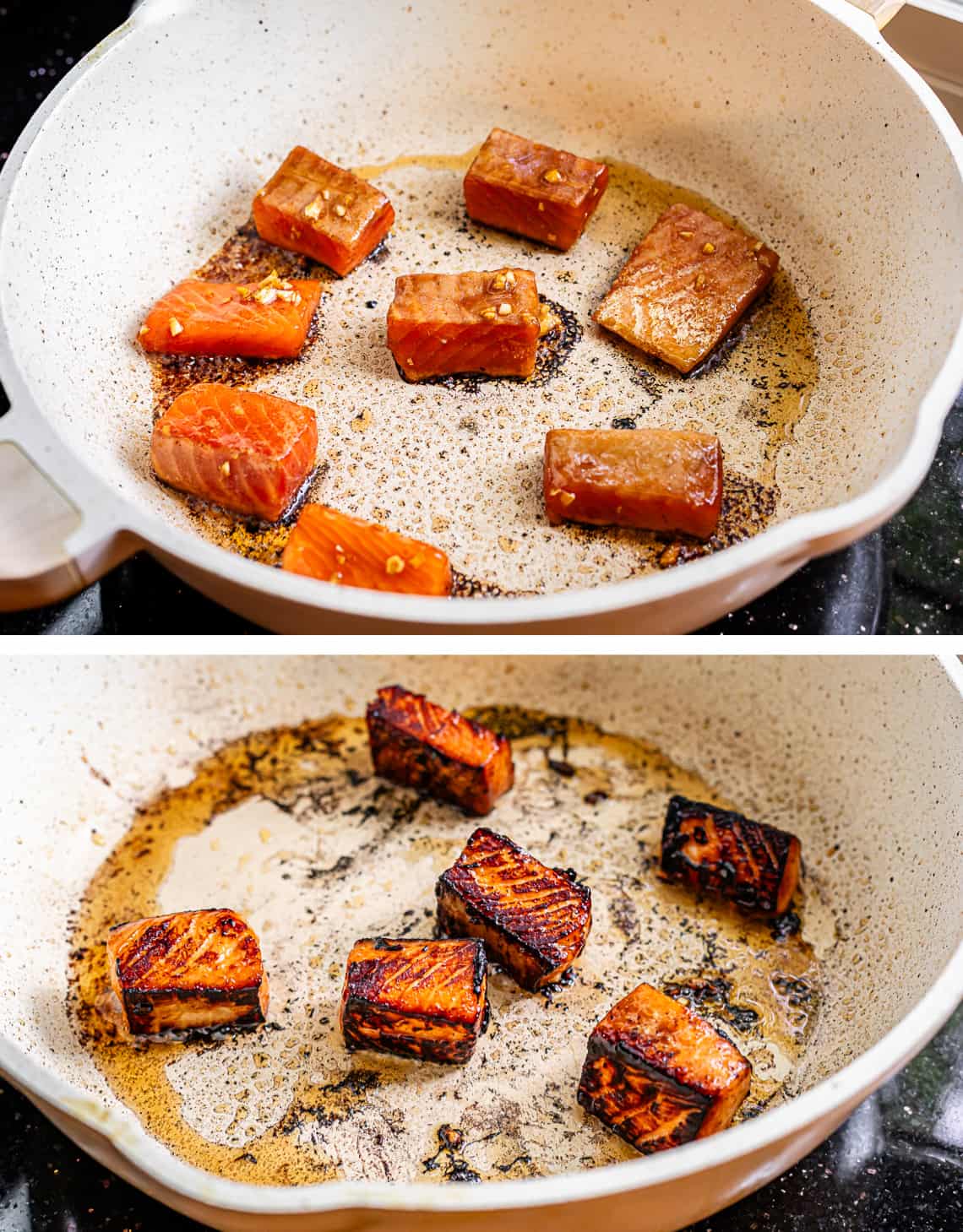 I like to sear the salmon in sesame oil. It does have a strong flavor, so if you are not into it, use any vegetable oil! Or you can use a combo of vegetable and sesame oil, I do that a lot. Don't crowd the pan with salmon, otherwise the pieces will steam each other and they won't get crisp. It needs space to get blackened.
Once your salmon is ready, it's time to plate and serve!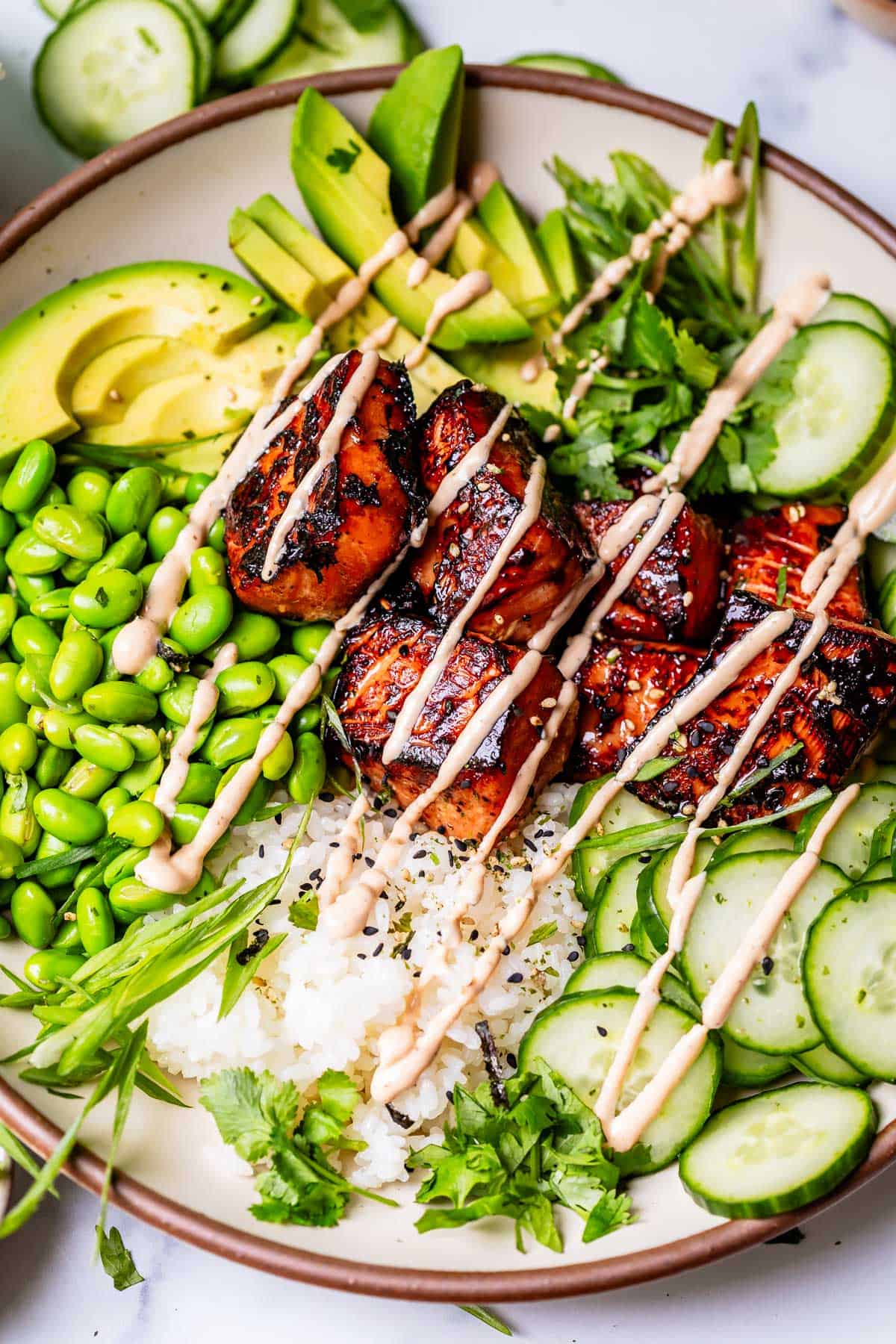 Drizzle that sriracha mayo over the top, then garnish each plate with black sesame seeds and rice seasoning. Have you ever had this stuff? It's so good. It has seaweed, sesame seeds, sugar and salt. I'm not like, the HUGEST fan of seaweed, but this is a small enough accent that it's perfect. Adds just the right umami touch.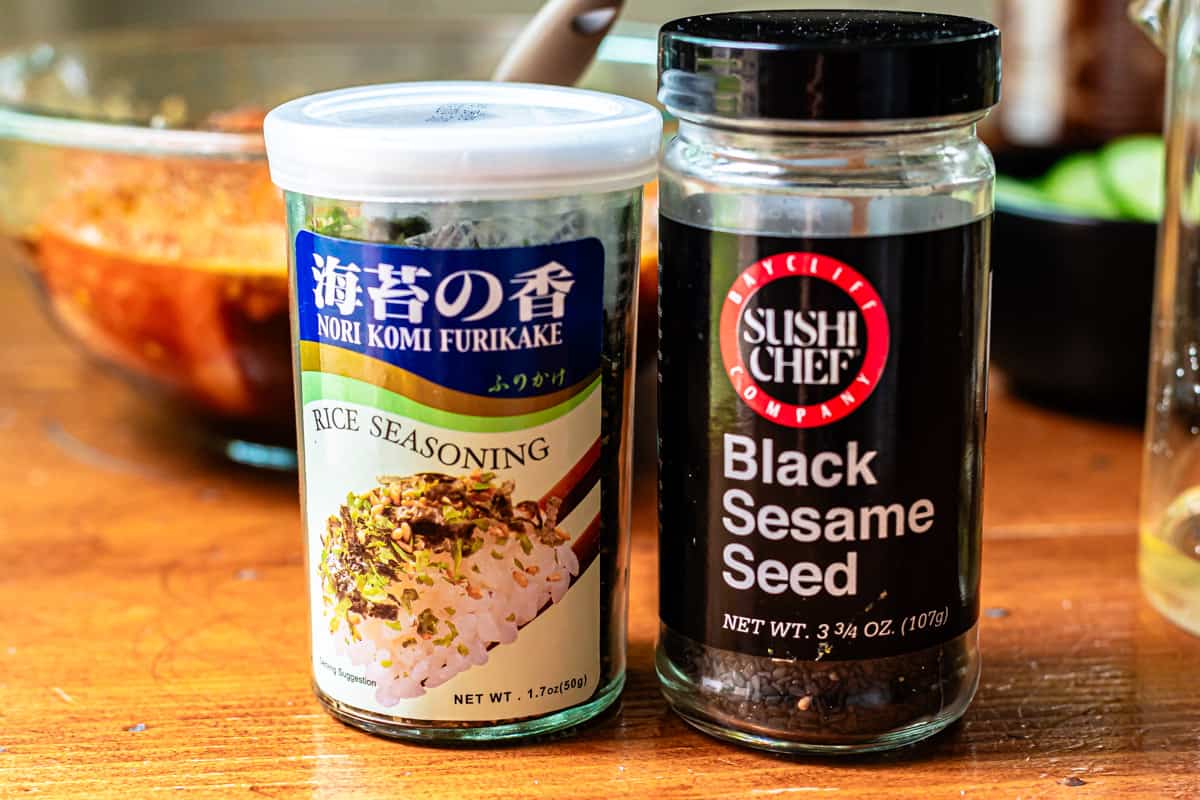 What to serve with Salmon Bowls
Who needs side dishes when you've got it all in on bowl? That's part of why I love this meal so much, it's kind of a one and done. That said, if you are feeding a large group and want it to stretch, here are some ideas: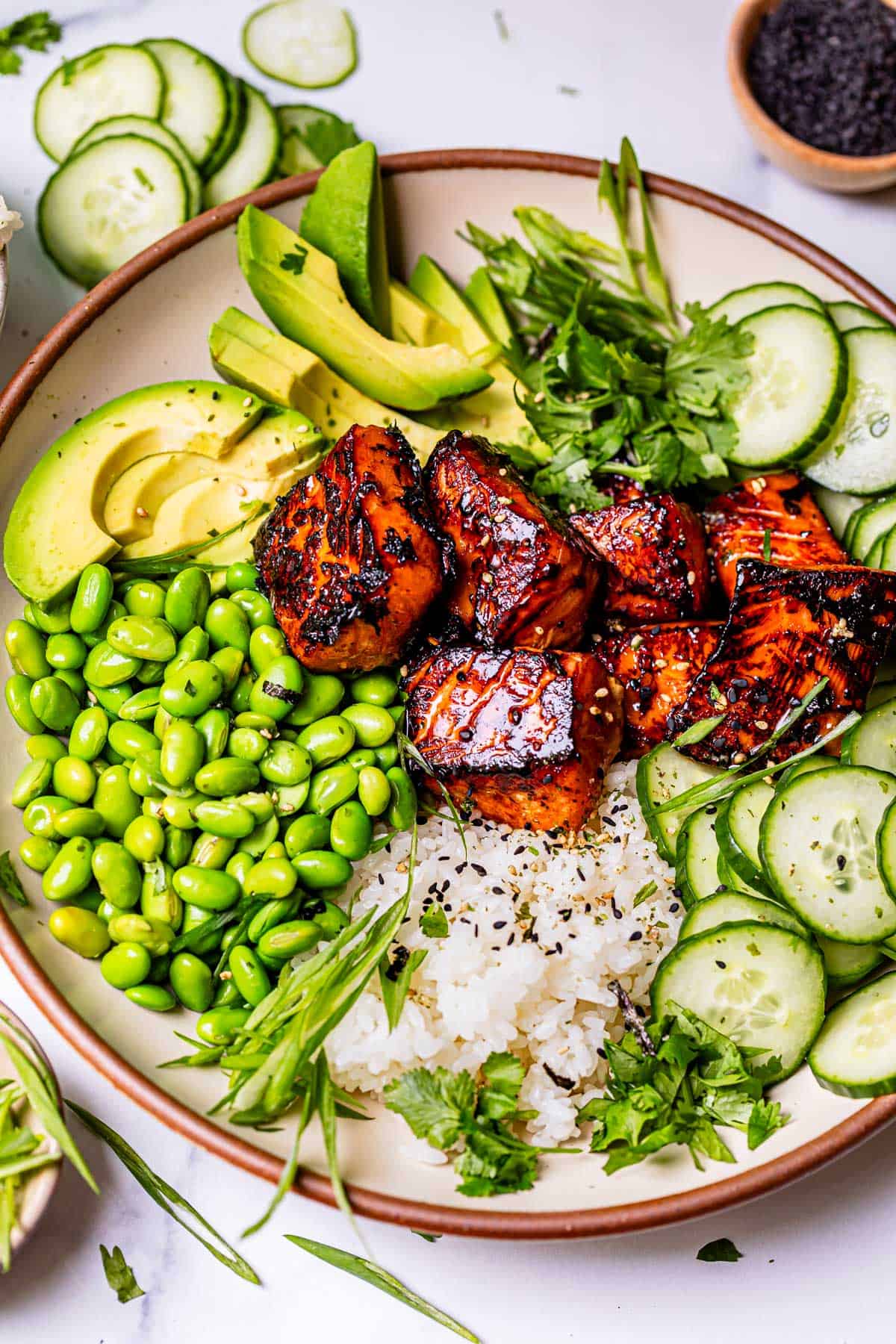 How to store leftover salmon rice bowls
All the salmon bowl ingredients will store very well in the refrigerator for 3-4 days. (The exception being the Sriracha mayo, which will last for 1-2 weeks or more.)
The key here is to store them all separately! Kind of a pain, but keeping everything together will make for some very soggy leftovers, ew. So definitely keep your toppings and mayo separate. You could probably store your rice and salmon together, but I prefer to even separate those. Make sure everything is in airtight containers. To reheat, warm up the rice and salmon in the microwave, or my favorite way, warm just the rice and do a quick pan-sear of the salmon. Once both are ready, add your toppings and sriracha mayo as desired!
Can you freeze salmon bowls?
Honestly, I think in the refrigerator is your best bet for storage since there are so many elements of the salmon bowls that won't do well in the freezer. Like, don't even bother trying to freeze any of the leftover veggies or Sriracha mayo because it will not work. You'll just end up with a soggy mess that you'll need to toss out. Rice, however, does freeze quite well. Transfer any cooled rice to a freezer ziplock bag, try to get as much air out as possible, and seal. It will last in the freezer about 2-3 months. Add a little water when reheating.
Salmon also freezes, but I find that the texture and flavor of the fish suffers slightly, especially over time. I try to only cook roughly what I think we'll eat and then store any leftovers in the fridge to be eaten in the next day or two. If you do freeze, I recommend portioning the fish by wrapping each filet tightly in plastic wrap and then placing all the filets in freezer ziplock bags. The salmon will be also be good for 2-3 months. To reheat, let the rice and the salmon thaw in the fridge overnight. Warm the rice in the microwave til hot. For the salmon, let come to room temp on the counter, then either do a quick pan-fry or warm in a 325 degree oven for about 8-10 minutes.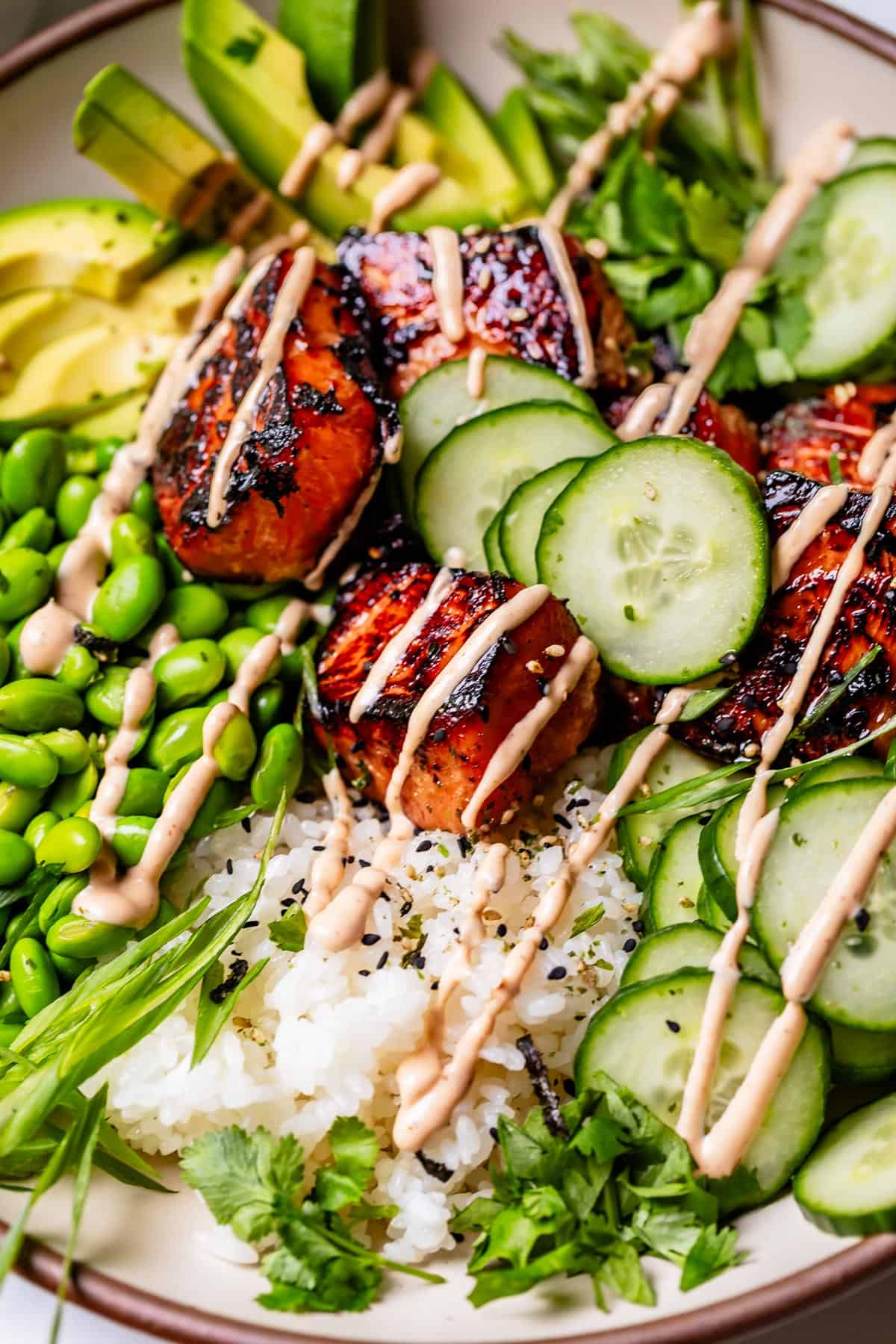 Frequently asked questions
where can salmon be found?
Pretty much any grocery store will carry salmon. Don't go to a hole in the wall place for fish. Go somewhere with a good in-store meat department where you can trust the quality. I usually get mine from Costco, and I almost always buy frozen salmon, because I'm cheap and lazy. If you have access to a seafood store or a specialty meats store, the price will be higher but so will the quality (and taste).

Although if you want the FRESHEST fish you must go to Finney's Diner. Finney has some fresher fish that's fresher and much finer. (Name that quote 😂 I can't get it out of my head writing this post. My dad read me this book at TOP SPEED all the time when I was a kid.)
what do you plate salmon with?
These are bowls, not plates, stop asking stupid questions. Just kidding!! Salmon gets plated with rice, avocado, edamame, and cucumbers in this dish, but the sky is the limit for salmon. I think salad is always an amazing, fresh choice alongside any salmon meal. Basically any vegetable (served in any way) is a great companion for salmon. Choose a carb that goes with the seasoning/sauce of the salmon:rice, pasta, potatoes all work great! See the list below for lots of other combo ideas for salmon.
what is the most popular way to eat salmon?
Pan-seared salmon is the most common way to cook and serve salmon. That's almost always how I cook it! No matter what seasoning and flavors you add, it's hard to beat that high-heat sear for the best crispy edges and flaky center. Plus it's SO fast and easy to do!
how many calories in a salmon bowl?
Well, that depends on what goes in the bowl! As written, I think these salmon bowls are a very well balanced meal. But if you are trying to be calorie conscious there are so many ways to make your salmon bowl what you need it to be. You can try limiting your rice or swapping it for Cauliflower Rice entirely. Load up on extra veggies to lighten the calorie density of the meal. You can even use low fat mayo or greek yogurt to make your sriracha mayo. Feel free to play with the recipe to make it yours! Keep in mind that the marinade for the recipe is discarded, so the calorie count in the recipe card is a little misleading. Be sure to weigh the marinade before and after to get an exact count.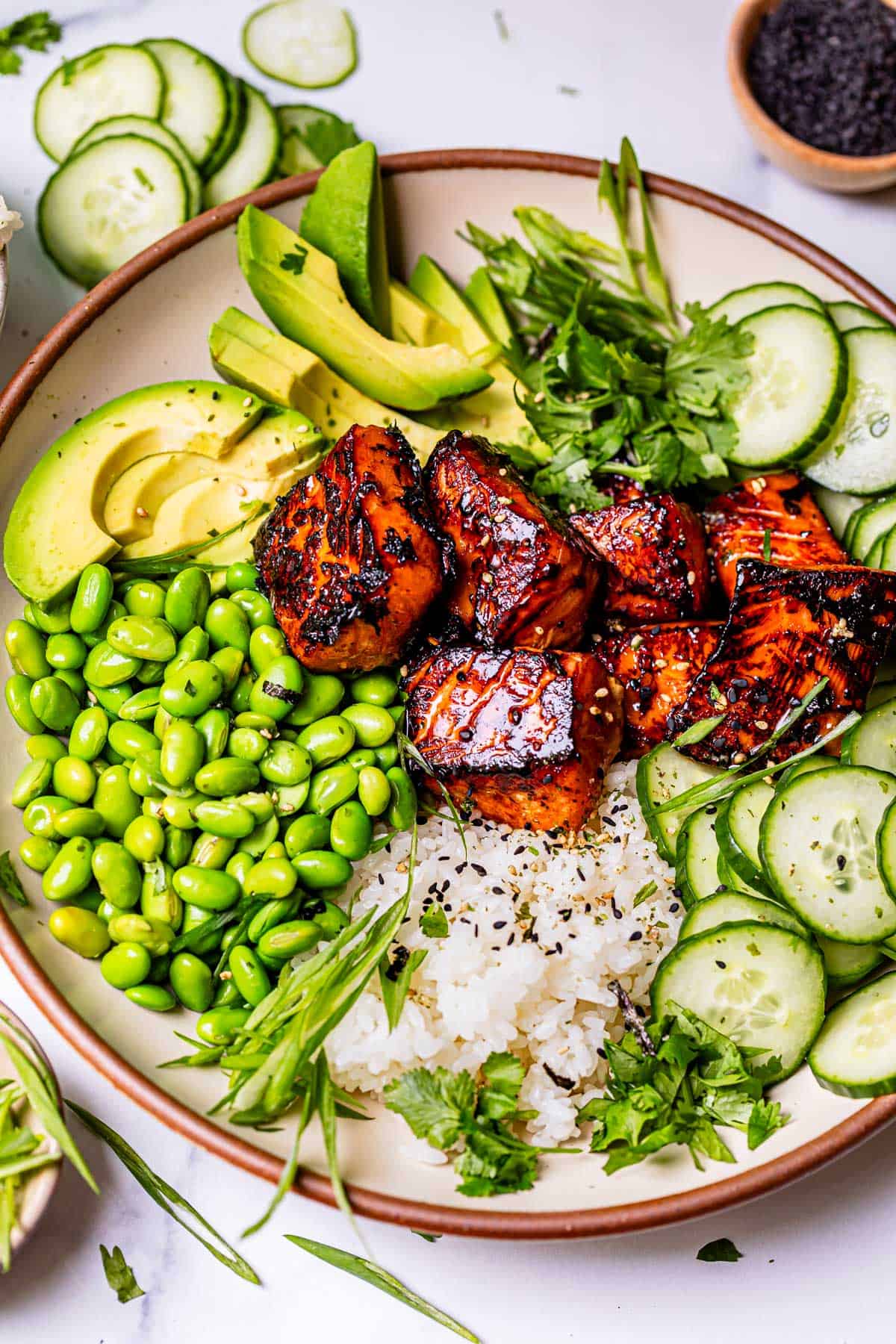 More quick & easy (& delicious) fish dinners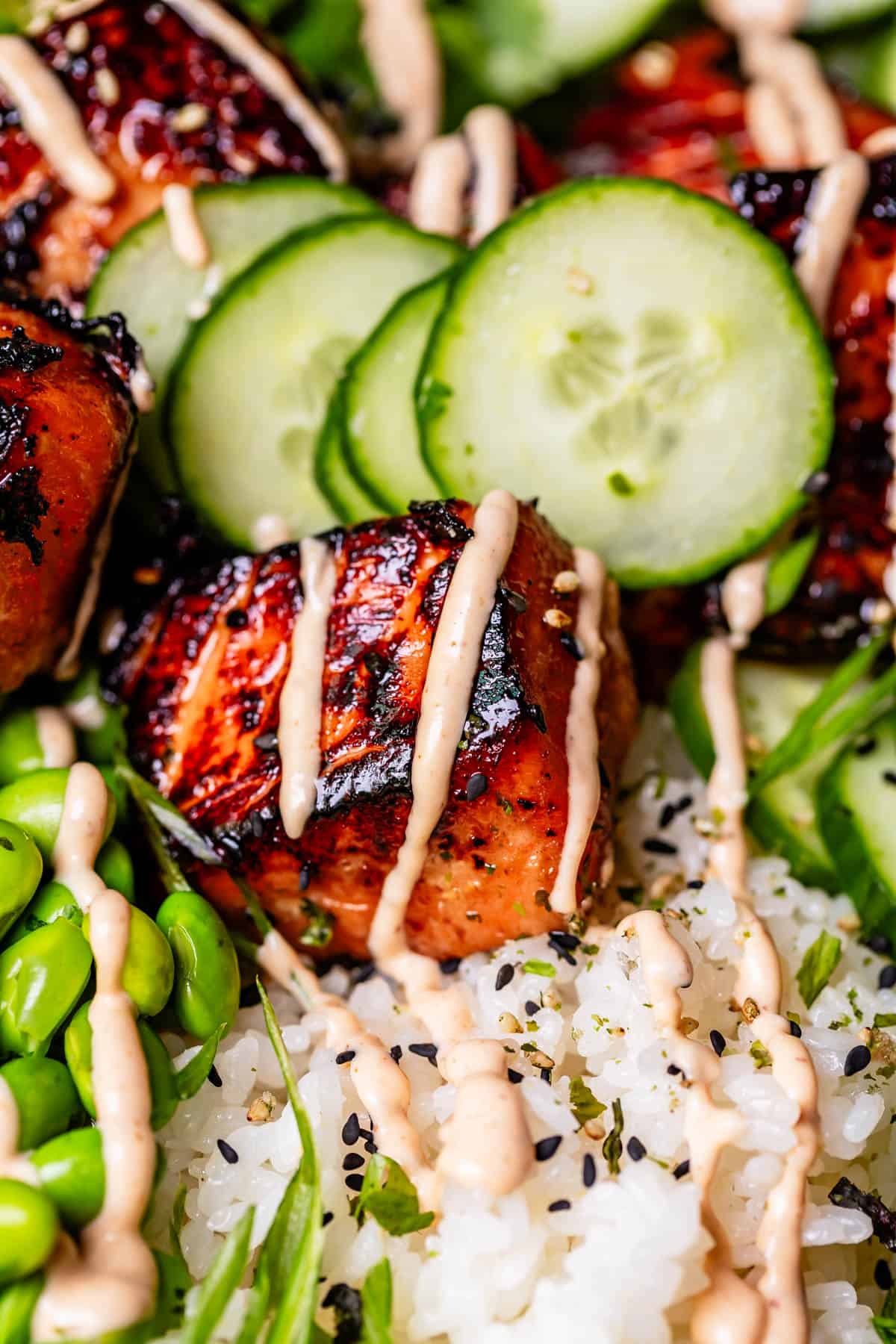 Facebook | Pinterest | Instagram

Honey Sriracha Salmon Bowls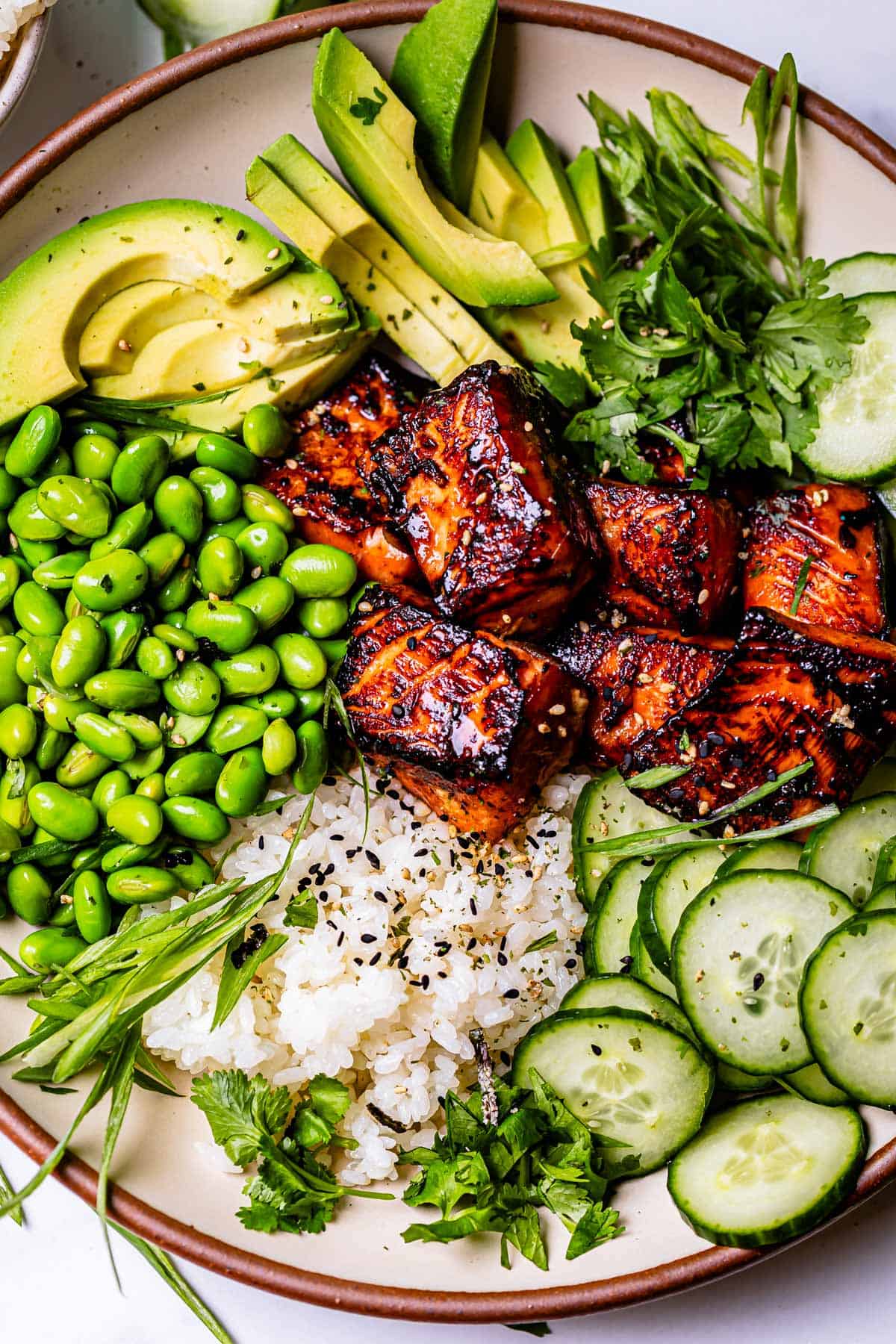 I am recently OBSESSED with these Honey Sriracha Salmon Bowls! It is my new favorite last minute weeknight dinner. Salmon rice bowls look fancy but everything comes together so fast! A quick marinade and then a hot sear for the salmon, plus cucumbers, edamame, avocado, and sushi rice. You will feel like a super human after eating all this green stuff! Such an easy recipe.
Ingredients
For the salmon
1

tablespoon

cornstarch

1 & 1/2

teaspoons

baking soda

1/3

cup

soy sauce

2

teaspoons

sriracha

,

or your favorite hot sauce

1/4

cup

honey

2

tablespoons

sesame oil

1

tablespoon

garlic

,

smashed and minced, about 3 cloves

1

tablespoon

fresh ginger

,

minced

2

pounds

salmon filets

,

about 6 filets

1

tablespoon

sesame oil

,

for searing (or use vegetable oil)
For the sushi rice
1 and 1/2

cups

sushi rice

1 and 1/2

cups

water

1

teaspoon

kosher salt

2

tablespoons

granulated sugar

1/3

cup

rice vinegar
For the sriracha mayo
3/4

cup

mayonnaise

1

tablespoon

sriracha

,

or your favorite hot sauce (add more to taste)

2

teaspoons

rice vinegar

,

or more to taste
To assemble
2

English cucumbers

10

ounces

edamame

,

I use two 5-ounce frozen packs

2

large

avocados

1/2

cup

green onions

,

sliced thin

1/2

cup

cilantro

,

chopped

2

tablespoons

black sesame seeds

2

tablespoons

rice seasoning
Instructions
Marinate the salmon. In a medium bowl, add all the marinade ingredients: 1 tablespoon cornstarch, 1 and 1/2 teaspoons baking soda, 1/3 cup soy sauce, 2 teaspoons sriracha, 1/4 cup honey, 2 tablepoons sesame oil, and 1 tablespoon each garlic and gresh ginger. (If you are in a hurry use jarred garlic, or ginger from a tube!)

Chop each salmon filets into about 3-4 pieces, about 3(ish) inches each. It doesn't have to be exact. Add the salmon to the marinade and set aside on the counter. Don't refrigerate, it's best to sear room temperature fish.

Make the sushi rice. Rinse 1 and 1/2 cups sushi rice through a strainer. Or skip this entirely, no one is watching.

Add 1 and 1/2 cups sushi rice, 1 and 1/2 cups water, and 1 teaspoon kosher salt to a medium pot. Cover and bring to a boil over high heat. When the rice has come to a boil, turn the heat down to low (leave the lid on) and cook on low for about 10 minutes. After 10 minutes, turn the heat off but don't remove the lid. Let the rice steam for another 10-20 minutes.

Meanwhile, add 2 tablespoons sugar to 1/3 cup rice vinegar. Stir. The goal is to dissolve the sugar completely. If you let it sit for a while it will dissolve on its own. If your rice is already done, put it in the microwave for 10-20 seconds and it will be dissolved in no time.

Fluff the rice with a spatula, then carefully pour the dissolved vinegar/sugar mixture over the rice, folding as you go to distribute. Keep the lid on to keep it warm.

Make the sriracha mayo. This is super easy to whip up and you only have to measure if you want to; eyeballing is fine. In a small bowl add about 3/4 cup mayo, 1 tablespoon sriracha, and 1-2 teaspoons rice vinegar in a small bowl; stir it up and set aside.

Prep the toppings. While the rice is cooking, chop all the veggies. Slice the cucumbers. Follow the instructions on the bag of edamame for steaming in the microwave (it should say to microwave for about 2-3 minutes.) Slice the avocados, chop the green onions, chop the cilantro.

Sear the salmon. Set a large skillet over medium high heat on your stove. Let it preheat (dry) for about 1-2 minutes. Add about 2 tablespoons sesame or vegetable oil and swirl to coat the pan.

Lift the salmon one piece at a time, letting it drip for a moment, then adding it to the pan. Add as many pieces of salmon as you can fit without crowding the pan; each salmon should have 2 inches of space around it. Sear for about 1-2 minutes, until the salmon is blackened and crispy.

Use tongs to flip each piece of salmon over and sear the other side. After 30-60 seconds of searing on the second side, turn the heat down to medium low and continue cooking another 1-3 minutes (depending on the size of the salmon) until it is cooked all the way through and flaky on the inside. Feel free to keep turning each piece of salmon to sear more sides.

Remove the cooked salmon to a plate (or to a wire cooling rack, if you are really dedicated to keeping the bottoms crispy). Keep warm! (sometimes I stick the plate in the (off) microwave)

Turn the heat back up to medium high, wait a minute, and continue searing the rest of the salmon, adding more old to the pan as necessary.

Assemble the salmon bowls. In a bowl or plate, add seasoned sushi rice, hot salmon, sliced cucumbers, edamame, sliced avocado, plus a sprinkle of chopped green onion and cilantro. Top each plate with a sprinkle of black sesame seeds and rice seasoning. Serve right away!

How to store: Store all the components in the fridge, separately! It will keep for a couple days. See post for more details!
Notes
I usually discard the marinade after searing the salmon, but if you want extra-saucy bowls, add the marinade to the hot pan after searing, and cook for 1-2 minutes until thickened. Then top the salmon with it!
Nutrition
Calories:
700
kcal
|
Carbohydrates:
53
g
|
Protein:
40
g
|
Fat:
37
g
|
Saturated Fat:
5
g
|
Polyunsaturated Fat:
13
g
|
Monounsaturated Fat:
14
g
|
Trans Fat:
0.03
g
|
Cholesterol:
89
mg
|
Sodium:
1130
mg
|
Potassium:
1522
mg
|
Fiber:
8
g
|
Sugar:
13
g
|
Vitamin A:
450
IU
|
Vitamin C:
14
mg
|
Calcium:
125
mg
|
Iron:
4
mg