This is the one-pot low-carb dinner you've been waiting for! It's an easy skillet-meal, perfect for a weeknight, but doesn't have loads of pasta or rice. Just cauliflower shredded to look like rice. Plus zucchini and kielbasa. What's not to love?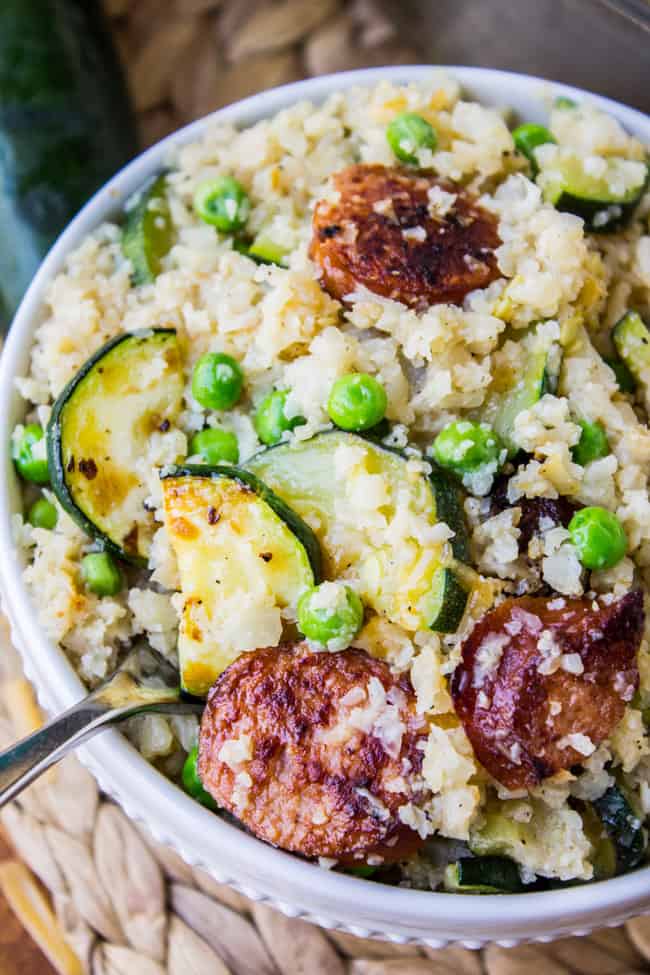 The other day Eric and I stopped at Kohl's to get our free Twix Bites. I don't shop at Kohl's much, but apparently my mom does, and she's always giving me the free 10 bucks they send you in the mail. (Thanks Mom! Probably you wanted me to buy new clothes or something. I bought candy.)
(PS. Eric and I were actually on a date. Who else goes coupon shopping on their dates? What? No one?)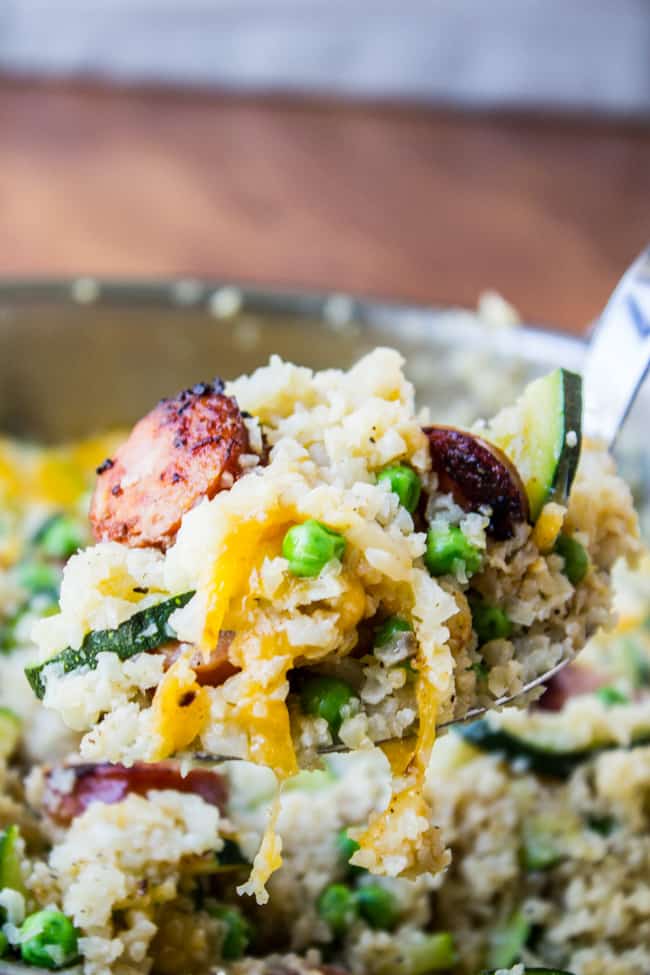 (Also, can I just say that I am SO good at buying exactly 10 dollars worth of free stuff. I rarely go a cent over. I just love when it's actually FREE. They usually have scented candles on sale for less than 10, and that's how I get my autumn scent fix on. But we were going to a movie, so Twix Bites was the obvious choice.)
Anyway. We were in the back of the store when we overheard a man call out to a Kohl's employee:
"Excuse me, I want to ask about a women's size 16."
"You're in the children's section."
"I'm so bad at this."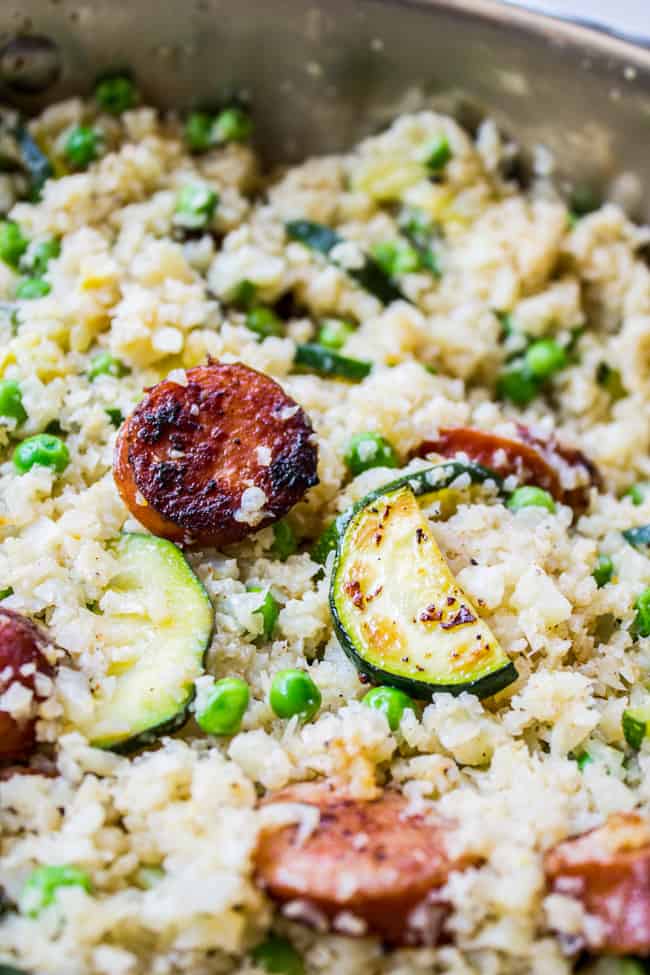 Yes. Yes you are my friend. You are really bad at this. It reminds me of when my dad, bless his heart, would come home from work on a day my mom got her hair permed (every 6 months for 30 years) and NOT notice that her hair was suddenly in ringlets and she smelled like perm chemicals. HELLO.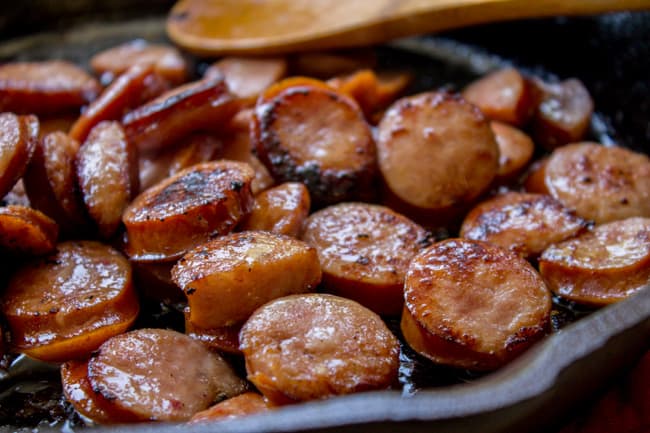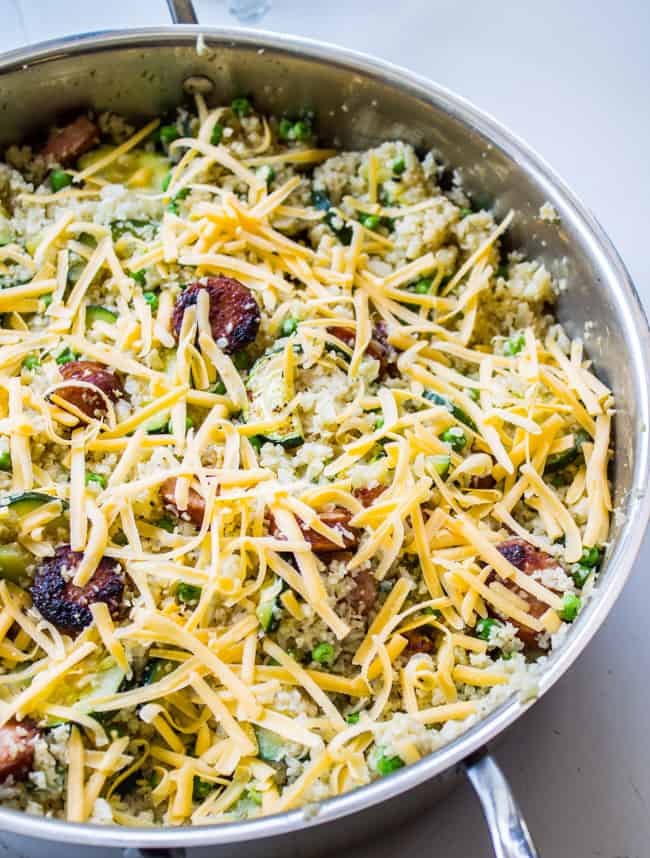 I'm SO excited to share this meal with you guys! How often do I say that? Okay maybe I'm crying wolf, but I swear guys, this is one you are going to want to try. I was really craving something in a skillet a while back (that's code for EASY.) I felt like everything I saw was pasta or rice-based. I wanted something vegetable-based that could stand on it's own as a main dish. And that's when I thought of cauliflower rice.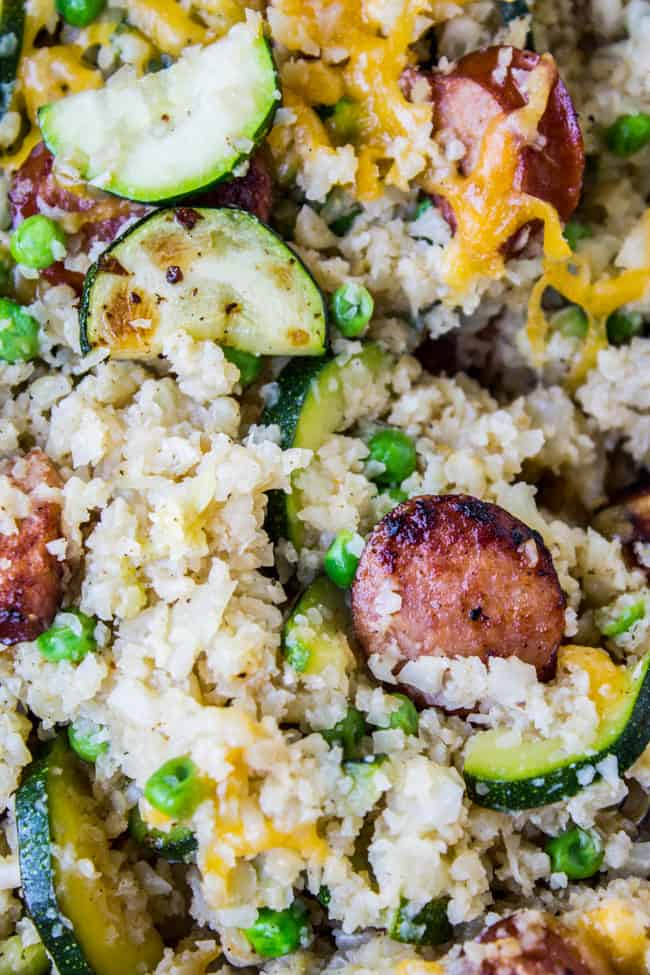 This was so flavorful! I seasoned it with dijon mustard, which compliments the kielbasa very well (a tip I borrowed from my friend Amy over at BellyFull–this Kielbasa and Cabbage Skillet looks legit.)
You could replace the peas and zucchini with whatever veggies you have of course. Asparagus or carrots would be good, or a different squash. Let me know if you guys try it out!
Facebook | Pinterest | Instagram

Cauliflower Rice Skillet with Zucchini and Kielbasa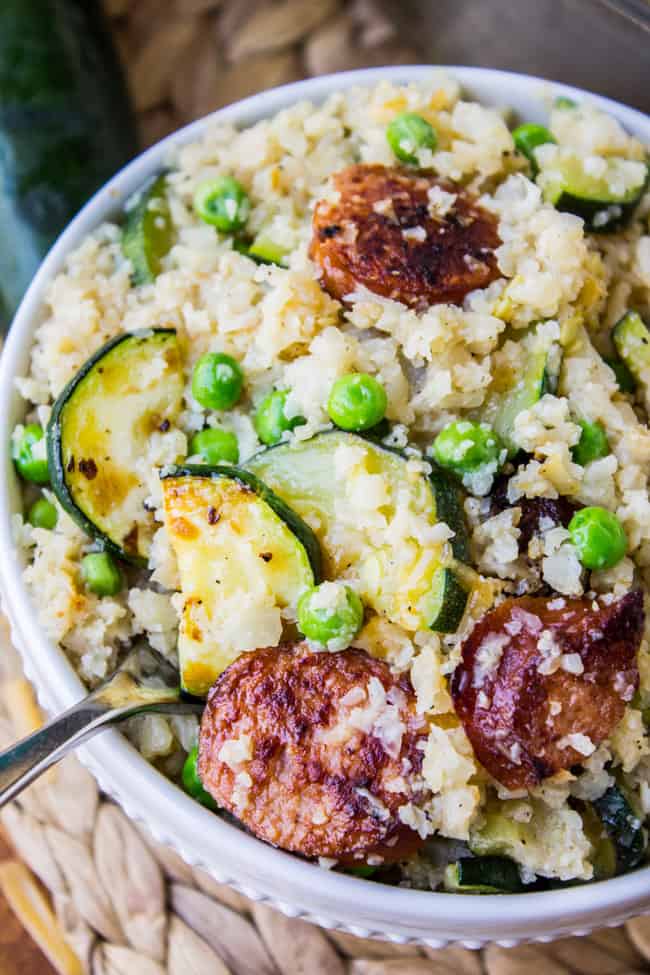 This is the one-pot low-carb dinner you've been waiting for! It's an easy skillet-meal, perfect for a weeknight, but doesn't have loads of pasta or rice. Just cauliflower shredded to look like rice. Plus zucchini and kielbasa. What's not to love? 
Ingredients
2

medium

heads cauliflower

1

tablespoon

olive oil

1

pound

kielbasa sausage

,

sliced into bite-size pieces

1/4

cup

butter

,

half stick*

Lemon Juice

,

juice from half a lemon

2

teaspoons

salt

1/2

teaspoon

pepper

1/4

teaspoon

cayenne pepper

1

tablespoon

dijon mustard

2

medium

zucchini

,

sliced lengthwise and chopped

1 & 1/2

cups

frozen peas

1/2

cup

cheddar cheese

,

shredded
Instructions
Begin by preparing your cauliflower. Chop each head in half, then into quarters, then separate the florets from the stem in one slice. (see photos)

Chop the cauliflower into 1 or 2 inch pieces. Don't worry about keeping the florets pretty-looking, your pulverizing them anyway.

Pulse the cauliflower in a food processor in batches. I usually do 3 batches per head of cauliflower. This sounds like a lot, but it only takes about 4-5 one-second pulses for each batch, so it doesn't take too long. Pulse only until the cauliflower looks like rice.

Transfer all the cauliflower rice to a bowl and set aside.

In a large, wide-bottomed skillet, heat 1 tablespoon olive oil over medium high heat. When it is shimmering, add the sliced kielbasa and spread it out into one layer. Let cook for about 3 minutes, then stir occasionally until browned on all sides, another 2-3 minutes.

Remove the sausage with a slotted spoon to a plate and set aside.

Add a half stick of butter to the rendered sausage fat, keeping the heat a little over medium. When it is hot, add all of the cauliflower rice. Stir occasionally for about 10 minutes uncovered.

Add the lemon juice, salt, pepper, cayenne pepper, and dijon mustard.

Add the chopped zucchini and stir. Cook for another 5 minutes uncovered.

Continue cooking until the cauliflower rice and zucchini are tender.

Add the peas and kielbasa and stir until warmed.

Turn off the heat, even out the top, and sprinkle with cheese. At this point you can either put a lid on and wait a few minutes to melt the cheese, or you can transfer to a broiler for a minute or so.

You could serve this with bread, green salad, fresh fruit, etc.
Notes
*You can use half olive oil and half butter.
Nutrition
Serving:
1
cup
|
Calories:
467
kcal
|
Carbohydrates:
19
g
|
Protein:
20
g
|
Fat:
36
g
|
Saturated Fat:
15
g
|
Polyunsaturated Fat:
3
g
|
Monounsaturated Fat:
15
g
|
Trans Fat:
1
g
|
Cholesterol:
83
mg
|
Sodium:
1641
mg
|
Potassium:
1027
mg
|
Fiber:
6
g
|
Sugar:
8
g
|
Vitamin A:
774
IU
|
Vitamin C:
119
mg
|
Calcium:
142
mg
|
Iron:
3
mg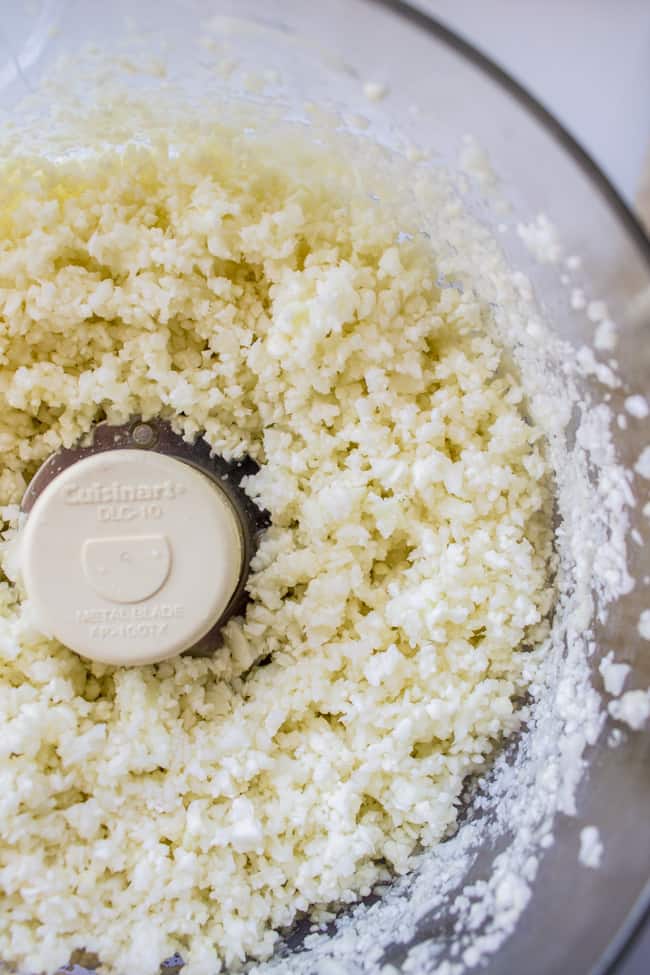 You will totally love these other recipes too!
Asian Cauliflower "Rice" (This makes a great sub for rice when eating Thai Red Chicken with Cherry Tomatoes, Teriyaki Chicken Rice Bowls, etc., or my favorite, this Slow Cooker Asian Pork Tenderloin with Ginger Glaze):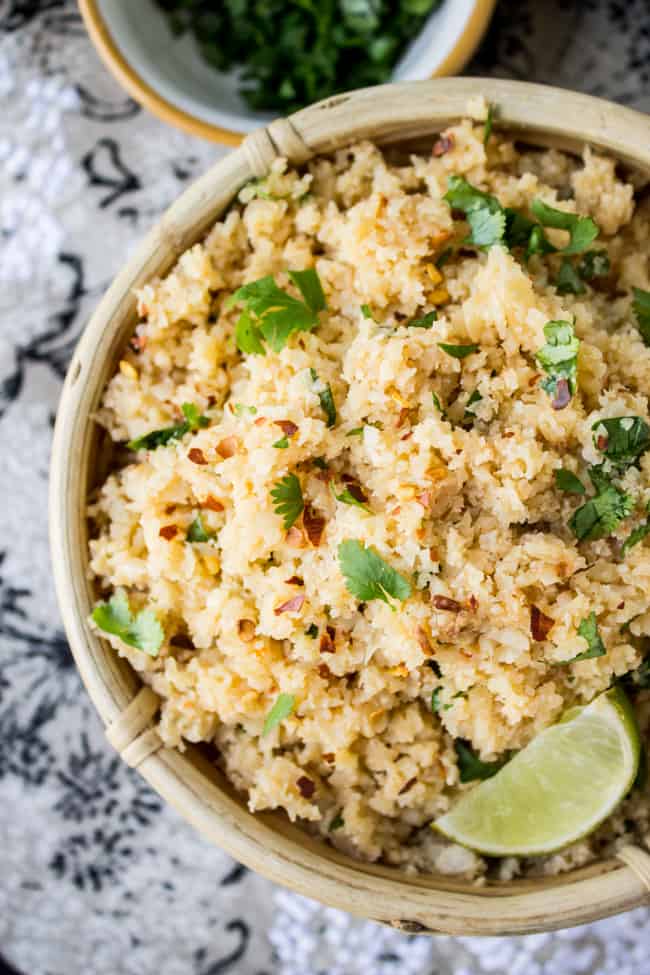 Indian-Spiced Cauliflower Rice: (this would be good with any curry, including Chicken Tikka Masala, One Pot Vegetable Curry, Chicken Tikka Masala Meatballs, or Basil Chicken in Coconut Curry Sauce)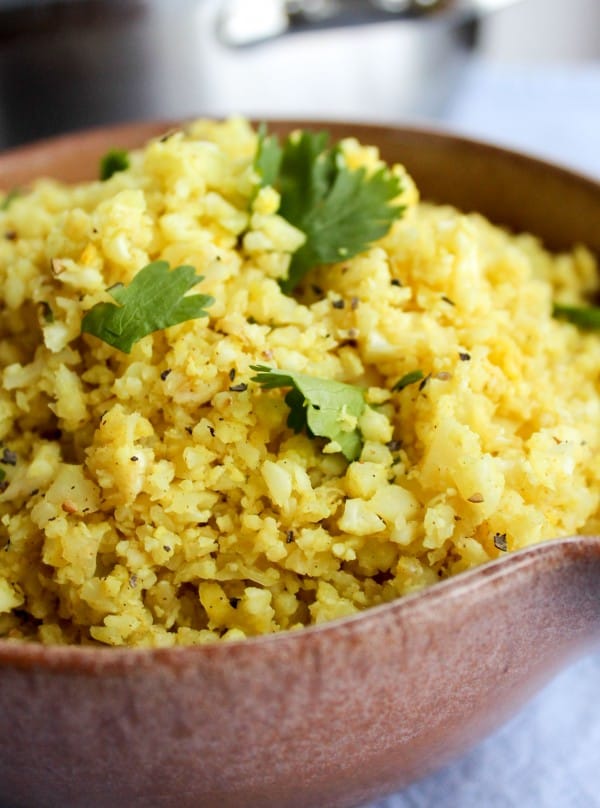 6-Ingredient One-Pot Vegetable Curry: This curry has cauliflower in it, but I have actually served it on top of cauliflower rice before. Everyone loved it (we had company over, and I knew my friend was trying to cut back on carbs–she was so excited when I told her she could actually eat the "rice") Throw in some other veggies instead of cauliflower if it seems like overkill to you.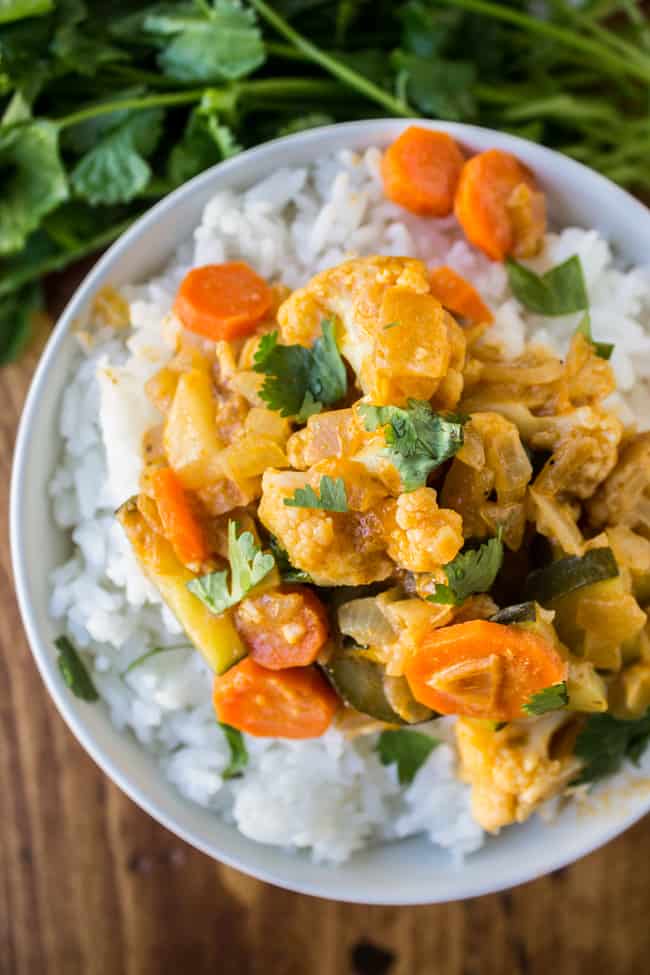 Prosciutto-Wrapped Chicken with Asparagus: (At 77,000 pins, this is definitely a reader favorite here on The Food Charlatan! It's so easy, and super impressive. Good for company :)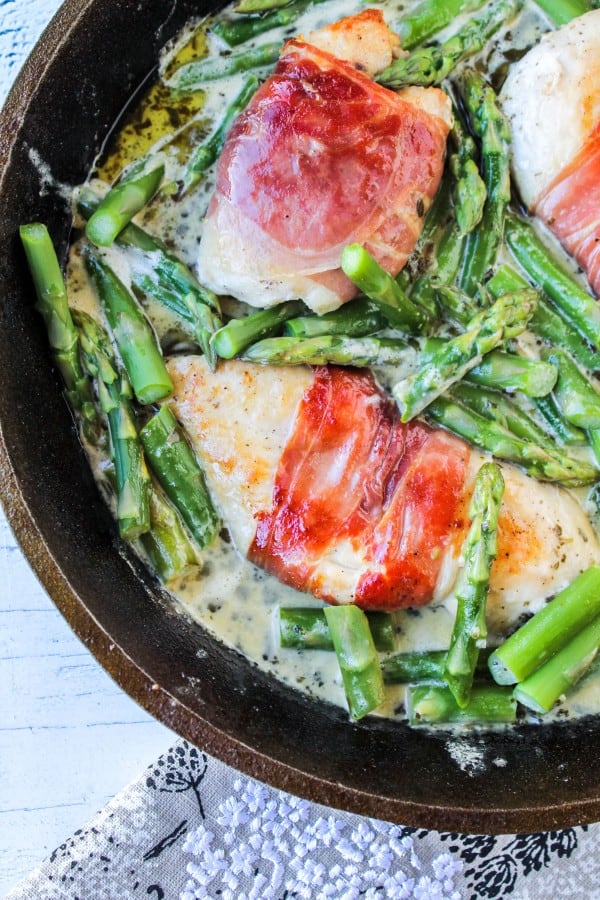 Other low-carb dishes from friends!
Low Carb Deep Dish Sausage Skillet Pizza from All Day I Dream About Food
Cauliflower Gratin with Sharp Cheddar and Parmesan from Kalyn's Kitchen
Mexican Zucchini Beef Skillet from Low Carb Yum