This curry chicken with carrots and basmati rice is made all on one sheet pan! It is so flavorful it will blow your mind. It's a perfect weeknight dinner for busy school days!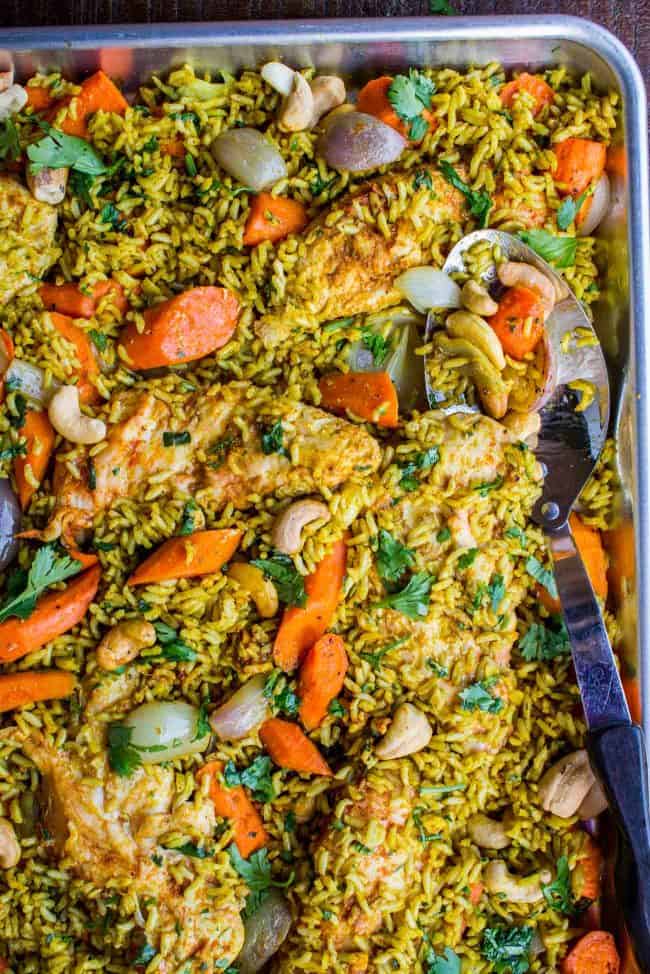 Eric and I were hanging out last night in the living room and all the sudden he sits up straight. "I just saw a weird flash of light in the backyard." There's like one second of creepy silence where we think something might be terribly wrong, and then we hear…a crash of thunder.
Oooooh California in the summer. This is what it does to you. We can't even recognize normal elemental phenomenons like lightning anymore. All we got is sunshine and burning hot sidewalks all day long.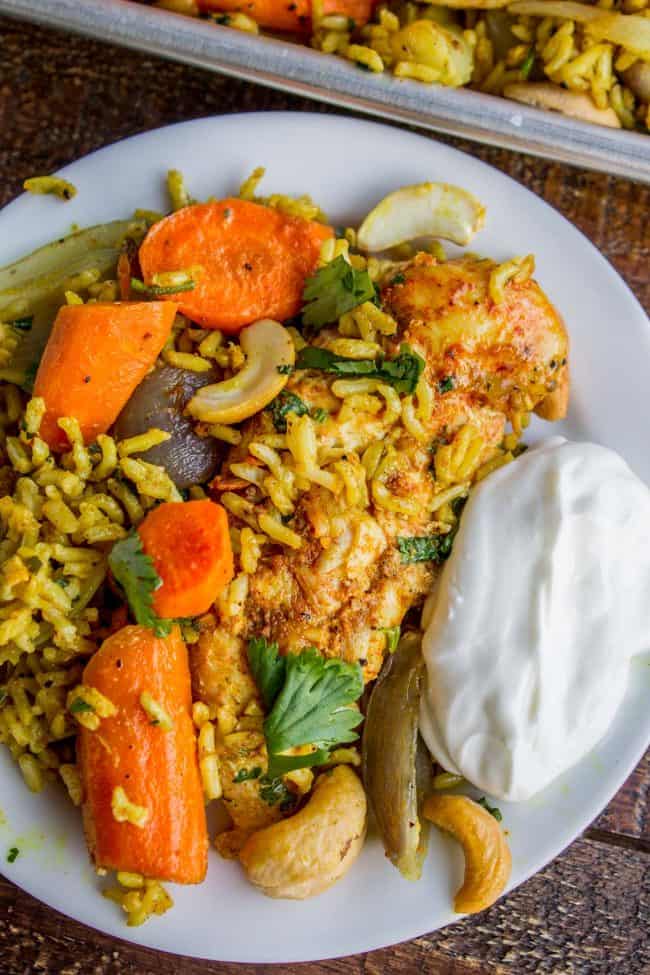 But how are all my Floridans doing? (Floridians? Floridaites?) I hope you guys are hanging in there. I'm trying to imagine going a solid week with no power. I haven't had a power outage in years, and even thinking back to longer ones as a kid, they were never more than a couple hours. And since I was a kid it was more like a fun adventure with candles and flashlights. Now I'm just thinking about how on earth I would get dinner on the table. On day 5. Gah! Baby carrots and Doritos, anyone?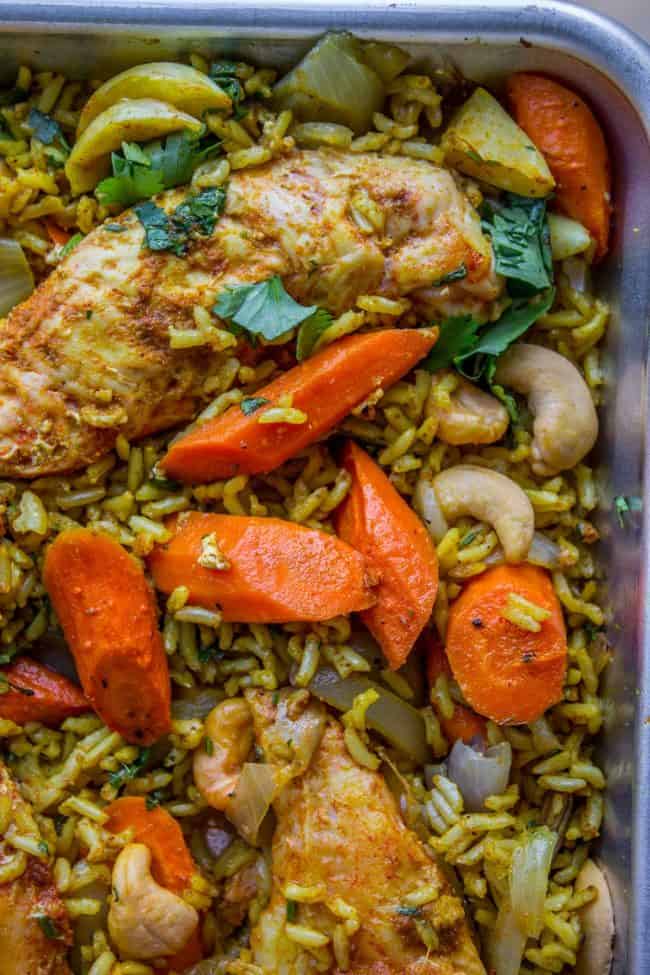 If you still have power or will have it soon, I think you should absolutely make this Sheet Pan Curry Chicken and Carrots with Basmati Rice that's kind of like traditional Biryani! This is the longest title ever. But basically it's just chicken, rice, carrots and shallots cooked all on one pan. It's SOOOO good! I adapted this from a recipe I saw in Food Network this month, it's called Curried Shrimp Biryani. Their's had no carrots (sad face), oh and I hate shrimp, so I tossed that out and added chicken instead. Let me tell you the secret to making this a super quick weeknight meal: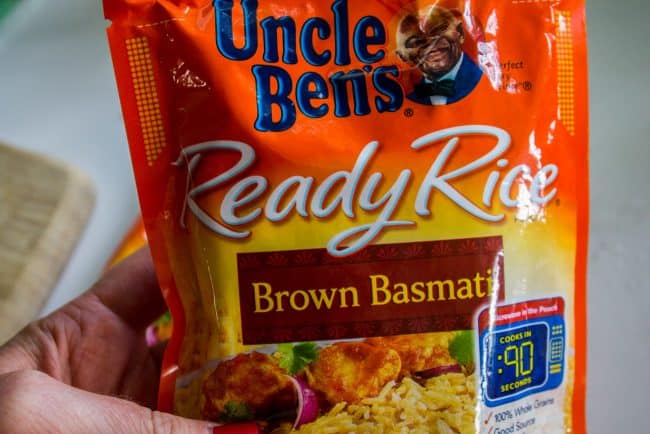 Yup. I did it. I bought pre-cooked rice, y'all. This post isn't sponsored (but hey Uncle Ben, how YOU doin?) I thought about just making my own basmati rice, but the first time I made this it was just one of THOSE days, you know? One of those days where it's worth a few bucks to not have to cook the darn rice. Time and money are always competing, aren't they? If you have the time, make your own at home. (4 cups cooked rice will do ya, so about 2 cups uncooked) If you don't have time, buy some precooked. You don't have to get Basmati like I did, although that will make it more like Biryani. Any type of rice will do.
(Oh yeah, Biryani is a South Asian dish made with rice, spices, and meat. Thanks wikiiii.)



This is totally the best dinner I've made in a while, we actually had it twice in one week. Chicken and rice are a classic combo in basically any form, but I'm especially particular to this curry version. Also, can we get 3 cheers for the magical sheet pan??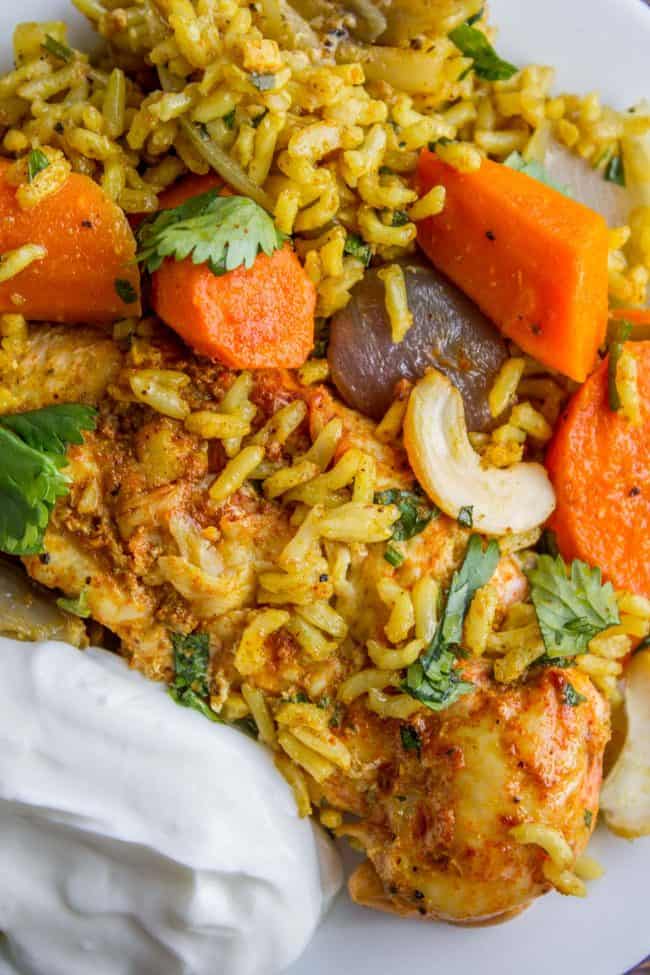 P.S. I'm obsessed with these new faux candles I just bought at Costco. They are Luminara knock offs. It looks like the Costco ones are sold out online, but check your store! They look so real. It was $20 for 5 candles, including batteries. How can you beat that?? The Luminara candles can run over $50 EACH. The ones I got are not quite as perfect as the Luminaras, but I think they still look great, especially up high on my mantle.
P.P.S. Eric and I just watched this video called How to Make a Hit Pop Song. It's hilarious and so accurate. All the comments say stuff like, "this was pretty funny, but I actually came back to listen again because I can't get this song out of my head…" eeeeexactly.
Facebook | Pinterest | Instagram | Twitter

One year ago: Cream Cheese Pound Cake << my MIL gave me this recipe. It's a favorite!
Two years ago: Easy Pumpkin Pie Cake <<FALL!!!!
Four years ago: Barbecue Pork Tenderloin Wraps

Sheet Pan Curry Chicken and Carrots with Basmati Rice (Biryani)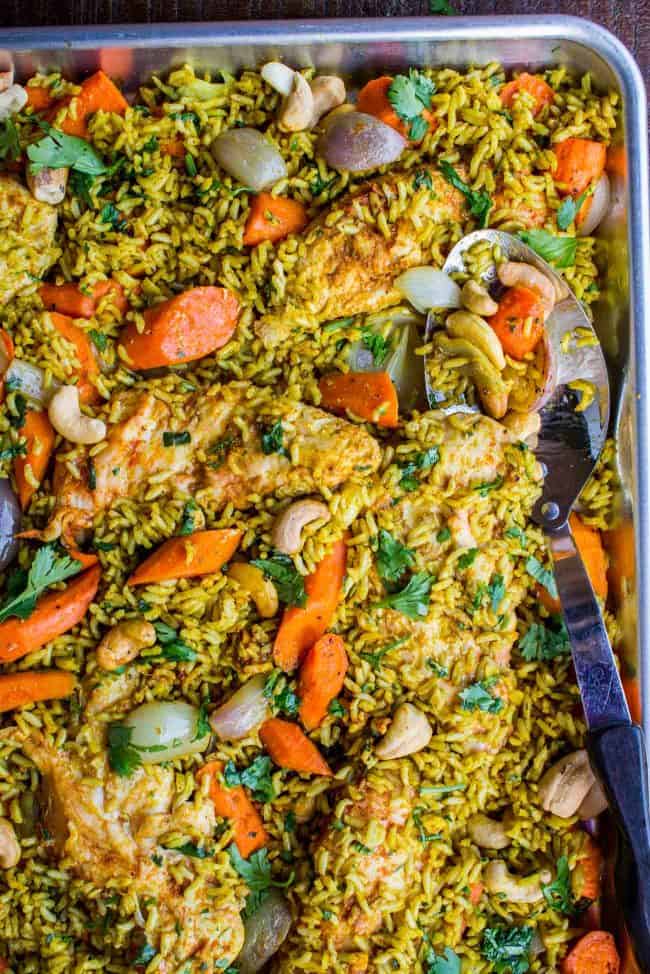 This curry chicken with carrots and basmati rice is made all on one sheet pan! It is so flavorful it will blow your mind. It's a perfect weeknight dinner for busy school days!

Ingredients
7

large

carrots

,

roughly chopped

4

large

shallots

,

sliced

1 & 1/2

tablespoons

olive oil

1

teaspoon

salt

,

for roasting carrots/shallots

pepper

,

to taste

6

tablespoons

butter

,

melted

1

tablespoon

minced ginger

1 & 1/2

teaspoons

minced garlic

,

I used jarred garlic

2 & 1/2

teaspoons

yellow curry powder

1 & 1/2

teaspoons

garam masala

1 & 1/2

pounds

chicken tenderloins

,

thawed

3/4

teaspoon

paprika

1/2

teaspoon

salt

,

for chicken

2 (8.8-oz)

packages

precooked brown basmati rice*

2-3

cloves

garlic

,

smashed and cut in half (optional)

1/2

teaspoon

salt

,

for the rice

1/4

cup

cilantro

,

fresh, chopped, plus more to garnish

1/2

cup

cashews

,

chopped, to garnish

plain Greek yogurt

,

to garnish
Instructions
Preheat the oven to 425 degrees F. Move the rack to the upper 1/3 of the oven (I just put it one notch higher than the middle where it normally sits.)

Roughly chop the carrots (see photo) and add them to a large bowl.

Slice the shallots and add them to the bowl. Make them roughly the same size as the carrots

Drizzle the carrots and shallots with olive oil, then sprinkle with 1 teaspoon salt and black pepper to taste.

Prepare

a sturdy sheet pan

with nonstick spray. Dump the mixture onto the pan and spread it out into a single layer. Save the bowl!

Roast at 425 for 20 minutes.

Meanwhile, use the same bowl from before to melt 6 tablespoons butter.

Add the ginger, minced garlic, curry powder, and garam masala to the butter and stir together.

In another medium bowl, add the chicken tenderloins. Make sure they are thaw. Add about 2 tablespoons of the butter mixture to the chicken. (The rest goes on the rice) I started to measure it out, but then realized I don't need that kind of negativity in my life. Just pour a little on to coat, it doesn't matter too much.

Add 3/4 teaspoon paprika and 1/2 teaspoon salt to the chicken. Stir it together and set aside.

Add the cooked rice to the bowl with the butter mixture. (If you bought pre-cooked rice, just open the package and dump it in.)

Smash 2-3 cloves of garlic and add to the bowl. (This is to add flavor, but you could also eat it. We always do! You can also leave this out and it will be fine.)

Add 1/2 teaspoon salt and 1/4 cup cilantro to the bowl of rice and stir it all together. Set aside.

When the carrots have roasted 20 minutes, remove from the oven but don't turn it off. Toss the carrots on the pan.

Arrange the seasoned chicken in between the carrots and shallots, making sure it's sitting on the pan and not on top of veggies. Scrape all the seasoning from the bowl and make sure it gets on the pan.

Dump the rice on top of the chicken and veggies, and spread to the edges of the pan.

Sprinkle 2 tablespoons of water over the rice.

Cover the pan tightly with aluminum foil.

Bake on the same rack at 425 degrees for about 20-25 minutes, until the chicken is cooked through and the carrots are tender.

Remove the foil and sprinkle with chopped cashews and more fresh cilantro.

Serve with plain yogurt on the table. This would go great with a nice big green salad!
Notes
*Of course you can cook your own rice. You need 4 cups cooked rice, so that's 2 cups uncooked. Brown Basmati rice takes about an hour to cook. Here's a recipe, double it. You can use any kind of rice. (White rice will be faster, but less healthy. Why can't we just have it all?? :)
Recipe is adapted from Food Network.
Nutrition
Serving:
1
g
|
Calories:
679
kcal
|
Carbohydrates:
82
g
|
Protein:
34
g
|
Fat:
24
g
|
Saturated Fat:
9
g
|
Polyunsaturated Fat:
2
g
|
Monounsaturated Fat:
9
g
|
Trans Fat:
1
g
|
Cholesterol:
103
mg
|
Sodium:
1074
mg
|
Potassium:
948
mg
|
Fiber:
5
g
|
Sugar:
6
g
|
Vitamin A:
14594
IU
|
Vitamin C:
9
mg
|
Calcium:
79
mg
|
Iron:
3
mg
More curry recipes for you to try out!
Slow Cooker Basil Chicken in Coconut Curry Sauce <<one of the top visited recipes on my blog!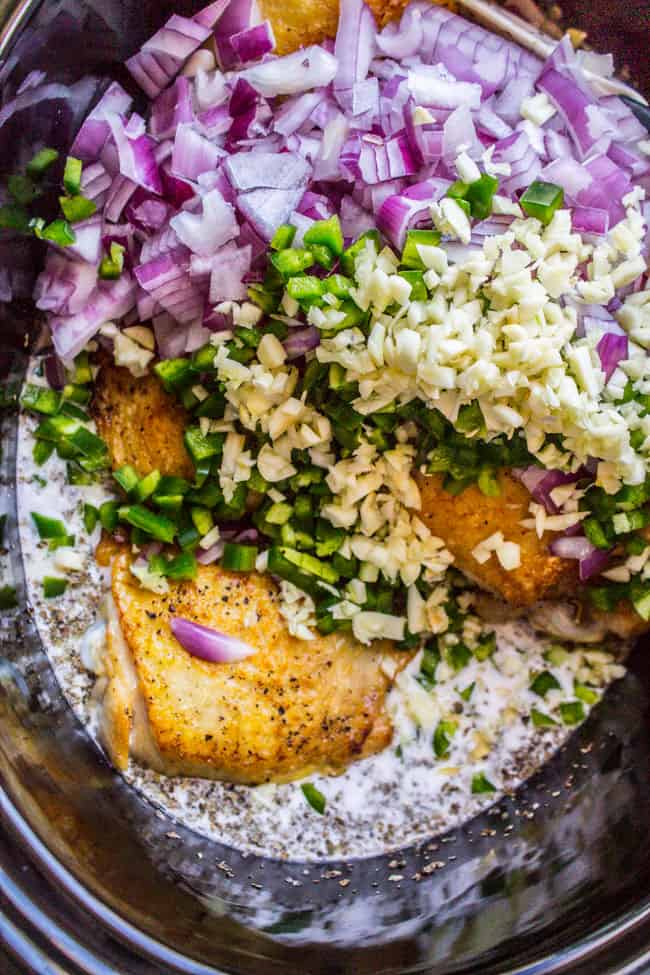 Kung Pao Chicken with Coconut Jasmine Rice << an oldie but a goodie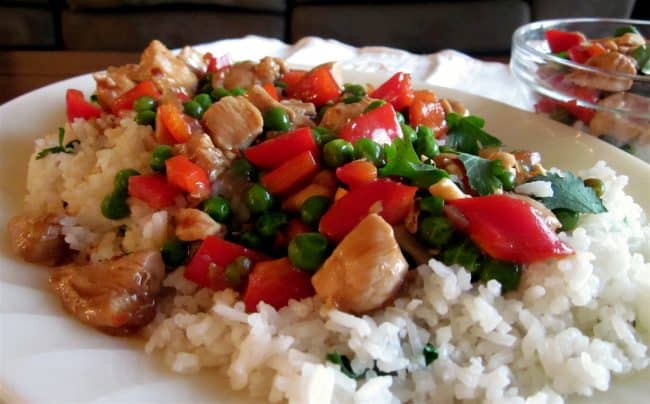 Slow Cooker Chicken Tikka Masala << I'm kinda bummed that my photos for this recipe didn't turn out better. This post doesn't get much traffic, but this is a LEGIT Chicken Tikka recipe.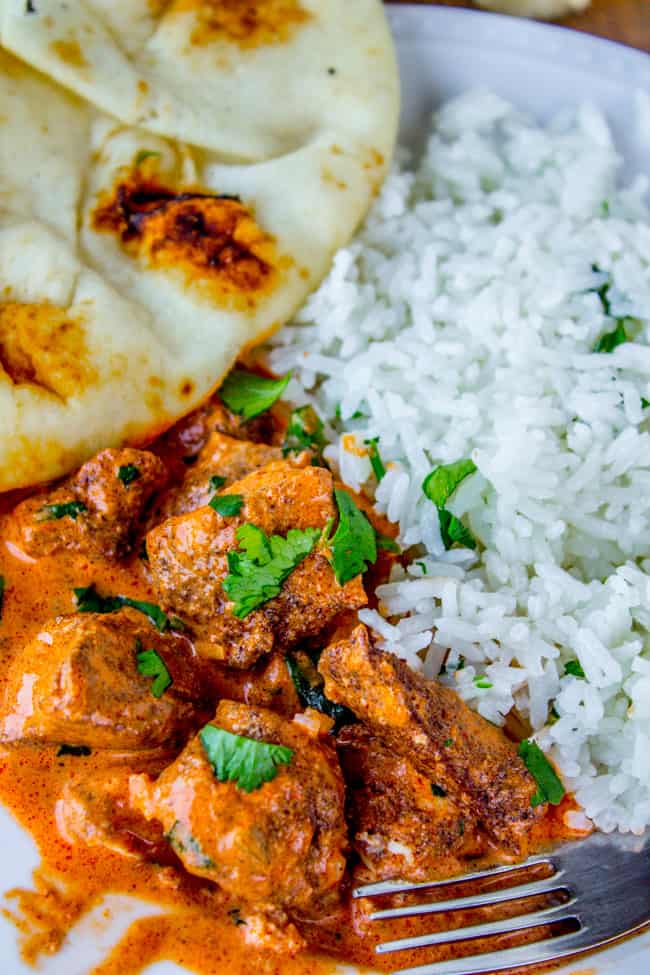 More Chicken and Cashew recipes from other amazing bloggers!
Better Than Takeout Cashew Chicken from Averie Cooks << I just made this for dinner tonight! It was so good!
Lemon Chicken Biryani from The View from Great Island
Crockpot Cashew Chicken from Your Home Based Mom