This Creamy Tuscan Salmon recipe is totally restaurant quality, but super easy to make! Perfectly pan-seared salmon, drowning in a creamy parmesan sauce with garlic, cherry tomatoes, spinach, and fresh basil. It's the perfect summer meal and is done in 30 minutes! Originally published May 7, 2020.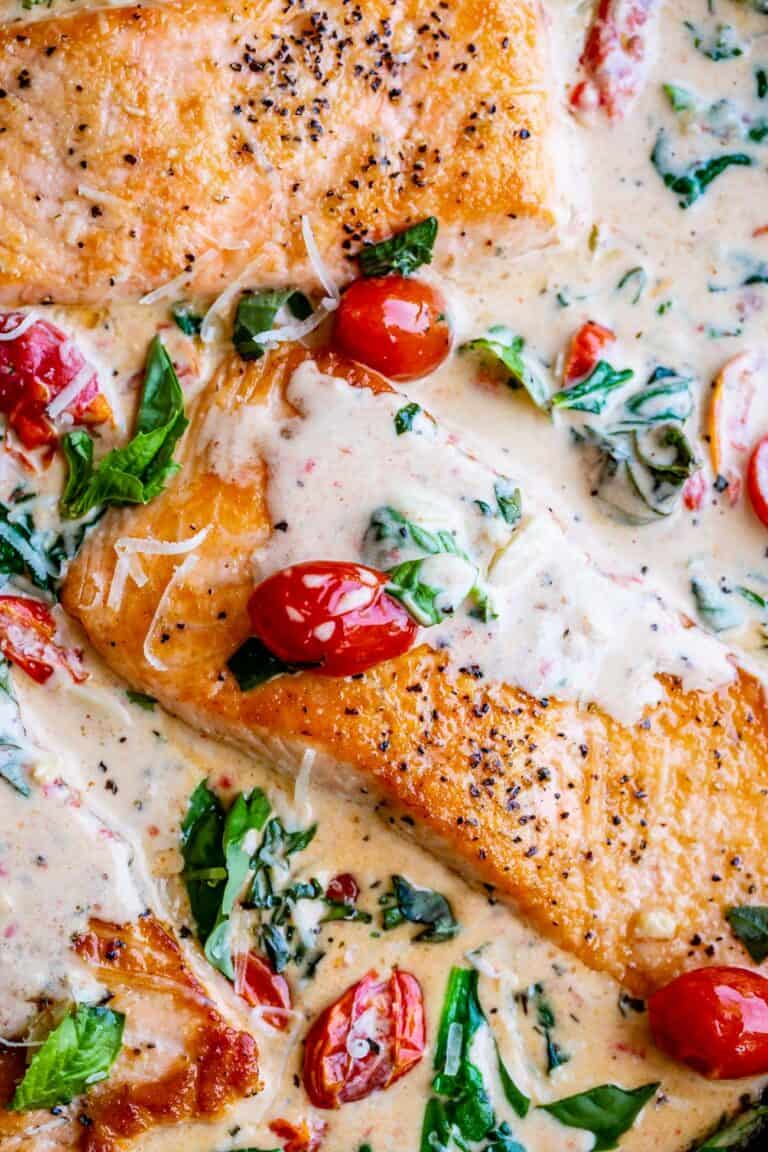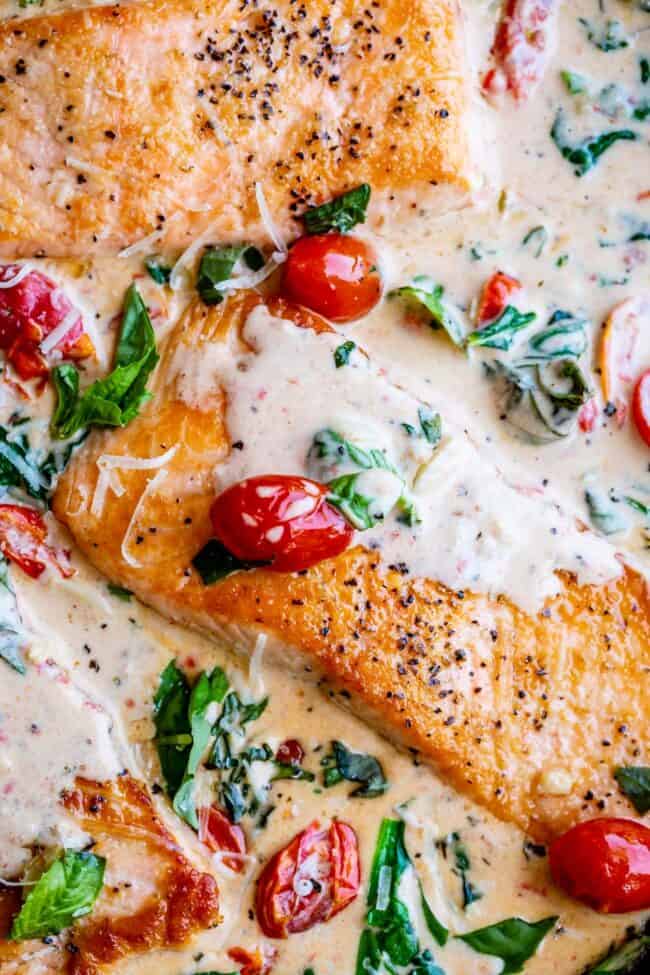 Table of Contents
The other day Eric removed the couch cushions and started investigating. I fled the room, because as a mother of 4, I have no desire to know what lies beneath, so to speak. That is just something that is better left unknown. Out of sight out of mind is my mantra when it comes to Stuff In The Couch. I have enough crap to worry about above ground, like the constant pile of shoes by the back door, or the state of the toilet.
Anyway, Eric decided to dive into the couch and from the other room, I heard him make repeated exclamations of surprise, and what sounded like counting. Counting? Oh dear. I didn't ask, because as I said, ignorance is bliss when it comes to couch specimens, but then he shouted, "TWENTY-ONE!!" That was the number of Charlotte's socks he pulled out of the armchair in our living room.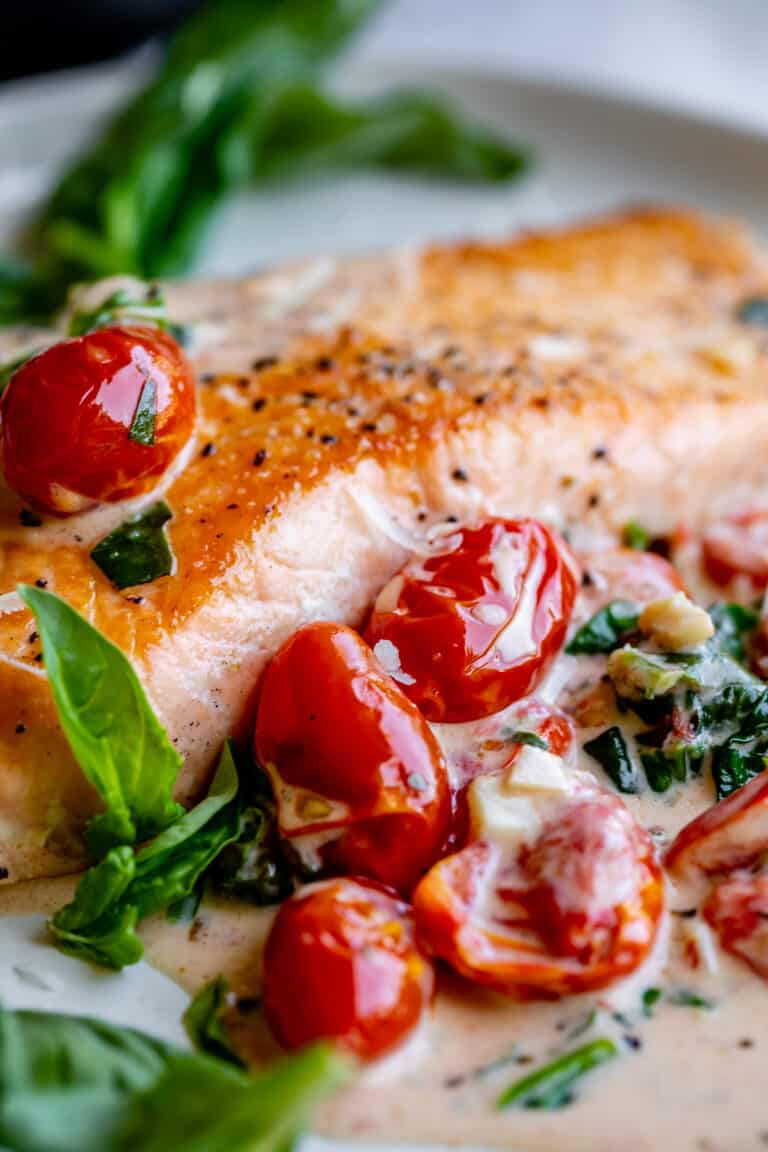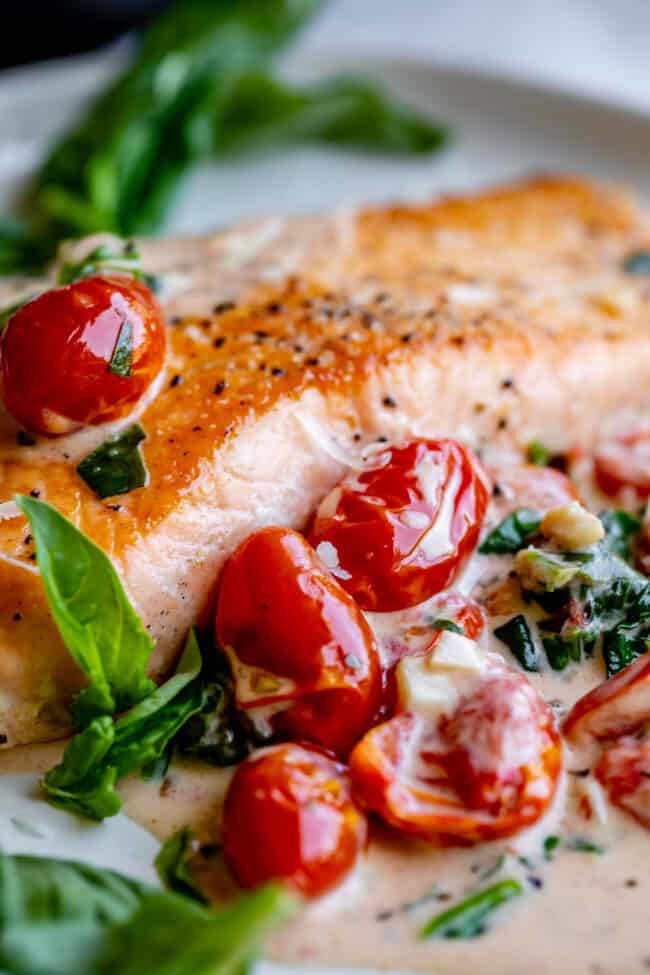 Apparently every day after school (this habit predates Covid apparently) she cozies up in our big stuffy green armchair with a nice book, then she takes off her socks and drops them on the floor. Then at some point I yell at her to pick up her darn socks and put them in the hamper, do I look like a maid? So she eliminated such interruptions by stuffing the worn socks under the cushions of the chair. Voila.
The only reason I didn't lose my cool completely was because I remember doing this sort of stuff as a kid. And my grievances were way worse than socks. Shh don't tell her. At least now I know why Charlotte NEVER has any socks in the drawer, even when I've just done laundry.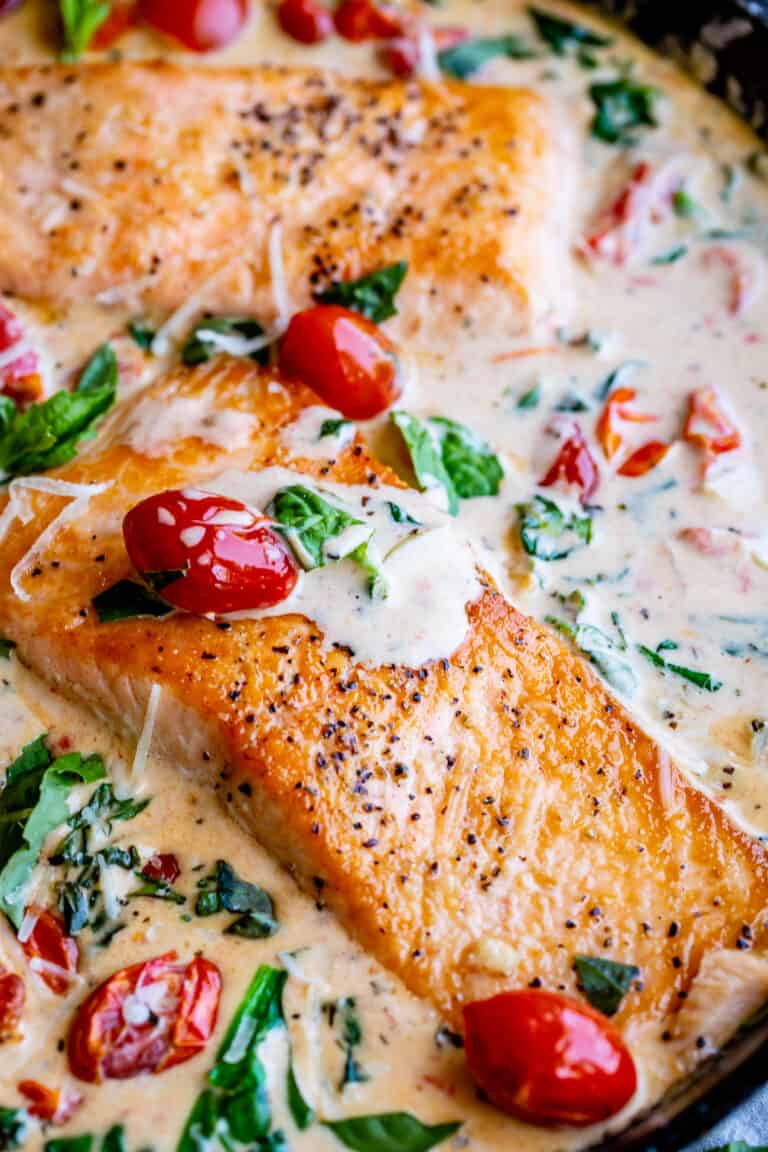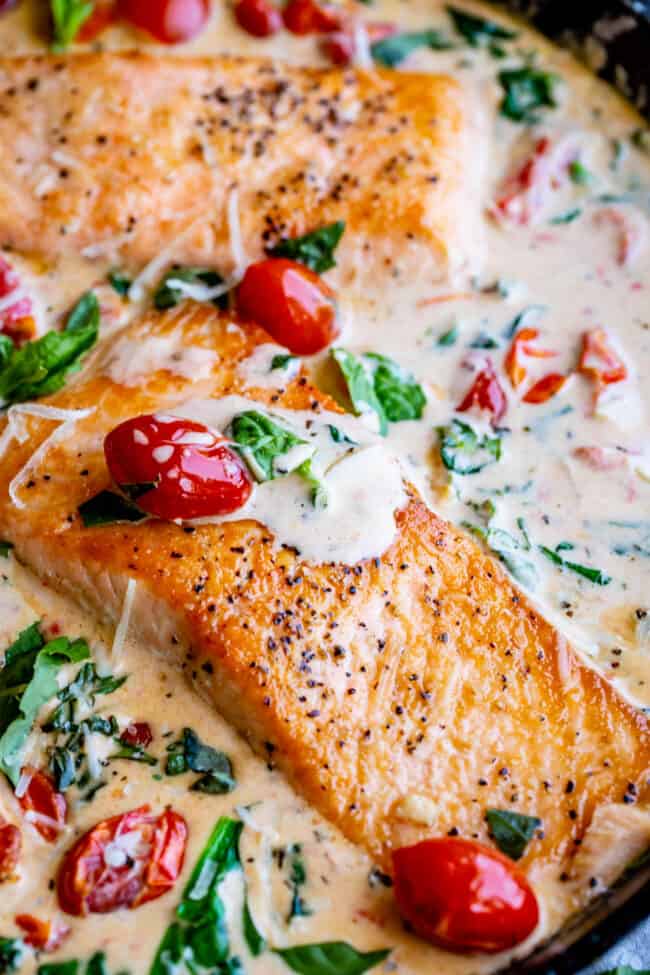 Maybe I'll punish her by making her make me this Creamy Tuscan Salmon for dinner. It's so easy, I bet she could do it on her own.
What I love about this Tuscan Butter Salmon
What could be better than perfectly seared salmon, with a buttery soft interior, swimming in a creamy cheesy sauce? It's really more than a cream sauce though, because of the cherry tomatoes and spinach and basil. I'm telling you guys, creamy tuscan salmon is the best way to use up that summer produce! Especially if you have your own garden.
Tuscan Salmon Recipe Ingredients
This Tuscan salmon recipe has so many amazing flavors. Full instructions can be found in the recipe card below!
Olive oil
Salmon fillets (four fillets)
Kosher salt
Black pepper
Butter
Garlic (smashed and minced)
Cherry tomatoes
Heavy cream
Dried basil
Cayenne pepper
Black pepper
Parmesan cheese (shredded)
Spinach (chopped)
Fresh basil (roughly chopped)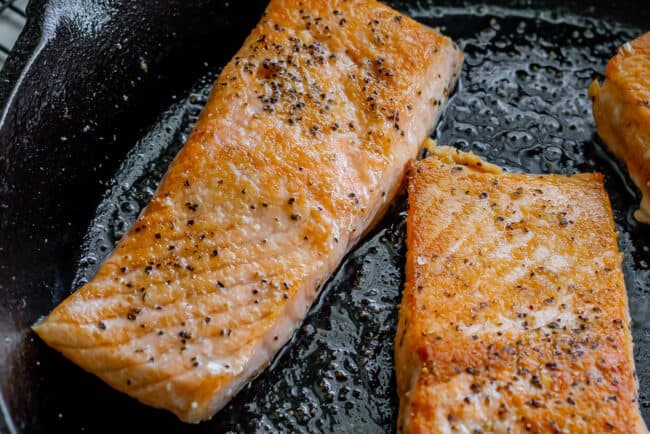 How to make Creamy Tuscan Salmon
First we start off by searing the salmon in a flaming hot pan. If you can never get those beautiful brown marks when you sear meat, it's because your pan isn't hot enough. I like to use my cast iron skillet to achieve Crisp Level Ultimate, but a regular pan will work fine too; just make sure to preheat it. Just like you would preheat the oven. Turn the burner on to medium high, and let the dry pan sit on the burner for at least 3 minutes, or up to 5. Don't add your olive oil to a cold pan and then turn on the heat, it will just start smoking.
Add the olive oil and swirl to coat. It will shimmer immediately because your pan is super hot. Then add the salmon immediately, before the oil has a chance to smoke. Then DON'T TOUCH IT again until you are ready to flip it a couple minutes later. If you move it around it won't have a chance to sear.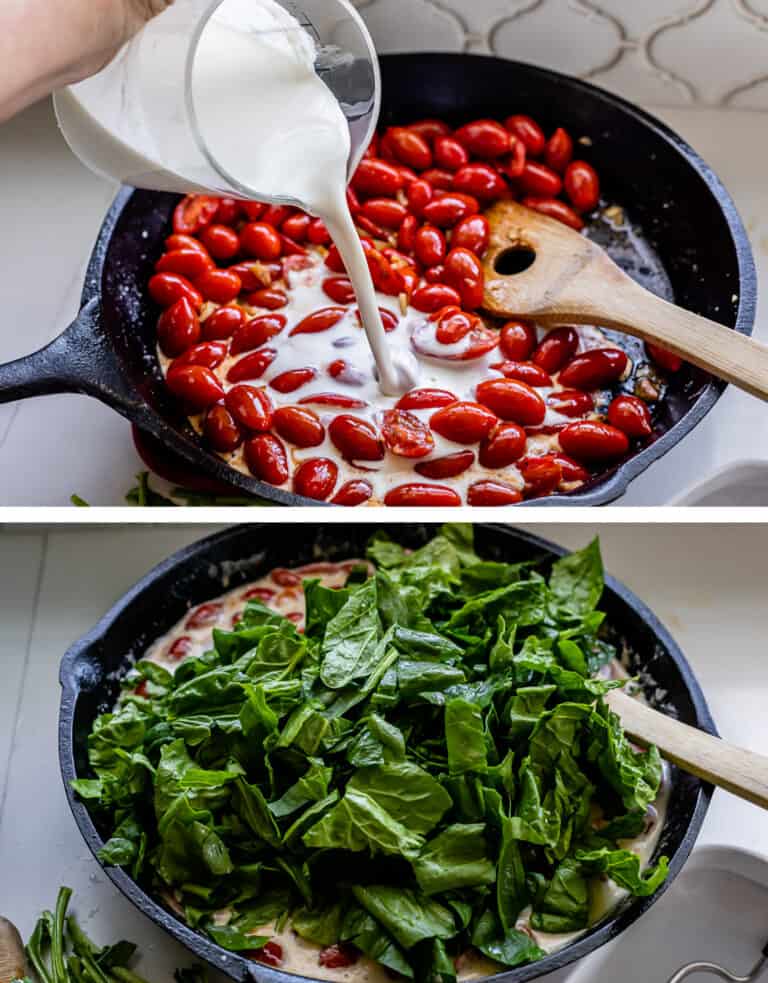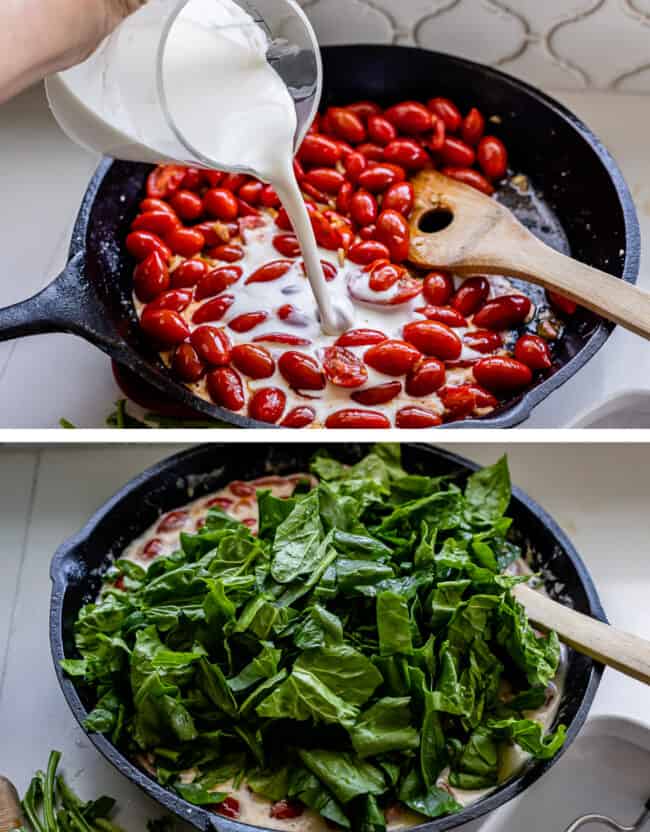 Remove the salmon and make the creamy parmesan sauce. Fry some garlic in butter, add some cherry tomatoes, pour cream over the top, then let some spinach and basil wilt in the warm sauce. That's IT. It's so delicious, and it's done in less than 30 minutes. Plus it's healthy to boot. I mean, besides the cream. But eating healthy fish and healthy spinach totally cancels out the cream, right?? Right. At least that's what the corona quarantine told me.
P.S. Update! I love to serve this salmon with Cheddar Bay Biscuits. A cheesy buttery biscuit is JUST what you need to help you mop up all this sauce! Oh yeah.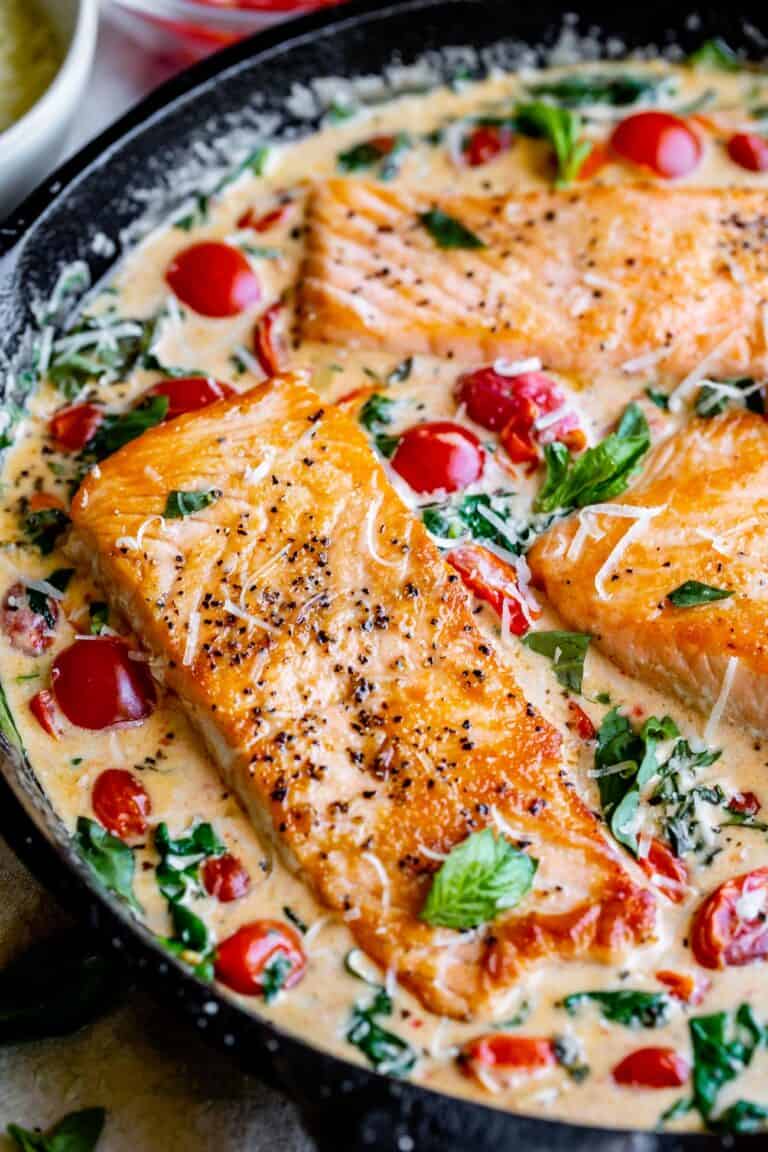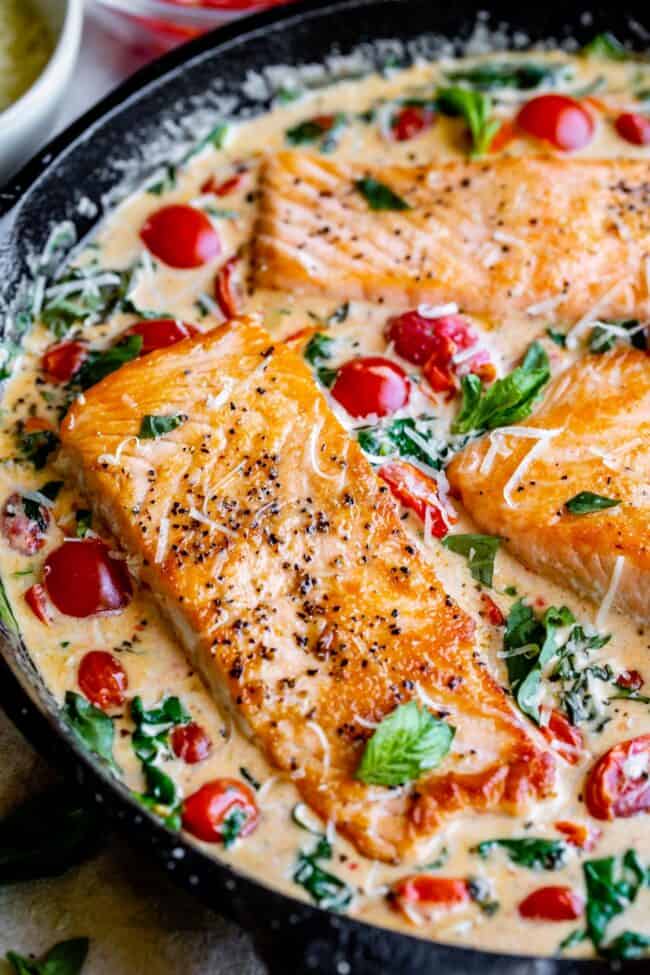 How to Serve Tuscan Salmon
There are plenty of delicious ways you can serve up your Creamy Tuscan Salmon!
Enjoy it as a lighter dinner option on its own, or make it into a heartier meal by serving it over a pile of cooked pasta. The extra cream sauce makes the perfect creamy pasta sauce!
It's also delicious with roasted potatoes, mashed potatoes, rice, or cauliflower rice. You could also make The Best Garlic Bread of Your Life and use it to sop up all the extra creamy sauce – yum!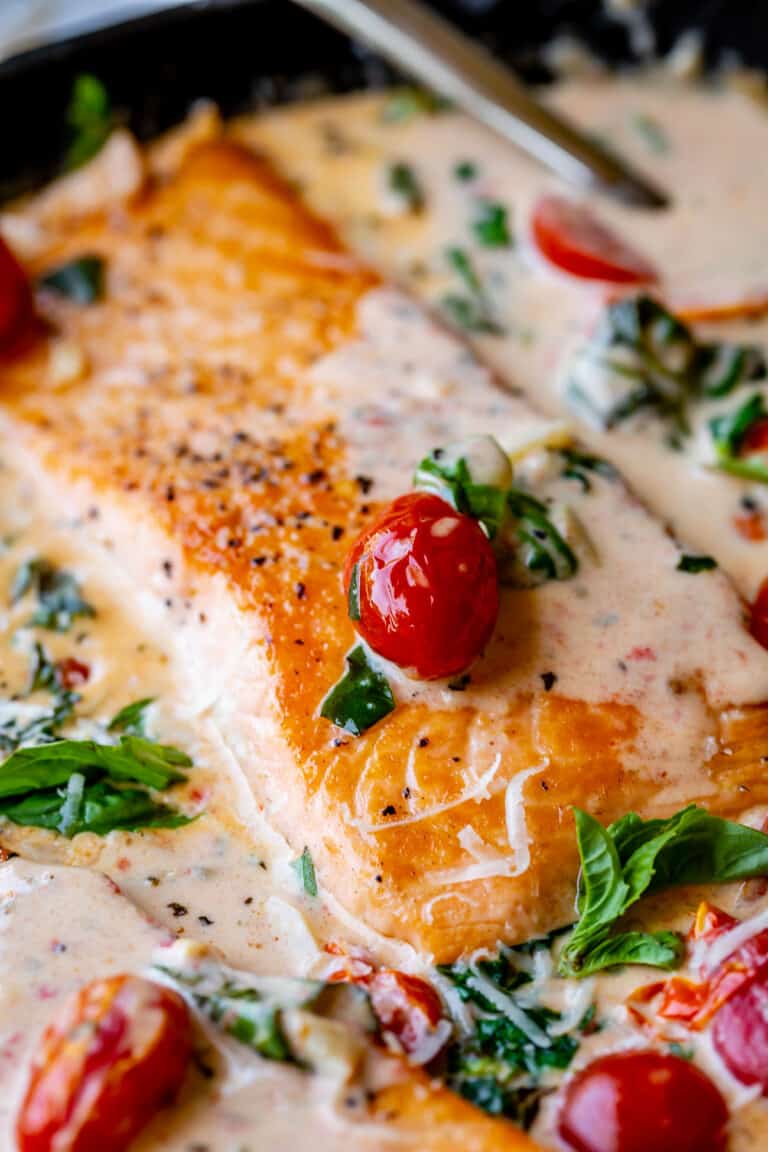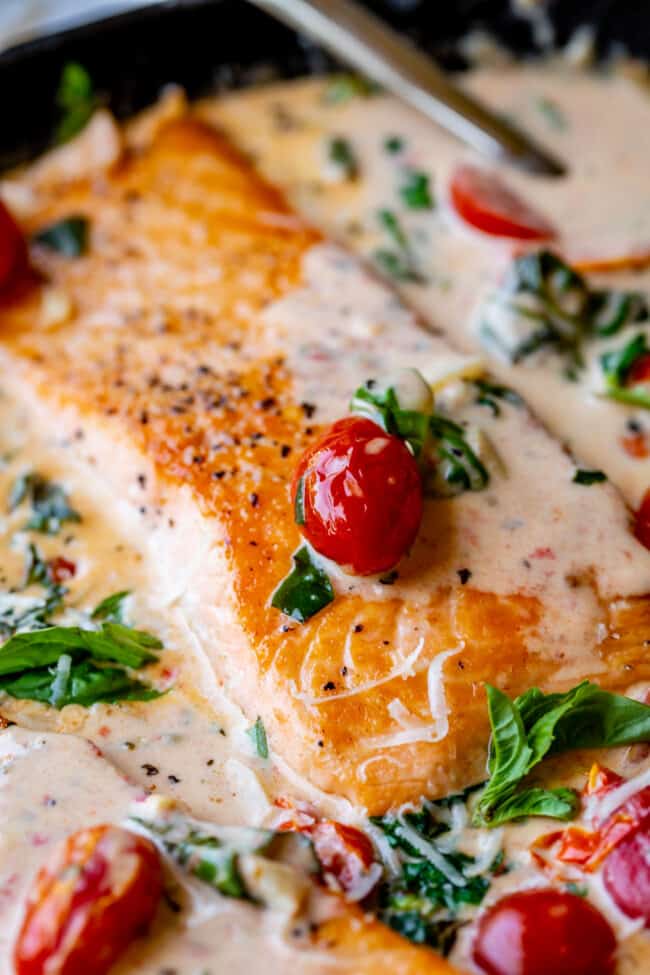 How to Store Creamy Salmon
If you happen to have leftovers of this Creamy Tuscan Salmon, it can be stored in in the fridge for 3-4 days. To reheat, place the salmon and sauce in a covered baking dish (covering with foil is fine!) and warm at 275ºF for about 15 minutes, until heated through. Low and slow reheating keeps the salmon from drying out.
Let's be honest though…sometimes, ain't nobody got time for that. You can microwave it. The world will not end. The salmon WILL become more cooked, and a little dryer, but with the creamy sauce it still makes a good fast lunch when the oven isn't an option. Cover it with a lid or piece of waxed paper and use the low setting, if you have one.
I don't recommend freezing it, because the texture of the sauce won't hold up when thawed.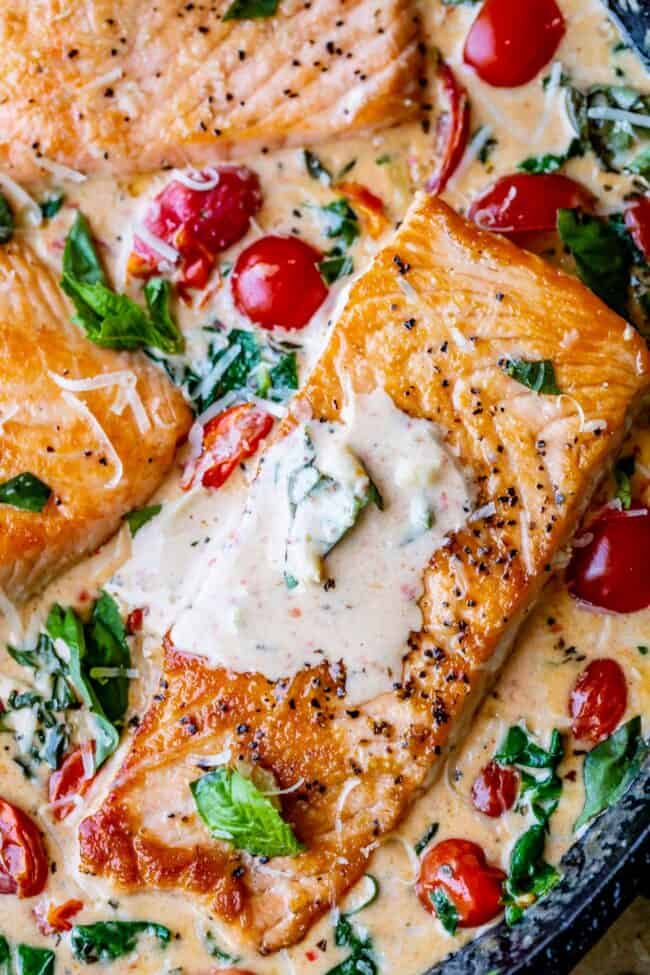 Creamy Salmon Recipe FAQ
How do you make the best tasting salmon?
Making the best tasting salmon is all about texture. To create the crisp exterior of the salmon, you need to start with a super hot pan and let the salmon filets sear without moving them around. Then, you STOP cooking them. The best fresh salmon is tender and moist on the inside, crisp and well seasoned on the outside. Honestly, at that point all you need is a squeeze of lemon, but adding a cream sauce and veggies just takes it over the top.
How many calories are in Tuscan salmon?
One serving of this creamy Tuscan salmon has just 443 calories. It's a great light and healthy meal, but can definitely be bulked up with rice or pasta!
What flavors go well with salmon?
Salmon itself has a mild buttery flavor, so it pairs beautifully with the creamy, garlicky sauce and doesn't overwhelm the delicate flavors of the summer vegetables. In this recipe the fresh basil is the perfect foil for the mild salmon, but salmon is an outstanding vehicle for a ton of different flavors.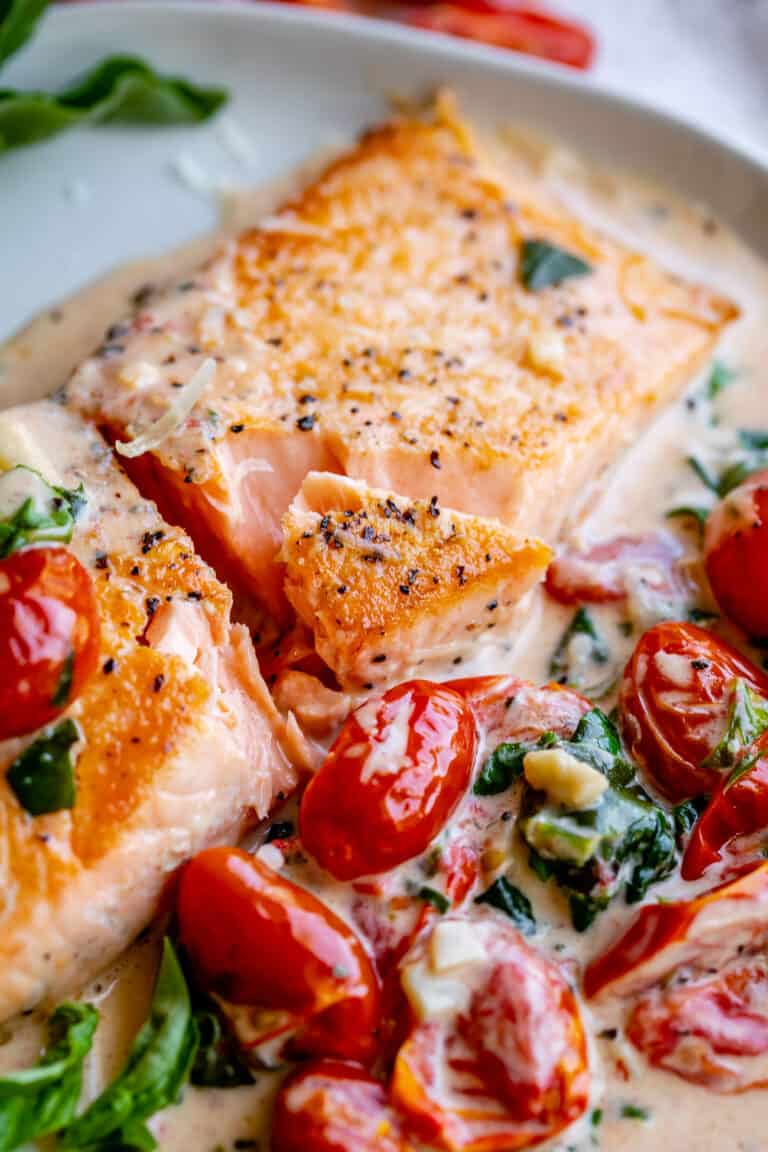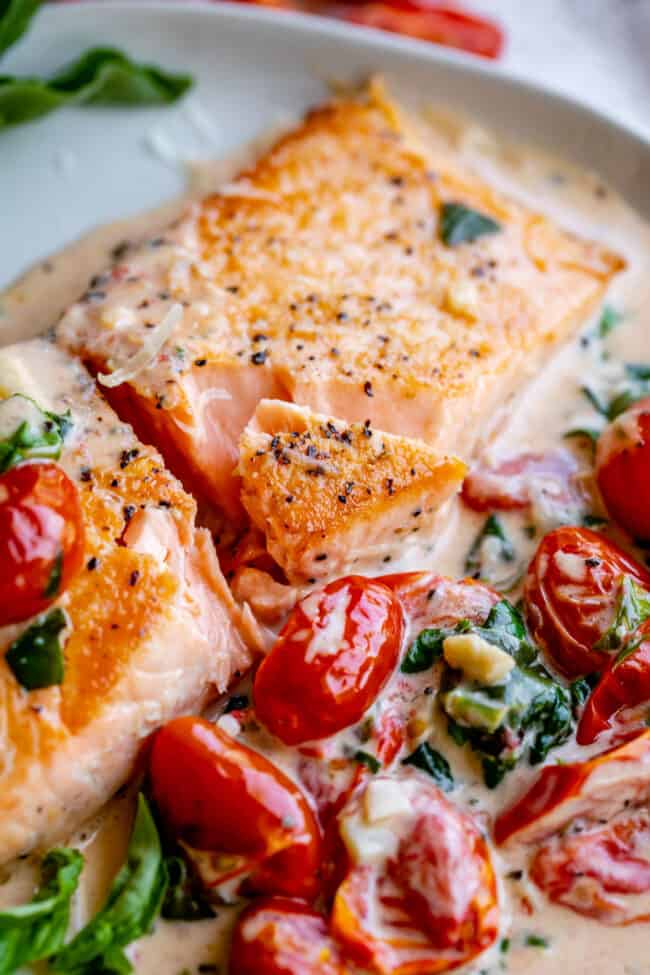 More salmon recipes you are going to love!
Facebook | Pinterest | Instagram

Creamy Tuscan Salmon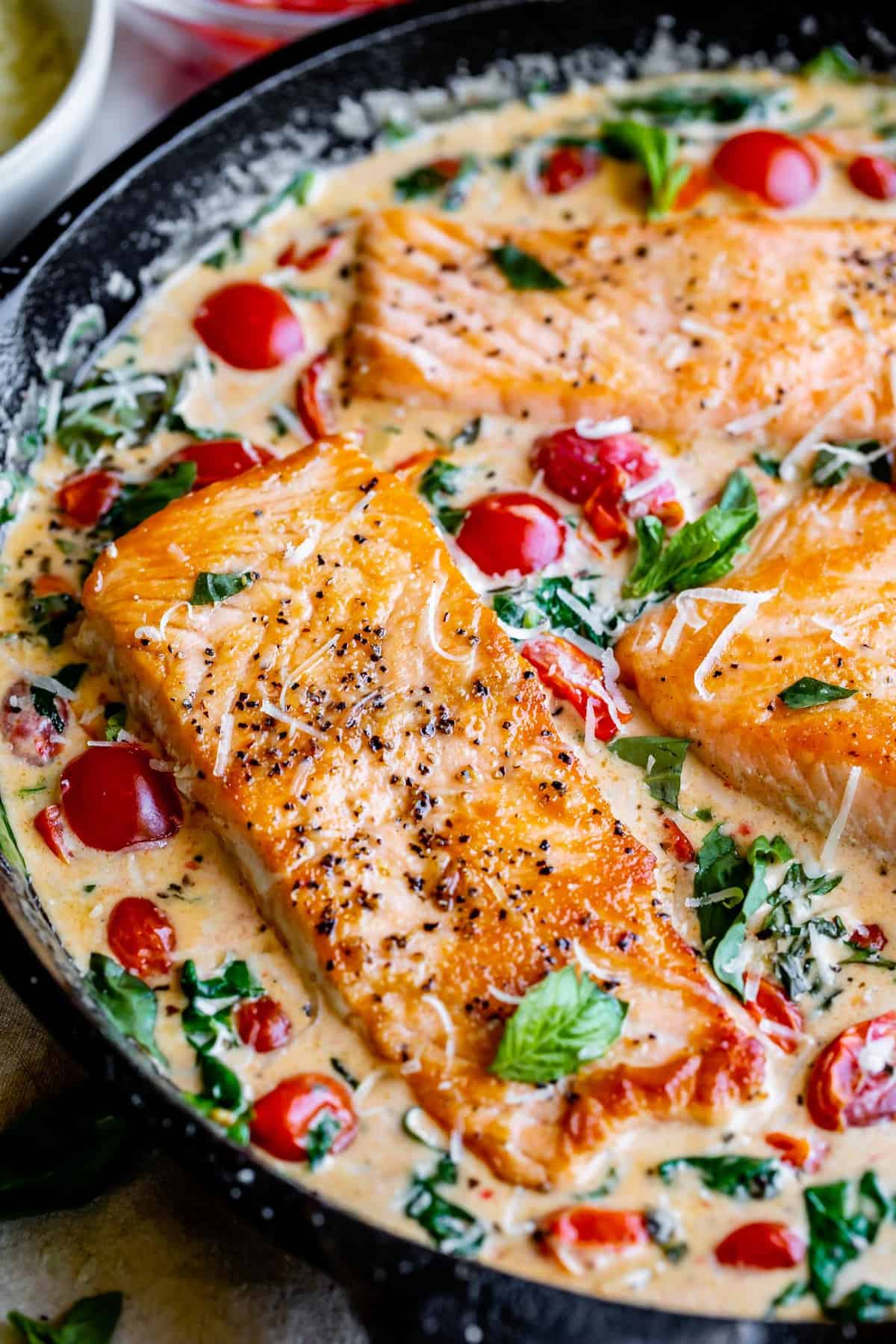 This Creamy Tuscan Salmon recipe is totally restaurant quality, but super easy to make! Perfectly pan-seared salmon, drowning in a creamy parmesan sauce with garlic, cherry tomatoes, spinach, and fresh basil. It's the perfect summer meal and is done in 30 minutes!
Ingredients
2

tablespoons

olive oil

4

ounce

salmon fillets

,

Four Fillets

1

teaspoon

kosher salt,

for the salmon (plus more)

1/2

teaspoon

black pepper

,

plus more

2

tablespoons

butter

6

cloves

garlic

,

smashed and minced

18

ounces

cherry tomatoes

1

cup

heavy cream

1 & 1/2

teaspoons

kosher salt,

for the sauce

1

teaspoon

dried basil

1/4

teaspoon

cayenne pepper

black pepper

,

to taste

1/2

cup

parmesan cheese

,

shredded

3-4

ounces

spinach

,

chopped

1/2

bunch

fresh basil

,

roughly chopped
Instructions
Begin by searing the salmon. Heat a 12 inch high-sided skillet over medium high heat. Let the pan sit on the burner for a couple minutes so that it gets super hot.

Meanwhile, pat each salmon fillet dry with paper towels. Sprinkle the top of the salmon with 1 teaspoon kosher salt and 1/2 teaspoon black pepper.

Add 2 tablespoons olive oil to the hot pan and swirl to coat. It should shimmer immediately. Place each fillet of salmon into the hot pan. (If your salmon has the skin on, place the skin side down first.) Do not crowd the salmon together, make sure there is space in between so they don't steam each other. Sprinkle the other side of each fillet with a bit more salt and pepper. Let the salmon sear well over medium high heat for 1-3 minutes, depending on the thickness of the fillet. Once you have a nice brown sear on the underside, flip the salmon to cook the other side for about 30 seconds to 1 minute before turning off the heat. Do not overcook your salmon.

Remove the salmon to a plate and keep warm.

Make the tuscan sauce. Over medium heat, add 2 tablespoons butter to whatever oil remains in the pan from making the salmon. When it is melted, add 6 cloves of minced garlic. Cook, stirring frequently, for about 1 minute until fragrant.

Chop half of the cherry tomatoes, and leave the other half whole. Add to the pan with the butter, and cook for 1 minute, or until some of the tomatoes are starting to split.

Pour in 1 cup heavy cream. Add 1 and 1/2 teaspoon kosher salt, 1 teaspoon dried basil, 1/4 teaspoon cayenne pepper, and black pepper to taste.

Let the cream mixture come to a light simmer, about 2-4 minutes.

Add 1/2 cup Parmesan cheese. Add 3-4 ounces chopped spinach and stir it all in.

Continue cooking over medium heat until the cream has thickened somewhat and the spinach has wilted.

Add in a half bunch of chopped fresh basil. Return the salmon to the pan. Heat through if necessary.
Nutrition
Calories:
443
kcal
|
Carbohydrates:
10
g
|
Protein:
14
g
|
Fat:
40
g
|
Saturated Fat:
21
g
|
Polyunsaturated Fat:
3
g
|
Monounsaturated Fat:
15
g
|
Trans Fat:
1
g
|
Cholesterol:
121
mg
|
Sodium:
1771
mg
|
Potassium:
628
mg
|
Fiber:
2
g
|
Sugar:
4
g
|
Vitamin A:
3885
IU
|
Vitamin C:
37
mg
|
Calcium:
245
mg
|
Iron:
2
mg