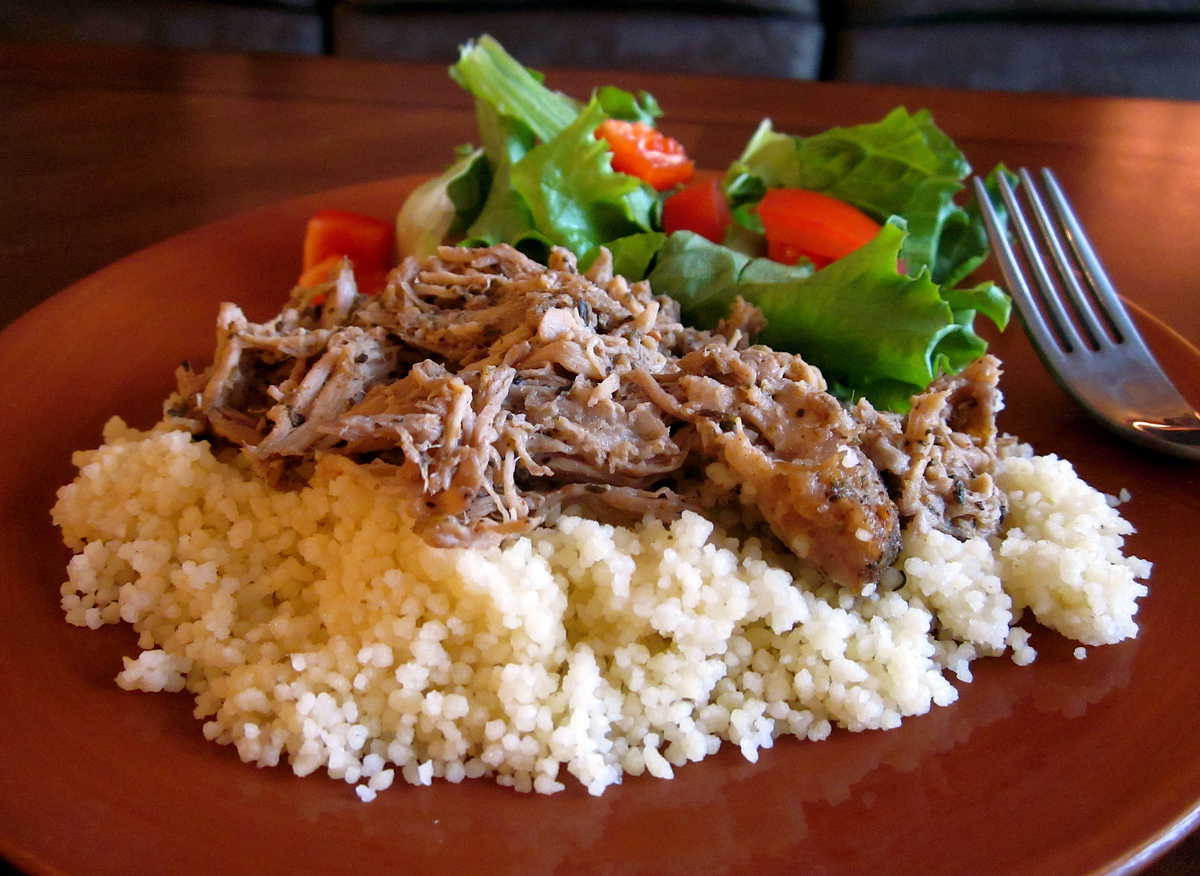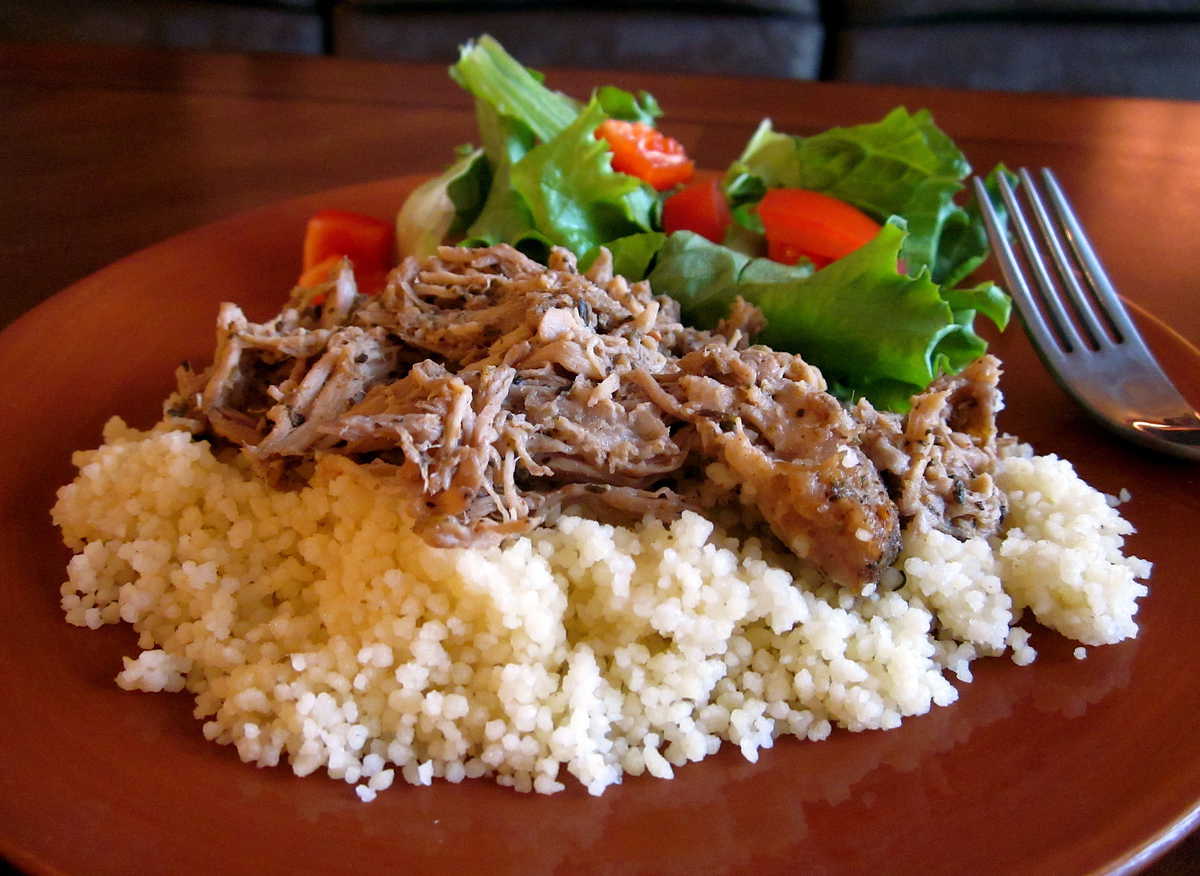 I was so excited to bust out my Christmas decorations yesterday.  I have spent way too much time lately wandering around Target, drooling over the trees and the glass balls and the wreaths and the general sparkle and gleam.  In my head, my little apartment was going to look very similar.  This is what I found:
a crappy 6 foot tree, that is only 6 foot because the tallest spindle sticks up a good 9 or 10 inches with no shoots coming off
the ugliest doily ornament I have ever seen.  Someone must have used varnish or something to harden it into a cowboy-hat shape.  A sprig of fake holly and an interwoven red ribbon make all of my Western Christmas dreams come true.
approximately 5,000 candy canes.  Apparently in the past I've thought to myself, we need to spruce up the apartment! and went to the store to buy decorations only to realize that all I could afford was a box of candy canes.
And that's about it. I guess I will have to bake my way into Christmas cheer.  I can always afford flour and sugar.  Bring on the Christmas cookies.
This recipe is so good and sooo easy.  It probably took me less than 10 minutes to put it together.  The meat was so tender I couldn't help myself from sneaking little bits of it before and after dinner.  I should probably apologize to my brother and Eric's sister, who were over when we had this, for making them uncomfortable by complimenting my own food way more than they were.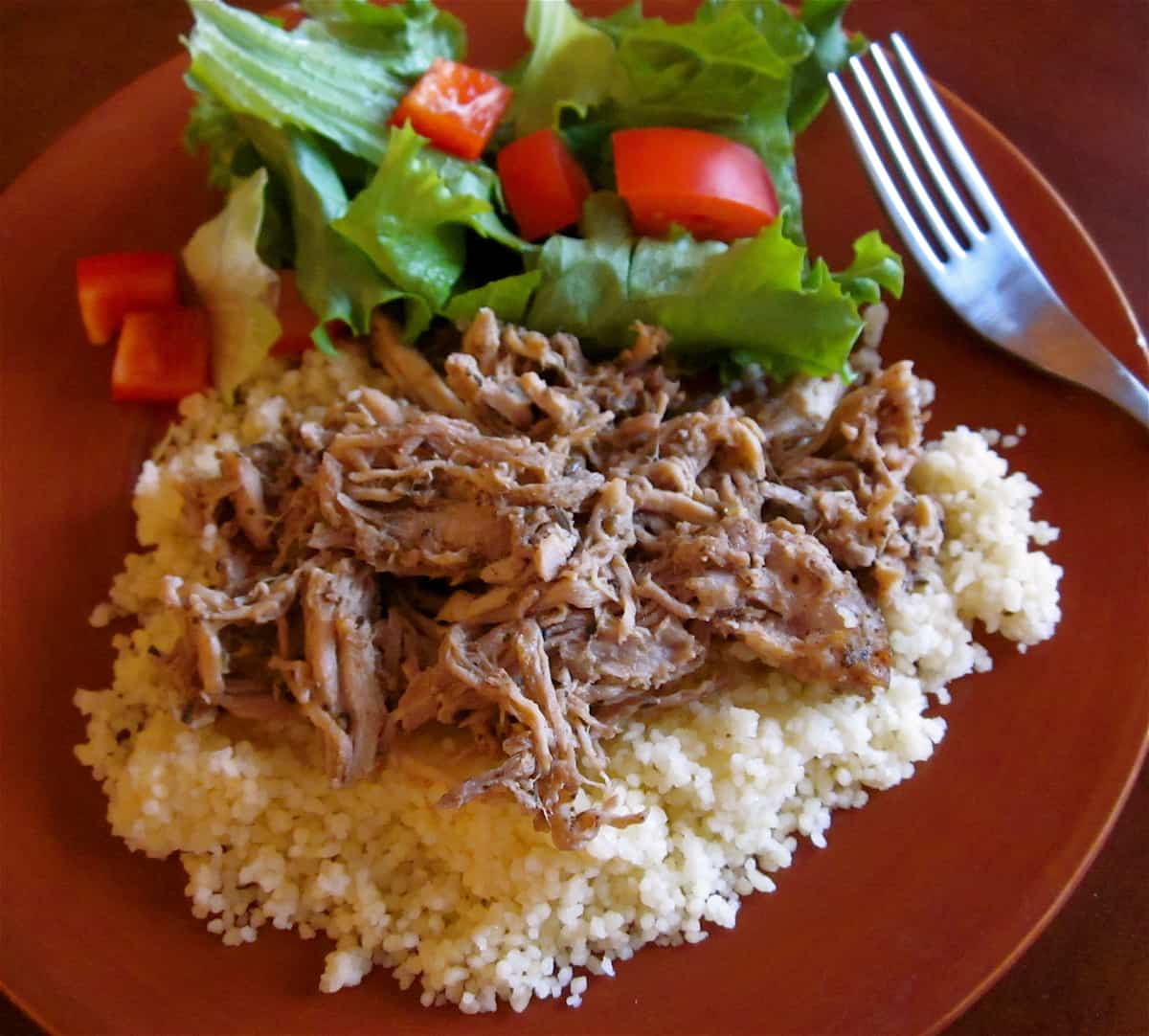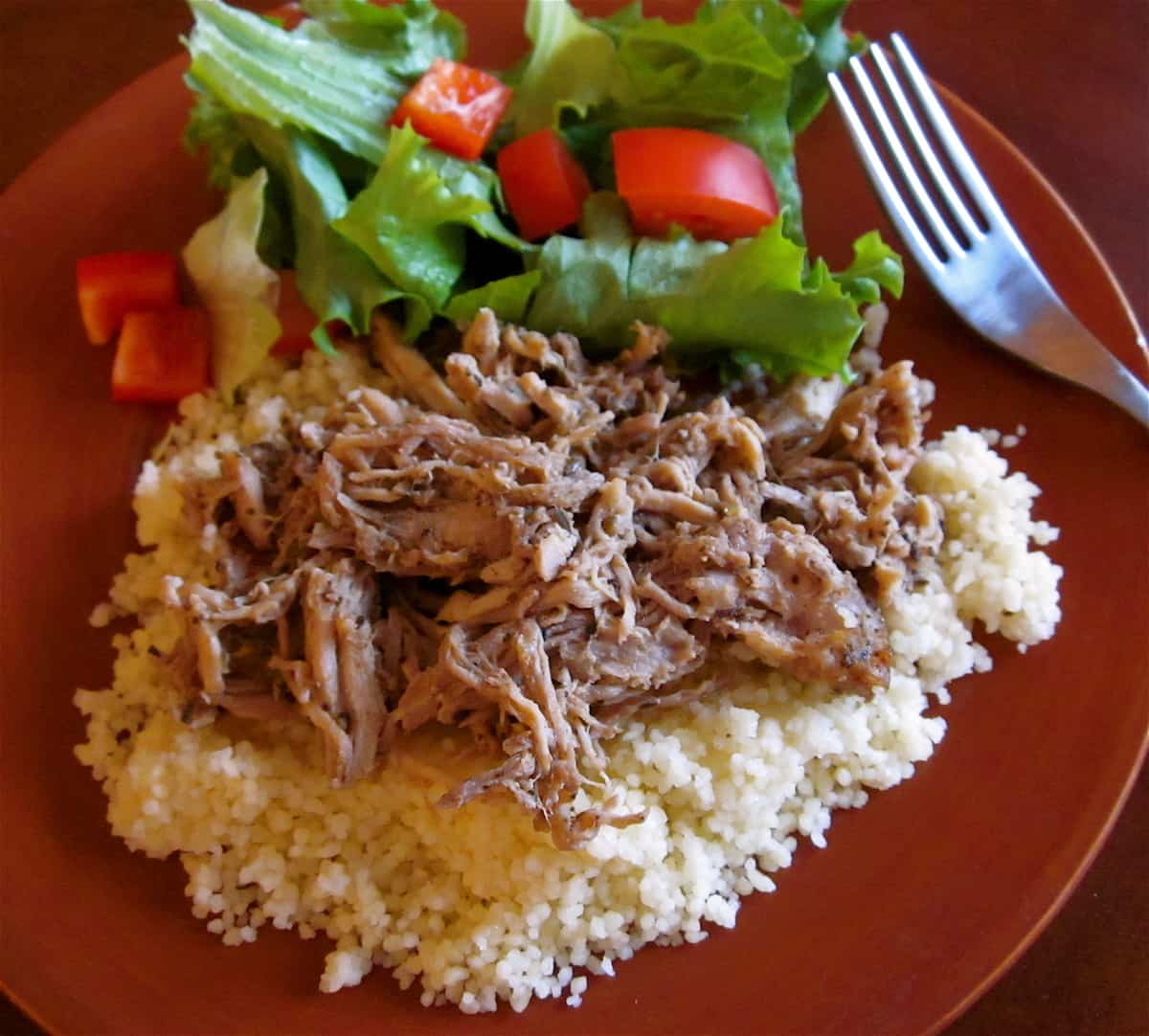 Mediterranean Pork with Couscous
Source: Mel's Kitchen Cafe
2 to 2 1/2 pounds boneless pork loin, trimmed of fat (or the equivalent of boneless pork chops)
2 tablespoons olive oil
3/4 cup chicken broth
1/2 tablespoons paprika
1/2 tablespoons garlic powder
2 1/4 teaspoon dried sage
1/4 teaspoon dried rosemary
1/4 teaspoon dried marjoram (I didn't have any so I sprinkled on a little Italian Seasoning)
1/4 teaspoon dried thyme
1 teaspoon oregano
1 teaspoon basil
2 cups couscous, prepared according to package directions
In a liquid measuring cup combine the oil, broth and spices. Cut small slits with a paring knife into the pork roast (or pork chops). Place the pork in a 4-quart slow cooker and pour the broth/spice mixture over the top of the pork. Cover the slow cooker and cook on low for 7-8 hours until the pork is tender.
Remove the pork from the slow cooker and shred into pieces. If you have a stand mixer, throw the pork in it and mix it with the paddle.  I found this idea on Pinterest and it has changed my life, because I hate shredding meat.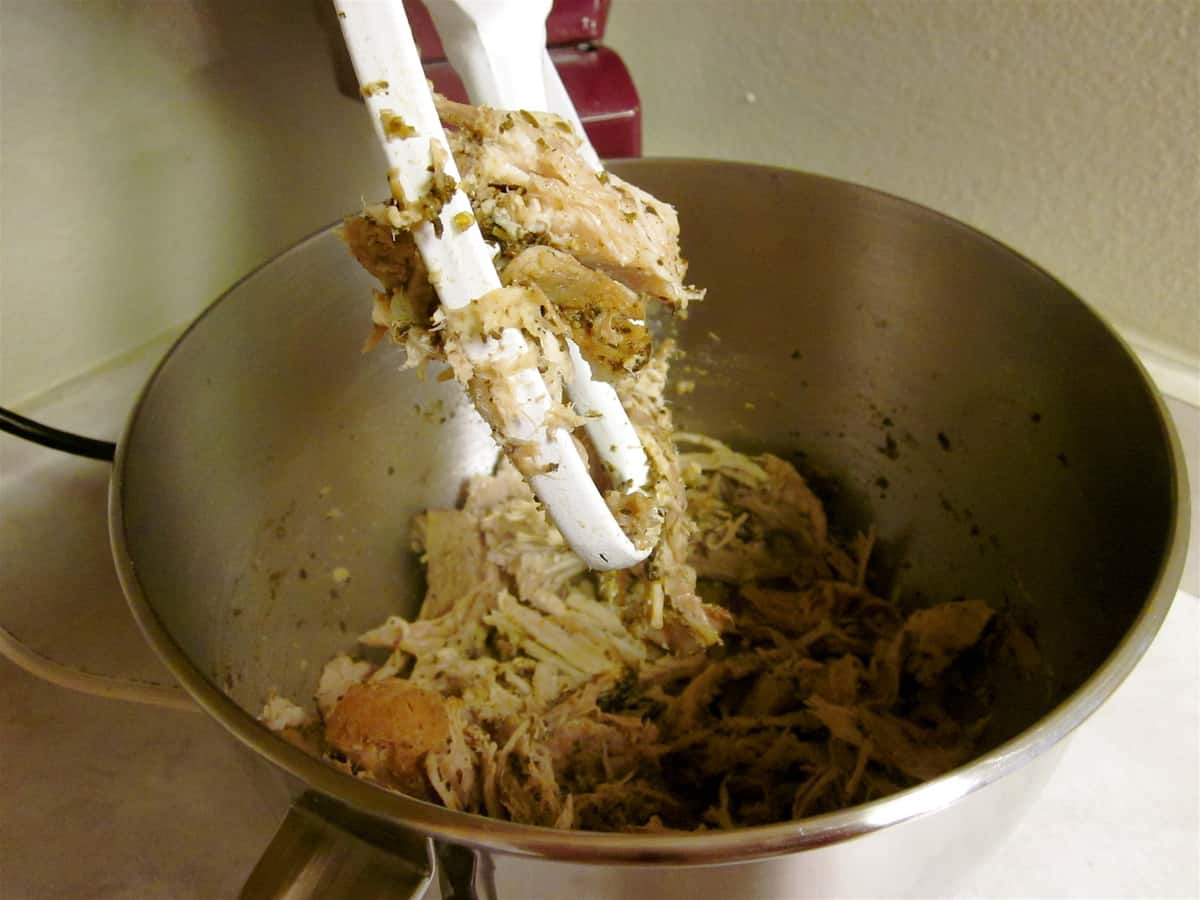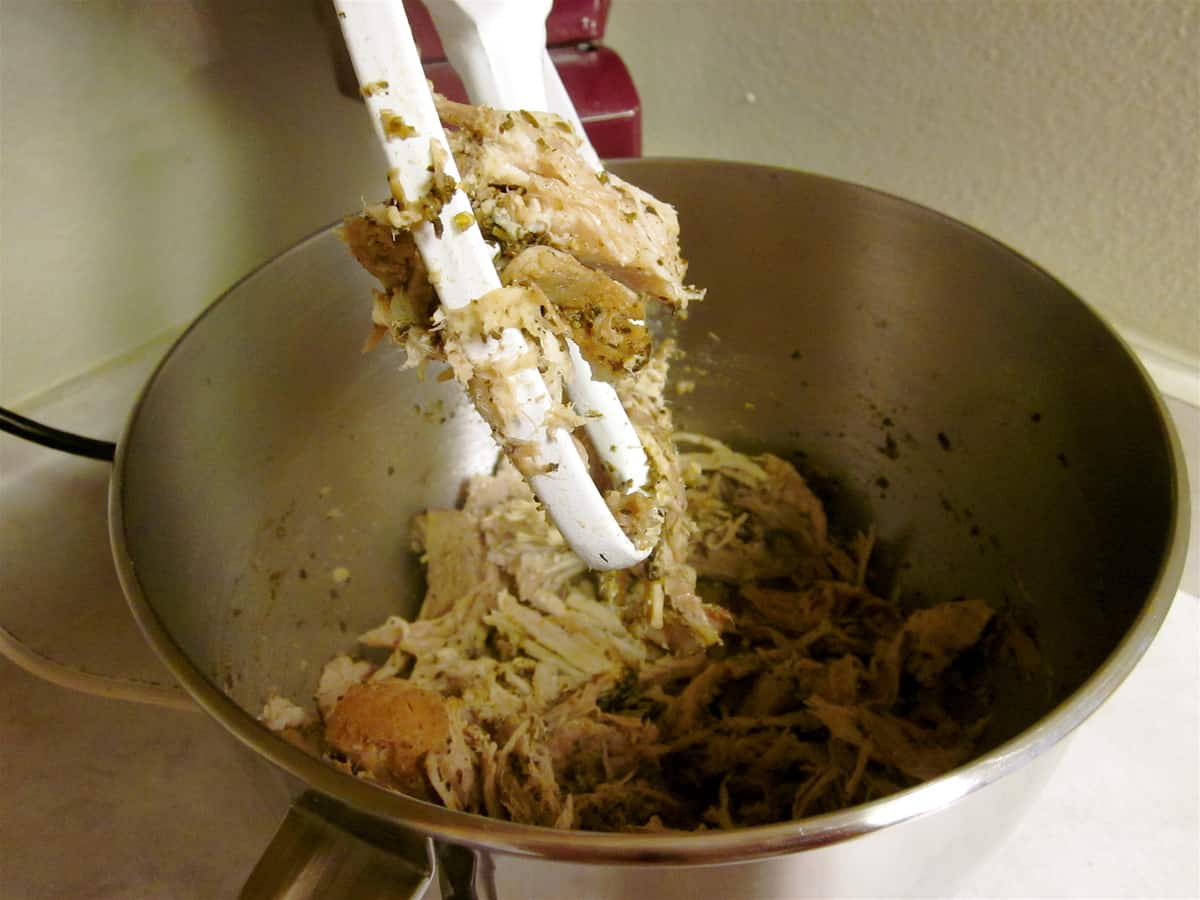 Return the shredded pork to the slow cooker and toss with the juices/liquid. Serve the meat/juices over couscous.  3 cheers for couscous, by the way, my new favorite grain.