This classic Gingersnap recipe is straight from my husband's Swedish great-grandmother Prudy. It is a no-fuss recipe using butter and lots of spice. They are crispy yet chewy and probably the best thing that will ever happen to your glass of milk.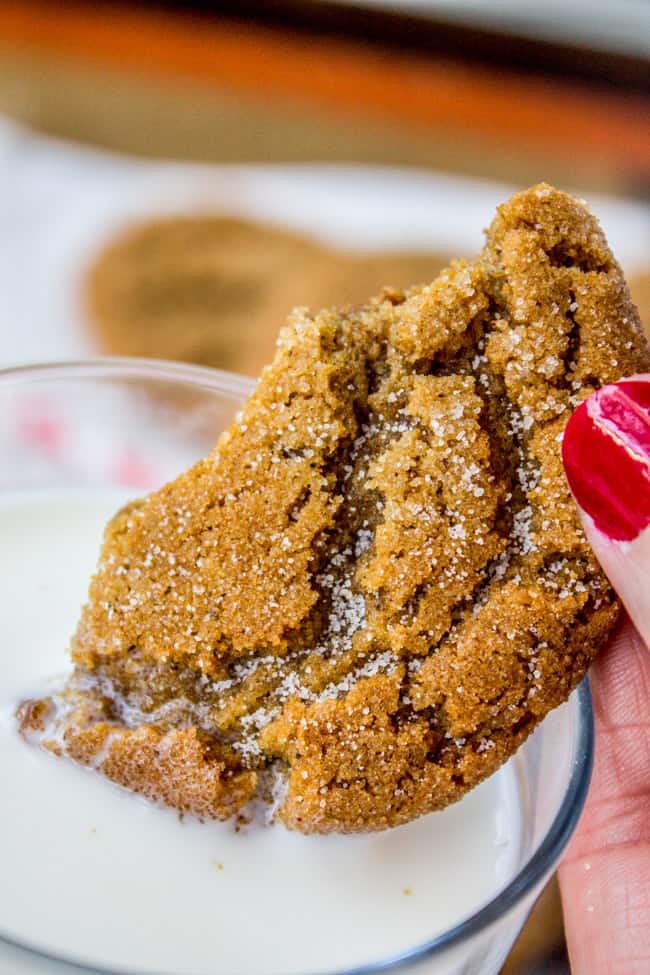 I generally don't like crisp cookies. When we were first married, I handed Eric a cookie and said, "Here, try this Soft Ginger Cookie I made for you," and he said, "This is too soft to be a Gingersnap." Thank you, Captain Obvious. You can see that his training runs deep.
I never had the chance to meet Gramma Prudy (Prudence Henrietta!) because she passed away before I married into the family. But she lives on through her many fabulous cookie recipes, most of which are Swedish of course. She had no problem sharing her recipes, unlike this lady:
(Did you guys see this? I was cracking up. The first comment says, "But please, feel free to adjust the recipe to your tastes … it's not like it's written in stoooooo … oh wait.")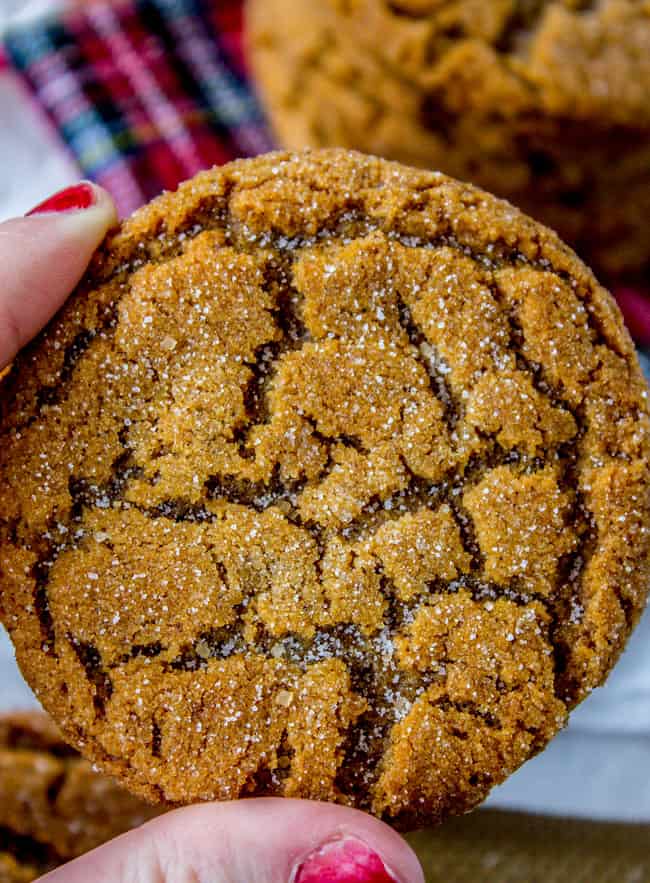 Gramma Prudy's recipes are collected in a family cookbook. All of them are neatly typed, but most of them have handwritten notes adding salt. As Prudy grew older, her doctor told her she needed to cut back on salt so she literally stopped using it. But what's a cookie without a little salt? (Terrible, according to everyone who tried them.) This recipe actually includes it though: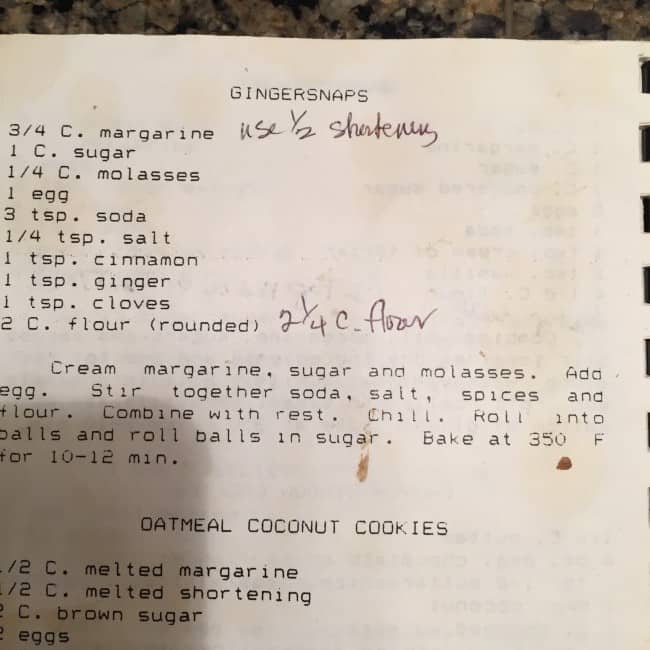 Here it is, straight from the book and complete with notes and questionable stains. (Printable version below of course)
I don't use margarine, even though I grew up on the stuff. (You noticed the Oleo in the tombstone recipe above, right? These people clearly lived in the 40s and 50s.) Kris (my mother-in-law, Prudy's granddaughter) said that sometimes she does all butter and sometimes she does half butter and half shortening. I tried both ways: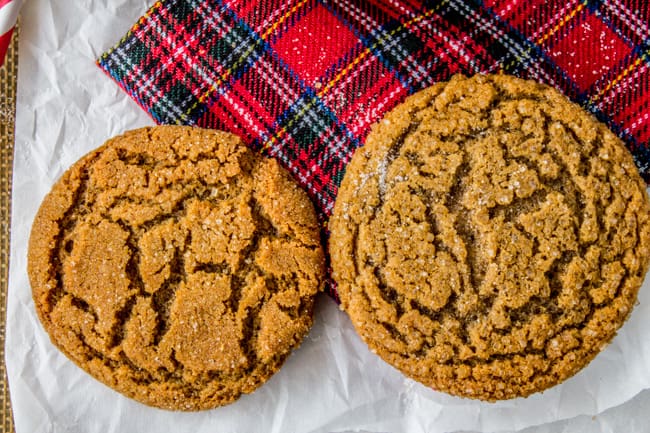 Half butter on the left, all butter on the right. I like them both. The all-butter version is a little flatter and a smidge crispier, but not by much. The dough is a lot tastier with all-butter, but once they are baked I thought they both tasted fabulous.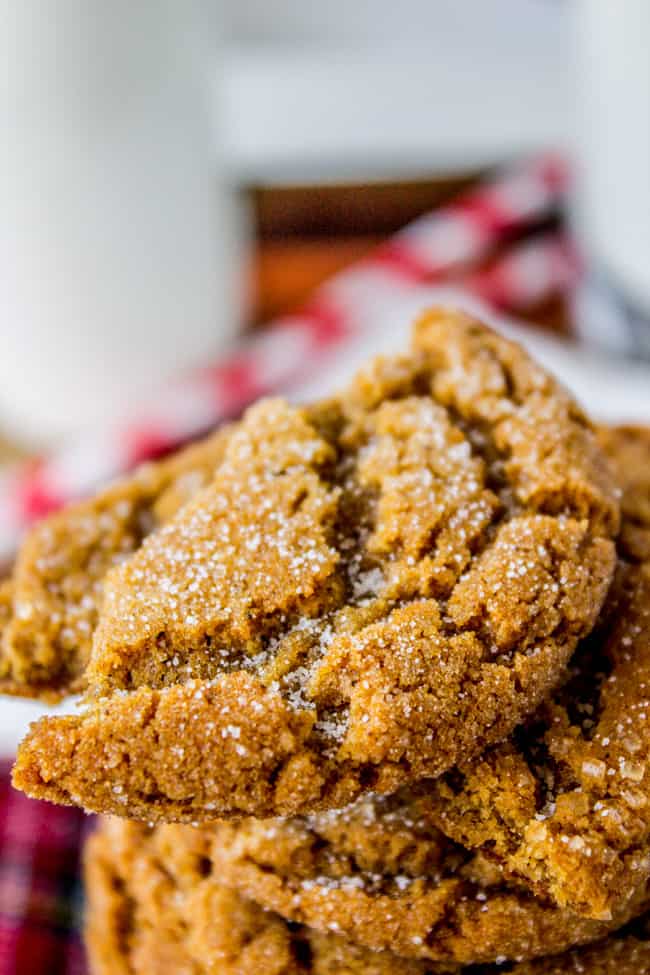 I tried to get Eric to judge between them. "Come on, which one is better? Which one tastes more like Prudy's?" But it was no use. He was lost in a Gingersnap haze of memories. Coherent opinions were not discernible. I say use whichever one you have on hand. DON'T use all shortening though. That would be gross.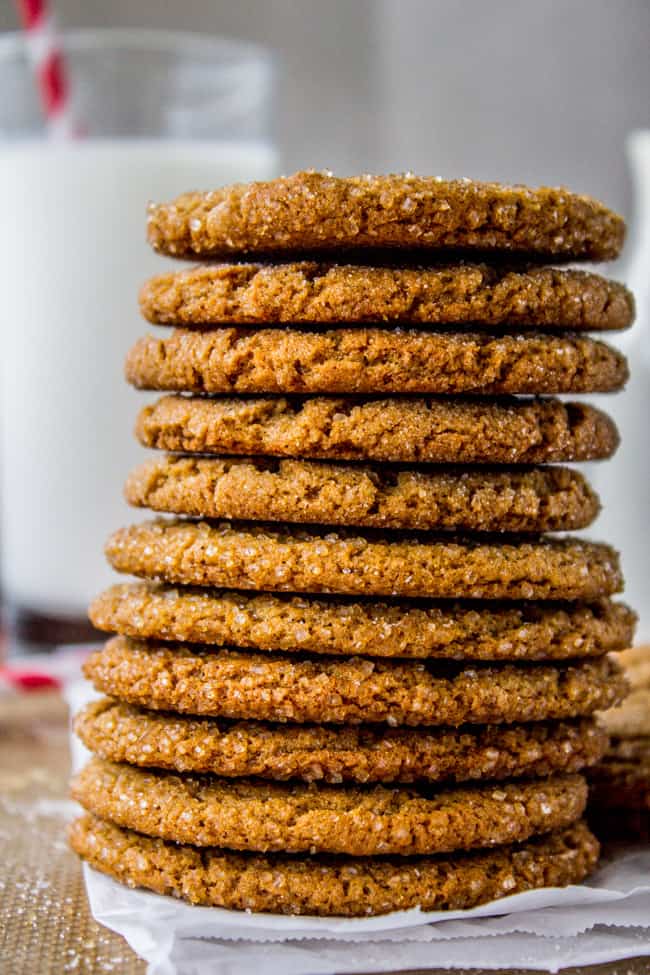 I mentioned that I don't like crisp cookies but clearly that was a lie, because Oreos are crisp and I can go through an entire package as long as the milk is flowing. Gingersnaps fall into the same category for me. Milk is a NECESSITY.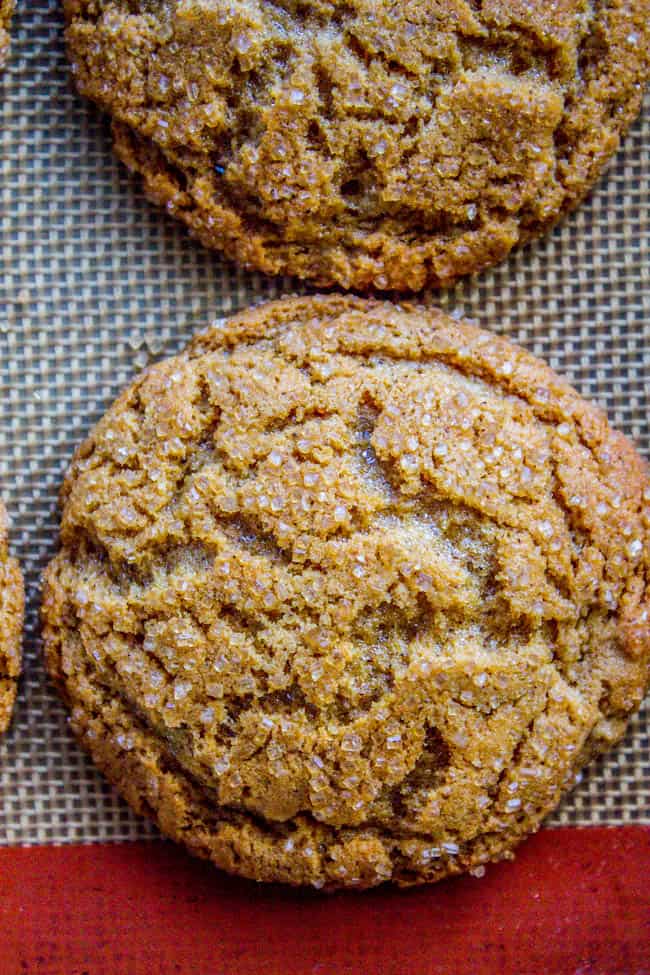 I also tested what kind of sugar to roll them in. Prudy used regular white granulated sugar, of course, but I love the extra crunch that comes with coarse raw sugar. But when you use raw sugar they don't get that pretty sugary shine once they are baked. So I actually like using both: I roll them in coarse sugar before baking, then once they are out of the oven and still hot, I sprinkle them with granulated sugar. Perfect!
Oh and one last thing: the only possible pairing contender? LEMON CURD. Try it guys: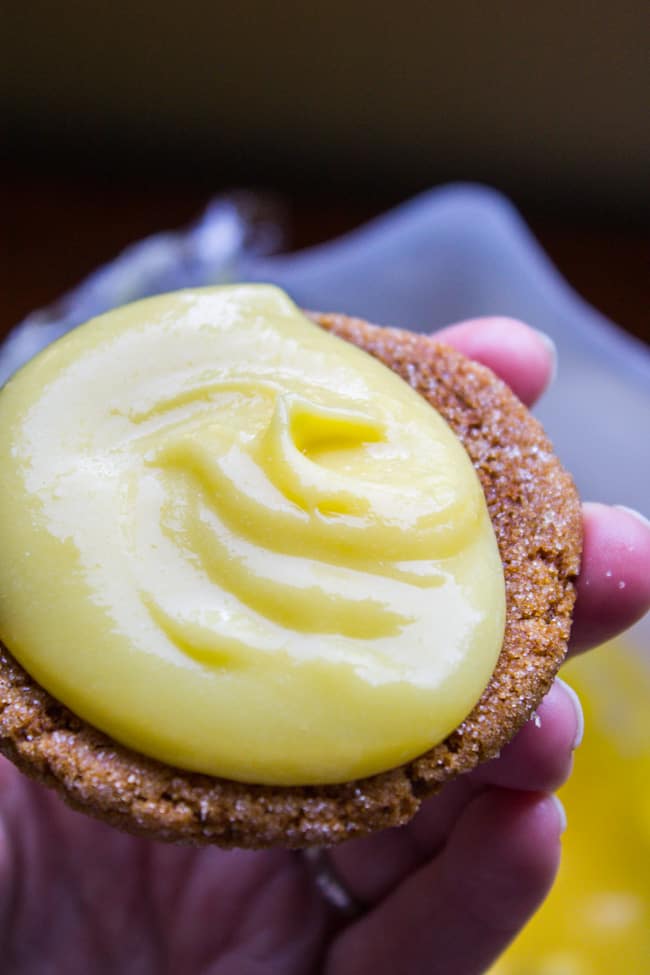 If you make these Gingersnaps, snap a photo and share on social using the hashtag #thefoodcharlatan. I'd love to see it!!
Facebook | Pinterest | Instagram | Twitter

Gramma Prudy's Classic Gingersnaps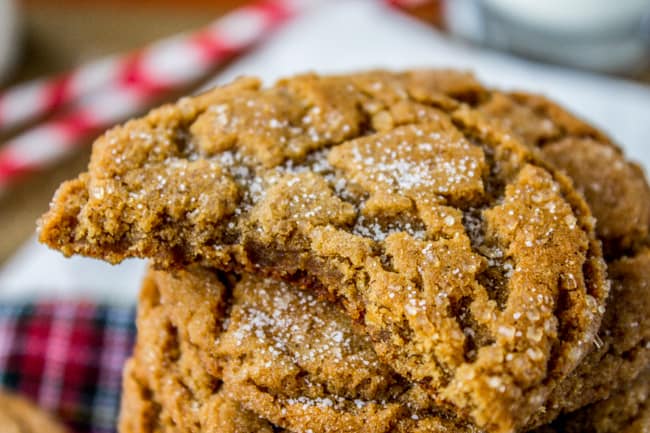 This classic Gingersnap recipe is straight from my husband's great-grandmother Prudy, who was from Sweden. It is a recipe with butter and lots of spice.
Ingredients
3/4

cup

butter

,

1 & 1/2 sticks*

1

cup

white sugar

1/4

cup

molasses

1

large

egg

2 & 1/4

cups

flour

,

spooned and leveled

2

teaspoons

baking soda

1/4

teaspoon

salt

1

teaspoon

cinnamon

1

teaspoon

ginger

1

teaspoon

cloves

1/2

cup

raw sugar

,

for rolling

more white sugar

,

for sprinkling
Instructions
Beat the butter in a large bowl or stand mixer until fluffy, about 1-2 minutes.

Add sugar and beat thoroughly.

Add the molasses and egg and beat well, scraping sides.

Add the flour but don't mix it in.

Form a well in the center of the flour and add the baking soda, salt, cinnamon, ginger, and cloves. Use a teaspoon to stir it into the flour. (You can totally do the dry ingredients in a separate bowl if you want. I'm just lazy.)

Beat until the dough is just coming together. Make sure the flour is incorporated and then stop.

Chill the dough for about an hour, or several days if you like.

Preheat the oven to 350 degrees F. Prepare 2 large baking sheets with silpats or parchment paper.

Roll into balls. I made mine 1 and 1/2 inches** and got 28 cookies.

Place 1/2 cup raw sugar (white sugar is fine) in a shallow bowl. Roll the cookies in the sugar.

Line the cookies up on the prepared sheets, at least a couple inches apart.

Bake in the preheated oven for 10-12 minutes. If you want them super snappy, leave them in a couple minutes longer.

Remove from the oven and sprinkle with regular white sugar.

Eat with tons of milk!
Notes
*You can use half butter and half butter-flavored shortening, which would be 6 tablespoons of each.
**Kris says that Prudy's cookies were about 2 and 1/2 inches when baked, so she probably rolled them into 1-inch balls. And her recipe says bake 10-12 minutes, so they were probably even crispier than mine turned out.
Nutrition
Serving:
1
cookie
|
Calories:
134
kcal
|
Carbohydrates:
21
g
|
Protein:
1
g
|
Fat:
5
g
|
Saturated Fat:
3
g
|
Polyunsaturated Fat:
1
g
|
Monounsaturated Fat:
1
g
|
Trans Fat:
1
g
|
Cholesterol:
20
mg
|
Sodium:
186
mg
|
Potassium:
61
mg
|
Fiber:
1
g
|
Sugar:
13
g
|
Vitamin A:
162
IU
|
Vitamin C:
1
mg
|
Calcium:
12
mg
|
Iron:
1
mg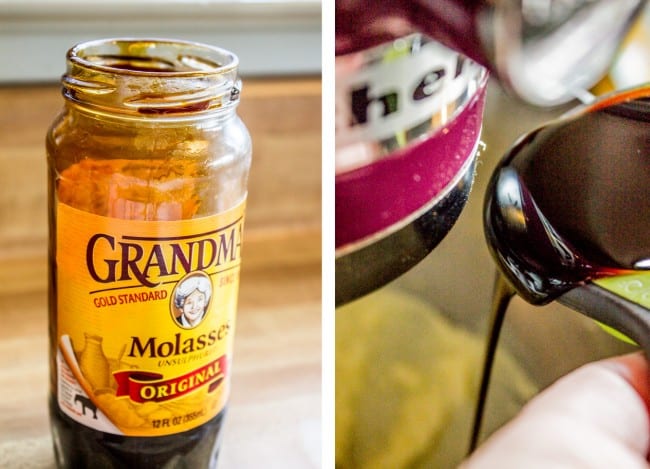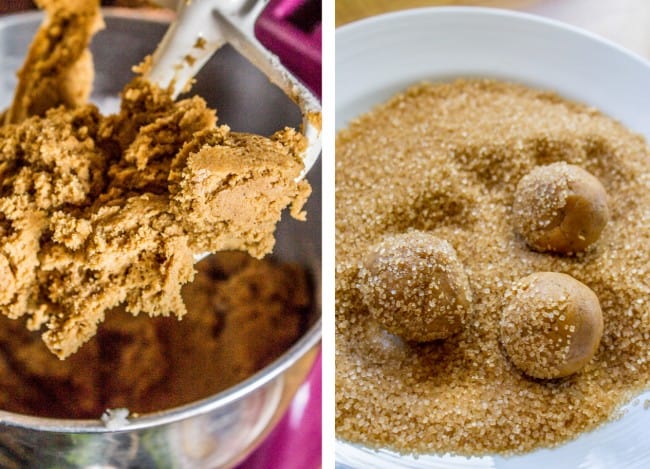 Here are some other fab cookies you could try:
Chocolate Chunk Gingerbread Cookies << now THESE are soft.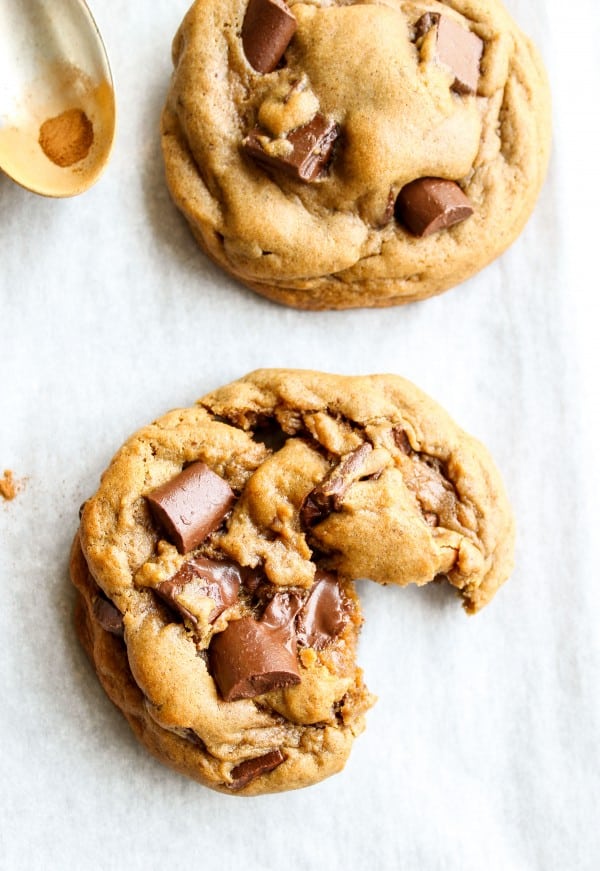 Nutella-Stuffed Gingerbread Cookies << also uber soft. Also uber Nutella. Why are you still here?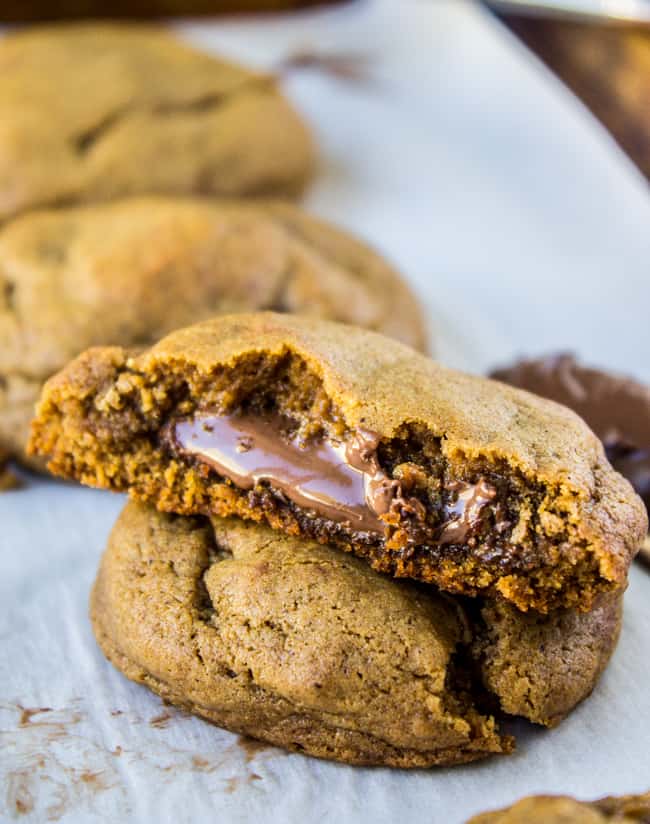 Here are a couple other classics from the archives that are straight from Gramma Prudy:
Butter Pecans << these are a personal favorite of mine. They are the first Christmas cookie we make every year…usually in like early November, haha.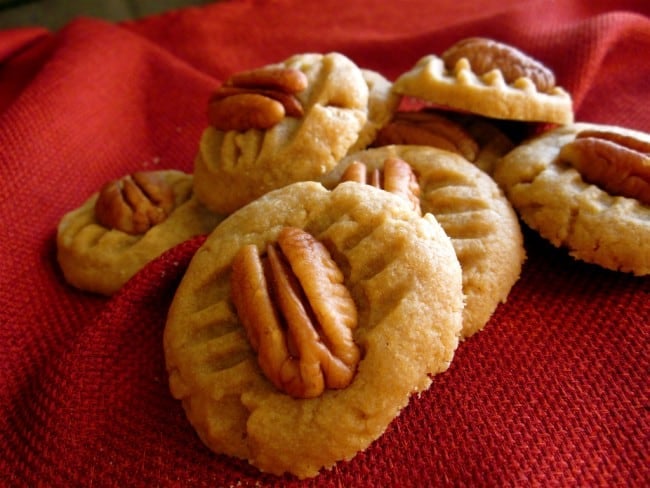 Spritz Cookies << these are essential for a Swedish Christmas. My mother-in-law Kris has never forgiven me for adding a glaze to these cookies. "You put COLORED SUGAR on them Karen. NOT GLAZE." Ah, family cookie feuds. :)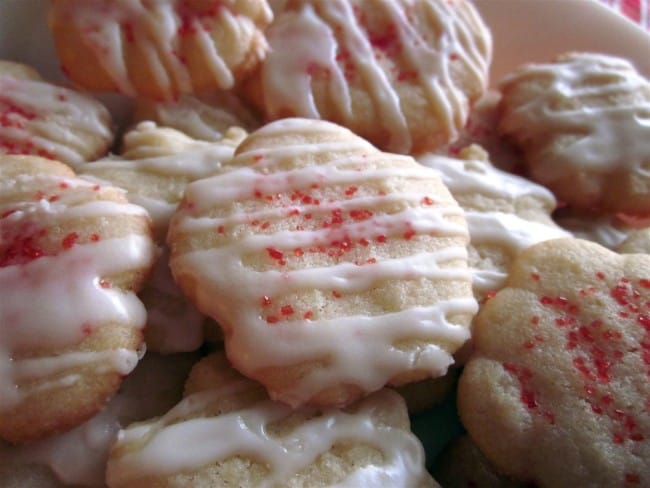 More cookies from friends!
Triple Ginger Cookies from Will Cook fro Friends
Swedish Pepparkakor from Cottage in the Oaks << I need to try these!
White Chocolate Dipped Ginger Cookies from Cooking Classy