Learn how to make the best Pico de Gallo! It's a very simple Mexican salsa with tomatoes, onions, jalapeño, cilantro, and lime juice. Humble ingredients come together to make one of the best appetizers of all time! You will never look at tacos the same after topping them with this magical stuff. Originally published September 4, 2019.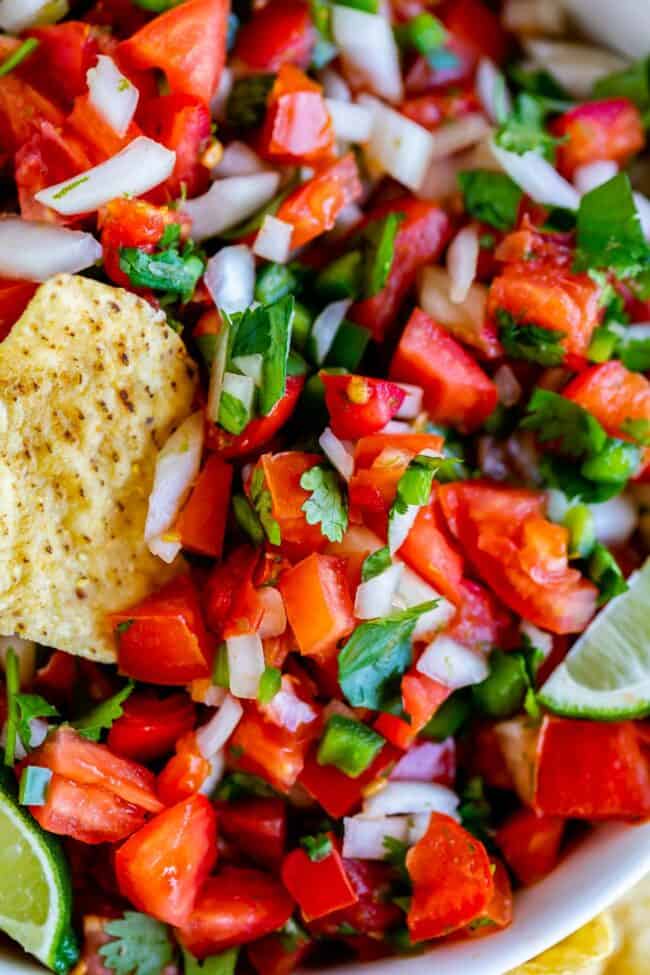 Table of Contents
I've been a little obsessed with country music lately, which is pretty weird for me since I'm usually an alternative kind of gal. But I discovered the radio tab on iTunes (how this stuff gets by me is beyond me. Did you guys know there was radio on iTunes?? I'm an idiot I guess.)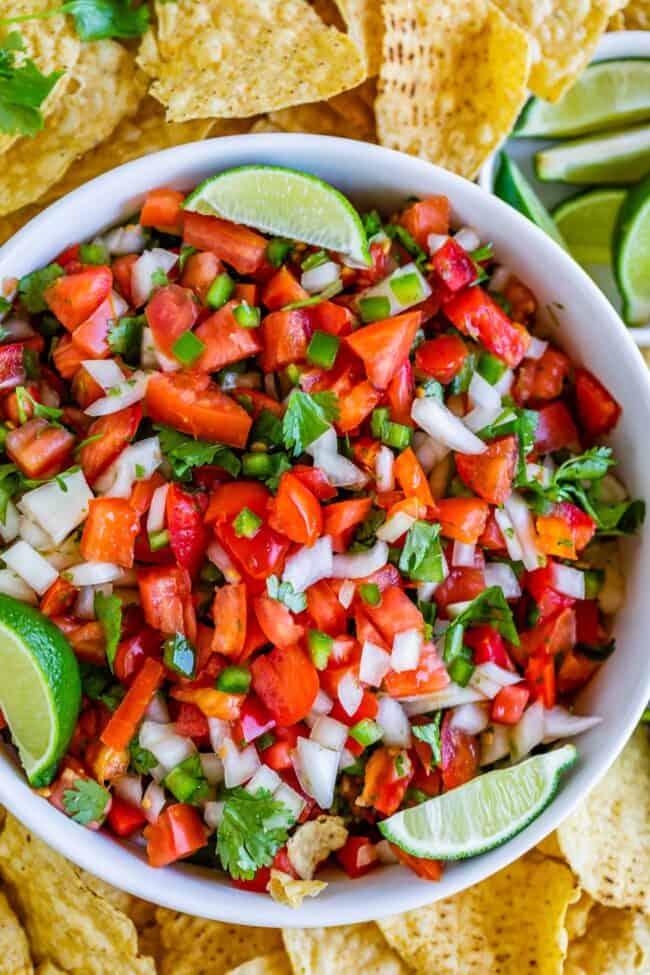 Country music lyrics are HILARIOUS you guys. I had no idea just how good they were. All day for like 3 days straight I sent Eric random lyrics that I heard:
"What's your name, what's your sign, what's your birthday?
What's your wrist tattoo bible verse say?"
I don't know about you, but these are definitely the basics of what I need to know about someone I'm meeting.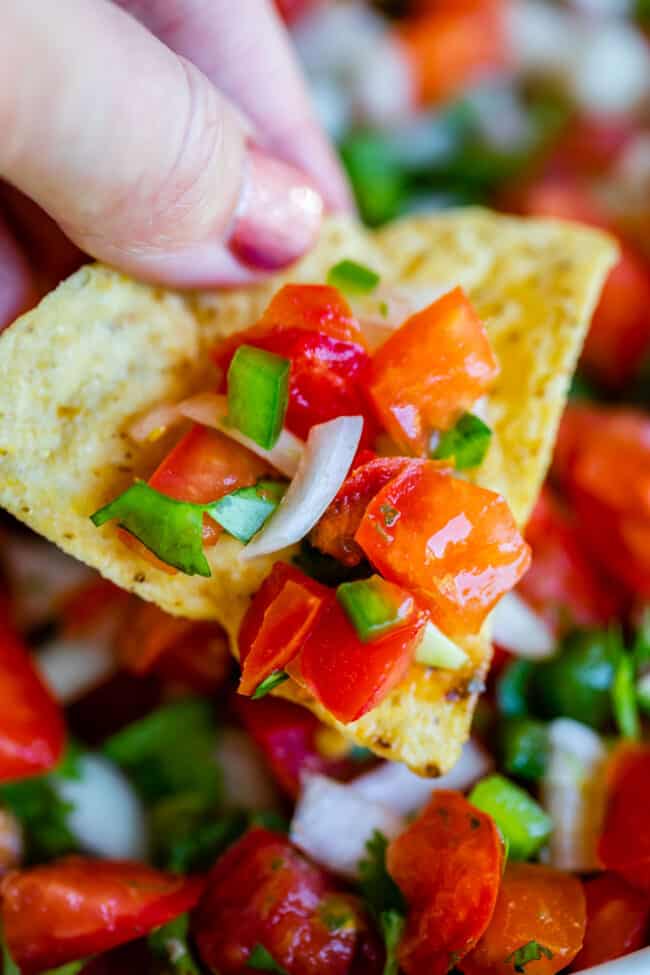 And this one:
"Girl, I know your favorite beer
'Cause you told me
And I bought it"
I mean. This is deep stuff you guys.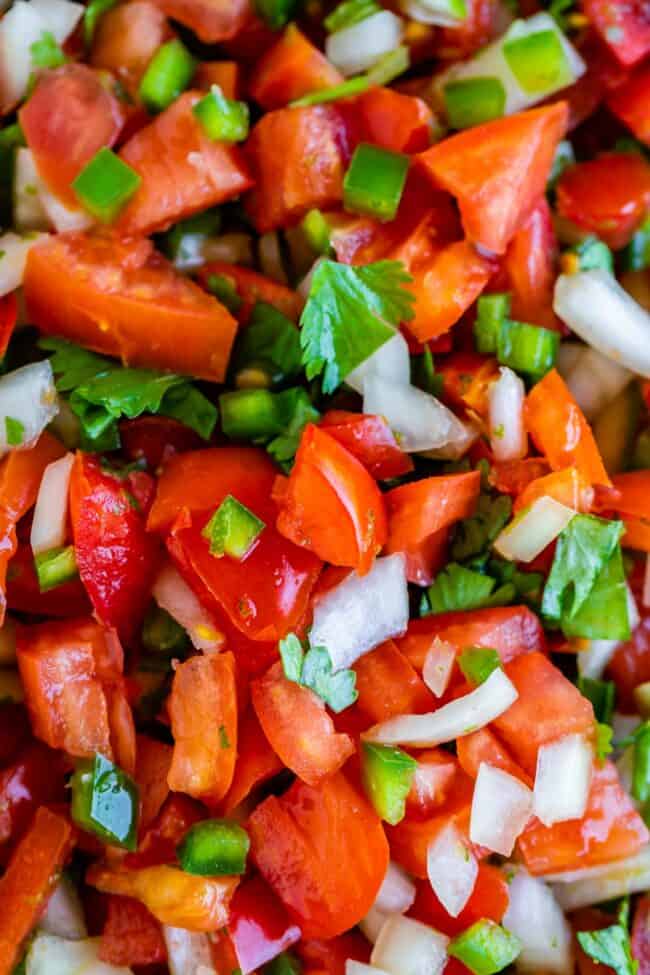 Or how bout this gem:
"I learned everything I needed to know from John Cougar, John Deere, John 3:16."
What more do you need to know in life, right?? Long live country music my friends. I mean, I'm laughing it, but I also can't stop listening to it, so what does that say about me?? I'll update y'all with my wrist tattoo Bible verse when I get one.
We love this recipe for Pico de Gallo!
I hope everyone's having a good week! I made myself a big batch of this pico de gallo this week and thought I would share the recipe with you guys. It's good on SO many things. And perfect for munching on when watching football. It's even healthy! (I mean. Minus the tortilla chips. But who's going to minus tortilla chips?? I'll amend it to healthy-ish.)
What is Pico de Gallo?
Pico de gallo is a cold Mexican salsa served as an appetizer with chips, or as a topping for literally any Mexican food you can think of. The most basic pico de gallo has 6 ingredients: tomatoes, onions, jalapenos, cilantro, lime juice, and salt. We're adding a little garlic and cumin for an extra dose of flavor that makes it even more amazing.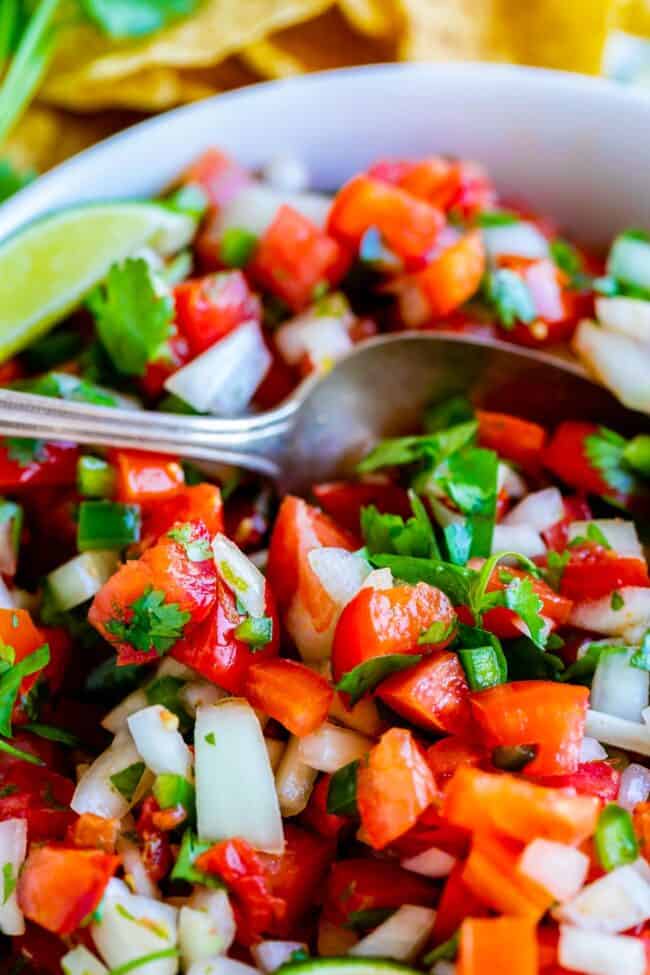 If somehow you've gone your entire life without trying Pico de Gallo, you 1) have lived a sad existence and 2) need to get to the store for these ingredients STAT. The ingredients sound so normal and ho-hum, but when you put them all together on a salty tortilla chip…heaven.
What does Pico de Gallo mean?
Pico de gallo literally means "rooster beak" in Spanish.
Why is it called Pico de Gallo?
There are a few speculations about why it's called that. Some say it's called pico de gallo because it looks like a rooster used its beak to chop up the pico vegetables. Some say people used to eat it by pinching their fingers together, like a rooster pinches its beak. Some say it looks like something a chicken might eat, vegetables minced into tiny pieces. It's one of those things that we will probably never know for sure!
Pico de Gallo ingredients
Here's a quick shopping list to help you gather your ingredients. See the recipe card below for the full ingredients and instructions!
Tomatoes
Onion
Garlic
Jalapeno peppers
Cilantro
Lime
Ground cumin
Tortilla chips (to serve)
Best onion for Pico de Gallo
White, yellow, or red–you actually can't go wrong! I like using white or yellow because they're more traditional, but red is great too. Choose the onion you like eating raw the most.
How to make Pico De Gallo
It could not be easier to make. Just chop up all the veggies, toss it together with some lime and salt, and voila!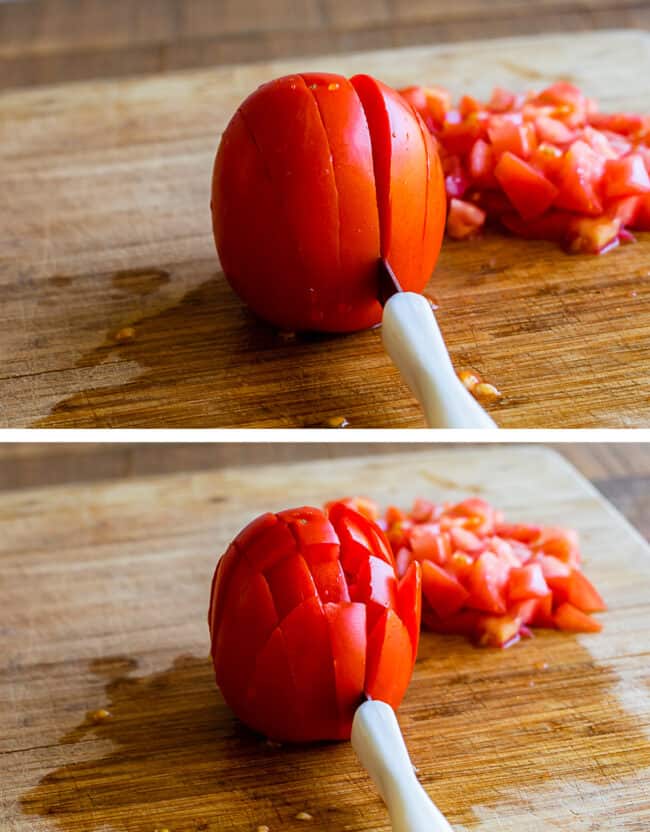 Here's how I like to chop my tomatoes. You don't want to chop them too small, because then they will release even more liquid than normal and make your pico too juicy. 1/2 inch dice is perfect. Chop your onions a little smaller than the tomatoes.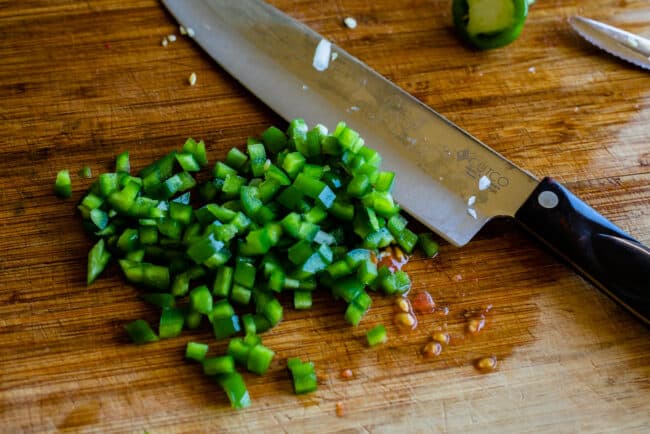 I like smaller chunks of jalapeno. And yes, that is a gloved hand you see in the picture, I've touched my eyes one too many times after chopping peppers! It hurts so bad! I finally broke down and started using gloves when my daughter asked me to help her get an eyelash out of her eye one time, and I forgot I had done jalapenos earlier. OOPS. And ouch.

Do a good job chopping your cilantro. The smaller the pieces, the more distributed the flavor will be. Next time I make it, I'm going to chop it even finer than I did in the photos you see. Use as much or as little cilantro as you want.
And on the right, make sure you zest your lime before juicing it. The zest adds TONS of flavor. This is best done with a microplane grater, which is seriously one of my favorite kitchen tools, for a few bucks you can't go wrong. It's SO sharp.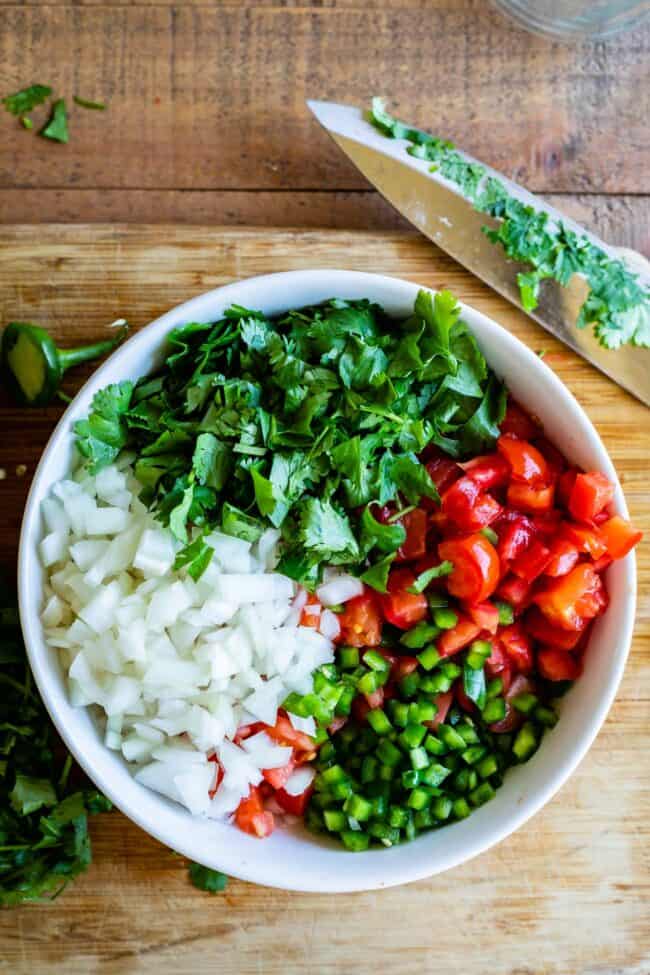 Lastly, don't be afraid of salt. Salt brings out all the beautiful flavors hiding in these veggies. Not enough salt is probably the number one problem with a bad pico de gallo, in my opinion. I also love to add a little cumin, though it's not traditional and not necessary. I just love the earthy flavor it adds. Fresh garlic is another optional ingredient that I love to add that totally amps up the flavor.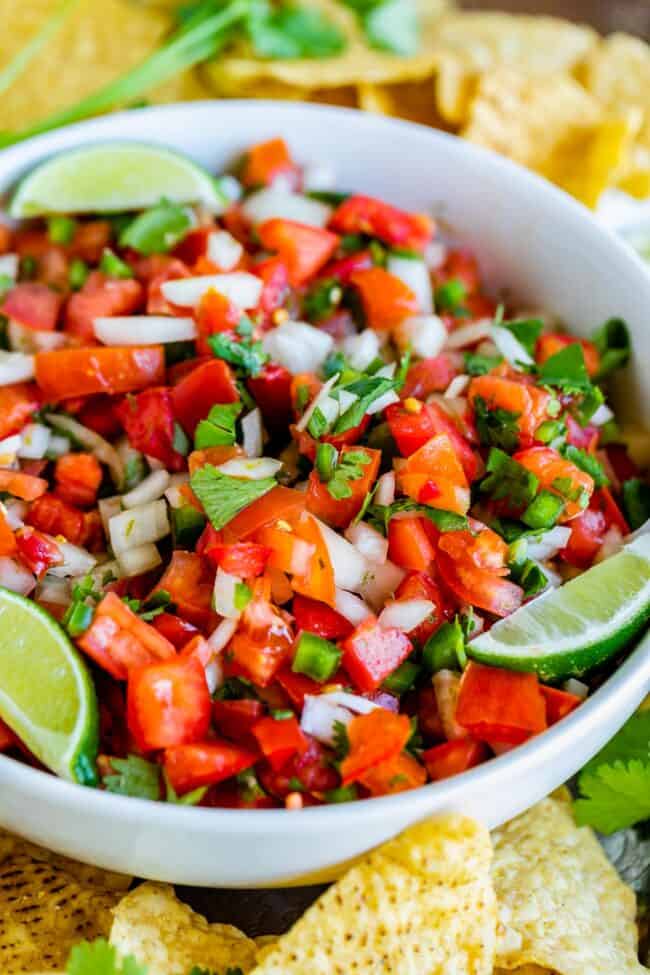 How to serve this recipe for Pico De Gallo
You can serve Pico de gallo with any kind of Mexican food, or just by its glorious self with some tortilla chips. It's good on tacos, enchiladas, burritos, burrito bowls, taquitos, Mexican meatballs…the options are basically endless!
Later this week I will be sharing my recipe for Chicken Enchilada Soup, which is probably one of my favorite soups of all time. There are no veggies in the soup, instead you serve it with this fresh Pico de gallo. It's amazing! Stay tuned!
How to store Pico De Gallo Salsa
Pico de gallo should be stored in the fridge when you're not eating it and stays good for 2-3 days. After that, it's pretty watery and the flavors won't be as fresh. It's easy to make so just cut up and mix the amount you'll eat within a day or two.
Best Pico de Gallo recipe FAQs
What is pico de gallo vs salsa?
Pico de gallo is just a type of salsa. While many salsas are blended and smooth, like the kind you get at Mexican restaurants with chips, this salsa is composed of finely chopped veggies, including tomatoes, onions, jalapeño peppers, and cilantro.
Is pico de gallo good for you?
What are you putting it on? Rice and beans, or a giant plate of cheesy cheesy nachos? Pico de gallo is definitely healthy on its own, because it's just veggies, lime juice, and salt. Most of us aren't eating it with a spoon (or are we…) so determining its health benefits can be weighed against what you're adding it to.
How do you make pico de gallo less watery?
Pico de gallo isn't usually watery when you first make it; it's more of a problem after it's been sitting out for hours or refrigerated for a couple days. You can just drain the liquid, no big deal! It's just the tomatoes and onions releasing juices. Pico de gallo is usually best when it's pretty fresh because the veggies are still plump and juicy, but I'll still throw 3-day-old outta-the-fridge pico on just about anything.
More recipes like this one that you are going to love!
Facebook | Pinterest | Instagram

Pico De Gallo Salsa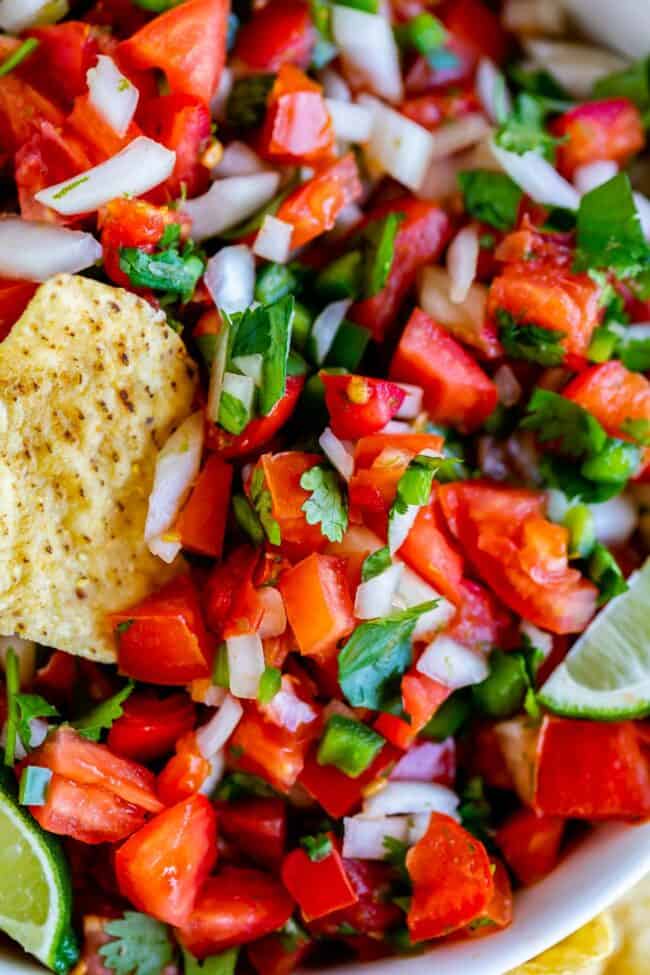 Learn how to make the best Pico de Gallo! It's a very simple Mexican salsa with tomatoes, onions, jalapeno, cilantro, and lime juice. Humble ingredients come together to make one of the best appetizers of all time! You will never look at tacos the same after topping them with this magical stuff.
Ingredients
6-8

ripe tomatoes

,

roma or vine ripe, chopped (3 and 1/2 cups)

1

medium

onion*

,

chopped

1-2

cloves

garlic

,

to taste (optional)

2

jalapeno peppers

,

chopped small

1/2

bunch

cilantro

,

chopped (about 1/2 cup, or to taste)

2

limes

,

zested and juiced

2

teaspoons

salt

1/2

teaspoon

cumin

,

optional

tortilla chips

,

to serve
Instructions
Start by chopping your tomatoes into about a 1/2 inch dice. You should end up with about 3 and 1/2 cups, depending on the size of your tomatoes. Note: The smaller you chop your tomatoes, the more watery (juicy) your pico is going to end up. If that's your thing, dice as small as you like. But if you want a traditional texture for your pico, go with a 1/2 inch dice.

Chop a medium onion. You want the onion pieces to be just a little smaller than your tomatoes.

Smash and mince 1-2 cloves of garlic. This ingredient is optional, but I love the flavor it adds!

Slice the jalapenos in half and remove the seeds and membranes. (Use gloves if you plan to rub your eyes in the next 12 hours.) Leave in some of the white membrane if you like your dip to be extra spicy. (Leave the seeds in if you want it REALLY spicy.) Dice the jalapenos into small pieces.

Wash the cilantro and trim the stems from about half of the bunch. Chop the leaves finely. (The amount of cilantro you add is entirely up to you. Add the whole bunch if you like, or 1/4 cup if cilantro is not your favorite.)

Add the tomatoes, onion, garlic, jalapenos, and cilantro to a medium bowl.

Add 2 teaspoons salt. Add 1/2 teaspoon cumin (this is optional but I recommend it!)

Stir everything together and adjust the salt as necessary.

Toss gently and serve immediately, or chill for 1 hour and serve. Serve with tortilla chips or top your favorite Mexican food with Pico de Gallo, you can't go wrong!

Pico de Gallo will keep in the fridge for about 2 days before it starts getting very liquid-y. You can always strain out the liquid, but you lose a lot of flavor. It's best served on the day it's made.
Notes
*Yellow or white onions (not sweet) are traditionally used in Pico de Gallo, but red onions are also delicious and will lend a sweeter flavor. Use whatever kind you like!
Nutrition
Serving:
1
serving
|
Calories:
20
kcal
|
Carbohydrates:
5
g
|
Protein:
1
g
|
Fat:
1
g
|
Saturated Fat:
1
g
|
Polyunsaturated Fat:
1
g
|
Monounsaturated Fat:
1
g
|
Sodium:
469
mg
|
Potassium:
165
mg
|
Fiber:
1
g
|
Sugar:
2
g
|
Vitamin A:
500
IU
|
Vitamin C:
15
mg
|
Calcium:
15
mg
|
Iron:
1
mg