The juiciest Slow Cooker Pork Tacos! No marinating, just make a simple spice rub and toss it in the crock pot. So easy. Then top it off with a homemade Mexican coleslaw that you are going to LOVE!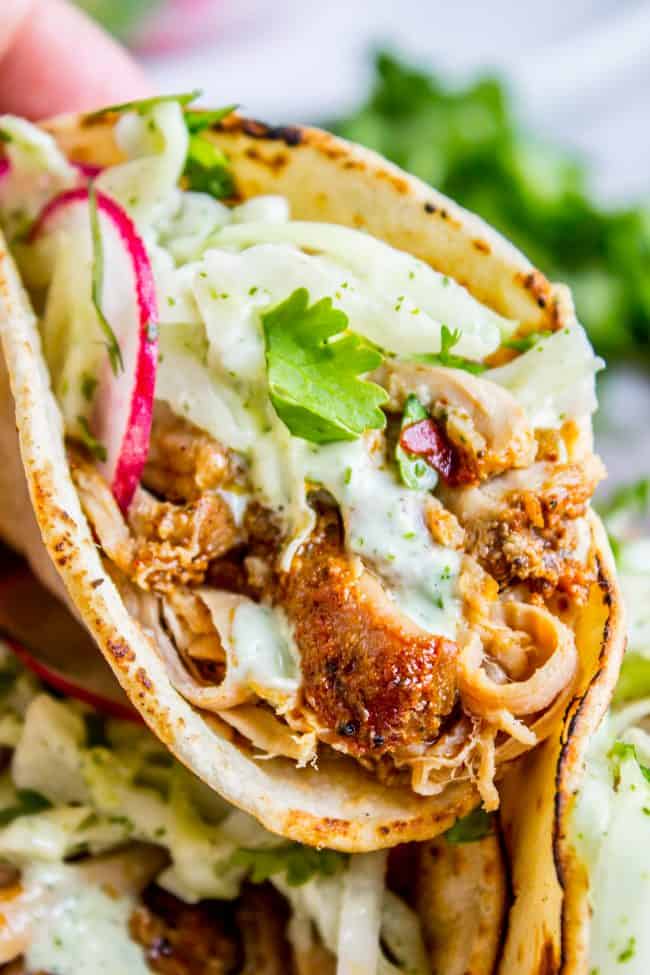 We went camping last week, and one night I was trying to get baby Valentine to go to sleep in the tent before the rest of us. So I'm lying down with her, being quiet, when all the sudden she points at my nose. We often play games to get her to learn body parts (where's your nose?) But I wanted her to go to sleep so I stayed quiet.
She pointed at her nose. Then she put her finger UP my nose and said in the softest voice, "pick. pick."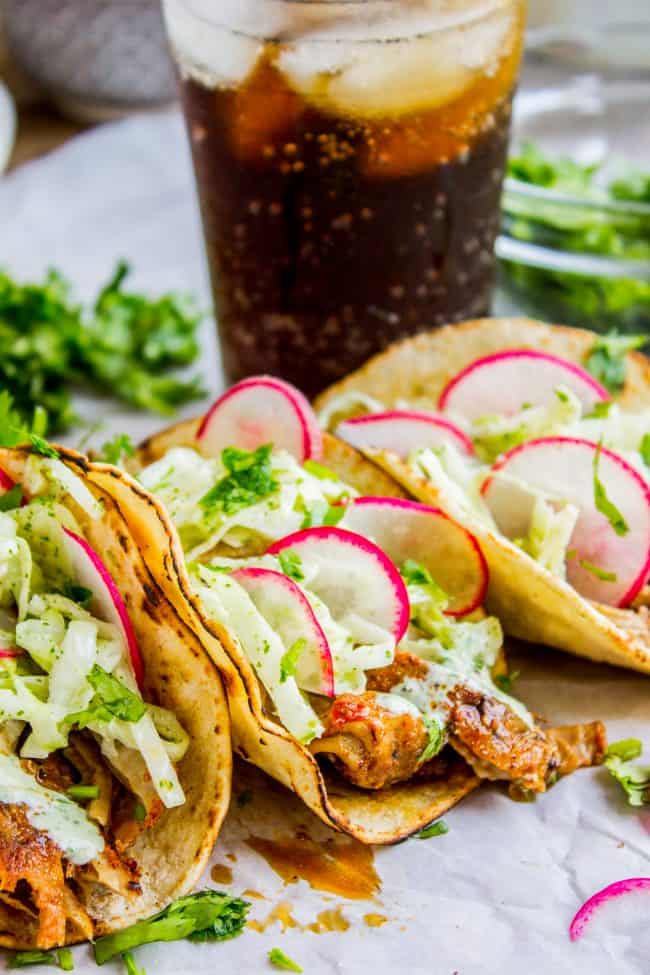 I think she heard Eric and I explaining the joke to the other kids about how you can pick your friends, and you can pick your nose, but you can't pick your friend's nose. Apparently she didn't get the message because she got way up in there. Needless to say, me busting up laughing did not help her get to sleep.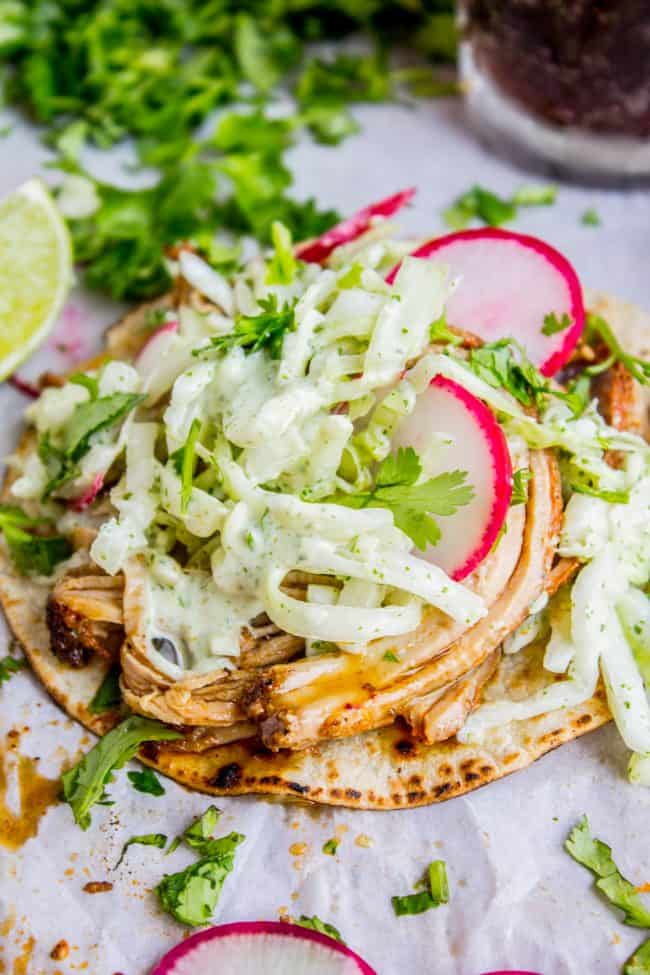 Well summer is almost over guys, can you believe it?? It went by so quickly for us. I've already seen my fellow food bloggers bust out the pumpkin recipes, so we know autumn is coming fast.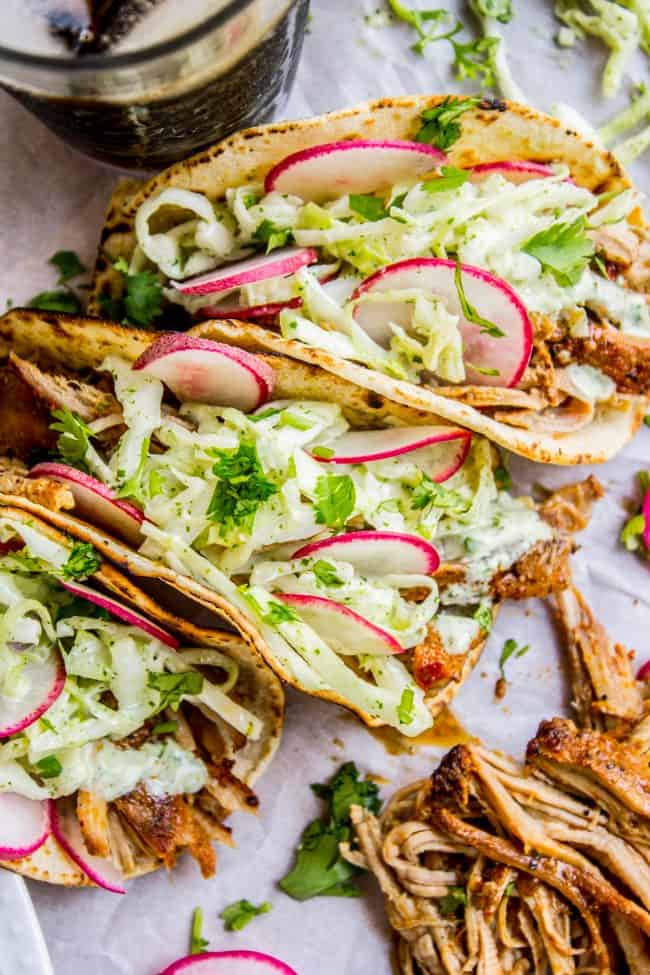 But I'm still feeling summer vibes over here. Tacos=summer, right? And am I the only one who uses my slow cooker year round? It doesn't heat up your house the way the oven does.
Slow Cooker Pork Tacos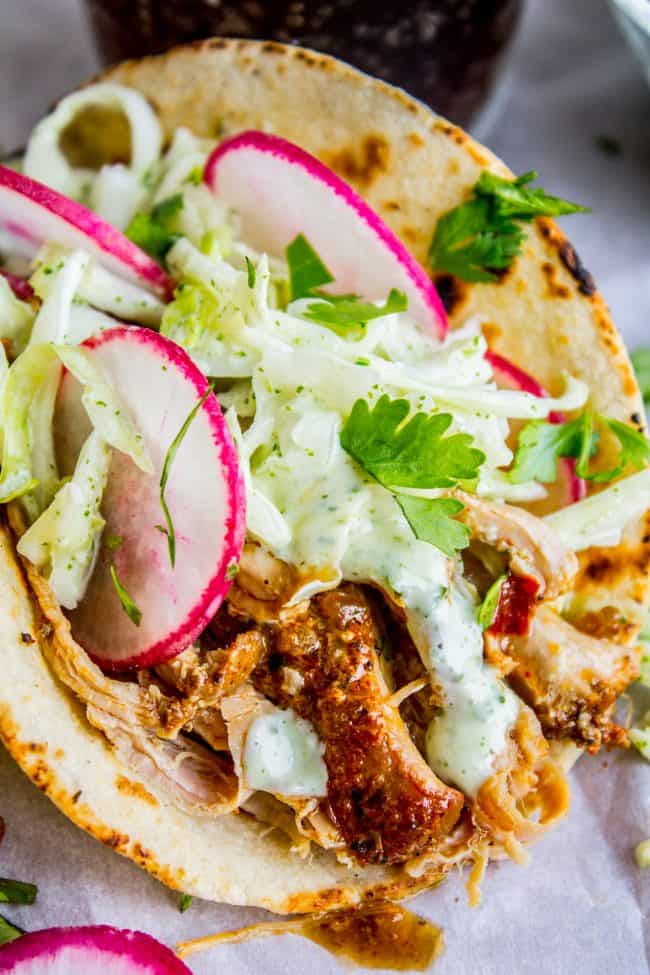 I randomly threw together these slow cooker pork tacos the other day (literally standing at the spice cabinet, dumping stuff together.) I made it on the day we got back from camping, when the only vegetables in my mostly-empty fridge were cabbage and radishes. We liked it so much I decided to make it again and share it with you guys.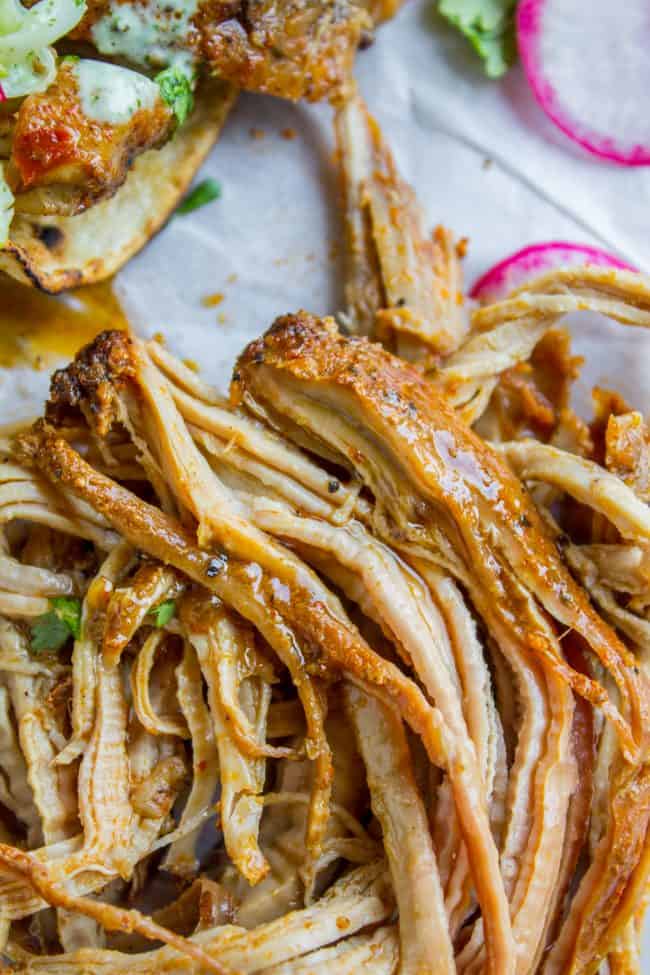 Slow cooker pork is so tender and flavorful. It just falls apart.
Making Mexican Coleslaw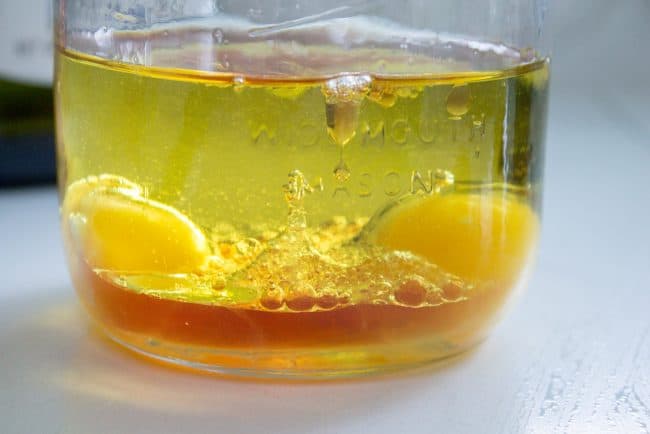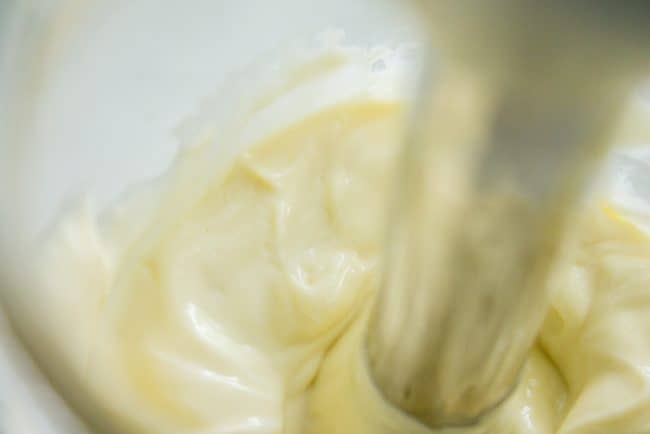 The Mexican coleslaw is made with homemade mayonnaise. Have you ever tried making it? It's super easy. You could try adding the jalapeno, red onion, cilantro, and lime juice to store-bought mayo if you want. I bet that would turn out really good too.

Homemade mayonnaise is so delicious though, and literally takes about 2 seconds. But you do have to be okay eating raw eggs. (GASP!!!)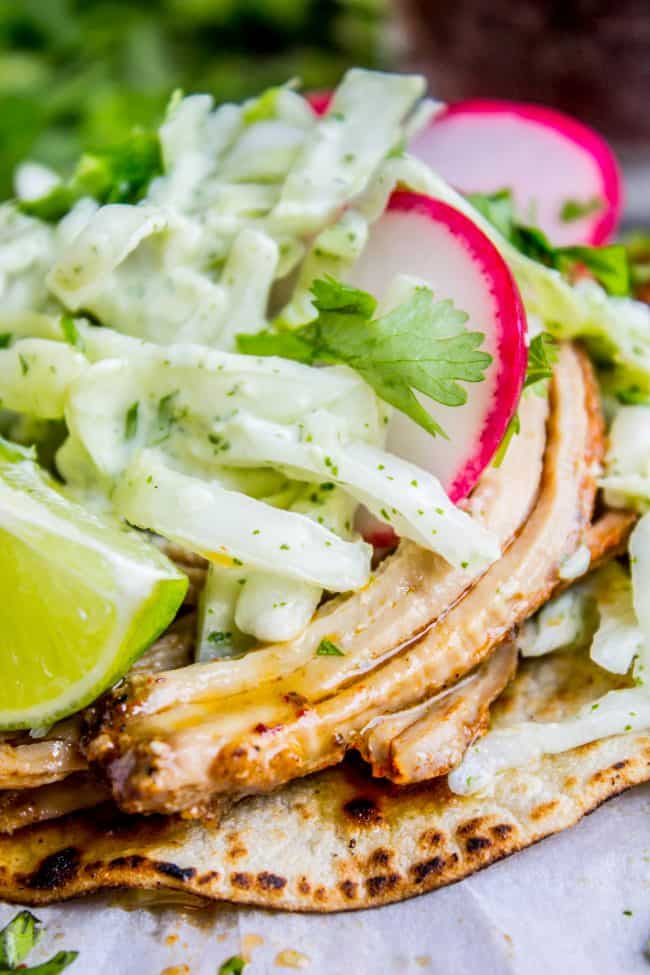 What to serve with slow cooker pork tacos
If you want to upgrade this into an AMAZING Mexican meal, serve these tacos with my favorite Traditional Tejano Pinto Beans (Slow Cooker). You could also make this Vanilla Bean Horchata to drink. And serve chips with 5 Minute Restaurant Style Salsa as an appetizer! Yum, invite me to your dinner party please. ;)
Facebook | Pinterest | Instagram
One year ago: The Best Bakery Style Double Chocolate Chip Cookies
Three years ago: Peanut Butter S'mores Bars < huge favorite of mine!
Six years ago: Easy Sweet Cherry Cobbler

Slow Cooker Pork Tacos with Mexican Coleslaw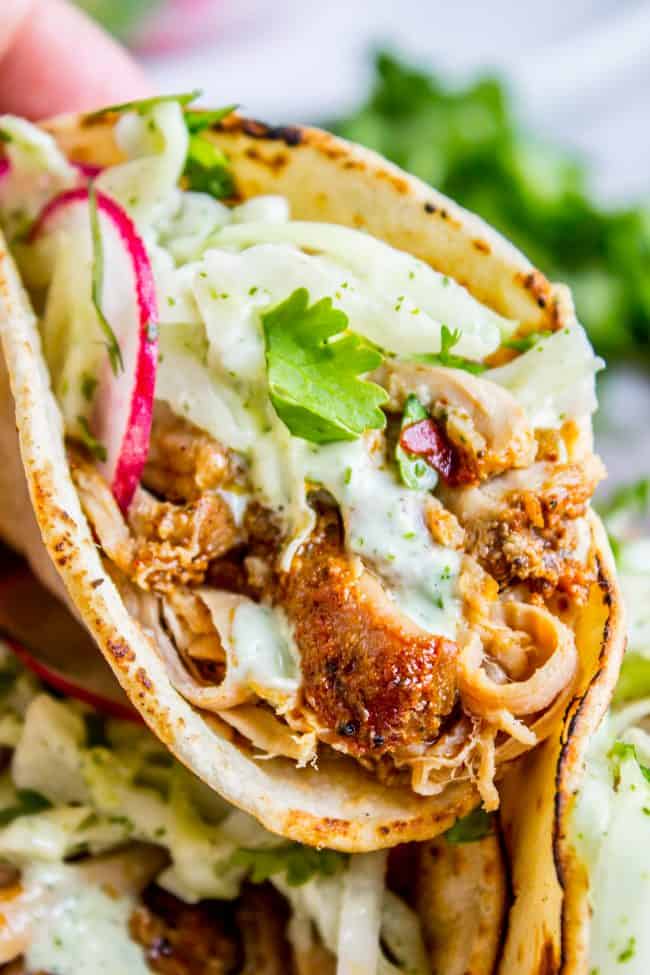 The juiciest Slow Cooker Pork Tacos! No marinating, just make a simple spice rub and toss it in the crock pot. Then top it off with a homemade Mexican coleslaw that you are going to LOVE!
Ingredients
For the pork
2

pounds

pork tenderloin

1 & 1/2

teaspoons

salt

1/2

teaspoon

black pepper

1

teaspoon

garlic powder

1/2

teaspoon

paprika

1/2

teaspoon

smoked paprika

1/4

teaspoon

crushed red pepper

1

teaspoon

dried minced onions

1/2

teaspoon

dried mustard

1/2

teaspoon

chili powder

1

bay leaf

1/2

cup

chicken broth
For the coleslaw
1

head

green cabbage

,

shredded

1

egg

1

egg yolk

1

cup

avocado oil*

1 & 1/2

tablespoons

red wine vinegar

1 & 1/2

teaspoons

salt

,

more to taste

1

jalapeno

,

seeded and roughly chopped

1/2

bunch

cilantro

,

big fistful

1/4

large

red onion

,

roughly chopped

juice from 1 lime
To assemble tacos
corn tortillas

radishes

,

thinly sliced

more cilantro

,

chopped

extra limes

,

quartered (to squeeze over tacos)
Instructions
Pat the pork tenderloin dry with a paper towel and place in your crock pot.

In a small bowl, combine salt, pepper, garlic powder, paprika, smoked paprika, crushed red pepper, dried minced onions, dried mustard, and chili powder.

Rub the meat all over with the spices. Add the bay leaf and chicken broth, making sure not to rinse off all the spices you just rubbed in. Pour it on the side.

Cook on high for 4-5 hours or on low for 7-8 hours.

Remove from the slow cooker and shred on a platter or plate. Drizzle with the juices left in the crock pot. Keep warm until you're ready to serve.

The dressing needs to be blended, so you can either do it in the blender (see step 8) or use

an immersion blender,

which is what I did. I used a mason jar: add the egg and egg yolk to the jar. Add the avocado oil, red wine vinegar, and 1 and 1/2 teaspoons salt. Push the immersion blender all the way down to blend the eggs first, and pull it upward as you blend. Keep pulsing and moving up and down until the mixture looks like mayonnaise. (Hint: it is mayonnaise :)

To make this in a regular blender, add the egg, egg yolk, red wine vinegar, and 1 and 1/2 teaspoons salt. Blend on low. Remove the small lid on top and slowly pour in the avocado oil while it is blending, until it looks like mayonnaise.

Add the jalapeno, cilantro, red onion, and lime juice to the jar or blender. Blend until combined and smooth.

Add about 2/3 of the dressing to the cabbage and stir it together. Reserve the remaining dressing to drizzle over the tacos. You can make this coleslaw a day ahead of time; keep covered in the fridge.

To prepare the tortillas, you have a few options. You can either fry them in little bit of oil, about 30-50 seconds per side (heat on medium). Or you can char them over a gas stove, as I have done for the photos: Place one corn tortilla directly over the gas flame, and turn frequently with tongs. Keep going until brown spots appear, then flip the tortilla and repeat on the other side. Wrap the tortilla in a damp tea towel to steam it, adding tortillas as you go and wrapping it tightly each time. Or, the easiest way to prepare corn tortillas is to wrap a stack of 4 tortillas at a time in a damp paper towel and microwave in 30 second increments until soft and pliable.

To serve the tacos, fill a tortilla with pork, and top with Mexican coleslaw, radishes, and cilantro. Squeeze a lime over the top and drizzle with the remaining dressing. Devour!
Notes
You can also try making the dressing for the coleslaw with store bought mayo. Blend about a cup (maybe a bit more) of mayo with some salt (not as much), the jalapeno, red onion, cilantro, and lime juice.
*If you don't have avocado oil, you can use LIGHT flavored olive oil. (Not extra virgin!)
Nutrition
Serving:
1
g
|
Calories:
625
kcal
|
Carbohydrates:
22
g
|
Protein:
36
g
|
Fat:
44
g
|
Saturated Fat:
7
g
|
Polyunsaturated Fat:
6
g
|
Monounsaturated Fat:
29
g
|
Trans Fat:
1
g
|
Cholesterol:
156
mg
|
Sodium:
1369
mg
|
Potassium:
983
mg
|
Fiber:
6
g
|
Sugar:
6
g
|
Vitamin A:
556
IU
|
Vitamin C:
63
mg
|
Calcium:
108
mg
|
Iron:
3
mg
More taco recipes you will love!
Traditional Tejano Carne Guisada (Braised Beef for Tacos) << the sister recipe to the Tejano Beans I mentioned above. SO GOOD.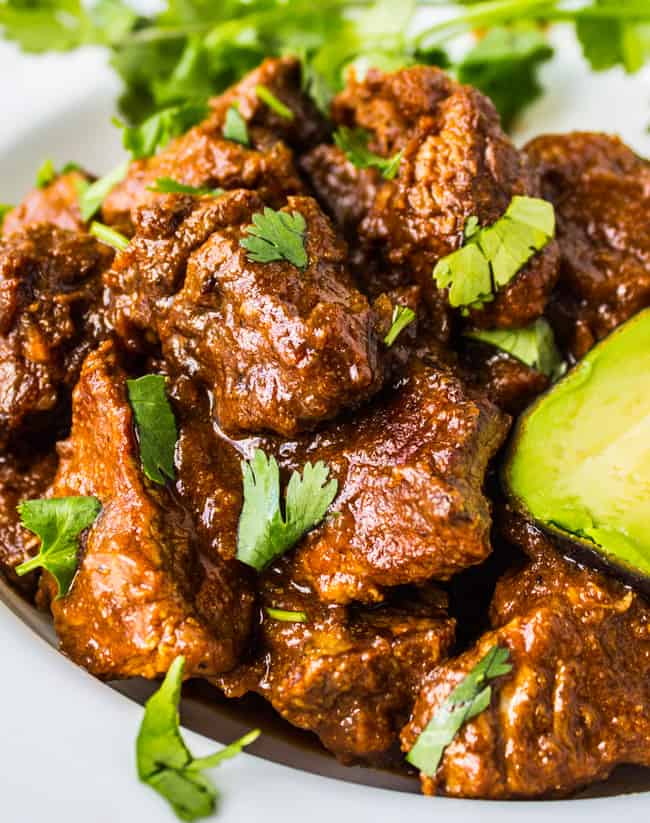 Asian Pork Tenderloin with Ginger Glaze << people have commented on this recipe saying they have used the pork to make a killer Asian style taco. I need to try it!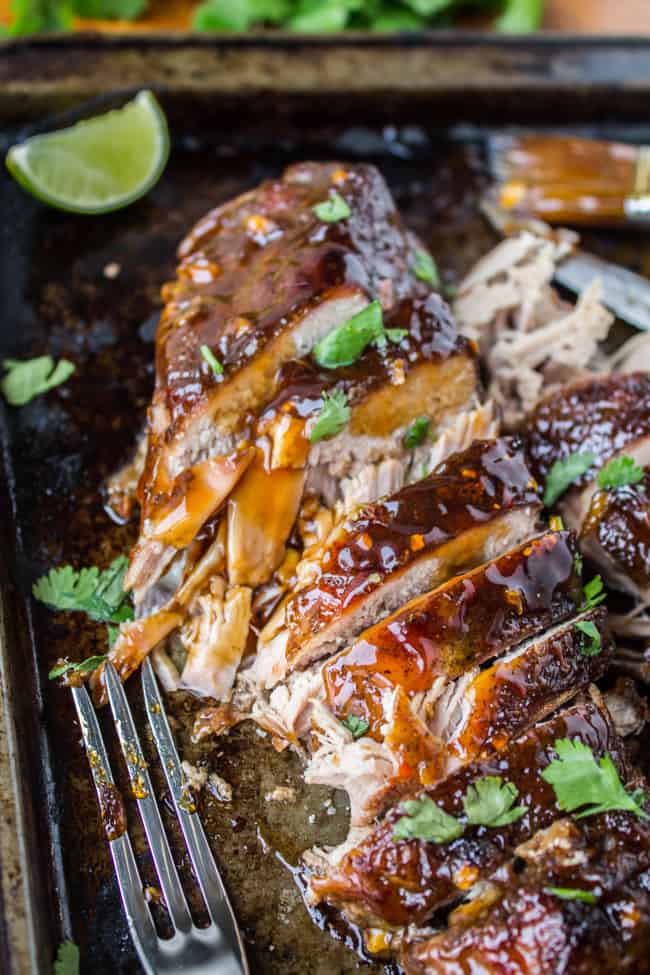 Cuban Mojo Marinated Pork (Lechon Asado) << the NUMBER ONE recipe on my site! With good reason! This pork would also make amazing tacos.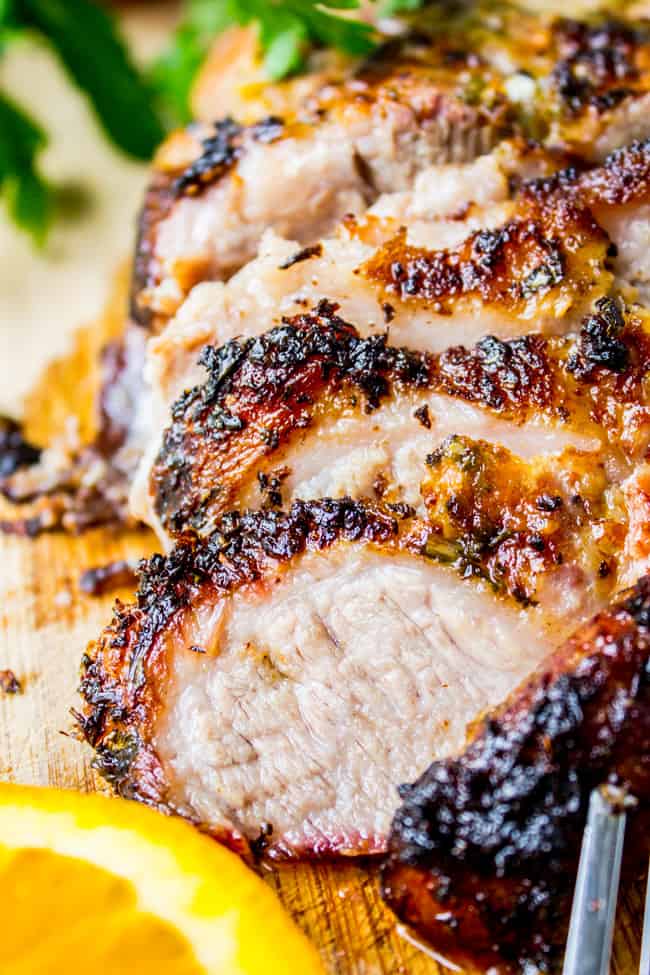 More taco recipe you are going to love!
Shrimp Tacos with Creamy Taco Slaw from Well Plated
Instant Pot Chicken Tacos from Wine and Glue
Buffalo Chicken Tacos from A Mindful Mom