Mexican Street Corn Dip (Elote)
This is just like Mexican Street Corn (Elote) but it's in dip-form instead of cob-form. It is the perfect combo of sweet corn and savory tart cheese. Plus it's a lot easier to eat AND you get tortilla chips. Win!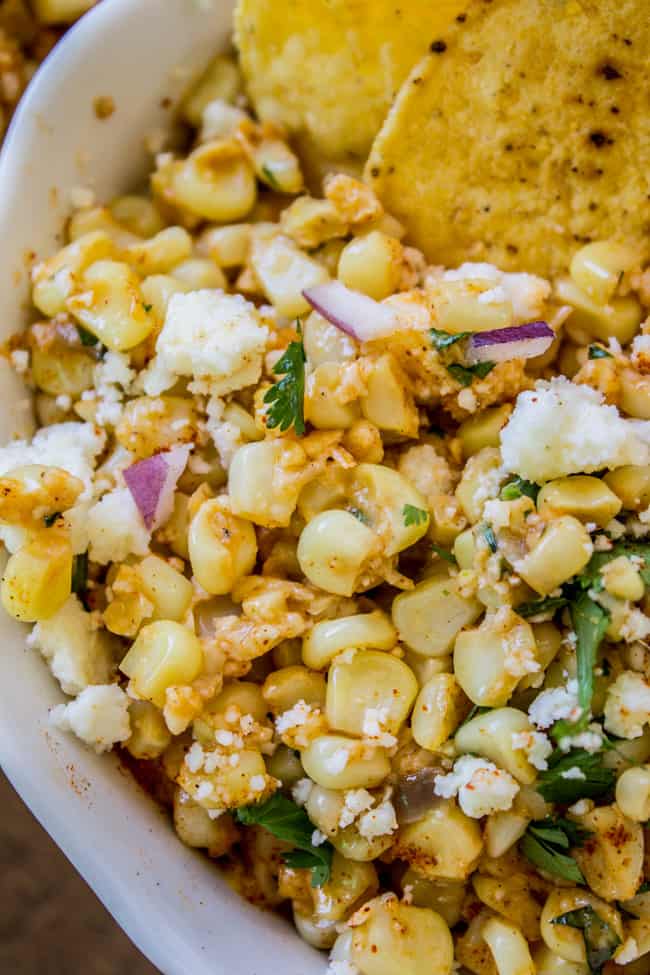 My cousin Lani makes this corn dip for every family get-together in the summer, and every time it disappears so fast. I make a point to eat at least 3x my share of corn dip before even bothering to grab a hot dog from the grill (sorry family, I'm the reason you didn't get corn dip…I'm in it for the win.)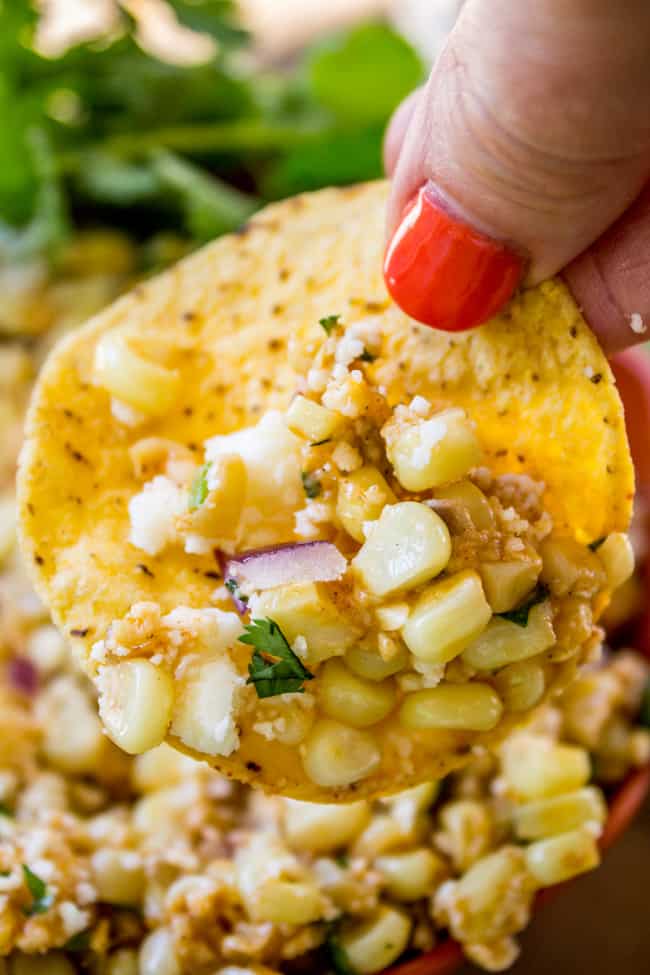 My niece Ella requested this corn dip for her graduation party a few weeks ago. I volunteered to make it because then I knew I would be able to pin Lani down for the recipe. Lani is one of those amazing cooks who makes amazing food with seemingly no effort. I know it looks all fun and games here on the blog, but if you actually saw me working in my kitchen, I'm sweatin'. ("Wait, was is 1/4 of salt or 1/2 teaspoon??") Lani just freestyles it and everything comes out incredible.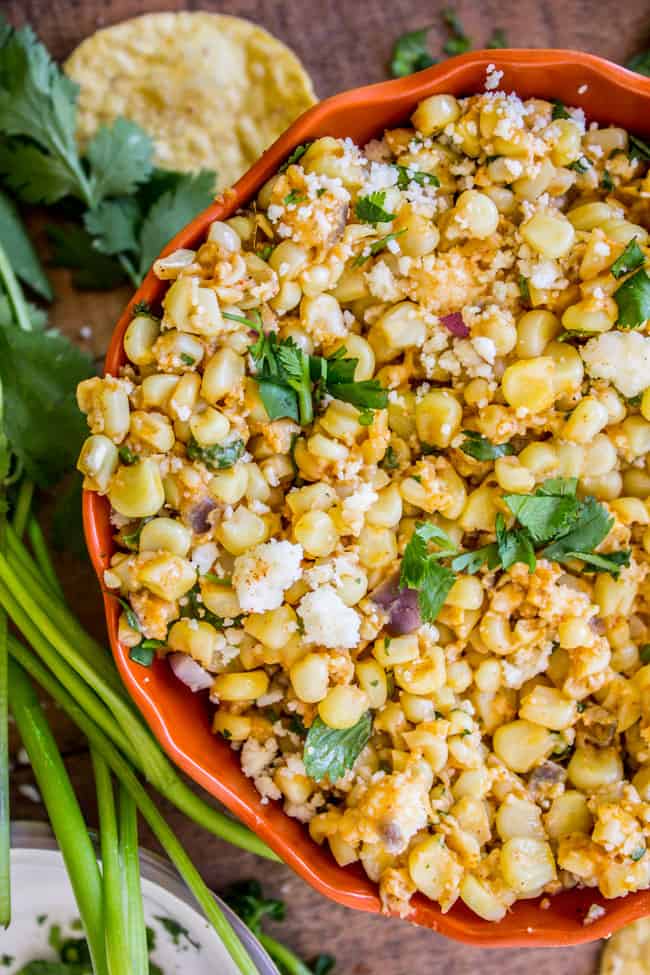 But she's REALLY bad at translating her "recipes" for the average lay person (me). "Lani, can I have your recipe for ___ ?" "Oh yeah, it's so easy, you just take a little__ and a little__ and add it until it's like ___, you know?"
Sure Lani. Thanks for NOTHING. (One of the top recipes on my site was me trying to recreate a random side dish she made for dinner one time. Obviously that one turned out okay.)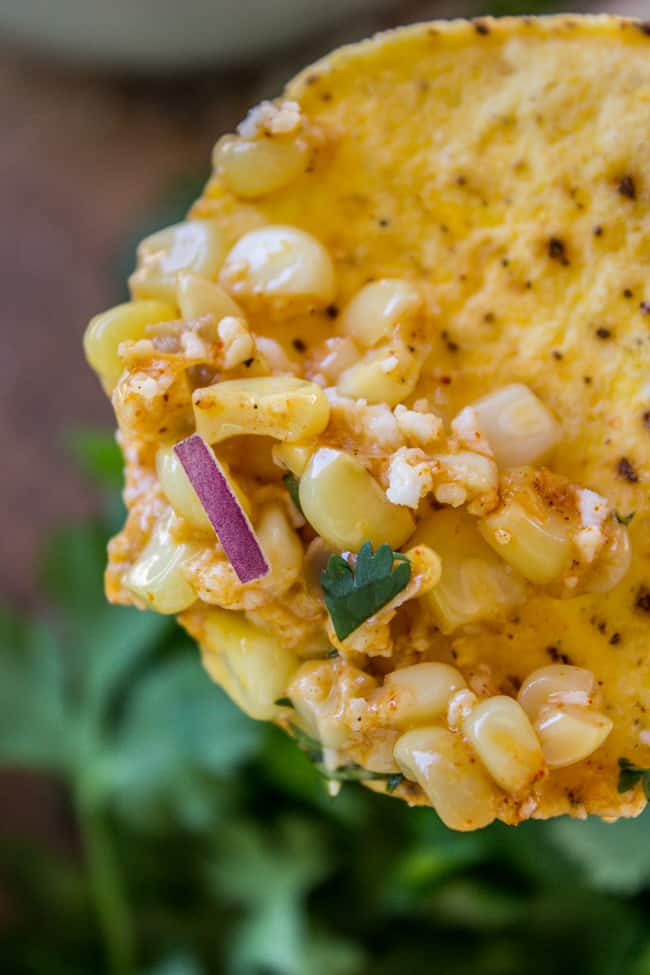 I called her to get the corn dip and she started explaining how she makes it before I could find a pen. I finally found one and wrote down corn, butter, garlic, red onion, salt, pepper, paprika, mayo, cotija, cilantro. That's all I could remember from what she said.
But she tried the dip at the party and said it's even better than when she makes it. She's probably just buttering me up, but I'll take it.
Next I want to get her guacamole recipe, but I know she'll be like Karen, just get some avocados and smash them up with lime juice and add some–and I'll be like, BUT HOW MANY AVOCADOS LANI and she'll be like CALM DOWN IT'S JUST GUACAMOLE. #charlatan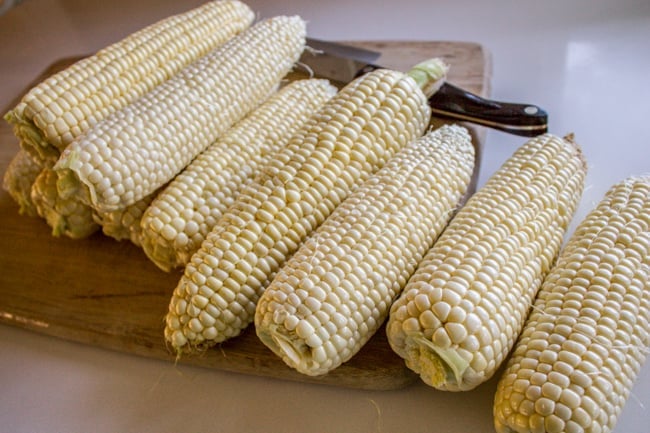 Lani said to get more corn than you think you need, like 10 cobs for one bowl of dip.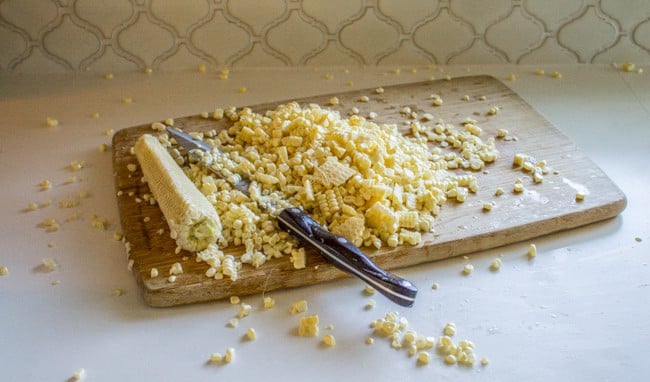 Lop off all that corn. It makes a big ol' mess on your counter. Worth it!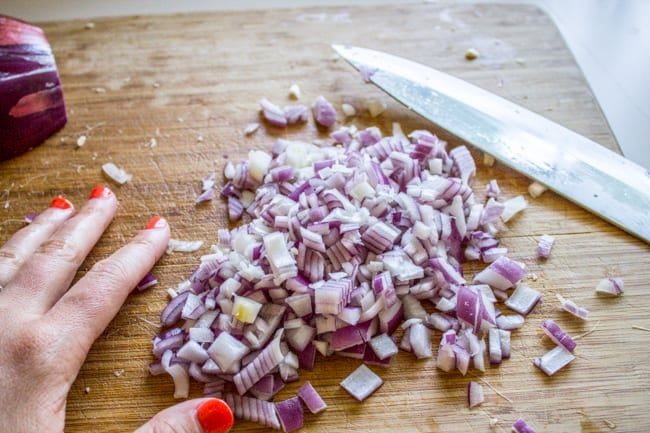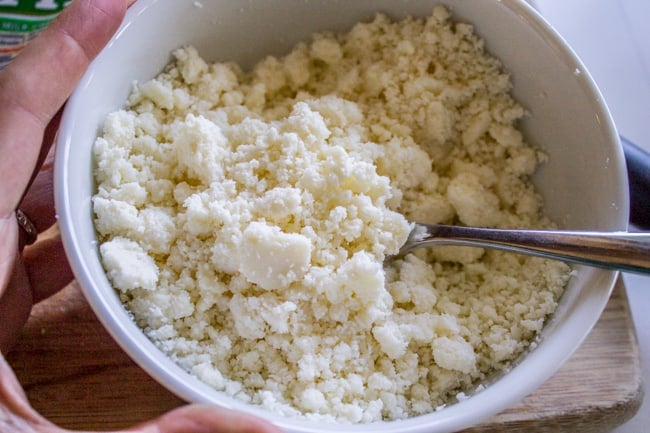 Have you ever had Cotija? It's a dry Mexican cheese. It's so good on salads, barbacoa, tacos, burrito bowls…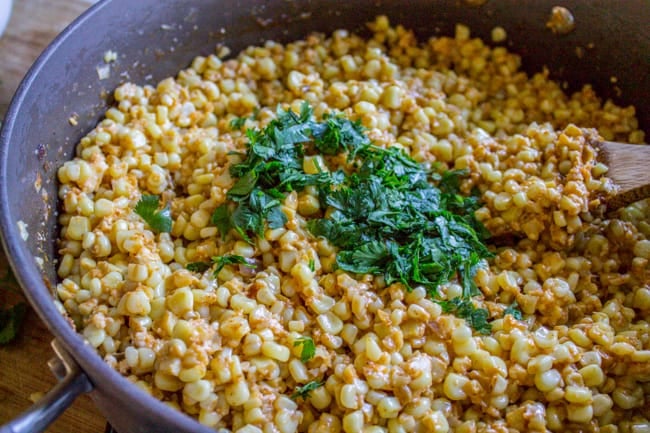 If you're a cilantro hater you can leave it out. But do try to convert yourself, hater. You're missing out.
Enjoy! I think this would be the perfect summer appetizer to bring to your 4th of July parties coming up!
If you make this recipe, share it on Instagram using the hashtag #TheFoodCharlatan so I can see it! I love that.
Facebook | Pinterest | Instagram | Twitter

One year ago: THE Chocolate Chip Pie
Two years ago: Asian Cheese Ball
Five years ago: Father's Day Recipe Round Up


print
Did you make this recipe?
Leave a review »
Mexican Street Corn Dip (Elote)
Serves 8-10
adjust servings
Ingredients
10

fresh cobs of corn

1/4

of a red onion

1/2

cup (1 stick) salted butter

2

cloves garlic, smashed and minced

3/4

teaspoon paprika

3/4

teaspoon chili powder

1

and 1/2 teaspoons kosher salt

cracked black pepper to taste

3

tablespoons mayonnaise

5-6

oz Cotija cheese

2-3

tablespoons cilantro, chopped

tortilla chips, for serving
Instructions
Husk the corn and use a sharp knife to chop the corn off of the cob. Chop up 1/4 of a red onion.
Heat a large skillet over medium heat. Add the butter and let it melt. Add the corn and onion.
Let the corn and onion cook for about 8-10 minutes, until the corn is starting to brown and stick to the pan.
Add the garlic, paprika, chili powder, salt, and pepper. Cook for 1 minute, then remove from heat.
Let the mixture cool slightly.
Chop the cilantro. Put the cheese in a bowl and use a spoon or fork to crumble it.
Add mayonnaise, Cotija, and cilantro and stir to combine.
You can serve this dip warm, room temperature, or cold, though I love it best when it is slightly warm.
by The Food Charlatan

If you make this recipe,
share it on Instagram
 using the hashtag
#TheFoodCharlatan
so I can see it!
When I Dip You Dip We Dip: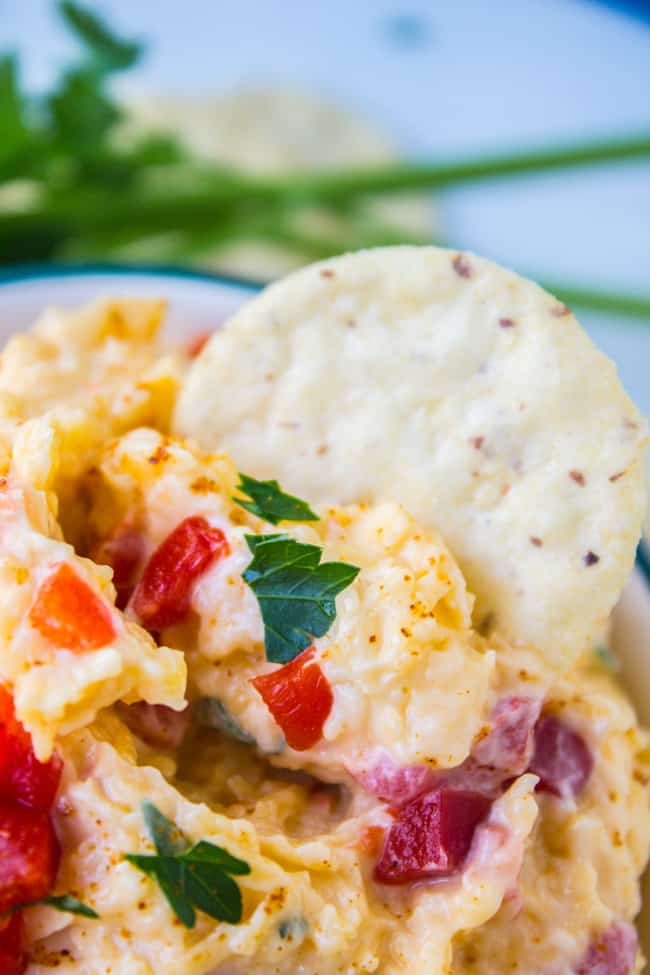 Fresh Bruschetta Lentil Dip << Sounds weird, but it' a favorite of mine!
Cheesy Buffalo Chicken Dip << always a crowd pleaser!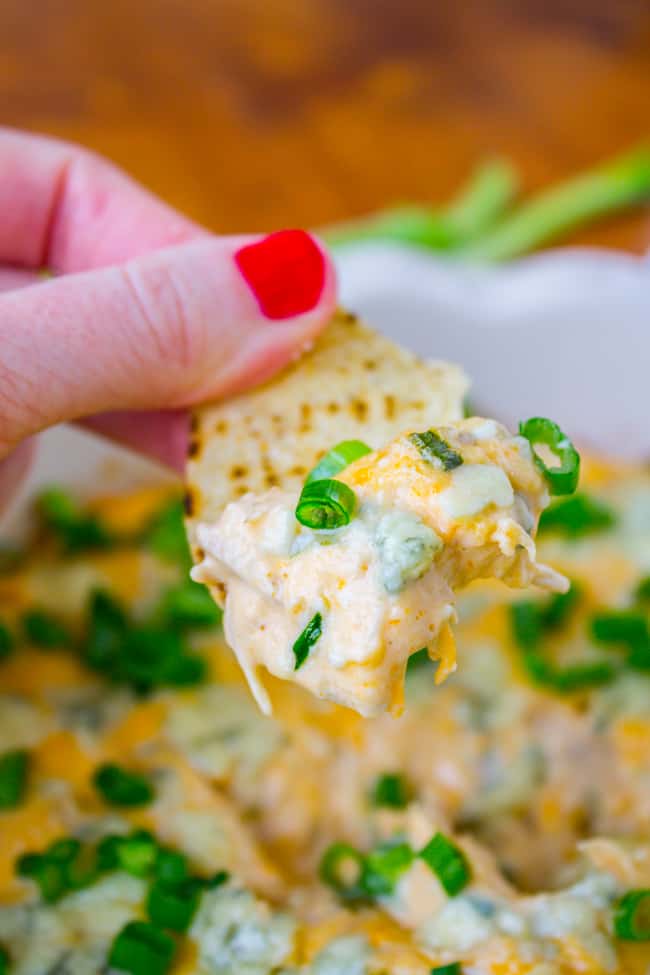 We are a participant in the Amazon Services LLC Associates Program, an affiliate advertising program designed to provide a means for us to earn fees by linking to Amazon.com and affiliated sites.