Why do we buy canned salsa? Whyyy?? This salsa takes 5 minutes to throw together, and it really does taste like it's from a restaurant. Also, scroll down to read how Eric and I have been hosting Taco Tuesdays all summer, and how you can too!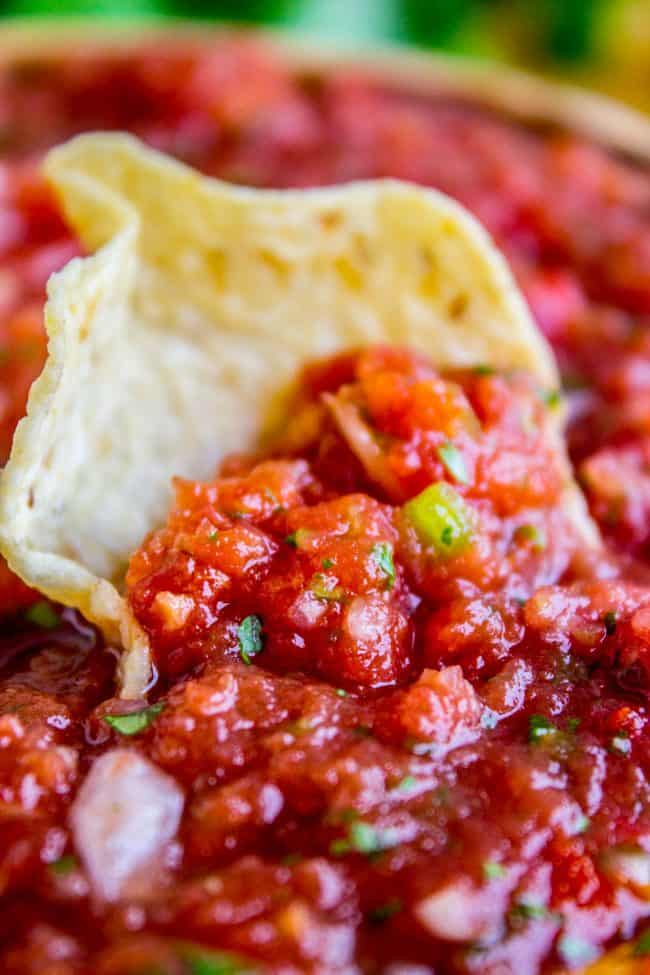 I mentioned a few weeks ago that Eric and I have been hosting Taco Tuesday this summer. It has been super fun! I feel like one of the greatest casualties of suburbia and text messages is that no one "drops in" anymore. This is convenient for all-day pajama days (hey, it happens), but is a huge bummer when it comes to building friendships.
Every time I start a new group on Facebook, I get a congratulatory message. "Great job! You're building community!" Facebook groups have their place in the world, but it's not true community in my opinion. Humans need human interaction, and screen interactions are rapidly replacing them, which is a little crazy if you ask me.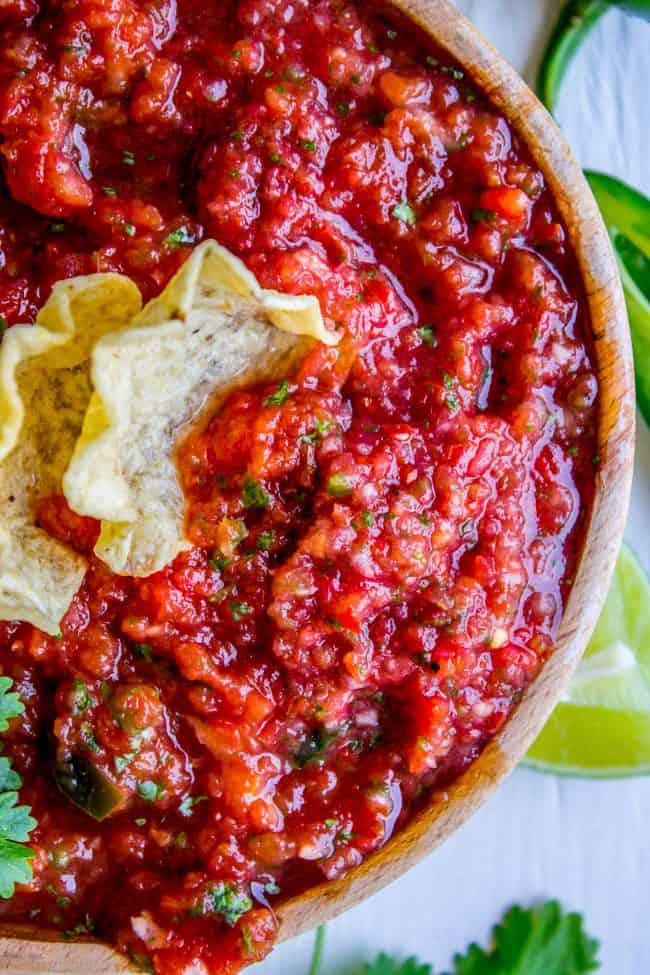 Enter Taco Tuesday. A standing drop-in event. I wanted to give a few more details in case you want to try hosting your own!
Invite.
Here is the text message that I sent out to a few friends and neighbors:
"Every Tuesday from 6-8pm bring the family to have dinner and hang out with us! We will provide all taco fixings. (Unless you happen to have some tomatoes or shredded cheese to use up, then you're allowed to bring it, but the rule is NO grocery store trips.) This is just a fun and casual night to hang out. (We all need to eat dinner, why not do it together??) I will not be cleaning my house or wearing fancy clothes for Taco Tuesday. We will be using paper plates. This is meant to be a drop in event; no need to come every week, no need to explain why you can or can't make it, just show up between 6-8 every Tuesday.
If you want to read the official rules for "How to Host a Crappy Dinner Party" (inspiration for Taco Tuesday), read this post. Hope to see you Tuesday!"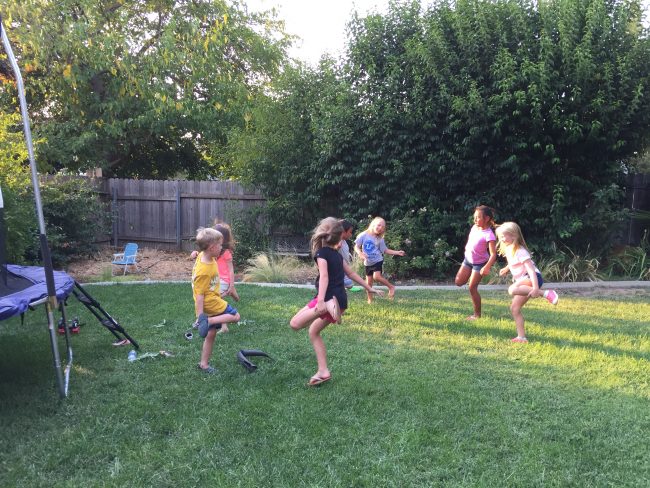 You can invite a bunch of people, or make it more intimate and just invite your BFF family over every week. If there are only a few families and everyone commits, then you can make food assignments. The reason I didn't ask people to bring stuff is because sometimes if people feel obligated to bring something, that is their reason for not coming. "Oh I'll skip it this week, I don't feel like making a side." I didn't want anyone to feel pressure, so I said just come for free dinner. People love free food and I'm not above buying friends apparently.
You also don't have to make it every week. Eric and I aren't doing this forever; just for the summer months. You could do the first Tuesday of every month, or of course whatever night of the week works best for you.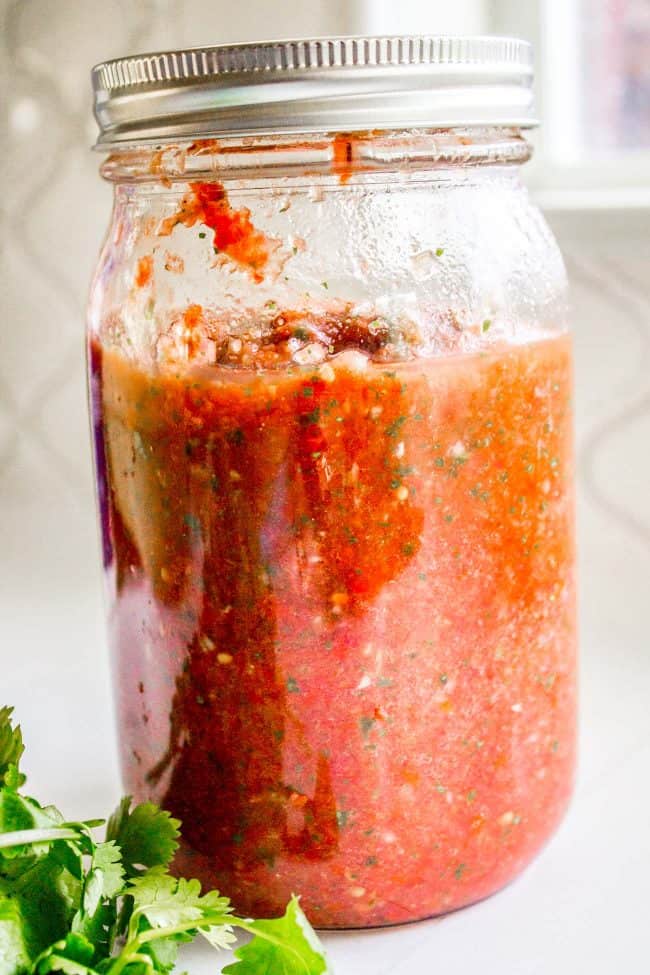 2. The Food.
Now you guys know how much I like food. As much as I love to get down in the kitchen, Taco Tuesday is not the night for it. Keep the focus on having fun, not cooking. Here is our menu, yes, every week:
Flour tortillas
Rice
Taco meat (ground beef cooked with homemade taco seasoning, or with a regular ol' taco seasoning packet) I always add a can of beans to make it go further. If you have vegetarian friends, you could also jazz up some canned beans for your taco filling, like in this recipe. Sometimes I make both.
iceberg lettuce
tomatoes
salsa (recipe below!)
tortilla chips
cheese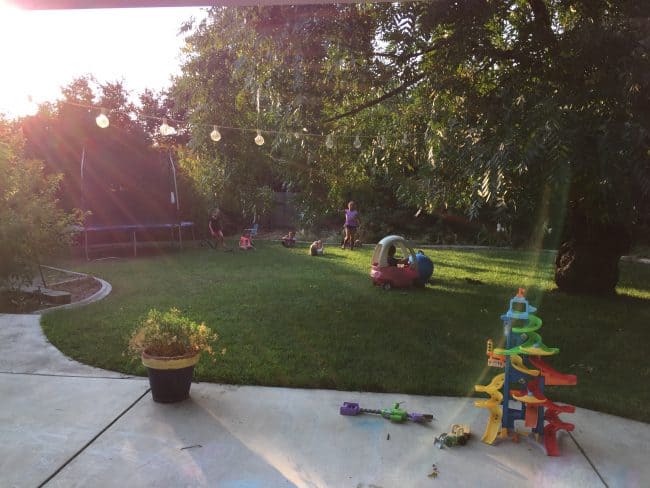 You will also need paper items:
Paper plates
plastic silverware
napkins
cups
sharpie
The sharpie is so that people can write their names on their cup. (Or skip the cups and grab a pack of Aquafina at Safeway like I did!) Water is simple and cheap, don't complicate your life.
It really isn't that expensive. Taco stuff is pretty cheap. If there are leftovers, I freeze what I can to use the next week. Taco meat freezes beautifully. I also freeze extra tortillas and shredded cheese.
Also notice: there are no side dishes. No desserts. No fancy drinks. The idea is to keep it SIMPLE.
3. Prep.
This section is short. Remember, the idea is to not stress yourself out in the name of entertaining. You are inviting people over to chat with them, they are not there to see your model home. I do general clutter pick up so that people have a place to sit, and light a candle so that the house smells nice. Thaaat's it.
Summers are busy and people forget, so I often send out reminder texts to people.
4. Have fun!!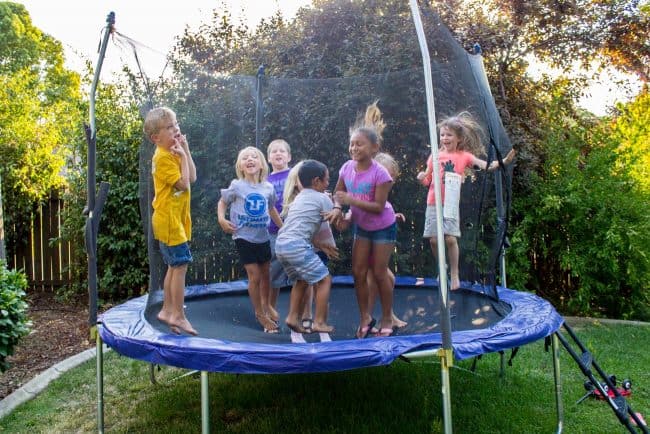 That's the whole idea right! You guys seriously have to let me know if you try out your own Taco Tuesday. It has been such a fun part of our summer this year.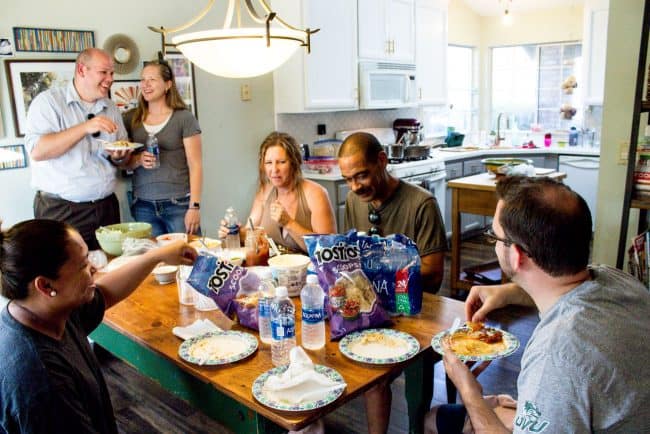 (There's my neighbor Tyrone in the middle. Of the famous Mac and Cheese contest!)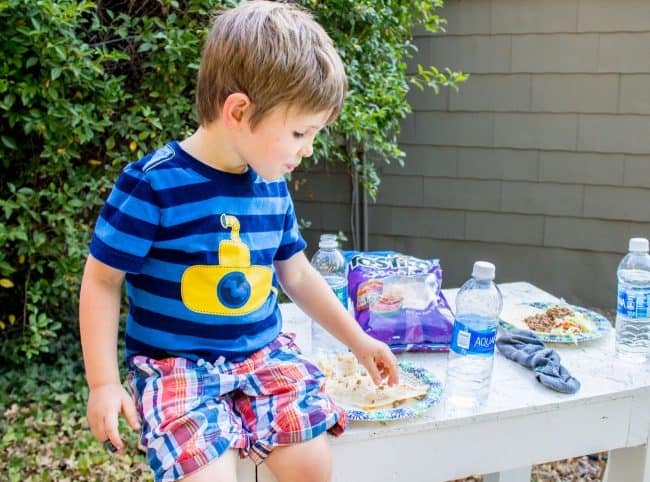 Here's Truman. He's eating the inside of his taco with his hands. Typical.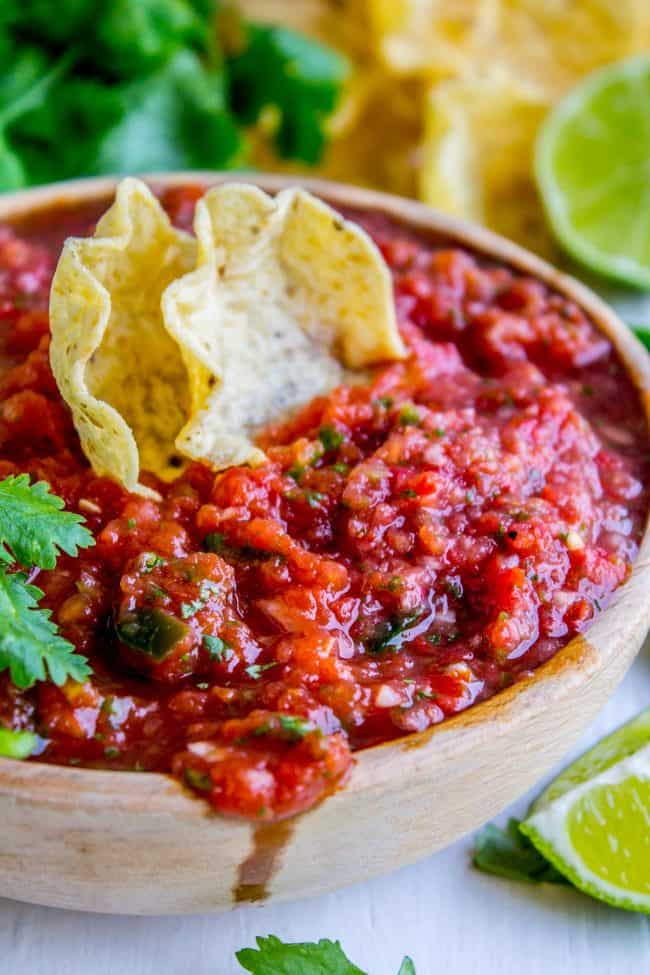 And now for the SALSA recipe, amigos. Salsa is one of those phenomenons that has remained in mediocrity far too long. Bad salsa is everywhere (jarred chunky salsa, anyone?) Why are we still buying this stuff? It's just wrong. Why doesn't somebody can Restaurant Style Salsa (meaning it's all blended up) and sell it in stores? It would be so easy to do.
I tested out a few batches to get this salsa just right. I tried it with fresh tomatoes, canned tomatoes, and one time I added too much cilantro in addition to over blending it, which turned it brown instead of red. (It still tasted amazing. Let me be clear: there is never too much cilantro. But if you are posting pictures of your salsa on the internet, it probably shouldn't be brown.)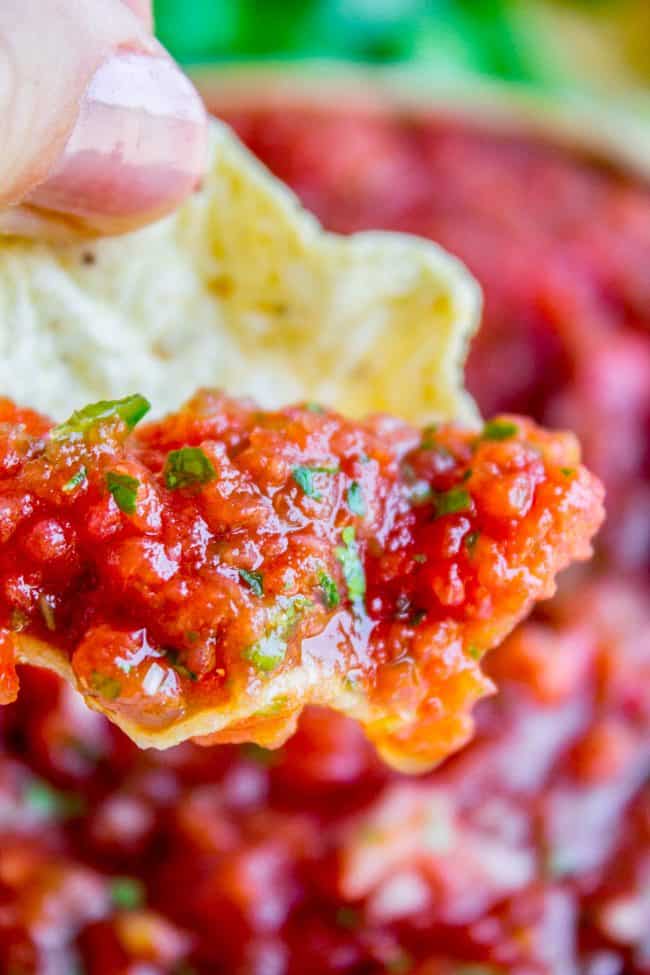 Fresh tomatoes are great, especially if they are straight from the garden. Can't beat that flavor. BUT. Fresh tomatoes are super watery, which was the problem with my first batch. You only want about 12 ounces of fresh tomatoes. If you are doing canned, you're going to use 14.5 ounces. If you are a nervous salsa maker, use canned tomatoes! It's pretty foolproof. And the flavor really is on par with fresh. Just make sure you drain them well.
The other secret ingredient here is cumin, a tip I got from The Pioneer Woman. You can add it to taste or leave it out, but I think it's so great! The other ingredient you NEED is salt. Taste your salsa, and if it doesn't take like you want to eat 10 more bites, add more salt. It really is like magic.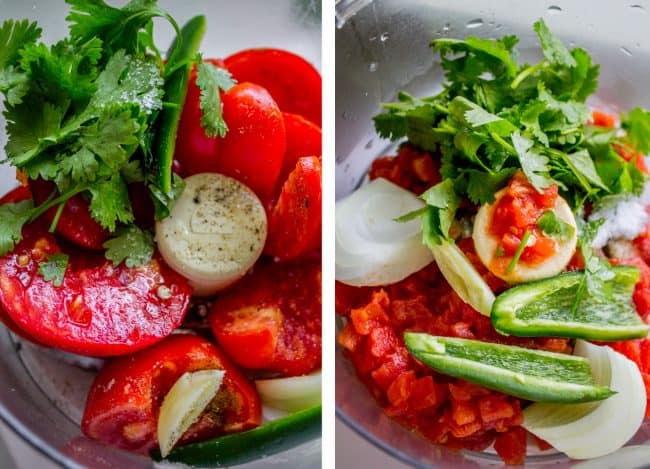 Fresh on the left, canned tomatoes on the right. Don't go crazy on onions. Nobody likes onion-breath.
This recipe makes about 1 cup of salsa. Can we just call this a single serving? Yes? Just give me that bag of Juanitas and an entire batch of this and I'm set.
More Mexican food ideas for Taco Tuesday!
Facebook | Pinterest | Instagram 

5 Minute Restaurant Style Salsa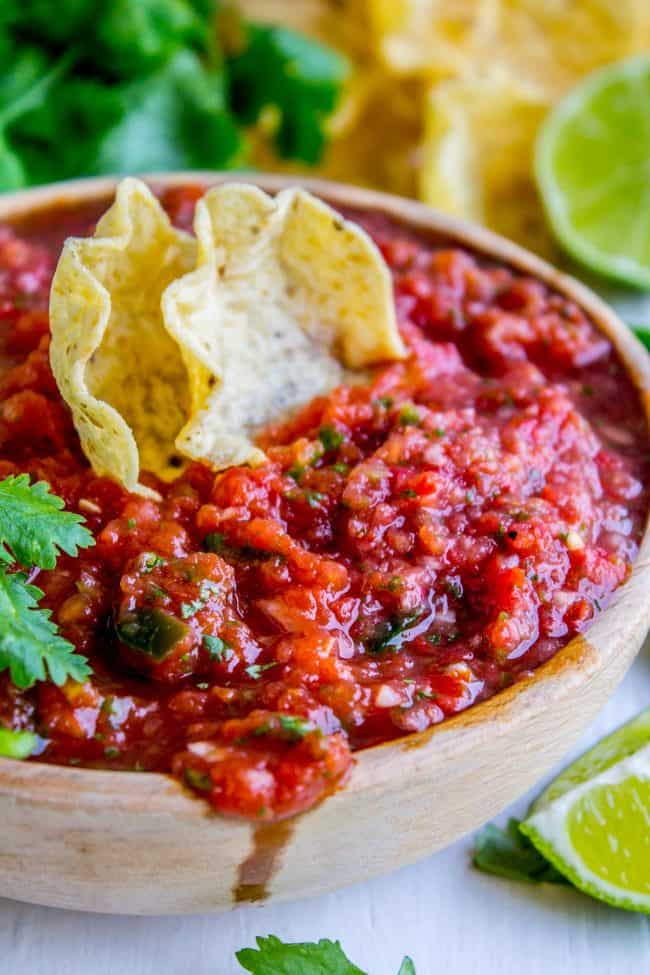 Why do we buy canned salsa? Whyyy?? This salsa takes 5 minutes to throw together, and it really does taste like it's from a restaurant. Also, scroll down to read how Eric and I have been hosting Taco Tuesdays all summer, and how you can too!
Ingredients
2

tomatoes

,

12 ounces OR 1 (14.5 oz) can diced tomatoes

1/4

small

onion

,

don't go crazy. You don't want dragon breath

1/2

clove

garlic

,

or 1 very small clove

1/2

jalapeno

,

seeds and membranes discarded

3

tablespoons

cilantro

2

teaspoons

lime juice

,

fresh! fresh!

1/4

teaspoon

cumin

1/2

teaspoon

kosher salt

1/8

teaspoon

sugar

pepper

,

to taste, optional
Instructions
Core the tomatoes and slice them in half. Add them to a food processor or blender.

If you are using canned tomatoes, drain them in a colander. Or squeeze a handful at a time out over the sink. Add drained tomatoes to the blender.

Add the onion. Smash the garlic with the side of a knife and add that too.

Add half a jalapeno.

Add the cilantro. I just chopped off what looked like about 3 tablespoons worth of leaves from the bunch and threw it in. You can always add more if you want.

Add the lime juice, cumin, salt, sugar, and black pepper.

Pulse the mixture about 1 full second at a time until blended. Stop a few times to scrape down the edges so you get everything chopped up. Don't go overboard or it will get too watery.

Serve with chips! Juanitas are the best chips. The salsa tastes great right away, but is even better the next day, after the flavors have married. Such a great union. 
Notes
Next time, if I have a 4 ounce can of green chiles on hand, I will drain them well and throw it in to my salsa. Try it out! Fire roasted is even better.
Nutrition
Serving:
1
cup
|
Calories:
16
kcal
|
Carbohydrates:
3
g
|
Protein:
1
g
|
Fat:
1
g
|
Saturated Fat:
1
g
|
Polyunsaturated Fat:
1
g
|
Monounsaturated Fat:
1
g
|
Sodium:
294
mg
|
Potassium:
165
mg
|
Fiber:
1
g
|
Sugar:
2
g
|
Vitamin A:
554
IU
|
Vitamin C:
12
mg
|
Calcium:
10
mg
|
Iron:
1
mg
I'm working with Safeway on this post. Thanks so much for supporting the brands that keep The Food Charlatan running!