Nobody says no to 7 Layer Dip, right? I mean how could you?? Spicy bean dip on the bottom, sour cream, guacamole, tomatoes and cheese, you just can't beat it. I have a few tips to take your 7 layer dip to the next level, read on! Originally posted September 11, 2018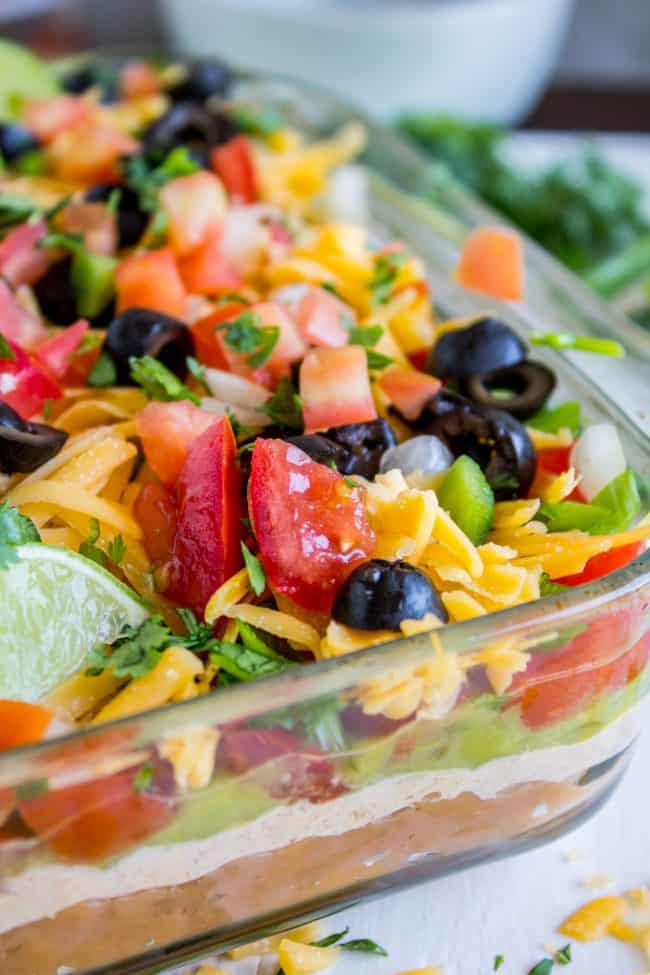 Have you ever heard of Scott's Cheap Flights? Nothing will make you think you are rich enough to travel internationally than subscribing to this dude's emails. He makes a business out of searching for cheap flights (sometimes mistakes that the airlines have made) and emailing you the deals.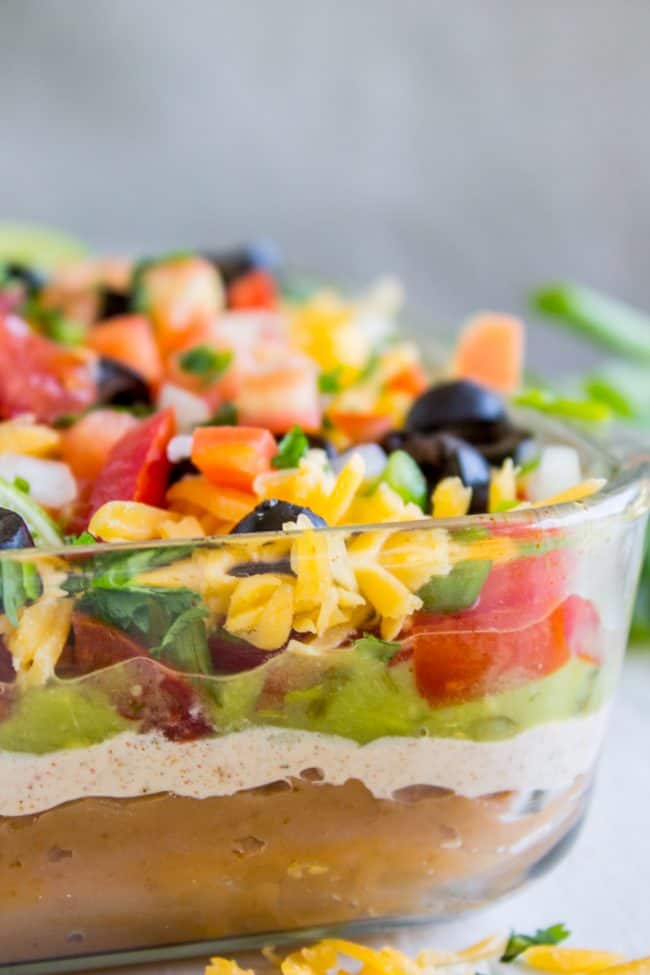 $364 for tickets to Bali? 500 to Beijing? $165 to Peru?? By the time you get to the bottom of his emails he's convinced you that you would be spending more money by staying at home.
So when Eric texted me a few weeks ago and said, "Hey do you want to go to Paris for your birthday?" I smiled and ignored it. It's fun to dream sometimes, right?
Then he called my mom to see if she could come babysit the kids at our house. And then he bought them that day. What?? Happy birthday to me!? We leave on Thursday.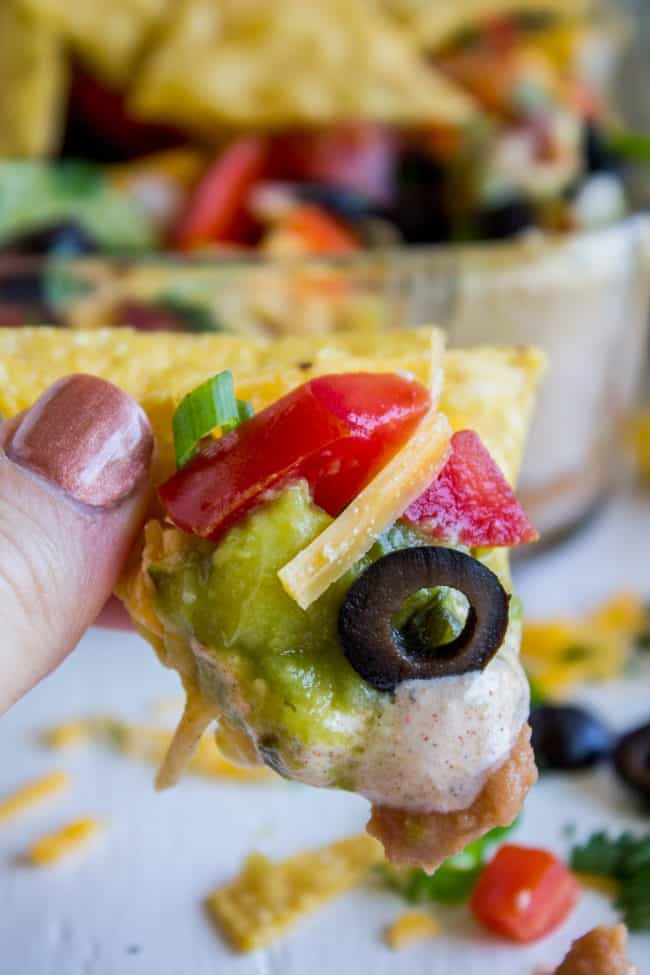 We have 3 little kids at home and do not take vacations that often, so this is totally unlike us. Plus I'm super weird about traveling, it kind of stresses me out.
I actually think I will like this trip even more than what we've done in the past because we're not doing any traveling besides getting there and back. When you go to Europe it's tempting to try to squeeze in as much as you can, because there is so much to see! But we are not leaving Paris. And I'm SO okay with that.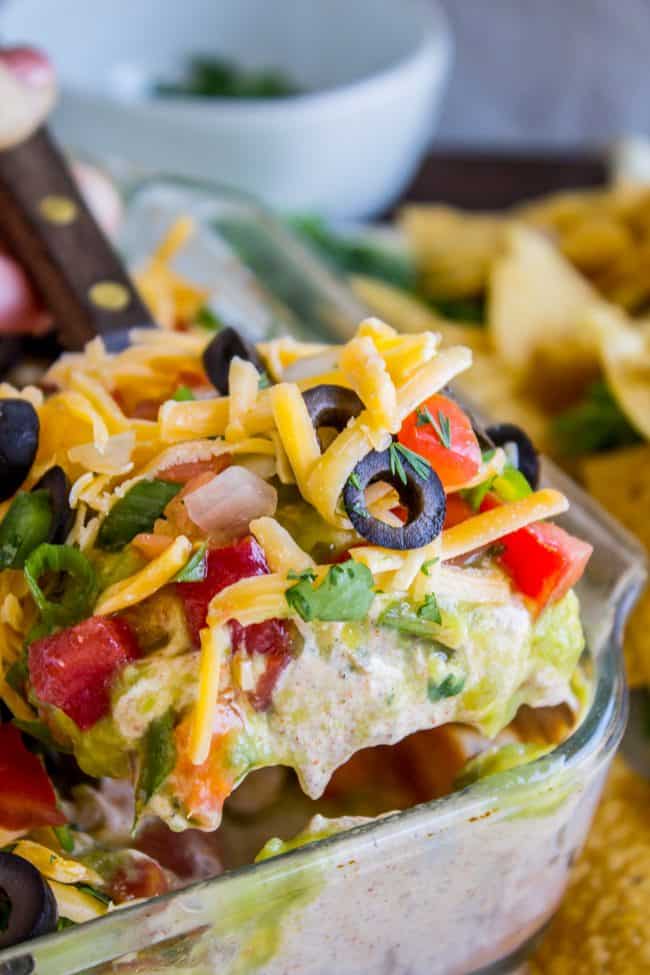 Eric is being super nice and planning the whole thing. (Planning vacations also stresses me out. Again, I'm a weirdo.) But Eric knows who I am and I noticed that our itinerary has SEVERAL bakeries planned every single day. Oh Eric, I love you. We are also taking a croissant making class. Gah I'm so excited!!!
He is getting ready for a marathon right now, and his training schedule says that he needs to do a 14 mile run while we're there. If I were training for a marathon (as if) I'm pretty sure I would skip it, but Eric is dedicated. I'm planning on sitting in a French cafe sipping hot chocolate while he does that…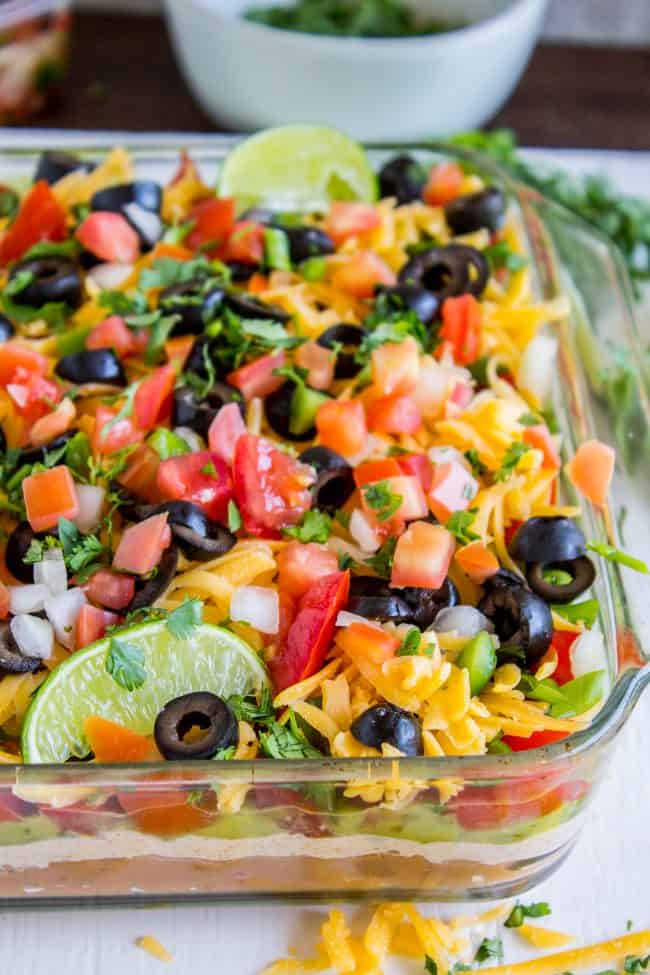 7 Layer Bean Dip for the win
Now to introduce you to today's recipe, which is about as un-French as you can get, and I'm A-OK with that. Who needs escargot when you could be eating chips and dip nonstop? (NO escargot will be passing my lips, thankyouverymuch. Yes I'm a total wuss.)
This recipe is legendary in Eric's family. Carol is a family friend and we've been making her 7 Layer Dip for years. (We lovingly call it "Carol's Bean Dip") 7 Layer Dip is hugely popular and I'm sure you've had it, but there are a few special touches that Carol's recipe has that makes it WAY BETTER than what you're used to.
How to make 7 Layer Dip
The first rule is to use Frito's Bean Dip. This stuff is perfectly spiced and so delicious all on it's own. It makes for a much tastier base than regular ol' refried beans. My brother had some recently and asked, what's in this dip?? I'm telling you, people will notice.

I'm showing you this package of Juanita's because they are LITERALLY the best tortilla chips you will ever put in your mouth, and if you ever see this brand in the store, buy them out and tell the managers that they need to keep stocking it. I used to have to go to Winco across town to get them, but I just saw them at my regular store around the corner. I think I freaked out all the check out people in by gushing about how life changing these chips are. But I'M TELLING YOU.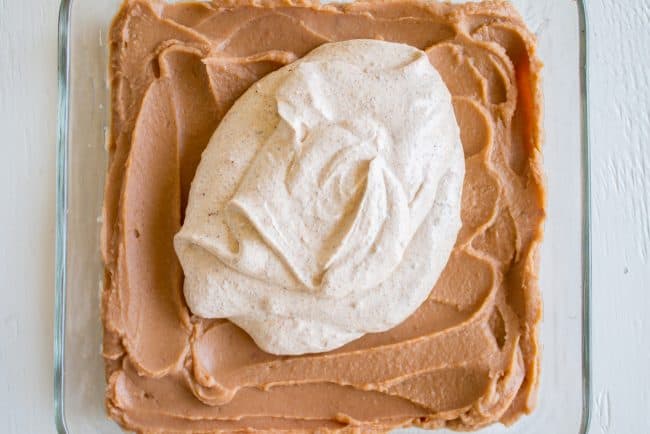 The second rule for the best 7 Layer Bean Dip of your life is to add mayonnaise to the sour cream layer. Sour cream is good all on it's own, but add the mayonnaise once and you will never go back. Also we are adding taco seasoning to this layer. You can use as much as you want, Carol's recipe says one package, but I'm pretty sure I added way more than that (I buy bulk taco seasoning). Buy two packets just in case! (update 2023! I finally nailed a homemade taco seasoning recipe that I love. Use 1/4 cup!)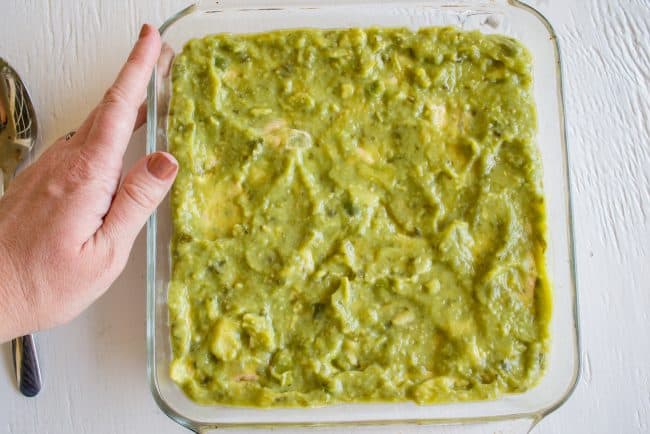 Then you need to add a layer of guacamole. Normally I'm a believer in homemade guacamole, but since there's so much going on in these layers, you can get away with store bought guac, no problem.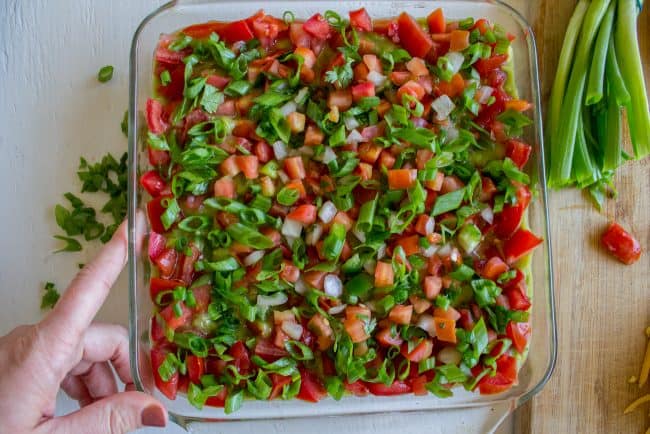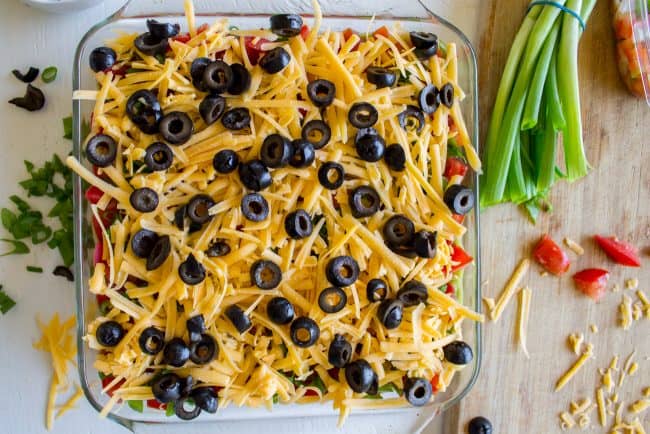 And that's it, the rest is just toppings. Tomatoes (I actually had some pico de gallo on hand, so I used that. You could also sub regular salsa but I prefer fresh tomatoes), onions (any kind you like), cheese, olives, chopped green chiles. This 7 layer bean dip recipe could not be any easier. It only takes a few minutes to put together and everyone will love you. It's the perfect snack for game day!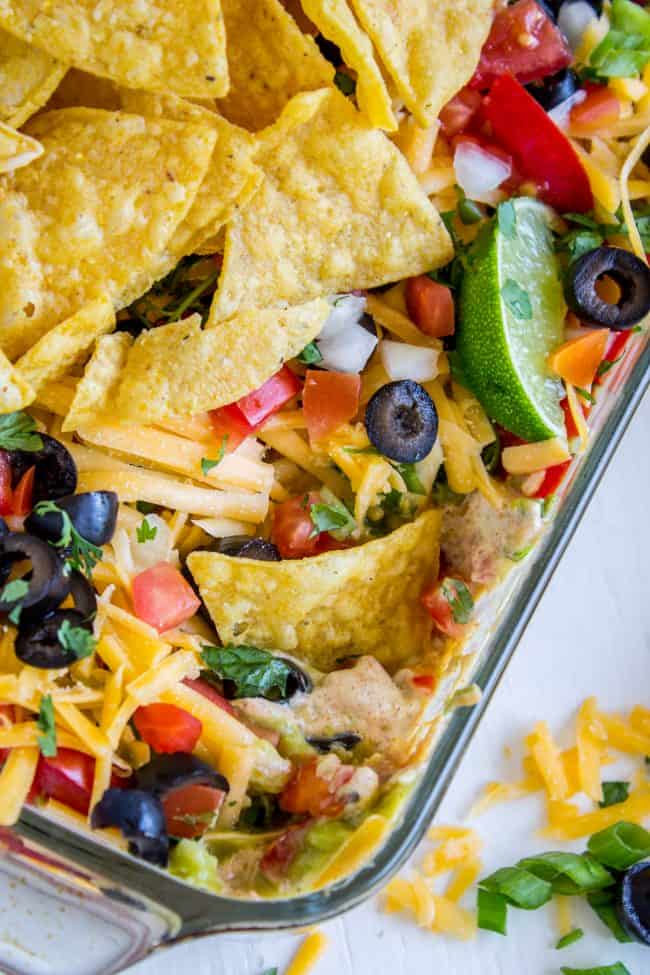 You can easily double the recipe and put it in a 9×13 inch pan, if you're serving a crowd. Or if you're serving it for lunch to your kids, like I did… Mom of the year right here. Hey there are LOTS of vegetables in this dip, right??
More game day recipes you will love!
Cheesy Buffalo Chicken Dip << One special ingredient makes these sizzling hot!
Bacon Wrapped Jalapeño Poppers << A classic made with three cheeses
5 Minute Restaurant Style Salsa << so much better than the store bought stuff!
Bacon Blue Cheese Dip << One of the best combos – plus works great with both crackers and fruit
Easy Rotisserie Chicken Nachos << game day food, OR a 30 minute meal that will make your kids love you.
Copycat Chili's Queso Dip (Slow Cooker) << Everyone loves queso!!
Mexican Street Corn Dip (Elote) << I LOVE THIS DIP. Seriously it's so good.
Blue Cheese Dip for Wings from Fifteen Spatulas
Hot Caprese Dip Recipe from Rachel Cooks
Kentucky Hot Brown Dip from Cupcakes and Kale Chips
Facebook | Pinterest | Instagram

7 Layer Dip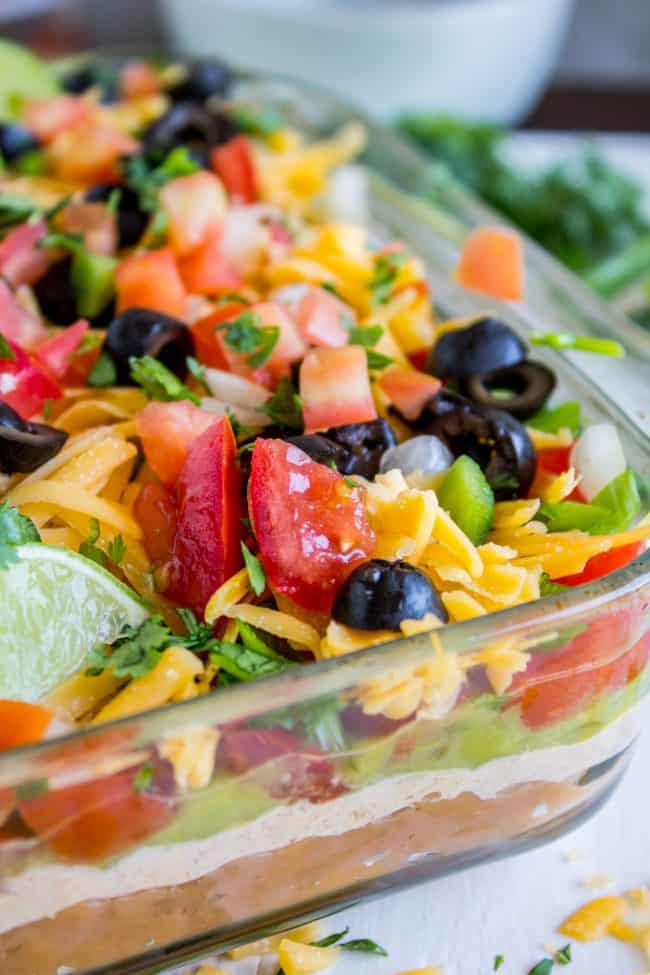 Nobody says no to 7 Layer Dip, right? I mean how could you?? Spicy bean dip on the bottom, sour cream, guacamole, tomatoes and cheese, you just can't beat it. I have a few tips to take your 7 layer dip to the next level!

Ingredients
2

9-ounce cans Frito brand bean dip

1

cup

sour cream

1/2

cup

mayonnaise

1/4

cup

homemade taco seasoning,

or 1 taco packet

1

cup

guacamole

4-5

roma tomatoes

,

chopped**

1/2

cup

green onions

,

chopped***

1

cup

shredded cheddar cheese

1

2.25 ounce can sliced black olives, drained

chopped cilantro

,

add to taste (optional)

sliced limes

,

to garnish, optional
Instructions
Use a square 8×8 or 9×9 inch pan (preferably a glass pan because it's prettier. Don't use a trifle bowl or something deep, because then people won't be able to dip down deep enough to get all the layers, and that's just tragic).

Add the 2 cans of bean dip straight into the pan. Stir it together so it's smooth, then spread on the bottom.

In a medium bowl, stir together sour cream, mayonnaise, and 1/4 cup homemade taco seasoning (or 1 packet taco seasoning). How much taco seasoning you want to add is completely up to you, give it a taste and add more if you like!

Layer the sour cream mixture over the bean dip.

Add the guacamole and spread over the top.

Chop a few tomatoes and sprinkle those on next. You can add as many as you like.

Chop the green onions and sprinkle them on top. You can use either the white part of the onion or the green part; green will be milder.

Sprinkle the shredded cheese on top.

Sprinkle with the black olives.

Garnish the top with additional tomatoes, pico de gallo, and cilantro. Another optional layer you could add would be a small can of chopped green chiles (drained). (I would add those before the cheese layer.)

Serve with tortilla chips and limes to squeeze over individual servings. Store covered in the fridge.

If you want to make this ahead of time, layer the bean dip, sour cream mixture, and guacamole in the pan. Squeeze lime juice on top so your avocados don't brown. You can cover that and store it in the fridge for up to 24 hours, then add the veggies and toppings last minute.
Notes
**You could also add pre-made pico de gallo from the store, which is what I did here in the photos. (because I thought I had more tomatoes than I did, oops!) 
***A regular white or yellow onion would taste good too.
This recipe is from Carol Struckman. Thanks Carol!
Nutrition
Calories:
219
kcal
|
Carbohydrates:
10
g
|
Protein:
5
g
|
Fat:
18
g
|
Saturated Fat:
6
g
|
Polyunsaturated Fat:
5
g
|
Monounsaturated Fat:
6
g
|
Trans Fat:
1
g
|
Cholesterol:
24
mg
|
Sodium:
699
mg
|
Potassium:
204
mg
|
Fiber:
4
g
|
Sugar:
3
g
|
Vitamin A:
816
IU
|
Vitamin C:
7
mg
|
Calcium:
114
mg
|
Iron:
1
mg