Chimichurri sauce is the king of marinades and condiments! Parsley is ground together with oil and vinegar and lots of garlic. It is SO easy to make and requires no cooking. A staple for South American churrasco (grilled meat), it's great with beef (like this Flank steak), pork, chicken, or your morning eggs.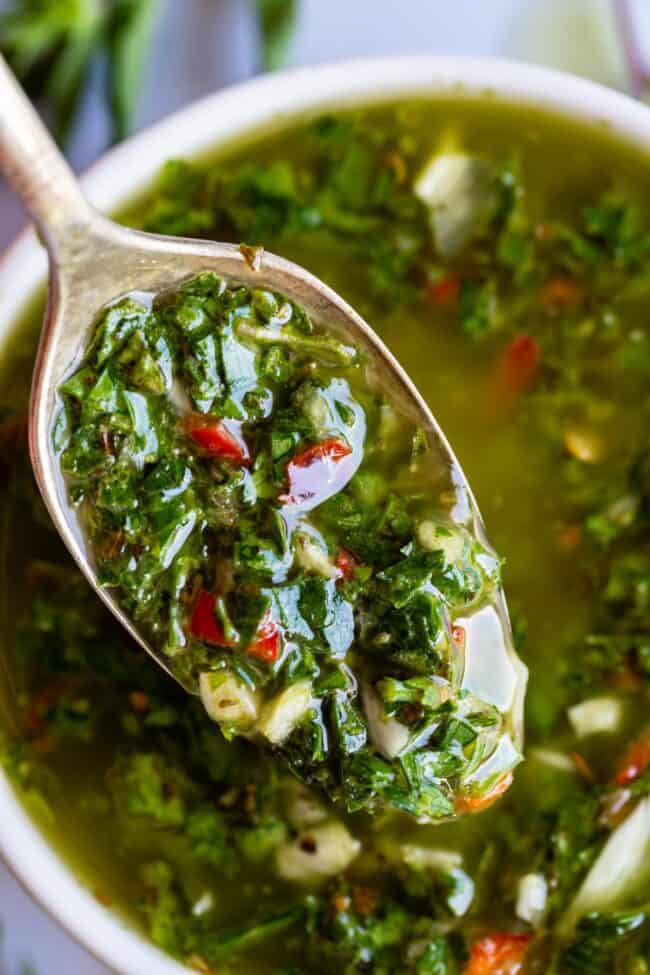 We went camping near Lake Tahoe last week with my parents and my brother, it was so fun! My parents were celebrating their 45th wedding anniversary, so we asked them to tell us about their wedding day.
My mom told us her wedding colors were blue and purple. ("So, bruise colors?" -my brother) It was the 70s and pastels were IN, guys.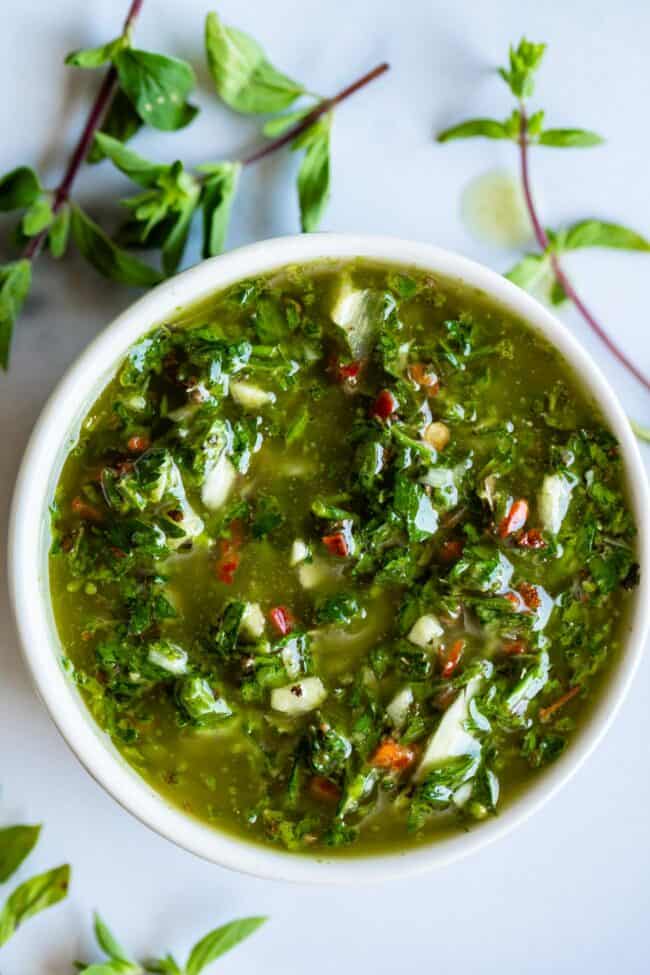 They did their reception on the cheap and decided to assemble their own finger sandwiches rather than cater. She went to the local bakery and asked them to bake her sandwich bread…in her wedding colors.
I had to stop her. So, you walked into a bakery and asked them to bake you BLUE AND PURPLE loaves of bread, and no one questioned this?? Where was your mother? Why didn't anyone tell you no one wants to eat bruise-colored sandwiches??
Well apparently the bakers were too polite to talk sense into her, so blue and purple finger sandwiches they served. Tuna sandwiches, to boot.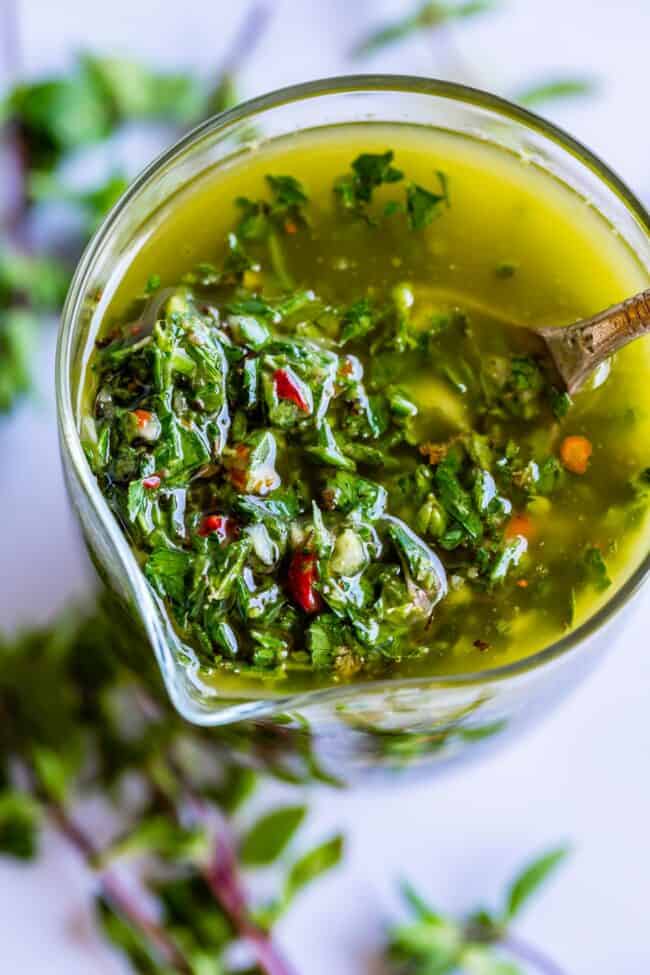 Then my dad mentioned that there were no wedding registries back then, and they received about 30 sets of towels. We're all sitting around the picnic table at the campsite, and my mom piped up, "Yeah, this was one of them!" and holds up the hand towel she's using.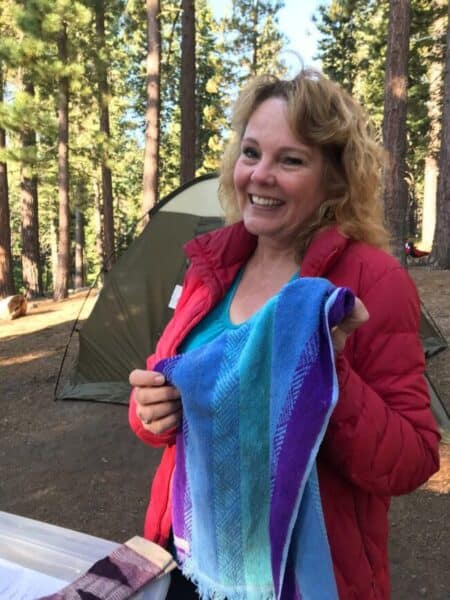 "So let me get this straight. You've been using this hand towel for FORTY-FIVE YEARS?"
"Well, no, like Dad said, we got a lot of towels, so it's possible we didn't pull this set out for a few years…"
So there you have it my friends. Now you know basically everything there is to know about my origins. My brother thought it was hilarious that the 45 year old hand towel happened to match their wedding colors, and my mom explained to him that her colors were PASTEL blue and purple. Okay Mom.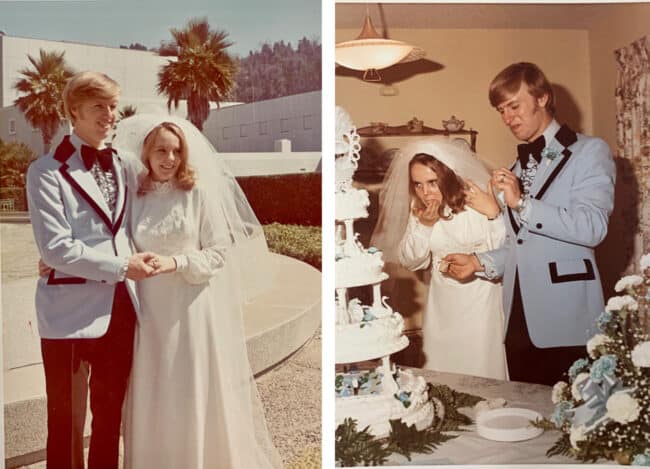 But how can you argue with this adorableness? And adorableness that's lasted 45 years? You can't. Also, note my mom stuffing her face with cake in the photo on the right. The apple doesn't fall far from the tree.
Enough about my hilarious parents. Let's move on to the star of the show today: CHIMICHURRI SAUCE. Say it with me now, it's a fun word to say. Have you tried it before? If not, GET READY! It's one of my favorite condiments.
What is Chimichurri Sauce?
Chimichurri sauce is a magical condiment that's used all the time in Argentina and many other South American countries. It's a sauce made of parsley, olive oil, garlic, and red wine vinegar. Sounds ho-hum, right? WRONG. Guys, I don't know what it is about the blend of humble parsley and garlic and oil, but the result is magical.
You might be thinking, isn't parsley just a filler herb? Won't it taste like I'm chewing on rabbit food? NOPE. Chimichurri brings out all of parsley's hidden glory.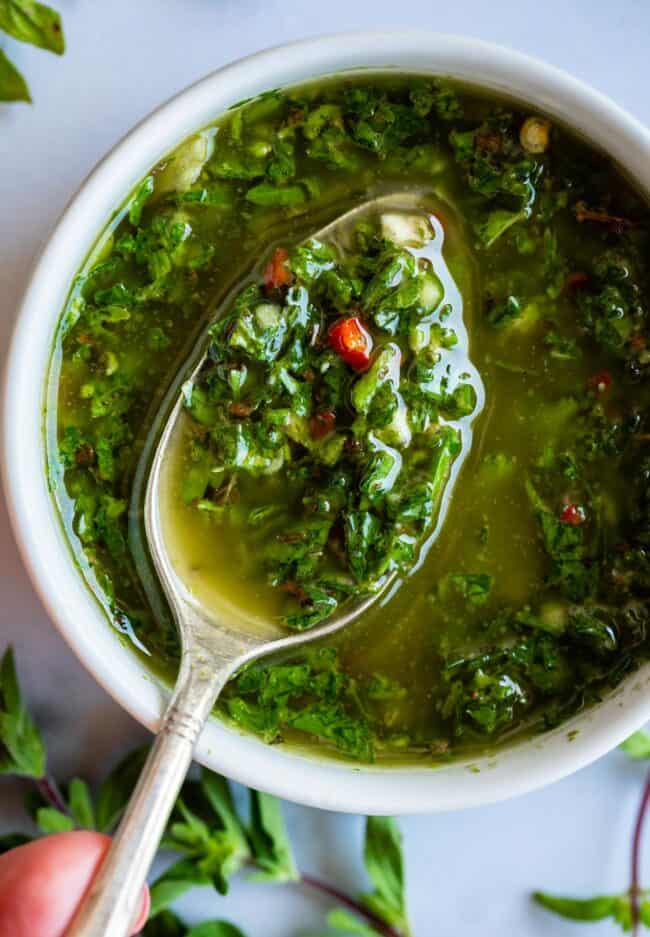 If you know anything about Argentina, (or Brazil, or Uruguay) you know they are famous for churrasco, or grilled meat. (Have you ever been to a restaurant like Fogo de Chao or Tucanos? If you can't make it south of the border anytime soon, go to one of these churrascarias instead. HEAVEN.) Chimichurri is a condiment used to both marinate and accompany grilled meats in South America.
How to Make Chimichurri Sauce
It could not be easier. You don't even have to cook anything. Just dump everything into a food processor or blender and whir until modern technology has mulched it into something magical without you having to even lift a finger. Don't go too crazy, it's not meant to be pureed completely like pesto. You want to see individual chunks of garlic, parsley, etc.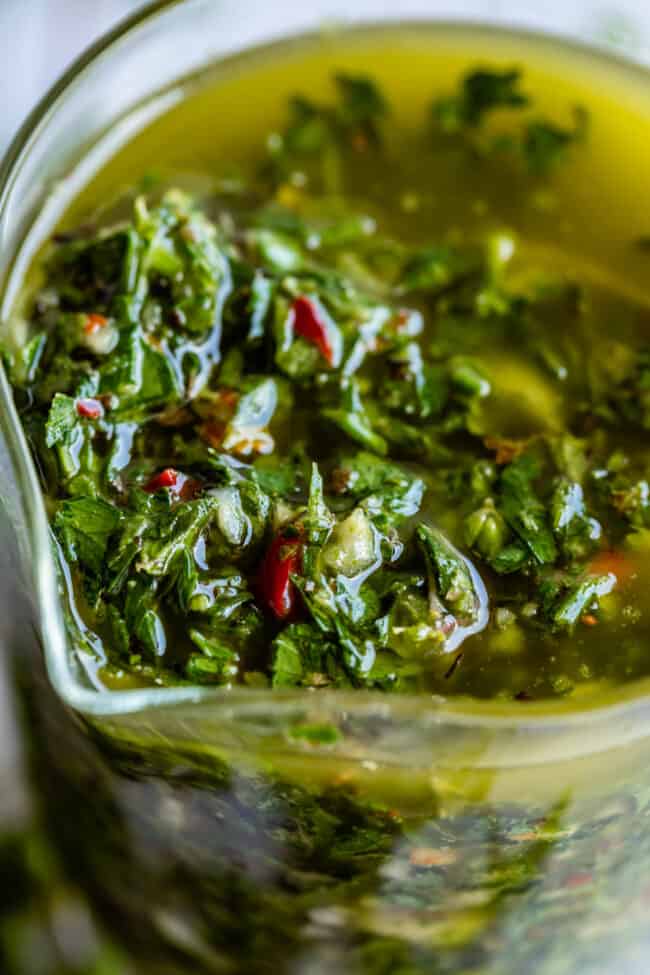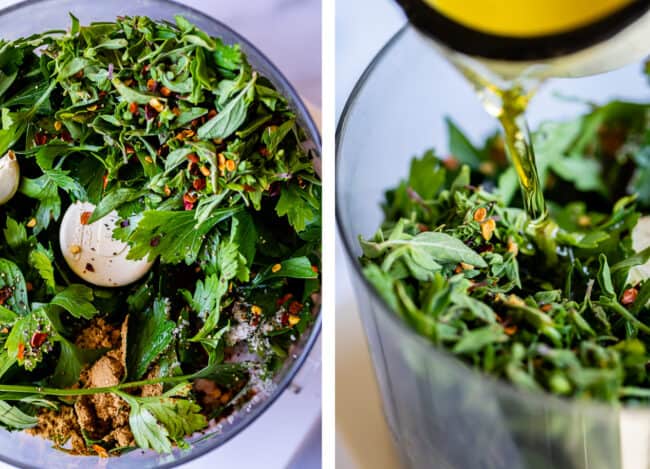 In fact, traditionally it was all just chopped and mixed together by hand, but I'm sure salsa used to be made by hand too (along with everything), and I'm not going to stop making Blender Restaurant Salsa anytime soon. Ain't nobody got time for hand mincing these days. If you handed a blender to an Argentinian mom hand mulching chimichurri 150 years ago, do you think she would turn up her nose and say, no thanks, that's not authentic. Heck no!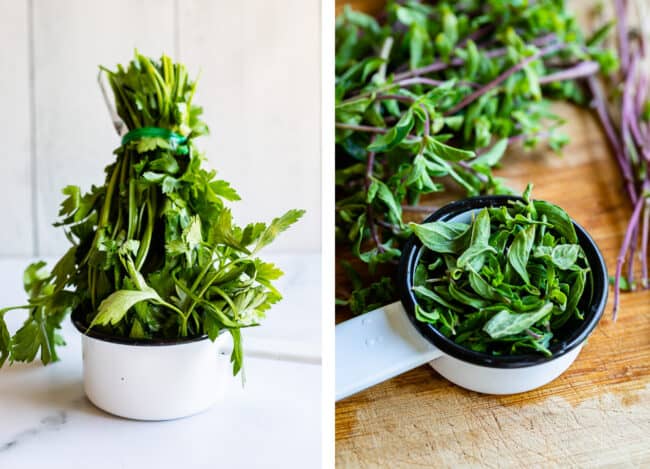 Use about a cup of parsley. Look, this fits into a cup, right? Don't stress about it too much. One bunch from your average grocery store will do ya just fine. And that's fresh oregano on the right. Dried oregano works too if you're penny pinching.
What to eat with Chimichurri sauce
On Friday I will be posting about how to grill and oven broil Flank steak. Flank steak paired with chimichurri is one of my favorite meals/appetizers of all time. But there are so many things you can do with chimichurri. Once you have some hanging out in your fridge, you won't be able to stop adding a little bit here and there to anything and everything. Here are some ideas:
marinate with and serve as a condiment alongside:
-salmon
-chicken
-any kind of steak
-pork
-shrimp
dip your French fries in it (with a little mayo maybe. YUM)
Top garlic bread with chimichurri
Toss with small potatoes and roast
Toss with grilled or roasted veggies (before and/or after grilling)
Mix into some meatballs (this sounds so good) and serve as a sauce with
Toss with a salad
Spread it on some bread to make a killer sandwich (mayo would be good here too)
Add a bit to your scrambled eggs
Toss with pasta, warm or cold
Appetizer idea: toothpick a mozzarella ball and cherry tomato and drizzle with chimichurri
Mix with tuna salad and sandwich it as usual (hold the purple and blue bread, plz) or spoon into the center of an avocado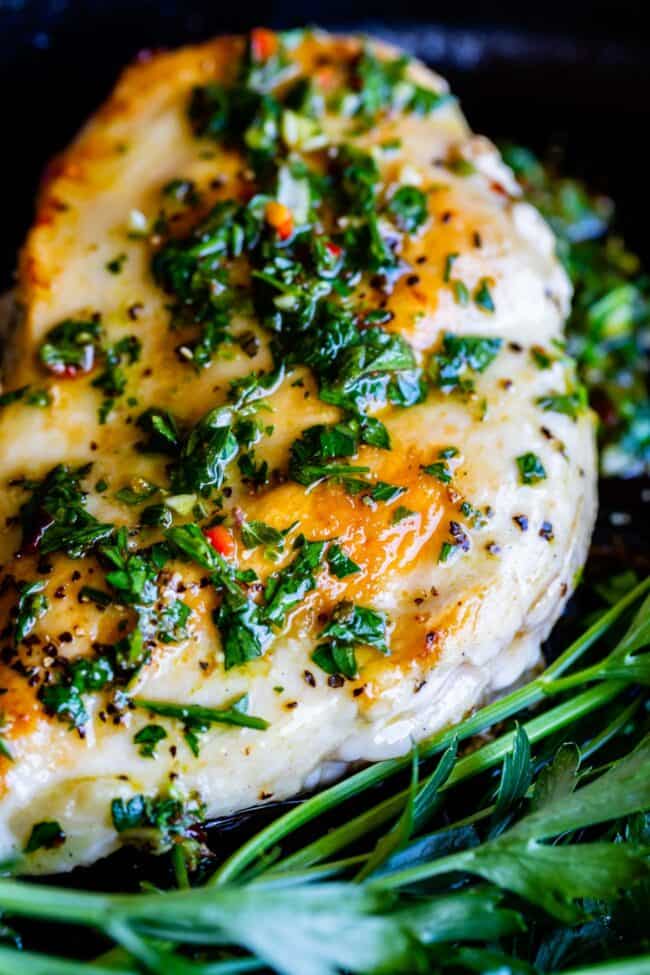 Really the possibilities are endless! Chimichurri will keep in the fridge for at least a couple weeks. It's basically salad dressing, so however long you normally keep homemade salad dressing is how long you should keep it. Mine usually never lasts long. When I make chimichurri I go in a phase where I add it to everything until it's gone!
Facebook | Pinterest | Instagram
More sauces, dips, and marinades you will love!
How to Cook Flank Steak (Grilled or Oven Broiled) << My favorite meat to make with chimichurri
Tzatziki Sauce Recipe with Toasted Za'atar Pita >> This has got to be one of my favorite appetizers!
How to Cook Tri-Tip << marinate and serve this Tri Tip with today's chimichurri. OMG SO GOOD.
Gyro Style Shredded Beef << Instant Pot for the win. All-day flavor in a fraction of the time.
5 Minute Restaurant Style Salsa << love this stuff.
Easy No Cook Pizza Sauce << I always use this when we do homemade pizza. So easy!
Restaurant Style Olive Oil and Balsamic Bread Dip << bread dipped in oil and vinegar is the best part of some restaurants.
Simply Amazing Grilled Chicken Marinade << Use this grilled chicken method but use chimichurri for the marinade. YUM!
Nana's Fall-Off-The-Bone Ribs and "Barb"-ecue Sauce << A huge family favorite!
Pan Seared Salmon with Cherry Tomatoes and Mozzarella << this would be so good with chimichurri spooned over the top!
Green Goddess Dip from Lemons for Lulu
Garlic Herb Compound Butter For Steak from Spend with Pennies
Roasted Garlic and Herb Dipping Oil from Brown Eyed Baker

How to Make Easy Chimichurri Sauce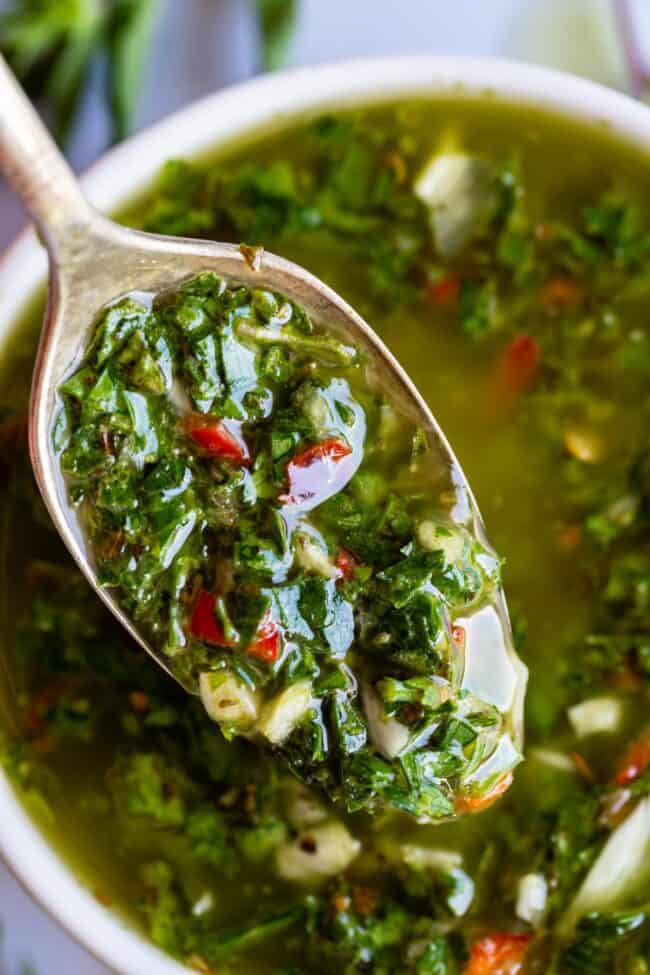 Chimichurri sauce is the king of marinades and condiments! Parsley is ground together with oil and vinegar and lots of garlic. It is SO easy to make and requires no cooking. A staple for South American churrasco (grilled meat), it's great with beef, pork, chicken, or your morning eggs.
Ingredients
1

bunch

parsley*

,

about 1 cup, packed

2-4

cloves

garlic

1/4

cup

fresh oregano leaves

,

OR 2 tablespoons dried oregano

1/2

teaspoon

crushed red pepper

,

OR 1 small red pepper

1

teaspoon

kosher salt

pepper to taste

2

teaspoons

cumin

,

optional**

1/4

cup

red wine vinegar

3/4

cup

good quality olive oil
Instructions
Wash the parsley and trim the stems. I usually leave it in the bundle it came in from the store and work my knife away from the twist tie. Get all the leaves off, then take a minute to remove any really thick stems remaining. Some thin stems are A-okay. You want about a cup of packed parsley, but it's ok if it's not exact.

Crush 2 cloves of garlic with the side of a chef's knife. Peel off the skin (it's easy once the garlic is crushed). If you know you love garlic, toss in 1 or 2 more cloves, otherwise wait until you've tasted the chimichurri before adding more.

If using fresh oregano, tear off leaves until you have 1/4 cup. I love the flavor of fresh herbs, but 2 tablespoons of dried oregano really does work great in this recipe if you don't have fresh oregano.

If using a fresh red pepper, remove the stem and seeds, and slice into strips. (1/2 teaspoon crushed red pepper also works well. See how versatile this recipe is!)

Add parsley, 2-4 cloves garlic, oregano, and fresh red pepper (OR 1/2 teaspoon crushed flakes) to a food processor or blender.

Add 1 teaspoon kosher salt, a few grinds of black pepper, and 2 teaspoons cumin, if you're using it.

Add 1/4 cup red wine vinegar and 3/4 cup olive oil.

Use the pulse button on your machine to pulse the mixture in 1 second intervals. You want everything to get chopped but don't go so far that it's completely pulverized. (If you don't have a blender or food processor, you can also just mince everything really fine and mulch it by hand with the vinegar, adding the oil slowly while whisking so that it emulsifies.)

Taste the chimichurri and add more garlic, salt/pepper, or whatever you feel it might be missing.

Enjoy with your favorite grilled meat! Chimichurri makes an AMAZING marinade, so I will often make a batch of this and use a little bit of it to marinate the meat, and save the rest to spoon over the meat when serving. (My favorite is

Flank Steak. Click here for the recipe!

)
Notes
*I've made this recipe with both curly and flat-leaf Italian parsley. I think it's great either way! Use whatever's on sale!
**Cumin is not a traditional ingredient in chimichurri. But I tried it once and I can't go back because I'm in loooove.
Nutrition
Serving:
1
g
|
Calories:
1523
kcal
|
Carbohydrates:
16
g
|
Protein:
4
g
|
Fat:
164
g
|
Saturated Fat:
23
g
|
Polyunsaturated Fat:
18
g
|
Monounsaturated Fat:
119
g
|
Sodium:
2393
mg
|
Potassium:
609
mg
|
Fiber:
8
g
|
Sugar:
1
g
|
Vitamin A:
5354
IU
|
Vitamin C:
79
mg
|
Calcium:
329
mg
|
Iron:
12
mg