These Easy Baked Mexican Meatballs are packed with roasted poblanos and cilantro, and served in thickened enchilada sauce! They are perfect with rice and beans for an easy weeknight dinner, or served with toothpicks as a cocktail or game-day appetizer.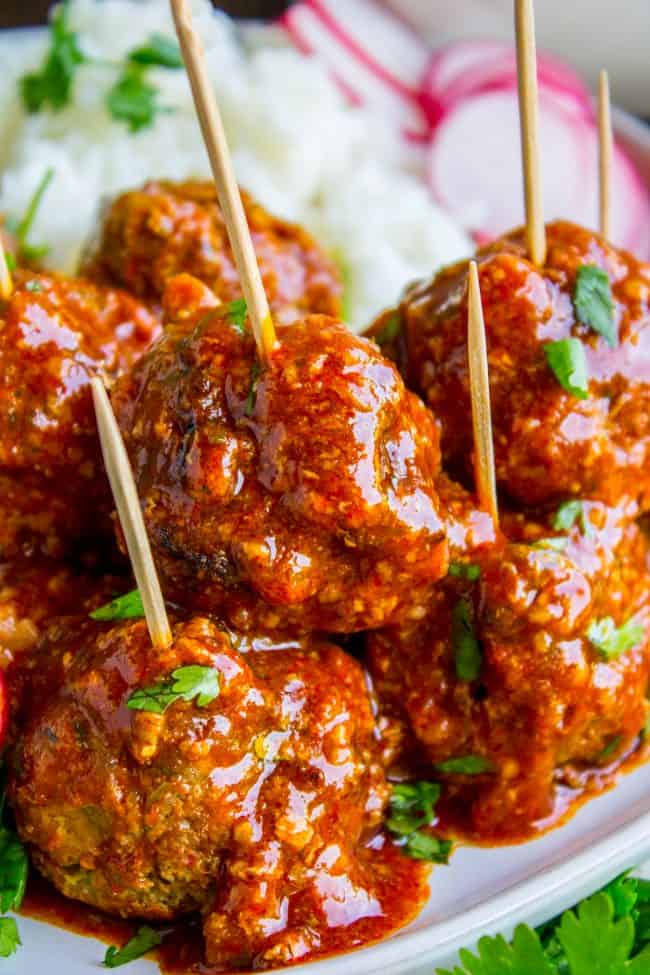 My parents are on a safari in Africa right now. For real! It sounds kind of fairy tale-ish, right? Like, do people actually do that?? Well, they do. They keep sending us videos of warthogs and baboons they randomly see on the side of the road. And every time I start singing NAAAAAA SAVENYAHHHHHH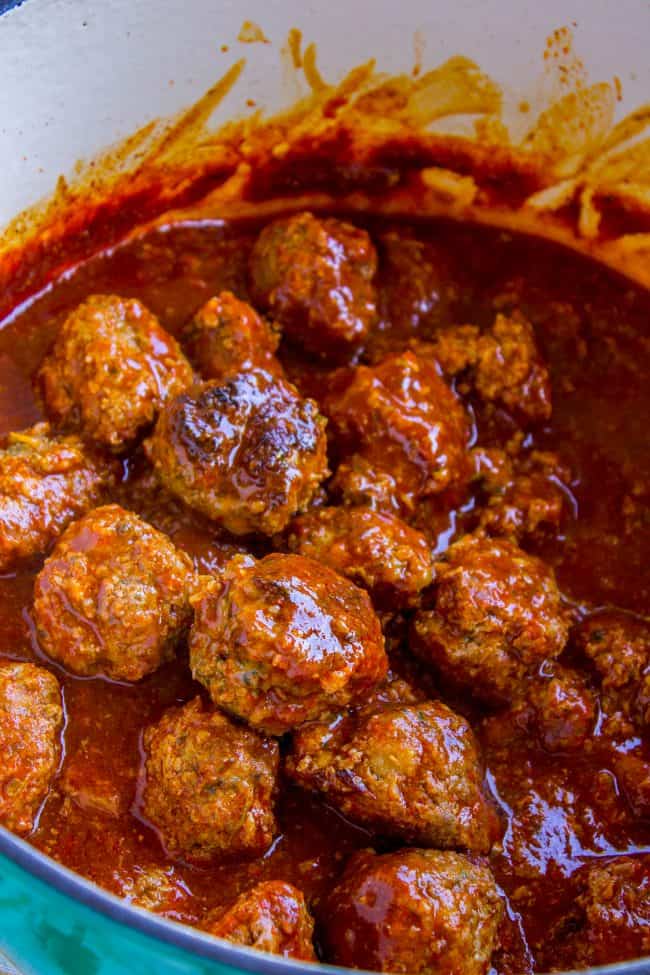 When I tell someone that my parents are in Africa, they ask, oh, what countries are they going to? And I say, Botswana, Kenya…Nambi..namibi…and then I trail off and change the subject, because those are the only countries in Africa I can remember, and apparently I can't even remember exactly how they are pronounced. (Literally just googled a map of the continent…)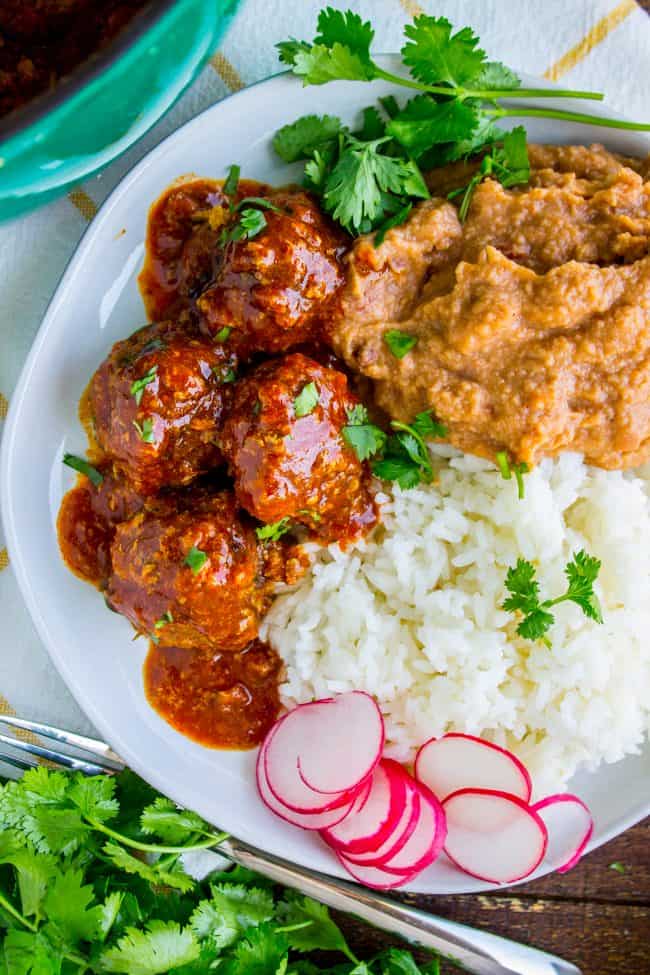 Well whatever, Africa, is probably overrated (false) let's go to Mexico instead where they have these meatballs. Actually, totally false, these are more like Tex-Mex Meatballs, maybe we should just head to Texas. Texas is fun, right? (False. It's not. My sister lives there, she can tell you. Laura is the best part of Texas for sure.) (I think I just realized why I keep saying false. We started re-watching the Office and I'm channeling my inner-Dwight.)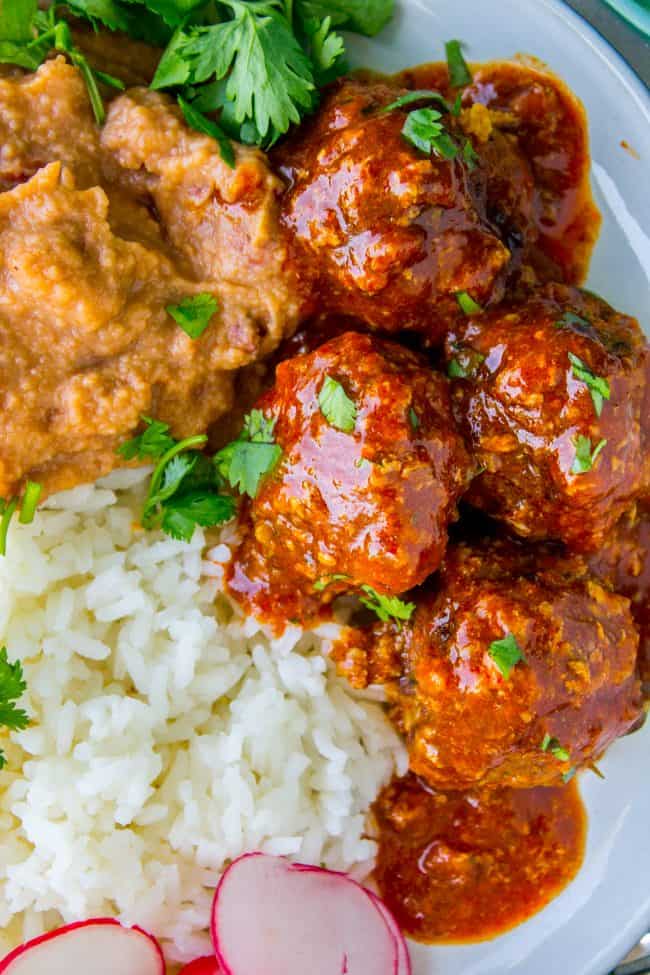 How to make Easy Baked Mexican Meatballs
A couple years ago my mother-in-law Kris was visiting and we found this meatball recipe in a Southern Living magazine. I haven't made them since, but we have talked about them multiple times since then. Any time you remember a meal like that, you definitely need to save that recipe.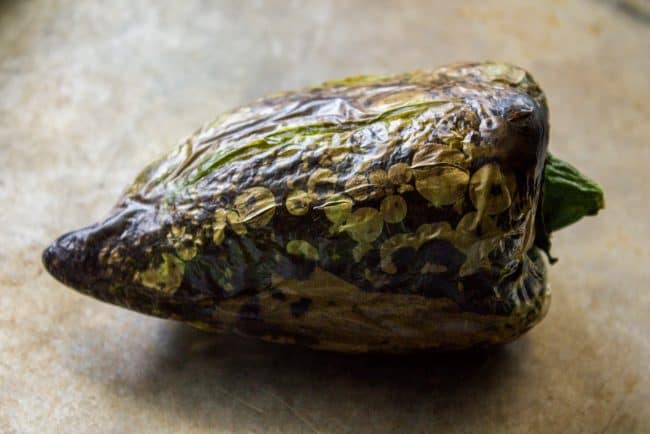 So here it finally is! You start of with a roasted poblano pepper. This sounds fancy but I promise it only takes a few months under the broiler. (I'm just gonna leave that typo right there. It's one of those days.)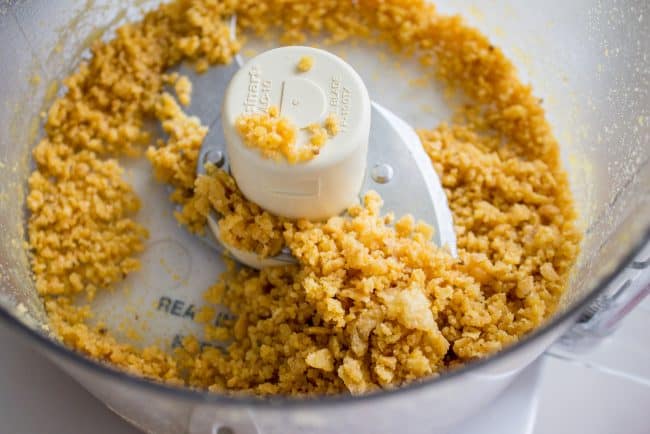 Crushed Fritos are where it's at, yo. You can use any breadcrumbs you like of course, but Fritos give it that punch of corn flavor, like there is a corn tortilla all wrapped up inside your meatball.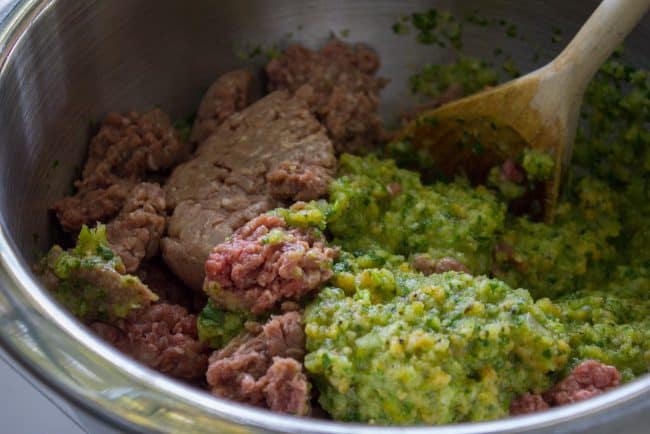 Stir it all together…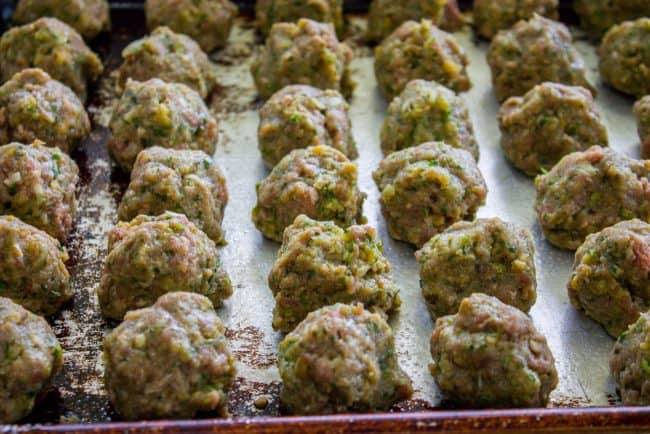 Look at this beauty just out of the oven.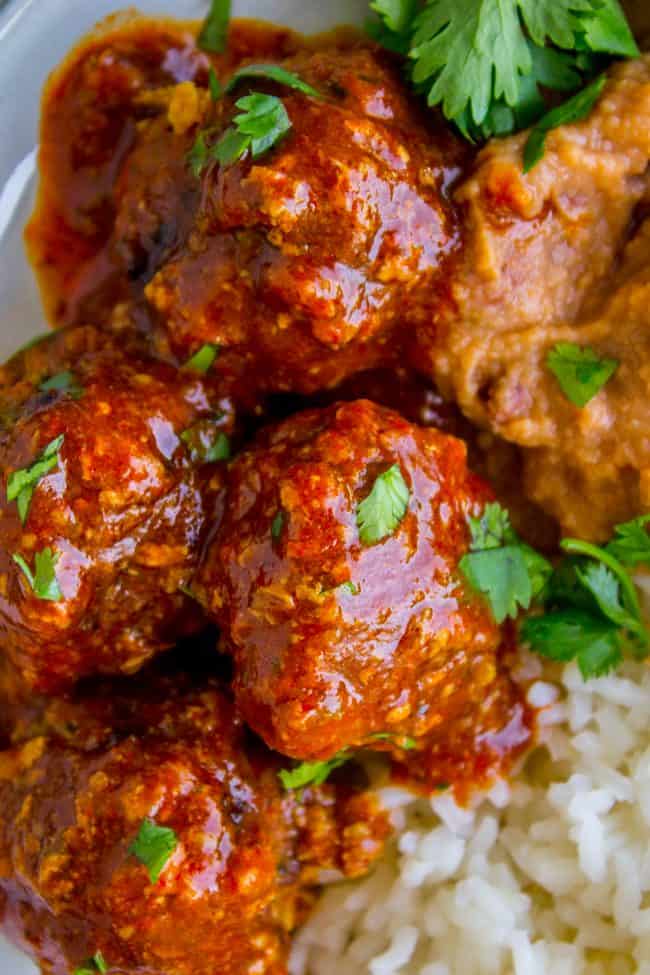 And voila! The most delicious Mexican meatballs of your life. SO much flavor in these, you guys, and they are super easy to throw together. You can tailor this to your tastes by what enchilada sauce you choose to get, spicy or mild, red or green, whatever floats your boat.
What to serve with Mexican Meatballs
What's Mexican food without a little rice and beans? These meatballs would be great paired with Traditional Tejano Pinto Beans (one of my all time favorite sides) and maybe some Coconut Jasmine Rice. Yum! OR if you are serving these as an appetizer, serve them with scoop-style Fritos and sour cream, with lime wedges to squeeze on top. I will watch football all day if you give me these meatballs to eat. Although what I really should be doing is studying a map of Africa, because dang. (I BLESS THE RAINS DOWN IN AAAFRICAAA)
Facebook | Pinterest | Instagram
One year ago: Easy Cheesy Cheeseburger Sliders
Four years ago: Halloween Cheesecake Parfaits
Six years ago: Ham and Potato Soup

Easy Baked Mexican Meatballs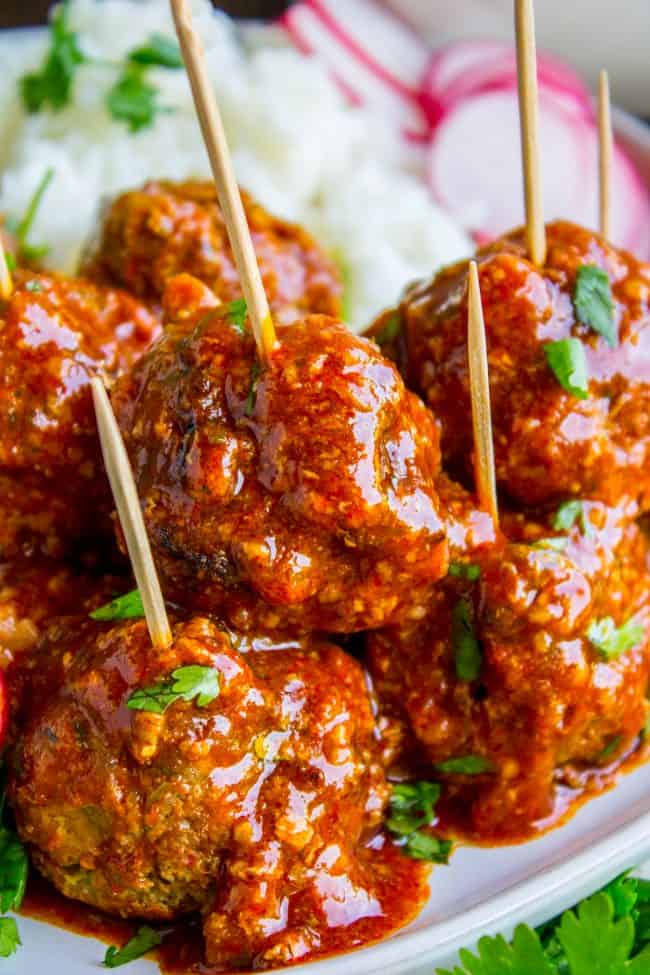 These Easy Baked Mexican Meatballs are packed with roasted poblanos and cilantro, and served in thickened enchilada sauce! They are perfect with rice and beans for an easy weeknight dinner, or served with toothpicks as a cocktail or game-day appetizer.
Ingredients
1

poblano pepper

1 & 1/2

cups

Fritos

1/4

cup

milk

1

small

onion

,

chopped into a few chunks

2-3

garlic cloves

1/2

cup

cilantro

,

firmly packed

2

eggs

1 & 1/2

teaspoons

kosher salt

1/2

teaspoon

black pepper

2

pounds

ground beef

20

ounces

red enchilada sauce

2

cups

chicken broth

1

tablespoon

sugar
Instructions
Turn the broiler on to high heat and arrange the top rack to be about 5-6 inches below the heat. Place the poblano pepper on a bit of foil on a baking sheet. Broil for about 6-8 minutes (depending on the size), making sure to turn the pepper every 1-2 minutes with a pair of tongs. The pepper is done when the skin is blistered and blackened.

Remove the pepper and place immediately in a sealed ziplock bag. Let it steam for 10 minutes. After 10 minutes, open the bag and peel off the skin. Remove the stem and seeds.

Preheat the oven to 400 degrees F.

Line a large baking sheet with aluminum foil. Spray with nonstick spray. Set aside.

Meanwhile, use a food processor or blender to crush the Fritos into small crumbs. You need about 1/2 cup crumbs, I started with about 1 and 1/2 cups whole Fritos. Place the crumbs in a large bowl and add 1/4 cup milk. Stir it together and let it soak for a few minutes.

Don't bother washing the food processor. Add the onion, garlic cloves, cilantro, and the roasted pepper (with skin, seeds, and stem removed). Pulse until finely chopped.

Add the poblano mixture to the bowl with the Fritos and stir it all together.

Stir in 2 eggs, 1 and 1/2 teaspoons salt, and 1/2 teaspoon black pepper.

Use your hands to fold the ground beef into the bowl. Mix until just combined and then stop. You don't want to end up with overworked, tough meatballs.

Shape the meatballs into 1 and 1/2 inch meatballs. You should get about 35. Just make sure they are all about the same size.

Bake at 400 for about 10-12 minutes, until they are lightly browned on top.

Meanwhile, in a large pot on the stove, add the enchilada sauce, chicken broth, and sugar. Bring to a simmer over high heat.

Whenever the meatballs are done, lift them from the pan with a fork (try to scrape off as much of the fat on the edges as you can) and add to the pot of sauce. It doesn't matter if the sauce is still cold, just throw them in.

Bring the meatballs and sauce to a boil over high heat (don't stir much, you don't want to break all the meatballs. Just scrape your spoon along the edges and on the bottom of the pot.

Simmer over medium heat for 15-20 minutes until the sauce has thickened.

These meatballs are delicious served as an appetizer with scoop Fritos!
Notes
The meatballs themselves are pretty mild. If you like a lot of heat, buy spicy enchilada sauce. Mild sauce would be delicious too.
I found this recipe in an old copy of Southern Living!
Nutrition
Serving:
1
g
|
Calories:
437
kcal
|
Carbohydrates:
20
g
|
Protein:
24
g
|
Fat:
29
g
|
Saturated Fat:
10
g
|
Polyunsaturated Fat:
3
g
|
Monounsaturated Fat:
12
g
|
Trans Fat:
1
g
|
Cholesterol:
122
mg
|
Sodium:
1451
mg
|
Potassium:
447
mg
|
Fiber:
3
g
|
Sugar:
8
g
|
Vitamin A:
669
IU
|
Vitamin C:
19
mg
|
Calcium:
72
mg
|
Iron:
3
mg
More meatball recipes you will love!
Easy Baked Meatballs << This is my go-to "basic" recipe. You can pair this with any kind of sauce you like.
Raspberry Balsamic Meatballs (Slow Cooker) << these are really good as a meal or with toothpicks at a party!
Pepperoni Meatballs << these taste like pizza! So good!
Chicken Tikka Masala Meatballs << I loooove these.
More meatball recipes from blog friends!
Turkish Meatballs from Foolproof Living
Italian Turkey Meatball Recipe in Tomato Sauce from Cookin' Canuck
Honey Barbecue Instant Po Cocktail Meatballs from Wine and Glue