Creamy Chicken Enchilada Soup (Chili's Copycat Recipe)
This dreamy Creamy Chicken Enchilada Soup tastes like the kind at Chili's, only better! It is a simple soup that has a unique flavor thanks to Masa Harina (corn flour). There are no veggies in the soup; instead you make Pico de Gallo and serve it as a generous topping! It's one of my all time favorite soups!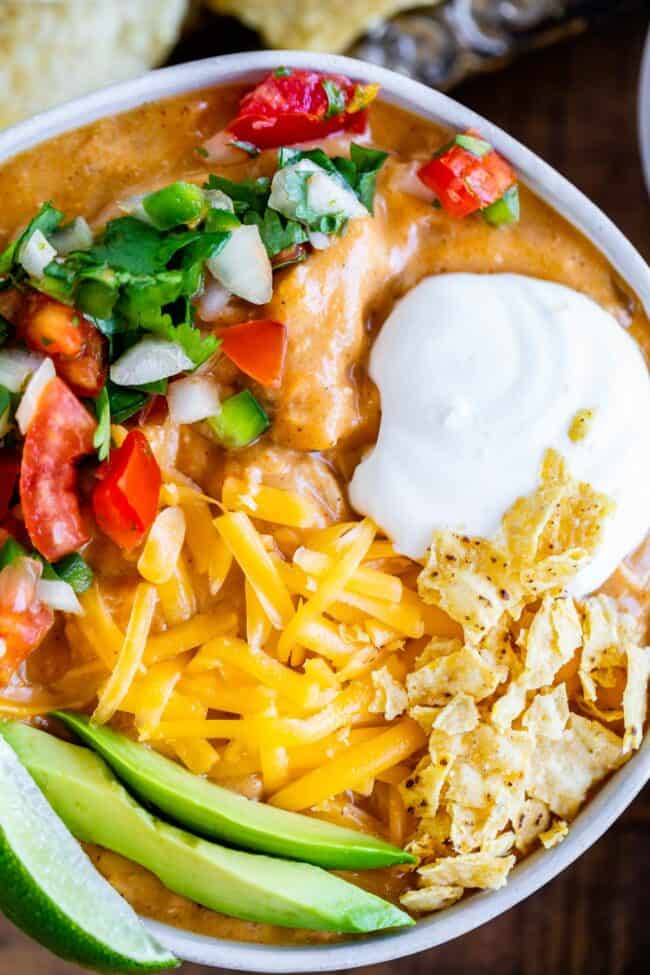 Originally posted on February 27, 2013. 
Now that the older two kids are off to school, it's just me and Valentine at home all day. Six hours is a long time for a 2-year-old to entertain herself, let me just say. I was working on the computer this morning and didn't hear her for a suspicious amount of time. You moms out there know what THAT means.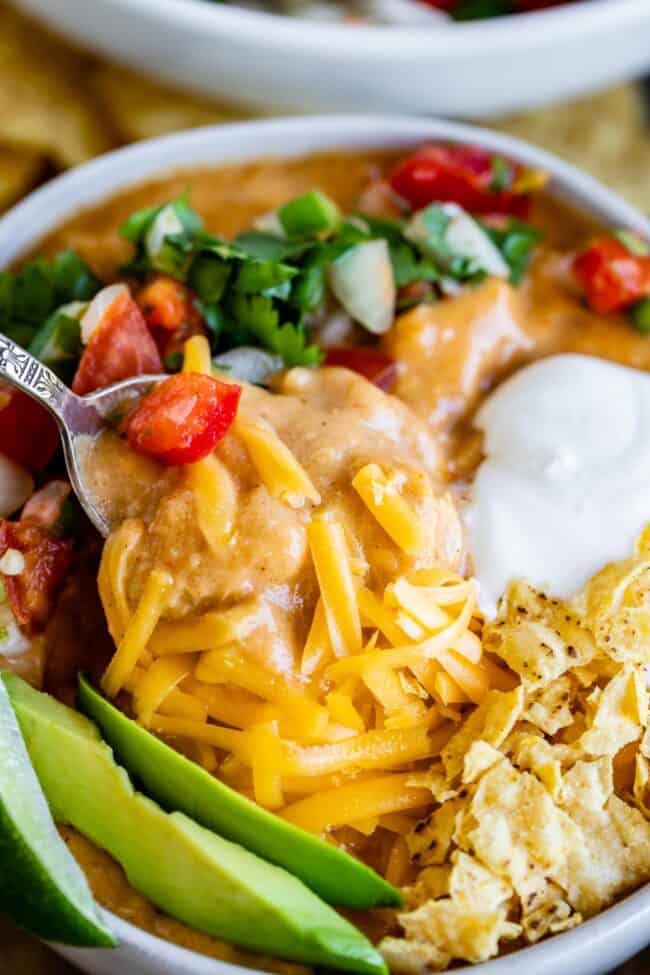 I went into the kitchen to find that she had climbed up to the top cabinet monkey-style, found the candy (the ziplock full of random candy probably from Easter or whatever the last holiday was) and was just going for it at the kitchen table. When I found her she just kept saying "Sorry" and giving me hugs. How am I supposed to fight against this??
It still doesn't beat the time a few weeks ago when I put her in a time-out for something in the laundry room. I completely forgot about her and she came out 20 minutes later with what looked like dirt all over her face. I went to investigate and found this: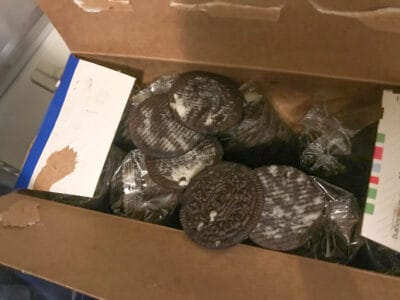 She had climbed up to the shelves, opened a bulk size box of Oreos from Costco, and licked out all the centers.
She just came in and saw this picture of the Oreos and said gleefully, "That was a time-out!" Yeah, not much of one I guess, from the way you're laughing right now. It's like she's mocking me. Valentine: 2. Mom: 0.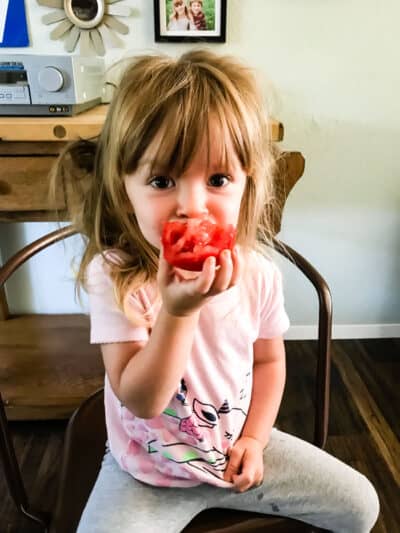 (It's a good thing she steals things like tomatoes sometimes, too, otherwise I might completely lose it.)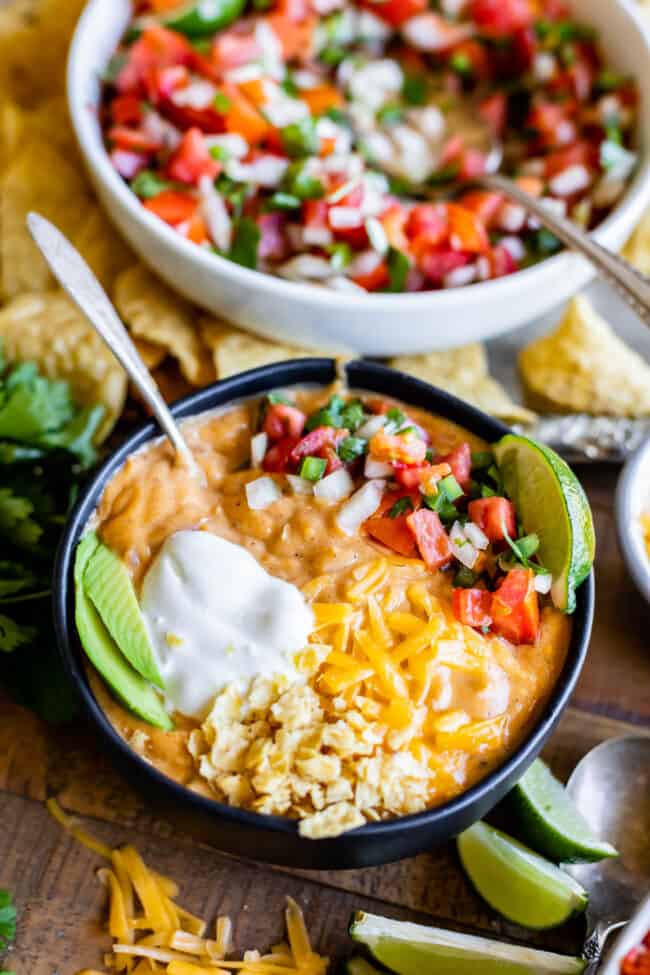 Well she can have candy for lunch I guess, but I'm going to be eating this Chicken Enchilada Soup again. I love this soup so much! I posted all my favorite recipes right away when I started my blog. It was time for a photo update! Here's what 2013-Karen had to say:
This was the first meal Eric's mom ever made me. It was a few days after Christmas and I flew out to Montana to meet Eric's family for the first time. I was 20 years old and scared to death. Eric and I had talked pretty seriously about getting married but weren't engaged yet. It's one thing to meet a boyfriend's family, but knowing that they might soon become your family is a whooooooole different ballgame.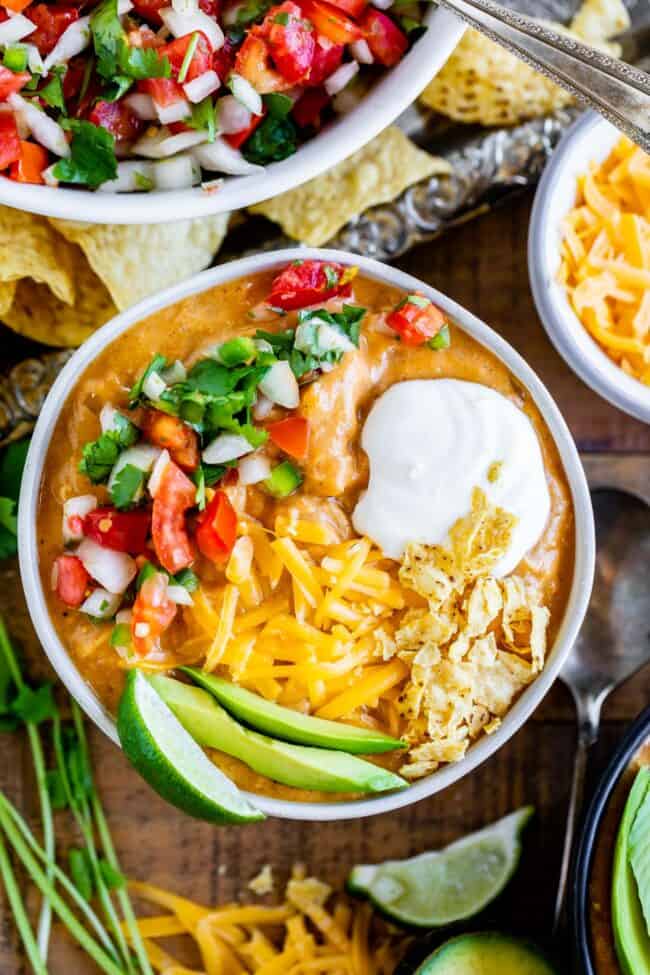 But I had nothing to worry about. Eric's family is awesome. I should have known when I tasted this soup. Only awesome people make such awesome food, right? (That's what I tell myself every day.) The fact that I have intense memories of the flavor of this soup in such a high-pressure situation is a testament to its deliciousness. Or perhaps it's just a testament to my obsession with food.
What is Masa Harina?
Either way, I promise you will love this soup. Don't be turned off by the fact that it calls for masa harina.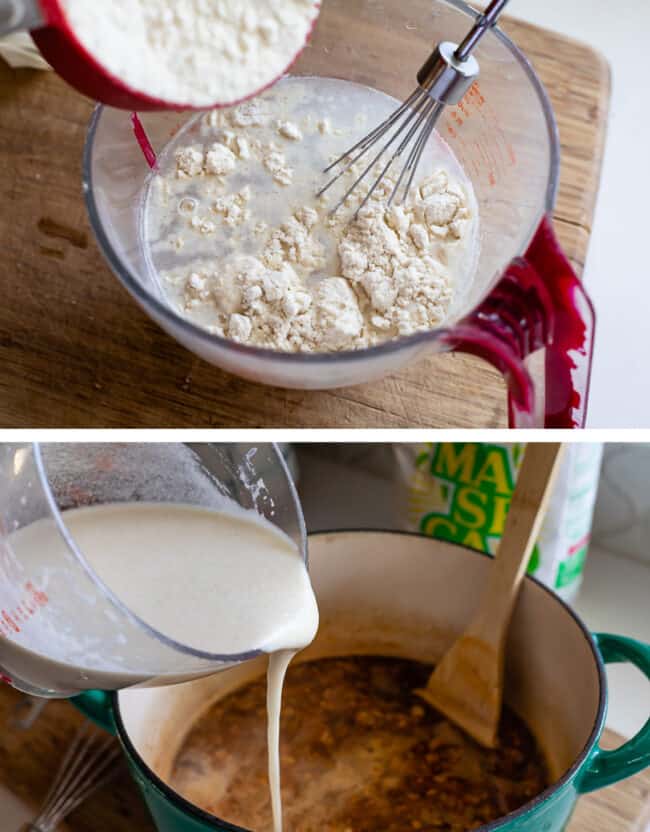 (Maseca is the most common brand of masa harina found in the US. )
You can find this in the Hispanic foods aisle in most grocery stores. Masa harina is the corn flour that is used to make tortillas. Dried corn gets soaked in calcium hydroxide and then ground very fine, which makes a dough that they then flatten into gorgeous scrumptious corn tortillas. But if you take that dough and dehydrate it, you get masa harina, sometimes called corn flour. Then at-home cooks can add water to it and make their own tortillas at home.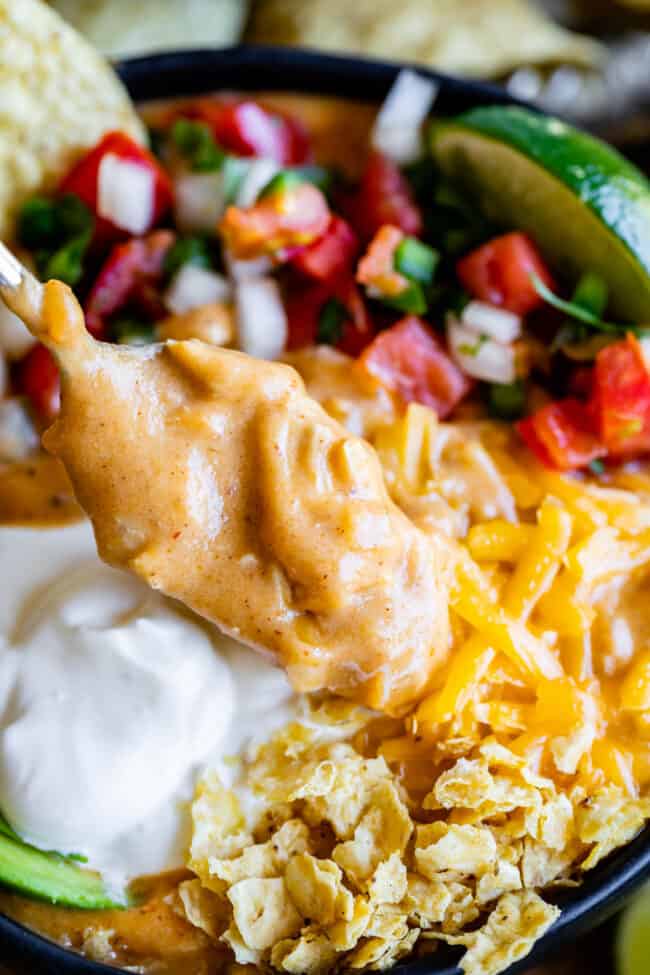 OR you can use it to make delicious Chicken Enchilada Soup. It's really what gives this soup such a unique flavor. Do you see this creamy bite?? Most enchilada soup recipes are broth-y and focus on the flavors found inside enchiladas: chicken, veggies, cheese, sauce. I love that this recipe incorporates the distinct tortilla flavor as well. It really does taste like cheesy enchiladas! It makes the soup so thick and creamy that you don't even need to add sour cream. (But I mean. You still can.)
How to Make Chicken Enchilada Soup
Another unique thing about this soup is that there are no veggies in it, besides an onion. When you're done with the soup it basically looks like game day dip of some kind. Go ahead and scoop a tortilla chip directly into the pot, you won't regret it.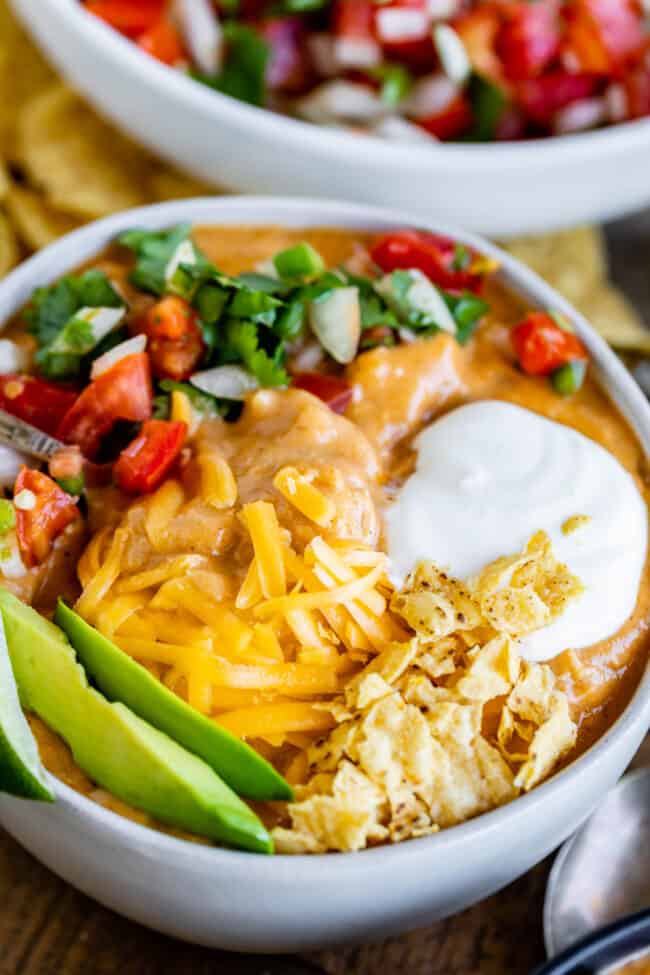 Chicken enchilada soup is all about the garnishes. I posted my favorite recipe for Pico de Gallo earlier this week, and it is an essential ingredient in this soup. It's not an optional garnish like cheddar cheese or sour cream, it really is necessary part of the soup that takes the flavor to the next level. Plus, how many soups have you had where you add fresh veggies at the end instead of cooking them in the beginning?? It's kind of fun.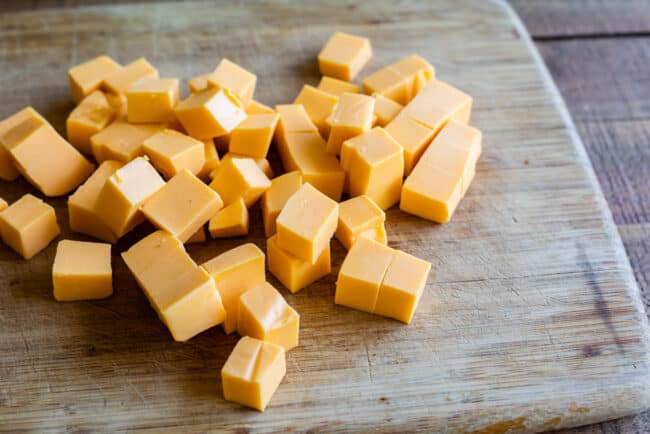 And don't forget the Velveeta. Embrace it my friends, embrace it! It makes for the creamiest, cheesiest soup.
For old time's sake, here's the photo I took of this soup the first time I posted it back in 2013:
I know it's early to be thinking about this, but if you are throwing a Halloween party this year, this is really a fun soup to serve. It's a huge winner at potlucks!
More recipes like this you are going to love!
The Best Chili Recipe I've Ever Made (Slow Cooker) << still true to this day. It's legit.
Cowboy Pinto Bean Soup (Slow Cooker) << this is another classic recipe from my mother-in-law Kris. She is such a fabulous soup maker. Trust me.
Cream Cheese Chicken Chili (Crock Pot) << This is one of those life saver "dump all the cans in" type meals. And it's SO good and creamy.
Beef Barley Soup << Another Kris recipe. It's actually from her mother, Nana. I've gotten so many love letters about this soup guys, it's crazy. It's a winner if there ever was one. Check the reviews.
Chinese Beef and Broccoli Soup << this soup has tons of flavor. Your favorite Chinese takeout in soup form!
Chicken Noodle Soup with Homemade Noodles << This is the only chicken noodle soup I will ever make!! Everyone needs a good chicken soup recipe.
Slow Cooker Chicken, White Bean, and Kale Soup with Parmesan Shavings << So easy and so good. There's also a stovetop version.
If you're looking for a great enchilada recipe, try my Aunt Shirley's Creamy Chicken Enchiladas! Or check out these meatless Sweet Potato and Black Bean Enchiladas. Here's a really easy homemade Killer Red Enchilada Sauce That's Done in 10 Minutes.
Instant Pot Loaded Cauliflower Soup from All Day I Dream About Food
Slow Cooker Broccoli Cheese Soup from Well Plated
Creamy Chicken Wild Rice Soup from Dinners, Dishes, and Desserts
Facebook | Pinterest | Instagram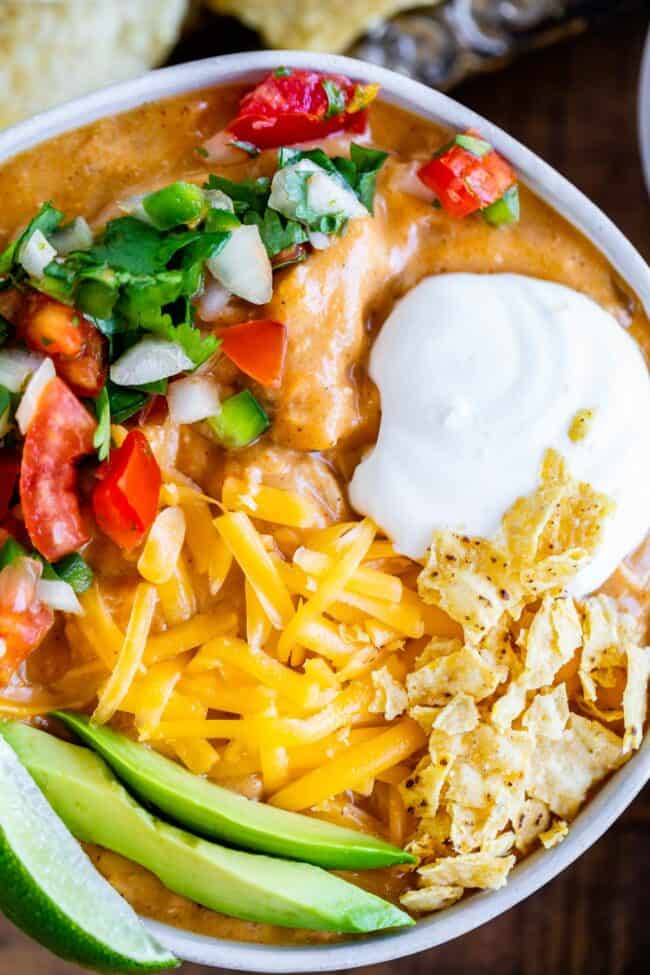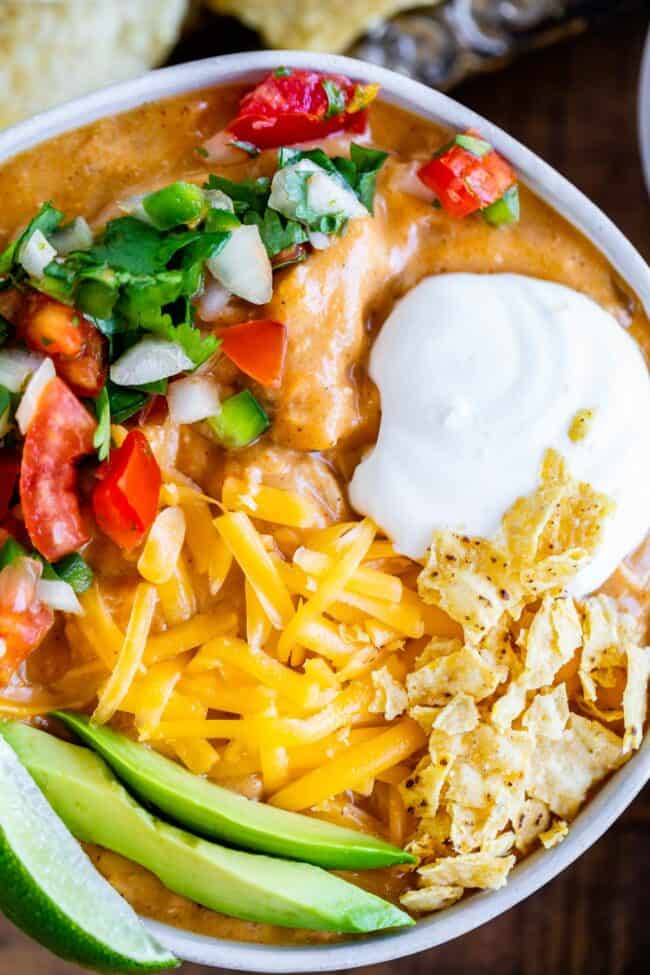 print
Did you make this recipe?
Leave a review »
Creamy Chicken Enchilada Soup (Chili's Copycat Recipe)
10
adjust servings
Ingredients
2

teaspoons olive oil

1

large onion, diced

1

teaspoon salt

1

and 1/2 teaspoons chili powder

1

and 1/2 teaspoons cumin

2

cloves garlic, smashed and minced

5

cups chicken broth

2

cups water

1

cup masa harina

1 10-ounce

can enchilada sauce, any kind you like

1

pound Velveeta, chopped into 1-2 inch chunks

1

pound shredded chicken (I love rotisserie chicken)*

Salt and pepper

Pico de Gallo, to serve with soup, not optional
For garnish
shredded cheddar cheese

crumbled corn tortilla chips

sliced avocado
Instructions
In a large soup pot, heat 2 teaspoons oil over medium high heat. When it is hot, add the chopped onion. Saute over medium high for about 4 minutes, until the onions are starting to look translucent.
Add 1 teaspoon salt, and 1 and 1/2 teaspoons each of cumin and chili powder.
Add minced garlic and saute for 30 seconds, or until the garlic becomes fragrant.
Add 5 cups chicken broth. I love to combine water with Better Than Bouillon Chicken Base; I use this product every time a soup calls for broth.
In a medium bowl or large measuring cup, add 2 cups of water. Add 1 cup of masa harina gradually, whisking constantly. (This helps avoid graininess.) Add masa mixture to the pot.
Add the can of enchilada sauce and the chopped Velveeta to the pot. Bring mixture to a boil over high heat, stirring every now and then.
Once the soup has come to a rolling boil, reduce the heat to medium low.
Add the shredded chicken. If you just carved a rotisserie chicken, you can add a few larger chicken bones to the pot so that it absorbs the flavor while the soup simmers.
Simmer the soup for 30-40 minutes or until it is nice and thick.
Meanwhile, make the Pico de Gallo, click here for the recipe.
Serve soup garnished with a generous amount of fresh Pico de Gallo, (again, this is a required component of the soup!)
Optional toppings include shredded cheddar cheese, crumbled corn tortilla chips, and avocado slices.
by The Food Charlatan

If you make this recipe,
share it on Instagram
 using the hashtag
#TheFoodCharlatan
so I can see it!
We are a participant in the Amazon Services LLC Associates Program, an affiliate advertising program designed to provide a means for us to earn fees by linking to Amazon.com and affiliated sites.