A dessert charcuterie board is a really fun and easy way to entertain for the holidays! To make your board even more unique and delicious, add some buttery Walkers Shortbread to your dessert platter and a trio of dips to dunk them in. Marshmallow dip, peppermint dip, and a chocolate ganache are perfect flavors for the holidays!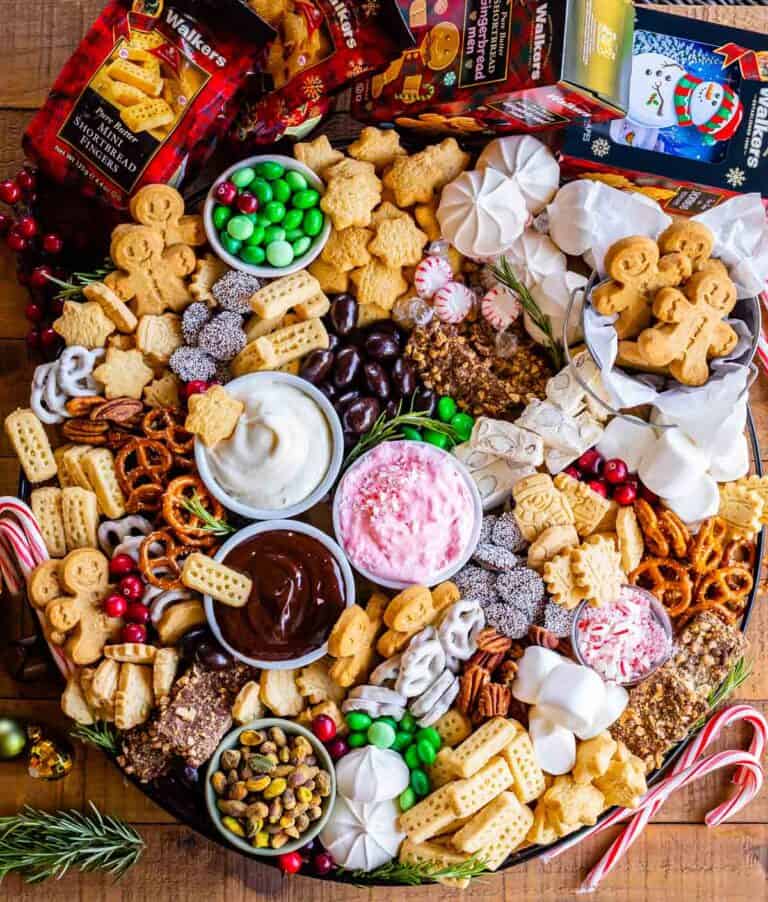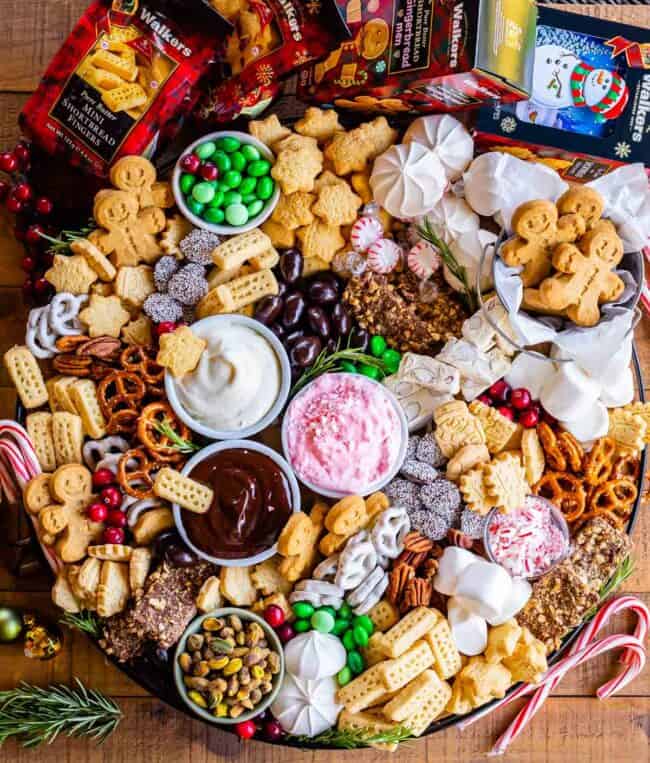 This post is sponsored by Walkers Shortbread, but all opinions are my own of course! Thanks for supporting the amazing brands that keep The Food Charlatan going!
So, raise your hand if you know what a charcuterie board is? My mom called me one day last year and told me they announced at church that they were going to have a meet-and-greet after the next Sunday school, with some French food. "Chatanook? Chartalane?"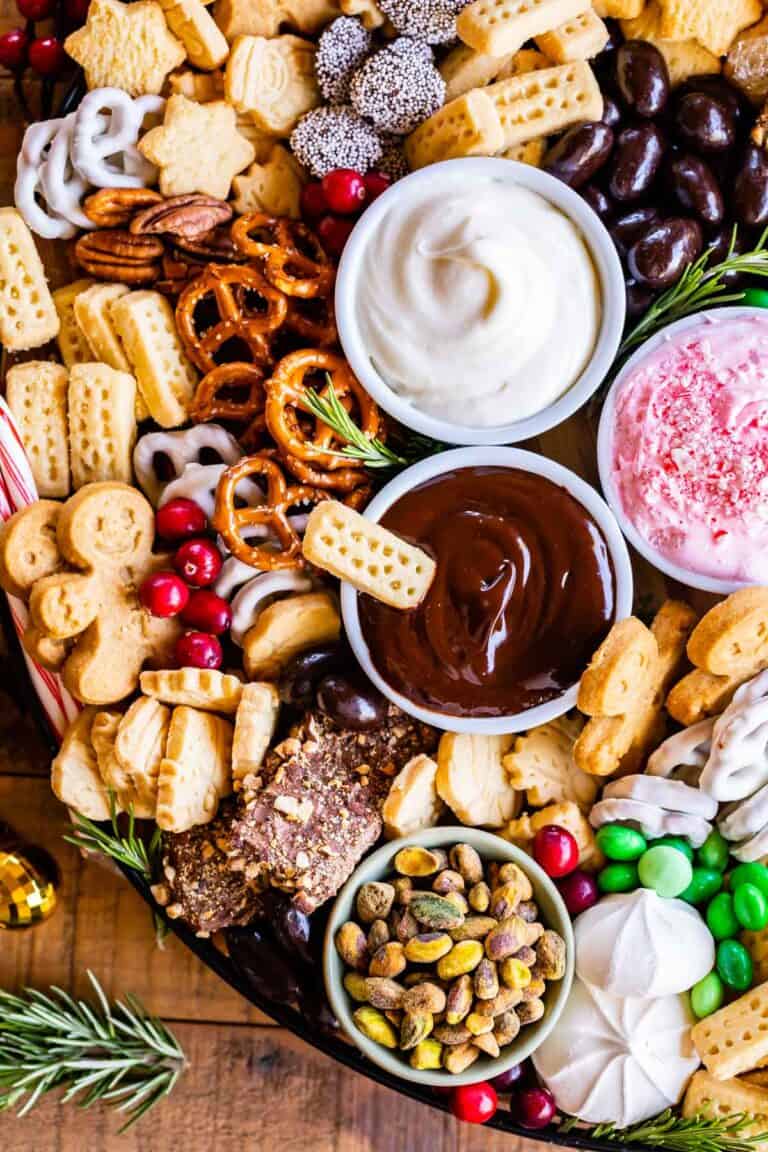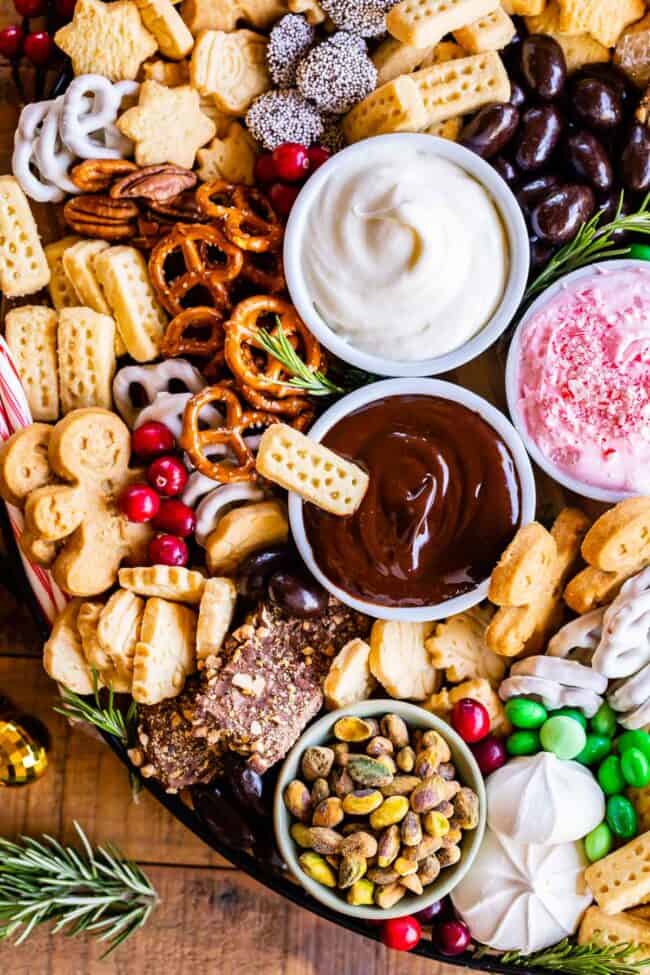 "Um, do you mean charcuterie?" I asked.
"Yes, that's it! Sounds fancy!"
I thought it was so funny. I'm very much aware of food trends going on because well, it's kind of my job to know food stuff, but sometimes I forget that not everyone knows about obscure entertaining trends. Trust me, Mom, you are not the only one!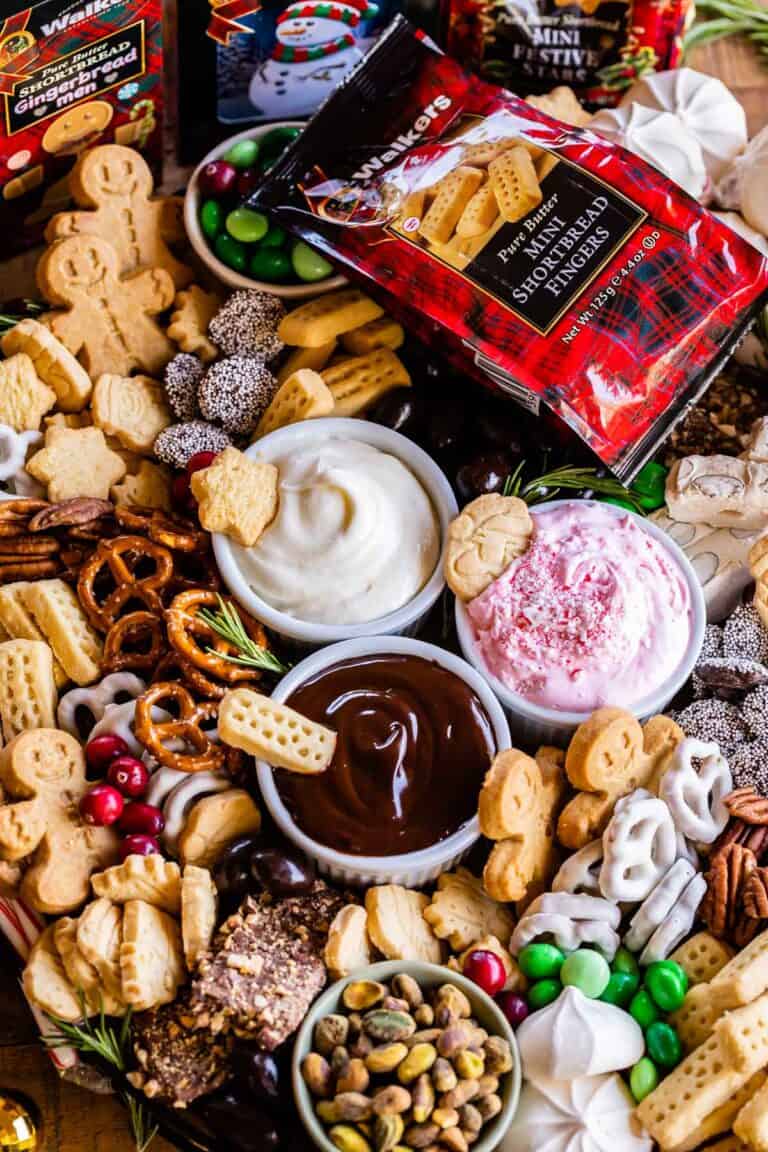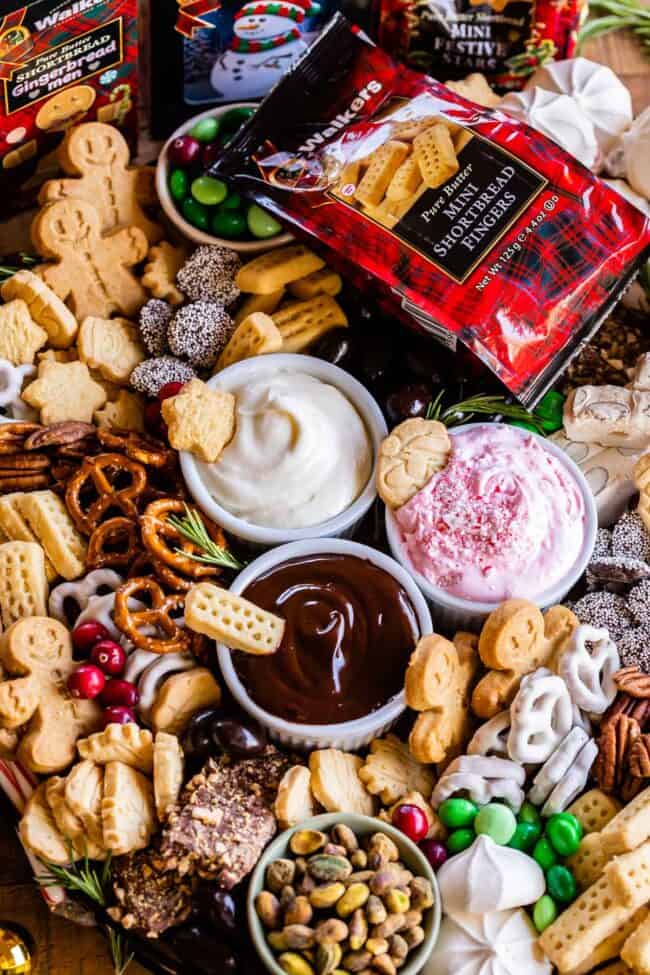 The French word "charcuterie" translates to "delicatessen." Basically, it's a bunch of cold cut meats and cheeses, laid out and ready to eat. It's really pretty, makes a great centerpiece, and is fun for entertaining.
I remember the first time I saw someone build a charcuterie board. My friend Glory from Glorious Treats made one for a brunch we were having with some friends. She kept adding more and more until the whole board was filled, and then we feasted. It was so good, and also just really impressive and pretty! Who knew throwing a bunch of finger food all together on a board could be so fun??
What is a dessert charcuterie board?
In true American fashion, we've taken the charcuterie idea, added sugar, and glorified it into a dessert situation. (Who needs cold cuts when you've got buttery shortbread and chocolate ganache?)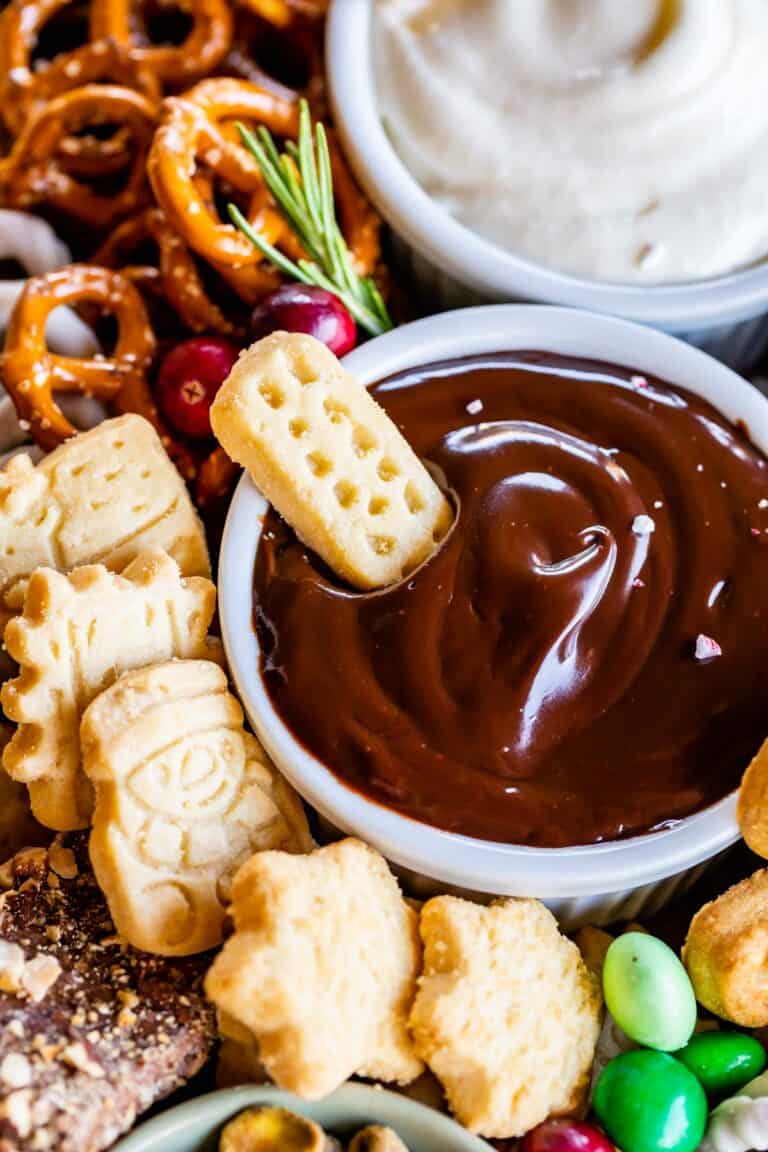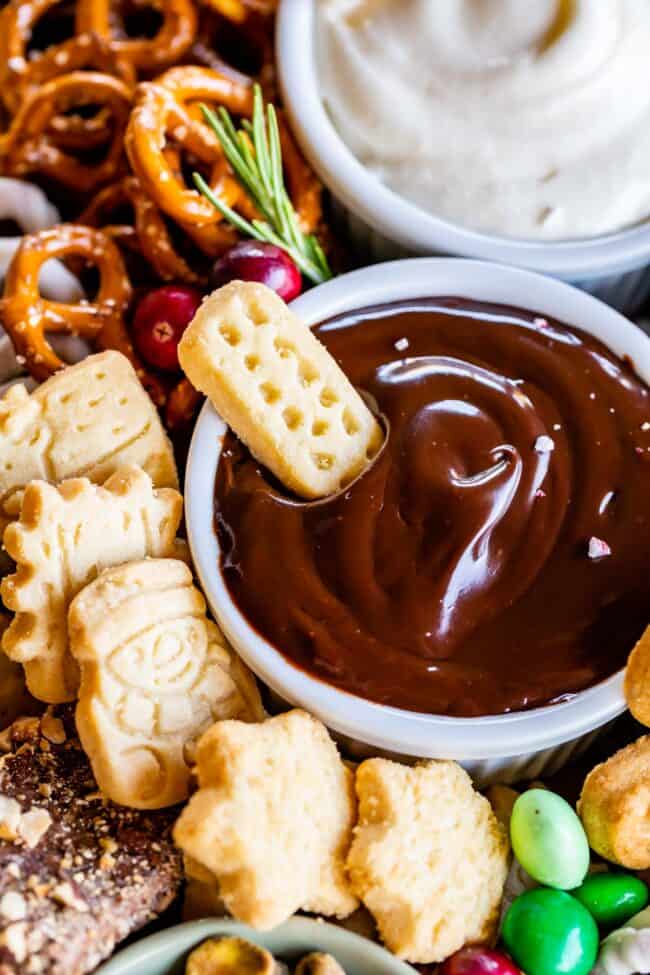 A dessert charcuterie is basically a bunch of finger-food desserts and candies, all piled onto a big board and artfully arranged. It's meant to be eaten, of course, but it's also meant to be a beautiful centerpiece for your party or gathering. It's a good way to let your creativity shine! They are so easy to put together, and everyone loves them.
How to make a dessert charcuterie board
Start with the largest "anchor" items. I added the bowls I needed for the dips (even though they were empty at first), because the bowls are big and provide an anchor for the rest of the dessert items. If you have a different theme or don't want to do the dips, you can use mini pumpkins for fall, or a pretty Christmas decoration. It doesn't have to be edible.
Move on to adding the "dippers" of the board. Arrange all of your Walkers Shortbread items: the shortbread fingers, gingerbread men, and adorable little snowman, Santa, and star shapes they have. I also added in some pretzels, marshmallows, store-bought meringues, nougat, because I thought these items would be good for dunking in the dips.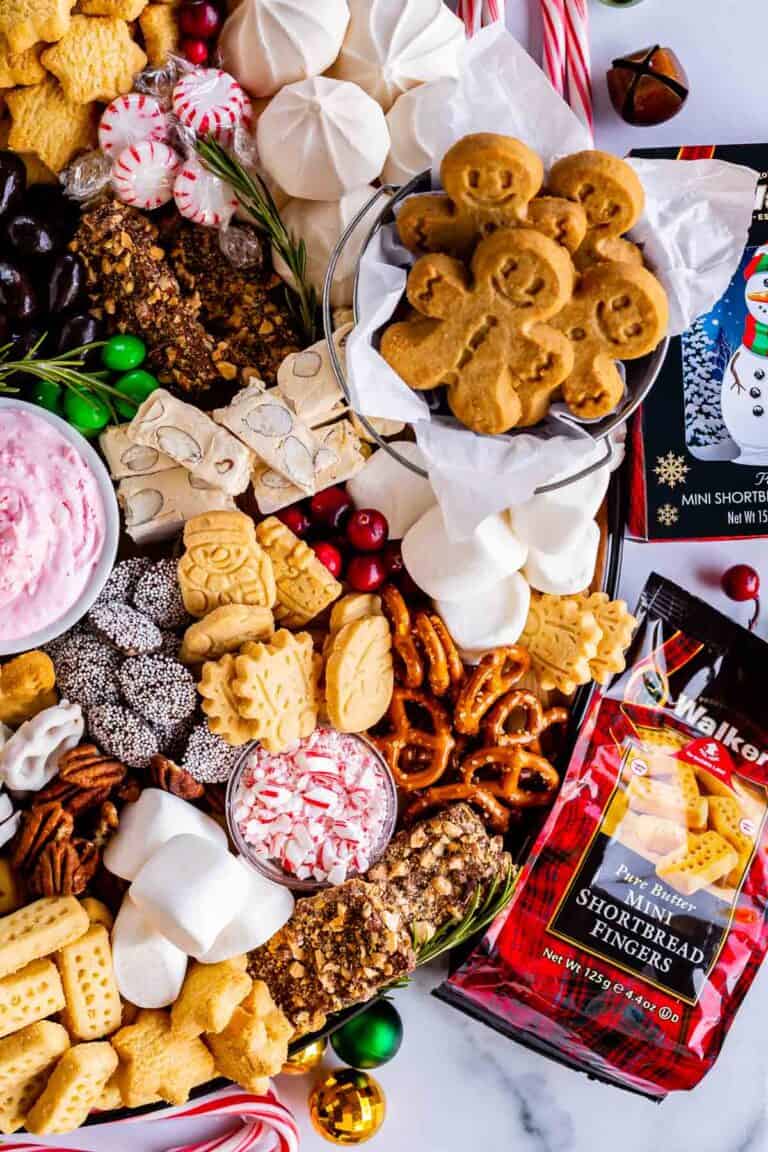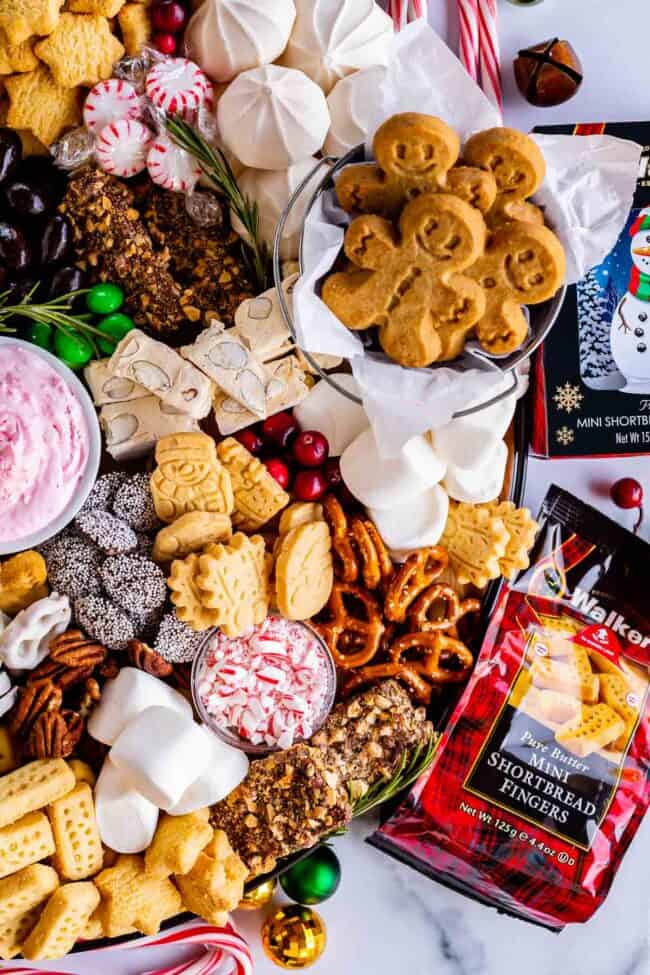 Add whatever other medium size treats you have. I added in some English toffee, chocolate covered almonds, and some pretty nonpareil chocolates, that people probably would just eat plain rather than dipping.
Add small treats and candy and nuts at the end. Make sure to fill any gaps in your board. Feel free to leave your candy wrapped if it has a colorful paper. It can be a pretty accent and is good for adding texture to your board. I added some pistachios to a small bowl to give the board more height and interest. But you can also just make a pile on the board itself, like I did with the pecans.
Add garnishes. I added in some fresh rosemary to bring in some color, as well as fresh cranberries and crushed candy canes.
Tip for making your board beautiful
Use lots of color. So many desserts are BROWN. It's important to add some color to your board. Use different candies, and also remember that you can leave candies individually wrapped if they are colorful. Fruit adds in some nice color too! Mandarin orange segments, strawberries, blueberries, sliced apples, etc., would all be pretty.
Add texture. By this I mean use whatever materials you have available to make your board look less flat and dull. Add interest and height by putting candy or nuts into small bowls, layering a certain item on a bit of parchment paper, or including items like the English toffee or nonpareil chocolates that are naturally textured.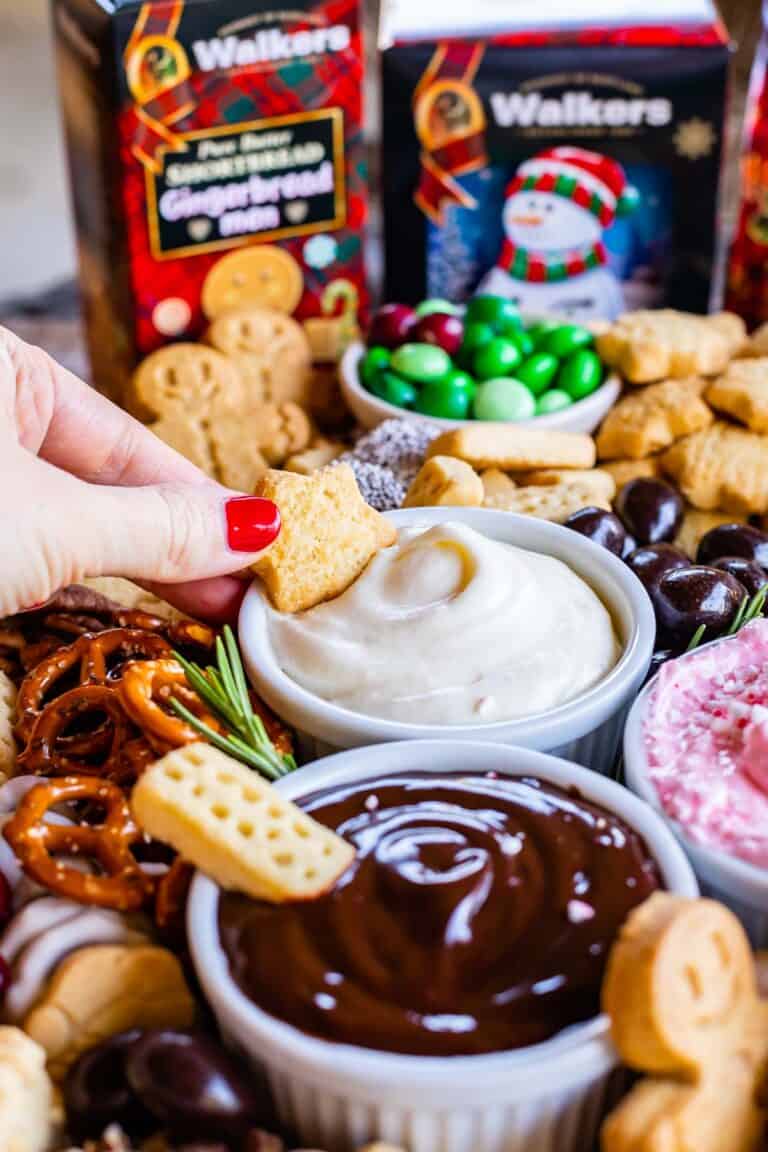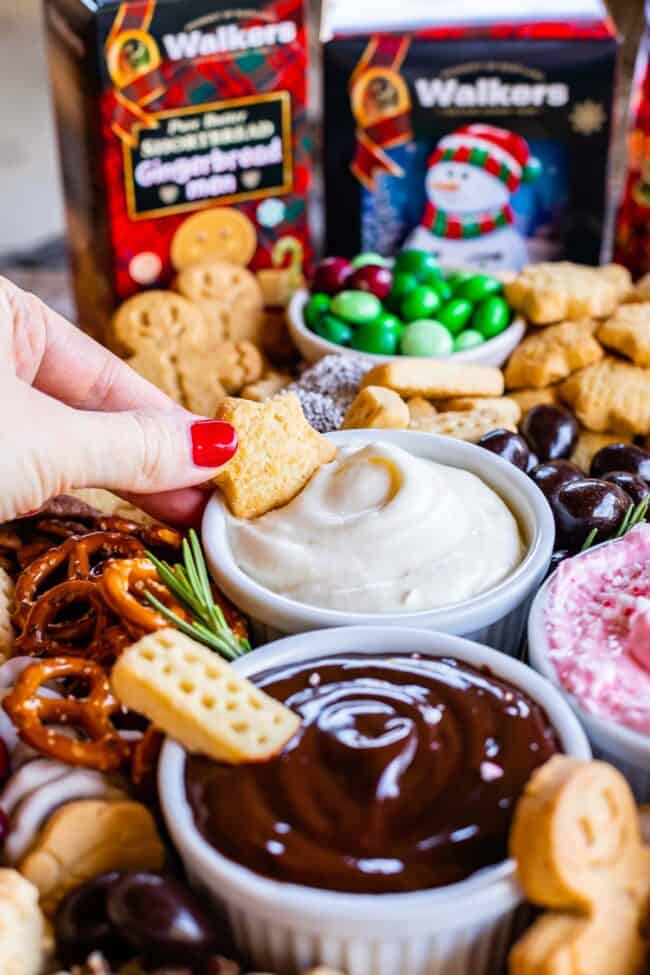 Balance. Use the rule of thirds to help you build your board. Instead of putting your centerpiece (in this case, the trio of dips) in the exact center, put them off to the side a bit.
Use different shapes. All of the Walkers Shortbread that I used for this board are great for adding different shapes: the gingerbread men, the shortbread fingers, and the stars all add interest. The pretzels add their fun twisty shape. The meringues add their beautiful swirl.
Repeat items for balance. It's pretty to repeat items throughout the board. You can see how I've added the gingerbread men to a little mini bucket layered with parchment paper to add texture. But I also added more gingerbread men in pairs of two or three in other places throughout the arrangement.
Trio of Dips
For this dessert charcuterie board, I decided to make a trio of fun dips to dunk the Walkers Shortbread in. You could easily just do one dip, or skip the dips entirely (the shortbread is totally delicious enough to stand on its own.) But who can say no to a little homemade love? Fortunately they are all super easy to put together: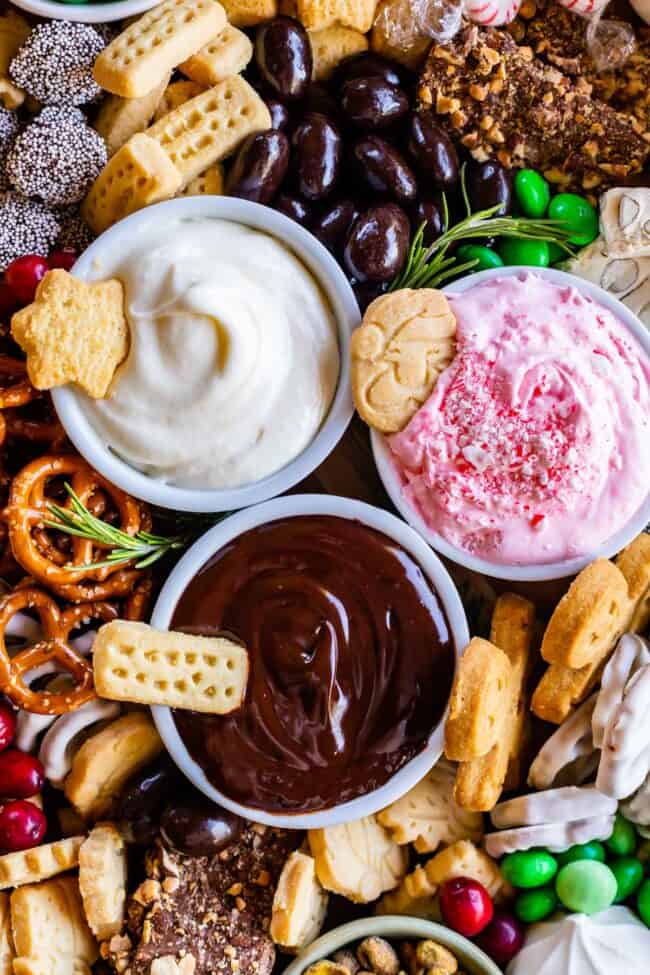 Chocolate Ganache. This is just heavy cream heated in the microwave until bubbly, with some chocolate chips stirred in and a little butter to smooth it out. It is classic, easy, and people can't get enough of it! I used a mix of semisweet and dark chocolate chips.
Peppermint Whip. This is literally just some cool whip with crushed peppermint added in. It may not sound like much, but it was one of my favorites! (If you are a cool whip hater, you can just beat some heavy cream until it's stiff.) By the way, don't be afraid to dip the gingerbread into the peppermint. Ginger and peppermint is one of my favorite Christmas flavor combos! Check out these cookies and these gingerbread bars!
Marshmallow Dip. This is a classic recipe that people usually dip fruit into. (But not us. We're dipping shortbread. AND IT'S AMAZING.) The recipe is just one package of cream cheese beat together with one jar of marshmallow creme. I added in a little powdered sugar and vanilla too. It's so ridiculously good. This one was Eric's favorite. I think he's eaten an entire army of gingerbread men with this dip since I made it.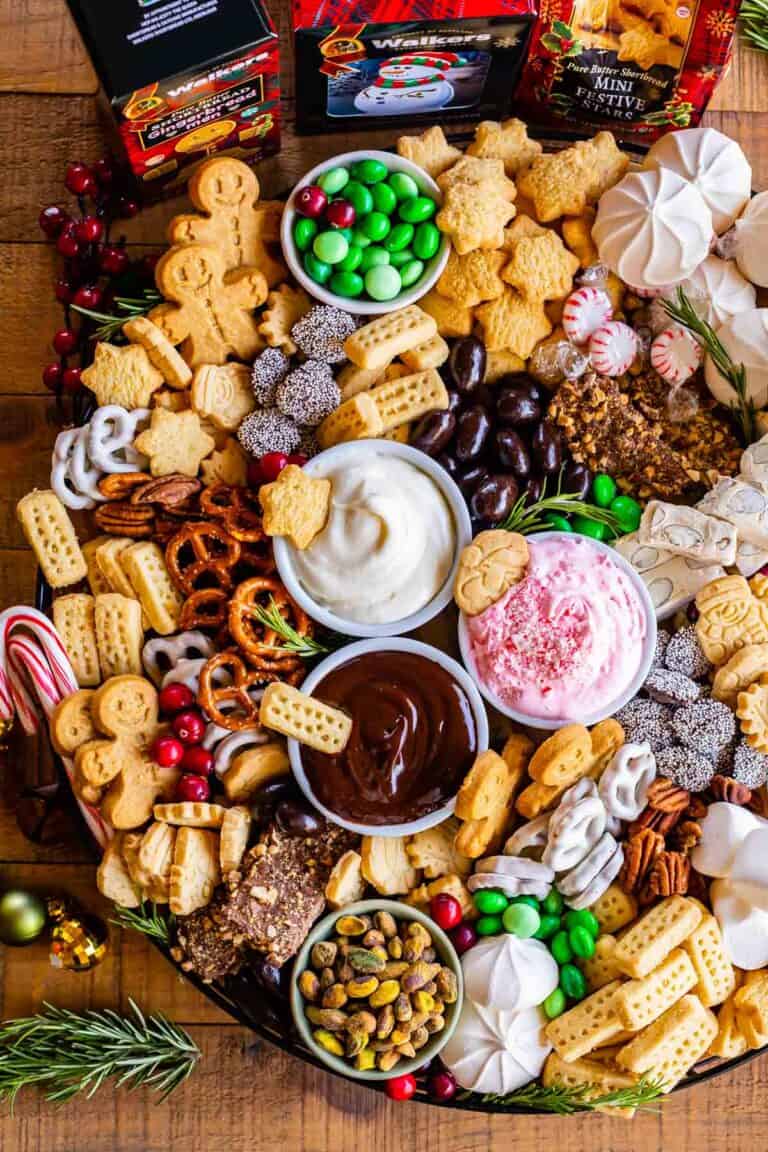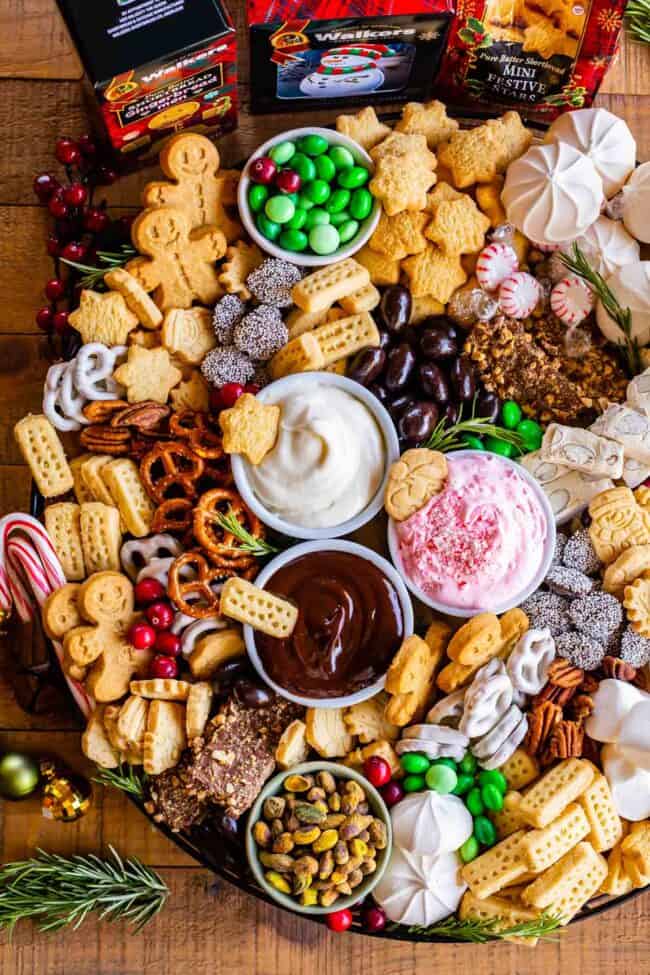 I'm creating this post in partnership with Walkers Shortbread! If you have never tasted their shortbread you have to try it. It is so buttery and sweet, and absolutely addictive! It is the perfect addition to your dessert charcuterie board. They are tasty dipped in ganache or peppermint whip, but also just on their own! I'm snacking on a bag as I write this. It's probably going to be gone soon :) You can grab your own from their holiday collection! Use code KG15HOLIDAY for 15% off.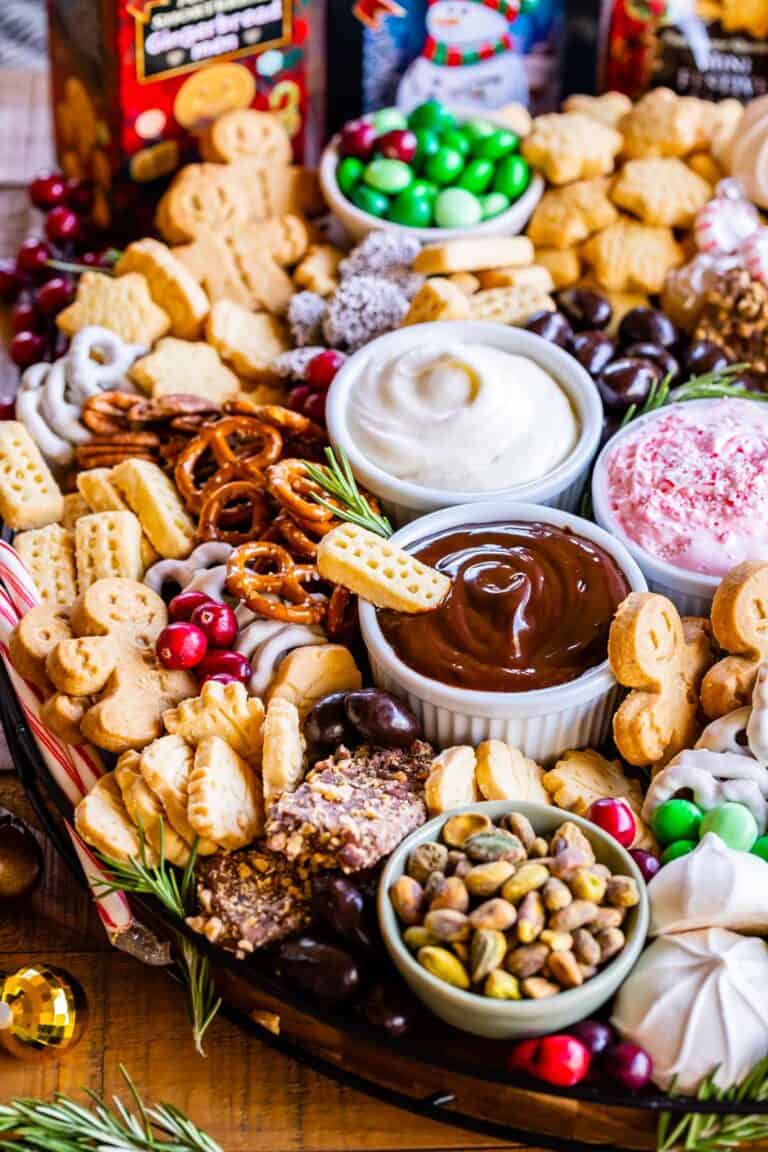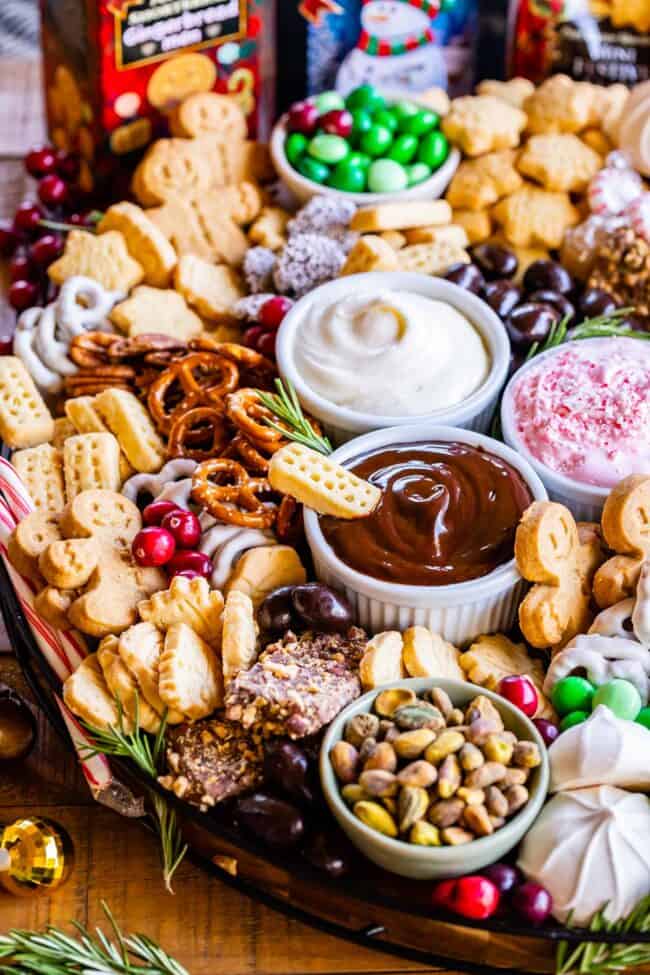 I love Walkers Shortbread because it's a super tasty treat that feels gourmet on my dessert board, but I don't have to lift a finger to make it. There is enough going on during the holidays! All the fun shapes they have are perfect for adding interest to your board. I hope you get to try out making your own dessert board this holiday season! They really are so much fun and will totally impress your guests.
More appetizer, dips, and charcuterie board ideas you will love!
Facebook | Pinterest | Instagram

How to Make a Dessert Charcuterie Board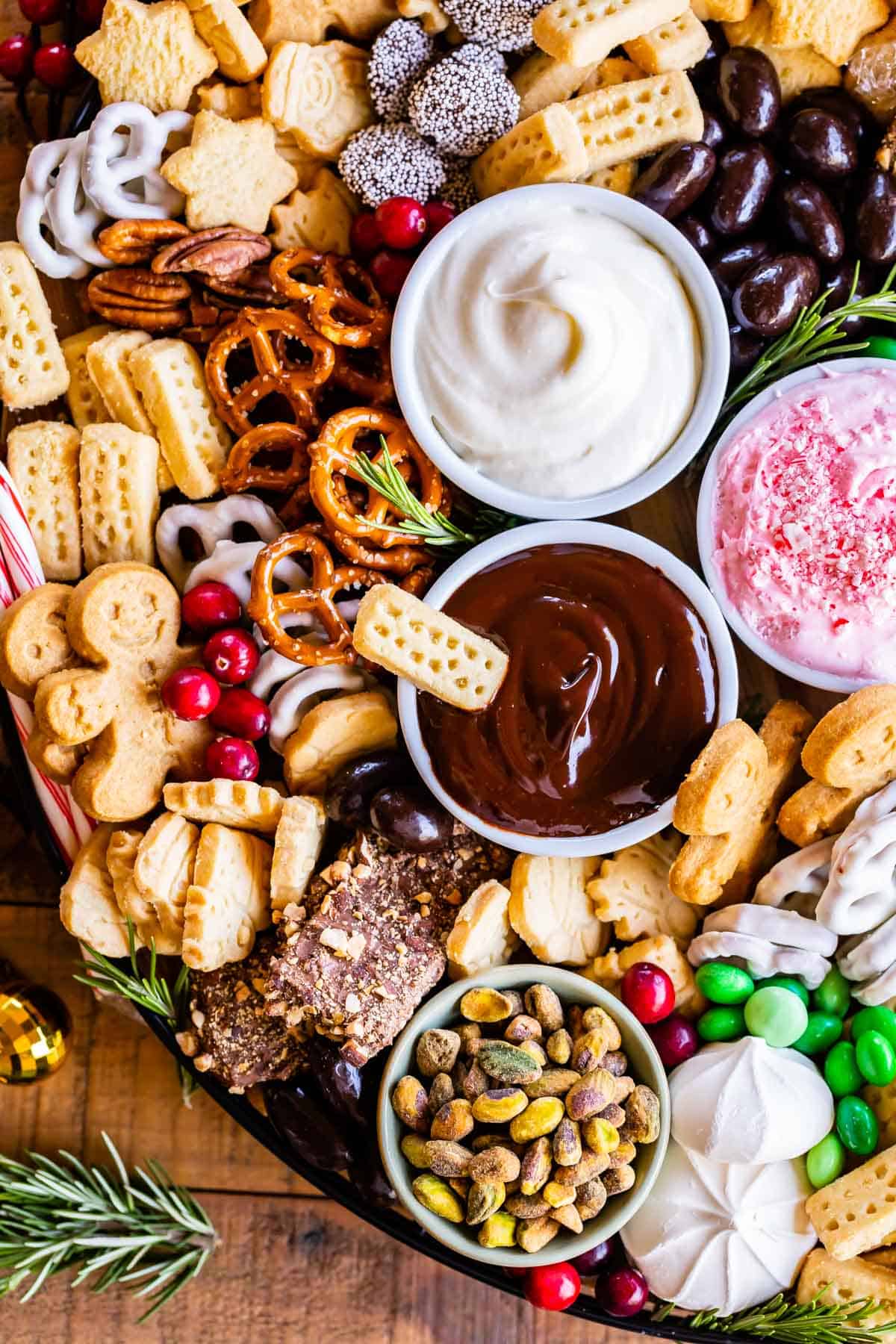 A dessert charcuterie board is easy and so fun for parties! A nice centerpiece and conversation starter. Sweet dips add variety and flavor!
Ingredients
For the chocolate ganache
1/3

cup

heavy cream

1/3

cup

semisweet chocolate chips

1/3

cup

dark chocolate chips

2

tablespoons

butter
For the Peppermint Whip
1 (8-oz)

tub

cool whip*

8

candy canes

,

crushed (about 2/3 cup)
Marshmallow Dip
1 (8-oz)

package

cream cheese

,

softened

1 (7-oz)

tub

marshmallow creme

1/2

cup

powdered sugar

,

optional

1

teaspoon

vanilla

,

optional
Items for the dessert charcuterie board
2

packages Walkers Shortbread Gingerbread Men

2

packages Walkers Shortbread Mini Festive Stars

1

Walkers Shortbread 3D Snowman Carton

2

packages Walkers Mini Shortbread Fingers

marshmallows

pretzels

white chocolate covered pretzels

English Toffee

Almond Nougat Candy

meringues

chocolate covered almonds

non-pareil chocolates

pecans

pistachios

hard shell candy coated chocolates

,

I chose mint (green) ones

fresh cranberries

,

to garnish

fresh rosemary or mint

,

to garnish

crushed candy canes

,

to garnish
Instructions
Make the chocolate ganache:

In a small bowl, microwave 1/3 cup cream in 30 second increments until bubbles form around the edges. Keep checking it. Add 1/3 cup semi sweet and 1/3 cup dark chocolate chips. Let sit for 1 minute, then stir in 2 tablespoons butter. Whisk until it is smooth. It will get thicker as it comes to room temperature, you can just throw it back in the microwave in short increments if you need to reheat it later.

Make the Peppermint Whip: Thaw a tub of cool whip, or see notes for making your own whipped cream. Fold in 8 crushed candy canes, or as much as you like to taste. Refrigerate until ready to use.

Make the Marshmallow Dip. Beat the cream cheese in a bowl or stand mixer until completely smooth. Add in a 7 ounce jar of marshmallow creme and beat until smooth. You can add 1/2 cup of powdered sugar and 1 teaspoon of vanilla if you like. Refrigerate until ready to use.

Assemble your dessert board. I used an 18 inch round board, but you can make your board as large or as small as you want. Start by placing the bowls on the board that you are going to put the dip in, but don't add the dips yet. (I mean, you can, but don't blame me when you drop pistachios in them on accident. Or maybe you aren't as clumsy as I am!)

Add the Walkers Shortbread Gingerbread Men, Walkers Shortbread Mini Festive Stars, Walkers Shortbread 3D Snowmen, and the Walkers Mini Shortbread Fingers. Remember you can add small bowls or bits of parchment paper to add texture and height.

Add any other larger items that you would want to dunk in the dips. Arrange the pretzels, white chocolate covered pretzels, meringues, English toffee, Almond nougat, etc. Other ideas are graham crackers, rice crispy treats, macarons, or any type of fruit.

Add in smaller items like candy, nonpareil chocolates, pistachios and pecans or any type of nut, candy canes, starlight mints, etc.

Garnish with fresh herbs like mint or rosemary, fresh cranberries, and crushed candy canes.
Notes
*You can whip your own cream if you want. I would use about a cup or 1 and 1/2 cups of cream. It will double in volume when you beat it. Add a little powdered sugar if you want.
Nutrition
Serving:
1
g
|
Calories:
1480
kcal
|
Carbohydrates:
200
g
|
Protein:
18
g
|
Fat:
69
g
|
Saturated Fat:
24
g
|
Polyunsaturated Fat:
8
g
|
Monounsaturated Fat:
33
g
|
Trans Fat:
1
g
|
Cholesterol:
92
mg
|
Sodium:
1267
mg
|
Potassium:
430
mg
|
Fiber:
5
g
|
Sugar:
76
g
|
Vitamin A:
748
IU
|
Vitamin C:
1
mg
|
Calcium:
253
mg
|
Iron:
6
mg