Deviled Eggs are an absolute must for Easter! This recipe is the classic version, nothing but mayonnaise, mustard, spices and perfectly cooked eggs. Okay and maybe a secret ingredient or two.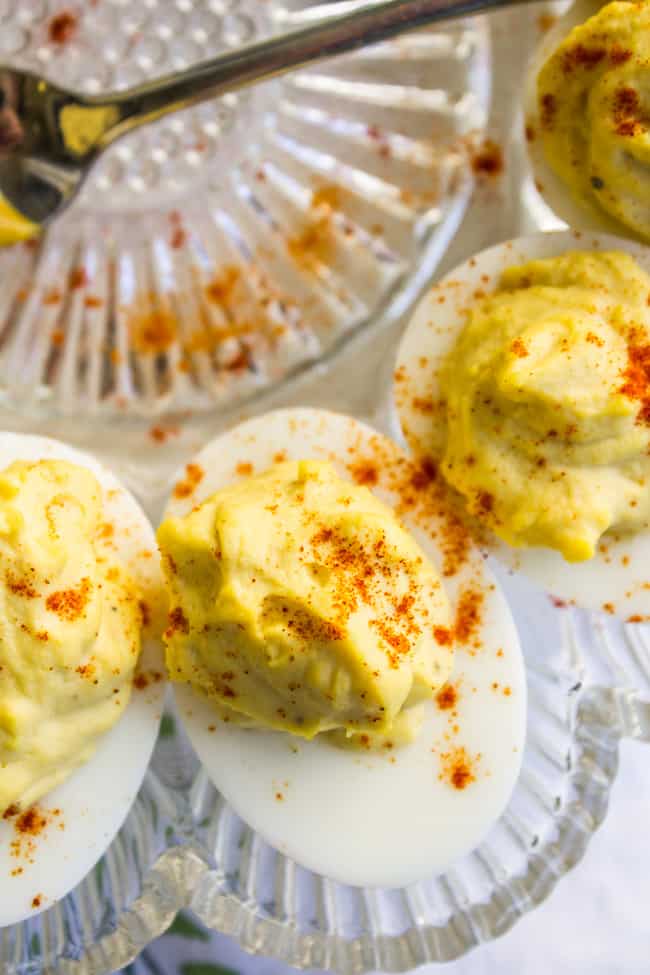 I'm still down in Manteca hanging out with my Mom while she recovers from surgery. Today Charlotte, who is 5, walks over to my mom and starts patting her repeatedly. "What's that Grandma? What is that?"
"Well honey, that's my breast."
Charlotte sees me get dressed every single day. But she's going to have to go to other sources to find out about this whole breast situation, because apparently mine have never been noticeable enough to comment on.
It was convenient that I photographed these deviled eggs at my mom's house, because she has one of these snazzy plates designed specifically to hold deviled eggs. I've never bought one because it seems silly to own a dish that is ONLY for one kind of recipe. On the other hand, deviled eggs are devilishly slippery. Someday when I die and we get to watch videos of whatever we want from earth life, I want to watch a huge round up of people letting their entire platter of deviled eggs slide off onto the floor.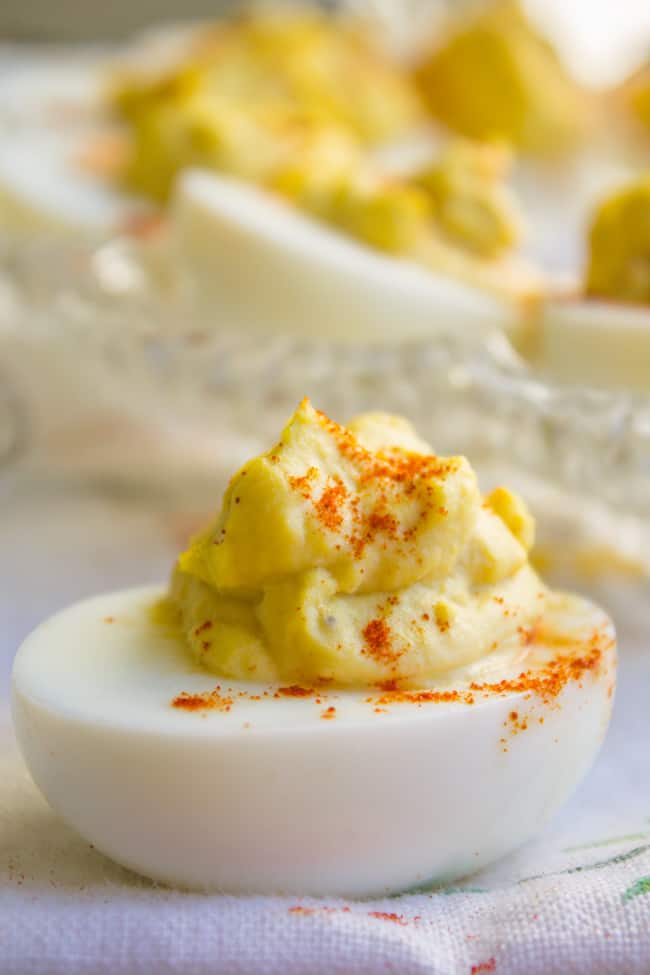 (Am I the only one who dreams about all the cool stuff we will get to know when we die?  I imagine a great huge analytics room with giant screens and graphs everywhere. We could see data on anything: how many miles you ran in your whole life (mine would be pitiful) how many books you read compared to the rest of the world, how many people dropped platters of deviled eggs…it's going to be awesome.)
How to boil eggs for Deviled Eggs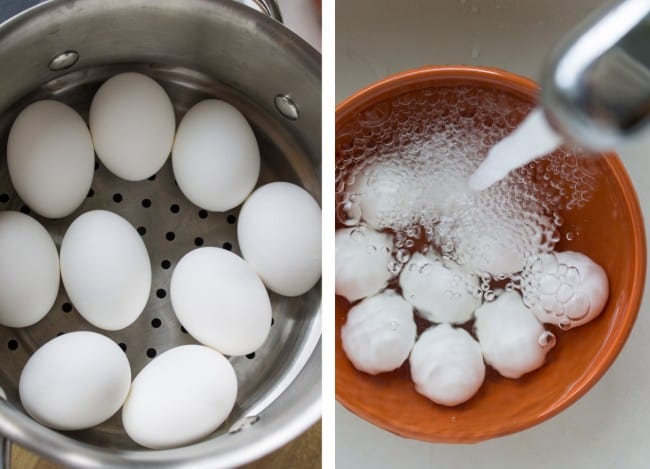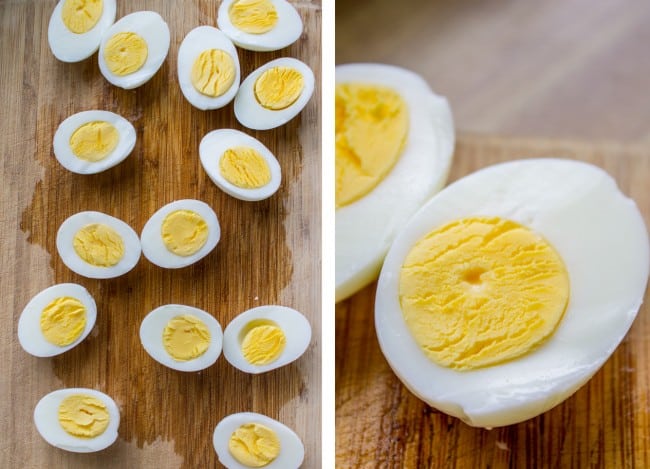 Who's had trouble hard-boiling eggs? I mess it up every time, whether it's overcooking or having impossible to peel shells. Do you have any boiling tips?
I avoid the whole process by steaming my eggs instead. So much easier! The best part is that they are SO EASY to peel. I timed myself, I peeled 9 eggs in 4 minutes and 51 seconds. Plus I stopped to take photos.

My one tip for boiling OR steaming eggs is to use OLD eggs, not fresh ones. If you try to boil fresh eggs that you just bought, those peels will stick no matter how you cook 'em. Eggs last forever, buy them in bulk so you always have some on hand. I buy 5 dozen at a time (seriously).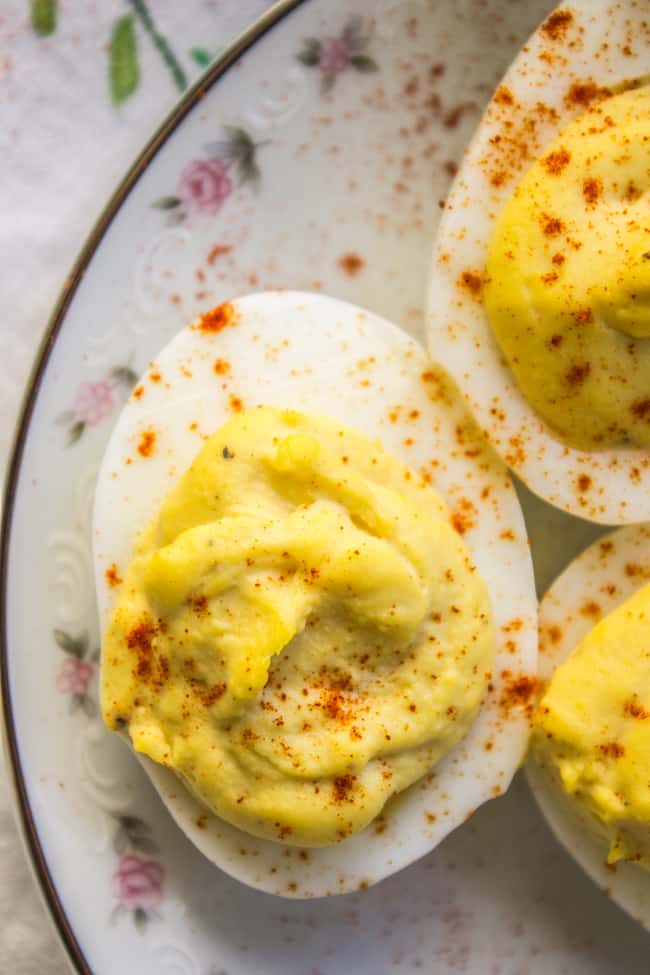 Classic Deviled Eggs Ingredients
This recipe has no special ingredients! It's just a no-fuss classic recipe. My 2 tips are to add seasoned salt instead of regular salt for flavor, and add a dash of cayenne pepper. Just a little bit, not to make them spicy, just to add interest.
And don't add too much mayonnaise! I've ruined many a batch by being heavy handed on the mayo. You want a smooth and creamy filling, but you want it to taste like eggs, not mayonnaise. I added one tablespoon at a time until I thought it was perfect. Hang onto this recipe for Easter Sunday! It's not Easter without deviled eggs!
Facebook | Pinterest | Instagram | Twitter

Classic Deviled Eggs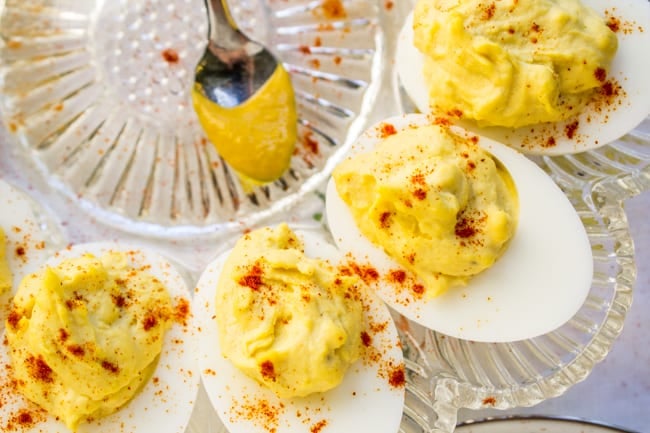 Deviled Eggs are an absolute must for Easter! This recipe is the classic version, nothing but mayonnaise, mustard, spices and perfectly cooked eggs.
Ingredients
9

large

eggs*

6

tablespoons

mayonnaise

2

teaspoons

yellow mustard

1

teaspoon

dijon mustard

1/8

teaspoon

seasoned salt

,

like Lawry's

dash cayenne pepper

black pepper to taste

regular or smoked paprika

,

for sprinkling on top
Instructions
Begin by cooking your eggs. I highly recommend steaming:**

Add about 2 inches of water to a pot that has a steam basket. Cover (without the steamer) and bring to a boil over high heat.

Meanwhile, add 9 eggs to the steam basket.

When the water is at a rolling boil, remove the lid and place over the steam basket, and place the covered basket over the boiling water.

Set a timer for 12 minutes right away.

Meanwhile prepare an ice bath, or a large bowl with very cold tap water will work fine too.

When the timer goes off transfer the eggs to the cold water. I use a spoon to transfer them one a time but do it however you like.

Let cool in the water for about 20 minutes.

Peel the eggs and slice each one in half lengthwise.

Scoop the yolks into a bowl or food processor. Place the whites on a serving platter. Crumble the yolks with a fork or pulse a couple times.

Add the rest of the ingredients: mayonnaise, mustard, dijon mustard, seasoned salt, cayenne pepper, and black pepper.

Stir together or pulse.

Scoop the filling back into the egg whites. You can pipe it if you want, but I actually prefer the natural look of just spooning it in.

Sprinkle with paprika and serve!

You can make them a day ahead if you want! Just keep covered in the fridge. Perfect make-ahead appetizer.
Notes
*Use OLD eggs, not fresh ones.
**If you don't have a steam basket, boiling the regular way will work great! Add your eggs in a single layer to a pot. Cover with 2 inches cold water. Set over medium-high heat until the pot reaches a rolling boil. Once it is boiling nicely, turn off the heat, cover with a lid, and set a timer for 12 minutes. Continue with the ice bath step above.
I like simple deviled eggs, but in my recipe research I found a few ideas that sounded interesting: adding garlic, or a squirt of hot sauce, or adding pickle relish, or adding a teaspoon or less of vinegar OR lemon juice OR liquid from the pickle jar (if you like that acidic bite it gives it).
Nutrition
Calories:
69
kcal
|
Carbohydrates:
0.4
g
|
Protein:
3
g
|
Fat:
6
g
|
Saturated Fat:
1
g
|
Polyunsaturated Fat:
3
g
|
Monounsaturated Fat:
2
g
|
Trans Fat:
0.02
g
|
Cholesterol:
95
mg
|
Sodium:
89
mg
|
Potassium:
39
mg
|
Fiber:
0.1
g
|
Sugar:
0.2
g
|
Vitamin A:
195
IU
|
Vitamin C:
0.01
mg
|
Calcium:
15
mg
|
Iron:
0.5
mg
Here are some other recipes you will love!
Sriracha Deviled Eggs << personal fav!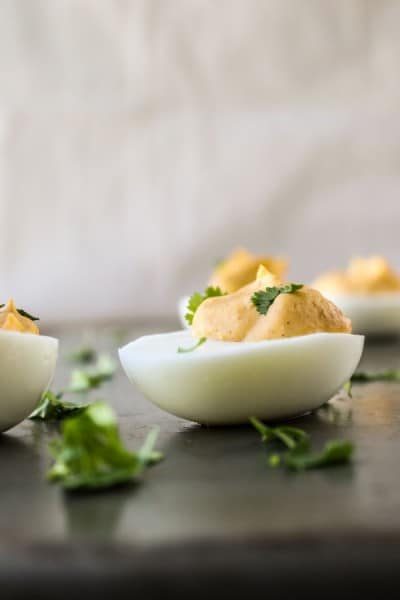 Deviled Guacamole Eggs << No mayo in these!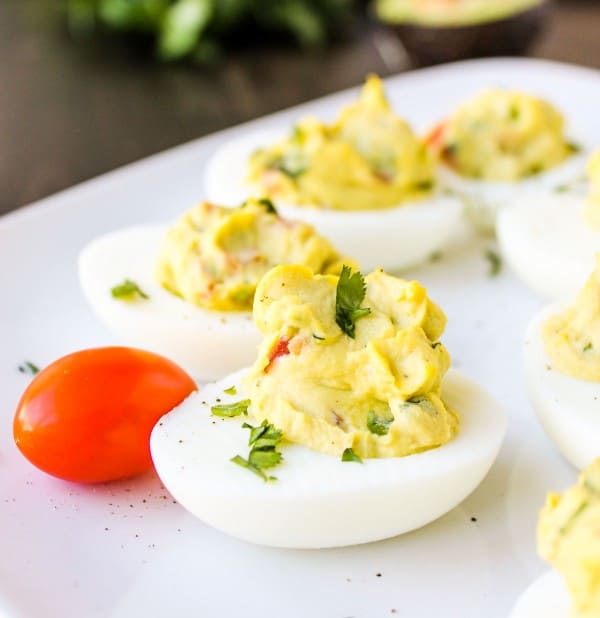 Classic Egg Salad Sandwich << this is unbeatable! It's not Easter without one of these bad boys.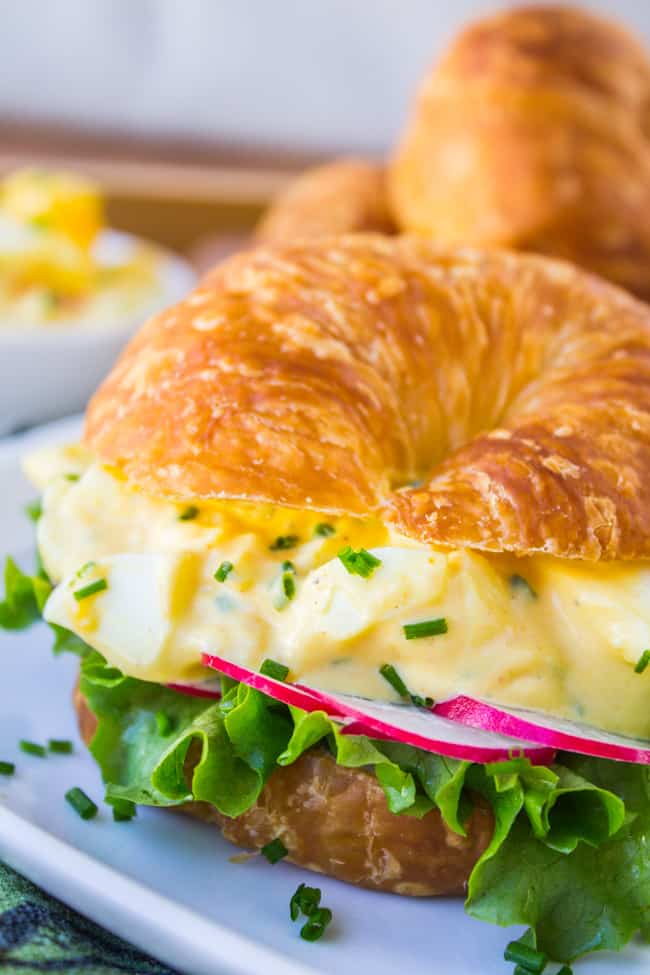 Check out these awesome variations!
Creamy Asiago Deviled Eggs from Life's Ambrosia
Parmesan Pesto Deviled Eggs from Lemon Tree Dwelling
Bacon and Blue Deviled Eggs from Cake n Knife