Pick up a rotisserie chicken on the way home and make this cheesy Chicken Nachos Recipe in 20 minutes flat! Sometimes you just need to get dinner DONE and this is the perfect recipe for one of "those" nights. Also, I guarantee your entire family will love it because HELLO, NACHOS.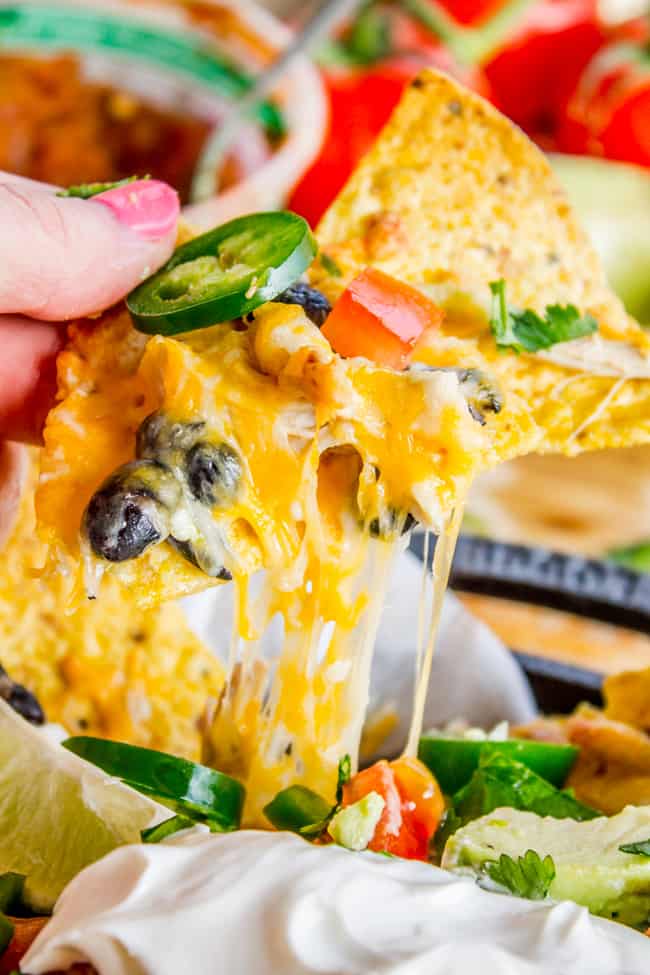 Originally published January 29, 2016
So this morning I walked into Charlotte's preschool to drop her off.  My friend Rachel told me about a conversation she had just had with one of the boys in the class, Desmond. Here's what I told Eric about it: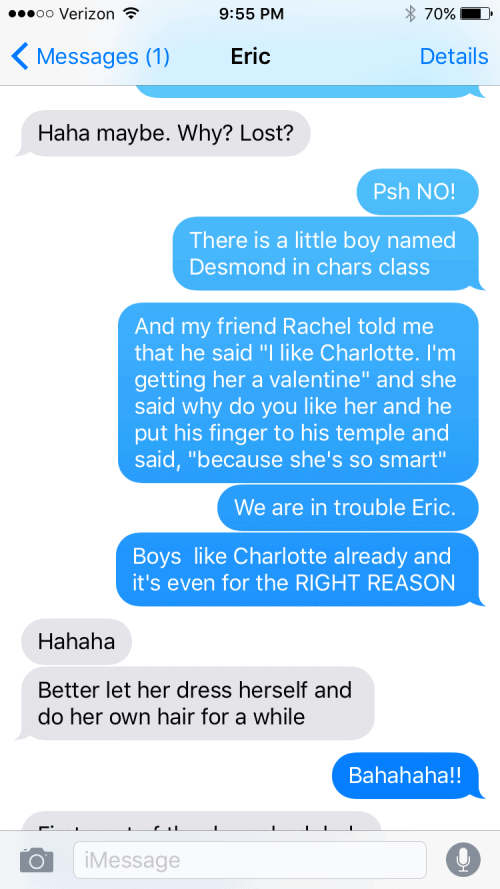 Sorry Charlotte, no more cute hairdos and clothes for you. Bring on the bed-head and mismatched socks. (This will make my morning routine so much easier.) Actually, wait, if this kid is into her because of her brains, what I really need to do is stop teaching Charlotte how to read, right?? Oh man.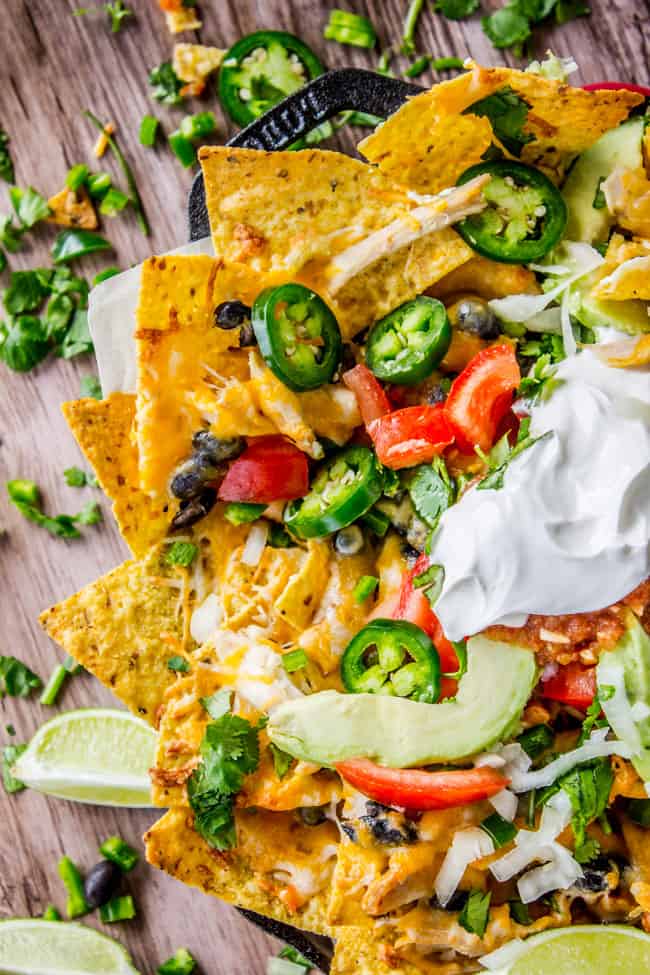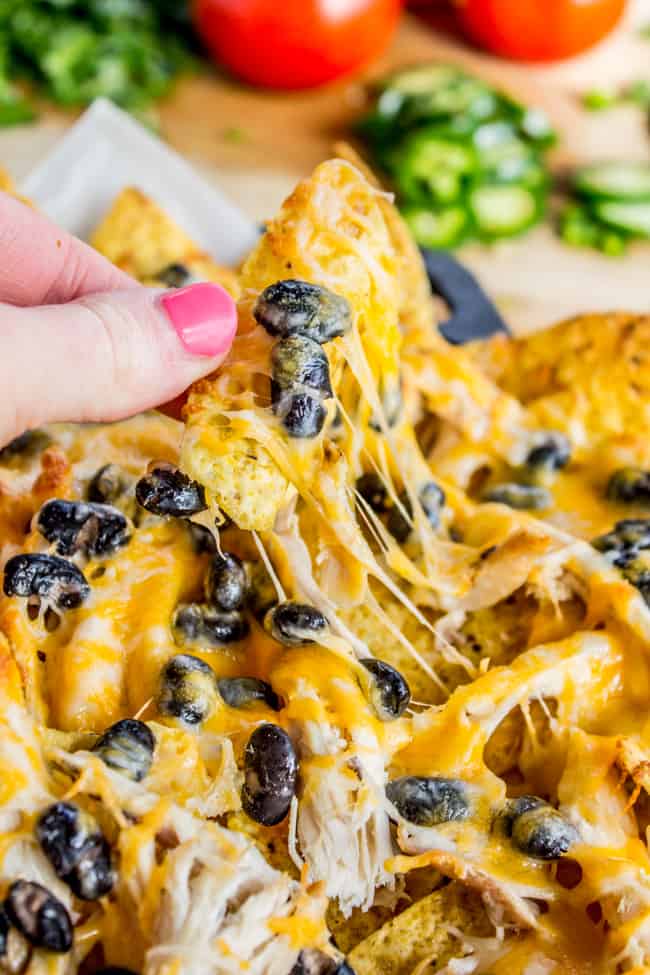 How to make Easy Chicken Nachos
NACHOS. They are like, so obvious, right? Stick some chips and cheese in the oven and you've got dinner. But I NEVER MAKE THEM. Like seriously…ever. I don't know why, because they have this amazing ability to put me in an awesome mood.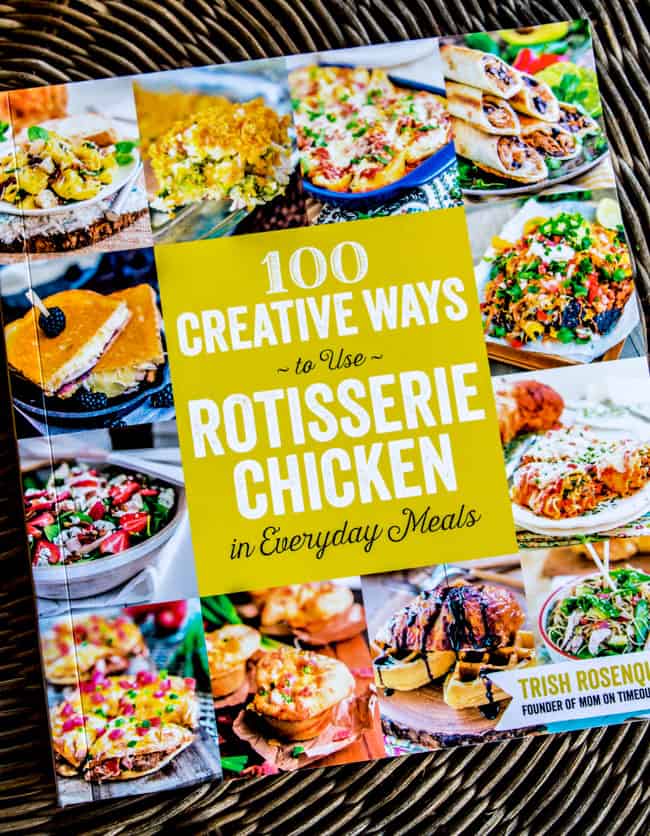 I saw this recipe in my friend Trish's new cookbook, 100 Creative Ways to Use Rotisserie Chicken in Everyday Meals. Her book is full of amazing recipes, and for so many of them I'm like, why didn't I think if that? (But I didn't. And then I miss out on stuff like nachos. Which is LAME.)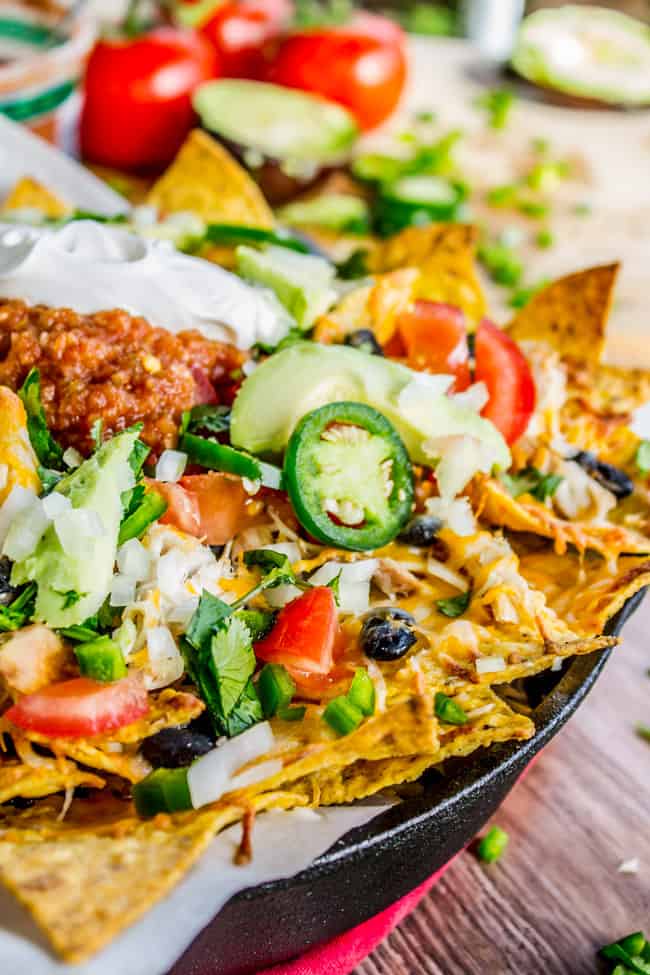 Let me tell you a little about Trish, who blogs over at Mom on Timeout. You know those creative people who have more ideas than they know what to do with? They say that about Mozart, that he would just wake up every day with an amazing new song playing in his head, and it was all he could do to write them all down. That's kinda like Trish, but with recipe ideas.
I actually just saw her earlier today at a blogging event and she was giving me all these ideas (see??) for what to do with our kitchen remodel. (!!More on that soon!!)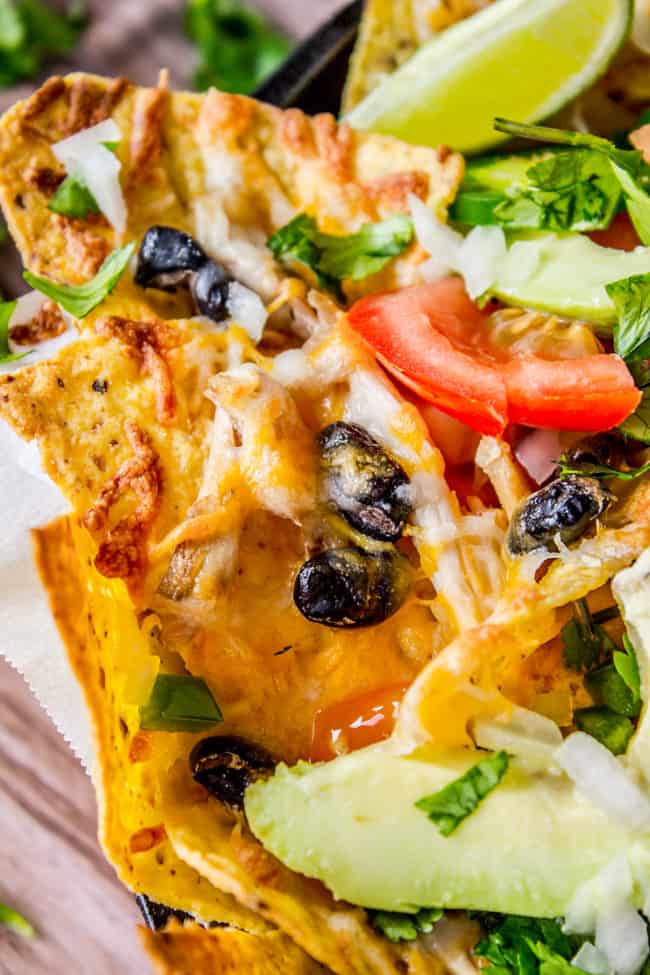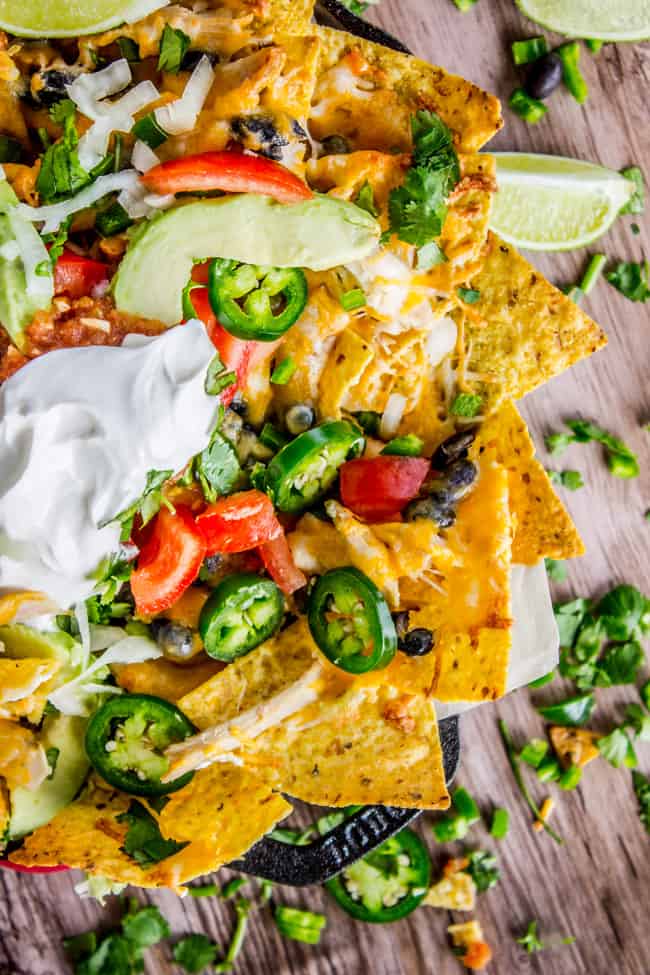 One of Trish's most popular recipes is this Rotisserie Chicken Casserole, and her readers love it so much that she decided to write a whole book centered on cooking with rotisserie chicken. I love it. I buy those birds all. the. time. and I always do the same exact things with them. (Eat it. With my bare hands. Like an animal.) (See how much I need this book? Probably you need it too.)
You have to let me know if you try out these nachos! Make me jealous. Snap a photo and share on Instagram using the hashtag #TheFoodCharlatan. Use the tag #100ChickenRecipes too, so that Trish can see it too!

Easy Rotisserie Chicken Nachos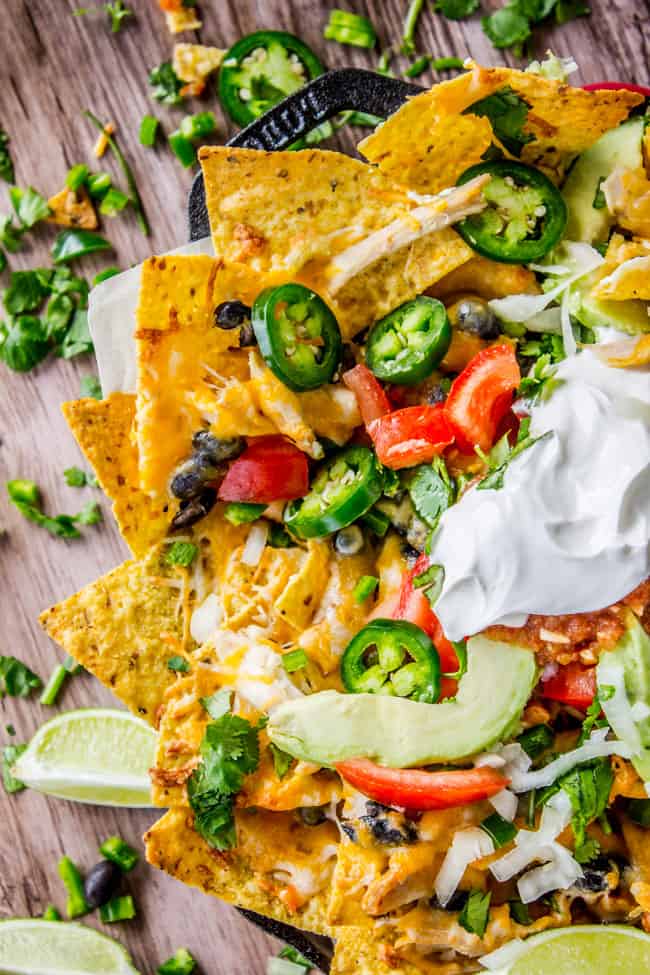 Pick up a rotisserie chicken on the way home and make this cheesy Chicken Nachos Recipe in 20 minutes flat! Your entire family will love it: HELLO, NACHOS!
Ingredients
1

12-oz bag

tortilla chips

2

cups

shredded rotisserie chicken

1

15-oz. can

black or pinto beans

8

ounces

shredded Mexican blend cheese

,

about 2 cups

1/2

cup

pico de gallo salsa*
To serve:
sour cream

guacamole or sliced avocado

cilantro

,

chopped

diced tomatoes

salsa

pickled jalapenos
Instructions
Preheat the oven to 425 degrees F.

Line a rimmed baking sheet or high-sided skillet with foil or parchment paper for easy cleanup.

Pile on half the chips, half the chicken, half the beans, and half the cheese.

Repeat layers. You can arrange the chips on the second layer so that they will be easy to pull out.

Bake nachos for 10 to 12 minutes, or until the cheese is melted and bubbly.

Remove from the oven, top with any or all of the toppings you like, and dig in! Serve right away while the cheese is hot.

Trish says that she usually serves the nachos family style, that way everyone can put on whatever toppings they prefer. (heaven forbid you get some cilantro on a cilantro-hater's plate. They will take you DOWN.)
Notes
*I didn't bother making pico de gallo, I just chopped all the ingredients and threw them on the nachos. Tomatoes, onions, jalapenos, lime, etc.
Nutrition
Serving:
8
chips
|
Calories:
262
kcal
|
Carbohydrates:
4
g
|
Protein:
31
g
|
Fat:
14
g
|
Saturated Fat:
6
g
|
Polyunsaturated Fat:
1
g
|
Monounsaturated Fat:
2
g
|
Cholesterol:
99
mg
|
Sodium:
701
mg
|
Potassium:
36
mg
|
Fiber:
1
g
|
Sugar:
2
g
|
Vitamin A:
310
IU
|
Vitamin C:
1
mg
|
Calcium:
434
mg
|
Iron:
1
mg
Try these other appetizers! Don't judge me but I'm pretty sure we have eaten all of these for dinner at some point or another…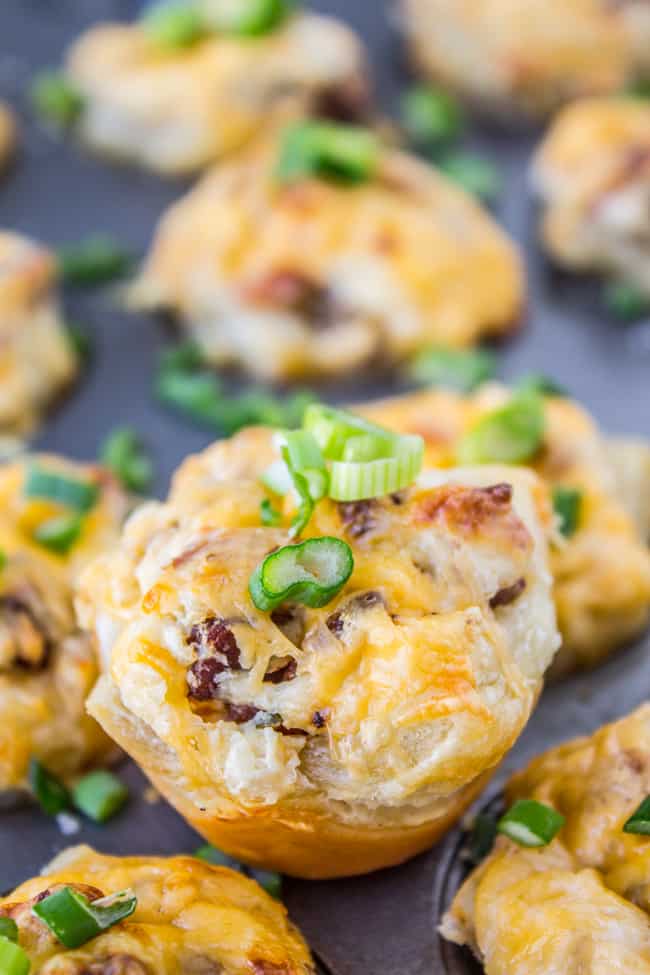 Cheesy Buffalo Chicken Dip: this one uses a rotisserie chicken too!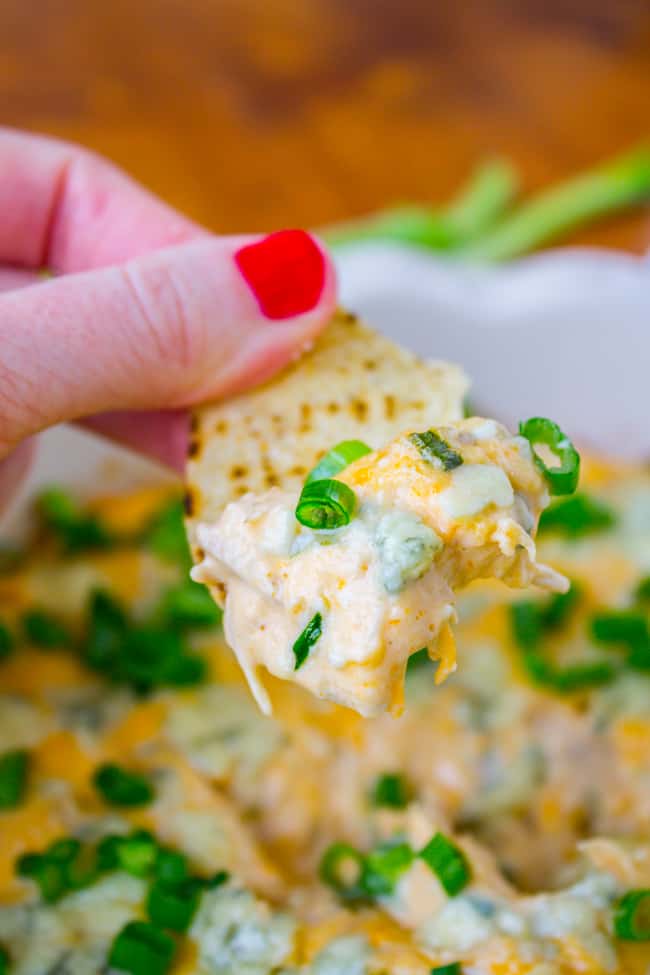 Raspberry Balsamic Meatballs (Slow Cooker):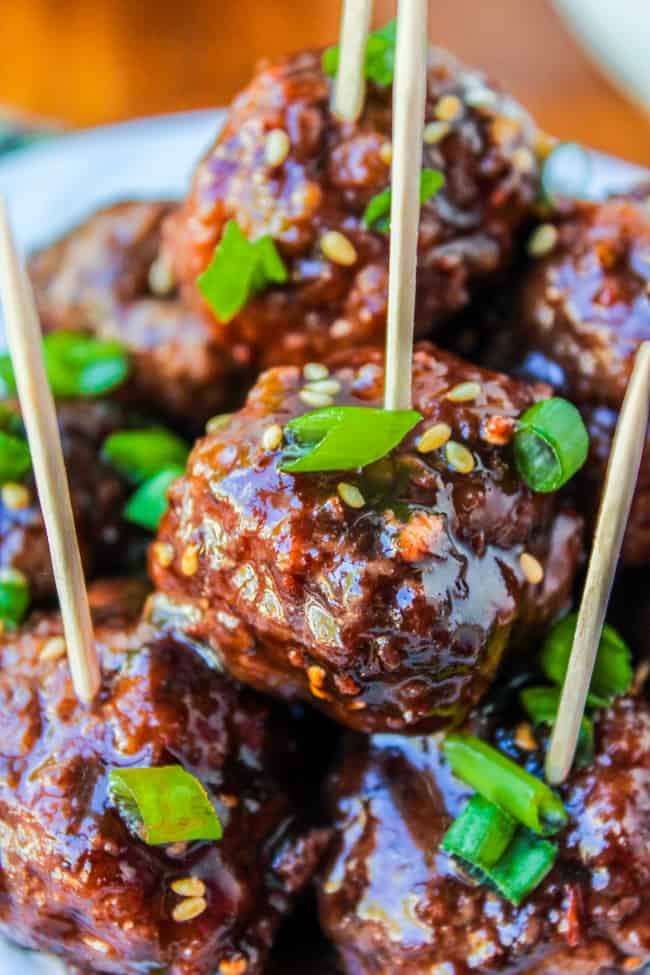 Nacho average nachos: (okay, okay, I'm sorry :)
BBQ Bacon Cheeseburger Nachos from The Recipe Rebel
Asian-Style Nachos from Cooking and Beer
Roasted Vegetable Nachos from The Grant Life << These look amaaaazing