The BEST homemade spice cake is bright with autumn flavor! And it is super moist. This recipe has sour cream, oil, and buttermilk. Say no to dry cake! To bring out the flavor of those beautiful spices, toast them on the stove before adding to the batter. Layer the cake with cream cheese frosting for the best combo ever! Originally published October 11, 2020.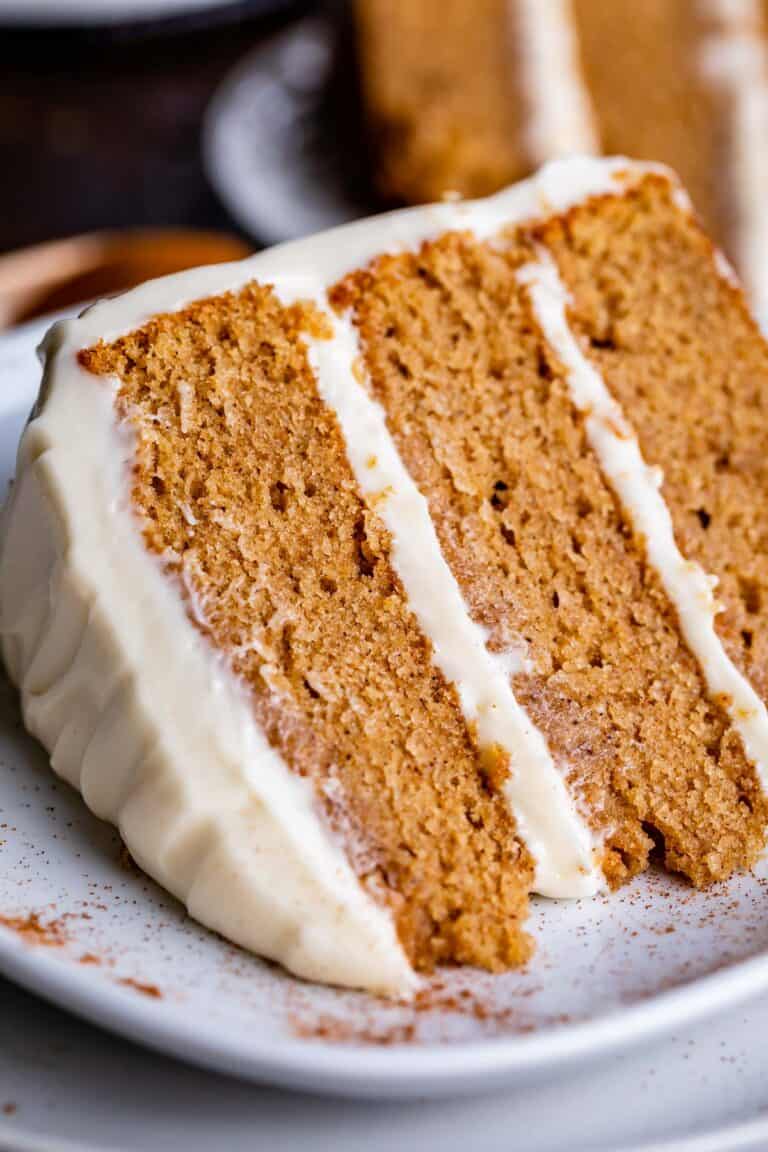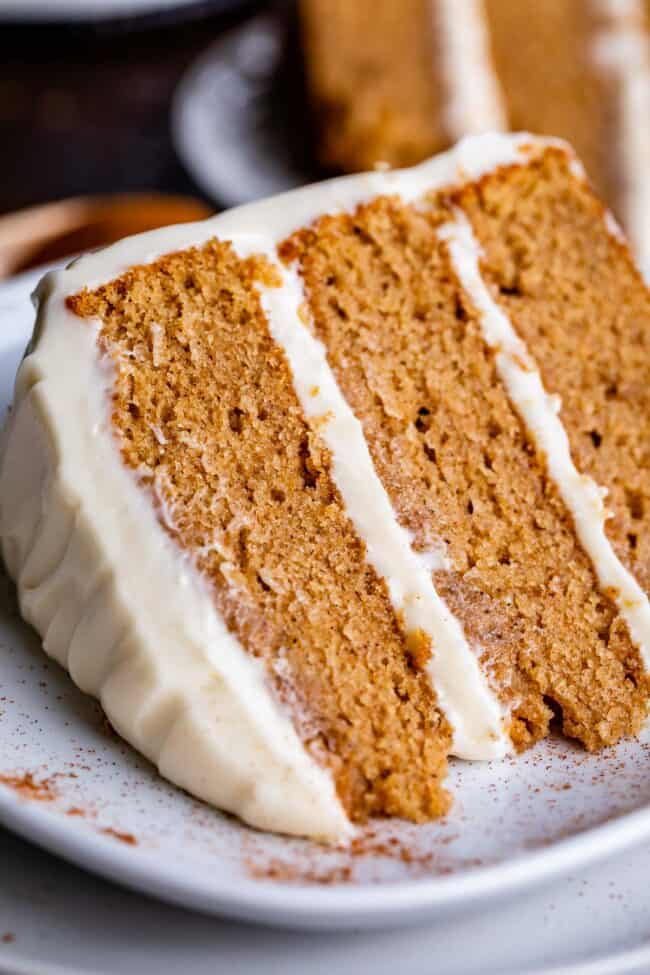 Table of Contents
It's been forever since I went shopping. I finally decided to order from Costco on Instacart. (Does a Costco run take a year and a half for anyone else?? I think it's because I get completely lost trying to decide between 5,000 packs of fruit snacks, or the 10 pound jars of Nutella. Tough life decisions, you know.)
Anyway, Javier was our shopper: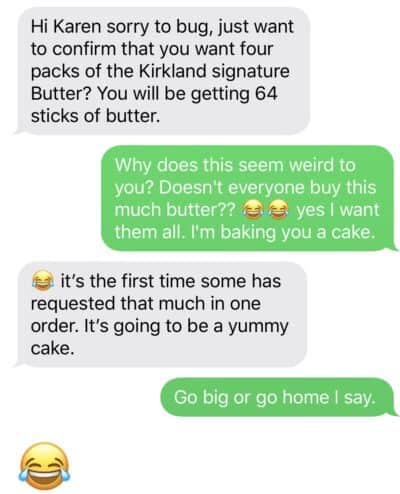 "You will be getting 64 sticks of butter." I love that he calculated it out. I can just see Javier in the Costco aisles, debating: "Surely no sane person actually needs 64 sticks of butter!" Oh, how little you know Javier.
This is not the first time my purchase requests have been questioned by shoppers or clerks, especially when it comes to butter. People just don't understand how to live their best lives. WITH BUTTER, THAT'S HOW.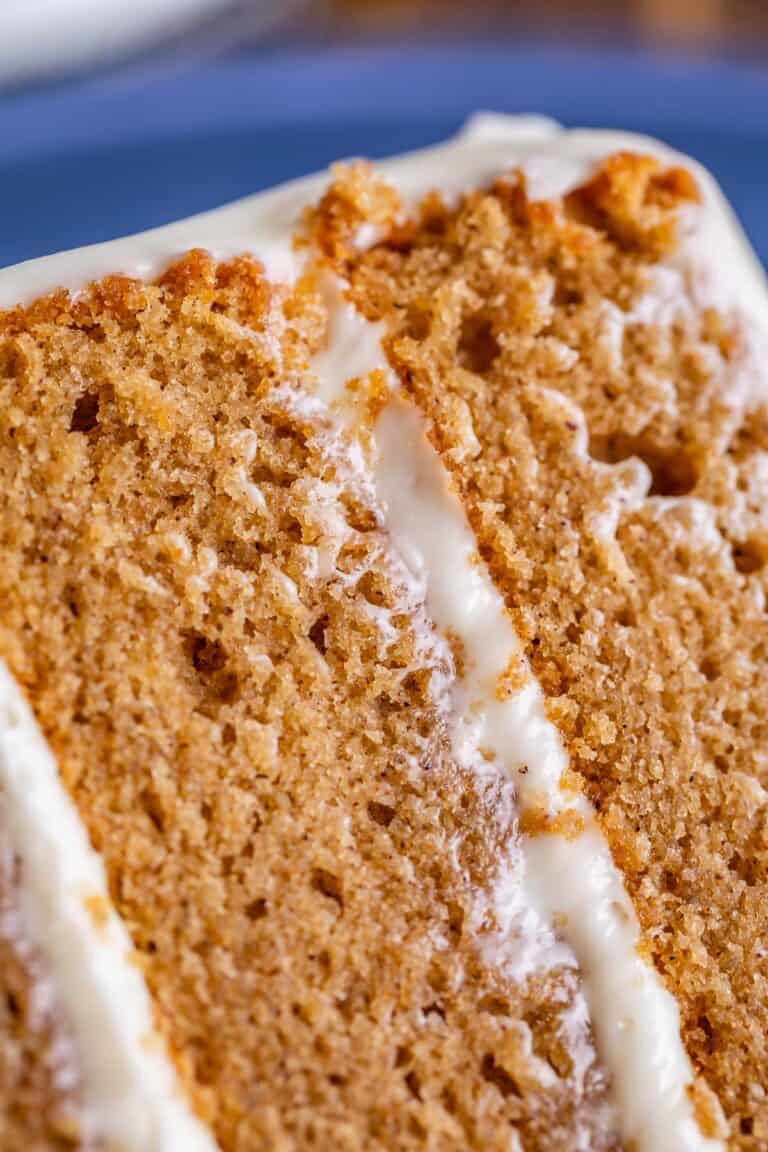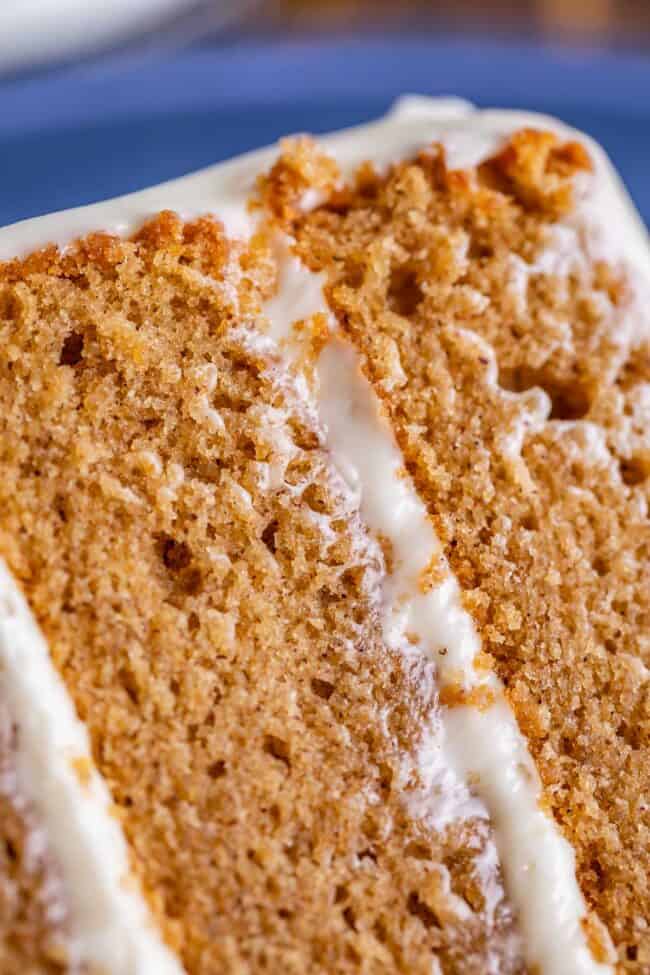 Happy birthday to The Food Charlatan! Nine years ago, I wrote my first post here on The Food Charlatan. I can't believe it! I have a hard time remembering what life was like before the blog. Time flies!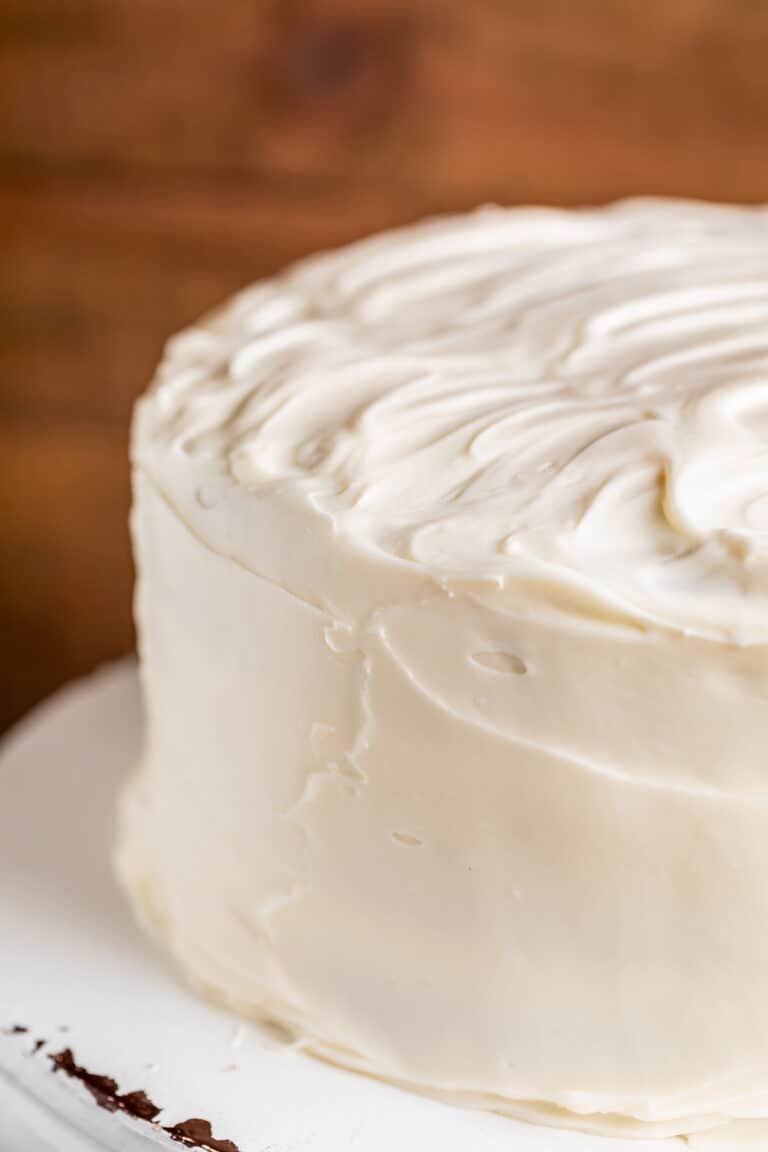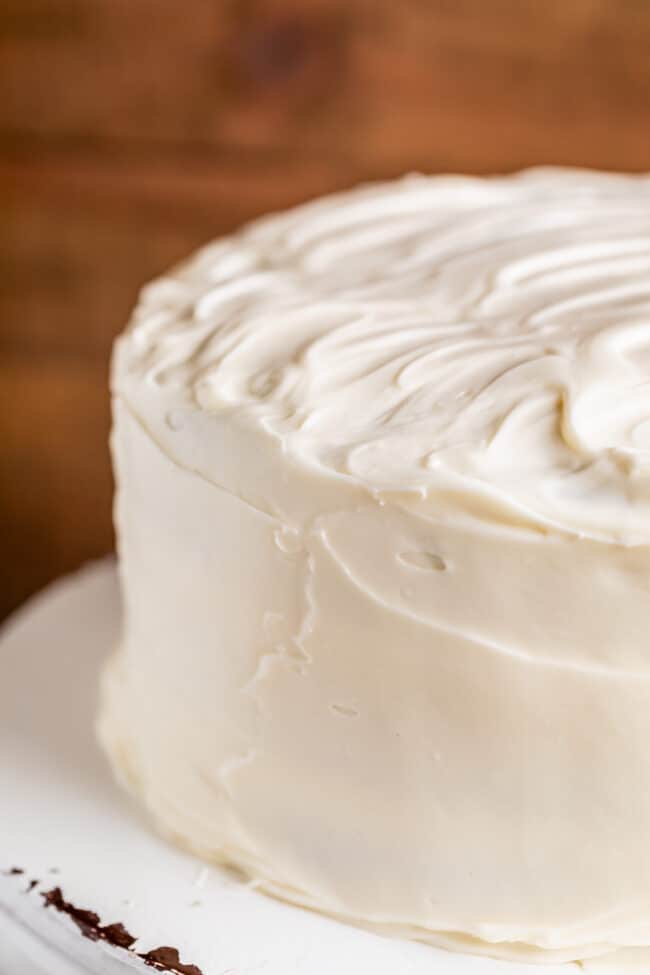 To celebrate, I've come up with 9 things I've learned over the last 9 years of blogging.
Butter makes everything better. (See above.)
Instagram will always make you feel like your life is not that cool, but it's a lie. You are actually pretty cool.
Cookies and cakes get more clicks on the blog than a healthy dinner. Are you really surprised by this?
Grocery store clerks will always, always be shocked by the amount of food that I buy.
When strangers ask what I do for a living, I have no idea what to say. Most people assume "food blogger" means that I review restaurants. Funny, right? The next question is how much money I make. UMM, how much money do YOU make? Ha!
Some commenters have let me know that they think I over salt my food. They are wrong.
My kids think it's totally normal for their mom to make the same dish 4 times in a row.
Sometimes, it's okay to throw away food. I know, I know, this sounds terrible. But I only have so many parameters I can work within at a time. Managing food for my large family and food for the blog works in tandem a lot of the time: my kids really will eat Easy Mac and Cheese every night for a week. But four entire Apple Pies in one week? I have my health to consider! And guess what, I asked, my neighbors did not want my first 3 reject pies, and I didn't have time to deliver them to someone else. Food waste used to really bother me, but I've come to be more zen about it. It's just a part of my job.
Food blogging is SO MUCH FUN! Seriously. I feel so lucky I get to call this my job. If you told me 9 years ago that this would be my life, I would have laughed in your face.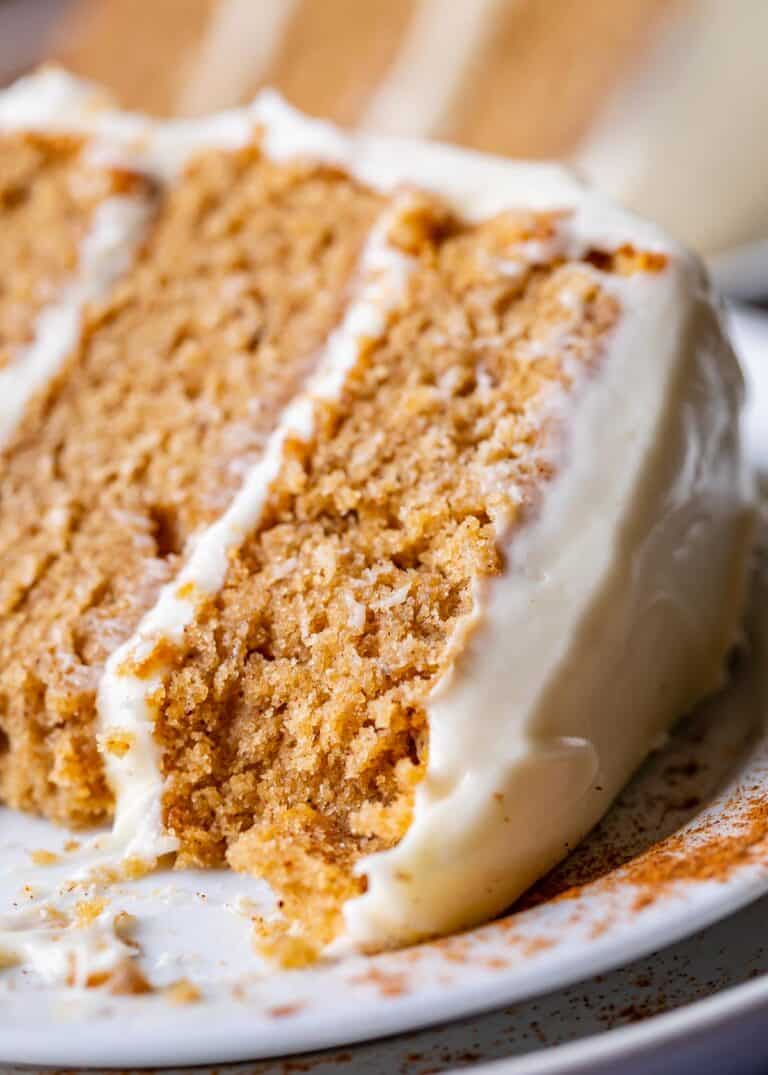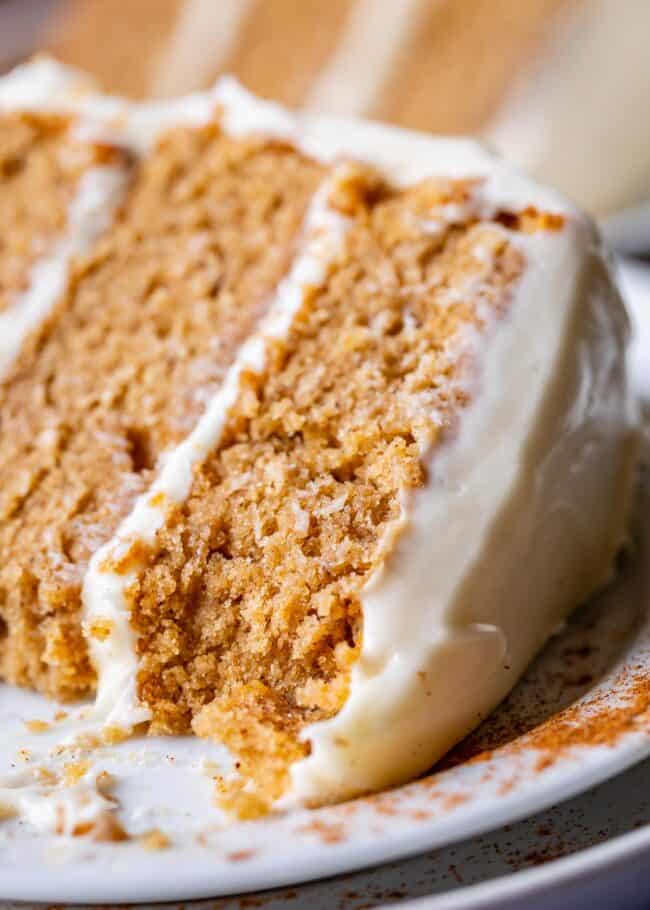 To celebrate my blog's birthday, I decided to make a cake! With LOTS of butter! It's one of the best cakes around: Spice Cake. With cream cheese frosting! Who can say no to this combo??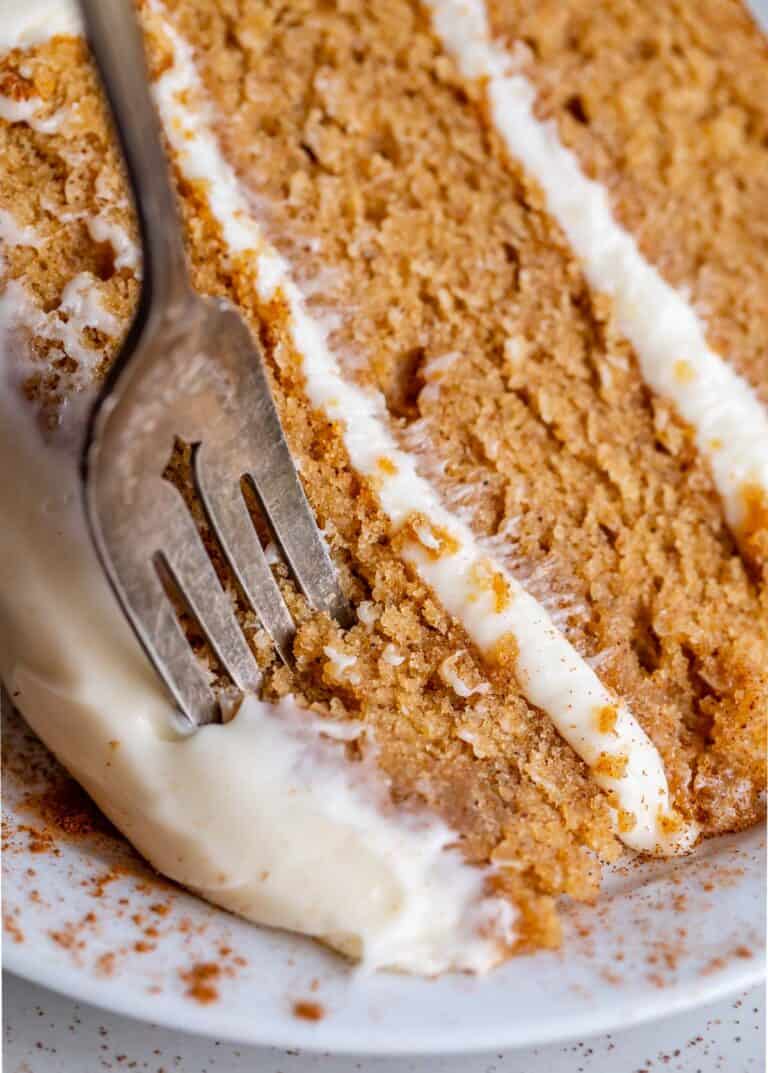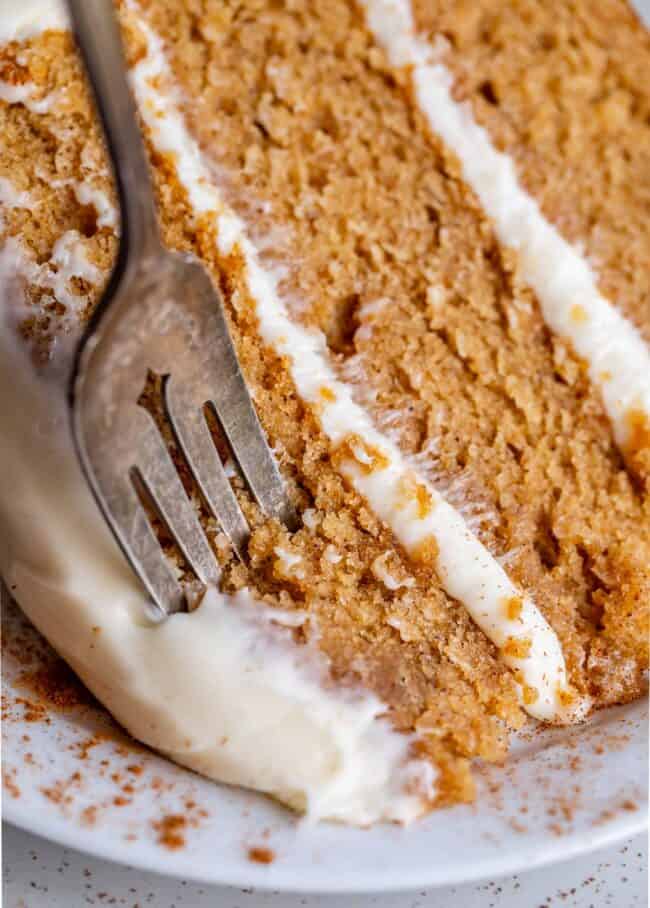 What is Spice Cake?
Spice cake is an autumn flavored cake. It's made with all your favorite pumpkin-y spices: cinnamon, nutmeg, ginger, cloves, allspice, cardamom. Not every recipe uses every single one of these, but I love an extremely flavorful spice cake, so I use them all! It's perfect for fall and winter! But really I could eat it any time. Especially when you add cream cheese frosting.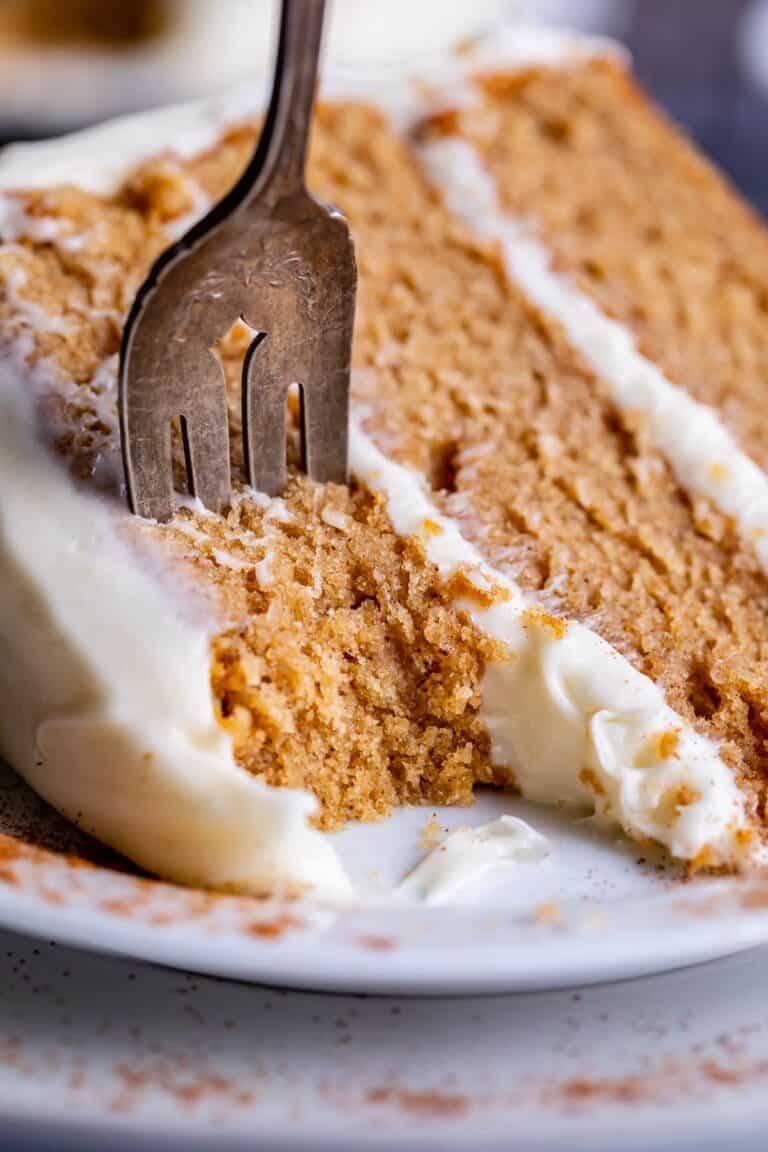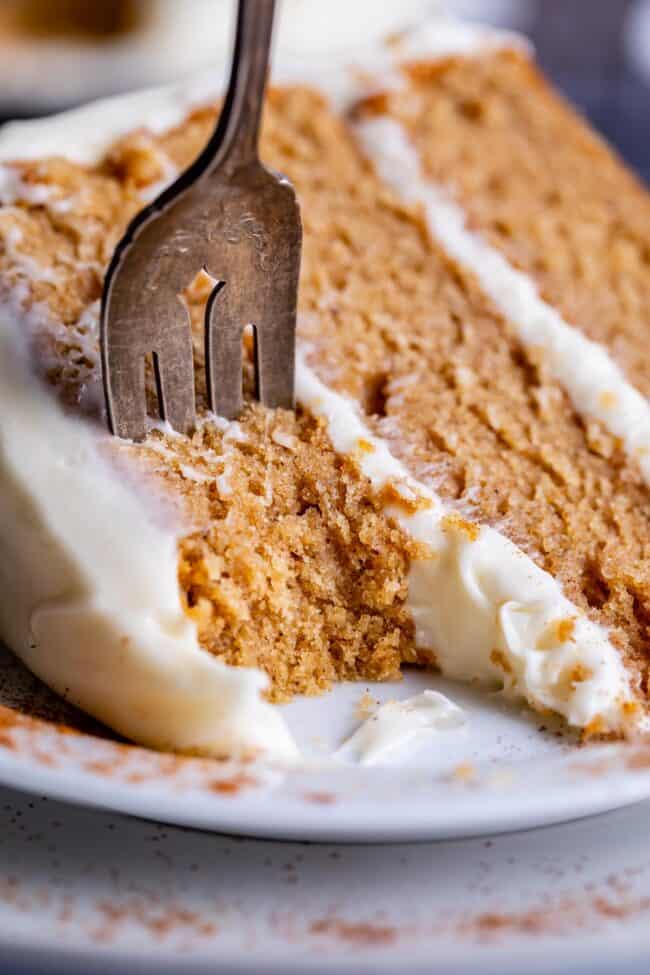 I adapted my favorite Homemade White Cake for this recipe. I swapped out some of the sugar for brown sugar, added molasses and almond extract, and of course all the spices. It's such a warm, welcoming cake.
Homemade Spice Cake Ingredients
Here's a quick shopping list to help you gather your ingredients. See the recipe card below for the full ingredients and instructions!
Oil (vegetable oil or a light flavored olive oil will work)
Spices (cinnamon, nutmeg, ginger, cloves, cardamom, allspice)
Butter
Brown sugar
Granulated sugar
Eggs
Buttermilk
Mexican vanilla
Almond extract
Molasses
Sour cream
All-purpose flour
Kosher salt
Baking powder
Frosting (you'll need a double batch of homemade cream cheese frosting!)
How to make Spice Cake
First, let's start with the SPICES.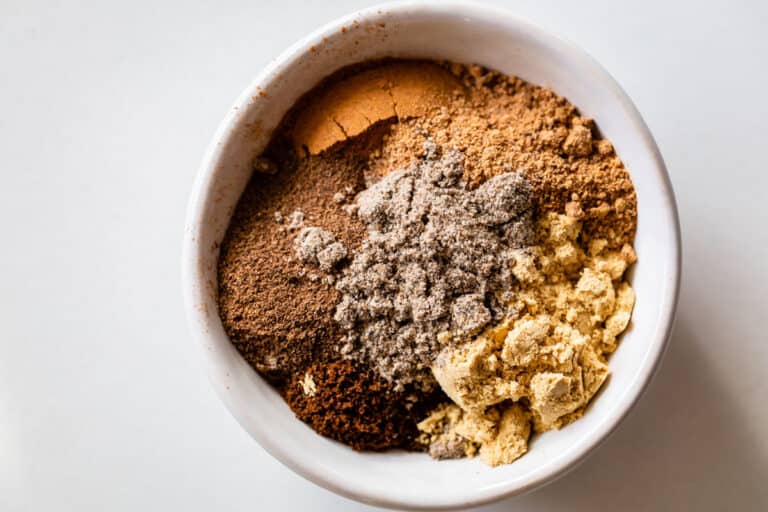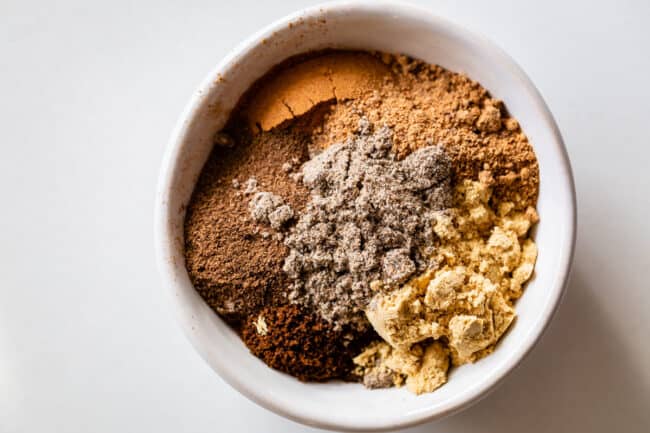 Here they are: cinnamon on the top left, nutmeg, ginger, cloves, allspice, and cardamom in the middle.


Warm up some neutral oil in a small pan. I like to use light-flavored olive oil, but canola oil, vegetable oil, etc will all work fine. Once the oil is warm, add the spices and let bubble for about a minute. Be careful and do NOT let it burn. I burned it the first time I tried this. Be careful, a minute is plenty of toasting. It should smell AMAZING. Let cool completely. I stuck my spiced oil in the freezer for a couple minutes.
Just like when you "bloom" spices in oil for cooking, we are doing it for this cake. Heating them in a bit of fat helps them wake up a bit and enhances the flavor. I'm never going back!


Cream together your butter and sugar, then add the cooled oil. Hot oil will mess with your beautifully creamed butter and sugar so be patient and let it cool.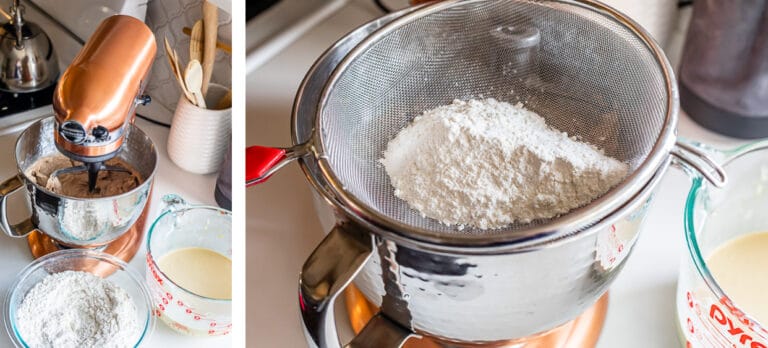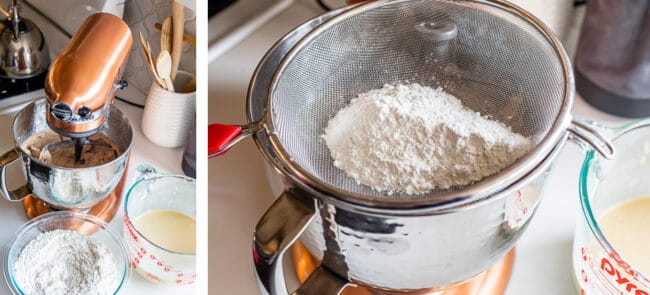 Mix together your flour (be sure to sift it) and other dry ingredients, then all the wet ingredients in another bowl, preferably one with a spout. Eggs, buttermilk, sour cream, molasses, almond extract, vanilla extract, oh my! It's why this cake is so moist. Mix in a bit of the flour, then a bit of the wet ingredients, and so on. It's best to alternate. Once the batter comes together and you scrape the bottom and sides, stop mixing.


Line your pans with parchment paper if you know what's good for you.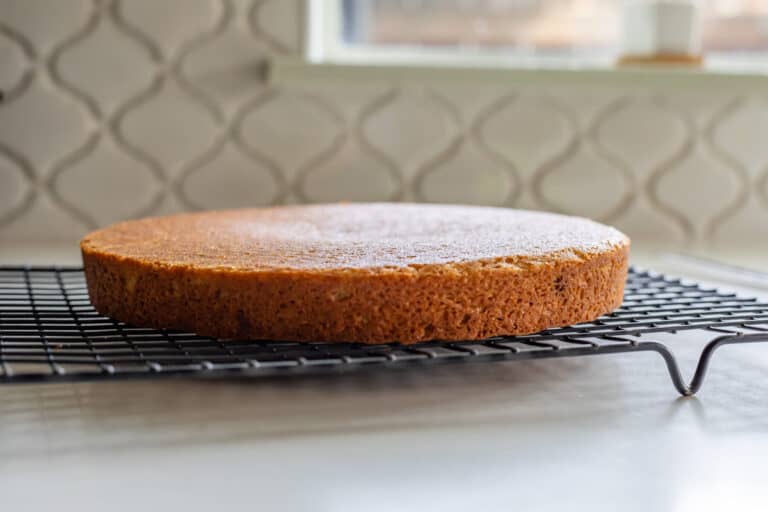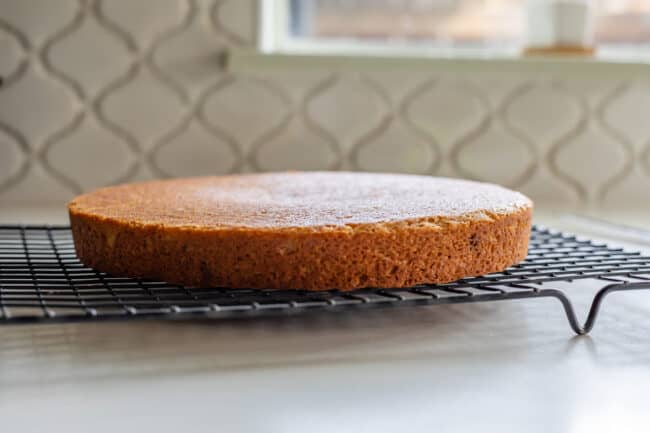 This cake bakes up perfectly flat.


Stack them all together and frost with cream cheese frosting! It's seriously the best combo. Here's how I like to frost the edges of my cake, starting from the top and moving down.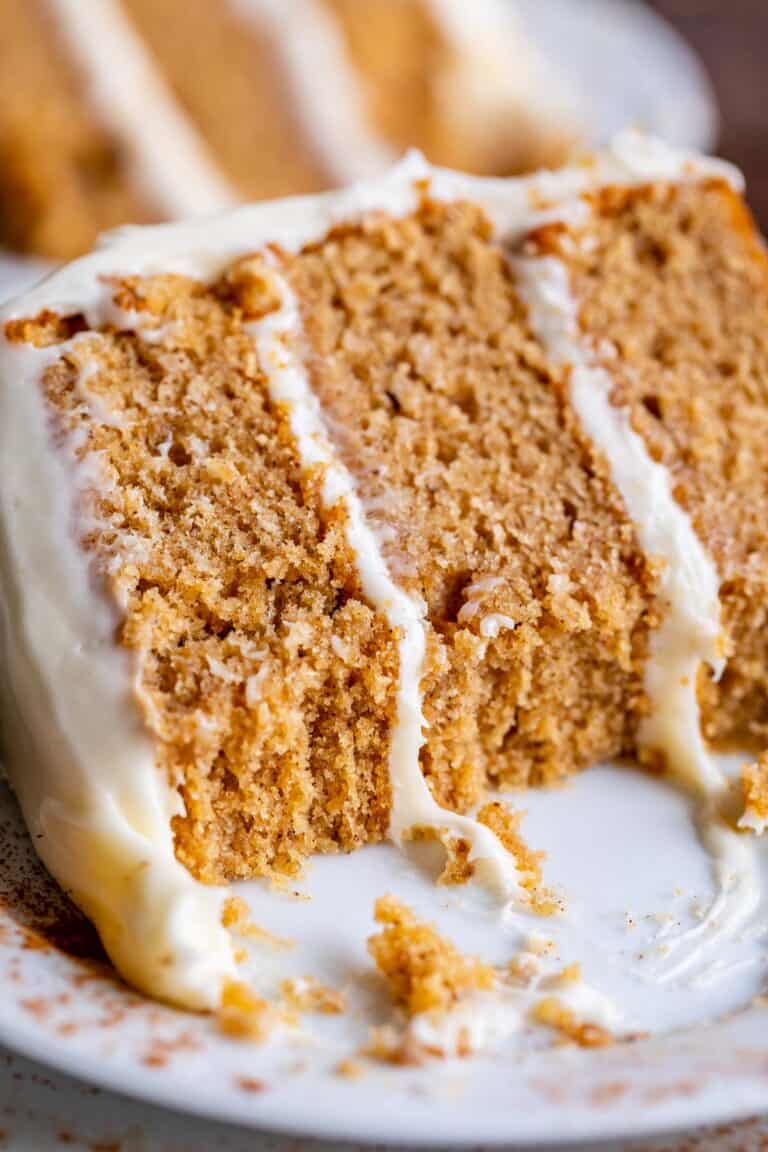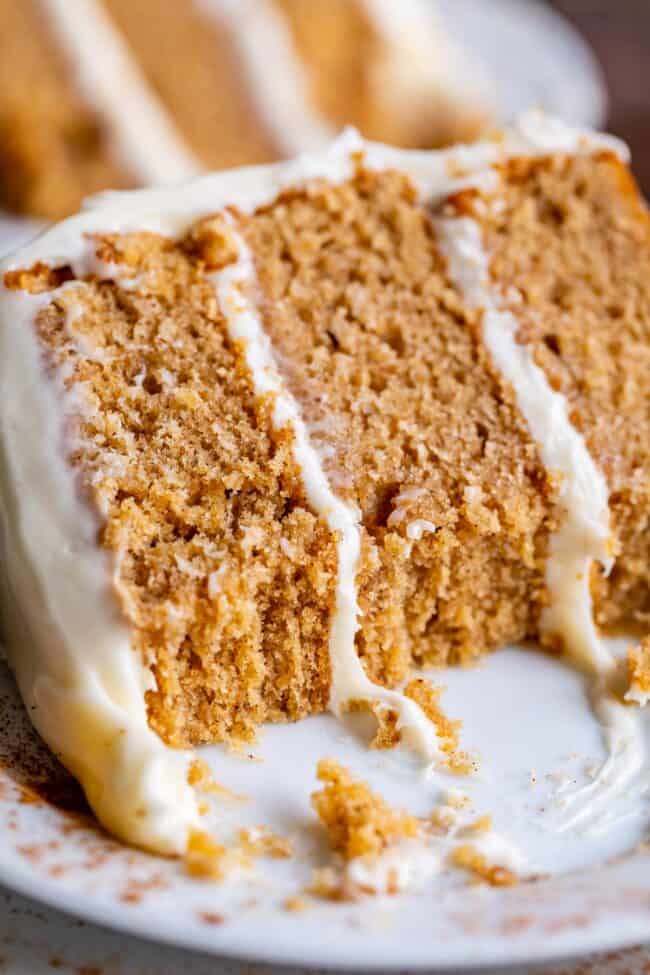 What frosting is best for a Spice Cake recipe?
Someone messaged me after I posted a picture of this cake on Instagram and told me that her mom always made spice cake with peanut butter frosting! I never would have thought of that combination, but it sounds pretty amazing. What do you think? Chocolate buttercream would also be good on spice cake, or caramel frosting would be delish too. Update: someone commented about maple frosting and I totally forgot to recommend this Maple Pecan Frosting. It would be amazing on this cake! There's even a cream cheese version for my Carrot Cake that would be great too.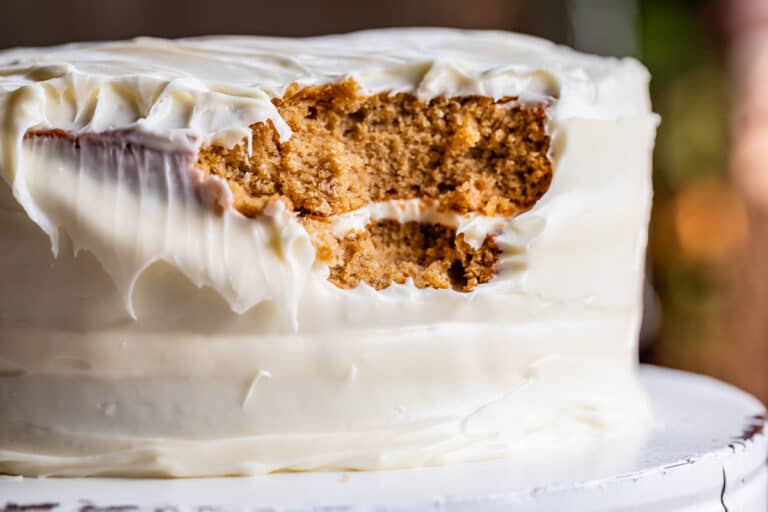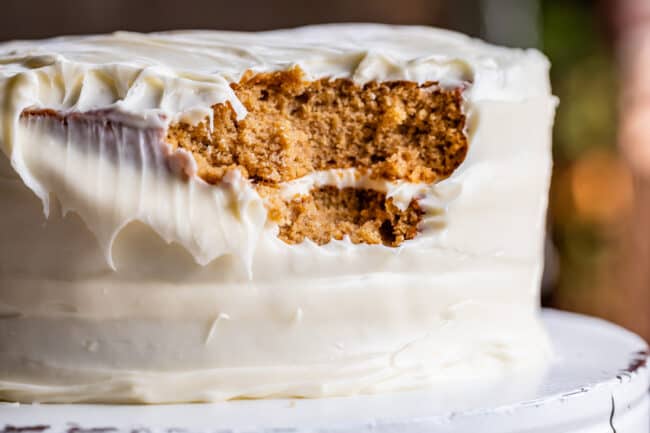 Try not to let your heavy wooden board that you are using as a backdrop fall on your cake when the wind blows. Kind of a bummer, haha. The good news is that it automatically turned it into one of those kind of days where I take a fork directly to a 3 layer cake instead of bothering with a slice. You know those days, right? No, just me? Whoops.
How to serve Homemade Spice Cake
You can totally leave your spice cake plain, but I think it's just next level slathered with homemade cream cheese frosting.
Aside from that, spice cake is delicious on its own, lightly sprinkled with powdered sugar, or next to a scoop of your favorite ice cream. Vanilla or salted caramel would be delicious!
How to store Spice Cake with Cream Cheese Frosting
Because of the cream cheese frosting, your finished spice cake must be stored in the fridge, where it will last for 5-6 days.
If you want to store it for longer, I recommend baking and cooling the cake, then storing the individually wrapped layers in the freezer for up to 3 months. To assemble and serve, simply thaw the layers and add the freshly made frosting.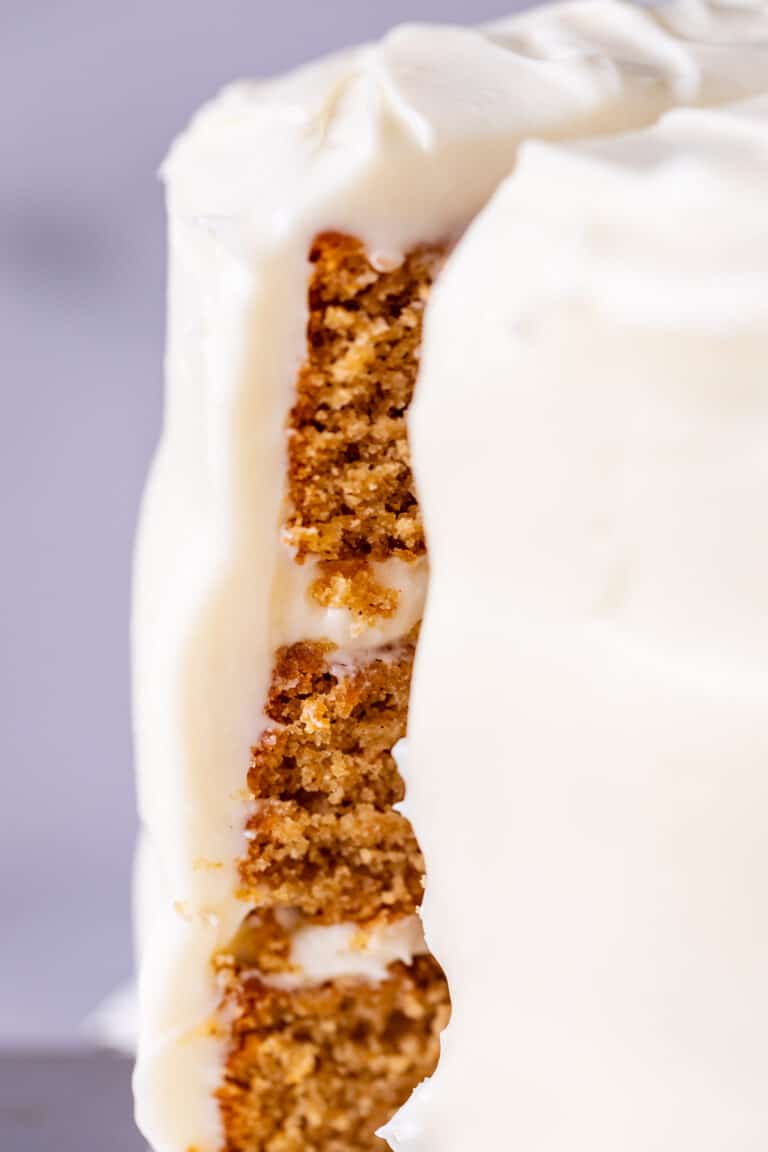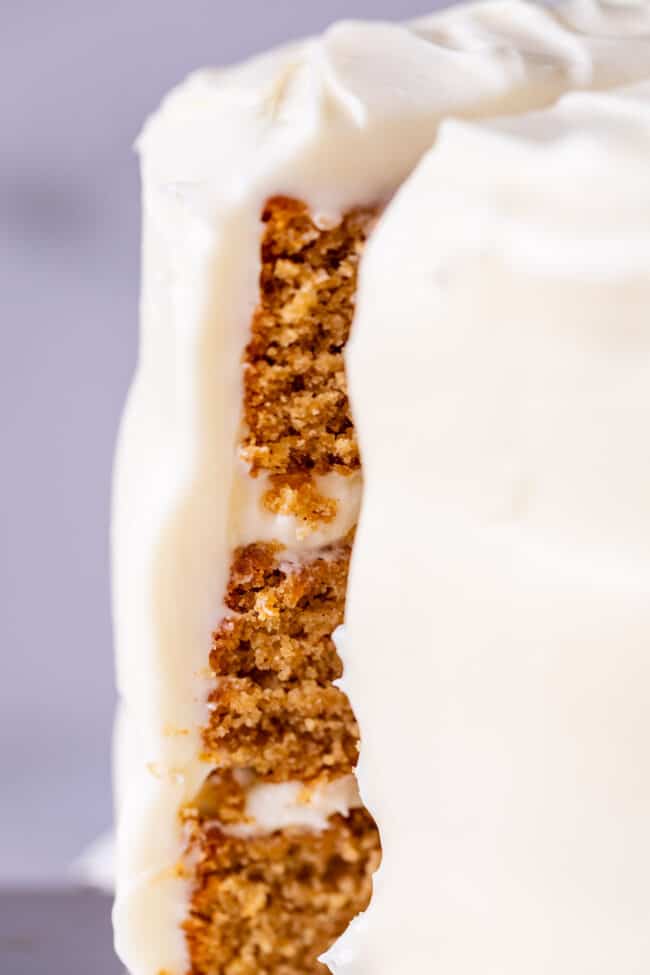 Spice Cake Recipe from scratch FAQ
What is the difference between carrot cake and spice cake?
Carrot cake and spice cake are essentially the same thing, aside from one key difference. Carrot cake has carrots! Surprise. Both cakes are moist, spiced cakes, but a carrot cake is made with shredded carrots.
Where does spice cake come from?
Humans have been pretty obsessed with spices for a loooong time. In Ancient Egypt, early cakes were made with grains, honey, and spices. The Greeks sacrificed honey cakes to the gods, and the Romans made sweetened cakes with dried fruit and pepper. In Medieval times, an iced currant and spice cake was dubbed "Excellent Cake." Well said, medieval people! Spice cake IS excellent.
What does spice cake taste like?
Let me answer that question with another question: what does Christmas smell like? You may not be able to put your finger on exactly what that warming, comforting, gingerbread-y smell is, but it probably comes at least in part from the spices often used in holiday baking. Spice cake is infused with tons of flavor thanks to cinnamon, nutmeg, ginger, cloves, cardamom, and allspice. It also gets delicious flavor from Mexican vanilla, almond extract, and molasses.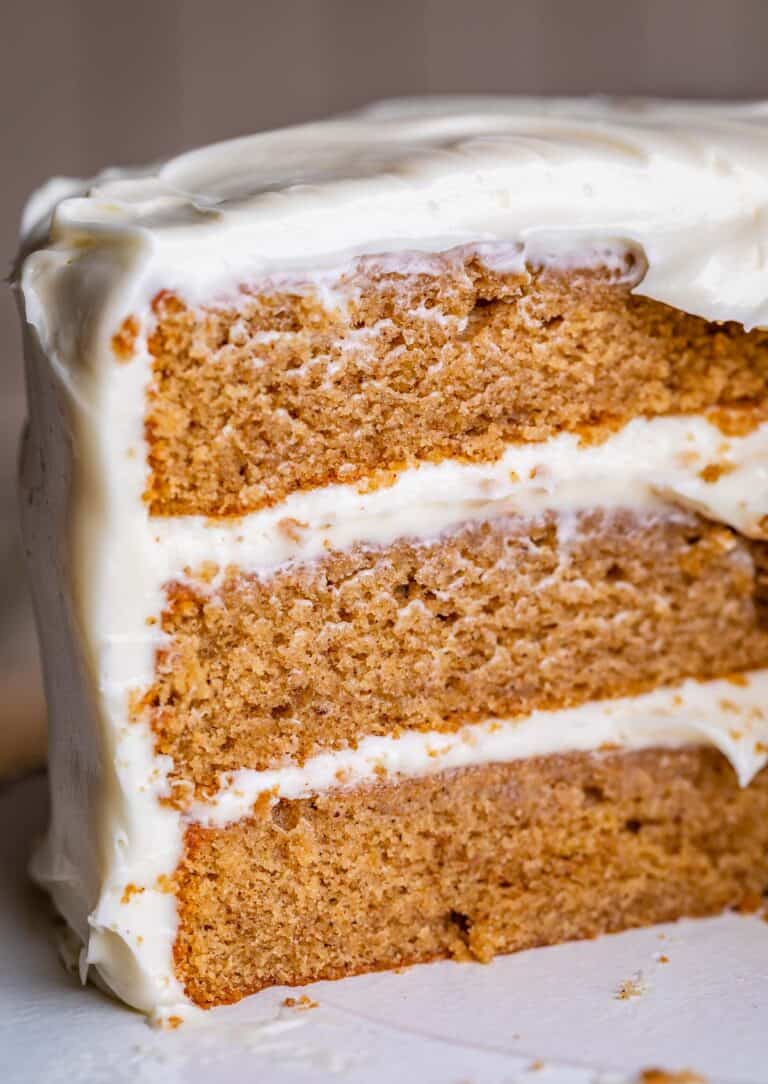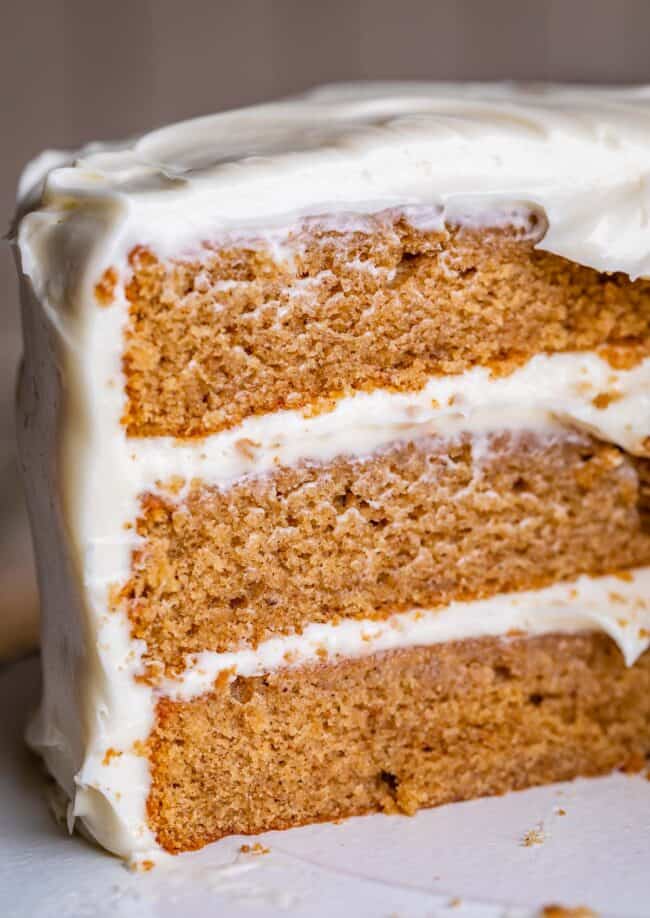 More homemade cake recipes you are going to love!
Facebook | Pinterest | Instagram

Best Spice Cake Recipe from Scratch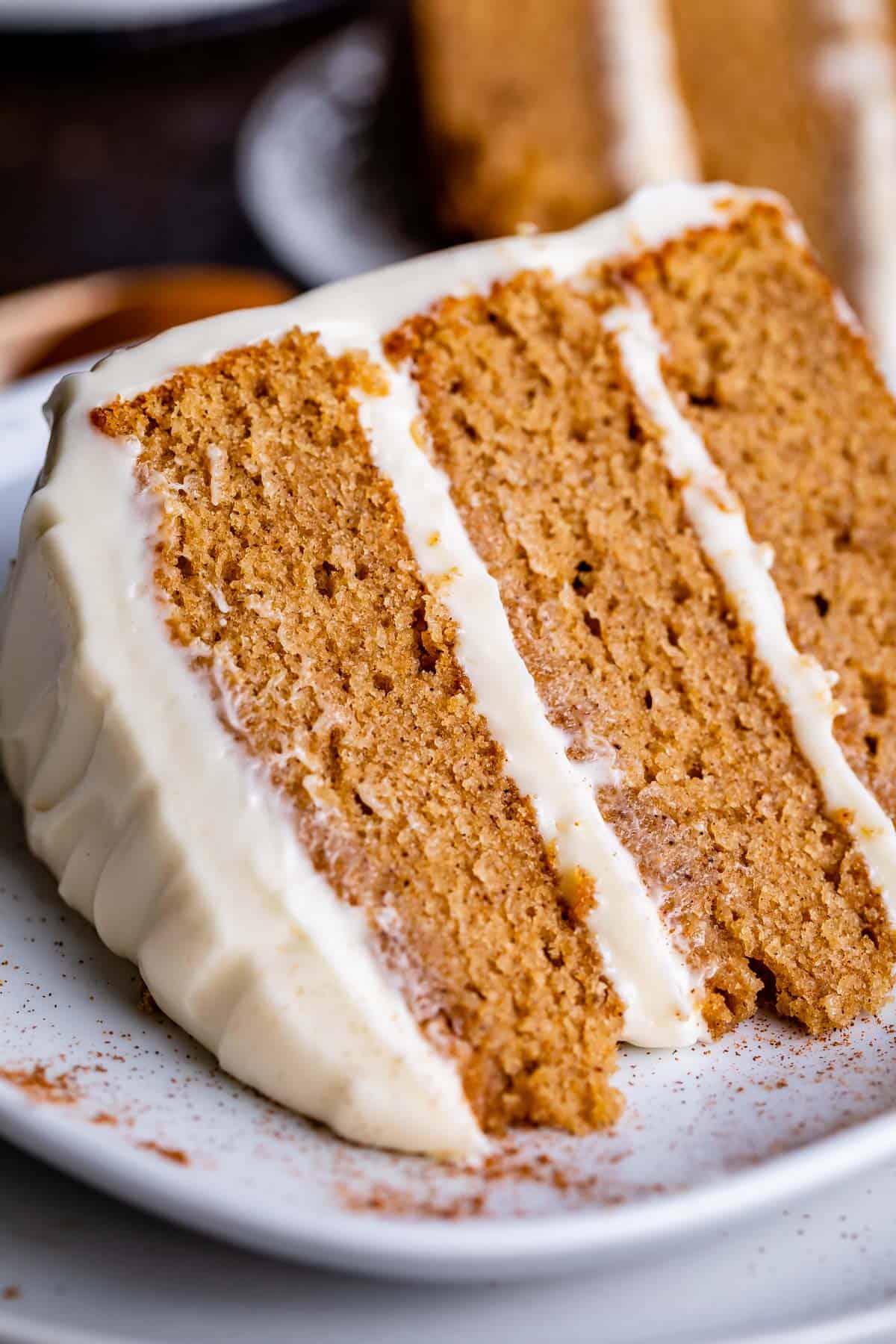 The BEST homemade spice cake is bright with autumn flavor! And it is super moist. This recipe has sour cream, oil, and buttermilk. Say no to dry cake! To bring out the flavor of those beautiful spices, toast them on the stove before adding to the batter. Layer the cake with cream cheese frosting for the best combo ever!
Ingredients
For the cake
1/2

cup

vegetable oil or light flavored olive oil

1

tablespoon

cinnamon

1 & 1/2

teaspoons

nutmeg

1 & 1/2

teaspoons

ginger

3/4

teaspoon

cloves

3/4

teaspoon

cardamom

1/2

teaspoon

allspice

1

cup

butter

,

(2 sticks)

2

cups

brown sugar

,

packed

1

cup

granulated sugar

5

large

eggs

1

cup

buttermilk*

2

teaspoons

Mexican vanilla

1

teaspoon

almond extract

2

tablespoons

molasses

1/2

cup

sour cream

3

cups

+ 2 tablespoons all purpose flour

,

sifted

1

teaspoon

kosher salt

1

tablespoon

baking powder
For the frosting
Instructions
Start by toasting your spices. Heat a small pan over medium heat and add 1/2 cup

neutral oil

. In a small bowl, add 1 tablespoon cinnamon, 1 and 1/2 teaspoons nutmeg, 1 and 1/2 teaspoons ginger, 3/4 teaspoon cloves, 3/4 teaspoon cardamom, and 1/2 teaspoon allspice. When the oil is hot, add the spices all at once and toast for about 1 minute. Watch it carefully so it doesn't burn. It will bubble a little bit. Take it off heat after about a minute, when it smells very fragrant. Let cool completely. I stuck mine in a bowl in the freezer.

Preheat your oven to 325 degrees F. Trace the outline of 3

9-inch cake pans

on parchment paper. Cut out the circles and place in the bottom of each cake pan. See photos. With the paper in the bottom of the pan, use nonstick spray to grease each cake pan very well, including up the sides.

In a large bowl or stand mixer, beat 1 cup softened butter until is is smooth. (You can actually start with cold butter if you have a stand mixer. Just beat a couple minutes, scraping sides, until it's smooth.)

Add 2 cups packed brown sugar and 1 cup granulated sugar. Beat butter and sugar for 2 minutes, stopping once to scrape sides and bottom.

When the spiced oil is cool, add it to the butter mixture and beat well.

In a medium bowl with a spout (or in one of those giant

8 cup glass measuring cups

), add 5 large eggs. Beat with a whisk until smooth. Add 1 cup buttermilk*, 2 teaspoons Mexican vanilla, 1 teaspoon almond extract,** 2 tablespoons molasses, and 1/2 cup full fat sour cream. Whisk it all together until smooth.

Place a fine mesh strainer over a medium bowl. Spoon and level 3 cups + 2 tablespoons all purpose flour into the strainer. Add 1 teaspoon kosher salt and 1 tablespoon baking powder. Stir until it has all gone through the strainer and is sifted well.

Alternate adding the egg mixture and the flour mixture to the butter mixture, beating every time. I added half the liquid, stirred, half the flour, stirred, then repeated.

Mix ONLY until just combined. Scrape the bottom and sides to make sure it's all incorporated.

Divide the batter between the 3 prepared pans.

Bake the cakes at 325 for about 27-30 minutes.

Notes on baking: I like to bake my cakes one at a time because my oven is not exactly amazing. I've also done 2 cakes at a time though. I wouldn't do all 3 cakes at once, unless you have a pretty stellar oven that you trust.

However you choose to bake, make sure you rotate them 2/3 of the way through the bake time. This means turn the pan 180 degrees if there is one cake, or if there are two cakes, switch their places. The cake pans should NOT touch the edge of the oven.

Do NOT open the oven door at all, except for when you need to rotate the pans. Rotate the pans at about the 22 minute mark. If the whole top looks completely liquidy, do not rotate yet. You don't want to deflate your cake by moving it. Again, the total bake time for each cake is about 27-30 minutes.

Remove the cake/s from the oven. Let cool on a cooling rack for about 15 minutes. Use a knife to loosen the edge of the cake from the pan. Use your hand to invert the cake onto the cooling rack and continue cooling. At this point I often put them in the freezer for 20 minutes or so to speed up the cool time.

When the cakes are cool or partially frozen (I find it easier to frost frozen cakes), frost with a DOUBLE batch of this Cream Cheese Frosting. You will need 2 sticks of butter, 2 packs of cream cheese, and 5-8 cups of powdered sugar, depending on how thick you want your frosting. For the cake in these photos, I used 5 cups of powdered sugar in a double batch. Click the link for recipe instructions.
Notes
*Cheater buttermilk will do just fine! I tried it. Add 1 tablespoon vinegar to a 1 cup measuring cup, then fill it to the 1 cup mark with milk. Use the highest fat content milk you have, whole milk is best. Stir it together and let sit a couple minutes to thicken up.
**You can replace the almond extract with vanilla extract if you prefer. You can also use regular vanilla instead of Mexican if that's what you have.
Nutrition
Calories:
1318
kcal
|
Carbohydrates:
197
g
|
Protein:
7
g
|
Fat:
59
g
|
Saturated Fat:
21
g
|
Polyunsaturated Fat:
17
g
|
Monounsaturated Fat:
14
g
|
Trans Fat:
1
g
|
Cholesterol:
126
mg
|
Sodium:
812
mg
|
Potassium:
271
mg
|
Fiber:
1
g
|
Sugar:
165
g
|
Vitamin A:
681
IU
|
Vitamin C:
0.2
mg
|
Calcium:
164
mg
|
Iron:
3
mg