Easy Pumpkin Pie Cake
This super easy cake gives you the satisfaction of a pumpkin pie but without having to deal with crust-rolling. Just dump and bake. Plus, streusel=WIN.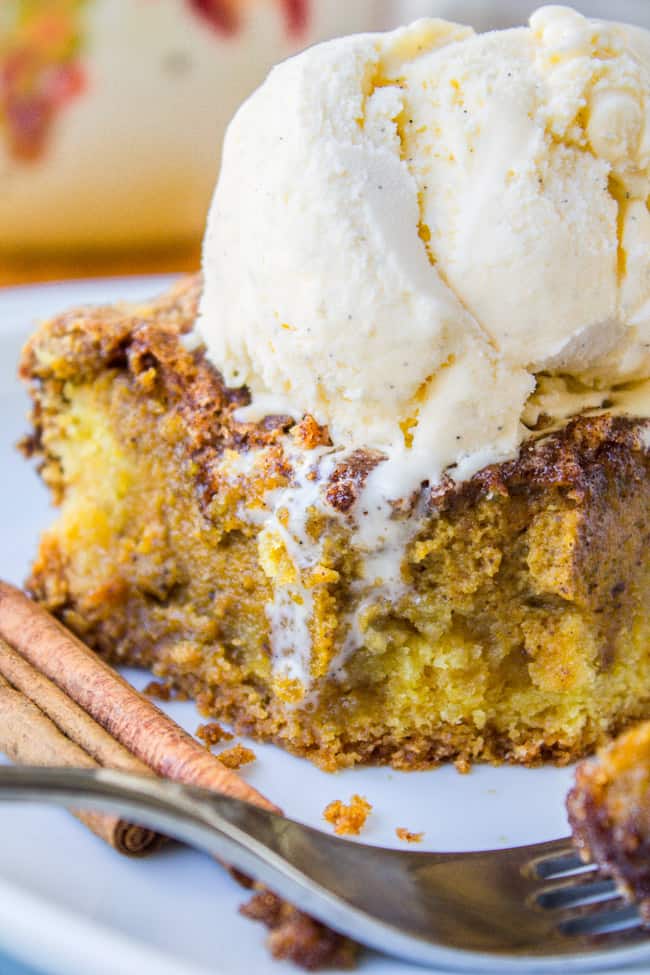 Are you a book person? I'm not asking if you read. Everyone reads. I'm asking if you are a Book Person. You know, the one who buys a book every time they enter a book store. The one who automatically accepts free books, even if he knows he will never read them.
The guy who, if given his choice of a dream room in an imaginary house, would NOT choose a man-cave, but rather a library, complete with fireplace and wood paneling. And a ladder to reach high shelves. Maybe like the one in Beauty and the Beast, maybe not.
Why yes, I AM talking about my husband, how could you tell?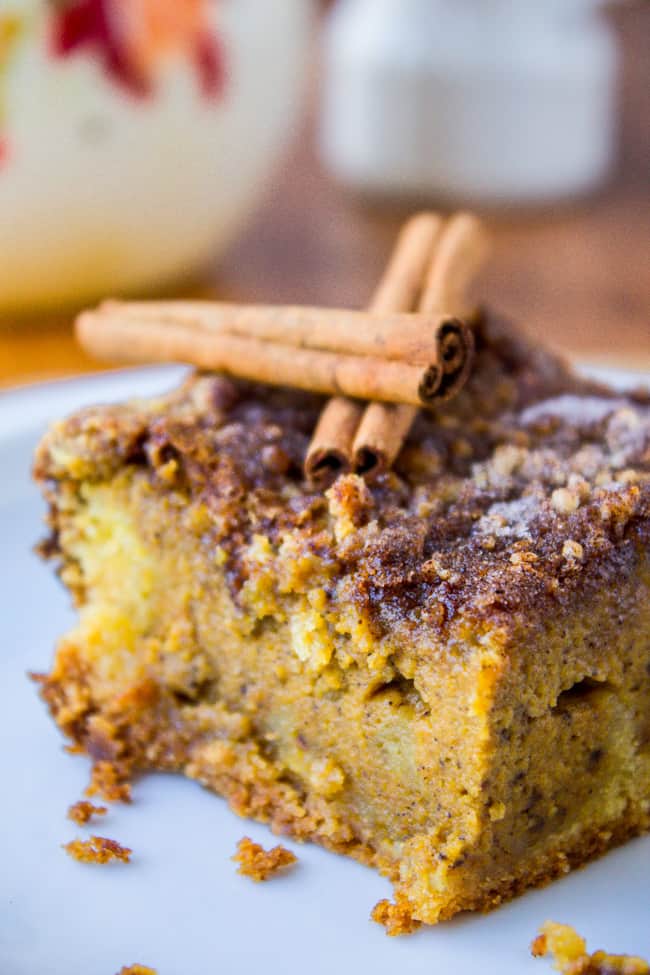 Last time we moved was 2 years ago, and my mother-in-law came out to help us unpack, because she's awesome like that. She was helping me organize our million books onto the shelves (that don't look anything like Beast's, btw).
The entire Star Wars saga. Multiple science fiction sets. Every text book he has ever had. Some he didn't have. (also, don't even get me started on the 100s of CDs hiding under our bed. CEEDEES. Like, from the past.)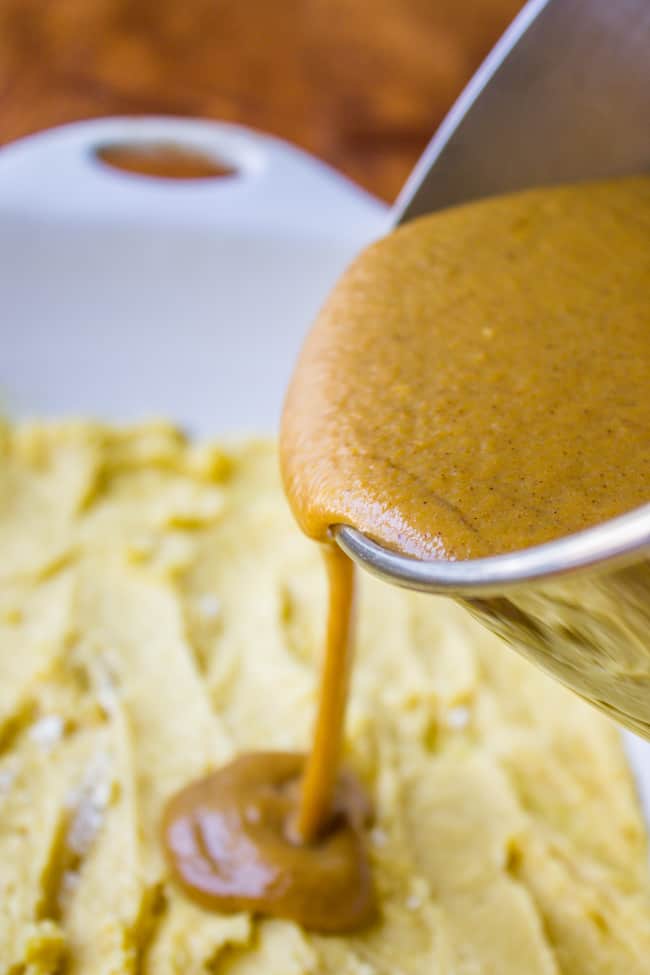 Kris and I were doing our shelving project while Eric was at work and she could not believe some of the books we had hung onto. For example, there was one book that we had TWO copies of, one of them with a ripped-off cover. Somehow they had both made it through our cross-country move.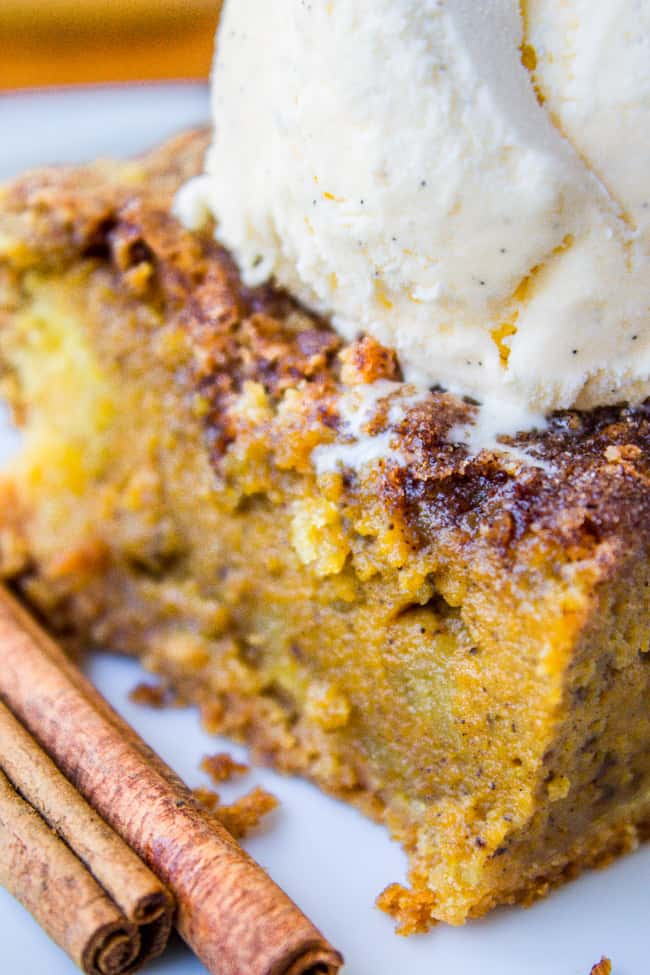 "Throw it away Karen." says Kris.
"I can't just throw it away! It's a book about Jesus, first of all, and second, what would I tell Eric??"
"He will never know."
"He might. What if he asks me where it is?
"Say you don't know.
"But I DO know!!
"No you don't. Once the garbage truck picks it up, you will have no idea where it is. It could be in a dump. It could be in transit. It could be burned. It could be anywhere. You don't know."
Kris is married to a packrat too. Now I know how they have such a peaceful marriage. "I don't know, honey." That's how.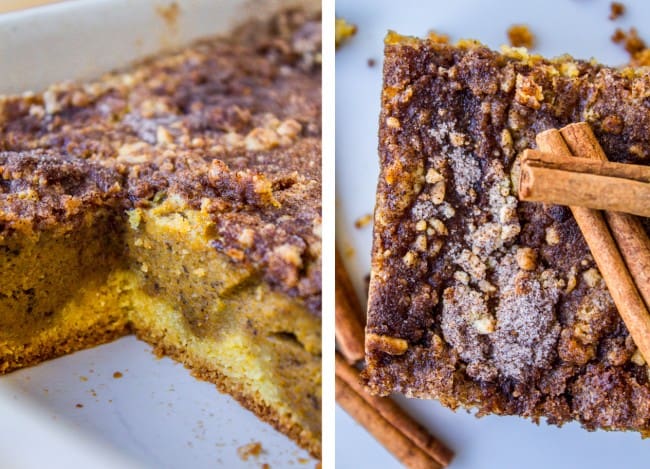 Thanks everyone for all the fireplace advice!! I put the to-paint-the-brick-or-not question out on my personal Facebook page, and could not believe the response. People have A LOT OF FEELINGS about painting bricks. We are going to sit on it for a while, but are leaning toward white-washing.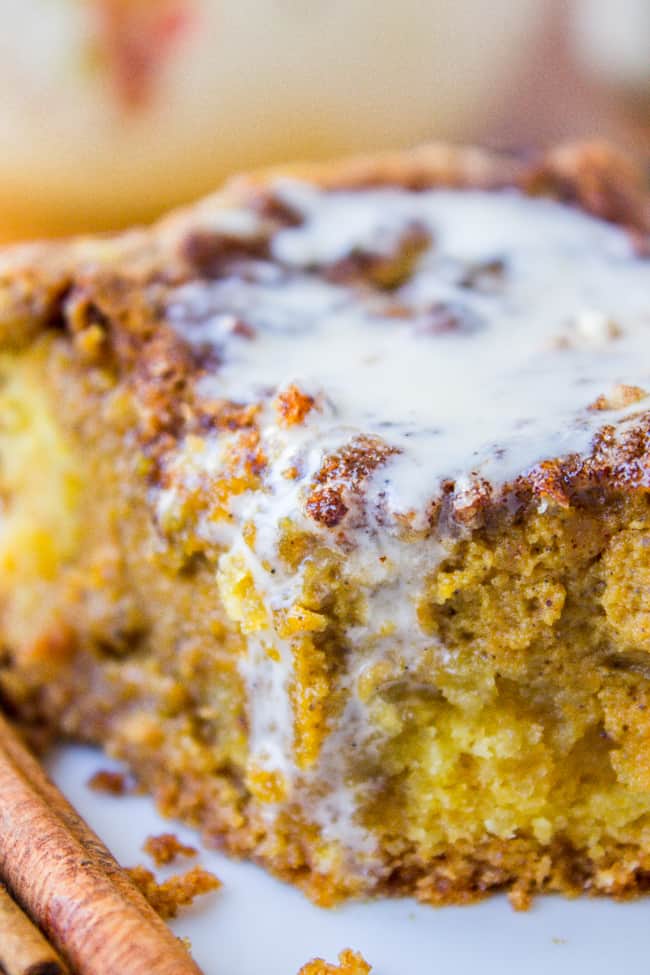 But let's talk about this recipe! Are you a pumpkin pie lover? I've never been the biggest fan, but turns out you add some cake and streusel and I am all over that stuff. This is a really easy recipe, and would be a great dessert to make for Thanksgiving or any fall gathering if you are not a confident pie-maker. It's basically a cake with a layer up pumpkin pie in the middle…a pumpake? A cakekin? Call it what you like, I call it Way Better Than Pumpkin Pie. Feeds a crowd! Or a really sugar-addicted family of four for a few days!
Do you guys give up? Or are you thirsty for more?
Facebook | Pinterest | Instagram | Twitter


print
Did you make this recipe?
Leave a review »
Easy Pumpkin Pie Cake
Serves 12-16
adjust servings
Ingredients
For the crust
1

box yellow cake mix, divided (reserve 1 cup for topping)*

1/2

cup (1 stick) butter, mostly melted

1

egg, beaten
For the filling
1 29

ounce can pumpkin (NOT pumpkin pie filling)

1

and 1/2 cups sugar

4

eggs

2

teaspoons cinnamon

1

teaspoon ginger

1/4

teaspoon cloves

1/4

teaspoon nutmeg

1 12-ounce

can evaporated milk
For the topping
1

cup yellow cake mix

1/4

cup (half stick) cold butter, cut into chunks

1

tablespoon cinnamon

1/2

cup sugar
Instructions
Grease a 9x13 inch pan and preheat the oven to 350 degrees F.
Measure out 1 cup of the yellow cake mix into a small mixing bowl. Set aside (it's for the top).
In a large bowl or stand mixer, beat together the remaining cake mix, melted butter, and egg (if your butter is very hot, wait until it cools before adding the egg. Or be impatient like me and add it while the mixer is on.)
Spread the mixture into the bottom of the prepared pan.
In the same bowl, add pumpkin, sugar, eggs, cinnamon, ginger, cloves, and nutmeg. Beat until combined, then add the evaporated milk. Beat well (careful not to splash).
Pour the mixture on top of the first layer.
Add the cut butter to the cake mix and use a pastry knife of fork to cut until it looks crumbly. (There should be pea-size pieces of butter).
Sprinkle this mixture over the cake.
In another small bowl, combine the cinnamon and 1/2 cup sugar. Sprinkle over the cake.
Bake at 350 for about 60-65 minutes, or until a toothpick comes out clean and the center is set.
Serve warm with ice cream or cold with whipped cream!
by The Food Charlatan

If you make this recipe,
share it on Instagram
 using the hashtag
#TheFoodCharlatan
so I can see it!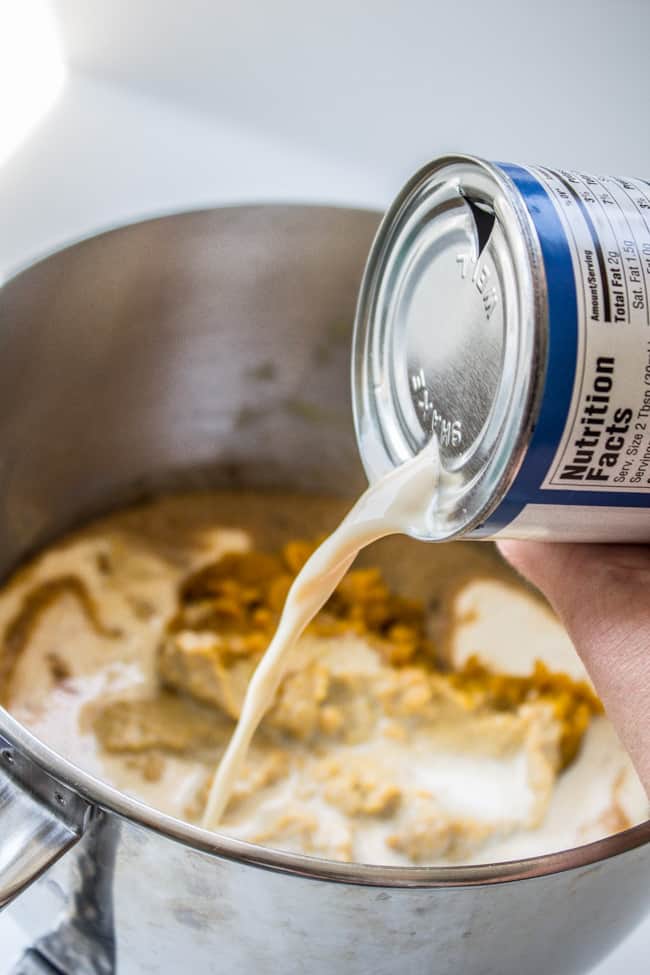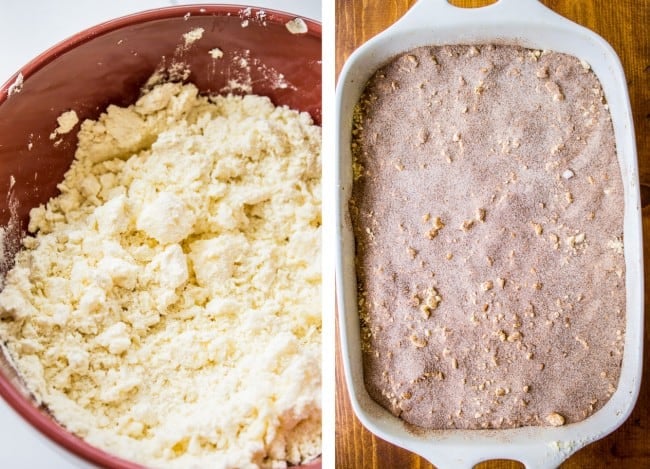 If you want you can stir the cinnamon-sugar into the cake mix, and then cut in the butter. Either way.
More awesome fall desserts!
Brown Butter Pumpkin Cupcakes with Maple Pecan Frosting: I know this picture is old, but don't let it fool you. These cupcakes are pretty much the best thing that's ever happened to your mouth.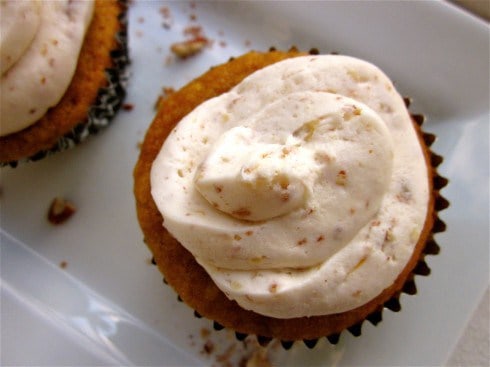 And here's the other best thing that's happened to your mouth: Butterscotch Pumpkin Cake
(You'll have to read the post to get the story on this one…)
Cinnamon Cardamom Cake with Maple Pecan Frosting: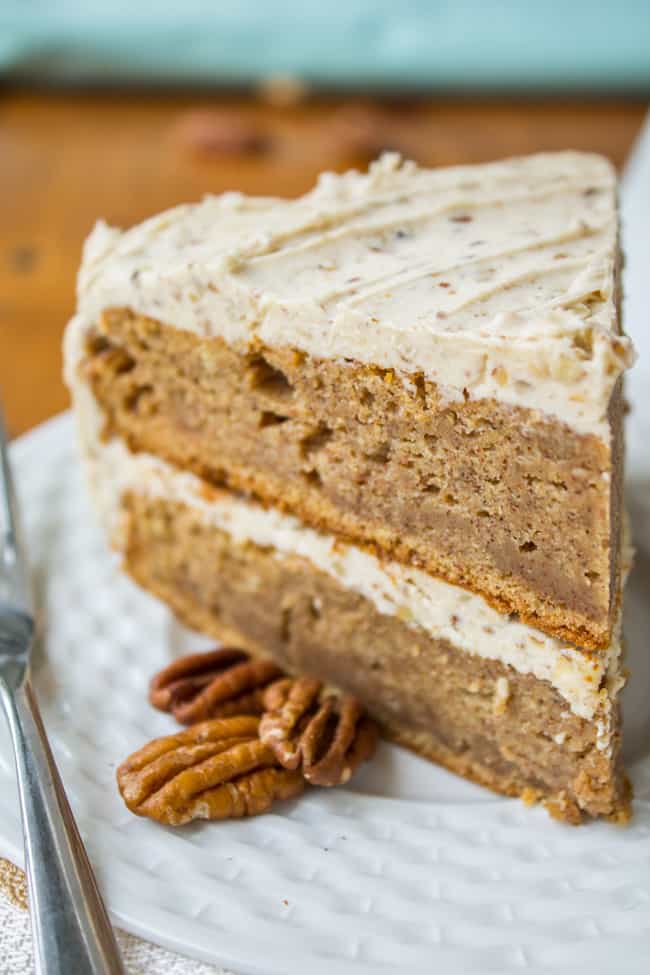 Cranberry Cake with Warm Vanilla Butter Sauce << one of my favorite cakes ever.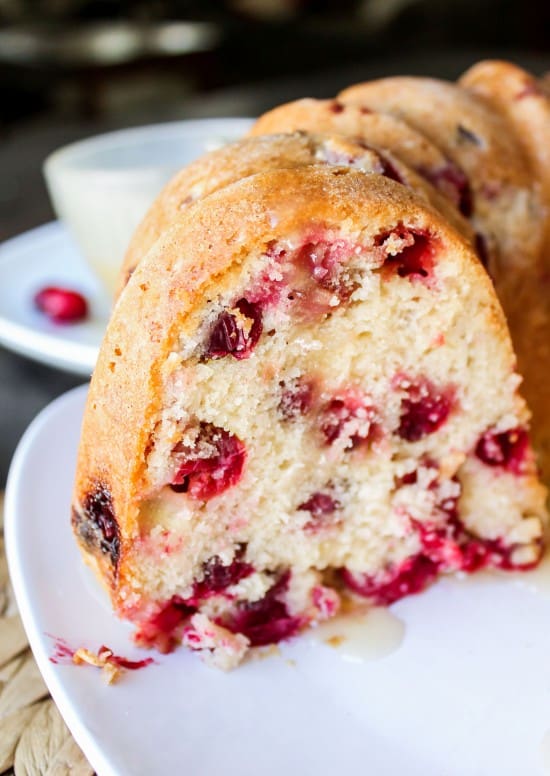 It's fall! Embrace the pumpkin!
Pumpkin Cake with Chocolate Ganache from Shugary Sweets
Pumpkin Cake with Cinnamon Cream Cheese Frosting from Cooking Classy
Grandma's Pumpkin Snack Cake from Kitchen Meets Girl
We are a participant in the Amazon Services LLC Associates Program, an affiliate advertising program designed to provide a means for us to earn fees by linking to Amazon.com and affiliated sites.