This easy Pumpkin Roll recipe is so impressive and delicious! It's a classic Thanksgiving dessert that you definitely need to make this year. I used LOTS of cream cheese frosting so that there is No Bite of Cake Left Behind.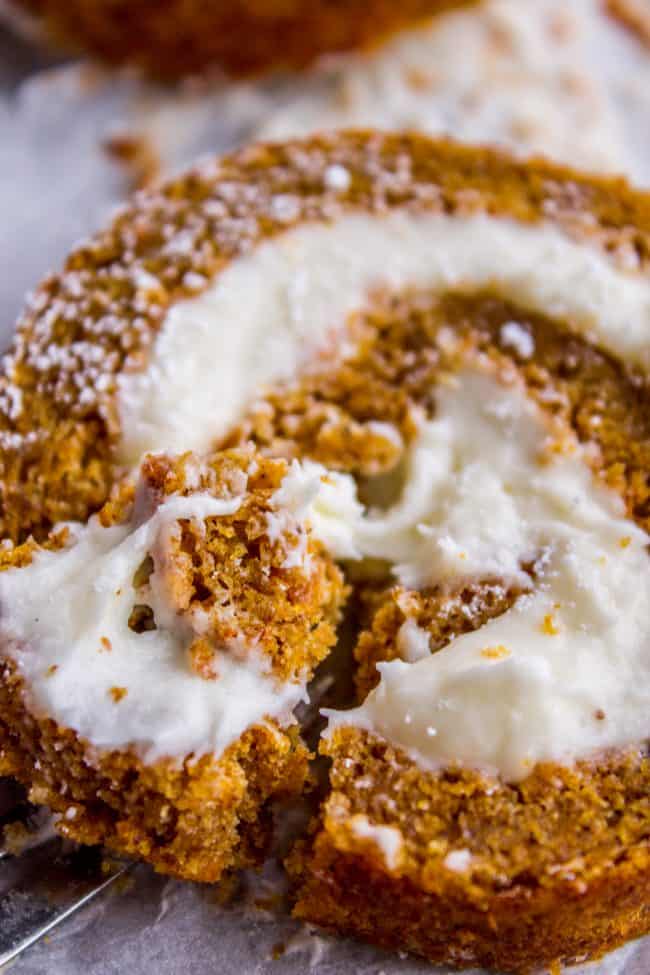 Yesterday my 5-year-old son Truman walked into the living room holding up a giant knife: "Mom, can you kill someone with a chef's knife?"
"Yes Truman."
"Like, if you poke them in the heart with it really hard, they'll die?"
"Yes"
"Oh." And then he just walked away. Looking contemplative.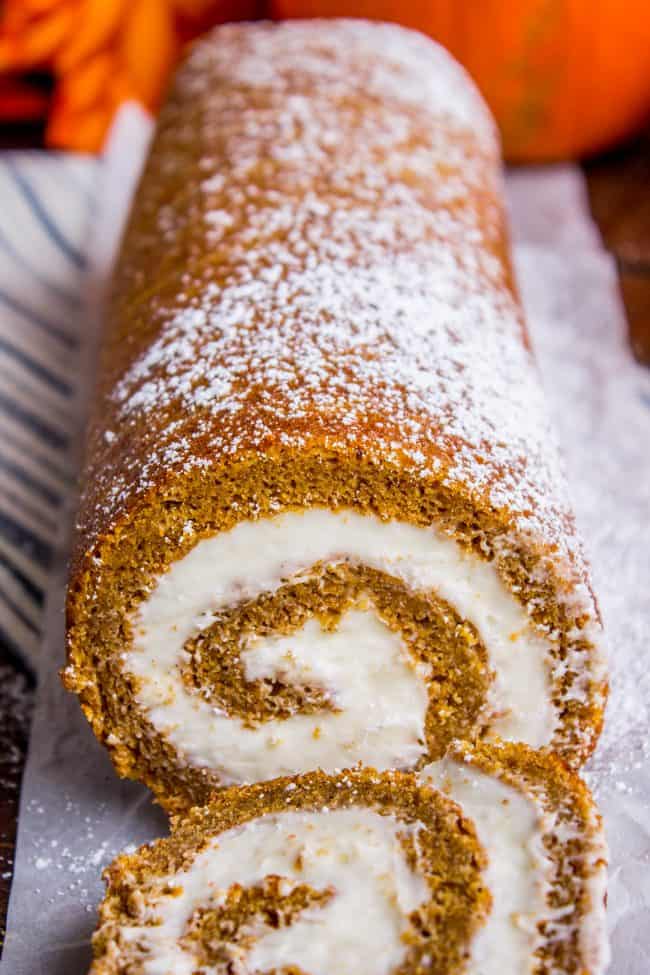 I think I'll sleep with the door locked tonight.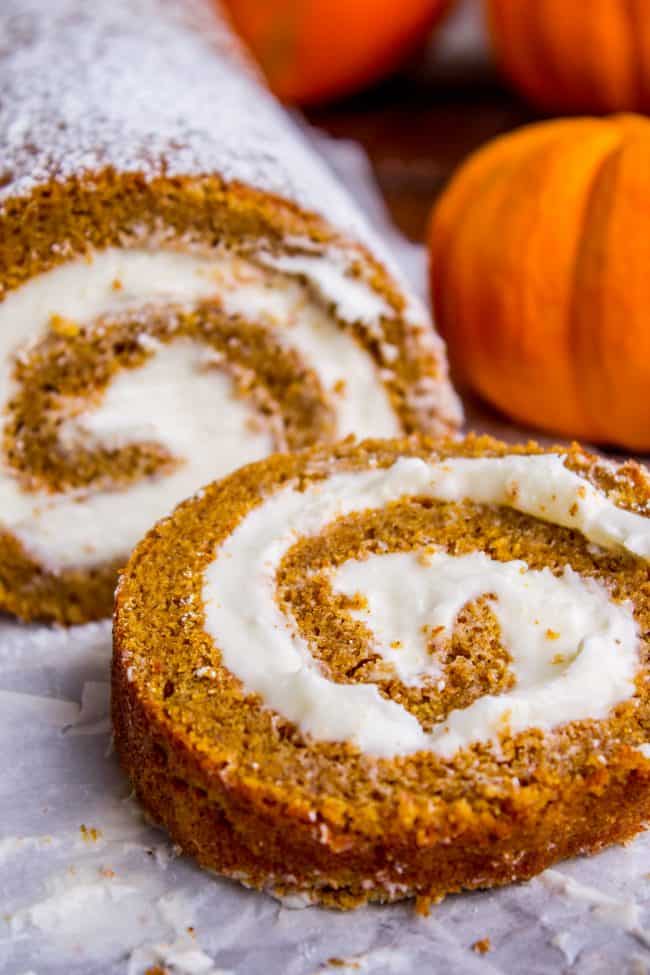 What is it with little boys and the killing?? No joke, on one of Truman's first days of kindergarten this year, I asked him if he made any friends, and he told me that there was one boy at recess that he talked to.
"Oh yeah, what did you talk about?" (mumble mumble) "Sorry, what?" "Just like, violence and stuff." Oh dear.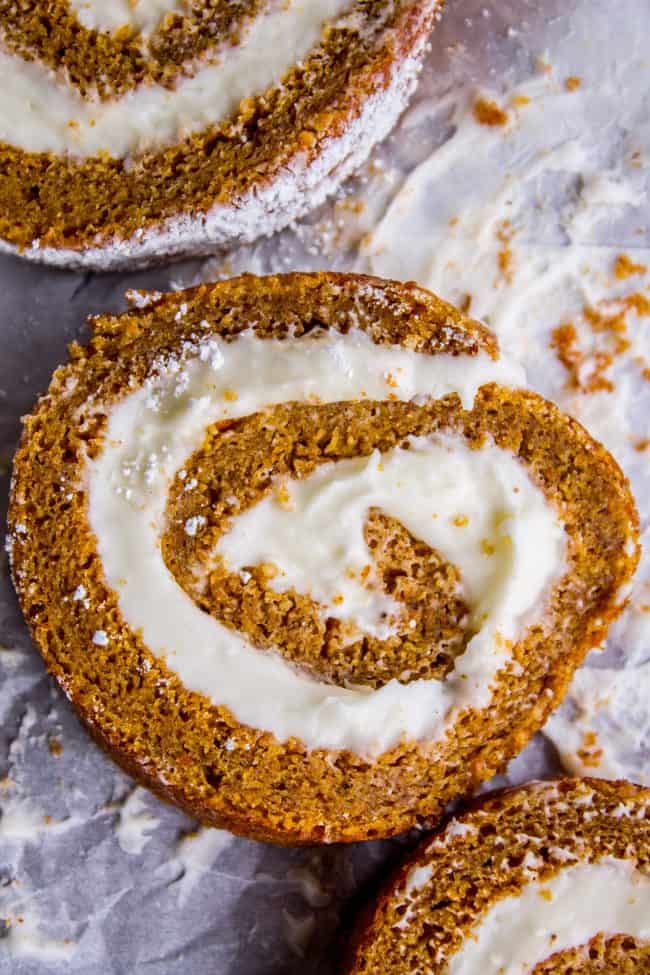 Well, assuming there are no homicides in our family this week, I'm SUPER excited for the upcoming Thanksgiving festivities! What is your favorite part? Turkey? potatoes? rolls? I'm all about the DESSERT. Specifically this Pumpkin Roll recipe.
How to make a pumpkin roll
Does your family have a favorite pumpkin roll recipe? It was never a thing in my family, we are much too obsessed with pie. But I can see how a pumpkin roll brings on the holiday cheer. They are just so cute all rolled up and swirly! They really add a lot visually to a Thanksgiving spread.
But on top of that they are DELICIOUS. There is a reason everyone is obsessed with pumpkin-cream-cheese combos this time of year (see these Pumpkin Cream Cheese Muffins). It's because pumpkin and cream cheese is an amazing combination. And the best part about this pumpkin roll recipe is that I used a LOT OF FROSTING. So there really is no bite of cake left behind, always my mantra when it comes to the best cake. Who wants to eat dry cake?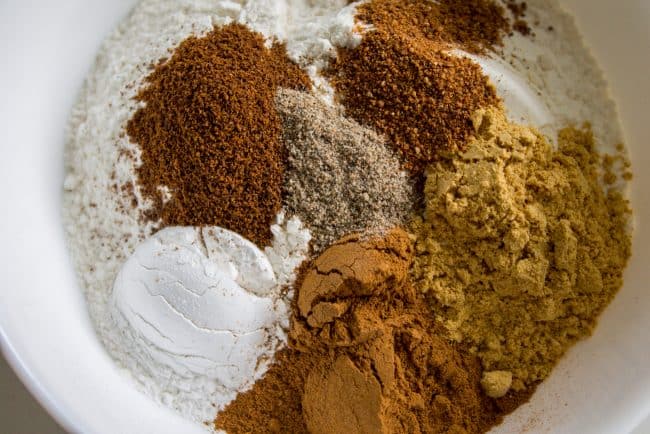 Honestly though, this cake is pretty amazing even without the frosting. I love pumpkin spice flavors, and I added all the best ones to this cake. Cinnamon, ginger, cloves, nutmeg, cardamom, oh my! The cake is so flavorful and has the best light and fluffy texture.
How to roll a pumpkin roll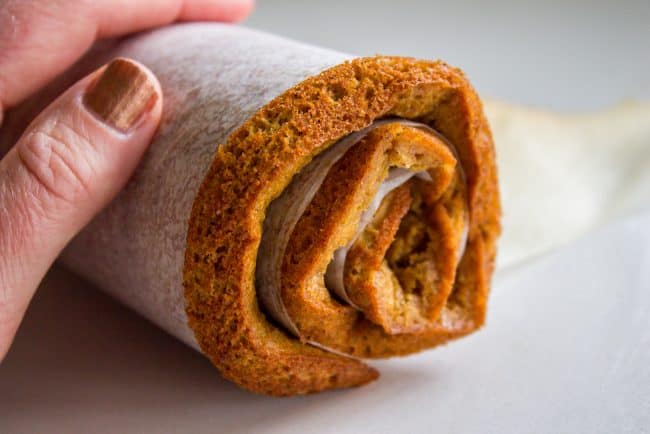 Making a pumpkin roll recipe might seem intimidating because of the rolling process. You mean you want me to bake a cake and roll it up into a spiral without it cracking and crumbling into bits?? Yes, and it's really not hard. There are just a couple rules to follow:
Roll it up when it is HOT. Like, within 1 minute of pulling out of the oven, you might burn the tips of your fingers, HOT. You know how the very edges of a cake get that crispy edge as they cool? You need to roll your cake BEFORE that edge gets too crispy. That's why it's important not to over bake.
Use lots of powdered sugar while rolling so that the cake doesn't stick to itself.
Don't rush your cooling and chilling times. The cake needs to be completely cooled once you roll it up. And once you unroll it, add the cream cheese frosting, and roll up again, it needs to be chilled before slicing.
That's about it! If you follow these rules you will have an amazing crack free pumpkin roll cake. Most pumpkin roll recipes call for removing the cake from the pan, placing it on a tea towel that is well-dusted with powdered sugar, and rolling with the towel. You can certainly do it that way, but it sounded like a huge pain in the neck to me.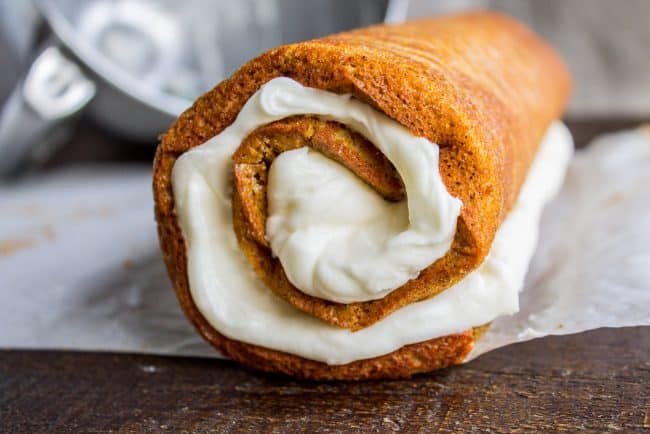 I decided to roll the cake in the parchment paper that I baked it on. It worked great. I recommend sprinkling with powdered sugar before rolling so that it unrolls easier. (I didn't use any, and I had to be very careful.)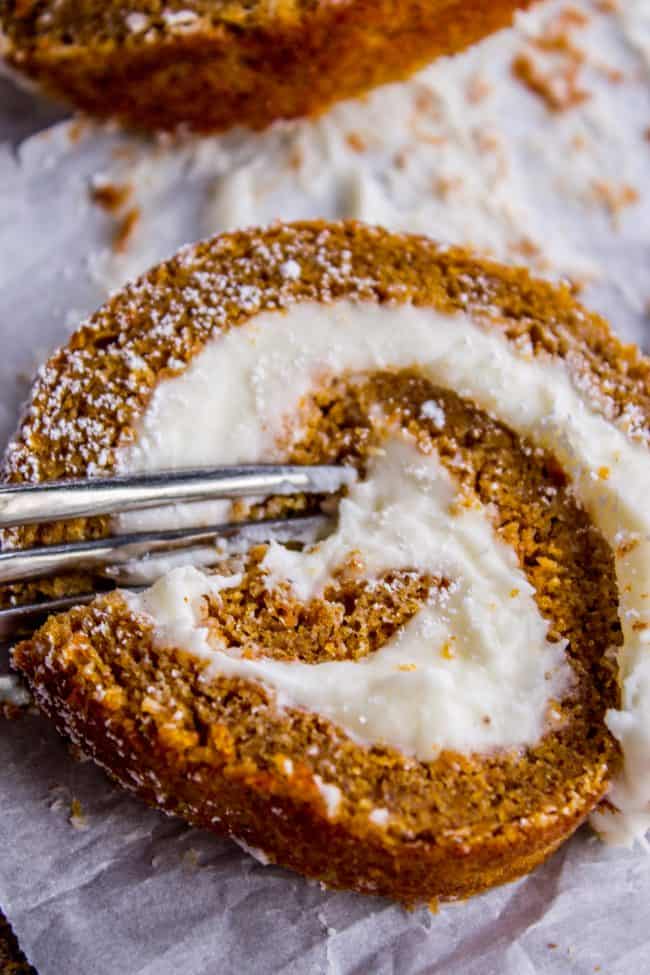 Have you guys got your Thanksgiving menus all worked out? I'm so excited! I'll be making this Sparkling Christmas Slush Drink (perfect for adults and kids), my Aunt Shirley's Famous Creamy Mashed Potatoes, and my trusty Sage Butter Roasted Turkey. It never fails! Oh and please, for the love, make this Make Ahead Turkey Gravy TODAY so that you don't have to be madly whisking out cornstarch lumps when your guests are at the table. It's on my to-do list this weekend!
Enjoy this time spent with your family! Happy Thanksgiving prep weekend!
More pumpkin recipes that you are going to love!
Facebook | Pinterest | Instagram

Pumpkin Roll Recipe with Lots of Cream Cheese Frosting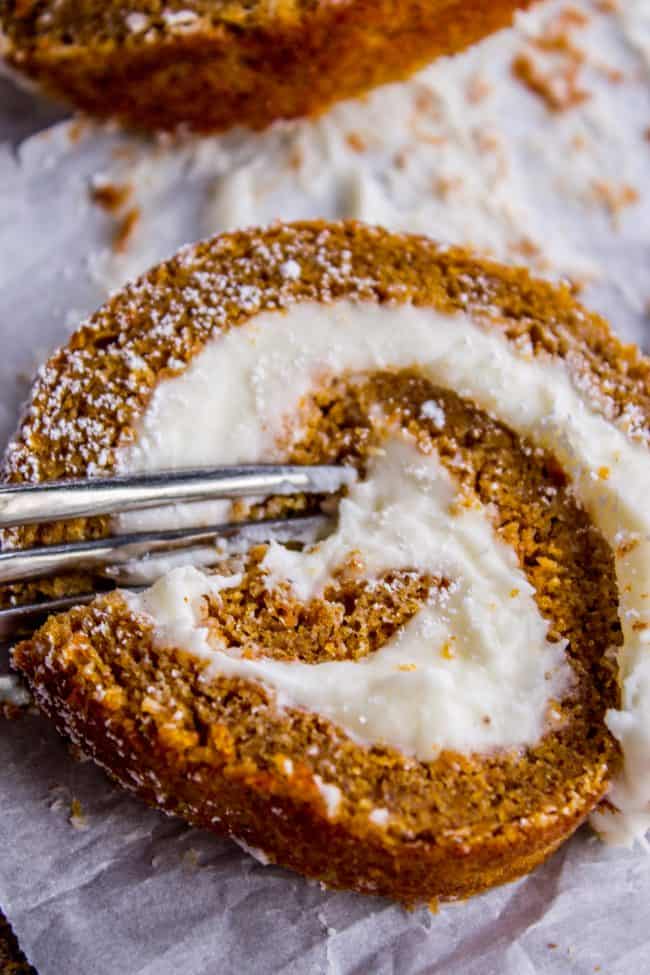 This easy Pumpkin Roll recipe is so impressive and delicious! It's a classic Thanksgiving dessert that you definitely need to make this year. I used LOTS of cream cheese frosting so that there is No Bite of Cake Left Behind. 
Ingredients
For the cake
3

large

eggs

1

cup

granulated sugar

2/3

cup

canned pumpkin

,

not pumpkin pie filling

1

teaspoon

lemon juice

,

fresh

1

teaspoon

vanilla

3/4

cup

flour

,

spooned and leveled

1

teaspoon

baking powder

1/2

teaspoon

kosher salt

2

teaspoons

cinnamon

1

teaspoon

ginger

1/2

teaspoon

cloves

1/2

teaspoon

nutmeg

1/8

teaspoon

cardamom

powdered sugar

,

for dusting
For the cream cheese frosting
Instructions
Preheat your oven to 375 degrees F.

Line a

15x10 inch jelly roll pan

with

parchment paper

. There should be extra paper hanging off the sides of the short end of the pan, and the paper should line up with the long edges of the pan. See photo. Spray the paper and sides of the pan well with nonstick spray.

In a large bowl or stand mixer, add 3 eggs. Beat for 3-4 minutes on medium speed until the eggs are pale and bubbly. Well-beaten eggs make for a light and fluffy cake!

Add 1 cup granulated sugar. Beat well. Add 2/3 cup pumpkin. Beat well.

Add lemon juice and vanilla. Beat until combined, scraping the sides and the bottom of the bowl.

In a small bowl, whisk together flour, baking powder, salt, cinnamon, ginger, cloves, nutmeg, and cardamom.*

Add the flour mixture and beat until very well combined, scraping the sides of the bowl.

Pour the batter into the prepared pan and smooth to the edges.

Bake at 375 for 13-15 minutes. Insert a toothpick in the center of the cake. If it comes out with no batter on it, the cake is done. It should spring back when you press on the center. The edges should look set but take it out before they look crispy! It's important for your cake to be baked all the way through, but over baking it will make it more difficult to roll, so keep a close eye on it.

Clear a work space on your counter. Have a bowl of powdered sugar ready to go.

Within one minute of taking the cake out of the oven, sprinkle the entire top of the cake with plenty of powdered sugar. Fold the edge of the parchment paper that is hanging out of the short end of the cake over the cake. Start rolling up the cake on the short end, rolling the parchment paper. You don't need to roll it super tight. Add more powdered sugar as necessary.

Once your cake is completely rolled up, wrap the whole thing in plastic wrap so that it doesn't dry out, then let it cool for 1-2 hours. You can put it in the fridge to speed it up if you want. Let the cake sit at room temperature for a few minutes before unrolling though.

Beat the frosting until smooth, scraping the edges. Cover and store in the fridge until you are ready to frost the cake. (If your frosting is too warm when you roll up your cake, you risk it oozing out the sides.)

When your cake is cool, unroll completely and frosting the entire inside of the cake. Make sure to add plenty of frosting to the edge of the cake that is going to be rolled up in the center. Spread the frosting right to the edges of the cake.

Carefully roll up your cake again, without the parchment paper. Wrap it in plastic wrap again and chill for 1-3 hours until completely cool.

Use

a sharp serrated knife

to slice the cake into about twelve 1-inch slices. Wipe off the knife in between slices.

Store the cake covered in the fridge.
Notes
*You can use any spice blend you like! You can use about 1 and 1/2 tablespoons of pumpkin pie spice to replace the cinnamon, ginger, cloves, nutmeg, and cardamom if you prefer.
Recipe adapted from the original Libby's Pumpkin Roll
Nutrition
Serving:
1
g
|
Calories:
471
kcal
|
Carbohydrates:
82
g
|
Protein:
3
g
|
Fat:
16
g
|
Saturated Fat:
4
g
|
Polyunsaturated Fat:
6
g
|
Monounsaturated Fat:
4
g
|
Trans Fat:
1
g
|
Cholesterol:
47
mg
|
Sodium:
314
mg
|
Potassium:
88
mg
|
Fiber:
1
g
|
Sugar:
71
g
|
Vitamin A:
2187
IU
|
Vitamin C:
1
mg
|
Calcium:
38
mg
|
Iron:
1
mg