Hellooooooo! Anybody there?
I'm alive! I'm still Karen! It's so nice having my personality back. Seriously, I turn into the most boring person ever when I don't have food to obsess over. 3 months of milk and string cheese later, I'm finally getting to the point where I can not only ponder food without gagging, I can even eat it, and yesterday I made bacon and eggs for breakfast. Life is good.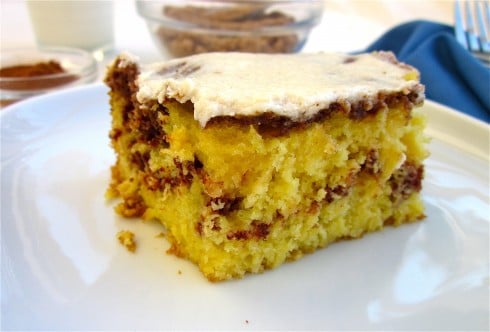 People are so awesome, can I say that? Eric has endured 3 months of sloth-like behavior, my friends bring food over so that Eric and Charlotte have something to eat besides tortillas, and no one has even judged me for letting Charlotte watch Dora the Explorer 24 hours a day. Understanding. That's what you need when you are sick.
I remember one time when I was little, my parents told us kids that Grandma had come down with a stomach flu. We decided to make get-well cards for her. I was determined that mine would be a piece of everlasting art. I spent what seemed like hours drawing and coloring every minute detail I could remember of my grandma's bathroom. The potpourri on the back of the toilet, the blue rug, the bottles of lotion on display. And Grandma herself of course: her gray curly hair, her glasses, her necklace. I was very proud of my accurate rendition.
My sister Laura, however, took one look at my masterpiece and gently told me that Grandma might not like to see a drawing of herself violently throwing up into the toilet. Apparently she thought that it was a little too graphic for an old lady with a stomach bug.
I ended up making a different card for Grandma, but looking back, I have to say I disagree with Laura. If an adoring 5-year-old gave me a picture like that I think I would die laughing.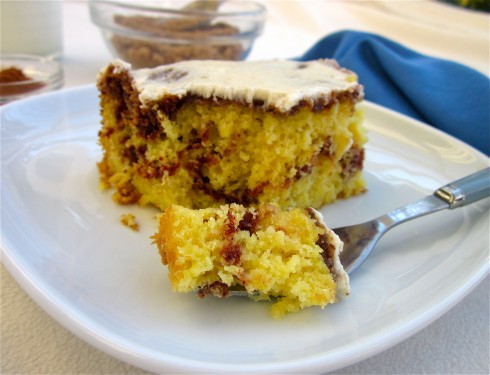 In other exciting news, my one year anniversary came and went! It was a few weeks ago. Hard to believe I've been blogging a whole year! Here's a coffee cake to celebrate. My aunt Shirley (a true baker) made up the recipe. She used to make this cake for family brunches. It is sooooo good. Everything a coffee cake should be: buttery and cinnamony and completely inappropriate for breakfast. Yes!
Cake Mix Coffee Cake

Source: my awesome aunt Shirley
1 box yellow or white cake mix (I prefer yellow)
1 cup Bisquick*
3 eggs
1 cup softened butter
2 cups water
Beat the above ingredients for a couple minutes. Pour half of the batter into a greased 9×13 pan. In another bowl, combine until crumbly:
1 cup Bisquick
1 cup dark brown sugar
1 tablespoon cinnamon
1/2 cup butter
Sprinkle half of the brown sugar mixture on the cake batter in the pan. Cover with the remaining cake batter, and finally top with the remaining brown sugar mixture. Bake at 350˚ for about 30 minutes, or until it doesn't jiggle when you move the pan.
Icing:
2 cups powdered sugar
1/4 cup soft butter
1 teaspoon vanilla
1/2 teaspoon salt
about 1/4 cup milk (more or less–you want spreading/slow pour consistency)
Drizzle the icing over the cake. I like it best warm with a giant glass of milk. Enjoy!
*If you don't have Bisquick, combine 2 cups flour with 1 teaspoon salt and 2 tablespoons baking powder. Cut in 1/4 cup of shortening with a pastry cutter until it looks like Bisquick. This will make a little more than that 2 cups you need for the recipe, so be sure to measure it.