You would not believe that this incredible chocolate bundt cake recipe is made from a cake mix! It is so moist it's ridiculous. The ganache topping just puts it over the top. Don't even think about eating this without a glass of milk – it's death by chocolate cake!
Originally published October 4, 2016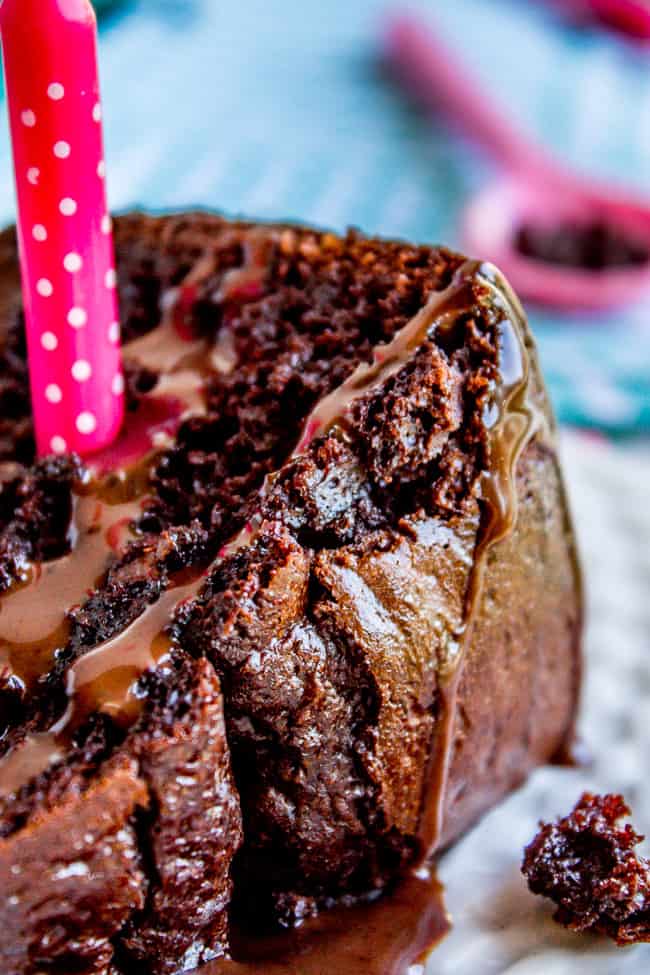 Death by chocolate cake
After I finished making and photographing this cake, I asked Charlotte if she wanted a bite. She said yes, so I gave her a forkful.
"What do you think of the cake?"
She paused, chewing thoughtfully and said, "Huh. Gooder than I thought it would be."
(Insert comically raised eyebrows)
"Well what did you think it was going to be??"
"Good, but just a little, um, not THAT good."
Thanks? I think??
5 years blogging!
Guess what guys!! Today is the 5 year anniversary of the day I started my blog! On October 4, 2011, I sat down at my computer and published the recipe for these Pumpkin Oatmeal White Chocolate Chip Cookies. I started my blog because I had just had a baby (Charlotte) and was totally bored with my new stay-at-home-mom gig. I mean the kid took like 4 hour naps, what was I supposed to do besides bake?
It started as a hobby. I kept publishing recipes (3 times a week, very consistently) for years and never saw anything from it except fun conversations with my friends and family about what recipe I was making that week, and whether they had tried any. I loved sharing recipes, loved having my own catalogue of dinner ideas I wanted to make again and again (still the criteria for making it on the blog) and never really expected anything more than that.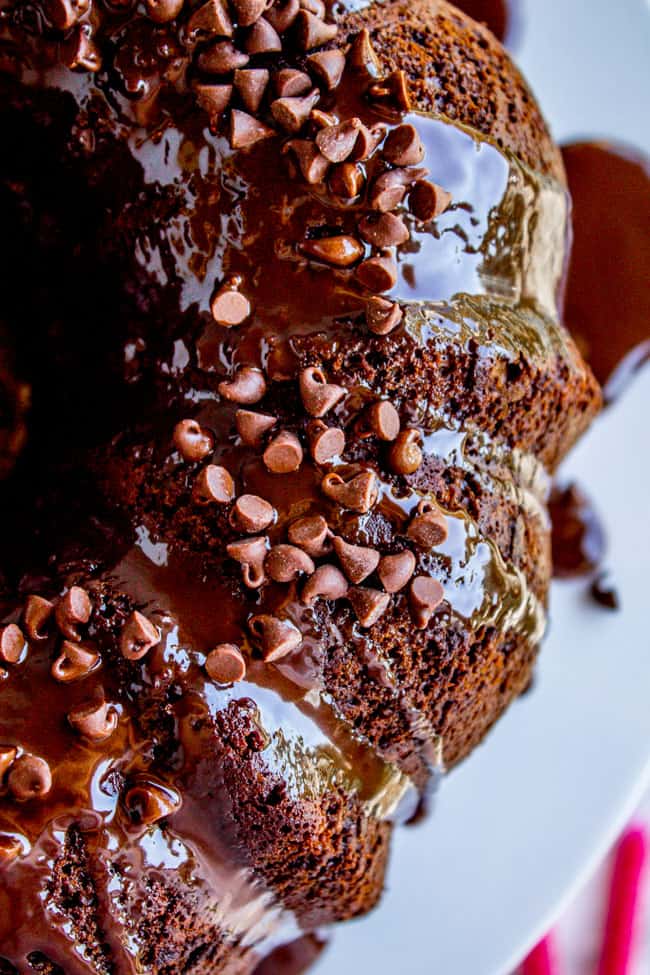 But in January 2013, I published this innocent little recipe for Cilantro Lime Cucumber Salad, and my traffic went through the roof, something I never anticipated. Now I earn an income from my blog (did you know food bloggers are really just small business owners?) and it's one of the most fun things I've ever done.
I never had aspirations for owning my own business; I just knew I wanted to stay home with my kids while they were growing up. For me, I have the best of both worlds: being at home with them, but still having a career that is as demanding (or not) and fulfilling (or not) as I want it to be, because I'm the boss. I make up my own rules and hours, and even if I don't follow them, no one can fire me.
Of course it's not always sunshine and roses. Being your own boss also means that she can sometimes be an insane taskmaster who keeps you up all night working when all you want to do is sleep. (Ever see me post a recipe in the middle of the night? Yeah, that wasn't scheduled. We'll sleep when we're dead, right boss?)
But overall I am super grateful for this crazy and strange career of mine. The other day Charlotte said out of the blue from the backseat of the car, "Mom, did you actually start your own blog?" Yes I did. "You mean you did it all by yourself?" Yeah, I did. "Wow." I'm glad that my kids will grow up seeing me work my butt off at something I am passionate about.
How to make chocolate bundt cake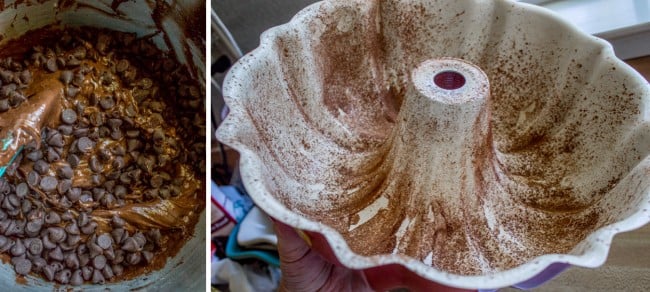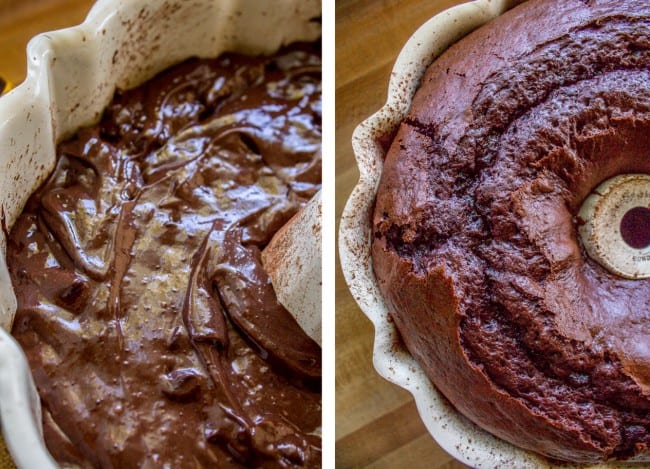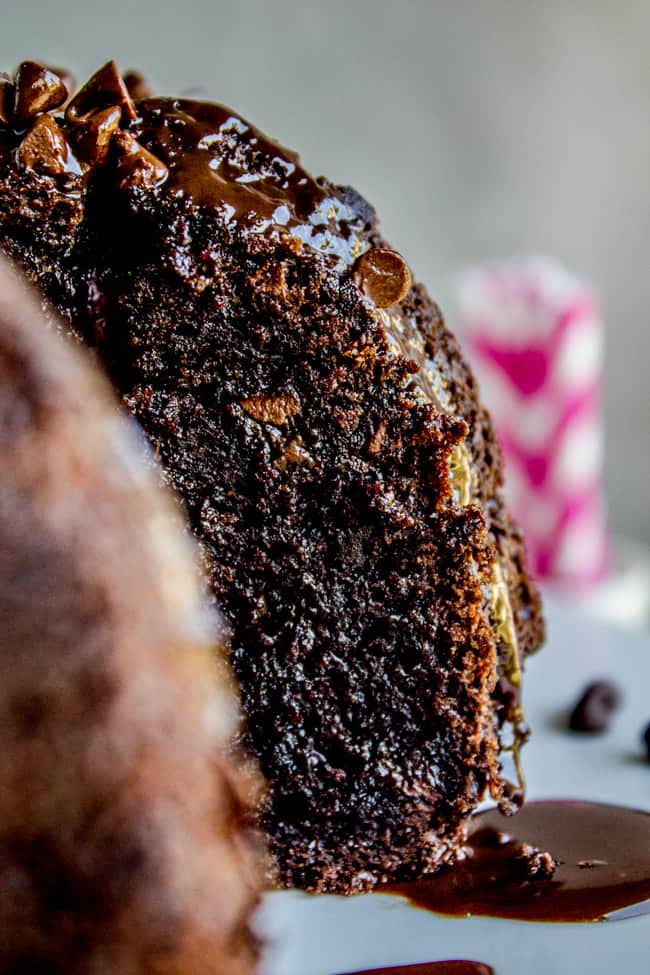 Enough sap. Let's talk cake! This one is another gem of a recipe from my dear Aunt Shirley, my mom's sister. She's an amazing baker and has quite the dessert reputation in our family.
(My sister Nikki, who does not love being in the kitchen, said to me once as I was making cookies, "Karen! Oh my gosh! You're like the Aunt Shirley of our generation!" Because her kids know me as the Bringer of Dessert. Little do they know that it's all recycled work from MY aunt. NIKKI DON'T SHOW THEM THIS POST.)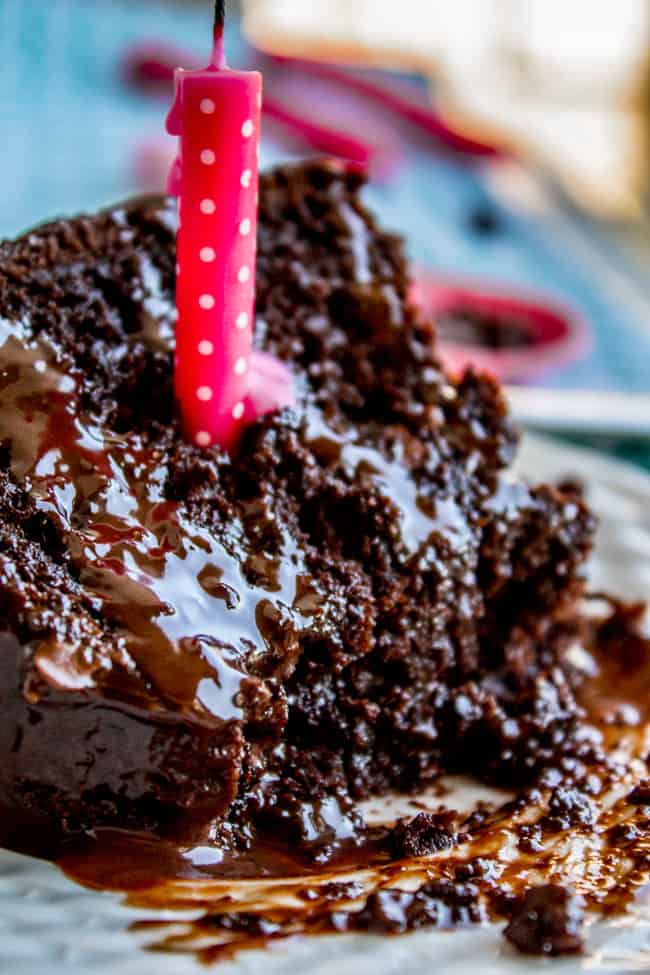 I had a couple friends over the day I made this cake, and they both couldn't believe it was a doctored cake mix. I can't even believe this is a doctored cake mix. It is just so rich and chocolate-y. The sour cream and oil make it super moist. And of course drizzling the whole thing in ganache doesn't hurt either. Because honestly there's nothing less satisfying than a bite of dry, dense cake, amiright?
One last thing: since it's my blog-baby's 5th birthday and all, if you would like to give a gift, I would love a comment telling me what your favorite recipe is from the blog, or the one you make most often for your family. Or just a favorite post or story. What I do wouldn't be possible, of course, without you lovely readers, and I'm so glad you're here. Thanks so much for reading and laughing and cooking with me!
Facebook | Pinterest | Instagram | Twitter

Death By Chocolate Bundt Cake (And The Food Charlatan's 5th Birthday!)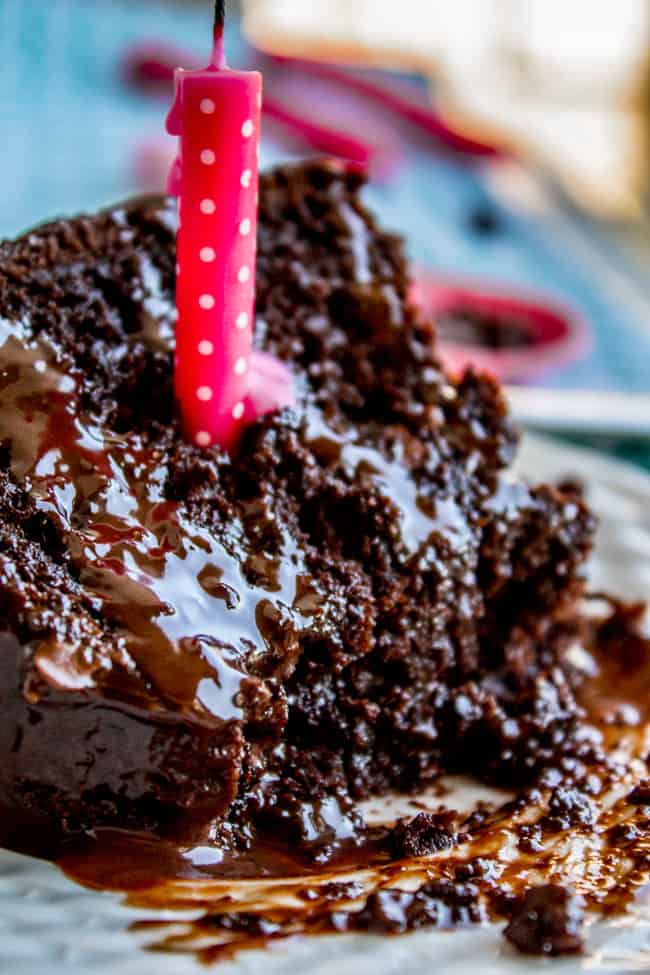 You would not believe that this incredible chocolate bundt cake recipe is made from a cake mix! It is so moist it's ridiculous. The ganache topping just puts it over the top. Don't even think about eating this without a glass of milk - it's death by chocolate cake!
Ingredients
For the cake:
1

15.25-oz. box

Devil's Food Cake mix

,

dry*

1

5.1-oz. box

chocolate pudding mix

,

dry

1

cup

sour cream

1

cup

water

1/2

cup

oil

3

eggs

12

ounces

semisweet chocolate chips

,

2 cups
For the ganache:
1

cup

cream

1

cup

chocolate chips

,

I like semisweet

mini chocolate chips

,

to garnish
Instructions
Preheat the oven to 350 degrees F.

Grease a bundt pan very well with butter or nonstick spray. Use a small amount (like a teaspoon) of cocoa OR flour (Cocoa will be prettier) to dust the pan. Tap the pan around and shake out excess.

Combine the dry cake mix and dry pudding mix in a large bowl or stand mixer.

Beat in the sour cream, water, oil, and eggs. Scrape the sides and bottom and beat well for at least 2 minutes to whip air into the cake.

Fold in 2 cups of chocolate chips.

Pour the batter into the prepared pan and bake for 55-58 minutes, or until a toothpick comes out clean. Don't over bake it!!

Let cool on a wire rack for 10 minutes.

Use a plastic knife (so you don't scrape your pan) to loosen the edges of the cake, then invert it onto a serving plate or cake stand.

Meanwhile, make the ganache. In a small bowl, measure out 1 cup of cream. Microwave for about 1 minute, stir, and continue heating in 20 second intervals until you see bubbles on the side of the bowl.

Immediately pour in 1 cup chocolate chips but don't stir. Let the chocolate sit for about a minute (to melt) then use a whisk to stir it together. Don't give up, just keep whisking and it will thicken up.

Drizzle the warm cake with the ganache. You can serve it room temperature too, if you like. The ganache will thicken as it cools, just throw it in the microwave for a few seconds if you need it to thin out.

Garnish with mini chocolate chips and serve with a tall glass of cold milk!
Notes
The ounces on the cake mix don't have to be exact. If it's a 16 oz cake mix, that will work fine!
You can totally make this recipe in a 9x13 pan of course. I haven't tested bake times though, so you will have to experiment. It will be LESS time. I would start with 25-30 minutes, then check every 5 until a toothpick comes out clean.
Nutrition
Serving:
1
slice
|
Calories:
501
kcal
|
Carbohydrates:
27
g
|
Protein:
5
g
|
Fat:
42
g
|
Saturated Fat:
19
g
|
Polyunsaturated Fat:
4
g
|
Monounsaturated Fat:
15
g
|
Trans Fat:
1
g
|
Cholesterol:
99
mg
|
Sodium:
57
mg
|
Potassium:
262
mg
|
Fiber:
3
g
|
Sugar:
20
g
|
Vitamin A:
581
IU
|
Vitamin C:
1
mg
|
Calcium:
70
mg
|
Iron:
2
mg
Here are some other cakes you will love!
The Best Chocolate Cake I've Ever Had << I stand by this title with the qualification "best homemade chocolate cake with traditional buttercream"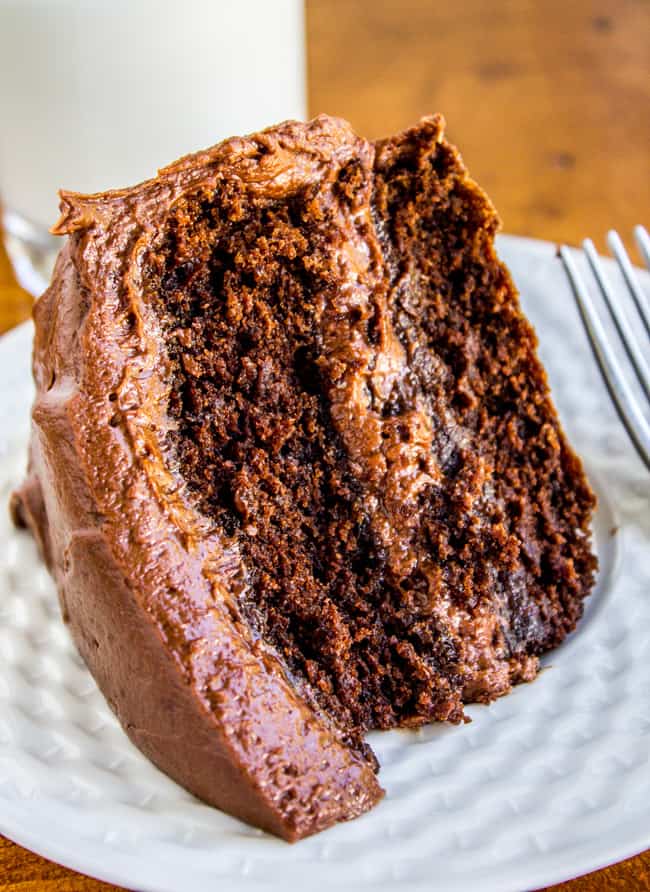 Mississippi Mud Cake << (brownie-ish cake. whole jar of marshmallow creme. top with fudge frosting. Need I go on?)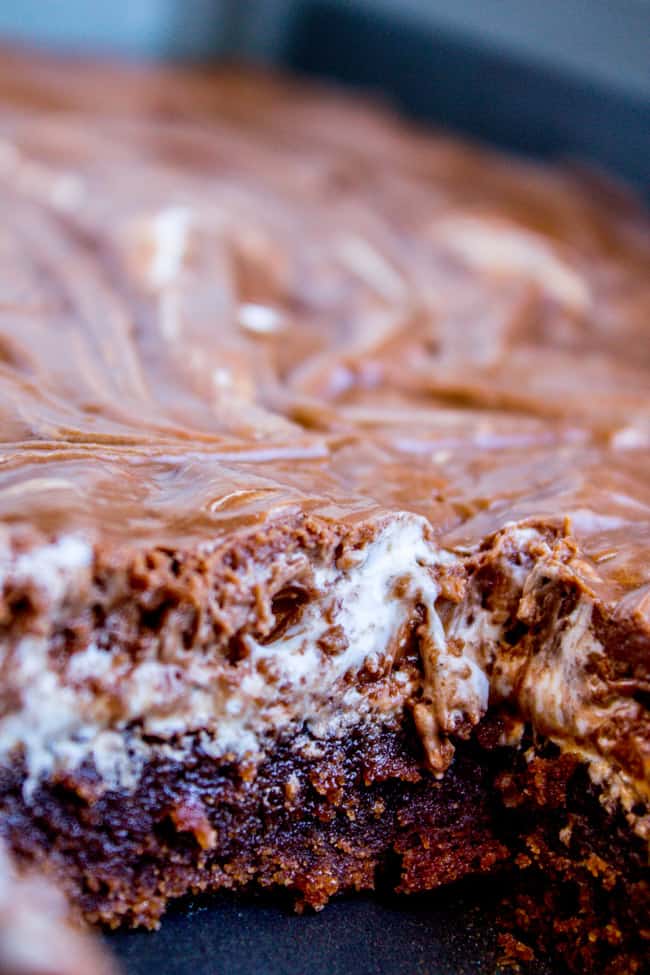 Chocolate Cherry Sheet Cake with Fudge Frosting: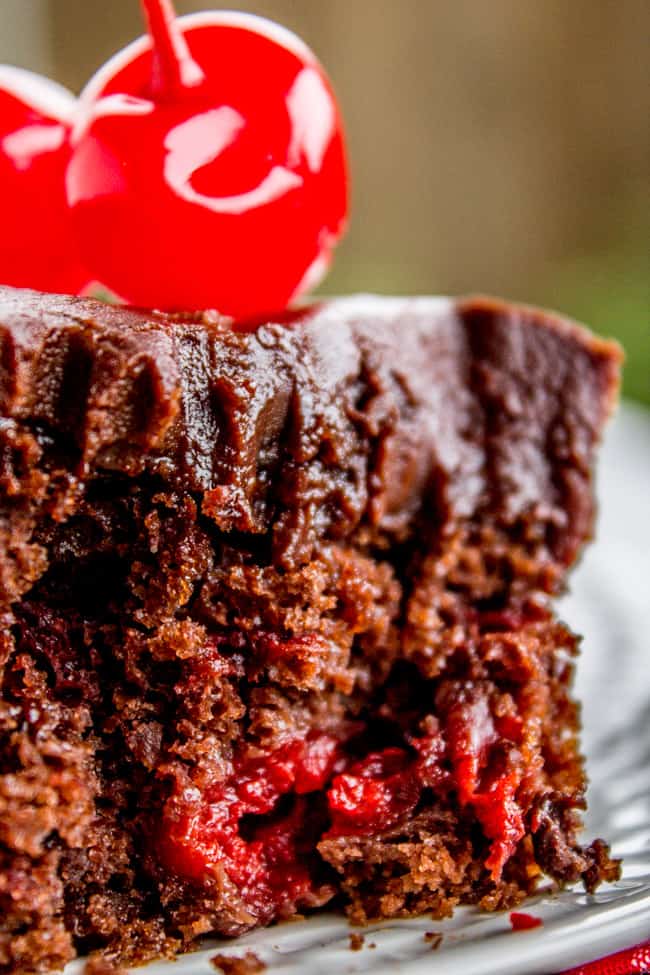 You will love these other cakes from friends!
Chocolate Mudslide Cake form Beyond Frosting
Best Chocolate Cake from Life, Love, and Sugar
Chocolate Oreo Cake from Will Cook for Smiles