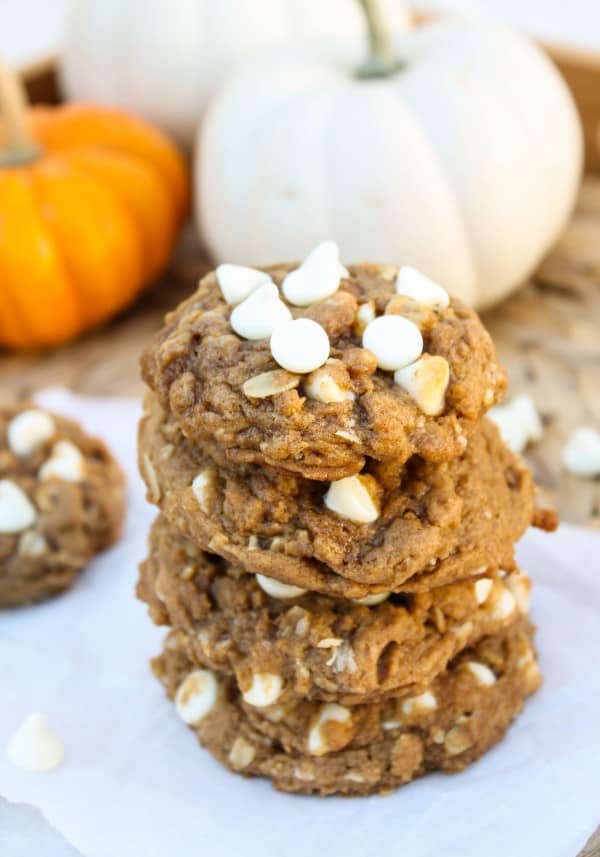 There is a bakery in Indianapolis that has the best pumpkin oatmeal white chocolate chip cookies.  I tried to finagle the recipe out of them, but nothing doing.  So I decided to recreate them.  I found a similar recipe that calls for raisins and nuts (no thanks!) instead of white chocolate chips.  They turned out awesome.
We just moved from Indianapolis to Utah.  I decided a long time ago to stop waiting for neighbors to bring me treats when I move in somewhere.  When we moved to Indy I started the tradition of bringing cookies to our new neighbors instead of moping around waiting for them to bring some to us. (Let's be honest, I've got plenty of extra baked goods lying around anyway!)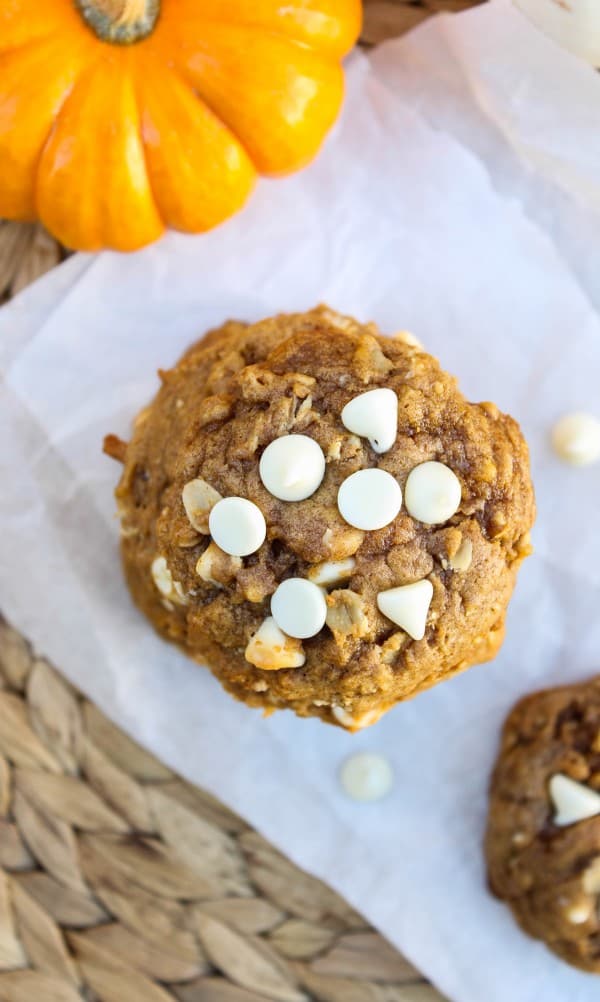 So I whipped up a double batch of these babies to give to our new friends sharing our walls.  We chatted with the cute just-married couple next door.  We met the lady upstairs and her teenage son who likes to play his drums on our living room ceiling.  And then we knocked on the last door.  It creeks open a sliver.  An eye peers out.  A man with boxers and no shirt on opens the door a little further to glare at us, the couple who has dared to knock on his door at 8:30pm.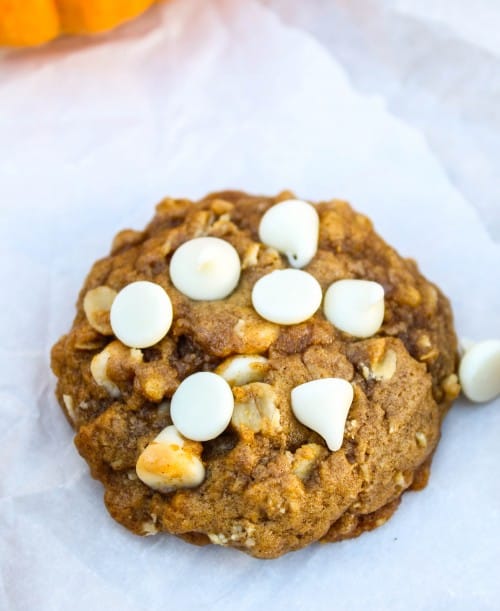 After a very rushed and awkward conversation, we hurry back to our apartment.  I don't know what it is with naked people answering their doors.  When we were in Indiana, we brought cookies to the guy next door.  He opened the door wearing nothing but a towel.  We all just stared at each other for this horrible moment, and then he says "I thought you were someone else."  We practically threw the cookies at him and ran.
I hope you enjoy these cookies and don't have to deal with any scantily clad men in the process!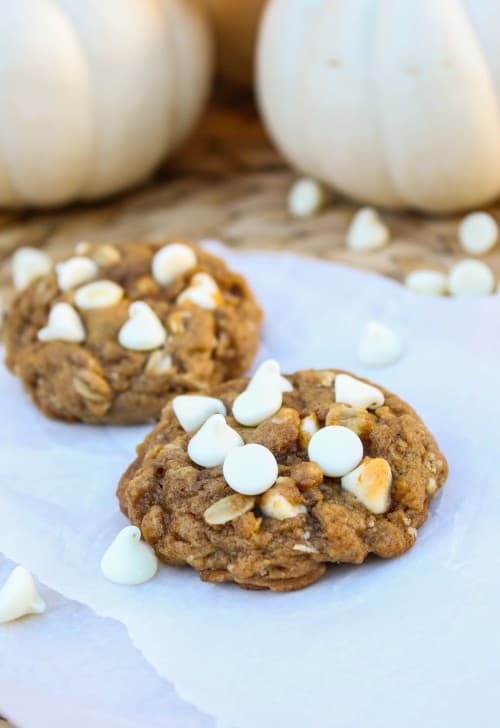 (Here's the original photo of these cookies. This was my first ever blog post here on The Food Charlatan!)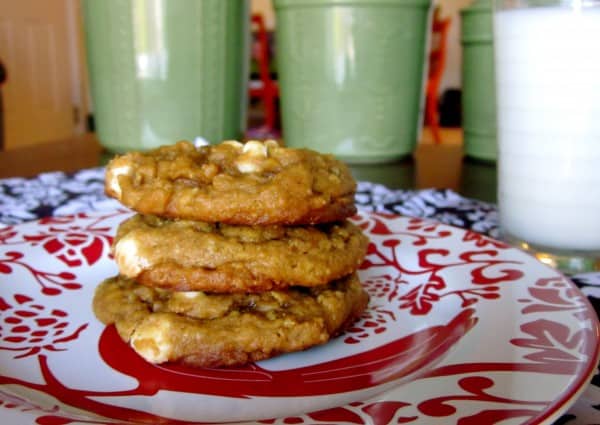 Pumpkin Oatmeal White Chocolate Chip Cookies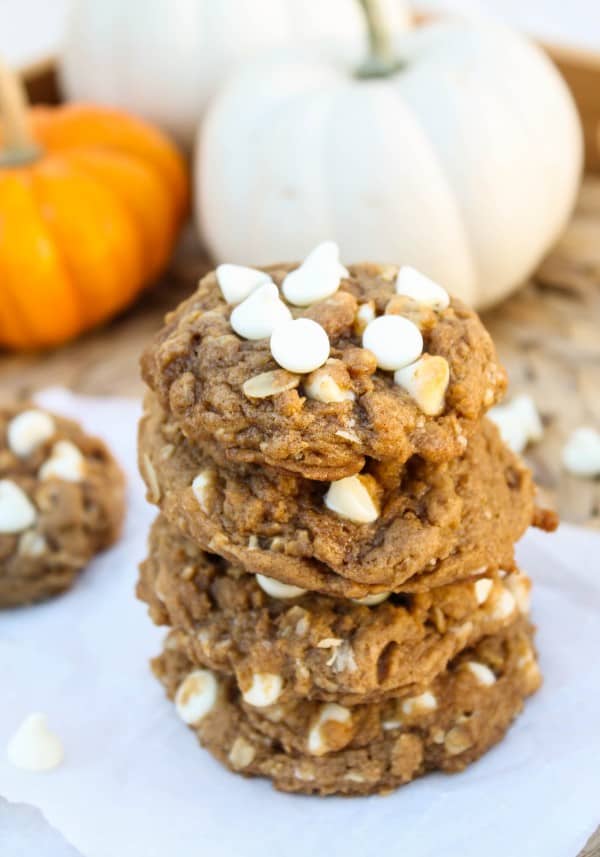 These are the best pumpkin oatmeal white chocolate chip cookies! I pieced the recipe together after trying some at a bakery. They turned out awesome!
Ingredients
1

cup

salted butter

,

melted

1/2

cup

sugar

1

cup

light brown sugar

,

packed

2

teaspoons

vanilla extract

3/4

cup

pumpkin puree

3

cups

all-purpose flour

,

spooned carefully into the measuring cup

1/2

teaspoon

salt

1/2

teaspoon

baking powder

1/2

teaspoon

baking soda

1

tablespoon

ground cinnamon

1

cup

old-fashioned oats

1 1/2

cups

white chocolate chips

,

plus more to top cookies with
Instructions
Melt the butter in the microwave. Pour it into the bowl of a stand mixer (or a large bowl and use an electric mixer) and use the whisk attachment to combine in the sugar, brown sugar, vanilla, and pumpkin.

In another medium bowl, add the flour (make sure you spoon and level it!), salt, baking powder, baking soda, cinnamon, and oats. Whisk to combine, then add to the wet ingredients. Stir until it is not quite combined, then add the white chocolate chips. Once all the flour is mixed in turn the mixer off, you don't want to overdo it. The dough will be pretty soft.

Refrigerate the dough for at least a half hour, or longer.

Preheat the oven to 350 F.

Use a cookie scoop to make large balls of dough, at least 2 tablespoons each. Place them 2 inches apart on baking sheets that are lined with a silpat or parchment paper. Gently flatten each ball with the palm of your hand--not a lot, just enough to make it not so dome-y.

Bake in the preheated oven for 8-10 minutes. The cookies will not appear done, but take them out anyway and immediately press some white chocolate chips on top of the cookies. Let them sit on the pan for 5 or 10 minutes. Then remove to a wire rack and let cool.
Notes
There are no eggs in this recipe on purpose. The pumpkin acts as the egg. That's why pumpkin cookies are usually cakey. Eggs are the culprit! Also, remember to press additional white chocolate chips onto the tops of the cookies AFTER they have baked, otherwise, they will brown.
Nutrition
Serving:
1
cookie
|
Calories:
169
kcal
|
Carbohydrates:
23
g
|
Protein:
2
g
|
Fat:
8
g
|
Saturated Fat:
5
g
|
Polyunsaturated Fat:
1
g
|
Monounsaturated Fat:
2
g
|
Trans Fat:
1
g
|
Cholesterol:
15
mg
|
Sodium:
108
mg
|
Potassium:
62
mg
|
Fiber:
1
g
|
Sugar:
13
g
|
Vitamin A:
955
IU
|
Vitamin C:
1
mg
|
Calcium:
31
mg
|
Iron:
1
mg