The most chocolatey and fudgy Flourless Chocolate Cake recipe of your life! You will not believe how easy this cake is to put together. No water baths, no flipping the cake upside down, and it's all made in one bowl. Top the whole cake with a silky chocolate ganache and you are on your way to fudgy cake heaven!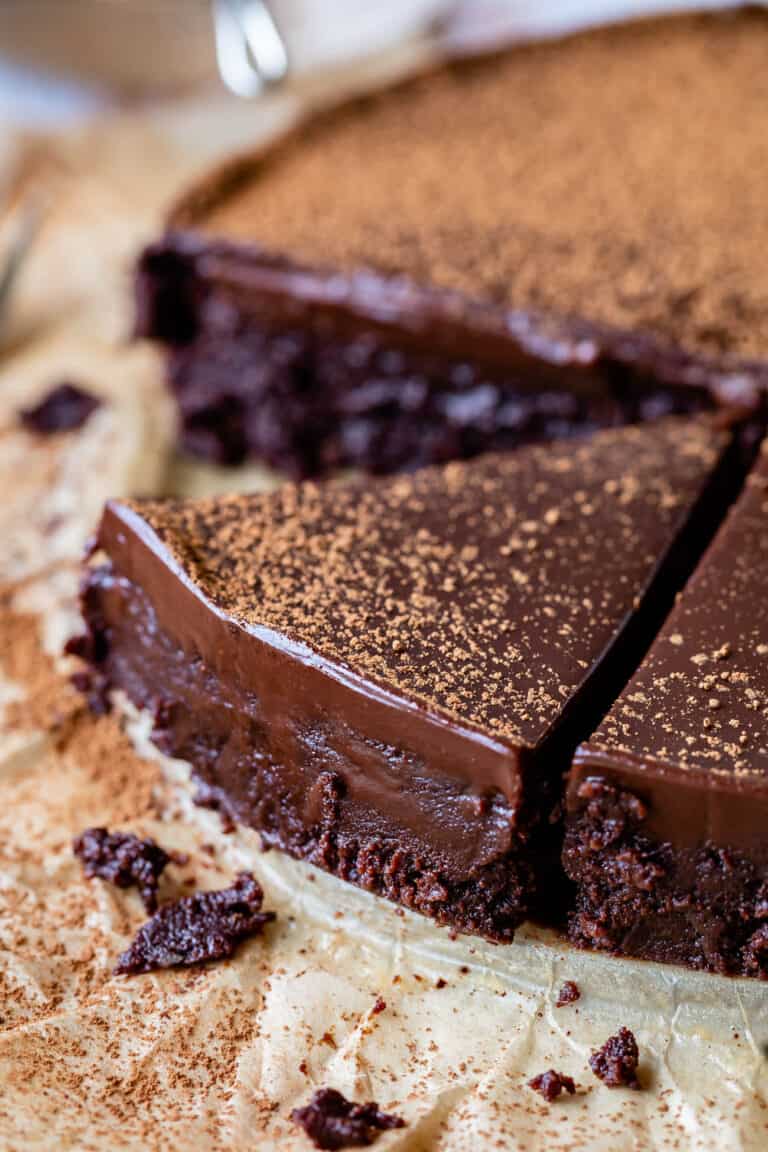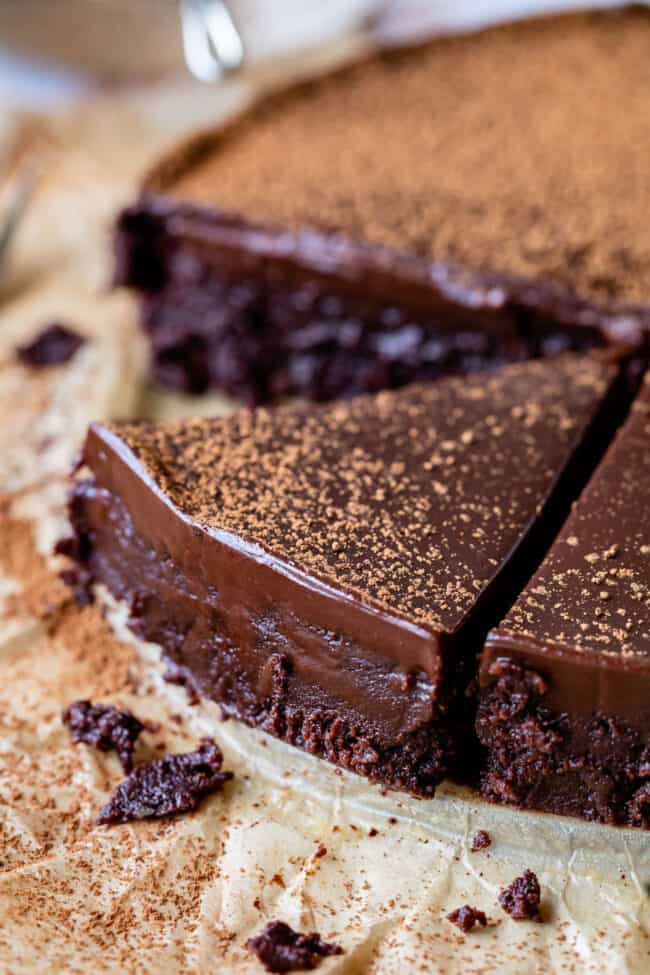 Happy Tuesday! How is everybody holding up lately? The days are all starting to blur together in quarantine. Lately I've been phoning it in, so to speak. You know when your kids are talking at you, and you've basically put on the recording that goes, "Uh-huh" "Okay" and "That's cool" every few seconds? You don't even have to look up most of the time, I've found. I'm getting pretty good at it.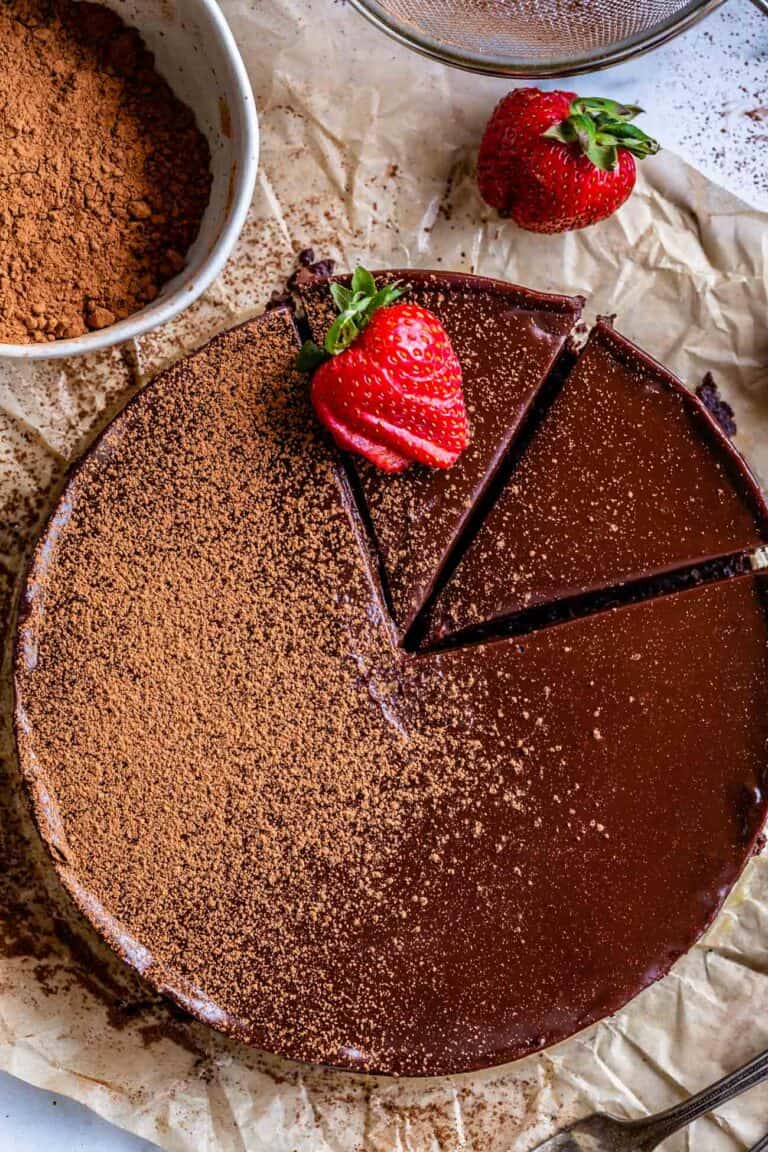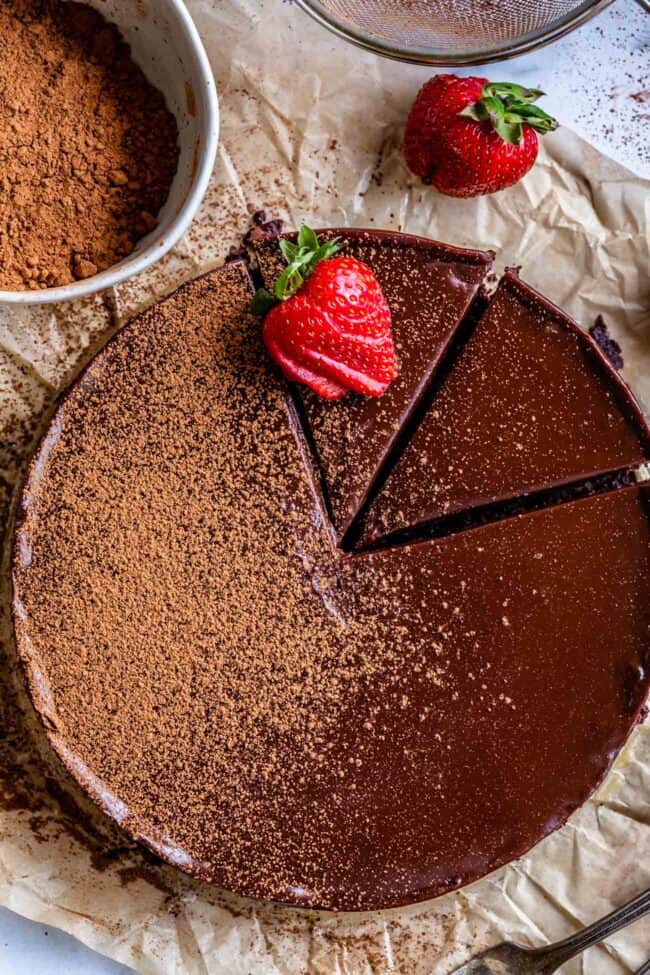 But the joke was on me today. Valentine the 3 year old just said, "Blah blah blah." and I said "Oh really, that's cool." And then about 5 seconds go by and my brain catches up to what she said:
"Playdough is really fun to put on your tongue." WHAT NO IT'S NOT! Gah! This is what I get for half-momming it over here! I think I might be turning into an actual robot.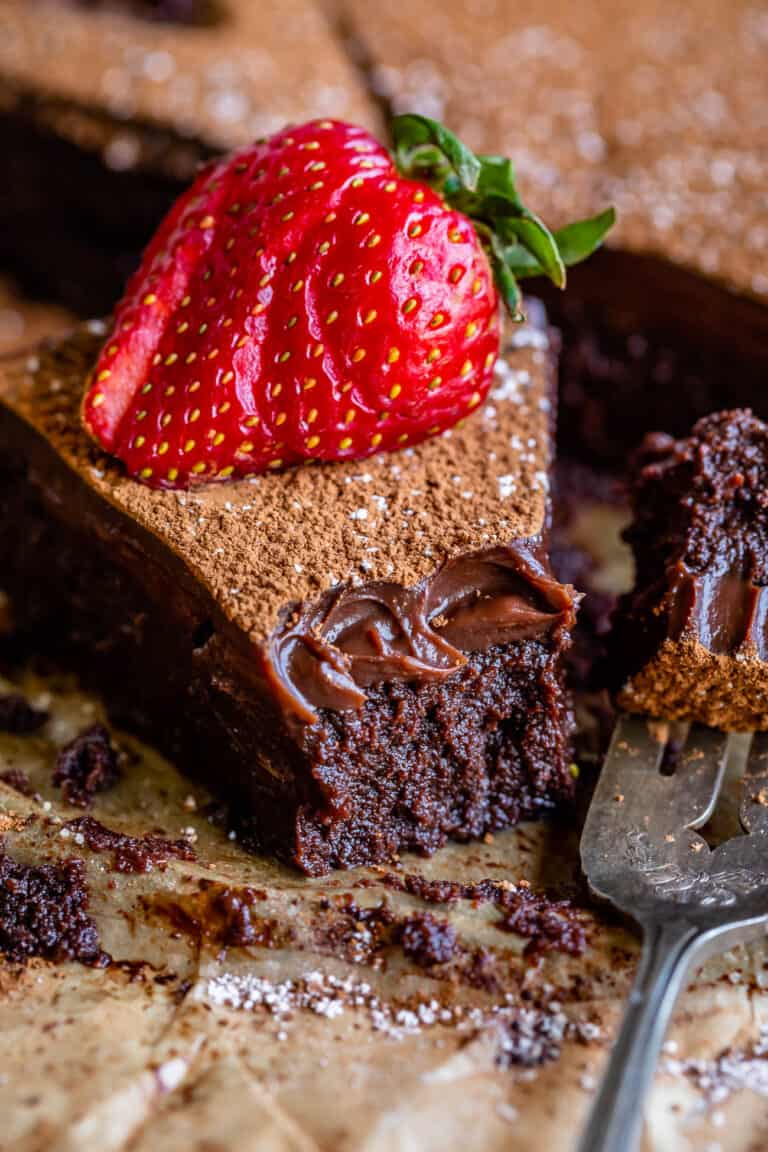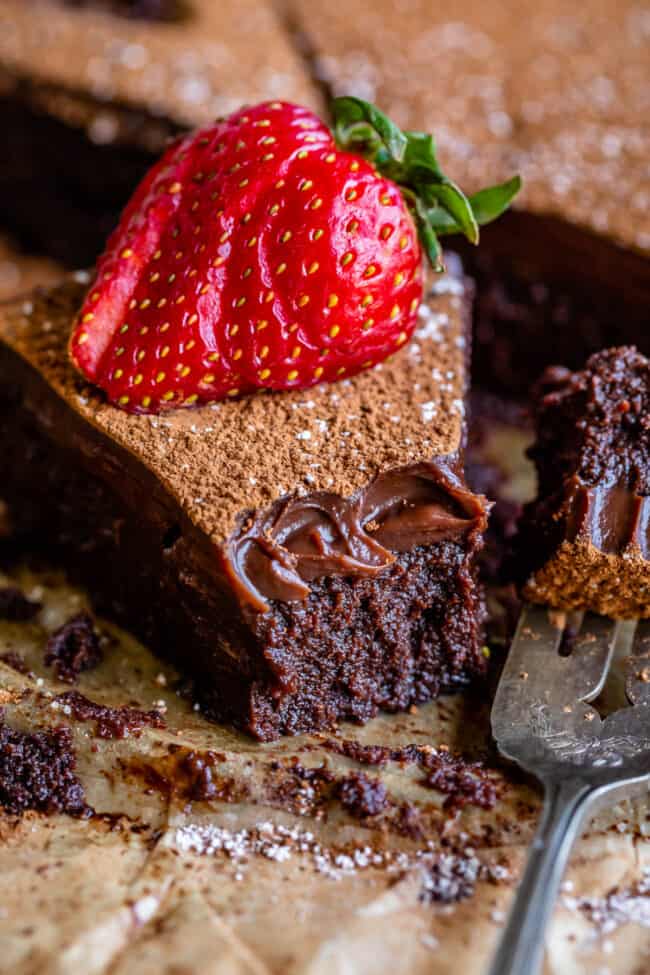 Misty's Flourless Chocolate Cake
Today's flourless chocolate cake recipe is from my cousin Misty! She is an insanely fabulous baker. (She ought to be, she is my Aunt Shirley's daughter. Those of you who have been around here a while know all about the magic that comes from Aunt Shirley's kitchen!)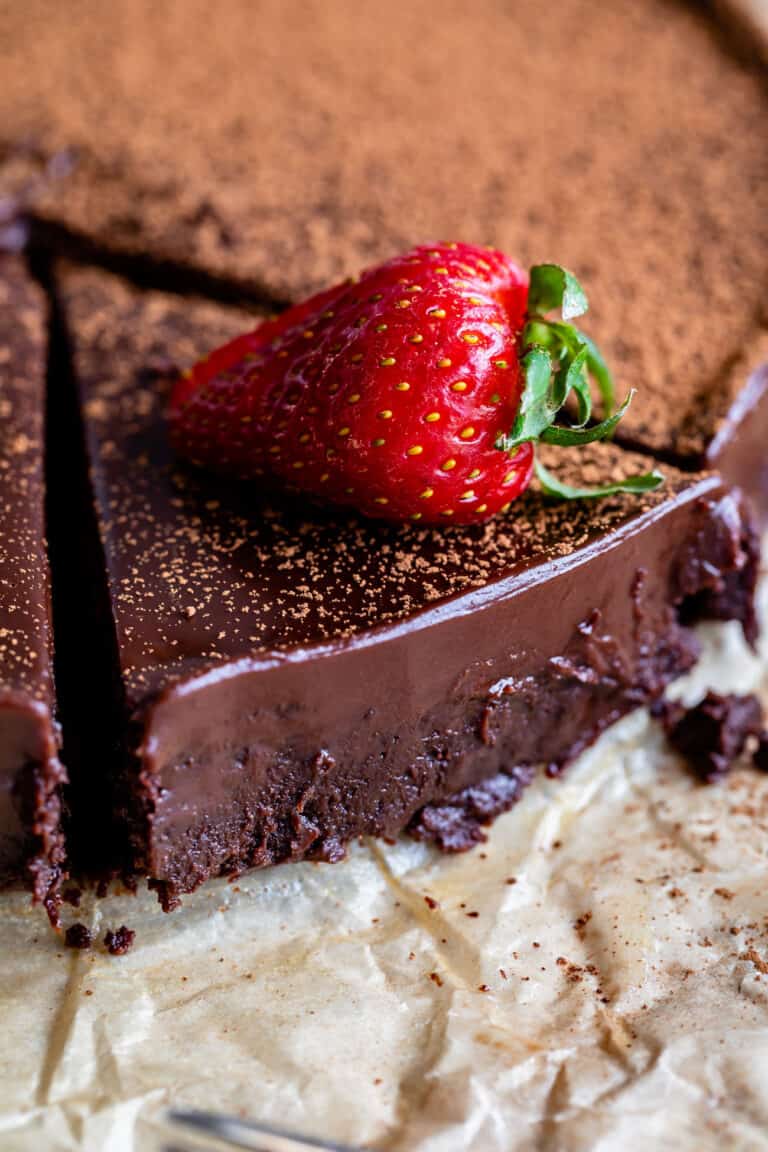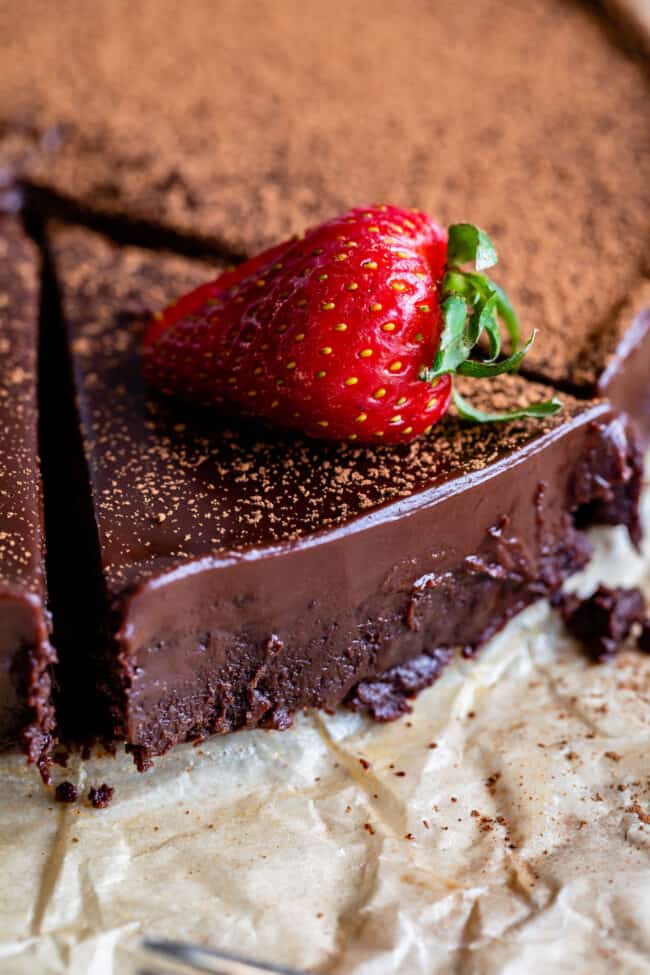 Misty runs a legit bakery up in Albany, Oregon called Sugar Mama's Sugar Shop. She makes the most amazing cakes, cookies, truffles, you name it! I'm seriously jealous that I don't live near enough to buy her stuff on the regular. If you are in the area, check out her Facebook page and put in an order!!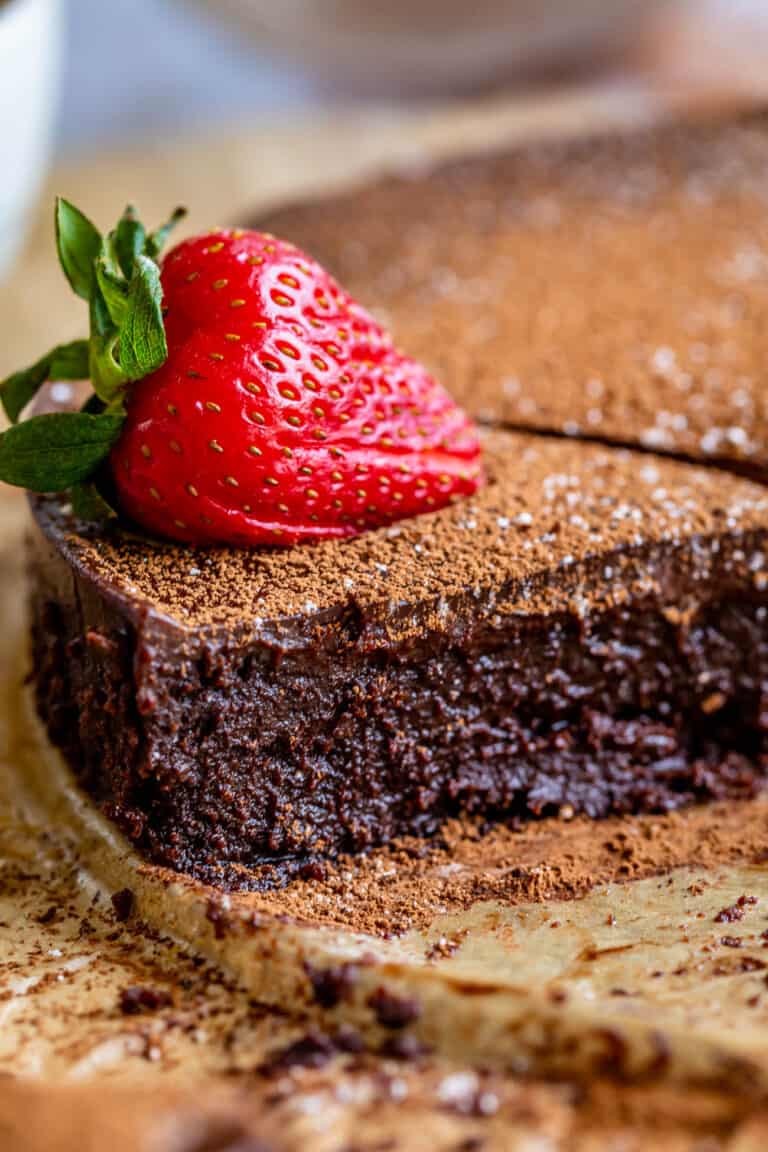 But for the rest of us, we will have to make our own cake, and lucky for us today, Misty let me have one of her famous recipes. This Flourless Chocolate Cake with Ganache is INSANE my friends.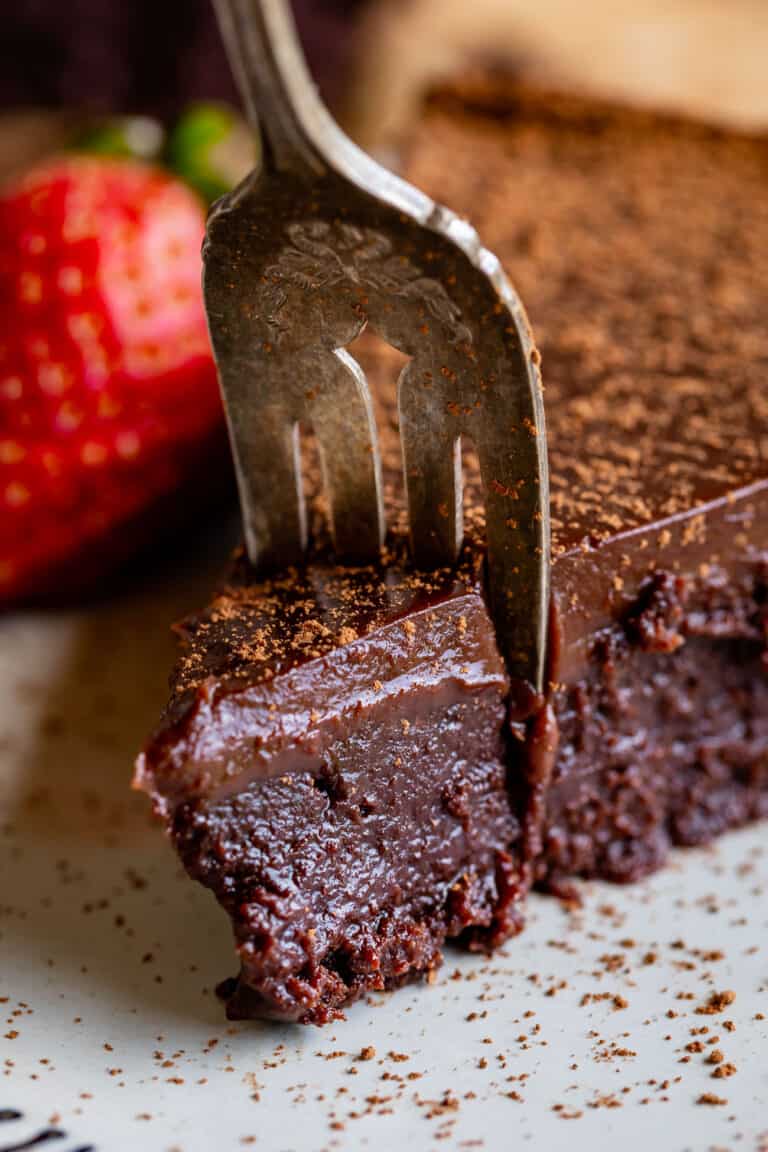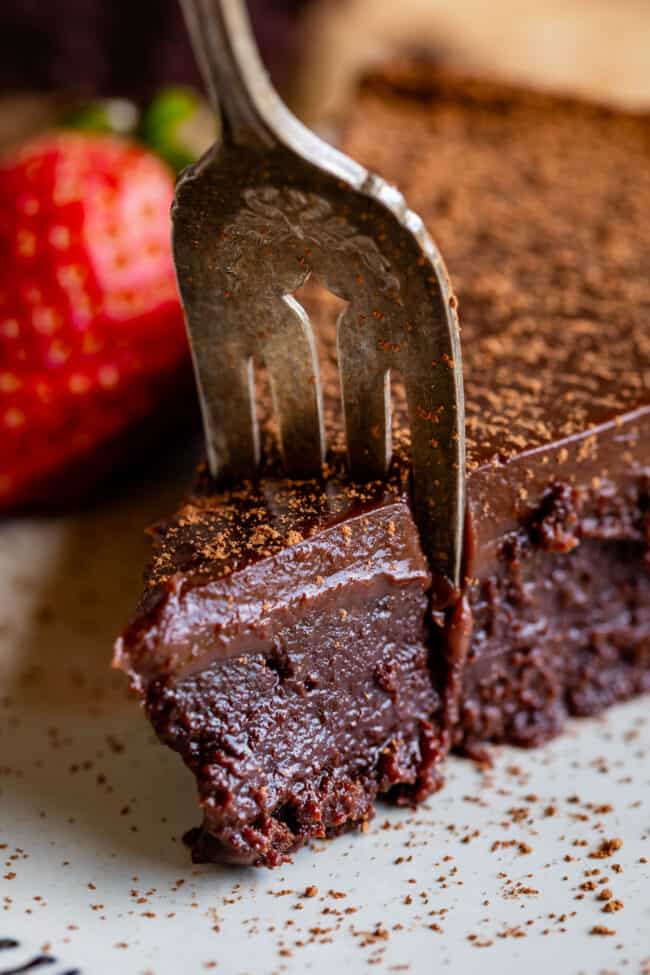 How to Make Flourless Chocolate Cake
Here's why this flourless cake recipe is so great:
It's made in one bowl in about 5 minutes (no mixer necessary!)
You don't have to do a water bath
You don't have to flip the cake
It's so stupid easy, your kid could whip it up for you. (As long as you don't turn on the "Okay" and "uh huh" recording. They will be too mad at you.)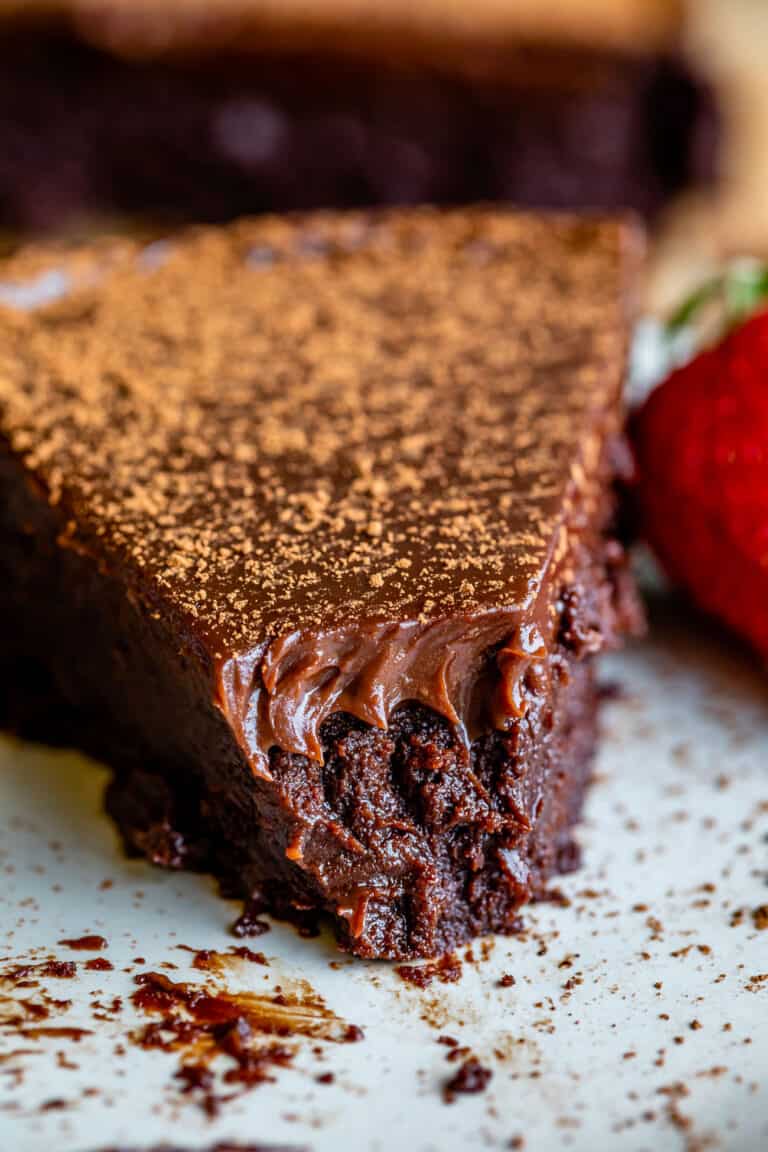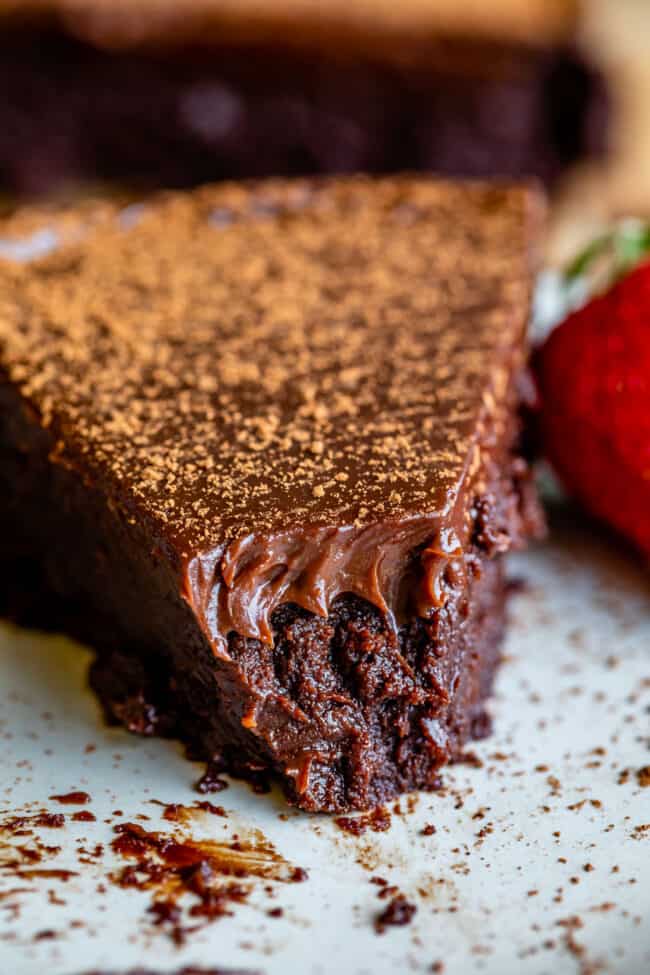 The ingredients are simple and probably stuff you already have on hand:
butter
chocolate chips
brown sugar
white sugar
salt
vanilla
cocoa powder
eggs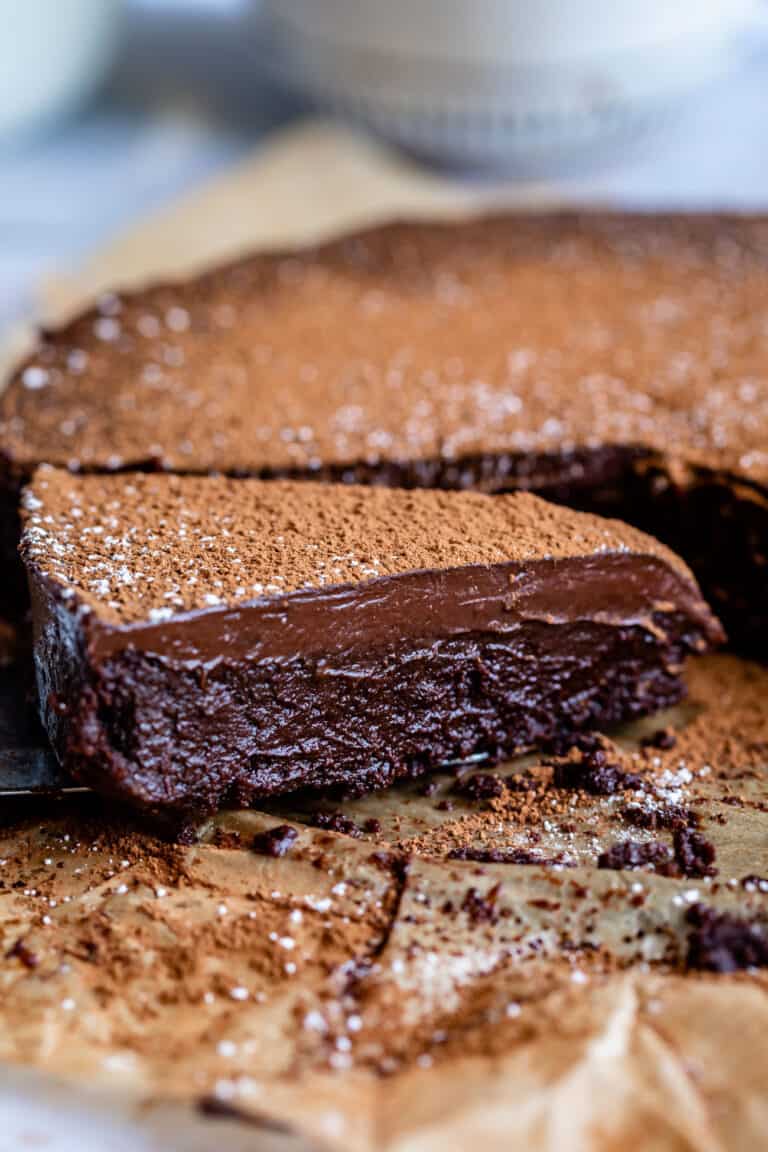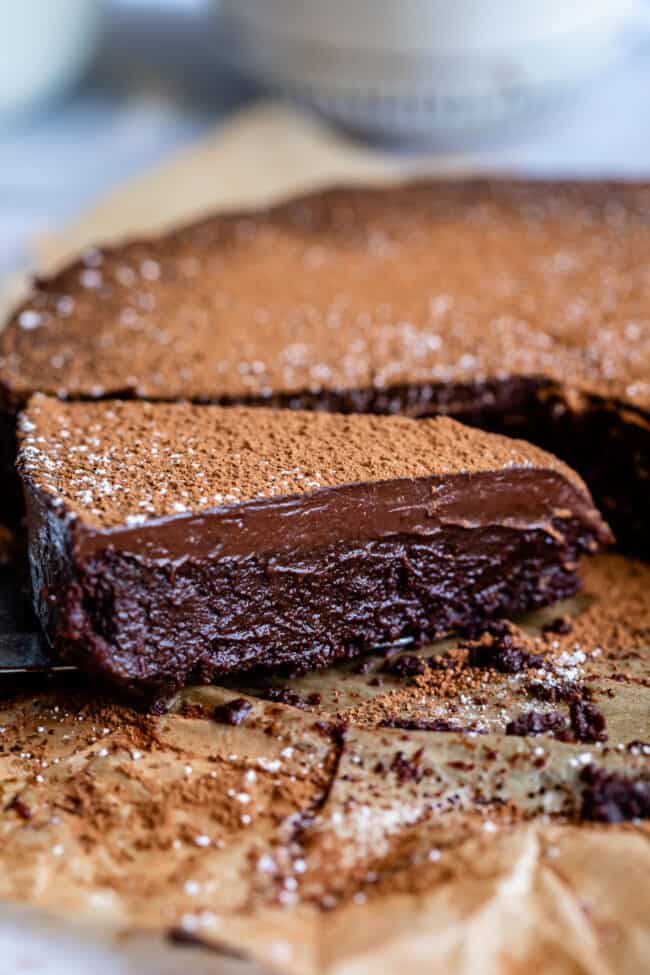 Simple, right? I researched several different flourless chocolate cake recipes to see if Misty's was like any of them. Some are similar, but none of them have as much butter as this recipe. This is why I like Misty. Butter is where it's at and she knows it.
The result is a ridiculously fudgy specimen of chocolatey goodness.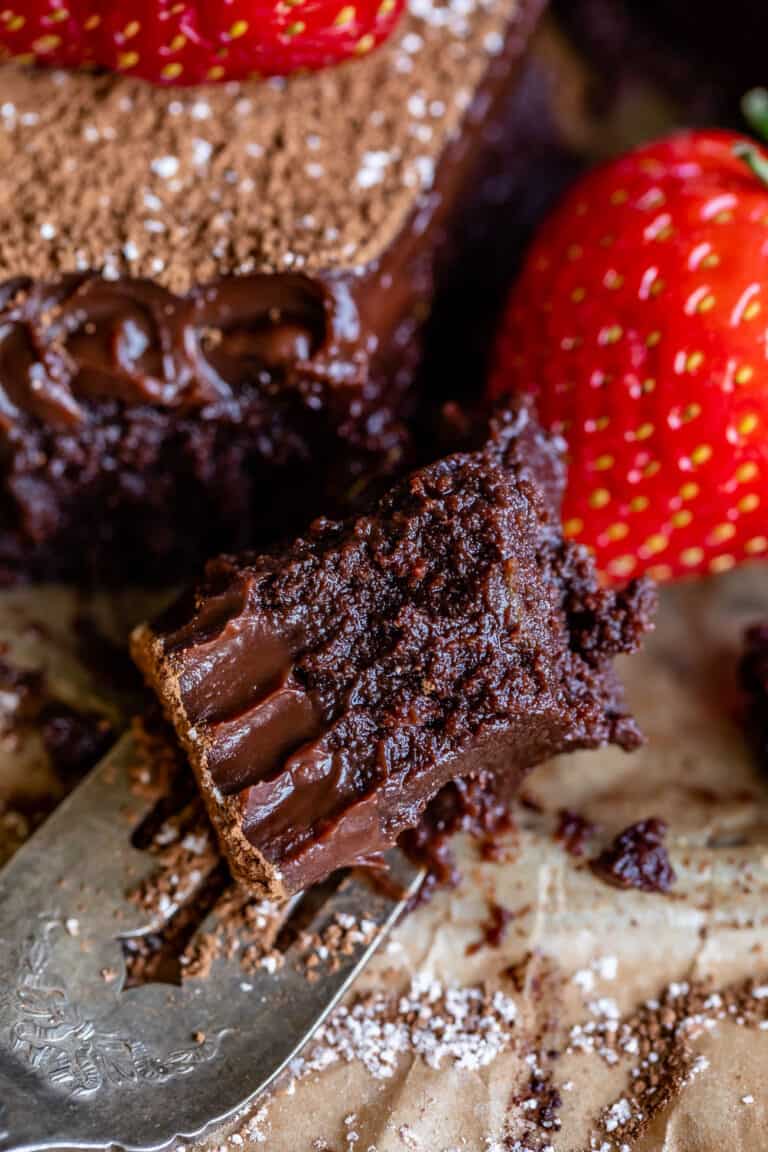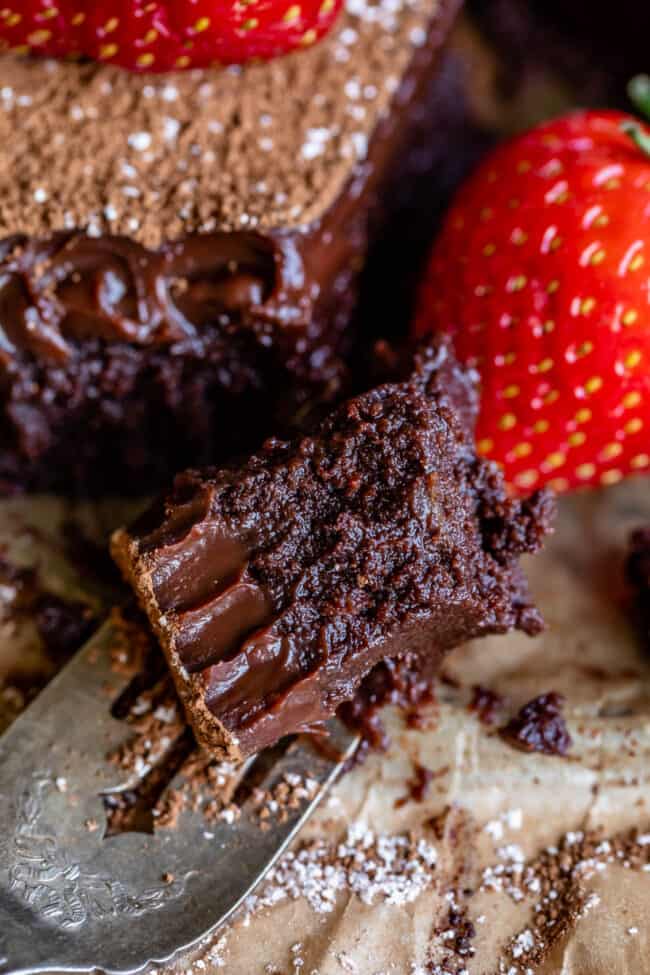 What I did find in my research is that people on the interwebs really like to complicate their lives. Some recipes call for a fancy water bath or steam situation, and almost every single one I saw calls for flipping the baked cake onto a serving platter at the end. I don't know about you, but cake flipping is always a little nerve-wracking! I like to avoid it when I can! Instead of a cake pan, I bake this flourless cake in an 8-inch springform pan. No nerve-wracking-flipping to stress about. (If all you have is a cake pan, then flip away, your cake will be great and it won't fall apart on you IF you use parchment paper. Think positive!)
Ganache topping ftw
There's really only one way to make this flourless chocolate cake even more over-the-top amazing: add a thick layer of ganache on top!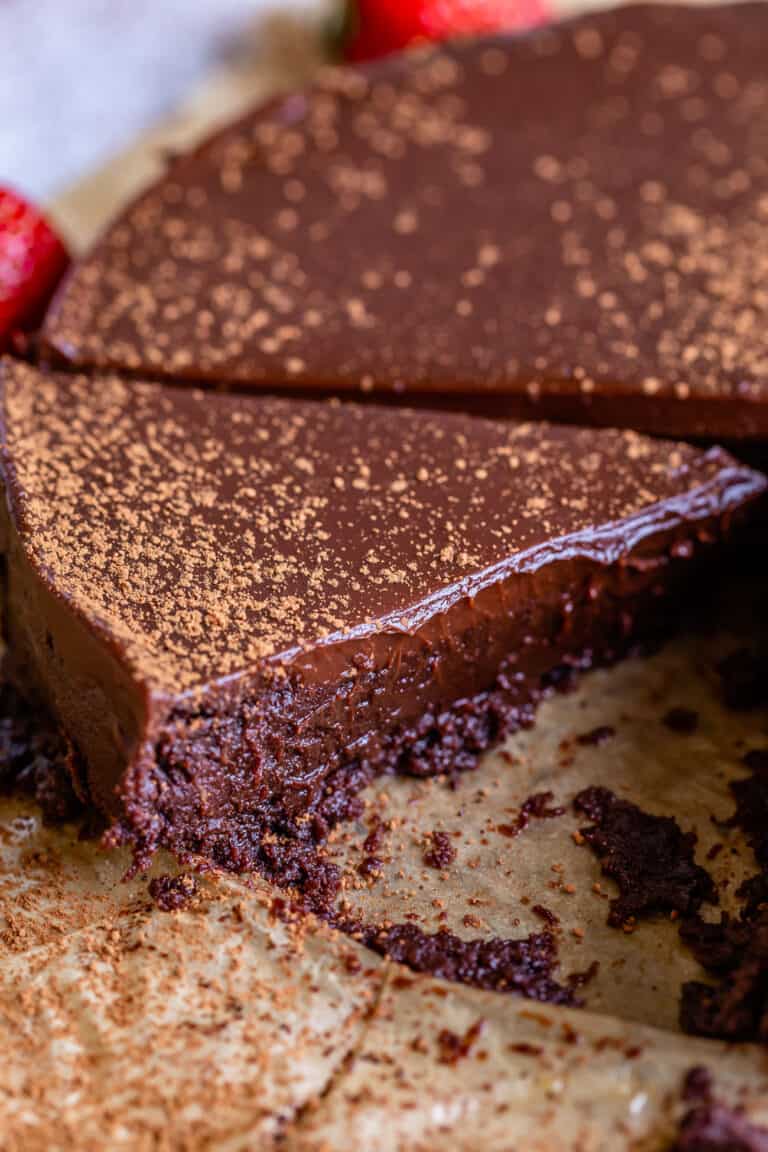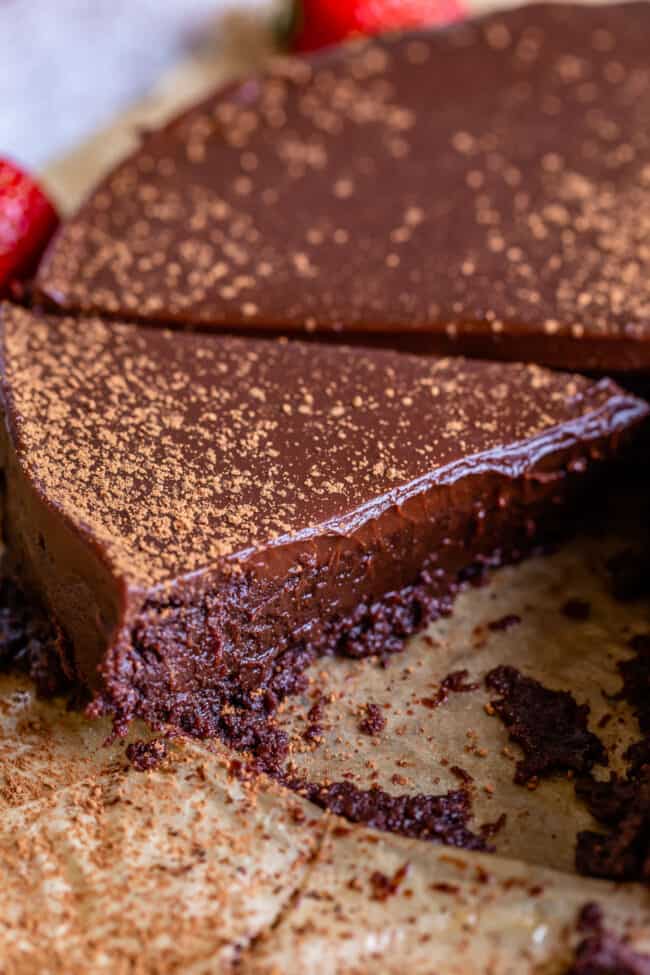 Ganache is just straight up cream mixed with some chocolate. (And throw in some butter at the end, because butter makes the world go round. Are you catching the theme here??) The result is a dreamy, silky chocolate sauce that will firm up to be sliceable at room temperature, but not so firm that it takes away from the soft fudgy bite of your flourless chocolate cake. It is truly the perfect compliment.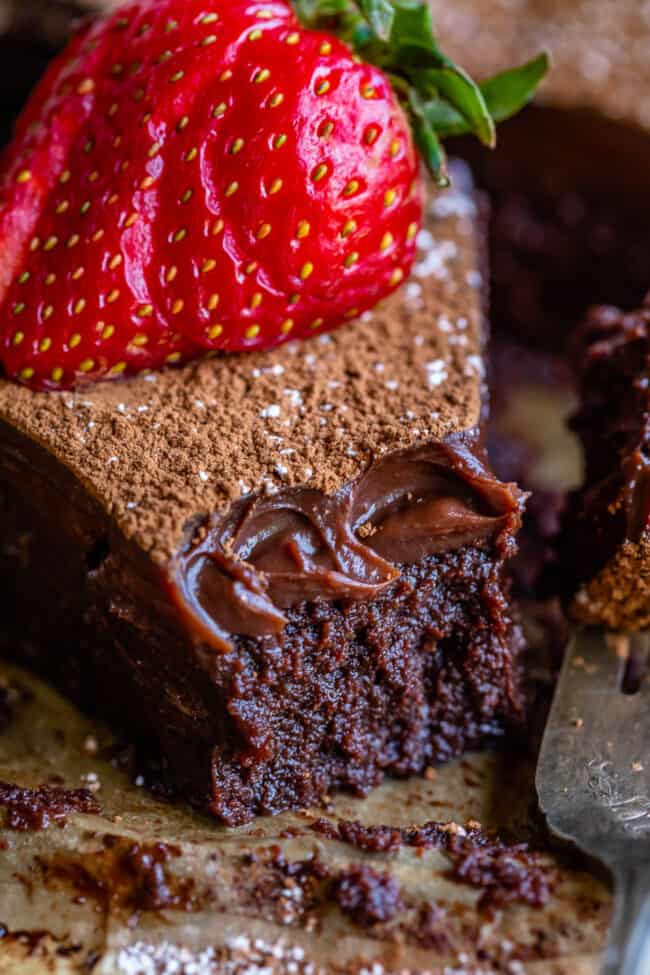 In my opinion, the ganache topping is not optional. This is an ultra decadent cake, don't wimp out on me here you guys. But if you want to go even further down the path to deliciousness, here are some ideas for what to serve with flourless chocolate cake:
You really can't go wrong! I hope you get a chance to make it soon, I mean what is quarantine even for?? You can freeze any leftovers (as long as it's sealed well) for a few weeks and enjoy the rest another time. WIN!
More chocolate recipe you are going to flip out over!
Facebook | Pinterest | Instagram

Flourless Chocolate Cake with Ganache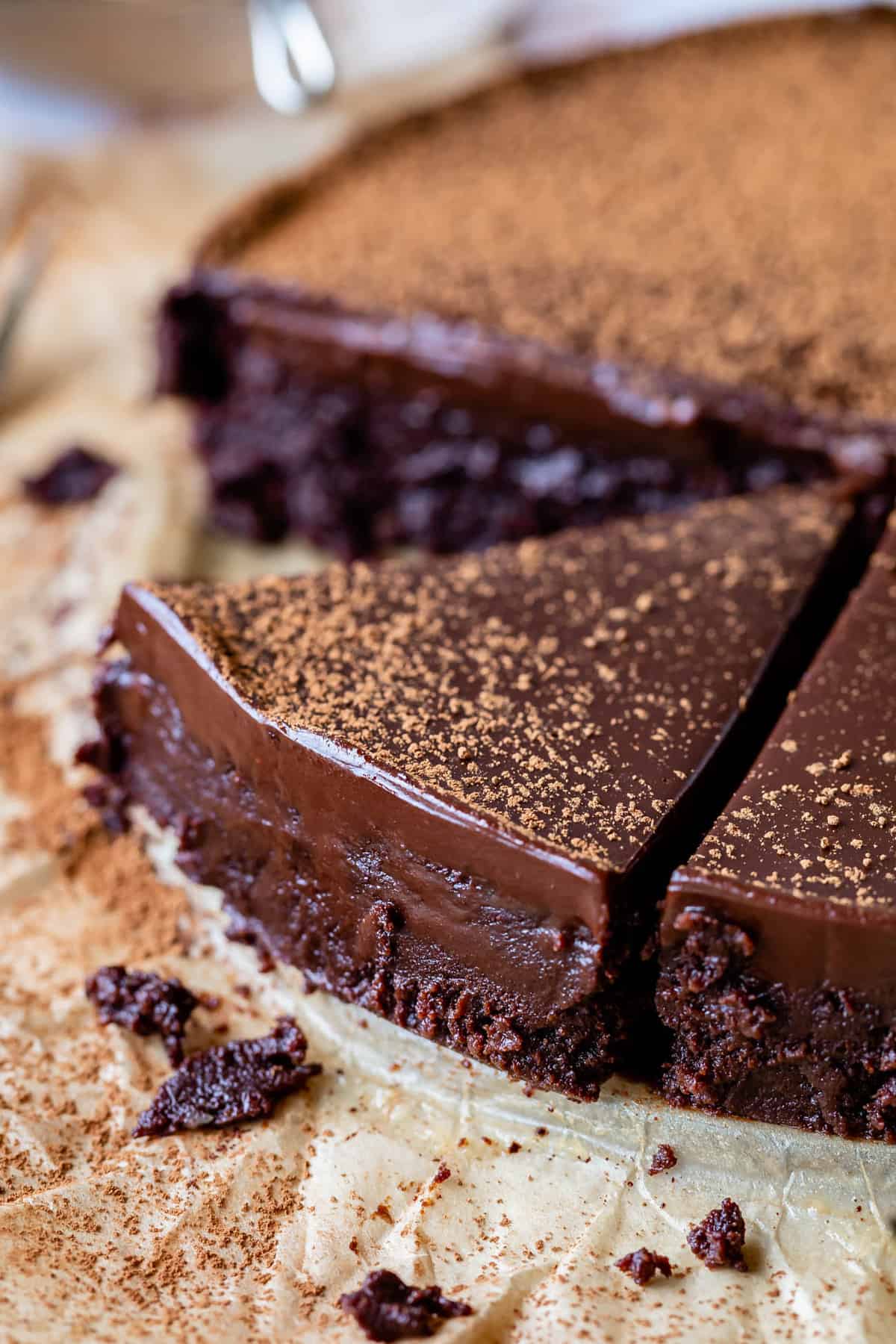 The most chocolatey and fudgy Flourless Chocolate Cake recipe ever! You will not believe how easy this cake is to put together. No water baths, no flipping the cake upside down, and it's all made in one bowl. Top the whole cake with a silky chocolate ganache and you are on your way to fudgy cake heaven!  
Ingredients
For the flourless cake
1

cup + 2 tablespoons

semi sweet chocolate chips

1

cup

salted butter

,

(2 sticks)

1/4

cup

brown sugar

,

packed

1/2

cup

granulated sugar

1/4

teaspoon

salt

1 & 1/2

teaspoons

vanilla extract

3

large

eggs

1/2

cup + 1 tablespoon

unsweetened cocoa

,

sifted
For the ganache
1/3

cup

heavy cream

2/3

cup

semi sweet chocolate chips

2

tablespoons

butter
Instructions
Preheat your oven to 325 degrees F. Spray

an 8-inch springform pan

with nonstick spray, along the bottom and up the sides.* Set aside.

In a

large microwaveable bowl

, add 1 cup + 2 tablespoons semi sweet chocolate chips and 1 cup salted butter. Microwave on high in 30 second increments, stirring each time, until it is mostly melted. Then stir it together until it is completely smooth. Be careful, chocolate scorches easily, so keep an eye on it.

Add 1/4 cup packed brown sugar, 1/2 cup sugar, 1/4 teaspoon salt, and 1 and 1/2 teaspoons vanilla. Stir until well combined.

Add 3 large eggs to the bowl and beat with a spoon or whisk until combined.

Use

a strainer

to sift 1/2 cup + 1 tablespoon cocoa powder into the bowl. Mix just until combined and no further. Once all the cocoa streaks are gone, stop stirring, just like you would do for brownies.

When the batter is all mixed together, pour it into the prepared springform pan (or see notes for how to make this in

an 8-inch cake pan

.)

Bake at 325 for 30-32 minutes. This cake is best slightly under baked, just like brownies. The edges of this cake will rise a bit more than the center. The best way to test for doneness is to shake the pan. When the center of the cake wiggles the same amount as the edges, then you will know it's done. If the center of the cake looks liquidy or sloshy, leave it in a few more minutes. You can do a toothpick test; look for wet crumbs, not a clean toothpick. The cake may still be just a little shiny in the center when you take it out, and that's okay.

Take the cake out of the oven. Place the cake near your warm oven, on top of it if possible. Just like cheesecake, the slower your cake cools down, the less likely it is to crack on top. The cake will continue setting up for a little while in the pan. Let the cake cool completely. (If you are using a cake pan and need to flip your cake, flip it onto your serving platter before adding the ganache. See note.)

Make the ganache. In a small bowl, add 1/3 cup cream. Microwave the cream in 30 second increments, checking it frequently until you see small bubbles along the edge of the bowl. Do no let it boil.

Add 2/3 cup chocolate chips but do not stir. Let it sit for about a minute to let the chocolate melt.

Whisk the chocolate and cream together until completely smooth.

Add in 2 tablespoons butter and stir until smooth.

Pour the ganache over the cooled flourless cake.

Cover the cake and chill in the fridge for about an hour to help the ganache set up. Or you can let it set up at room temperature for a couple hours.

Loosen the sides of the cake with a knife and release the spring on the pan.

Dust with cocoa powder or powdered sugar before serving. Or serve with whipped cream! Other topping ideas: Fresh raspberries or strawberries. Fresh whipped cream. Drizzle with melted peanut butter. Sprinkle with flaky sea salt. Drizzle with

caramel sauce

. Top with toasted sliced almonds. Sky is the limit here!

You can store this cake covered on the counter for the first 24 hours. After that I would store well-covered in the fridge.
Notes
*If you do not have an 8 inch springform pan, bake this in an 8-inch cake pan. Place the pan on some parchment paper and draw a circle around the edge. Cut it out and place the parchment paper inside. Spray the paper and the sides of the cake pan generously with nonstick spray. When the cake is done, you will either have to serve it directly from the pan, or flip it. Let the cake set up in the pan for about a half an hour. Slide a knife along the edges to loosen from the pan. Then place a plate or cake stand on top of the cake pan and very carefully flip the cake. This cake is ridiculously fragile, so be very careful! If your cake is looking really under baked and like it will be delicious to eat but is probably going to fall apart on you, then wait until it is cool to flip. Note: a 9-inch cake pan can be used, but your cake will be flatter, and it will bake a little faster, so keep an eye on it.
You can add up to 1 teaspoon of espresso powder to this cake to enhance the chocolate flavor. Add it with the brown sugar.
This cake freezes well. Seal well in a ziplock bag. Defrost in the sealed bag at room temperature. It's not quite as presentable, but it still tastes amazing!
Source: This recipe is from my amazing cousin Misty!!
Nutrition
Serving:
1
g
|
Calories:
529
kcal
|
Carbohydrates:
39
g
|
Protein:
6
g
|
Fat:
41
g
|
Saturated Fat:
24
g
|
Polyunsaturated Fat:
2
g
|
Monounsaturated Fat:
11
g
|
Trans Fat:
1
g
|
Cholesterol:
124
mg
|
Sodium:
271
mg
|
Potassium:
331
mg
|
Fiber:
5
g
|
Sugar:
30
g
|
Vitamin A:
854
IU
|
Vitamin C:
1
mg
|
Calcium:
54
mg
|
Iron:
3
mg