Sure, you could frost the top of your cupcake. OR, you could frost ALL the other sides of it and get double the frosting! These Upside Down Almond Cupcakes are so moist, so almond-y, and have the perfect crunch!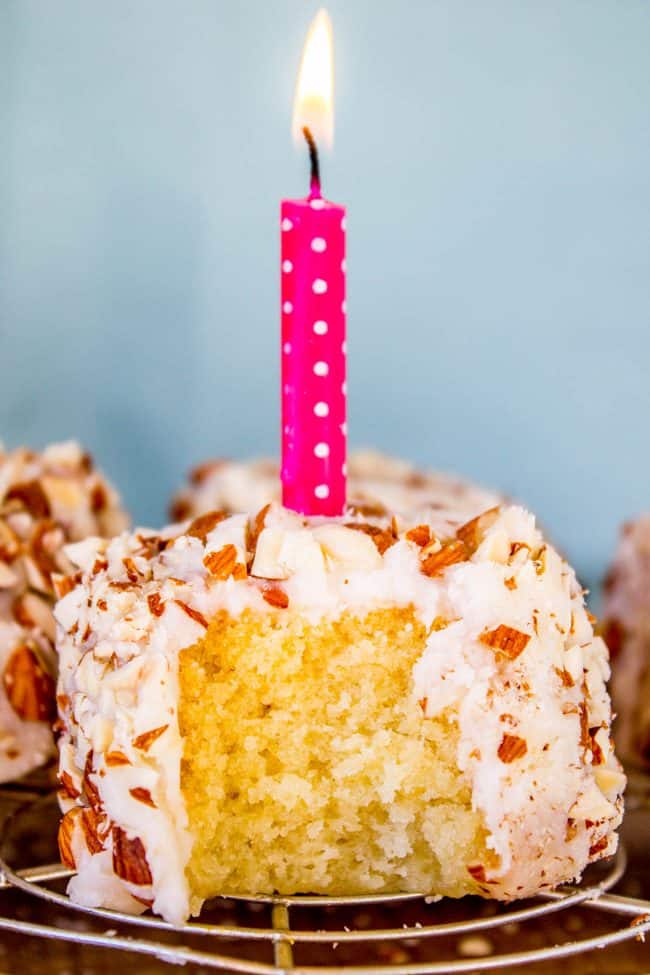 Today is my 6th blog anniversary guys!! 6 years ago on October 4th I published this recipe for Pumpkin Oatmeal White Chocolate Chip Cookies. (I also told the story of one time when we brought cookies to our neighbor's door and the dude answered wearing nothing but a towel. A word to the wise: even if you THINK you know who is knocking on your door, put a shirt on. Or at least pants.)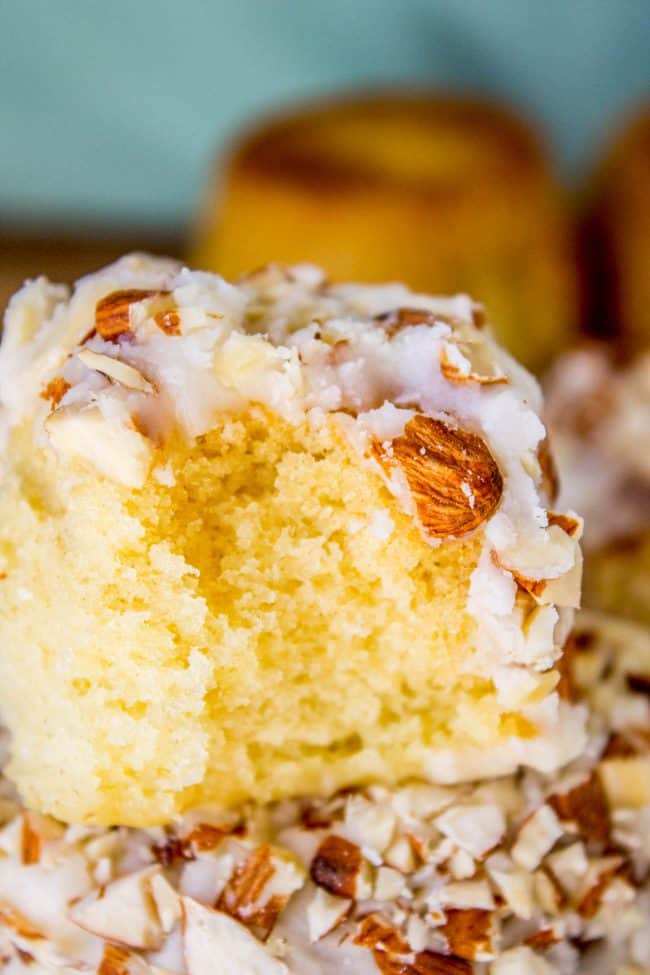 Here are some fun facts about my life as a food blogger:
I have an entire drawer full of straws in the kitchen that my family knows they are not allowed to use. They are props for photos, and yes, I'm the worst.
I'm supposed to write off all my grocery receipts for blogging. The joke is on me, because I'm the WORST at keeping track of them. I literally have a drawer full of unorganized receipts in my desk drawer in front of me right now, waiting to be filed.
I have a really hard time talking coherently to people in the middle of a photo shoot. Imagine doing something that's really hard and you're on a time crunch. I'm thinking like a math test or something. You have 20 minutes to finish, and you're really not sure if you can get it done. Then try to have a conversation with someone who doesn't realize you're taking a math test. Photo shoots don't come naturally for me. Eric is usually at work when I shoot, but one time he commented that I was acting like a dog in heat. HA! I can't even be mad because it's accurate.
I'm 100% positive that my mom has handed out more of my business cards than I ever have.
Yes, this is a business and yes I have business cards. The last one I gave out was to my neighbor Tyrone across the street when he asked for one. Before I handed it over I made him spell "charlatan" on Instagram stories. He only missed one letter!
Instagram stories are my favorite form of social media at the moment! It used to be Twitter. Just kidding, Twitter is the worst, don't even click that link.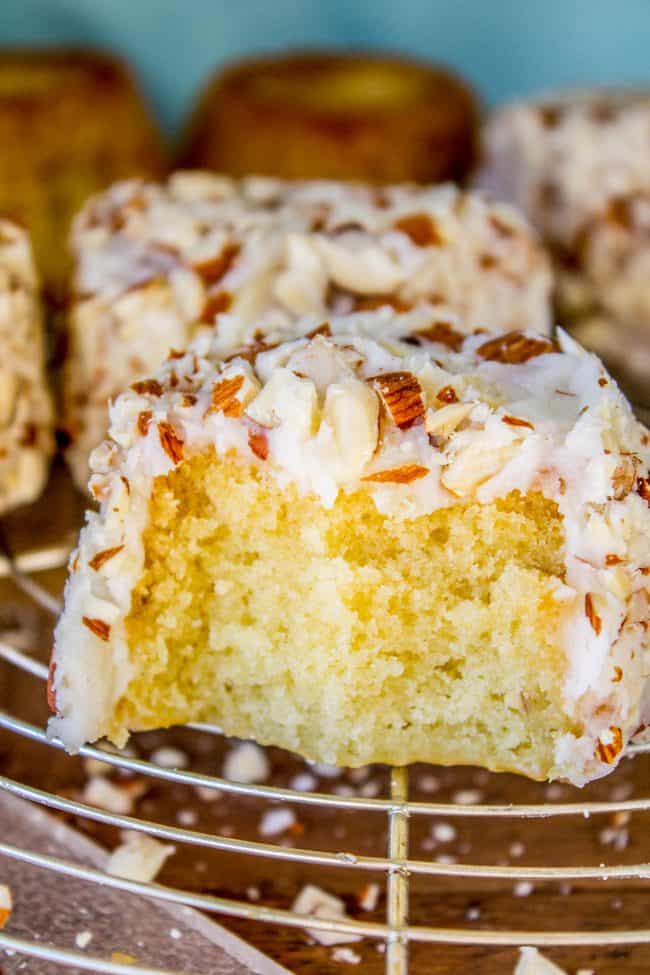 All my relatives are tired of me asking for their favorite recipes I think.
I'm a little obsessed with checking my statistics. I'm not crazy or anything, but I definitely check it once or twice a day. I prefer Stacounter to Google Analytics, just because I prefer bar graphs and I like to see the "Popular pages" link (a quick way to show the most popular post from the last several hours). Today a couple of my top hits were Classic Stromboli and Pan-Seared Chicken and Broccolini in Creamy Mustard Sauce.
I use annoyingly long titles like "Pan-Seared Chicken and Broccolini in Creamy Mustard Sauce" purely for SEO reasons. (Meaning that I title my recipes by words I think people might google, like "chicken" and "broccoli." If I didn't have to cater to SEO I would call that dish "You Have to Try This Chicken, It's Done in 30 Minutes, Guys!"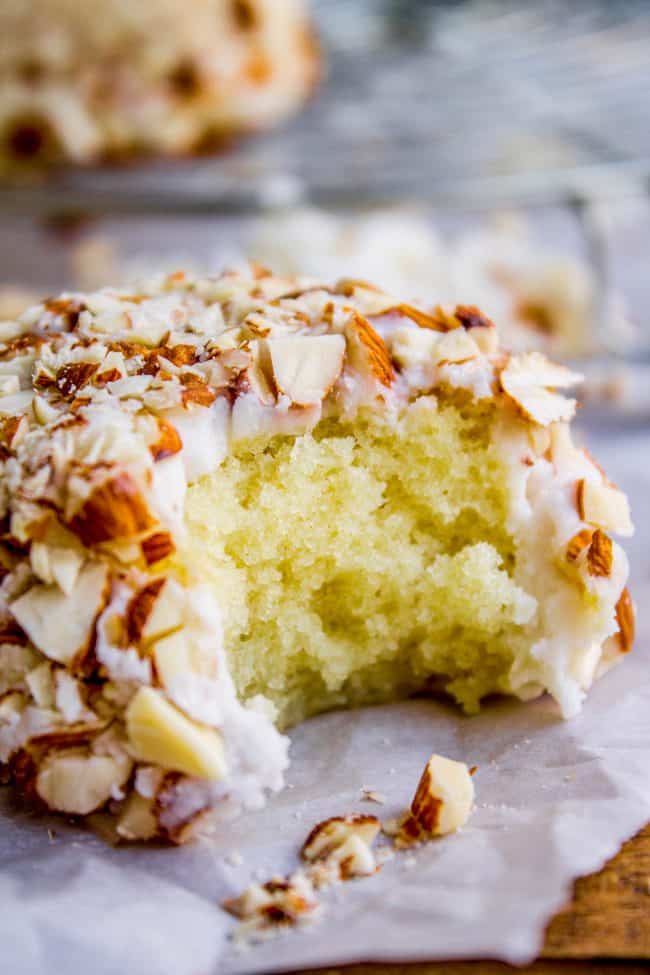 One time I got 65,939 page views in one day. That was cool. I definitely checked my stats more than twice that day!
It's kind of hard to tell for sure, but I think that this recipe for Chicken Kebabs with Nectarine Salsa is the least visited recipe on my site, with a total of 168 page views since it's publication in 2012. Maybe it's because I swapped out one of the main ingredients called for in the recipe that it didn't take off?  Or maybe it's because I talk about how I used to get sick in the back seat of our station wagon as a kid? I mean I really just don't get it.
Blogging is super fun and exhausting. It's kind of like having a kid. You buy them a pair of pants and then NEXT WEEK the pants are suddenly total high waters and you have to buy another pair. And then your kid gets acne and wants to be alone all the time. And then you feel so proud when they win the science fair. And then they accidentally crash your car. Up, down, up, down, all the time. But you sure do love them at the end of the day!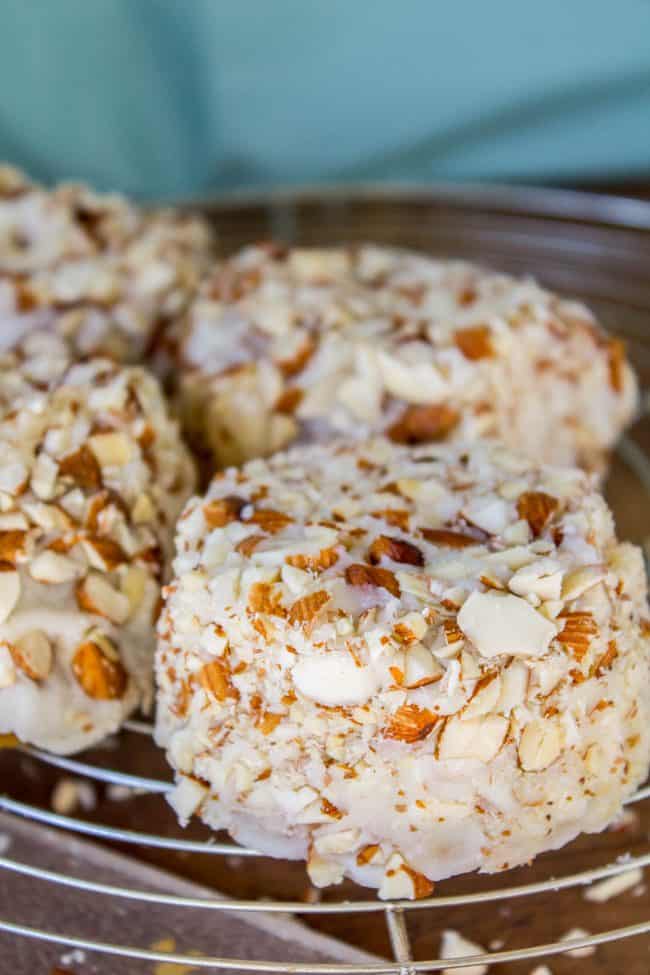 We spent last week in Richmond, VA to visit my brother who is doing his residency there. We went to this place called Sally Belle's, right after watching this 11 minute mini documentary about them. I think if every lunch joint in America had a mini documentary made about them, we would all be a lot more excited about lunch! They made a big deal about the boxed lunches they sell (which we ordered to go and ate on our hike in Shenandoah, they were delicious), but I was WAY more excited about the upside down cupcakes.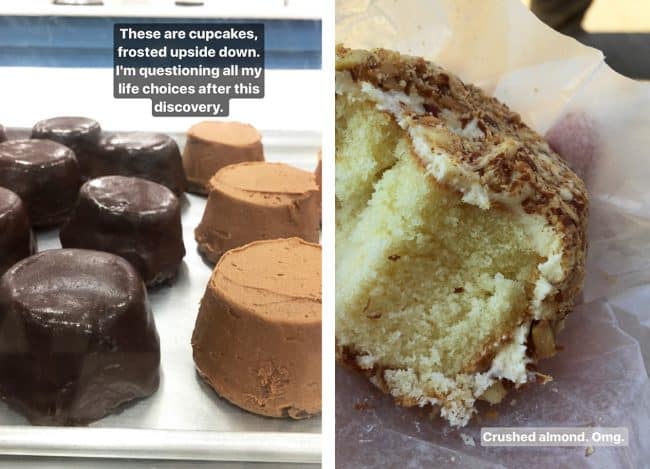 The one on the right was hands down the best one. Today's recipe is based on this cupcake.
Just look at them all lined up!  How is this not more of a thing??? Why are we putting frosting on what is already the best part of the cupcake? (You know, like how muffin tops are super moist and have a different texture than the rest? The top dome of a cupcake is the best part.) Why not put frosting on the most boring part of the cupcake, the bottom? I have a lot of STRONG FEELINGS ABOUT THIS!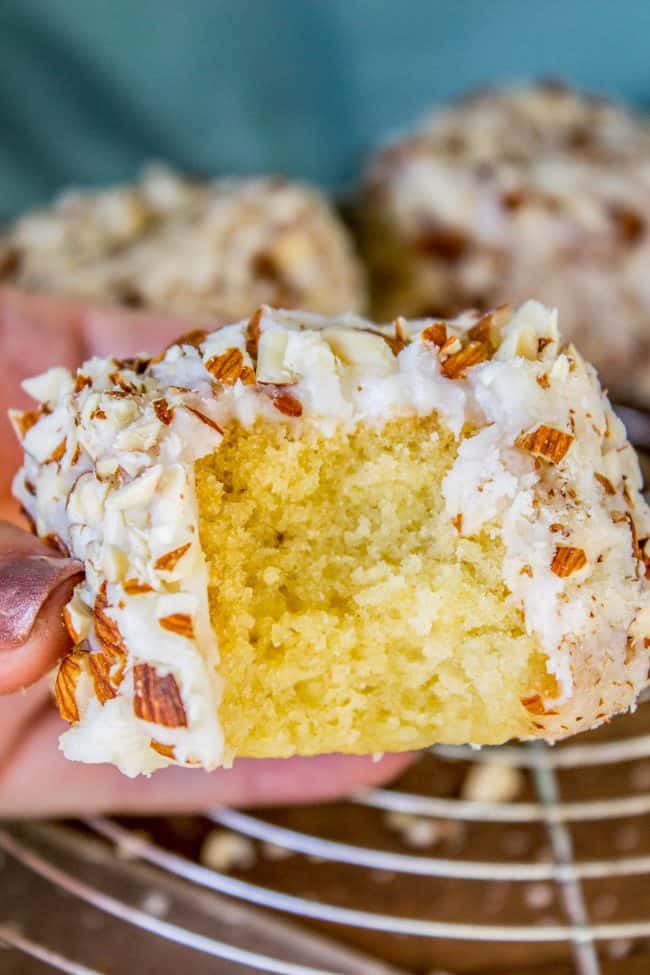 I'm not a cupcake girl, honestly. The bottom is just too dry for me, usually. The edge of a cake is the driest part, so why would I want a whole cupcake of the dry edge? There are of course exceptions. These Cream Cheese Chocolate Cupcakes are the best. These Lemon Cupcakes are made from a cake mix and they are divine.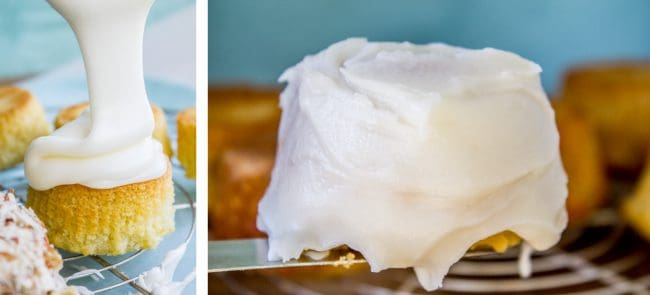 And these Almond Crunch Cupcakes are my latest exception. And NOT just because they have lots of frosting. The cake part is super moist.
The recipe is very slightly adapted from this Almond Sheet Cake recipe that I posted years ago. It's honestly one of the most-made cakes from my blog (in our house). I LOVE almond flavor, and it's so easy to throw together. I love warm frosting that you can put on right away. So satisfying.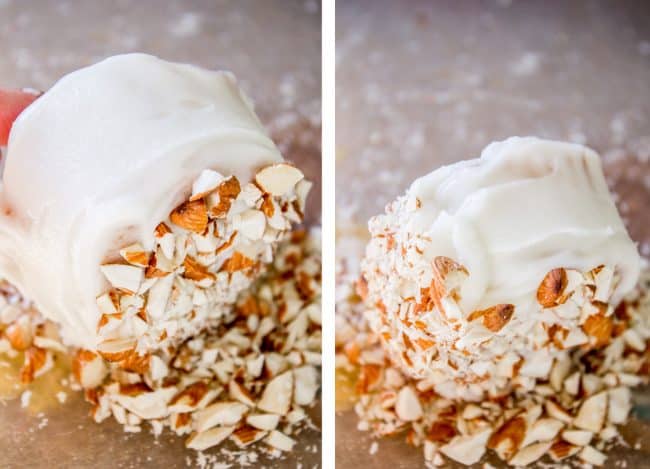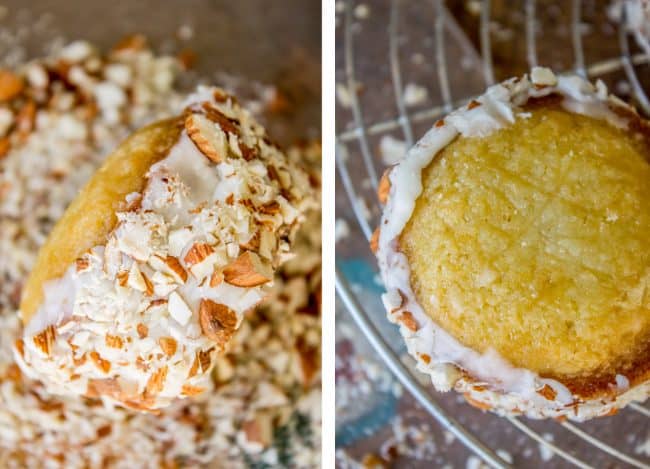 (You know the cake is moist when you can see the cooling rack lines on it. Yum.)
If you are not feeling like making cupcakes (they are a bit more labor intensive), you could also just make the original Almond Sheet Cake and add chopped almonds on top of the frosting.
To all my beautiful readers, thank you so much for being here! Obviously the blog wouldn't be possible without you. I'm so happy to be virtually cooking with all of you! Eating really is just so much fun, isn't it??
Facebook | Pinterest | Instagram | Twitter
Here are links to all my anniversary (ish) posts, in case you want to take a walk down memory lane!
(2011) The first blog post on The Food Charlatan: Pumpkin Oatmeal White Chocolate Cookies
(2012) The Food Charlatan 1st Anniversary: Cake Mix Coffee Cake
(2013) The Food Charlatan 2nd Anniversary: Pumpkin Oatmeal White Chocolate Chip Cookies (I did a reshoot of my first recipe)
(2014) The Food Charlatan 3rd Anniversary: The Food Charlatan's New Blog Design
(2015) The Food Charlatan 4th Anniversary: The Best Chocolate Cake I've Ever Had
(2016) The Food Charlatan 5th Anniversary: Death by Chocolate Bundt Cake

Upside Down Almond Crunch Cupcakes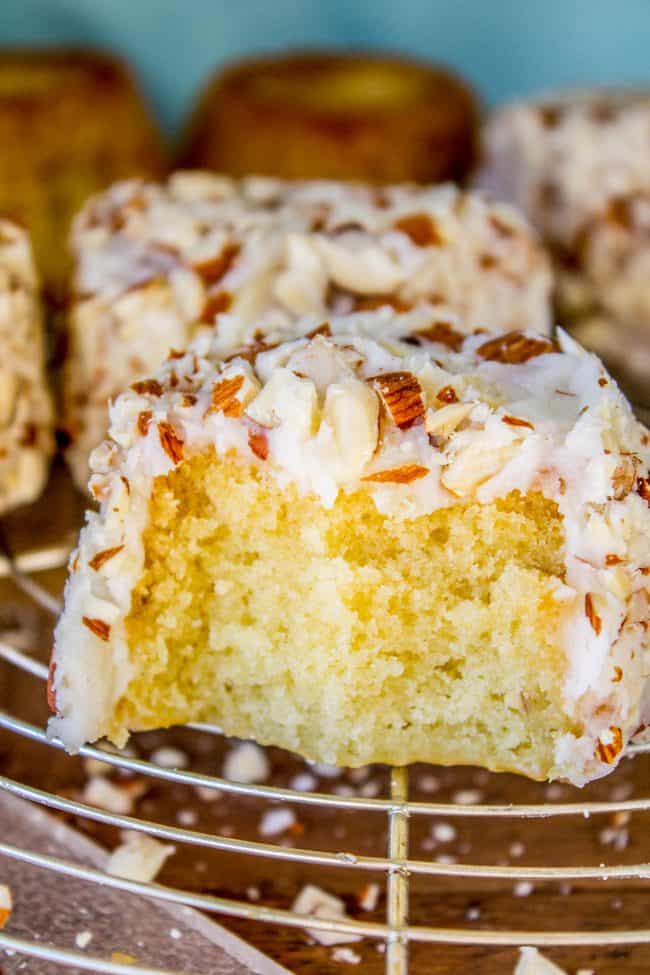 Sure, you could frost the top of your cupcake. OR, you could frost ALL the other sides of it and get double the frosting! These Upside Down Almond Cupcakes are so moist, so almond-y, and have the perfect crunch!

Ingredients
For the cupcakes
1

cup

salted butter

,

(2 sticks)

1

cup

water

2

cups

flour

,

spooned and leveled

2

cups

sugar

1

teaspoon

baking soda

1/4

teaspoon

kosher salt

1/2

cup

sour cream

2

large

eggs

1 & 1/2

teaspoons

almond extract
For the frosting
1

cup

salted butter

,

(2 sticks)

1/2

cup

milk

5 & 1/2

cups

powdered sugar

1

teaspoon

almond extract

3-4

cups

almonds

,

chopped
Instructions
Preheat your oven to 325 degrees F. Generously grease two 12-count muffin tins, then sprinkle with flour and tap out the excess over the sink. I do NOT recommend cupcake liners for this recipe! (The cake is too moist, they kind of end up falling apart.)

In a small pot, add 1 cup butter and 1 cup water and set over high heat to bring to a boil.

Meanwhile, add the dry ingredients to a large mixing bowl or stand mixer: flour, sugar, baking soda, and salt. Combine.

When the butter-water mixture starts to boil, take it off the heat and put it into the dry ingredients. Turn the mixer on and beat for at least one minute. (Don't bother washing that pot. You're going to use it again for the frosting).

Add the sour cream, eggs, and 1 and 1/2 teaspoons almond extract. Beat again for a couple minutes, scraping down the sides. Don't be afraid to let it mix awhile; you need to whip in a bunch of air so that your cake is fluffy.

Pour the batter into the muffin tins. I ALWAYS overflow my cupcakes, so I was very careful and measured it this time. The perfect amount is exactly 1/4 cup of batter per tin. It should yield about 22 cupcakes, give or take.

Bake the cupcakes at 325 in the center rack. Bake for 18-20 minutes. A toothpick, when inserted in the center, should come out clean, and the tops may become a little golden. Don't over bake, but don't under bake either! Make sure that toothpick is dry.

Remove from the oven and let cool about 20 minutes in the pan. Carefully use a butter knife to remove the cupcakes from the pan onto a cooling rack. Let cool completely. You can stick them in the freezer to speed this up if you like.

Meanwhile, make the frosting. In the same pot from before, melt 1 cup of butter and 1/2 cup milk. Bring to a boil.

In a large bowl or stand mixer, measure out 5 and 1/2 cups powdered sugar.

When the pot boils, pour it into the bowl with the powdered sugar. Beat well. Add 1 teaspoon almond extract. (Taste it, if you are really into almond you could even add another 1/2 teaspoon or so.) You can also add a dash of salt if you like.

Cover the frosting if the cupcakes aren't cooled yet. It needs to cool down a bit until it is spreadable. It will start to harden at room temperature, even if it is covered, so you may have to reheat it. For example, I frosted some of these 24 hours after making it. I put my metal stand mixer bowl over a pot of boiling water (like a double boiler) for a couple minutes and stirred it to make it pliable again. You could experiment with microwaving but I haven't tried it.

When the cupcakes are cool and the frosting has cooled enough to be spreadable, use a small offset spatula or a butterknife to frost the cupcakes upside down, just like a mini cake.

Immediately roll each cupcake in the chopped nuts.

Let the frosting set for several minutes before serving.

These are best served the first day because of course the almonds will begin to soften. But I actually think softened nuts are delicious too, so it's your preference!
Nutrition
Serving:
1
cupcake
|
Calories:
510
kcal
|
Carbohydrates:
62
g
|
Protein:
6
g
|
Fat:
28
g
|
Saturated Fat:
12
g
|
Polyunsaturated Fat:
3
g
|
Monounsaturated Fat:
11
g
|
Trans Fat:
1
g
|
Cholesterol:
65
mg
|
Sodium:
238
mg
|
Potassium:
177
mg
|
Fiber:
3
g
|
Sugar:
49
g
|
Vitamin A:
582
IU
|
Vitamin C:
1
mg
|
Calcium:
74
mg
|
Iron:
1
mg
Never enough cake, especially when it's birthday time:
Almond Sheet Cake << here it is! My beloved!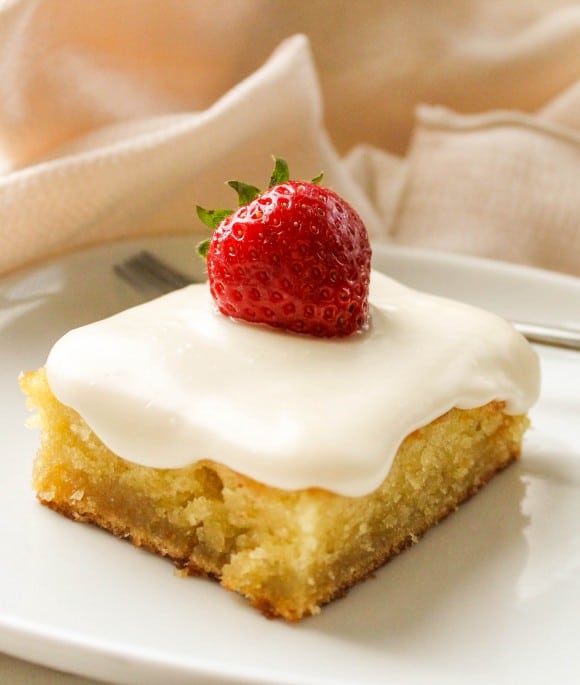 Brown Butter Pumpkin Cupcakes with Maple Pecan Frosting << I forgot about these cupcakes in my list up there. This is  a GREAT recipe!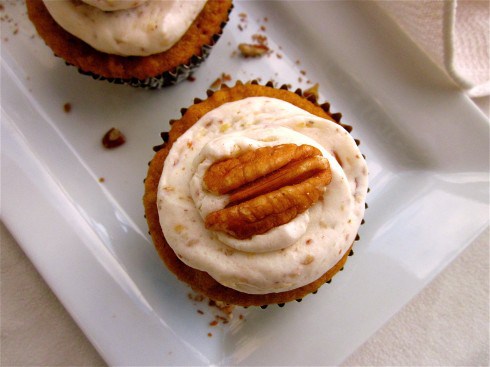 Spiced Poppyseed Cake with Almond Buttercream Frosting << gooood.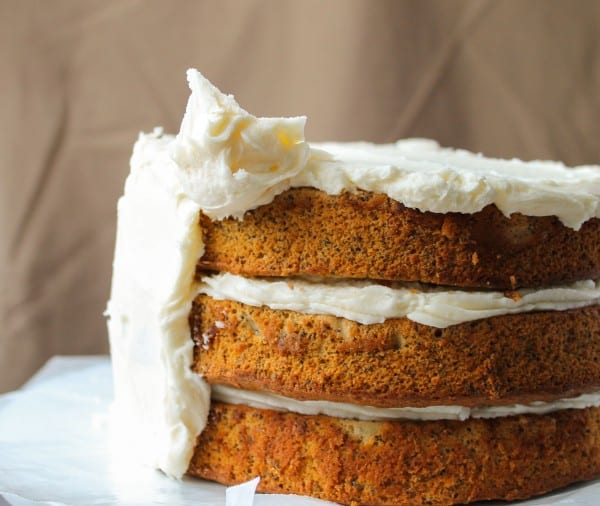 More almond cake ideas from blog friends!
Swedish Almond Cake from Shugary Sweets
Almond Joy Cupcakes from Taste and Tell
Fluffy White Cupcakes with French Almond Buttercream from Fifteen Spatulas