Caramel Cake with Caramel Icing Recipe
Have you ever made a Caramel Cake with Caramel Icing recipe? It's a classic Southern treat! But instead of a layer cake, I made it into a thin sheet cake. Less time baking, more time eating, I say! It's really easy to put together.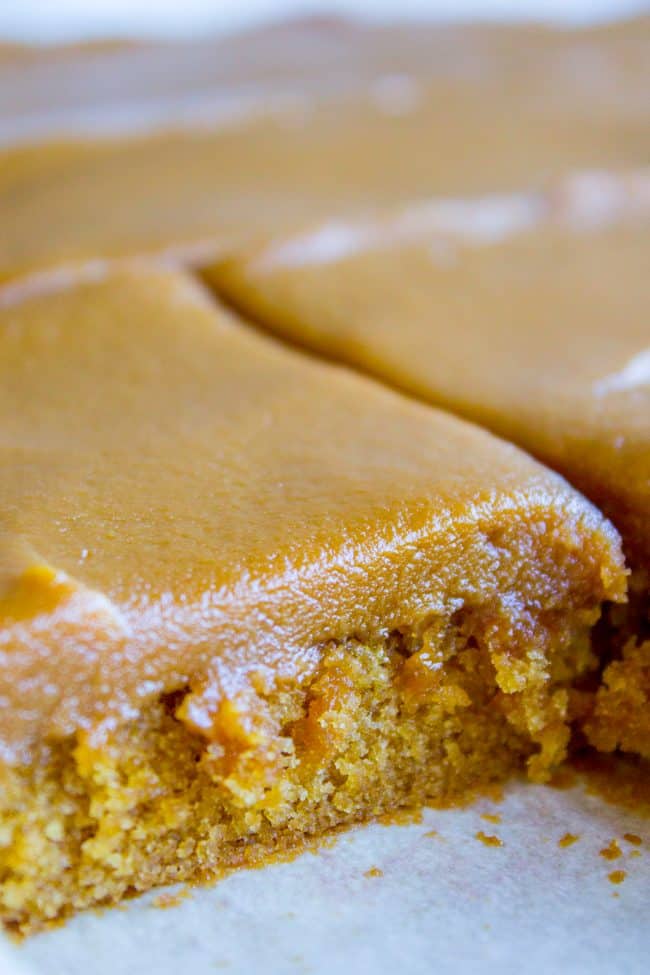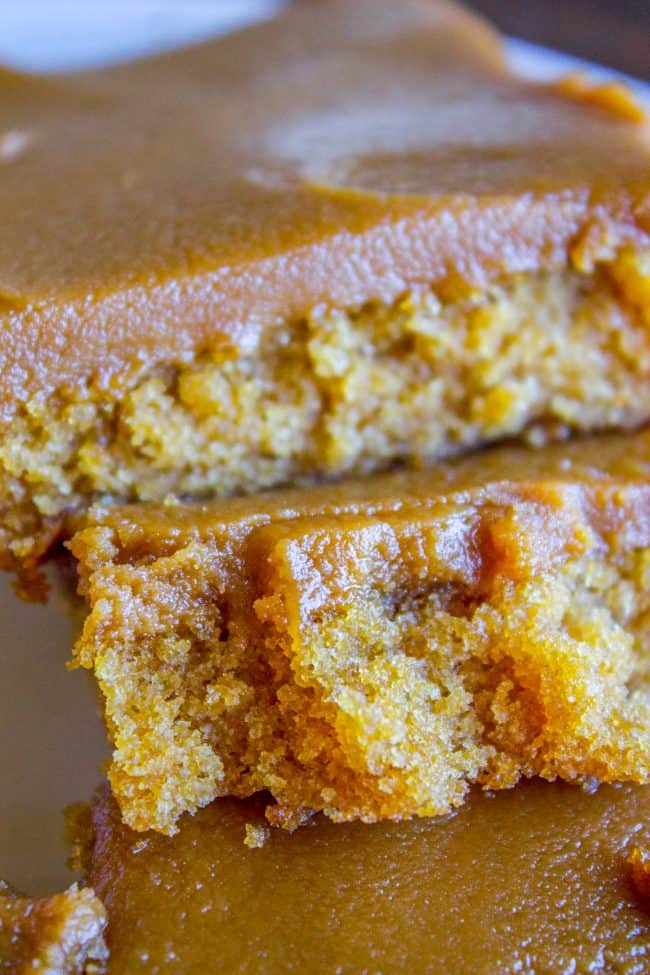 Caramel Cake Recipe
The other day I walked into the kitchen to find my 1 year old baby Valentine standing on a chair by the kitchen counter, eating an entire stick of BUTTER. Such are the risks of softening butter on the counter in this house.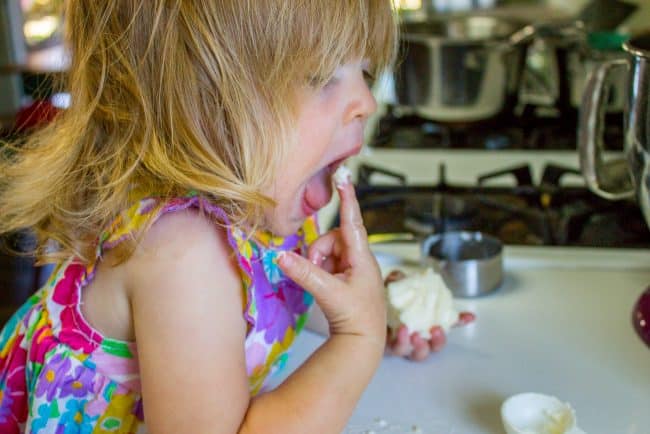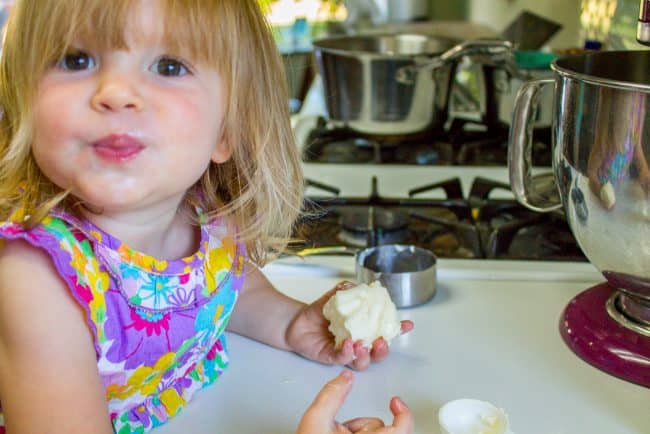 I snapped this picture literally minutes after I had finished giving her a bath to clean up her adventures in the toilet. She rewarded me with butter hair. These kids! It's a good thing she's so cute.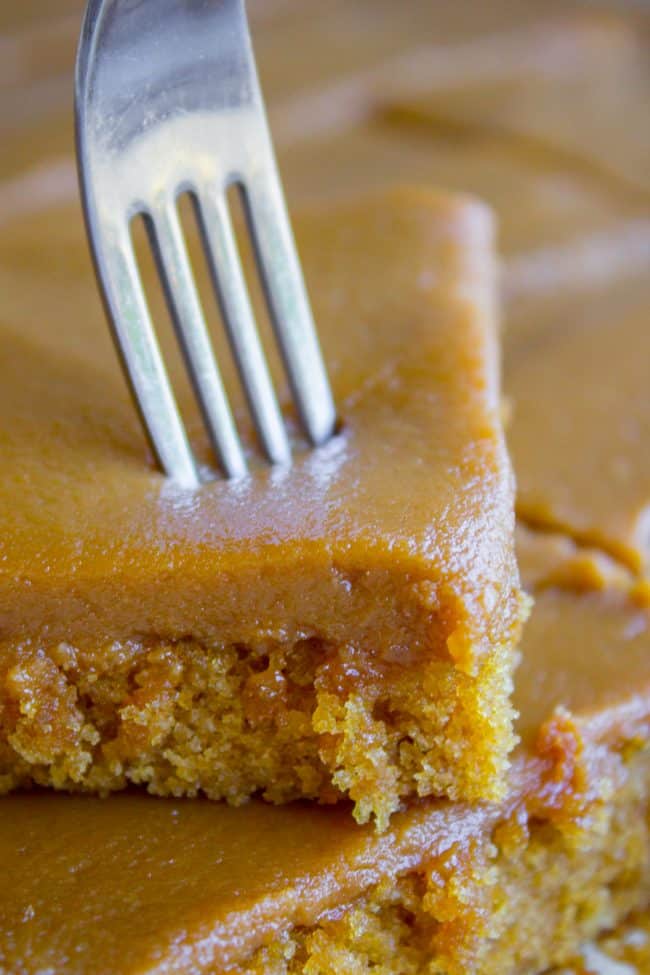 I've been a little obsessed with sheet cake lately. I posted the recipe for The Only Texas Sheet Cake You'll Ever Need just a few weeks ago, after testing it 3 times. And then I moved straight into the caramel version. (Side note, do you pronounce it car-mel, or care-uh-mel? I grew up saying car-mel, but in the past few years for some reason switched to care-uh-mel, and now I feel like a pretentious food snob every time I say it. The truth comes out!!)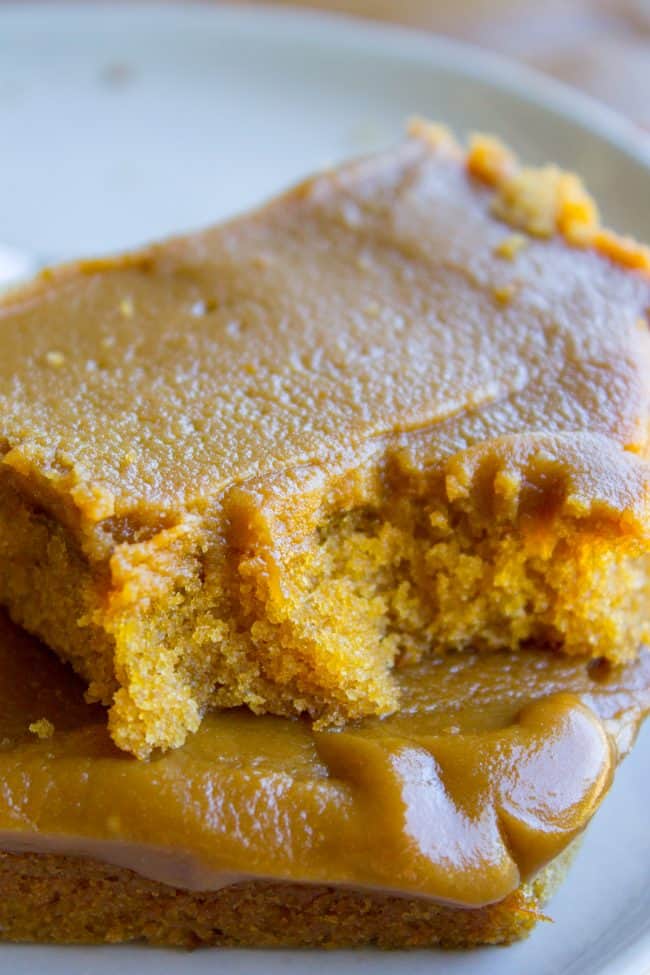 Caramel Cake
What I really wanted was Caramel Cake, the Southern kind with layers, but without all the fuss of actual, well, layers. The cake part of Southern Caramel Cake is not actually caramel flavored; it's a yellow or white cake that's there to soak up all the caramel icing goodness. The cake part of today's recipe actually tastes caramel-y because we're using 2 cups of brown sugar. And we're throwing it into a sheet pan to bake so that it's done in 20 minutes!

How To Make Caramel Frosting
And don't forget the icing. Legit, from scratch, pour-straight-up-dry-sugar-into-a-pan caramel icing takes like an hour to make, stirring a pot the whole time. Noooo thank you. I'm all about the brown sugar short cuts. Bless you, brown sugar.

(This is what the top should look like when it's boiling. It should have thickened by the end of 10 minutes.)

Ice bath time. You can see how beautifully thick it is now.
You still get that beautiful caramel flavor by boiling it on the stove with some butter and evaporated milk, and it only takes a few minutes. After boiling, you cool for several minutes in an ice bath to thicken it up. I LOVE this method for cooked frosting, and use it in several recipes, including Nana's Famous Fudge Brownies and this Peach Cake with Brown Sugar Frosting. It makes the frosting thicken up so nice and smooth. I eat it by the spoonful! (It's much better than fistfuls of butter.)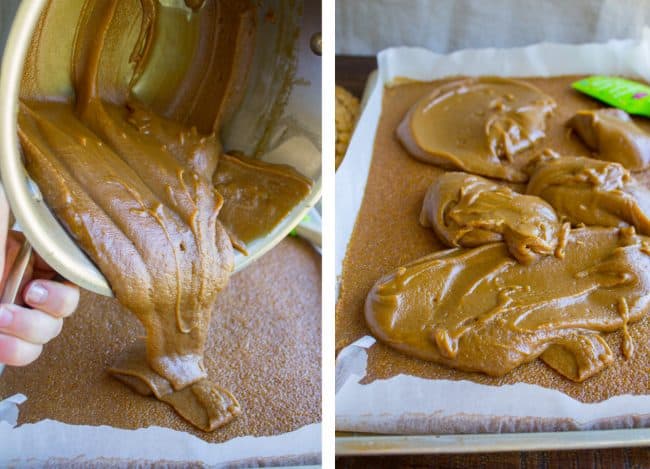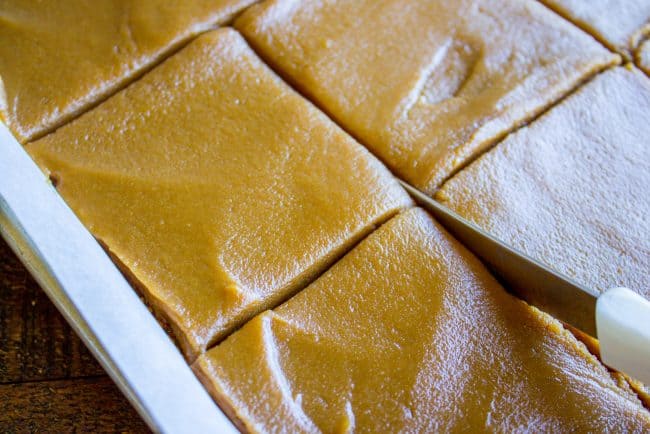 Can you see how this literally looks like I'm slicing up a square of soft caramel? It really is caramel, with the added bonus of cake underneath it! It's so incredibly rich, and so good. A little bit goes a long way. (For some people who are not me) This cake feeds a crowd and would be a great dessert to bring for Labor Day barbecues!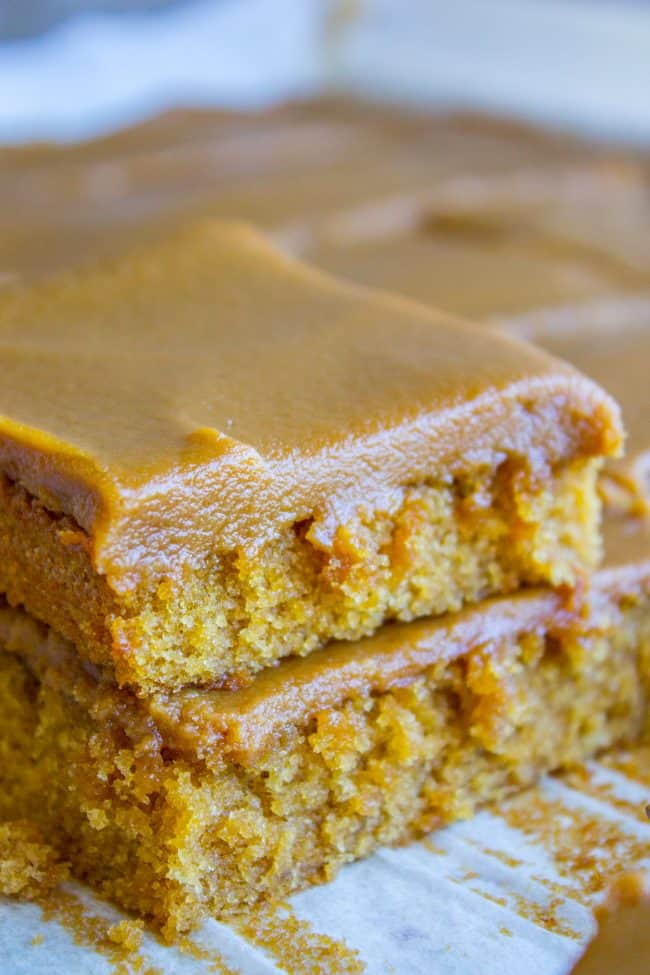 Facebook | Pinterest | Instagram
One year ago: Blueberry Buttermilk Pancake Muffins with Maple Syrup
Three years ago: Orange Watermelon Sunshine Smoothie
Six years ago: Mint Chocolate Brownies
Caramel Cake with Caramel Icing
Have you ever had Caramel Cake with Caramel Icing? It's a classic Southern treat! But instead of a layer cake, I made this into a thin sheet cake. Less time baking, more time eating, I say! It's really easy to put together.

Ingredients
For the cake
1

cup

salted butter

,

(2 sticks)

1

cup

water

2

cups

brown sugar

2

teaspoons

vanilla

2

cups

flour

,

spooned and leveled

1/2

teaspoon

salt

1

teaspoon

baking soda

1/2

cup

sour cream

2

large

eggs
For the icing
3/4

cup

salted butter

,

(1 and 1/2 sticks)

3 & 1/2

cups

brown sugar

1/2

cup

plus 1/3 cup evaporated milk OR heavy cream

1/4

teaspoon

salt

1 & 1/2

teaspoons

vanilla
Instructions
Preheat your oven to 350 degrees F. Line a 12×18 inch* sheet pan with parchment paper, or just spray it well with nonstick spray (or grease with butter).

In a medium saucepan, melt 1 cup butter and 1 cup water over medium high heat. Add 2 cups brown sugar and stir occasionally until it comes to a rolling boil (that means bubbles all the way across the top, not just the edges.) Remove from heat once it has come to a full boil.

Let it cool for a couple minutes, then add 2 teaspoons vanilla.

Add 2 cups flour to the pot, but don't mix yet. Add the salt and baking soda on top of the flour and use a small spoon to stir it into the flour (You don't want to accidentally get a chunk of salt or soda in your cake, ew).

Use a whisk to stir the flour mixture in. Try to get all the lumps out.

In a small bowl, whisk together the eggs and sour cream. Add this to the cake batter and stir until incorporated. 

Pour the cake batter into the prepared pan and spread to the edges.

Bake at 350 for about 17-20 minutes, until a toothpick inserted in the center comes out with no batter on it. The edges of the cake will start to pull away from the side of the pan.

Let the cake cool for about 20 minutes before frosting.

Make the caramel icing: In a clean saucepan, melt 3/4 cup butter, 3 and 1/2 cups brown sugar, 1/2 cup + 1/3 cup evaporated milk (or heavy cream), and 1/4 teaspoon salt. Bring it to a boil over medium heat. Once it is at a rolling boil, set a timer for 10 minutes, stirring occasionally. The caramel should be a bit thicker by the end of 10 minutes, and should coat the back of a spoon. Remove from heat. Add 1 and 1/2 teaspoons vanilla and stir.

Fill a large bowl with ice water. Place the entire pan of frosting into the ice bath, making sure you don't get any water in the caramel. Let it sit for about 5 minutes, stirring the edges of the pan every minute. See photos. Keep an eye on it to make sure it doesn't harden up without you noticing! (Don't walk away. You can read in the comments about a bunch of people who waited too long and their caramel got too hard. Sometimes it takes 5 minutes, sometimes more like 8.)

Stir the frosting with a wooden spoon and make sure it is thickening up nicely. While it is still pour-able, Pour the icing over the slightly cooled cake and spread to the edges.

Let the icing set for a few minutes before serving warm. This is really good with vanilla ice cream! It's so rich, you can cut it into pretty small pieces. (I mean. I don't. But I have a major sweet tooth.)
Notes
*I like this cake best in a 12×18 inch pan (thinner cake) but here are the times for other size pans:
If you are baking this in a 9×13 bake for 23-25 minutes. If you do a 10×15, bake for about 20 minutes. If you bake it in a 12×18, bake for about 17-20 minutes.
All of these times are going to vary because everyone's oven is different.
Nutrition
Serving:
1
g
,
Calories:
566
kcal
,
Carbohydrates:
88
g
,
Protein:
4
g
,
Fat:
23
g
,
Saturated Fat:
14
g
,
Polyunsaturated Fat:
1
g
,
Monounsaturated Fat:
6
g
,
Trans Fat:
1
g
,
Cholesterol:
84
mg
,
Sodium:
406
mg
,
Potassium:
184
mg
,
Fiber:
1
g
,
Sugar:
75
g
,
Vitamin A:
731
IU
,
Vitamin C:
1
mg
,
Calcium:
118
mg
,
Iron:
1
mg
More cakes that you will die and go to heaven for:
The Only Texas Sheet Cake You Will Ever Need << seriously guys.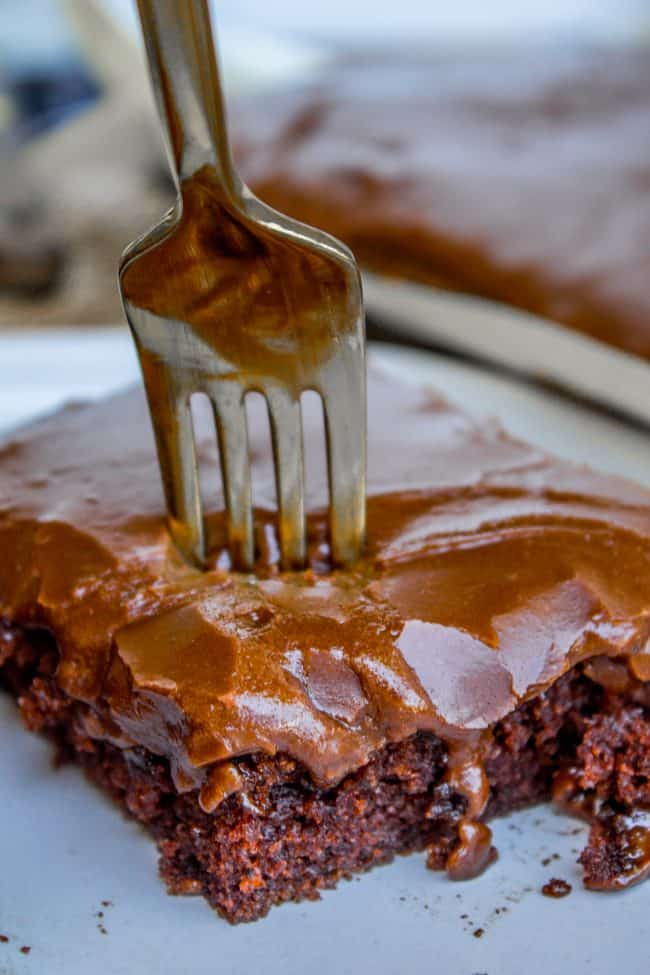 Peach Cake with Brown Sugar Frosting << looove this for summer!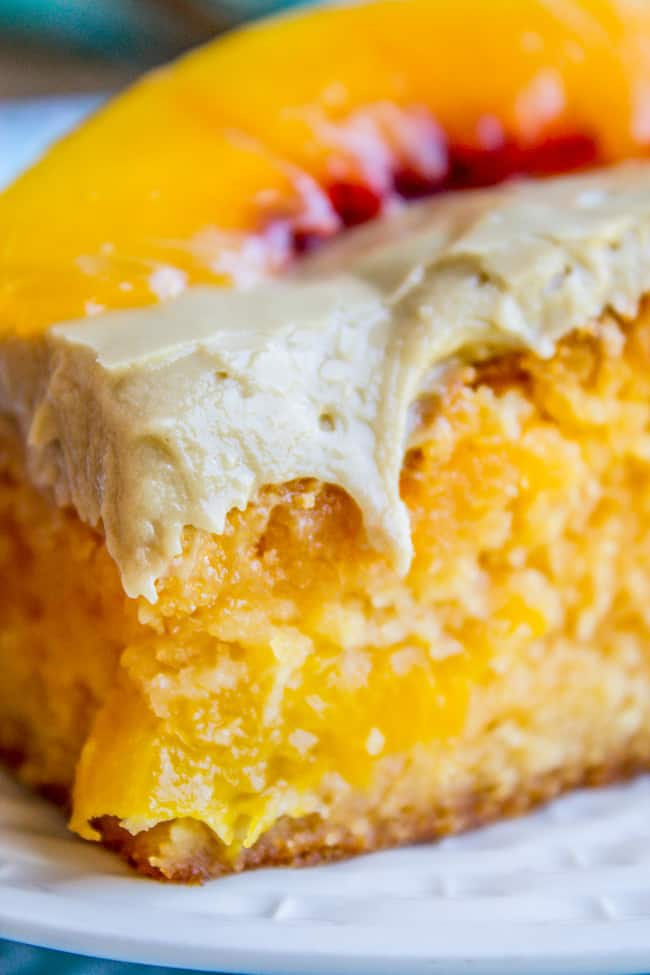 Butterscotch Pumpkin Cake << this is one of my favorites. The texture on this cake is just indescribable. Can you see it? It's like fudge.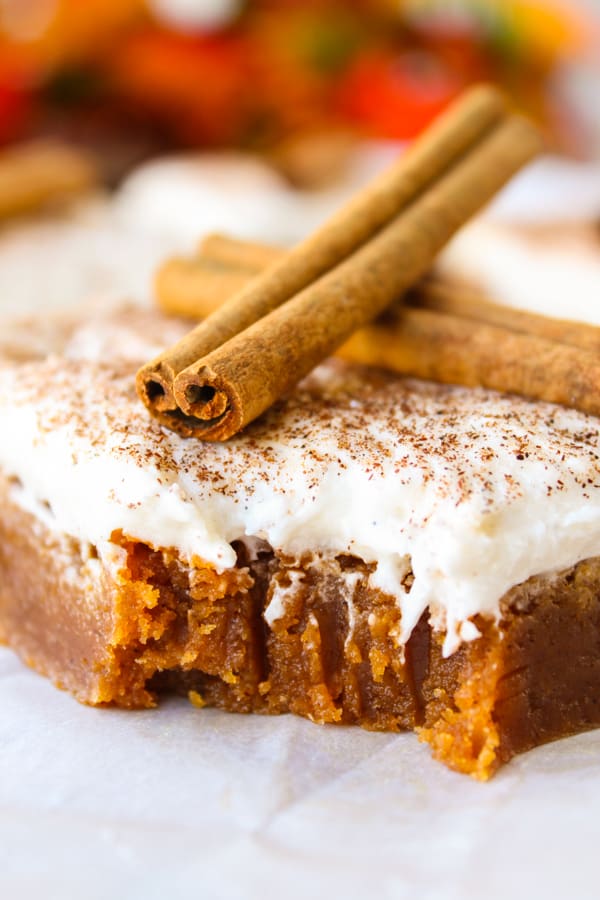 More sheet cake recipes that you are going to love!
Caramel Apple Sheet Cake from BellyFull
Cinnabon Cinnamon Roll Sheet Cake from Oh Sweet Basil
Samoas Texas Sheet Cake from A Spicy Perspective
We are a participant in the Amazon Services LLC Associates Program, an affiliate advertising program designed to provide a means for us to earn fees by linking to Amazon.com and affiliated sites.