These Soft Pumpkin Cookies taste like they came straight from a bakery! A super soft, fluffy, and THICK pumpkin cookie that just melts in your mouth, topped with a browned butter icing that will knock your socks off. You will want to eat about a thousand of these while wearing all your fall scarves.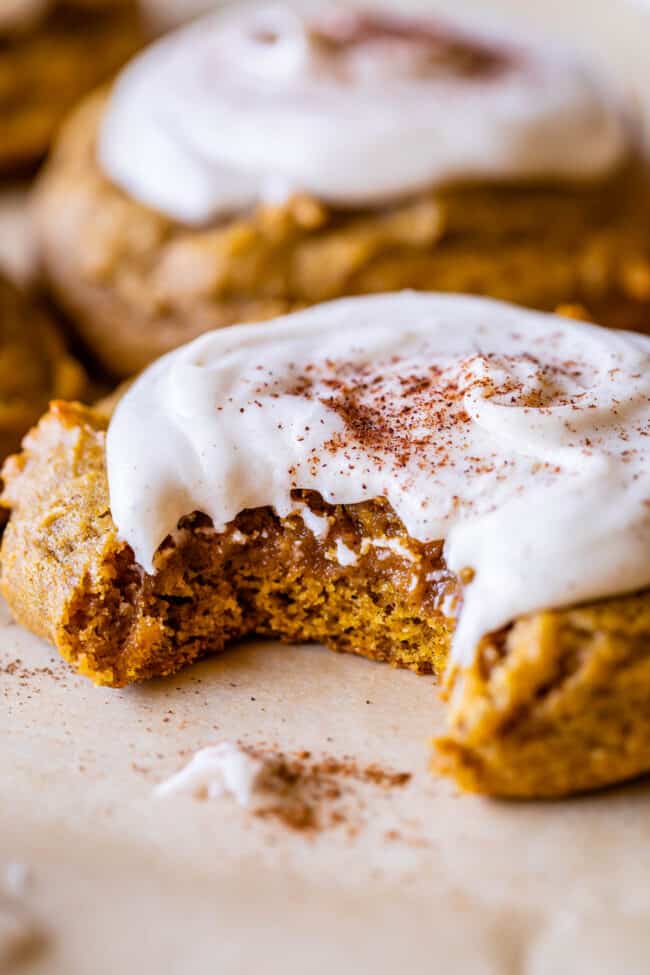 Soft Pumpkin Cookies
Originally posted November 28, 2011.
Well I've officially gotten to that point in my pregnancy where my protruding belly is so conspicuous that I have lost all sense of spacial recognition.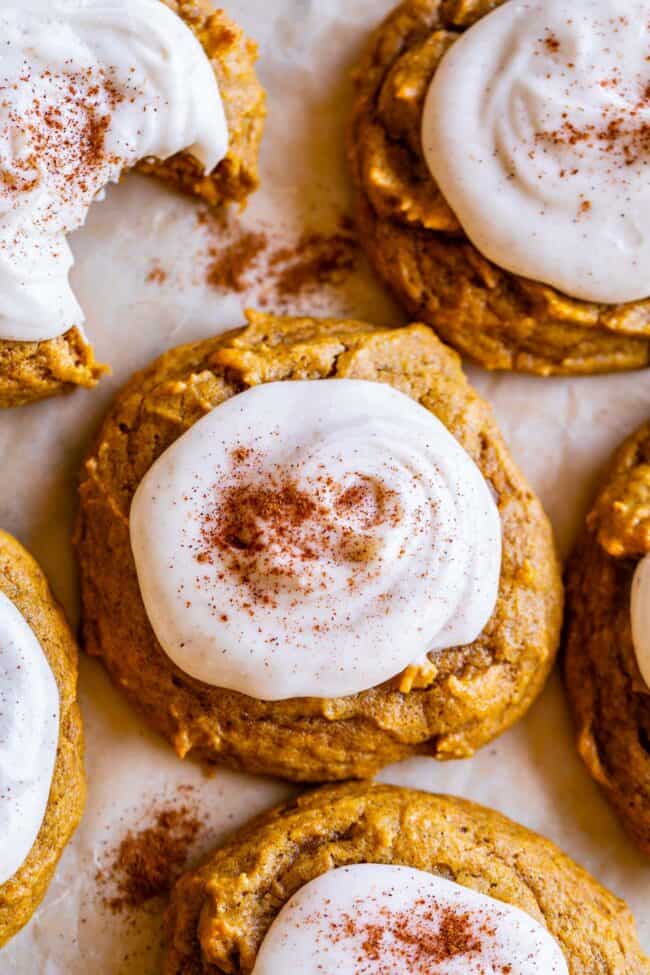 You know how you can usually tell whether you can pass between someone sitting in a chair and the wall behind them? Or if you can slide in between two people in different conversations in the halls at church? Well, it all goes out the window when you're pregnant. You end up baby-bumping people all over the place, which is kind of like fist-bumping, except no one wants to do it, and there's no escape.
I've also gotten to the point where truly none of my old clothes fit. My sister-in-law Reesy convinced me to buy a maternity jumpsuit. A piece of advice to my fellow fashion deficients: don't listen to your friend when they tell you to try something new, especially if the word "jumpsuit" is involved. You will look like a pumpkin. But you won't be able to send it back because you recognize how incredibly comfortable it is.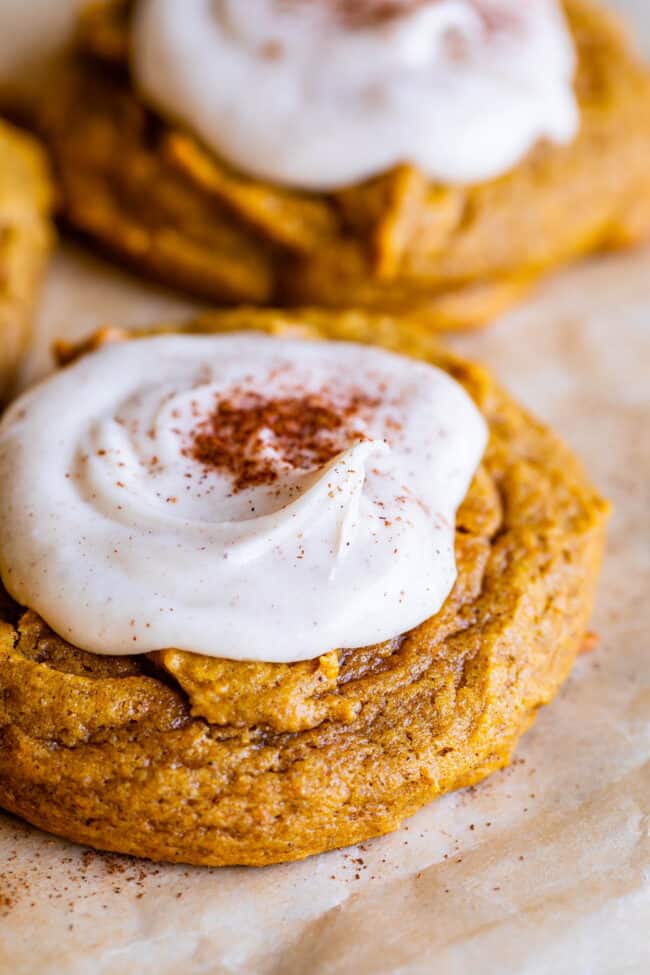 Later Valentine saw me wearing it, and she said what's that? (even the two-year-old recognizes that this might not count as socially acceptable clothing.) I said, it's a jumpsuit. She stared at me with toddler wisdom brimming in her eyes, waiting. Seconds ticked by and finally she said, "Well, jump!" Ha! And so we jumped. Way to help me not take myself so seriously, kid.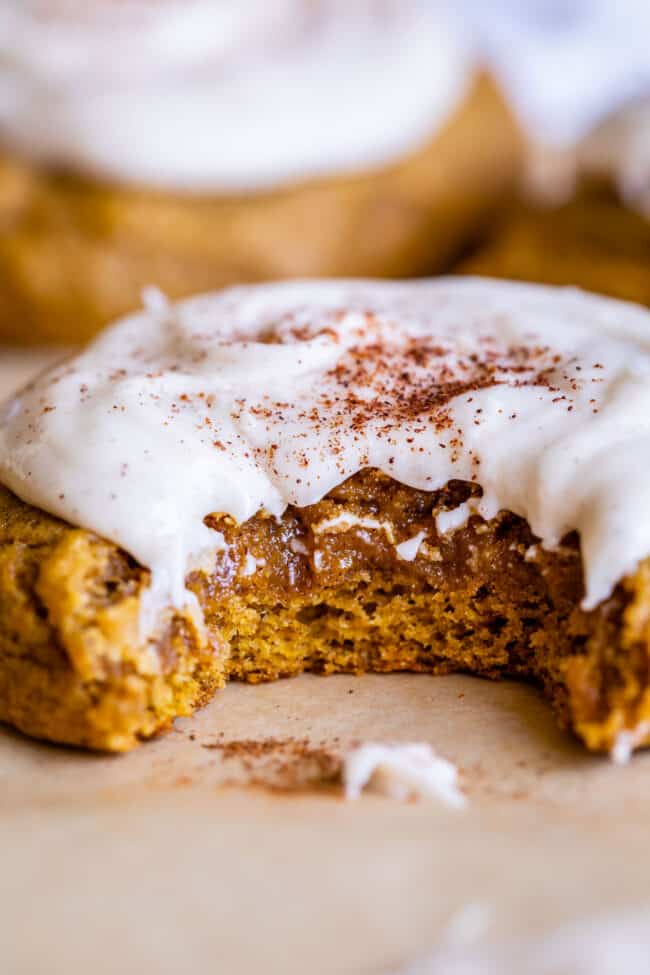 Every year here in California, the weather does this thing in September where it blesses you with breezy weather in the 70s for a few days, only to yank you back into a 100 degree heatwave a week later. It's so cruel! But sooner or later, cool crisp days will be upon us for good. So bring on the pumpkin!
Pumpkin Cookies Recipe for the Win
When was the last time you made a gloriously soft pumpkin cookie with icing to go on top? It's truly one of life's greatest pleasures, especially on the day when you open your window and it's colder outside your house than the other way around.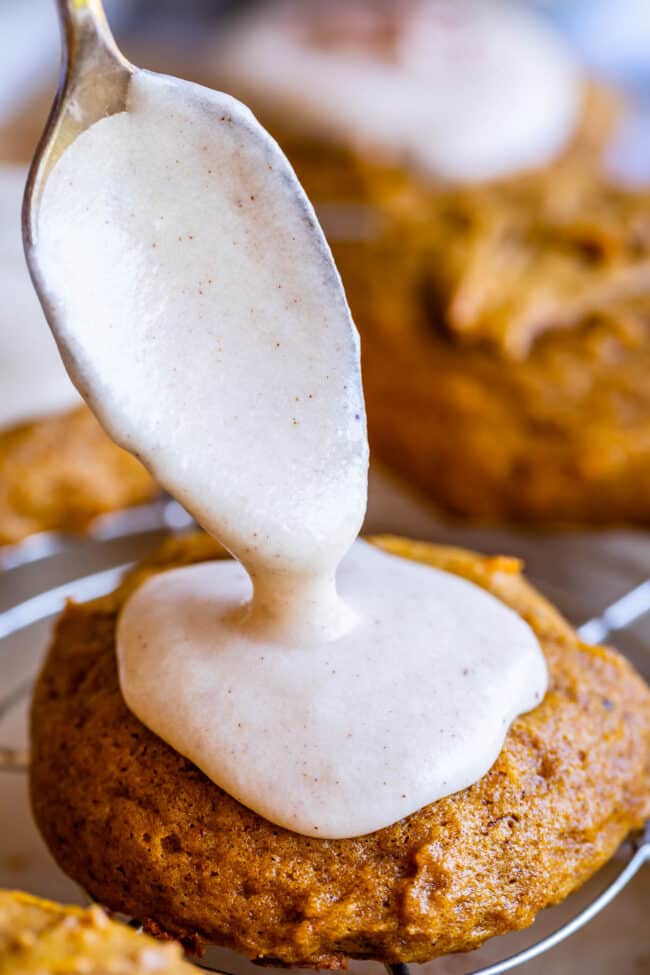 This old fashioned soft pumpkin cookie recipe (and many variations like it) is as old as the hills, it seems. I feel like every grandma has a version of this recipe, and you can find so many variations on the internet. Maybe all of them are adapted from Libby's pumpkin cookies! I adapted this one from my best friend Sarah's Grandma Ernestine. Sarah told me this:
Ernestine grew up in the Virginia countryside and helped make food for the farm hands; when she was 10 her desserts were so good that her mom turned the job of making all the desserts over to her. I'm sure she never guessed as a Virginia farm girl that she'd end up marrying a CIA agent and have kids on four continents.
Ernestine sounds like a pretty tough cookie, right?? And she definitely knows where it's at when it comes to pumpkin cookies. They are legit.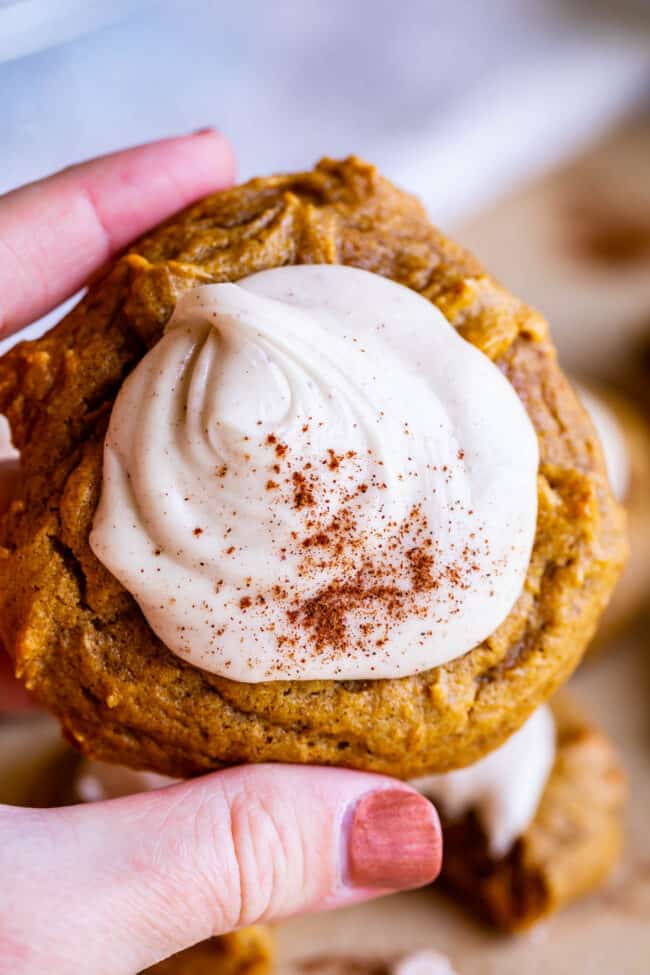 Soft Pumpkin Cookies – Chewy vs. Cakey
Now listen here my friends. Normally I am firmly entrenched in camp Chewy Cookies. I feel very strongly about this and you will not find many cookies on my site that are not supremely chewy. But these soft pumpkin cookies are one blessed exception. They are perfectly cakey, and that's not an apology! It kind of feels like eating a tiny little cake with frosting rather than a cookie, and it's amazing. The dough is more of a batter. The baked cookie is light and fluffy like a cloud. When you take a bite, it melts in your mouth like you wouldn't believe.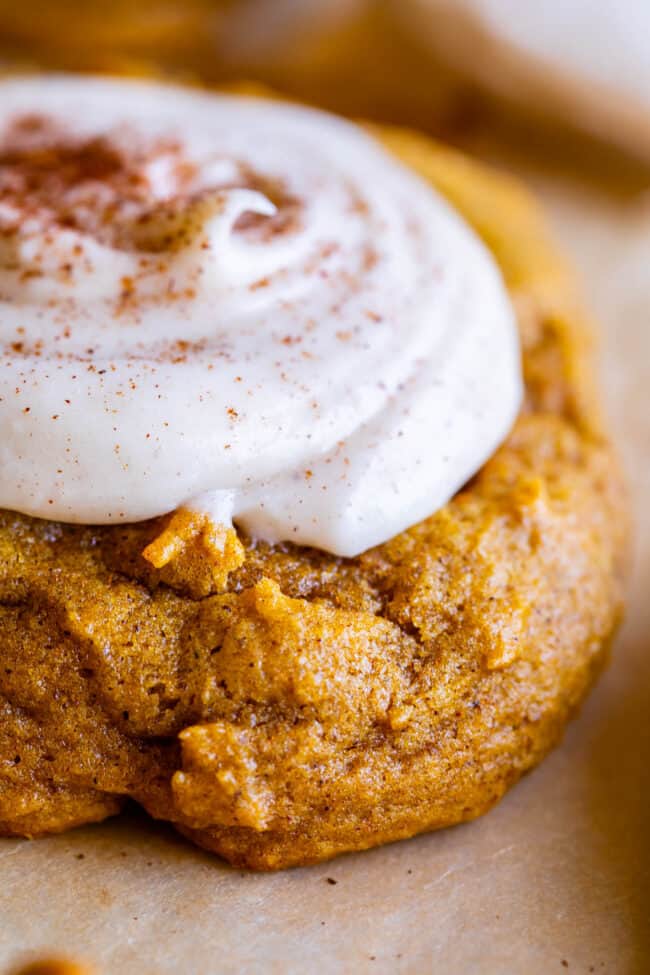 (If you are interested in a CHEWY pumpkin cookie, check out these Pumpkin Oatmeal White Chocolate Chip Cookies. They have no egg in them, which is what makes them chewier (Pumpkin acts kind of like an egg in cookies) Today's recipe calls for pumpkin AND an egg, making them extremely fluffy, tall, and yes, more cakey. Slap on that glaze and embrace your mini cake. It's so good!
How to make Pumpkin Pie Cookies

It's a really easy dough to whip up, and there is no chilling required, which I love. You can have these in your mouth in 30 minutes flat start to finish.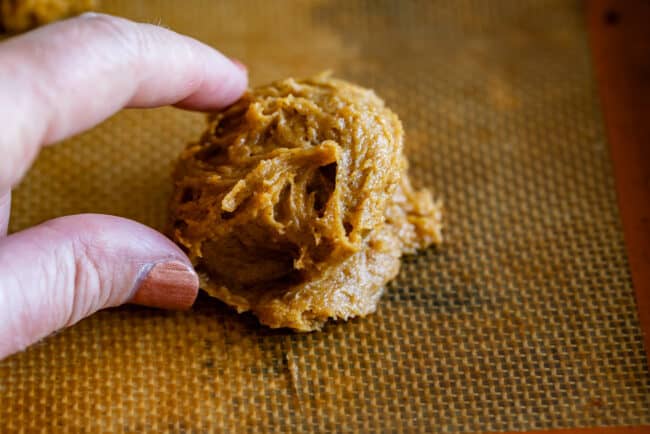 Don't bother using a cookie scoop. The dough is so sticky. I just used two spoons. You can make them any size you like, just be sure to adjust the baking times. I included the picture with my fingers for scale so you can see about how big I made them. (1 and 1/2 to 2 tablespoons about).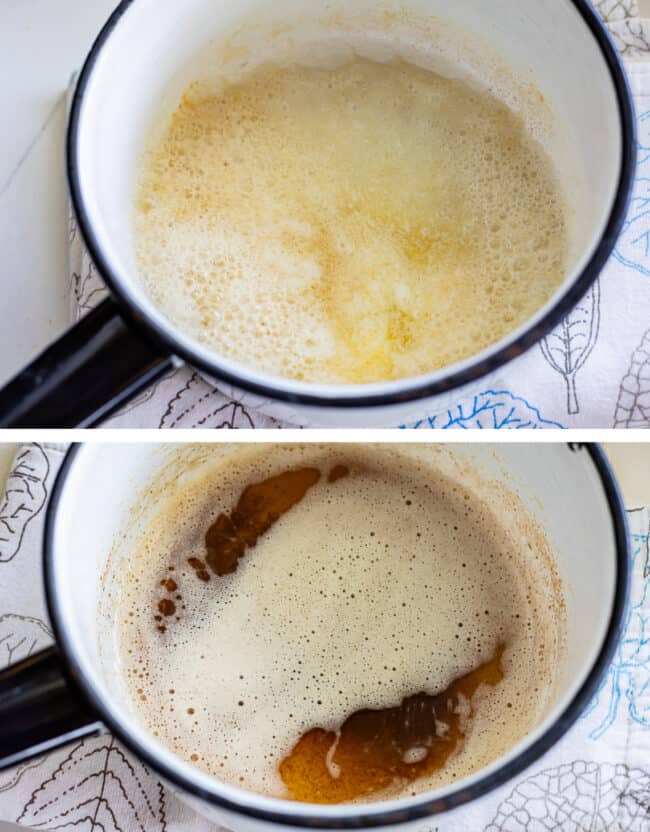 The cookies are good all by themselves, but we're taking it over the top and adding a brown butter glaze. If you have never browned butter before, you have come to the right place. Brown butter does INCREDIBLE things; try out these Nutella Stuffed Browned Butter Blondies, or my favorite Brownie recipe of all time, or these Browned Butter Glazed Carrots! Browned butter lends a nutty, deep flavor to whatever you add it to. It's probably one of my favorite ways to enhance flavor.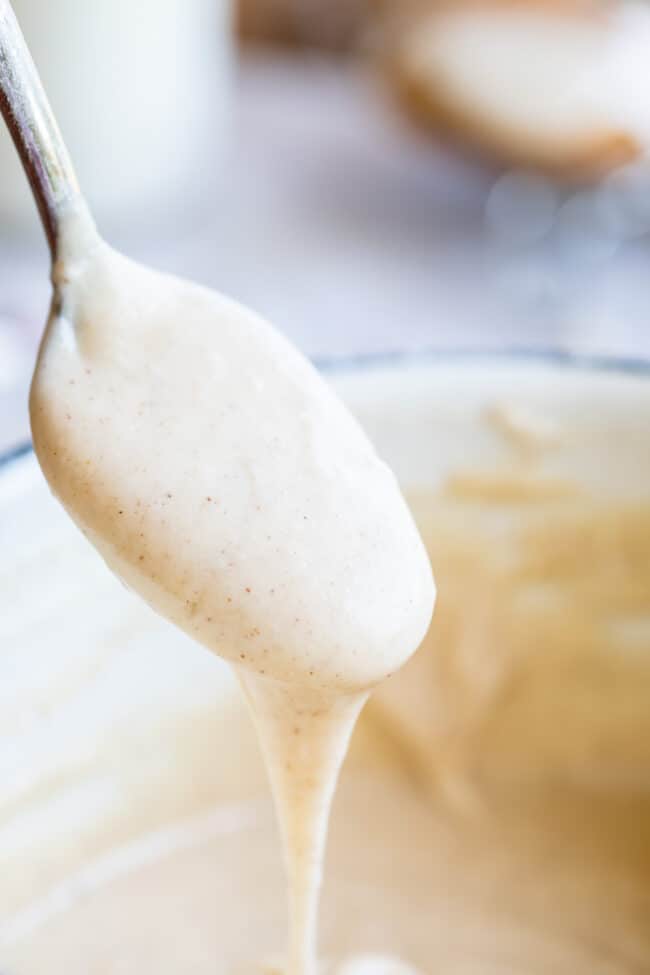 And glaze for soft pumpkin cookies is no exception! It's so easy. Just brown some butter in a pan (it takes like 3 minutes) then add sifted powdered sugar and milk/cream. Super quick.
Here's a look at these pumpkin cookies from yesteryear. I posted a similar recipe back in 2011 when I first started my blog. I didn't know about browned butter back then, which is why there are no visible specks of deliciousness.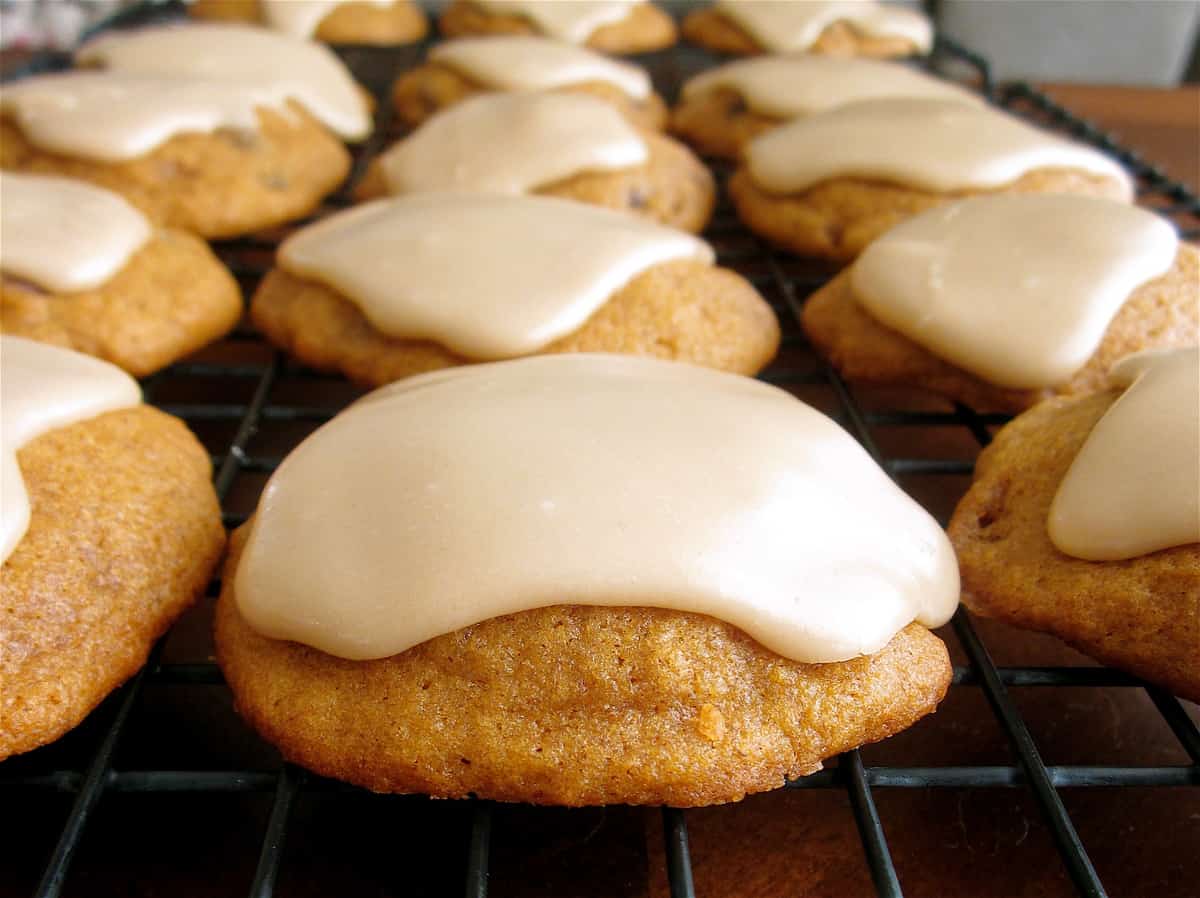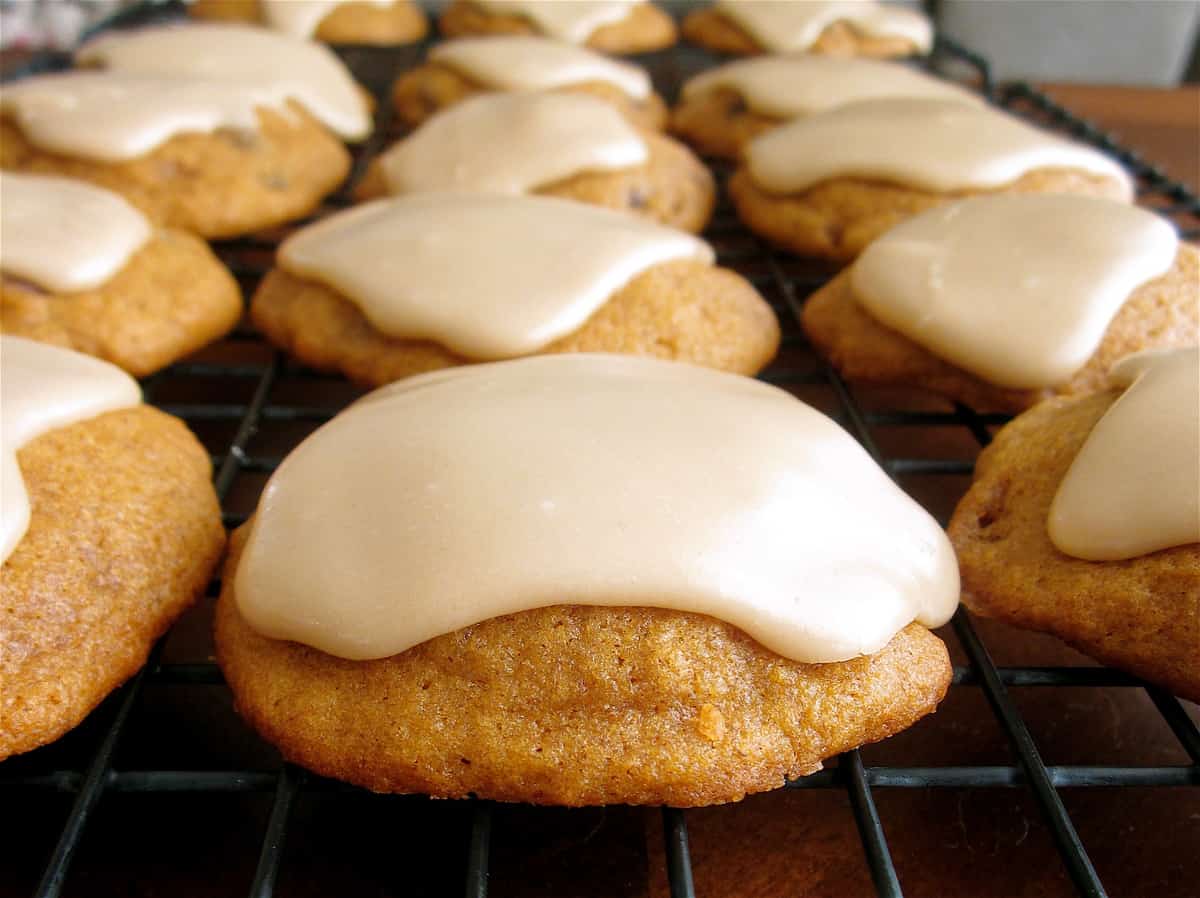 More pumpkin recipes to get you in the fall spirit!
Pumpkin Cream Cheese Muffins << these are a huge reader favorite! Can't go wrong with that filling.
Pumpkin Roll Recipe with Tons of Cream Cheese Frosting << this is a classic! These rolls are so good.
Double Layer Pumpkin Cheesecake << one of my favorite desserts to serve at Thanksgiving!
Butterscotch Pumpkin Cake << this is less cake, more brownie texture. Plus frosting. YES!
Crème Brulée Pumpkin Pie << another favorite for Thanksgiving! The only way I eat pumpkin pie now.
Pumpkin Cinnamon Rolls with Caramel Cream Cheese Frosting << done in about an hour!
More fall cookie recipes you are going to love!
Soft Cinnamon Cookies with Maple Pecan Frosting << the frosting guys. It's AMAZING.
Soft Peanut Butter Cookies with Maple Glaze << I love this flavor combo!!
Mexican Hot Chocolate Cookies << these are like Chocolate Snickerdoodles. Irresistible!
Soft Maple Pecan Cream Cheese Cookies from Will Cook for Smiles
Apple Oatmeal Cookies from Well Plated
Apple Butter Snickerdoodles from Crazy for Crust
Maple White Chocolate Chip Cookies from Your HomeBased Mom
Facebook | Pinterest | Instagram

Soft Pumpkin Cookies with Brown Butter Glaze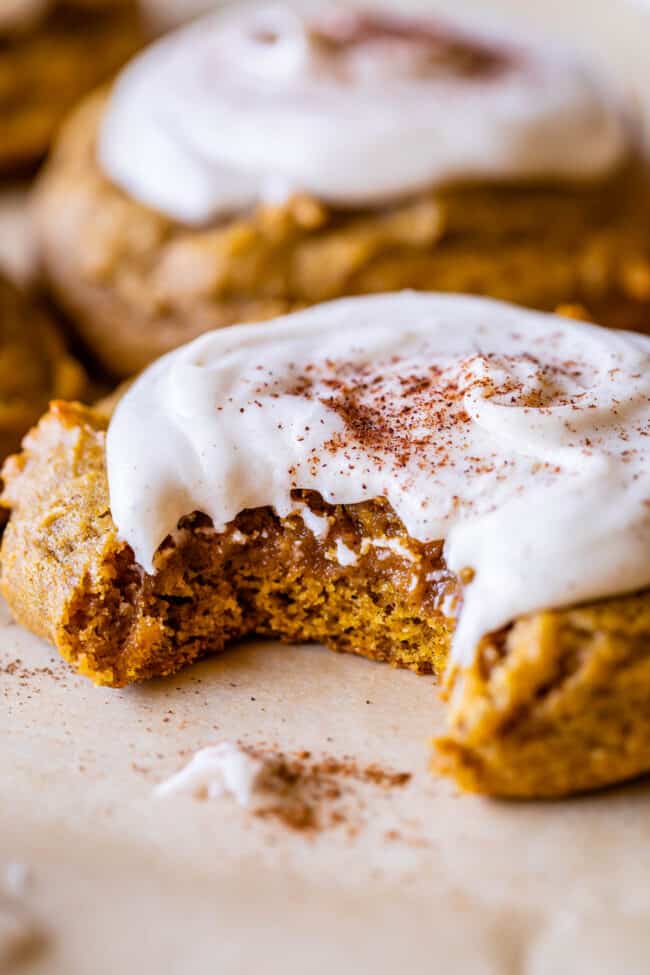 These Soft Pumpkin Cookies taste like they came straight from a bakery! A super soft, fluffy, and THICK pumpkin cookie that just melts in your mouth, topped with a browned butter icing that will knock your socks off.
Ingredients
For the cookies
1/2

cup

salted butter

,

softened (1 stick)

3/4

cup

granulated sugar

3/4

cup

brown sugar

1

cup

pumpkin

,

not pumpkin pie filling!

1 & 1/2

teaspoons

vanilla

1

large

egg

2 & 1/2

cups

flour

,

spooned and leveled

1

teaspoon

baking soda

1

teaspoon

baking powder

3/4

teaspoon

kosher salt

1 & 1/2

teaspoons

cinnamon

1 & 1/2

teaspoons

pumpkin pie spice
For the icing
3

tablespoons

salted butter

3

cups

powdered sugar

,

sifted (don't skip sifting!)

4-6

tablespoons

cream or milk

,

more or less to taste
Instructions
Preheat the oven to 350 degrees F. Line a few baking sheets with

silicone baking mats

or parchment paper. These cookies tend to stick, so I highly recommend some sort of liner instead of baking straight on the pan.

In a large bowl or stand mixer, beat the butter for about 2 minutes, until it is smooth and creamy. Scrape down the sides and bottom of the bowl to make sure there are no lumps.

Add 3/4 cup granulated sugar and 3/4 cup brown sugar. Beat 1 minute until fluffy.

Add 1 cup pumpkin puree (make sure it's not pumpkin pie filling!)

Add 1 and 1/2 teaspoons vanilla and 1 large egg. Beat until combined, scraping sides. The dough will look kind of grainy at this point.

Use a spoon to measure your flour into your measuring cup, then level off the top. Add the 2 and 1/2 cups flour to the bowl, but don't mix yet.

Make a well in the center of the flour, and add 1 teaspoon baking soda, 1 teaspoon baking powder, 3/4 teaspoon kosher salt, 1 and 1/2 teaspoons cinnamon, and 1 and 1/2 teaspoons pumpkin pie spice. Use your teaspoon to stir these ingredients into the flour a bit so you don't end up with any clumps of baking soda in your cookies.

Turn the mixer on and combine the dry and wet ingredients. Mix ONLY until combined and no more. Use a spatula to scrape the bottom of the bowl. If you see any streaks, mix it some more. Do not over mix, or your dough will be tough.

Use two spoons to drop the cookie dough onto the prepared pans. The dough is more like a batter; very wet and sticky. I tried using a cookie scoop but it just sticks too much. I scraped up a heaping tablespoon of dough with one spoon (I used a larger soup spoon) and scraped it onto the pan using another spoon. It doesn't need to be an exact ball shape. Leave about 2 inches of space in between each cookie.

Bake in the preheated oven for 12-14 minutes, or until the cookies are no longer shiny on top. Normally I under-bake my cookies to keep them chewy, but these cookies are more like tiny little pumpkin cakes; nobody wants raw batter in the center of a cake. If the shine from the top of the cookies is completely gone, take them out. They should be nice and tall and puffy.

Let the cookies cool and set up on the pan for about 5 minutes.

Transfer the cookies to a wire rack to cool completely. I always cheat and throw my cooling rack directly in the freezer to speed up the cooling process. Takes like 5 minutes, and then you can glaze right away.

To make the icing:

In

a small saucepan

, add 3 tablespoons salted butter. Turn the heat to medium and let the butter melt. Keep the heat on medium and don't walk away. Stir occasionally. Soon the butter will bubble and form a thick white foam on top. After that, the foam will recede a little bit and you will start to see little brown "bits" forming on the bottom of the pan. Stir them up and take a whiff. If you see brown specks and your butter has taken on a nutty aroma, your butter is browned. Take it off the heat right away. The whole process doesn't take more than 3-4 minutes for this amount of butter. It goes from browned to burned real quick, so pay attention!

Place

a strainer

over the top of the saucepan, and add 3 cups of powdered sugar (I did it 1 cup at a time). Sift the powdered sugar into the butter. (You might be thinking "I don't have time for sifting. Sifting is for suckers." That's what I thought the first time I made this, and my icing was lumpy. No amount of whisking smoothed it out, and I ended up pressing my finished glaze through a strainer. Don't be like me.)

Once you've added all the powdered sugar, add 4 tablespoons of cream or milk. Whisk it all together until smooth. At this point you can add more powdered sugar or cream/milk, depending on the consistency you want for your glaze. If you want it to be thicker (more like frosting) add less milk/cream. You can also add a bit more powdered sugar.

Once the cookies have cooled completely, drizzle over the tops of each cookie.

These cookies don't do well stored in a tupperware, they are too moist. It's better to store them on a plate with plastic wrap loosely covering them (once the glaze has set). I'm a huge fan of warm cookies, but these ones are actually really delicious when chilled in the fridge. Try it out!
Notes
Source: This recipe is adapted from my BFF Sarah's grandmother Ernestine. I changed a few things and browned the butter in the glaze, because brown butter is always the right choice.
Nutrition
Serving:
1
g
|
Calories:
200
kcal
|
Carbohydrates:
35
g
|
Protein:
2
g
|
Fat:
6
g
|
Saturated Fat:
4
g
|
Polyunsaturated Fat:
1
g
|
Monounsaturated Fat:
2
g
|
Trans Fat:
1
g
|
Cholesterol:
24
mg
|
Sodium:
181
mg
|
Potassium:
43
mg
|
Fiber:
1
g
|
Sugar:
25
g
|
Vitamin A:
597
IU
|
Vitamin C:
1
mg
|
Calcium:
22
mg
|
Iron:
1
mg