Butterscotch Pumpkin Cake
This pumpkin cake starts out with melted butterscotch chips and just gets better from there. It is moist and chewy and almost brownie-like, except for the copious amounts of creamy vanilla frosting on top. This is pumpkin dessert at its finest, my friends.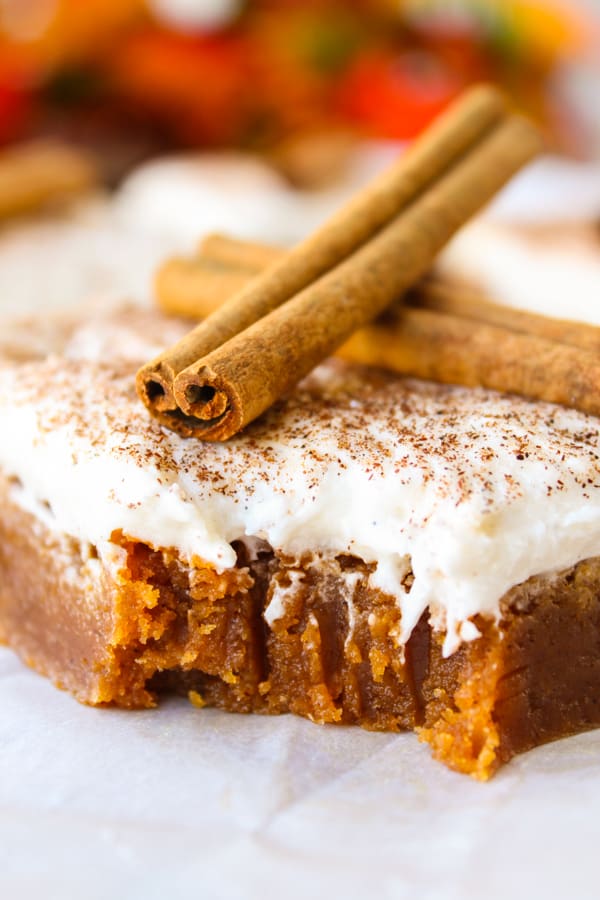 Originally published September 23, 2014
Did you guys know that on Talk Like a Pirate Day you can go to Krispy Kreme dressed up like a pirate and get a dozen donuts? A DOZEN!
My brother's wife told him this in passing a few weeks ago, like a "wouldn't that be fun" kind of comment. But Eric (my brother, not my husband) decided that this was happening, and proceeded to buy fake earrings, leather shirt straps, and fake parrots to legitimize their entire family's pirate-ness. Don't they look awesome?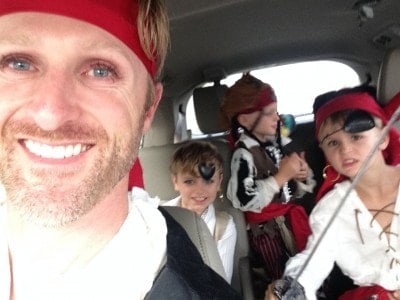 I wish I had been there when they tried to put makeup on the boys. "You can put the stuff on the hairs of my eyes, but not the smudgy stuff" (eyeliner).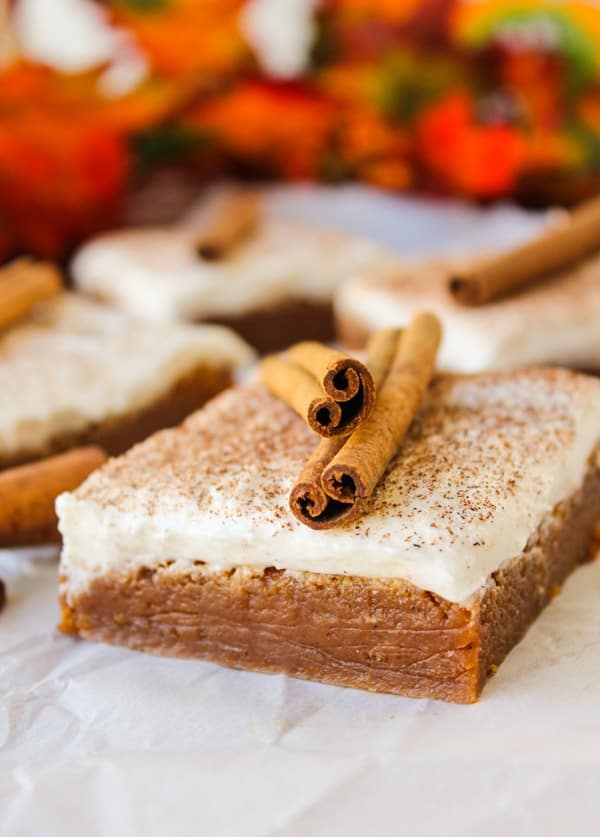 Right after Eric sent me this photo, he texted me about this cake.
"Have you posted your pumpkin square recipe yet? I was bragging about them to someone."
"No, I will soon. I'm so sad that it looks just like every other pumpkin cake out there. No one will know."
"Hahaha. You should use big red photoshop arrows to point out all its awesomeness."
"Yes. HERE'S the frosting. HERE'S the cake. It's so original it will blow your mind!!"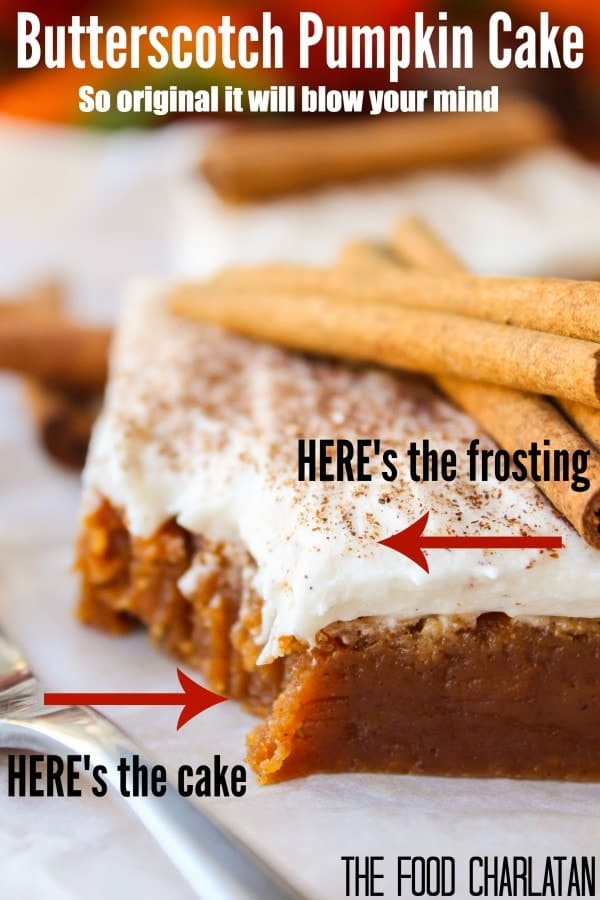 How to make delicious Butterscotch Pumpkin Cake
Clearly you can see why this cake is awesome now? Really guys, I wish you could taste this one. The day I made it, I happened to have a lot of people pass through the house. My cousin Lani tried it and made me email her the recipe immediately because she couldn't wait for it to be posted. Later, Eric and his wife Sandi came over. "What is this???" Pumpkin. "I hate pumpkin. This is amazing."
It's like cake, kinda, because it has frosting. But it's like a brownie, because it's thick and chewy. And then the base is melted butterscotch chips, so there's this caramel-y crust on the edges.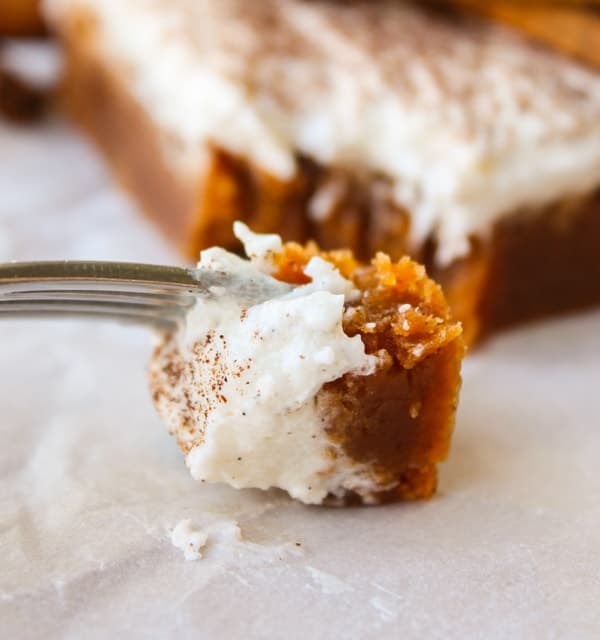 And did I mention that it's super easy? You don't even need a mixer for the cake part, only for the frosting. Oh, and speaking of the frosting. Well. See above photo with the arrows. It should explain everything.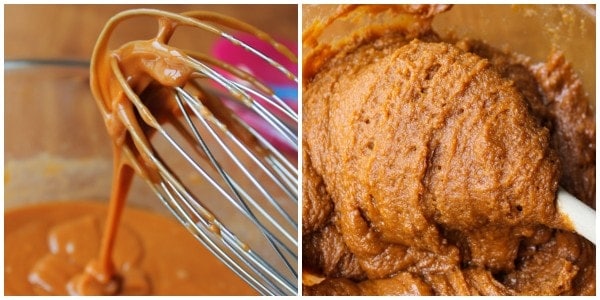 On the left is how your butterscotch and butter mixture should look after it's combined. On the right is all the batter mixed together. Try to ignore my daughter's pink bowl in the background :) Ooey gooey pumpkin cake!
Facebook | Pinterest | Instagram | Twitter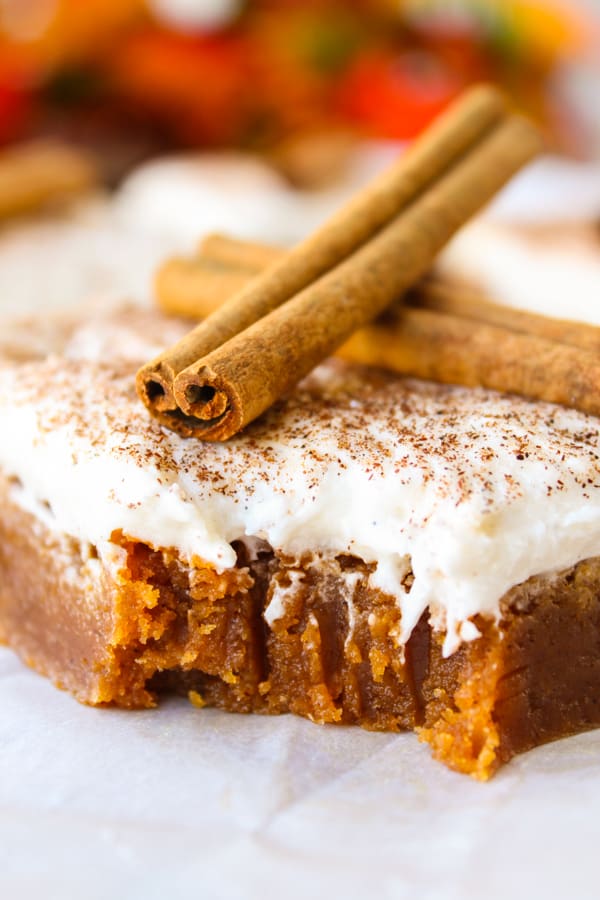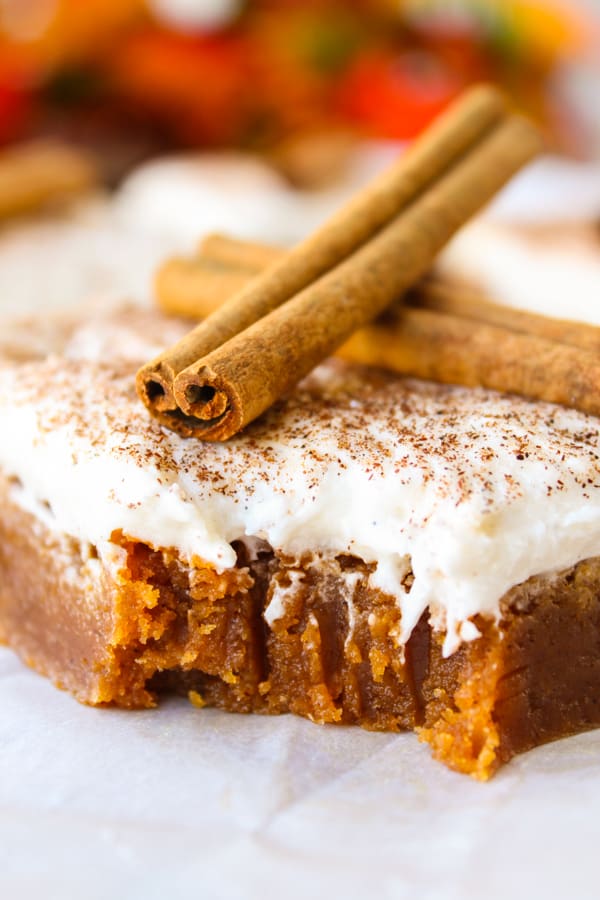 print
Did you make this recipe?
Leave a review »
Butterscotch Pumpkin Cake
9 servings
adjust servings
Ingredients
For the cake
3/4

cup butterscotch chips

1/2

cup (1 stick) salted butter

1

cup sugar

6

tablespoons plain pumpkin puree

1

and 3/4 cup flour, spooned and leveled

1

teaspoon cinnamon

1

and 1/2 teaspoons pumpkin pie spice

1/4

teaspoon salt
For the frosting
1/2

cup (1 stick) salted butter

1 3/4

cup powdered sugar

1

teaspoon vanilla bean paste (or regular vanilla)

about 5 teaspoons milk

dash salt, if you want
Instructions
Preheat your oven to 350 degrees F. Line an 8x8 inch square pan with parchment paper, or grease well. Set aside.
In a large microwaveable mixing bowl, add butterscotch chips and butter. Melt in the microwave in 30 second increments until the mixture is smooth. (It may take a bit of stirring; see photos below. I used a whisk toward the end.)
Use a wooden spoon to stir in the sugar and pumpkin puree.
Add the flour to the bowl, but don't mix it in yet. Add the cinnamon, pumpkin pie spice, and salt, and stir that into the flour with a dry spoon. Then stir the flour into the rest of the mixture. Don't overmix, just stir until it's combined.
Spread the batter into the prepared pan. Bake in the preheated oven for 27-29 minutes, or until a toothpick comes out clean. Let the cake cool completely.
Meanwhile, make the frosting. In a mixing bowl, beat the butter for about 1 minute until it is fluffy. (If you haven't softened it, make it 2-3 minutes.)
Add 1 cup of the powdered sugar and combine. Add the vanilla and 3 teaspoons of milk.
Beat in the remaining powdered sugar. Add a little more milk if it is stiff. Add a dash of salt if it is too sweet for you.
Beat well, scraping down the sides, before spreading it on the top of the cooled cake.
Sprinkle with additional pumpkin pie spice, if desired.
by The Food Charlatan

If you make this recipe,
share it on Instagram
 using the hashtag
#TheFoodCharlatan
so I can see it!
Source: The Food Charlatan. Melted chip idea from these Lemon Lemonies by Averie Cooks.
Other fall recipes…It's time, guys!
Maple Cheesecake with Roasted Pears: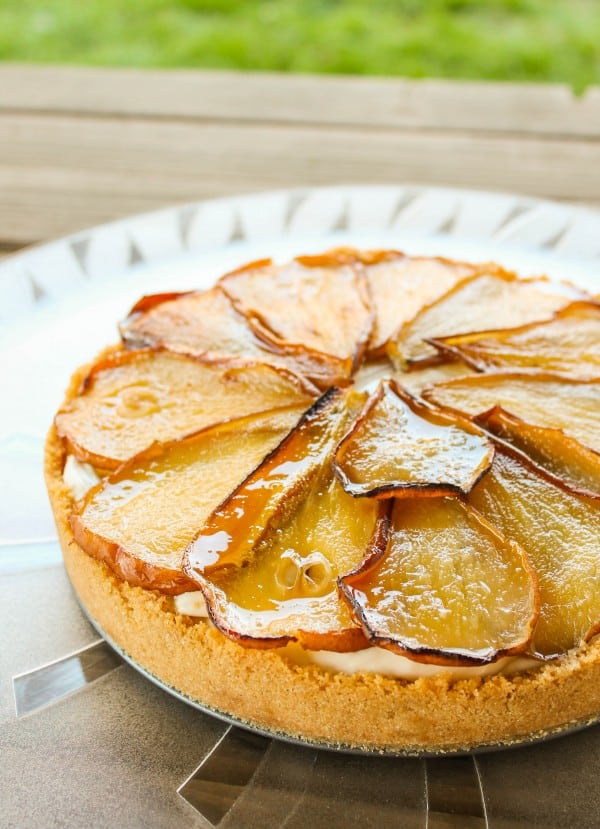 Pumpkin Oatmeal White Chocolate Chip Cookies: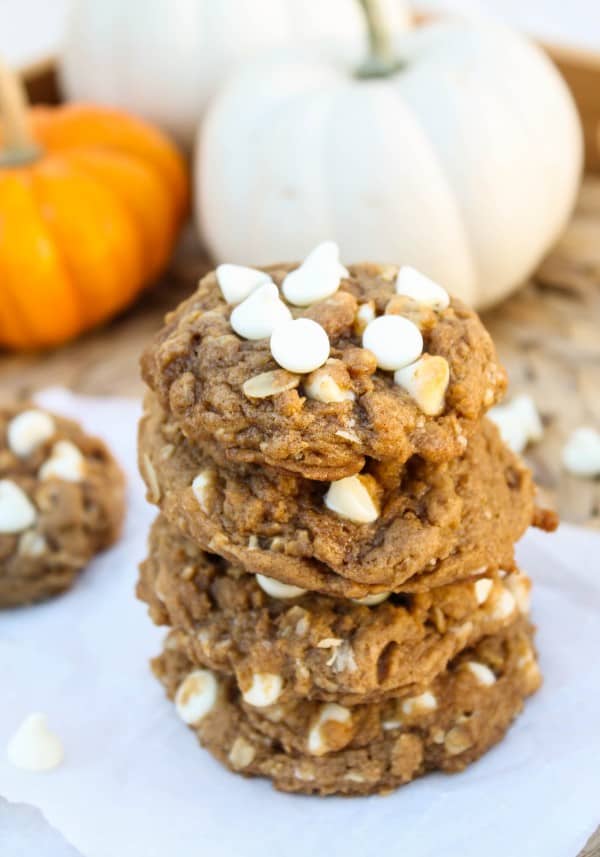 Pumpkin Cinnamon Rolls with Caramel Frosting: (from back in the day!)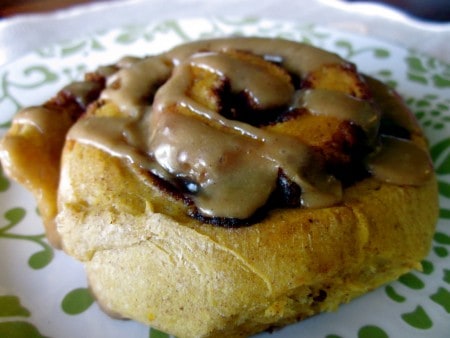 Other pumpkin recipes from around the blogosphere:
Pumpkin French Toast from Cooking Classy
Pumpkin Cupcakes with Caramel Cream Cheese Frosting from Love from the Oven
Starbucks Pumpkin Pound Cake from Something Swanky
Pumpkin Spice Cupcakes with Vanilla Frosting from The Salty Side
We are a participant in the Amazon Services LLC Associates Program, an affiliate advertising program designed to provide a means for us to earn fees by linking to Amazon.com and affiliated sites.