You thought ultra chewy, ultra peanut-buttery, ultra soft peanut butter cookies could not get any better, right? That was before you added MAPLE GLAZE. If you've ever topped your pancakes with peanut butter, then doused the whole stack with maple syrup, you'll know why I'm so excited about this flavor combo. It's. so. good.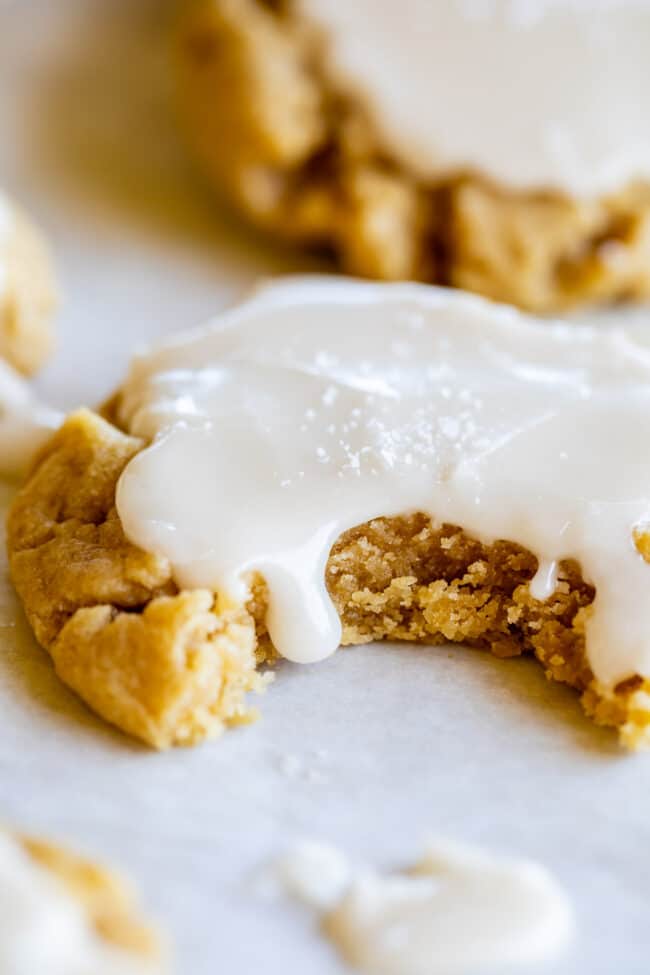 This post is sponsored by the National Peanut Board. I received compensation, but all opinions and content are my own of course!
So let me tell you about the day I went completely out of my mind insane over some maple extract.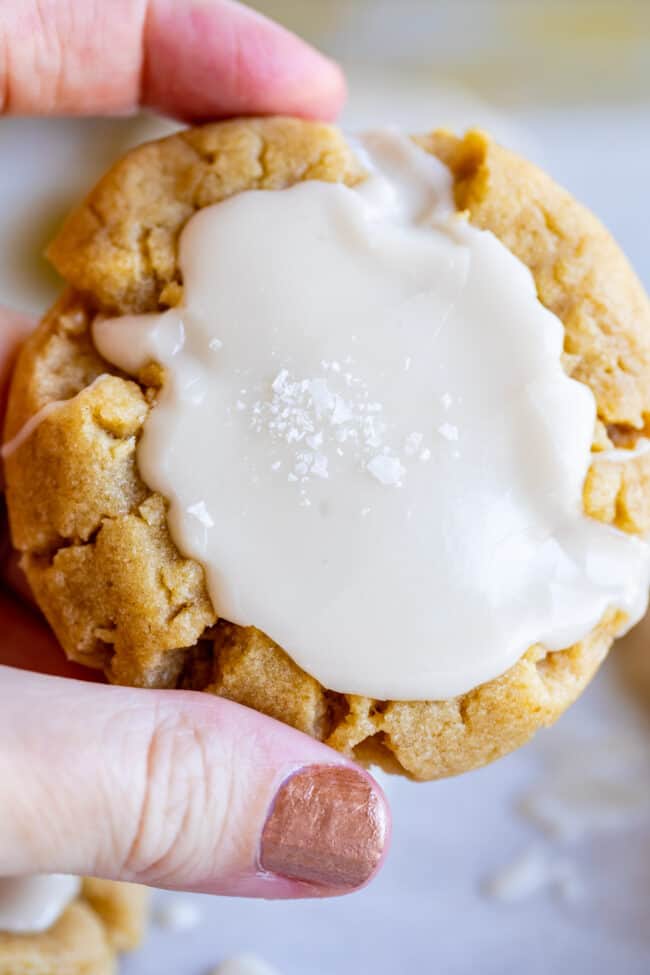 It was my first day back in the kitchen after the Big Sick. (Pregnancy morning sickness, that is.) I haven't stood up for an extended period of time in over 3 months and the fatigue is real. If you've been pregnant, you know what I mean. I've got to bake and shoot these cookies and also make sure my kids don't kill each other. (Summer has basically been survival-of-the-fittest over here.)
Halfway through, I put Valentine in her twelfth time out for the day, because apparently she hit the terrible two's this week. (Her crime of choice? Hair pulling. She's an animal.)
During her time out, Valentine somehow climbed up above the washing machine and found a bottle of stain remover. By the time I got there, she had unscrewed the top and dumped the whole thing into the dryer, on top of a load of clean towels that I had never taken out. Toddler: 1. Mother: 0.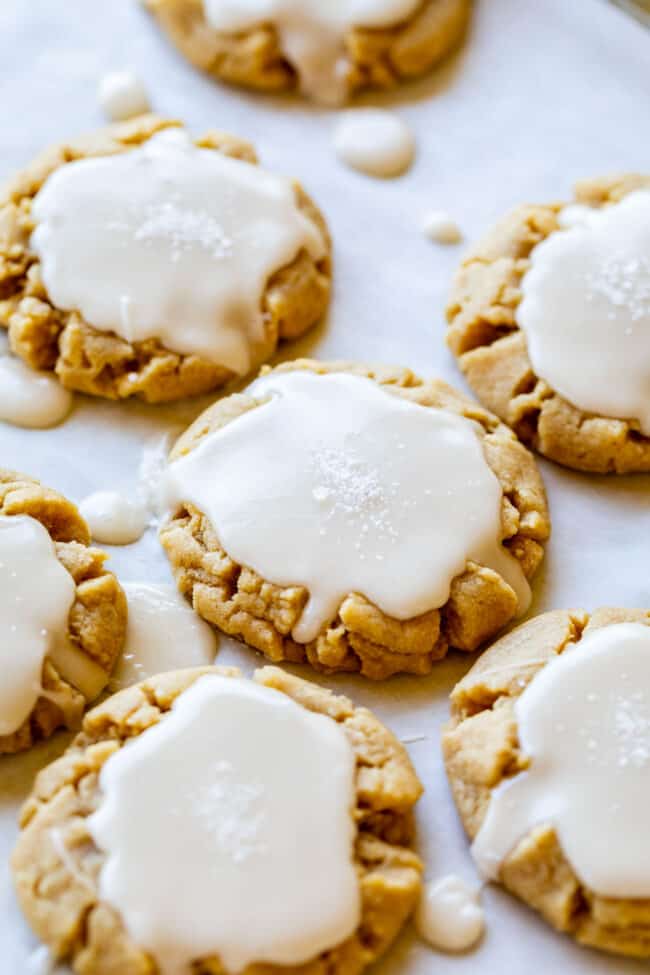 So I clean it up and get back to the kitchen. At this point I have about 2 hours left to get the photo shoot done. (I can only shoot at certain times depending on the sunlight.) I take the peanut butter cookies out of the oven, they're beautiful. Now it's time to make the glorious maple glaze. (Maple and peanut butter were MADE for each other, have you ever put peanut butter on your pancakes?)
I've got the glaze halfway mixed when I reach into my spice cabinet for the maple extract, the crowning ingredient needed to give it that true mapley umph. I know it's in there, because the last time I used it to make Easy Homemade Maple Syrup, there was a decent amount left.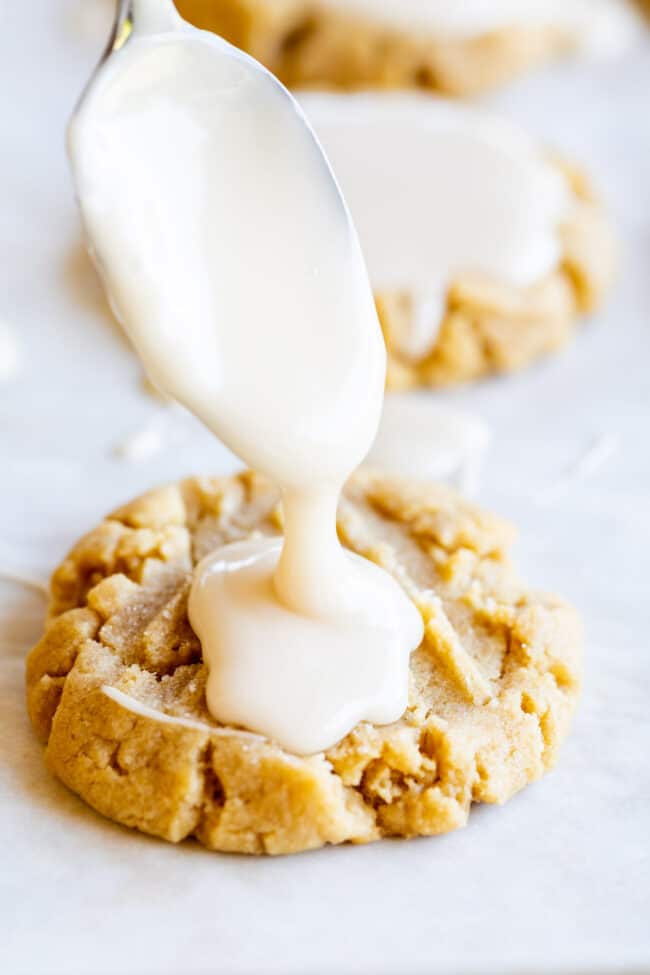 Except it's NOT there. I tear apart the entire cupboard. Nowhere in sight. The fatigue from working, the insane 2 year old, the time crunch. It all came at me.
And that's when I called my saintly, incredibly kind, patient husband, innocently working at his desk job 20 miles away.
"DID YOU MAKE SYRUP?? WHAT DID YOU DO WITH THE MAPLE EXTRACT? DID YOU USE IT ALL? I NEED IT FOR THESE PEANUT BUTTER MAPLE COOKIES, WHAT AM I GOING TO DO, I KNOW I HAD SOME LEFT WHAT DID YOU DO WITH IT AAAGHHHH!!!!"
The poor man is left trying to figure out what I'm even talking about, calm me down, solve my problem, and deal with completely unfair insults being hurled at him by his wife-turned-monster, all at the same time.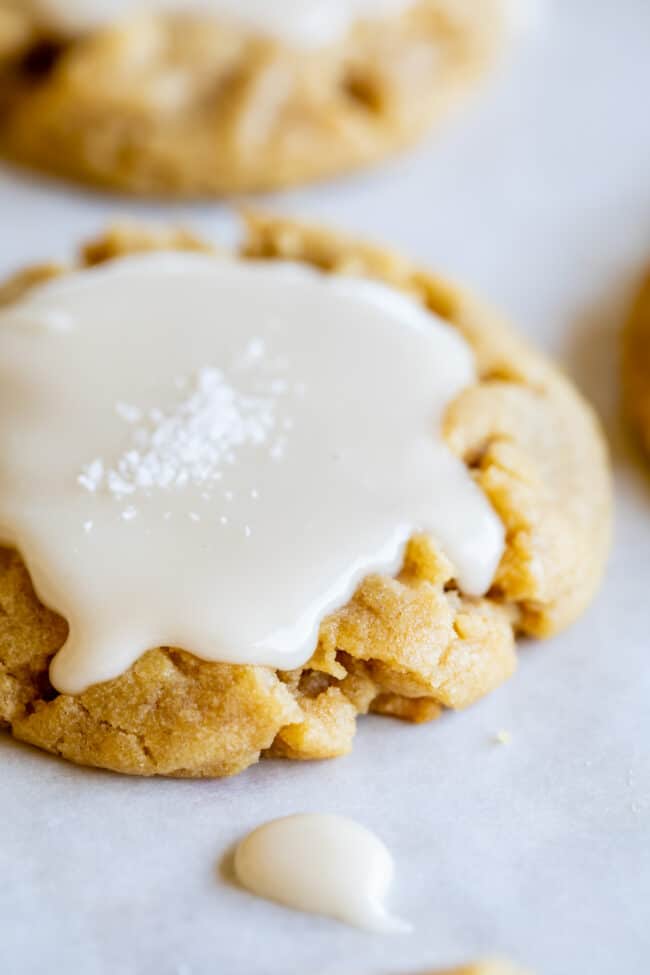 "Karen, it's going to be okay! I'm looking right now on Amazon, Prime Now can have it on the doorstep in 2 hours!"
"I DON'T HAVE 2 HOURS, AND I'M NOT SPENDING FORTY DOLLARS ON 3 OUNCES OF MAPLE EXTRACT, THIS IS THE STUPIDEST DAY OF MY LIFE, I'M GOING TO DIE."
And then I basically hung up on him.
Now, ladies, let me just say, if you've ever found yourself in a position where you have just screamed at your completely innocent husband over nothing, the best thing to do is shut yourself in the already-hot-oven and call it a day.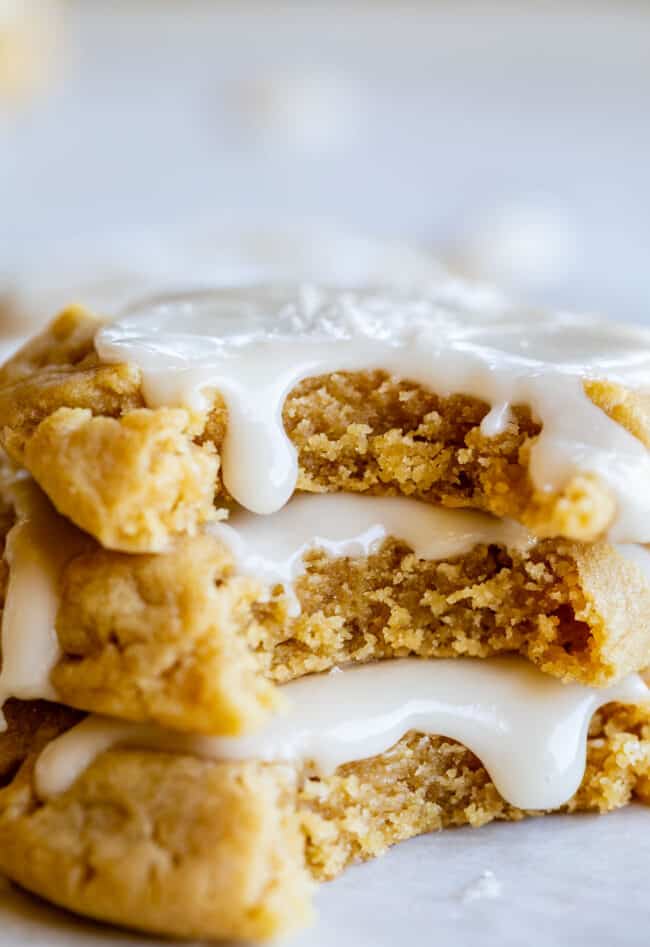 But, I didn't. I ate humble pie. I apologized. I texted my group of girlfriends to see if anyone had maple extract. My friend Tawna did, and even offered to drop it off at my house. She was there in 20 minutes and completely saved the day. Unsolicited acts of pure kindness to reward mean-spirited, unwarranted yelling fits? Somebody is watching out for me you guys.
I just realized something: maybe Valentine and I hit our terrible twos on the same day. I even used the same phrase when I apologized to Eric: "I'm sorry. I'm an animal. I don't know what's wrong with me." And then he sent me a GIF of a cute little bunny. NOT the animal I was picturing.
Well, the good news my friends, is that along with my marriage, the cookies turned out okay in the end.
How to make Soft Peanut Butter Cookies with Maple Glaze
More than okay, actually, they are freaking awesome. And they are easy to boot!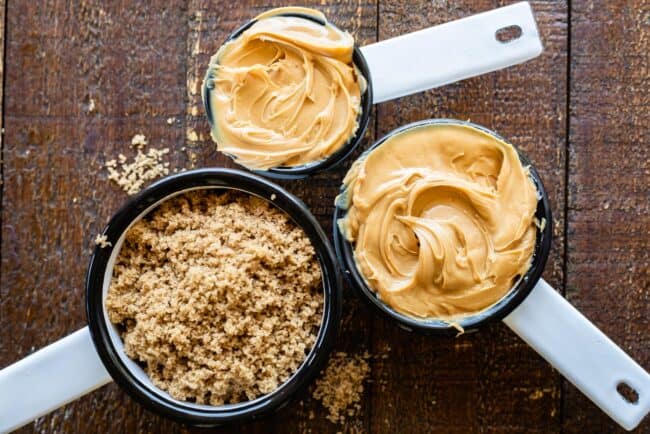 First we start off with sugar cookie dough. Wait, come back! I promise these really are peanut butter cookies, with tons of peanut butter flavor. But after researching a whole slew of pb cookies, I started to branch out to different types of sugar and shortbread cookies. I knew I wanted a pretty dry dough that would make crackly, thick-edged cookies, the better to hold up the maple glaze.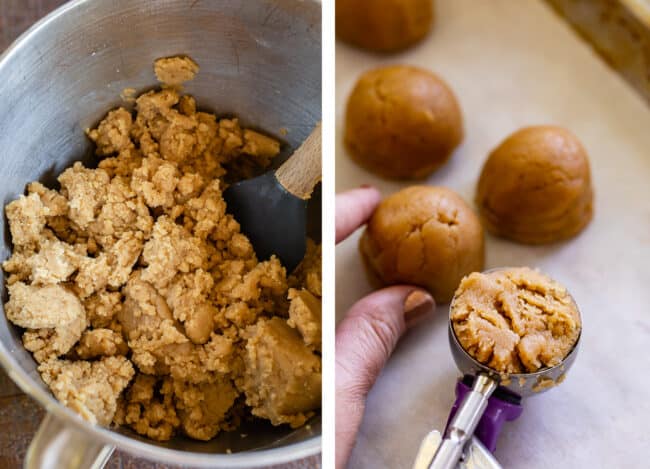 I wanted cookies that didn't spread hardly at all, the kind that you have to smash before putting in the oven. The kind that don't go flat on you.
How do you keep peanut butter cookies from going flat?
It all has to do with fat. Most peanut butter cookie recipes call for butter and/or shortening, and peanut butter, all of which are fats. And you can make a great cookie with just that. But the secret to many a great smash-and-bake sugar cookies (that you DON'T have to chill) is oil. Oil is liquid at room temperature, so cookies made with oil do not lose their shape in the oven.

So I decided to try a combination of butter, peanut butter, and oil. After a few tries, the results were exactly what I wanted: an ultra-moist, ultra-peanut buttery cookie, sturdy enough to hold up to a glaze, with delicate, slightly crumbly edges that completely melt in your mouth. Absolute heaven, my friends. You need the proper amount of fat in your cookie to ensure that your cookies don't go flat, and this combo of butter, peanut butter, and oil is perfect.
Peanut butter forever
Peanut butter is a staple in our house, especially this summer when I was sick so much. Charlotte is 8 and has become a masterful PB&J maker. Sometimes I will just give the kids a spoonful of peanut butter for a snack, because there is zero effort involved, and hey, it has protein and good fats and the kids love it. Win-win.
These are pretty fabulous stand-alone soft peanut butter cookies, but I'm telling you, you will be a convert the first time you try them with this killer maple glaze. Summer is almost over, the kids are going to be back in school before you know it, and then you will be craving all-things-fall. This soft peanut butter cookie recipe is a perfect transition. It's not slapping you in the face with pumpkin, but the maple gives it a bit of that fall charm that gets us all so excited for cooler weather and changing leaves!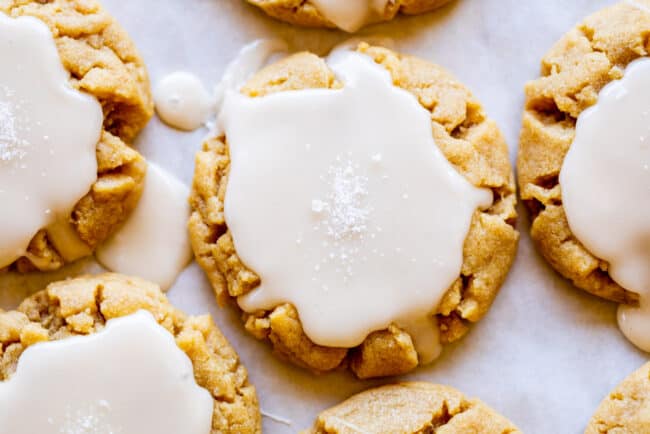 Besides, peanut butter and maple are a match made in heaven. My absolute favorite pancake topping is peanut butter and maple syrup. Have you tried that? HEAVEN.
You can do basically ten thousand things with peanut butter, from sweet to savory to in between. I've included some recipes below using peanut butter that you won't want to miss! You can also head here for even more peanut butter recipe ideas.
More peanut butter recipes you won't want to miss!
Peanut Butter Oatmeal Cookie Sandwiches
Soft Chocolate Cookies with Peanut Butter Frosting
No Bake Frozen Peanut Butter Pie with Hot Fudge
No Bake Peanut Butter Oatmeal Energy Bites
Chewy Peanut Butter Oatmeal Cookies
More soft peanut butter cookies from friends you will love!
Peanut Butter Sandwich Cookies with Maple Buttercream from A Bajillian Recipes
Apple Peanut Butter Cookies from A Farmgirl's Dabbles
Peanut Butter Maple Cream Sandwich Cookies from Crazy for Crust
Facebook | Pinterest | Instagram

Soft Peanut Butter Cookies with Maple Glaze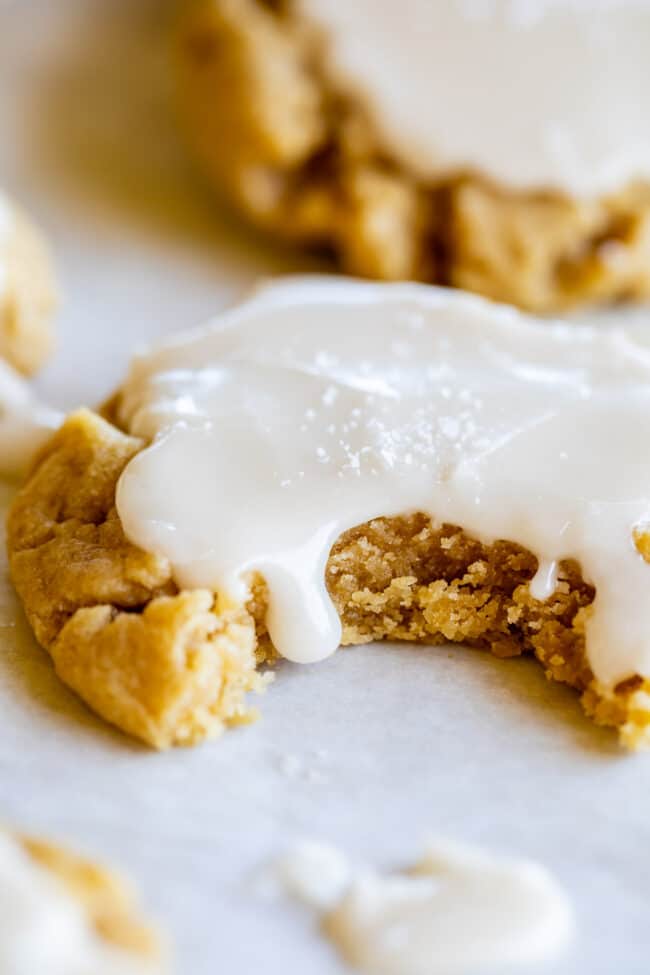 You thought ultra chewy, ultra peanut-buttery, ultra soft peanut butter cookies could not get any better, right? That was before you added MAPLE GLAZE. If you've ever topped your pancakes with peanut butter, then doused the whole stack with maple syrup, you'll know why I'm so excited about this flavor combo. It's. so. good.
Ingredients
For the cookies
1/4

cup

salted butter

,

softened (half stick)

3/4

cup

creamy peanut butter

1/2

cup

oil

,

I like to use light-flavored olive oil

3/4

cup

brown sugar

,

packed

1 & 1/2

cups

granulated sugar

1

tablespoon

vanilla extract

2

large

eggs

3 & 1/4

cups

flour

,

*spooned and leveled*

1/2

teaspoon

baking soda

1/2

teaspoon

baking powder

3/4

teaspoon

kosher salt
For the maple glaze
2

cups

powdered sugar

3

tablespoons

maple syrup**

2

tablespoons

hot water

1/2 to 3/4

teaspoon

maple extract

,

taste it!
Instructions
Preheat your oven to 350 degrees F. Line 2 or more large baking sheets with silicone baking mats or parchment paper.

In a large bowl or stand mixer, beat 1/4 cup butter until it is creamy and light with no lumps, at least 1-2 minutes.

Add 3/4 cup peanut butter and beat well until there are no lumps.

Add 1/2 cup oil and mix well, scraping the sides and bottom of the bowl with a spatula.

Add 3/4 cup packed brown sugar. Add 1 and 1/2 cups granulated sugar. Beat well for about 1 minute, scraping the bottom of the bowl once.

Add 1 tablespoon vanilla extract and 2 eggs. Beat well, scraping the sides.

*Add in 3 and 1/4 cups flour, but do not mix it in yet. I cannot stress enough how important it is in this recipe to measure your flour correctly. Too much flour and the dough won't even come together. Do NOT reach your measuring cup into your flour bin and scoop out the flour. You must use a spoon (or another measuring cup) to scoop up the flour and pour it into the 1 cup measuring cup. Then level off the top without packing it down. Do not mix in the flour yet.

Use a 1/2 teaspoon to stir 1/2 teaspoon of baking soda and 1/2 teaspoon of baking powder into the flour. Add 3/4 teaspoon kosher salt to the flour and gently stir it into the flour. Then use the beaters or a spoon to mix the dry ingredients into the wet.

The dough is VERY dry. You may need to mix it with a wooden spoon toward the end if your electric mixer can't handle it. (A stand mixer will do fine.) Make sure to scrape the bottom of the bowl and make sure all the flour is incorporated, but once all the white streaks are gone, stop mixing. Over beating cookie makes for tough cookies; no thanks. We want tender cookies!

Use a 1 and 1/2 inch cookie scoop to shape the dough. Use your hands to press the cookie dough into the scoop, then release and reshape into a ball with your hands if necessary. If you don't have a cookie scoop, just use your hands to shape into a 1 and 1/2 inch ball.

Place on the prepared baking sheet with about 2 inches of space in between.

Use a fork to smash each cookie to about 1/2 inch thickness. Pick up the fork, turn it perpendicular, and smash the other way to even it out. Dip the fork in sugar in between smashes, if the fork starts sticking to the dough.

Bake the cookies at 350 for 8-9 minutes. You want the cookies to be set on the edges and not be shiny on top. (A litle bit of shine on top (size of a quarter or less) is okay if you prefer slightly under baked cookies. 

Take the cookies out of the oven and let set on the pan for 5-10 minutes. Use a spatula to remove to a cooling rack. Let the cookies cool completely.

Continue baking the rest of the cookies, and let them all cool.

When the cookies are cool, make the glaze. In a medium bowl add 2 cups powdered sugar, 3 tablespoons maple syrup, 2 tablespoons hot water, and 1/2 teaspoon maple extract. Whisk it all together. Taste it and add another 1/4 teaspoon maple extract if you want.

Use a spoon to add about a teaspoon of glaze to the top of each cookie.

Let the cookies set for 30-60 minutes, so the glaze has time to harden a bit.

Before serving, top each cookie with flaked sea salt or kosher salt, if that's your thing. Totally optional!

Store the cookies covered on the countertop for 2-3 days.
Notes
**I used fake maple syrup (made with corn syrup) but real from-a-tree maple syrup will work great too.
Nutrition
Serving:
1
cookie
|
Calories:
186
kcal
|
Carbohydrates:
29
g
|
Protein:
3
g
|
Fat:
7
g
|
Saturated Fat:
2
g
|
Polyunsaturated Fat:
2
g
|
Monounsaturated Fat:
4
g
|
Trans Fat:
1
g
|
Cholesterol:
13
mg
|
Sodium:
105
mg
|
Potassium:
59
mg
|
Fiber:
1
g
|
Sugar:
20
g
|
Vitamin A:
52
IU
|
Calcium:
14
mg
|
Iron:
1
mg