Ultra-soft and chewy cookies with browned butter and lots of cinnamon. And because I love you, Maple Pecan Buttercream Frosting to top them off. Because everything is better with frosting.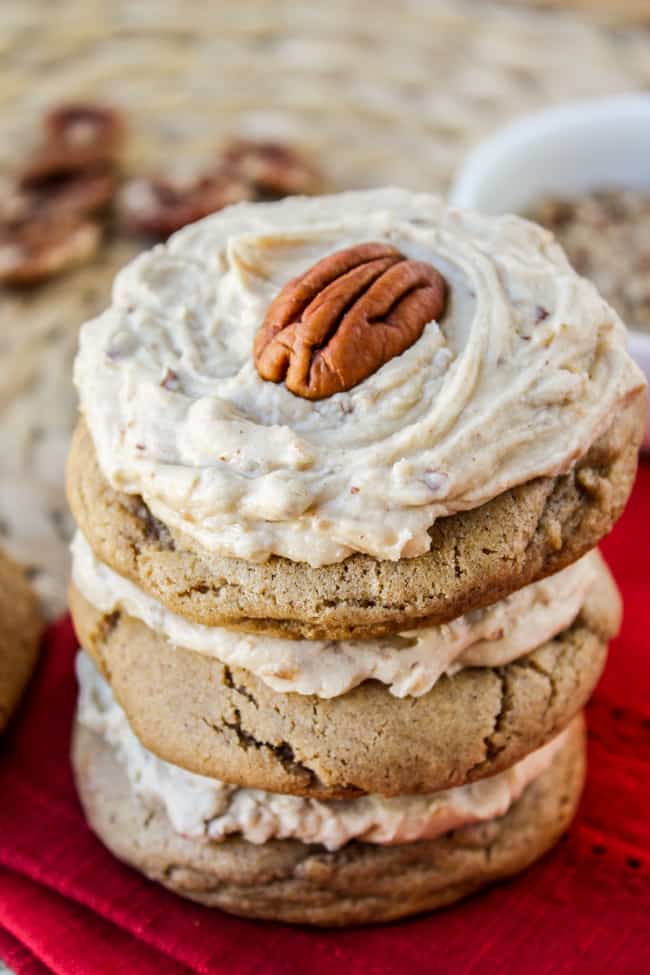 So what are you guys getting the men in your life for Christmas this year? I'm hounding everyone I know. Why are man-gifts so hard? When Eric's mom asked him for a wish list he gave her this:
1. Dad's old baseball mitt
2. Electronics
Like, seriously? I'm supposed to walk into Best Buy and be like, "The Electronics. Yeah, I want all of them."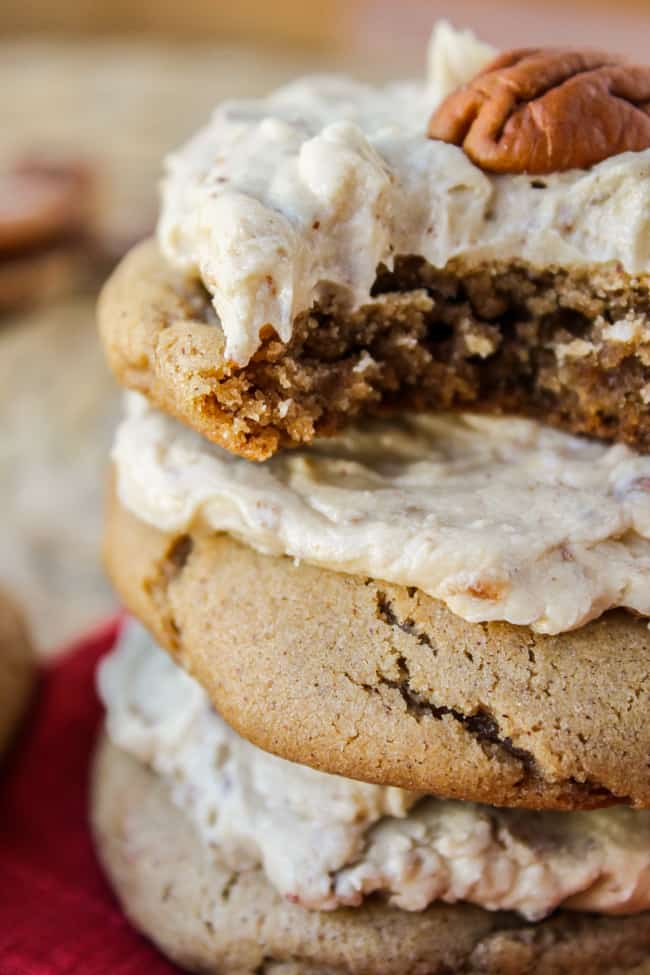 I need help guys. Although I suppose advice would be pointless because Eric reads every word of my blog. Any suggestions you make are going to be read. You're going to have to speak in code. Can you PLEASE stop being so supportive Eric? I'm trying to con people into being thoughtful for me.
He also told me that he was thinking of asking for a Nintendo, and I said sure as long as you buy your own vampire coffin to go with it.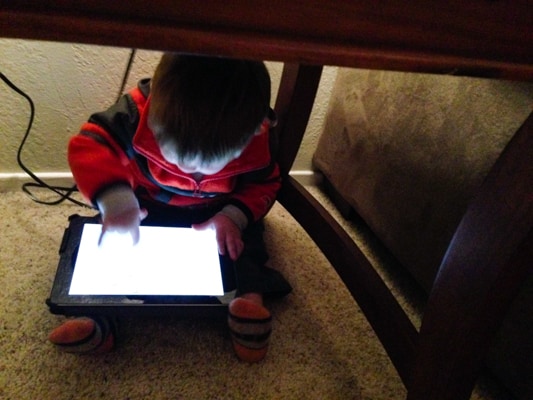 Here's Truman trying to hide his gaming addiction. Do they make child-size vampire coffins?
Well even if I don't buy any presents for my husband at least I've got cookie plates for the neighbors COVERED this year. Buried Reese's Cookies, Nutella-Stuffed Gingerbread Cookies, Candy Lasses, Buried Cherry Cookies, Butter Pecans, to name a few.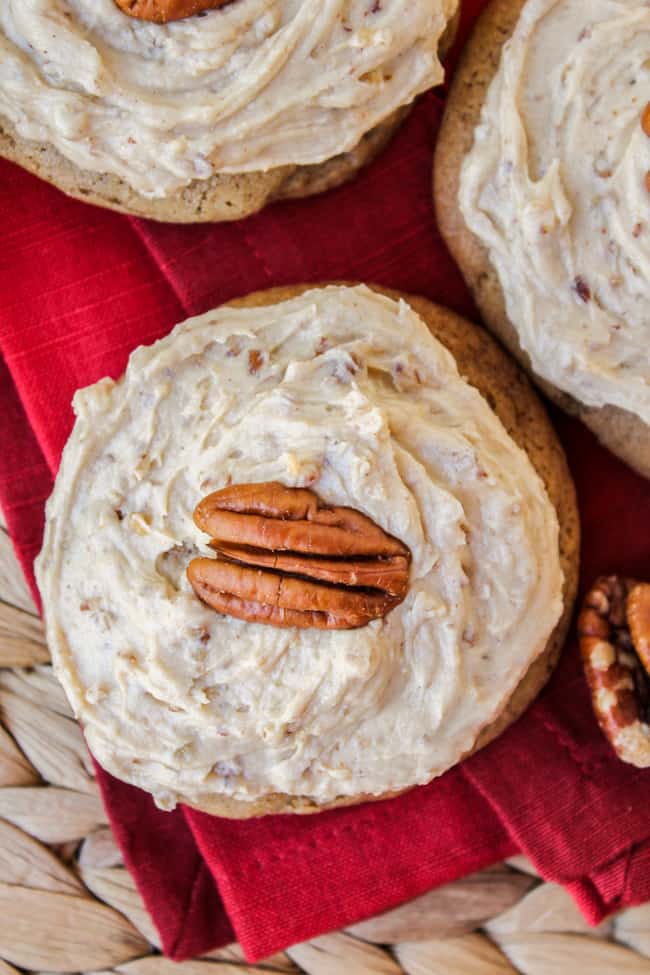 I've got one more for you today and it's a DOOZIE guys. In a good way. Super soft, browned butter cookies full of cinnamon, topped with this Maple Pecan Frosting I posted a while back. It's a match made in heaven my friends.
The cookies are adapted from my favorite Chocolate Chip Cookies, which are actually not my favorite anymore. Man talk about false advertising. They were my favorite back before I knew about browned butter. Can you blame me? Here's the new fav: Brown Butter Chocolate Chip Cookies. (By the way, that original recipe is still killer.)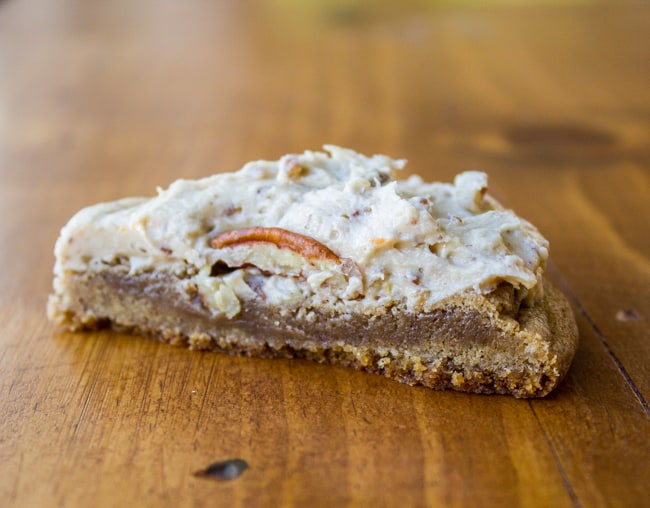 The other thing that makes these cinnamon cookies super flavorful is the two full tablespoons of Rodelle Pure Vanilla Extract I put in them. Vanilla is just the best thing ever right? These cookies are Day 3 for Rodelle's 10 Days of Cookies. Click the image below to get the recipes from fellow bloggers as they are published this week! So fun.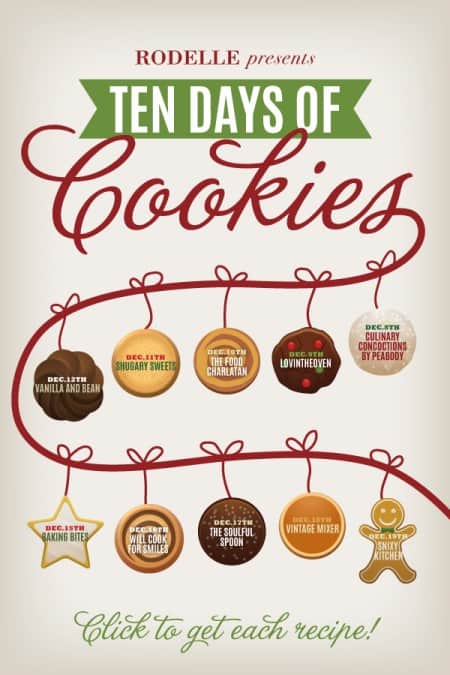 And lucky you, Rodelle and I are hosting a giveaway for all of you awesome people. Wanna see the prize?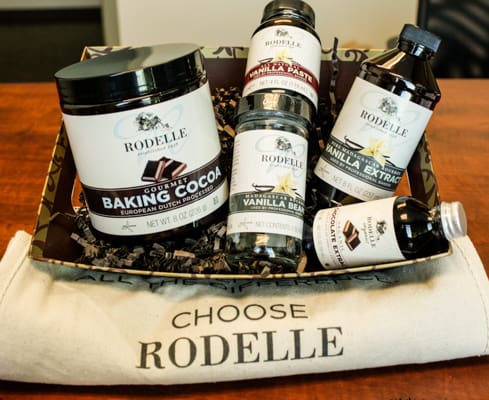 Baking Cocoa, Vanilla Bean Paste, Vanilla Beans,Vanilla Extract, Chocolate Extract (!!), and a Rodelle tote bag. All for you! Entry and giveaway details are below. Good luck!
Do you guys give up? Or are you thirsty for more?
Facebook | Pinterest | Instagram | Twitter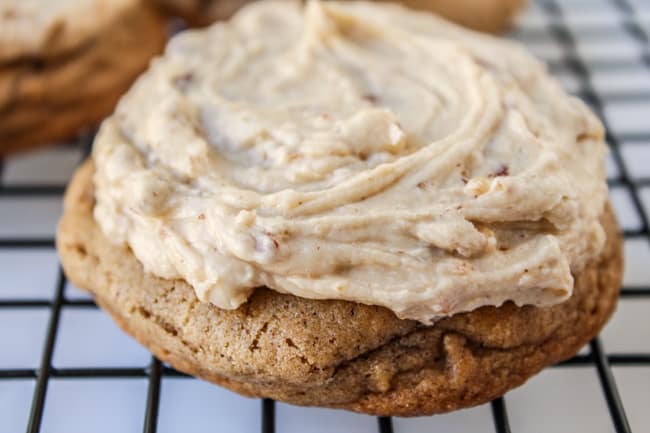 Giveaway rules: US entries only. (Sorry!) You can enter anytime between now and December 17th at midnight PST. Winner will be randomly selected.
I am a brand ambassador for Rodelle, and they sent me the vanilla that I used for these cookies, as well as some other baking supplies. I was not compensated to write this post, and all opinions are my own. Duh!

Soft Cinnamon Cookies with Maple Pecan Frosting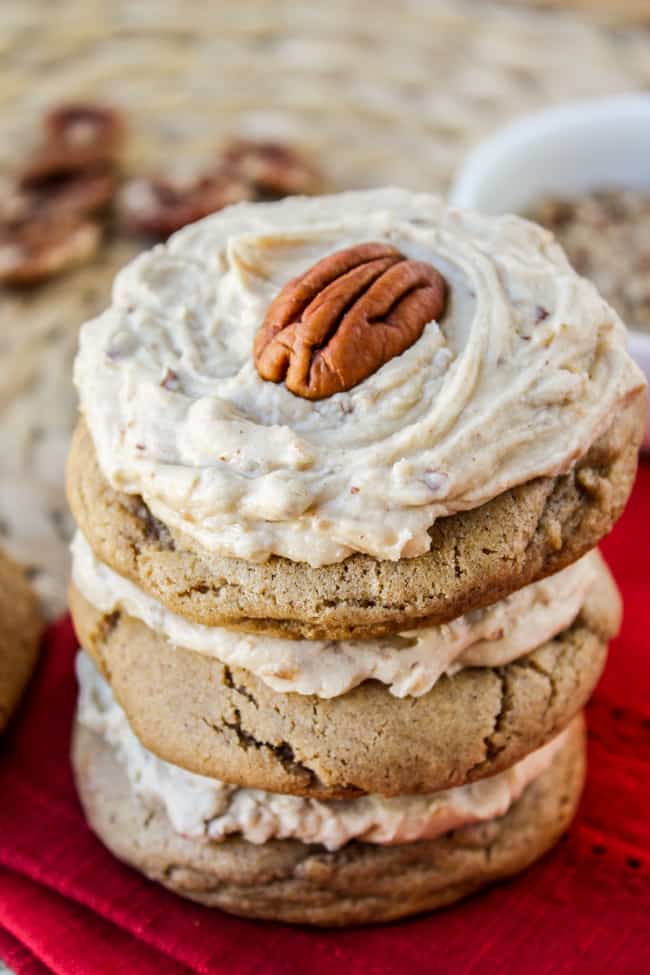 Ultra-soft and chewy cookies with browned butter and lots of cinnamon. And because I love you, Maple Pecan Buttercream Frosting to top them off. Because everything is better with frosting. 
Ingredients
1 & 1/2

cups

salted butter

,

3 sticks

1

cup

white sugar

1 & 1/2

cups

dark brown sugar

3

eggs

2

tablespoons

Rodelle Pure Vanilla Extract

4 & 3/4

cups

all purpose flour

,

spooned and leveled

2

teaspoons

baking soda

1

teaspoon

salt

4

teaspoons

cinnamon

1

batch Maple Pecan Frosting,

click here for recipe
Instructions
Start by browning the butter. Melt 3 sticks of butter over medium heat in a saucepan. The wider the bottom of the pot, the faster your butter will brown.

Meanwhile, add sugar and brown sugar to a large mixing bowl or stand mixer.

Back to the butter. Keep the heat on medium and stir occasionally once the butter has melted. Continue to cook until a foam has formed on top. Keep stirring every now and then so that you can see the color of the liquid. Pretty soon the butter will turn from amber to brown. Not just kind of dark yellow, BROWN, with little browned "bits" or "flecks of holy goodness," as I like to call them.

Once your butter is brown and smells nutty, remove from heat and immediately add to the bowl with the sugar. Your butter might burn if you don't do it right away.

Beat the butter and sugar together. Let cool for a few minutes before you add the eggs. Or, live on the edge like me, and add the eggs while your mixer is on so that they are beat in right away and don't have time to curdle.

Add 2 tablespoons Rodelle Pure Vanilla Extract and mix it in.

Add 2 cups of flour to the top of the mixture, but don't stir. Add the baking soda, salt, and cinnamon to the top of the flour and gently stir it into the flour using a teaspoon. Then turn the beaters on low and start to mix in the flour. Add the remaining 2 and 3/4 cup flour and gently stir it in until just combined. Scrape the bottom and sides and make sure all the flour is incorporated.

Chill the dough for at least an hour, or up to 4 days.*

Preheat oven to 350 degrees F. Use a large cookie scoop to shape the dough into large balls, about the size of a golf ball. Place on cookie sheets lined with a silpat or parchment paper.

Bake at 350 for about 12-15 minutes, or until lightly brown on the outside, and still barely shiny in the center.

Let cool on the pan for 2 minutes, then transfer to a cooling rack. Let cool completely.
Notes
If you are in a hurry (I'm always in a hurry when cookies are concerned) shape the dough balls onto a baking sheet or ziplock and freeze them for 30 minutes, then bake as directed.
Nutrition
Serving:
1
cookie
|
Calories:
247
kcal
|
Carbohydrates:
35
g
|
Protein:
3
g
|
Fat:
11
g
|
Saturated Fat:
6
g
|
Polyunsaturated Fat:
1
g
|
Monounsaturated Fat:
3
g
|
Trans Fat:
1
g
|
Cholesterol:
44
mg
|
Sodium:
259
mg
|
Potassium:
51
mg
|
Fiber:
1
g
|
Sugar:
19
g
|
Vitamin A:
330
IU
|
Vitamin C:
1
mg
|
Calcium:
22
mg
|
Iron:
1
mg
Here's the Cinnamon Cardamom Cake with Maple-Pecan Frosting that I originally made this frosting for: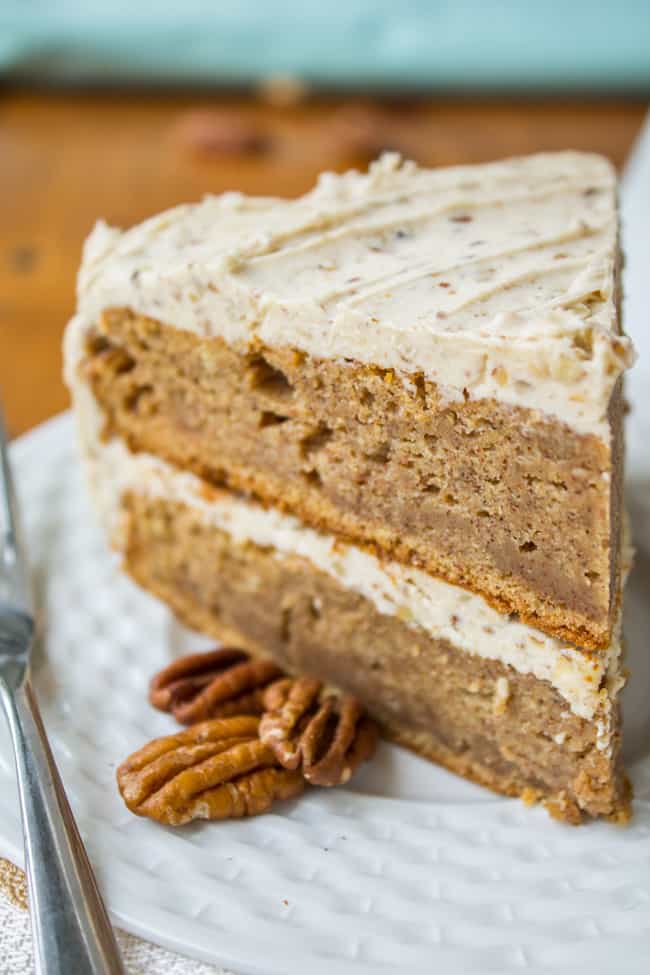 More Christmas Cookies!
Brown Butter Sea Salt Butterscotch Cookies: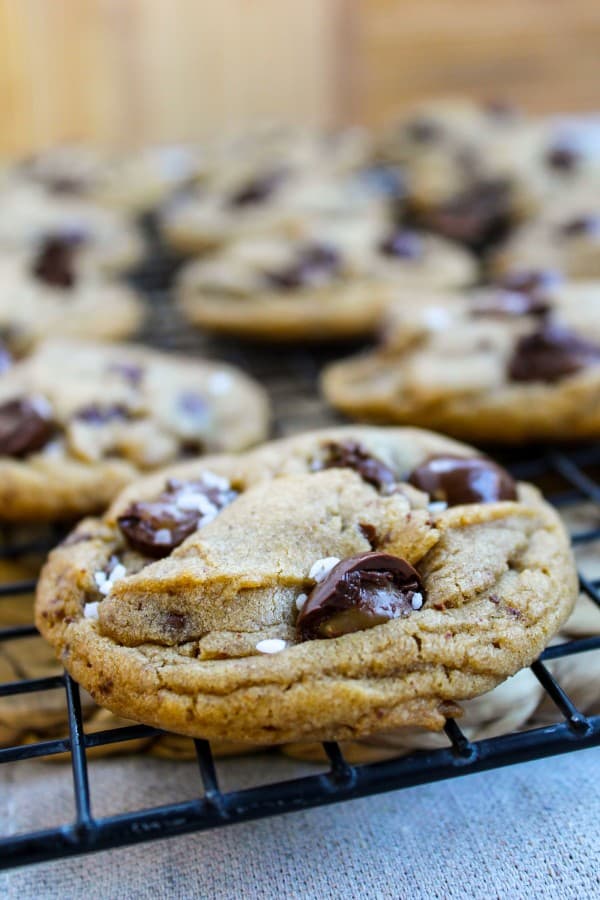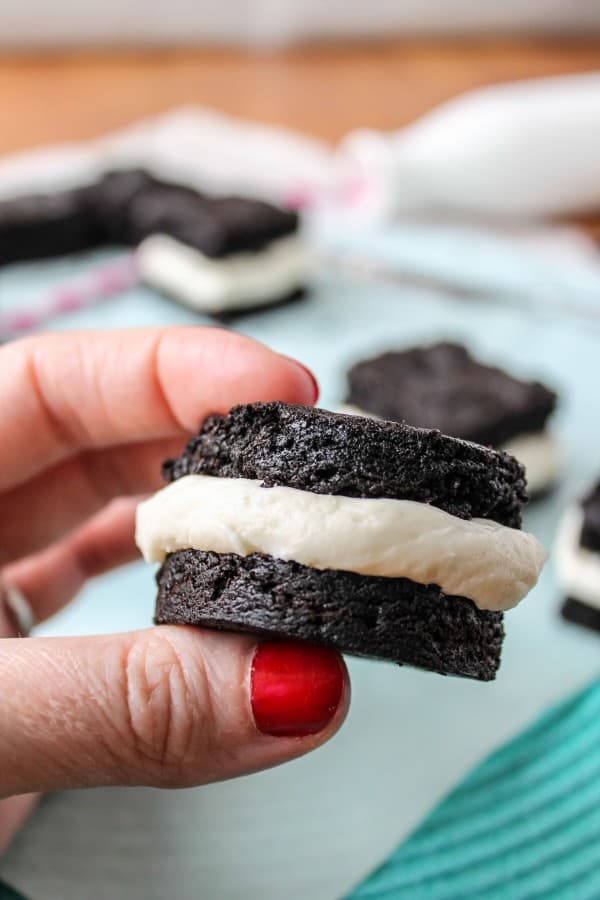 Buried Cherry Cookies << a classic!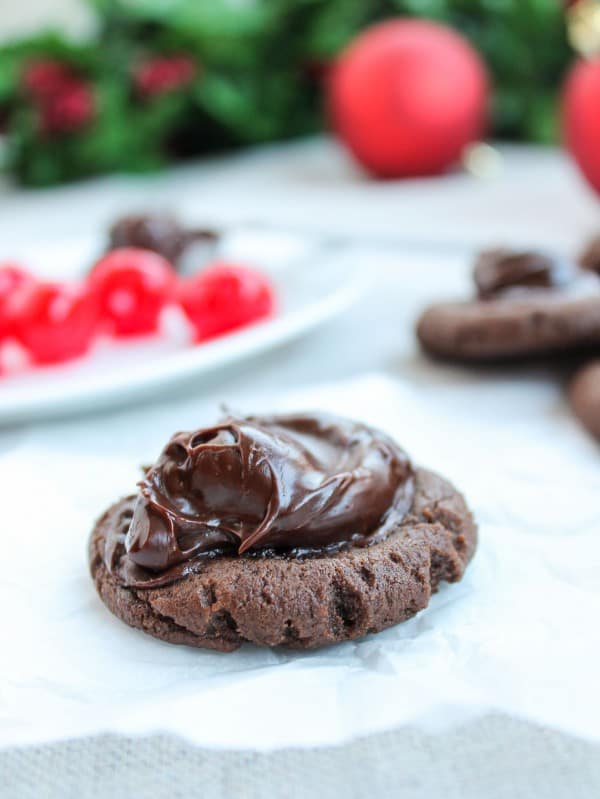 Here is the whole lineup of Rodelle's 10 Days of Christmas Cookies!
Dec 8: Peppermint Bark Snowball Cookie – Peabody @ Culinary Concoctions by Peabody
Dec 9: Chocolate Peppermint Crunch Cookies – Kim @ LovintheOven
Dec 10: Soft Cinnamon Cookies with Maple Pecan Frosting – Karen @ The Food Charlatan
Dec 11: Vanilla Bean Shortbread – Aimee @ Shugary Sweets
Dec 12: Dark Chocolate Cocoa Nib Shortbread Cookies – Traci @ Vanilla and Bean
Dec 15: Cranberry-Orange Blondies – Nicole @ Baking Bites
Dec 16: Vanilla Bean Marble Skillet Cookie – Lyuba @ Will Cook for Smiles
Dec 17:  Triple Cocoa Coconut Chocolate Cookies – Heather @ The Soulful Spoon
Dec 18: Maple Peanut Butter Cookies – Becky @ Vintage Mixer
Dec 19: Iced Gingerbread Men and Ginger Cats (Gluten Free) – Sarah @ Snixy Kitchen