Seriously guys. You will never need another double chocolate chip cookies recipe! This one is SO thick and fudgy, and basically what chocolate lover dreams are made of. It's beyond soft, and so moist it puts some bakery cookies I've had to shame.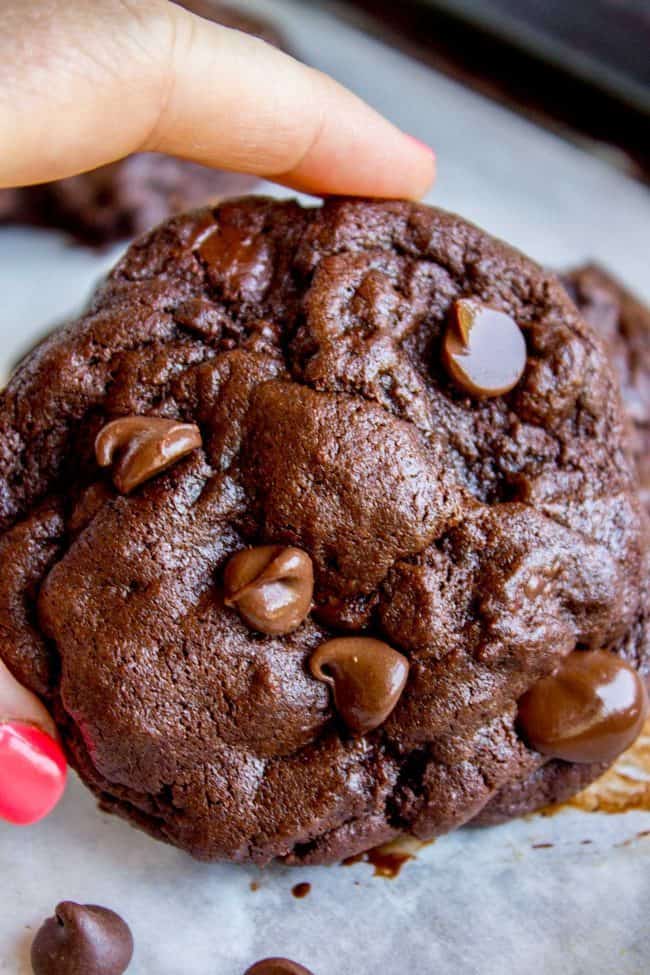 So who else is up way past their bedtime watching the lamest possible movies on Netflix? That's me right now. They have entire categories tailored just for me: "Movies from the 90s" and "Because you watched Mean Girls" and "Made for TV Movies." << I SWEAR I've never watched any in that last category, but somehow Netflix just knows that I am a sucker for poorly acted, completely predictable movies. Extra points if it takes place at Christmas.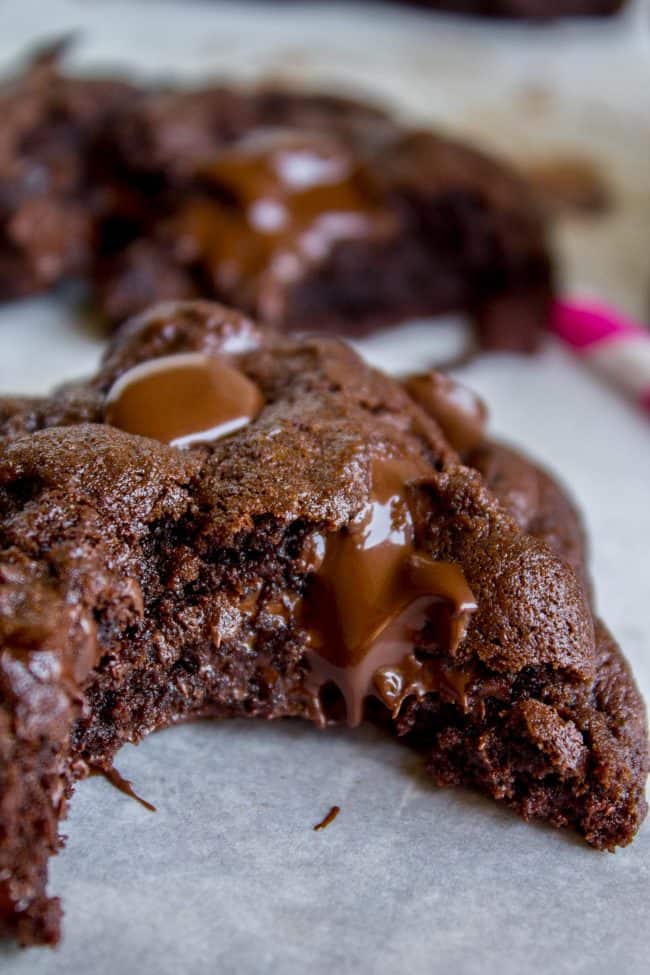 I really do feel bad that Eric has to put up with me movie-wise. He is legit obsessed with movies, and I don't just mean blockbusters. He likes the classic, the obscure, and the critically acclaimed. He even has a blog where he reviews movies he's watched. He just reviewed "The Umbrellas of Cherbourg," a French movie from the 60s that is 100% sung. (I know, what?)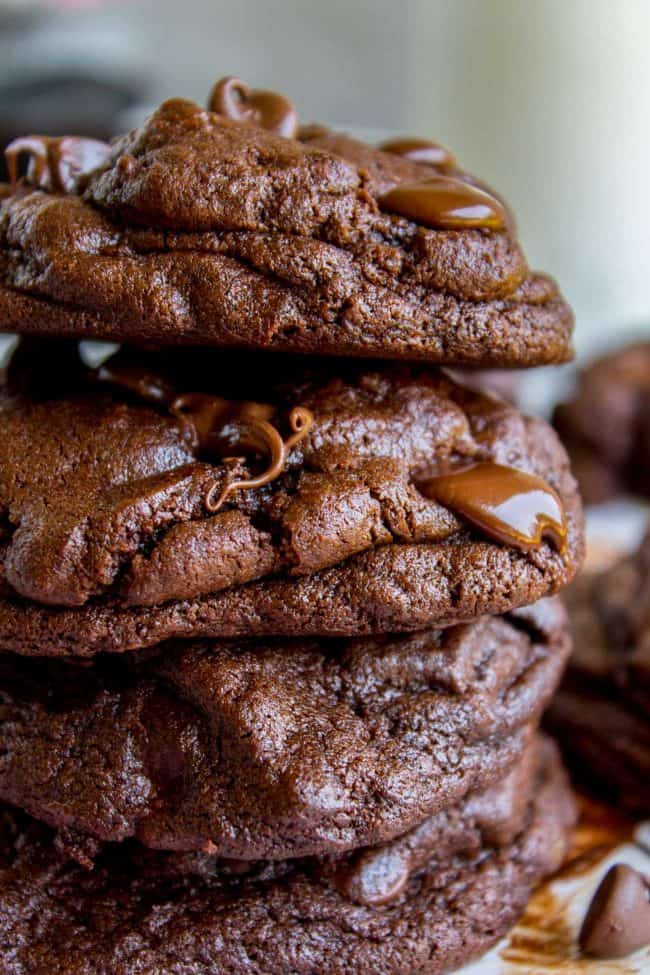 (Side note: I have over 600 posts on the blog. Sometimes I can remember that I told a story and want to find it, but can't remember what recipe post it's on. Luckily "charlatan" isn't a very common search term, so if I can remember a few key phrases from the story and add "charlatan" at the end it usually comes up.
But for some reason when I typed in "charlatan eric movies japanese dead people" just now, Google failed me. What gives, Google? Why can't you remember my story from 4 years ago about my husband watching weird independent foreign films? (I did end up finding it. Quote: "Do any of your husbands constantly watch really boring Japanese movies from the 60s? Well. Count your blessings." In 10 years I will be writing about this topic again no doubt, and will search for "charlatan umbrellas Eric Netflix boring.")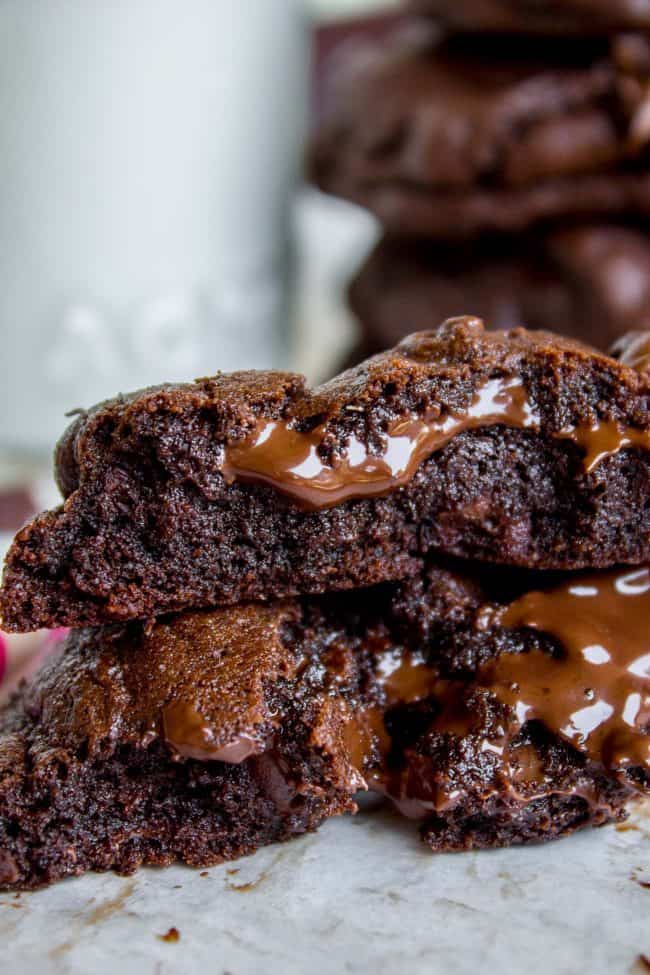 How to make Double Chocolate Chip Cookies
I'm not gonna lie, it takes some real commitment to get through one of these cookies in one sitting. Not only is there 1/4 cup of dough in each cookie, but they are just so RICH. The level of chocolate in these cookies is insane. There is melted dark chocolate in the dough. There is 1 CUP of cocoa powder. And there are chocolate chips: semi-sweet, dark, or a mixture of both (I chose that last one). This choice depends on how sweet you like your cookies.
I offered some to the guys working in my kitchen today (remodel is mostly done!) and within two bites they were both like, "um, can I have some water? These are really chocolatey."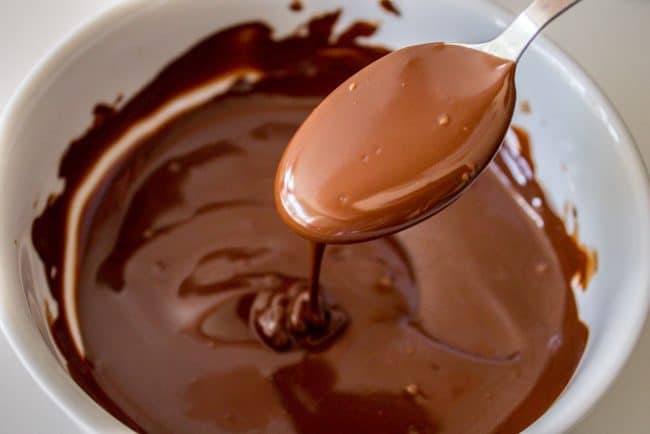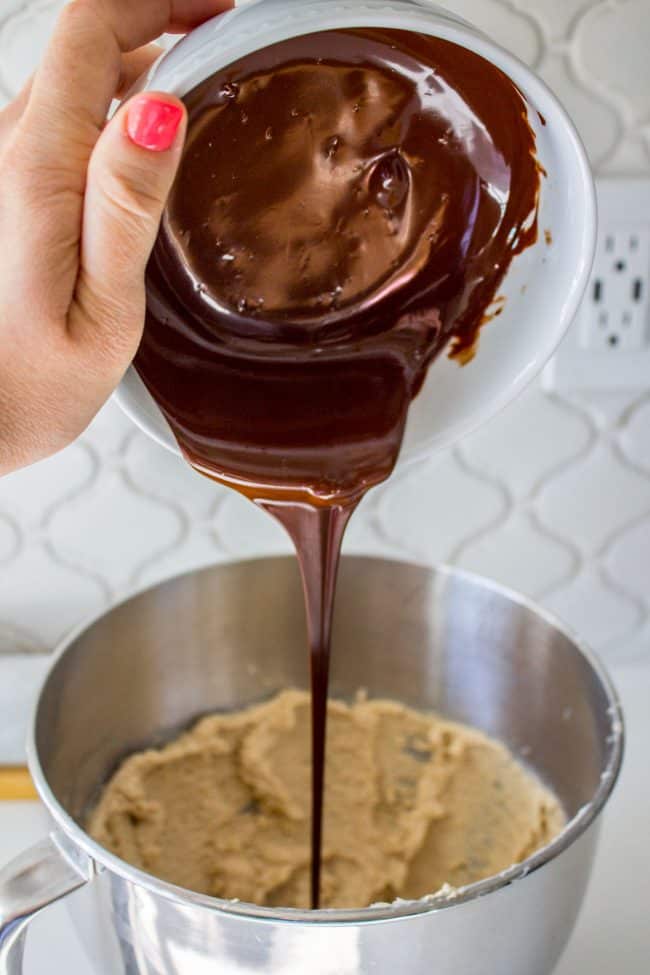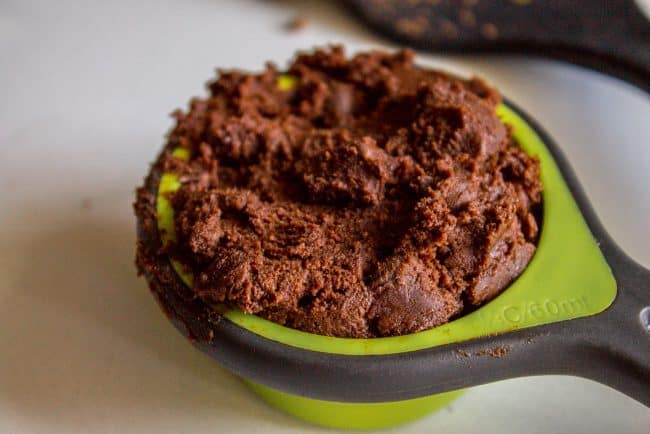 Now, OF COURSE the recipe is going to be a little fussy. I didn't call these "Quick and Easy Double Chocolate Cookies." They are BAKERY style, and the fuss is what takes them from (shoulder shrug) good to (emoji eyebrows) NEXT LEVEL. This means that we're going to use real melted dark chocolate in the dough, we're going to freeze/refrigerate them so they are completely chilled, and we are going to make them so huge that you won't even be able to finish one without breathing deeply or chugging milk. You may as well pay yourself $4 for every one of these cookies you eat, because that's what you would pay in a bakery.
That being said, they're really easy to make. There are no hard to find ingredients, and it's not like there are any special techniques. Unless you consider patience a special technique. Which, I might actually agree with.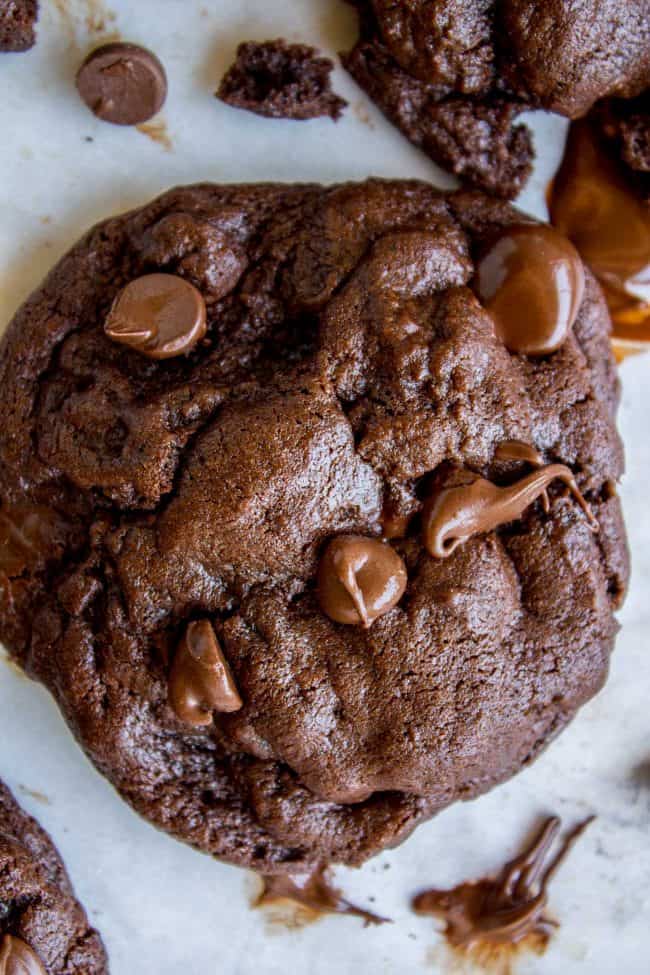 Enjoy! I'm going to go finish watching Cinderella Story. Because Hillary Duff is classic. (Eric, will you write a review for it on your blog??)
Other great cookie recipes to try!
Double Chocolate Cookies with Caramel Bits
Texas Cowboy Cookies << one of the most popular recipes on The Food Charlatan!
Brown Butter Chocolate Chip Cookies << this is my fav.
Double Chocolate Cookies from Valerie's Kitchen
Double Chocolate Cookies from Love from the Oven
Blue Bottle Double Chocolate Cookies from Eats Well with Others
Facebook | Pinterest | Instagram | Twitter

The Best Bakery Style Double Chocolate Chip Cookies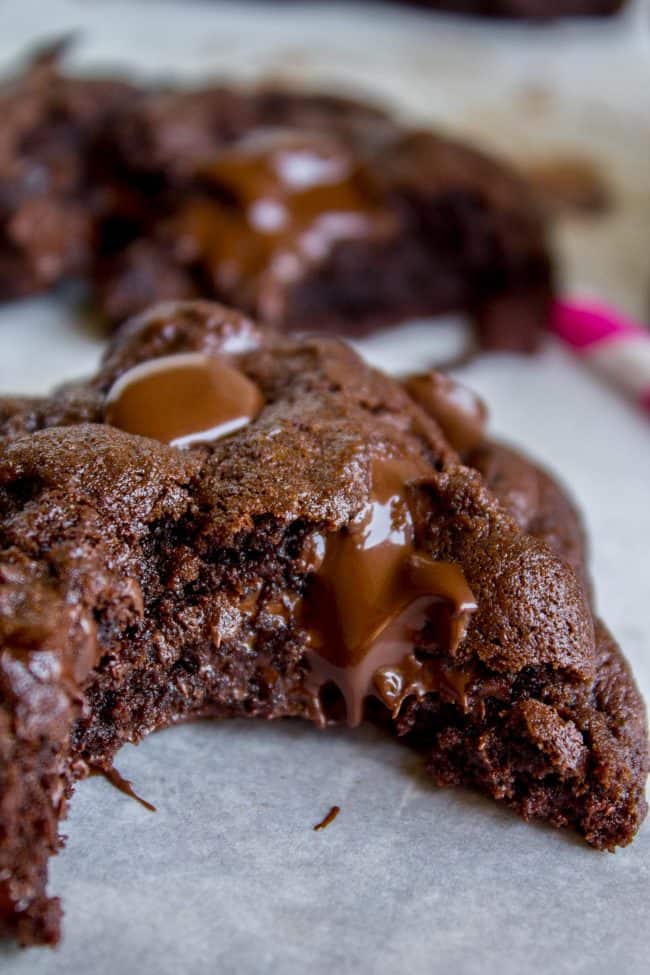 The search is over guys! You will never need another double chocolate chip cookie recipe. This one is SO thick and fudgy and basically what chocolate lover dreams are made of. It's beyond soft and so moist it puts some bakery cookies to shame.
Ingredients
1

cup

salted butter

,

softened (2 sticks)

1/2

cup

white sugar

1

cup

brown sugar

2/3 (4-oz)

cup

dark chocolate,

(50-60%), melted ∞

2

large

eggs

4

teaspoons

vanilla

2

cups

flour

,

spooned and leveled

1

cup

cocoa powder

,

spooned and leveled

1

teaspoon

baking soda

3/4

teaspoon

kosher salt

2

cups

chocolate chips

,

dark or semi-sweet, or half of both
Instructions
In a large bowl or stand mixer, beat the butter until light and fluffy, 2 minutes or so, scraping the edges.

Add the white and brown sugar and beat 1 more minute, scraping bottom and sides.

Add 2/3 cup (4 oz) dark chocolate (chop it with a knife if you aren't using chips) to a small bowl. Microwave in 20-30 second increments until it is getting smooth but there are still some lumps. Let it sit for 1 minute, then stir until it is completely smooth. (See photos) Beat the chocolate into the dough.

Add eggs and vanilla and beat well, scraping the edges and bottom of the bowl.

Add the flour, cocoa, baking soda and salt. Stir the dry ingredients together a bit with a small spoon so you don't end up with any lumps of salt or soda in your cookies. Then beat the dry ingredients into the dough.

When the dough is just starting to come together and there are still streaks of flour, add the chocolate chips. You can use semisweet chocolate, dark chocolate, or any combination of the two. You can also use a bar of chocolate that you have chopped. (12 ounces)

Beat in the chocolate chips and mix until the dry ingredients are completely incorporated. Don't over mix! Stop the mixer as soon as it all comes together.

At this point you need to chill the dough. It's too sticky to handle right now, plus it has to be completely cold when it goes in the oven. Method 1: Cover the mixing bowl and stick it in the fridge. Wait 2-3 hours until completely chilled, then let it sit out on the counter until it is soft enough to shape into balls, then proceed with Step 10.

Method 2: Cover the mixing bowl and put it in the freezer for 30 minutes. Take it out and shape the dough as described in Step 10. Place the shaped cookies onto a plate, cover with plastic wrap and refrigerate 30 minutes,

To shape the dough into cookies, use a 1/4 cup measuring cup. I really like using flexible measuring cups. Pack the dough into a quarter cup, then turn out and use your hands to shape them into a "tall" cookies. They should be taller than they are wide. See photos. 

Preheat the oven to 350 degrees F.

Once you have completely cold shaped cookies, place them on a baking sheet lined with parchment paper or a

silicone baking mat

. You can put 8 cookies on each pan. Make sure there are at least 2 inches in between each cookie.

Bake for 10-11 minutes. DO NOT over bake. They should still look pretty soft in the middle when you take them out, but shouldn't be shiny anymore.

Immediately after pulling the cookies out of the oven, press 3-4 chocolate chips on top of each cookie.

Let cool on the pan for 5-10 minutes.

Use a spatula to transfer to a cooling rack.

Eat one now. With a tall glass of milk.

When they are cool, store the rest in a large tupperware or ziplock bag. They will keep on the counter for 2-3 days.
Notes
I adapted this recipe from Allrecipes.com. The idea of adding chocolate to the dough is from Just So Tasty. Go check out her blog! It is awesome! She has tons of chocolate cookie recipes.
Nutrition
Serving:
1
cookie
|
Calories:
316
kcal
|
Carbohydrates:
38
g
|
Protein:
4
g
|
Fat:
18
g
|
Saturated Fat:
11
g
|
Polyunsaturated Fat:
1
g
|
Monounsaturated Fat:
4
g
|
Trans Fat:
1
g
|
Cholesterol:
52
mg
|
Sodium:
265
mg
|
Potassium:
157
mg
|
Fiber:
3
g
|
Sugar:
22
g
|
Vitamin A:
348
IU
|
Calcium:
26
mg
|
Iron:
2
mg