Double Layer Pumpkin Cheesecake: two layers of cheesecake, one vanilla and one spiced pumpkin, in a buttery crust. Top with caramel, whipped cream, and more graham crackers crumbs! The perfect Thanksgiving dessert.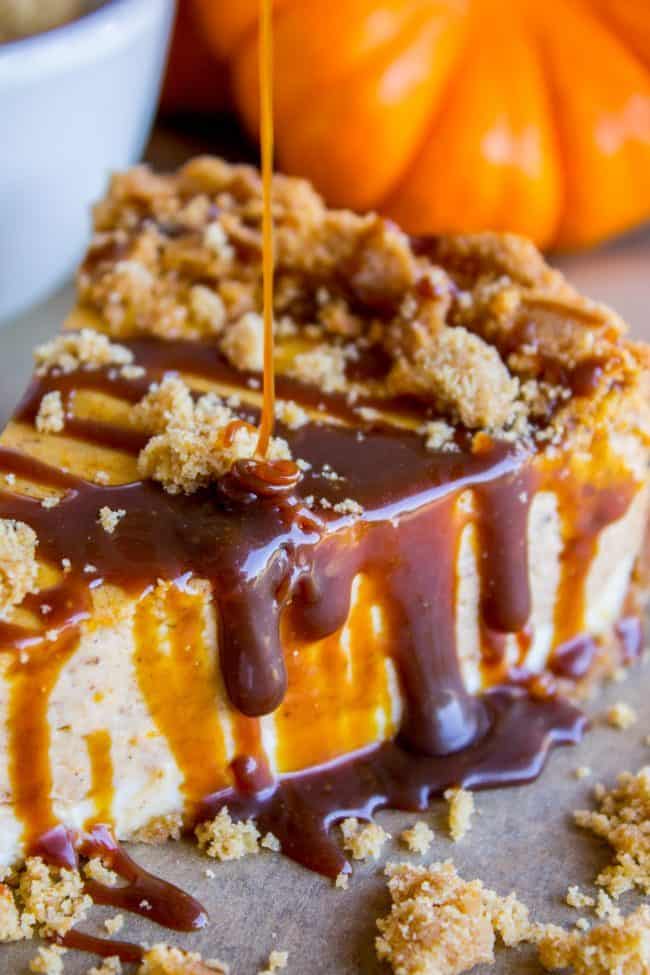 The post was originally published on November 7, 2011. It was one of the first recipes I put up on the blog! I updated the recipe, photos, and the stuff you're about to read right now:
Today is Halloween, so that means it's time to finally shout it from the rooftops: HAPPY THANKSGIVING!!
Who's excited for the second best holiday of the year? Christmas has more cookies than Thanksgiving, and presents too, sooo… sorry Thanksgiving, second place. But it's a CLOSE second, don't cry.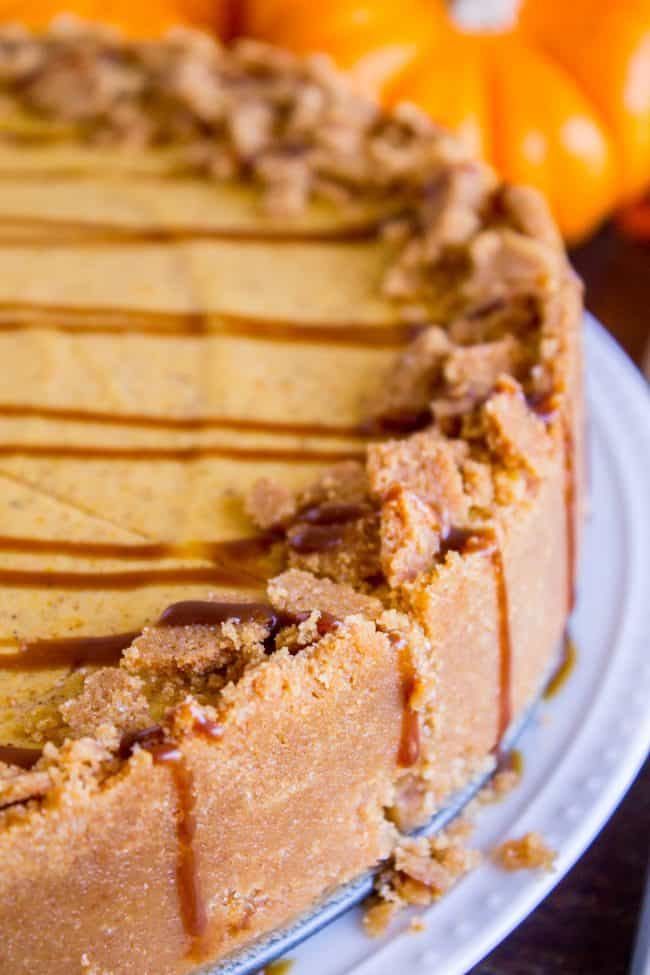 (I'm convinced that Thanksgiving is a good sport about his second place status. Not all of us can be Christmas, okay? I mean, how can you compete with a holiday-sibling that has their own soundtrack??)
Anyway, Thanksgiving can't be too mad because I have an entire month of recipes to get you guys ready for the big day. I will be posting recipes three times a week in November (up from my usual 2 posts) because I have so many Thanksgiving recipes I need to share with you.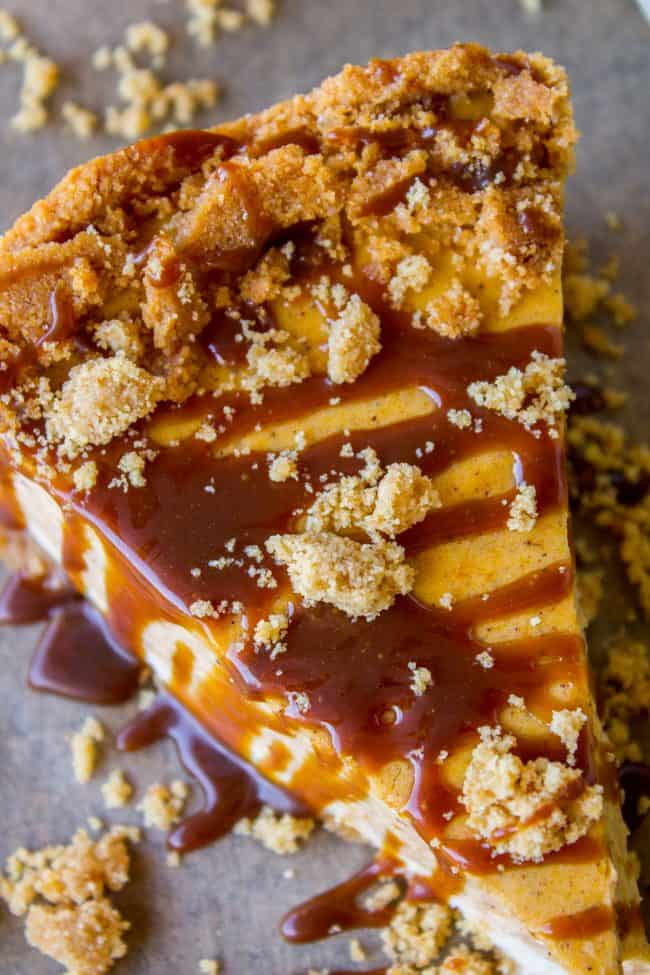 Yesterday I made some amazing stuffing (cornbread! bacon!) and I made green bean casserole — completely from scratch. You are going to love it all! I can't wait!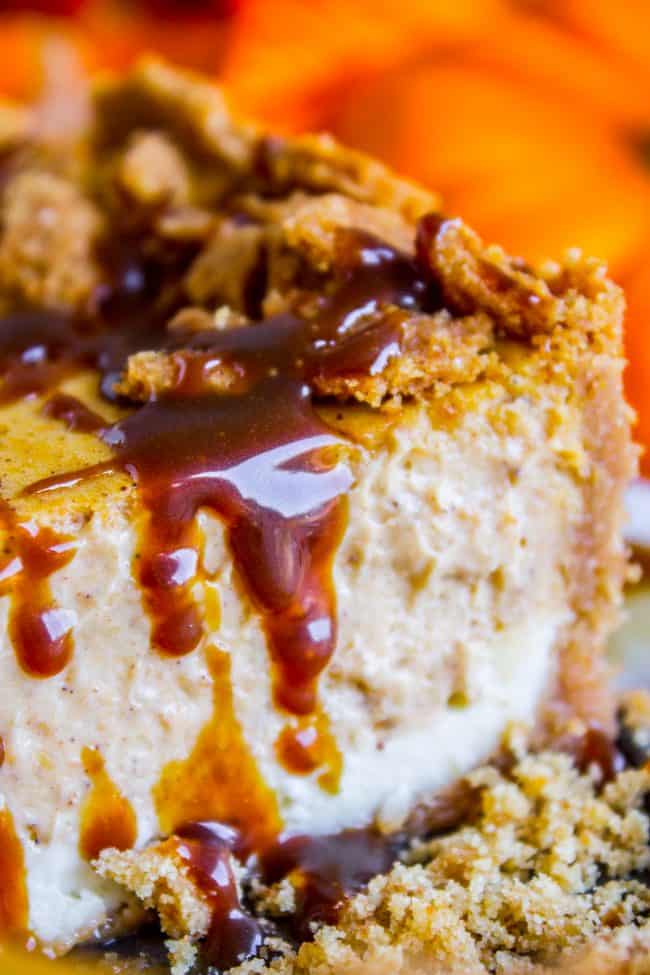 Here are some round ups to get you started if you are an early planner (I'm looking at you, Sarah. My BFF Sarah told me OVER A MONTH AGO that her Christmas shopping was completely finished. Sarah was my roommate in college and was basically my mom our freshman year. Thanks friend, I never would have had clean underwear without you.)
Thanksgiving Menu Recipe Roundup
What You Should Make For Thanksgiving
How to make pumpkin cheesecake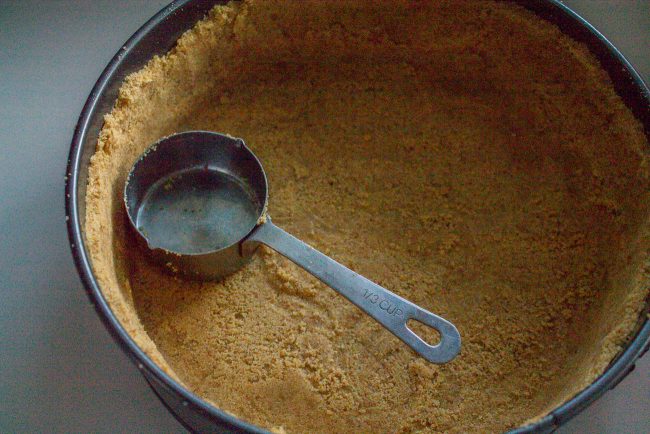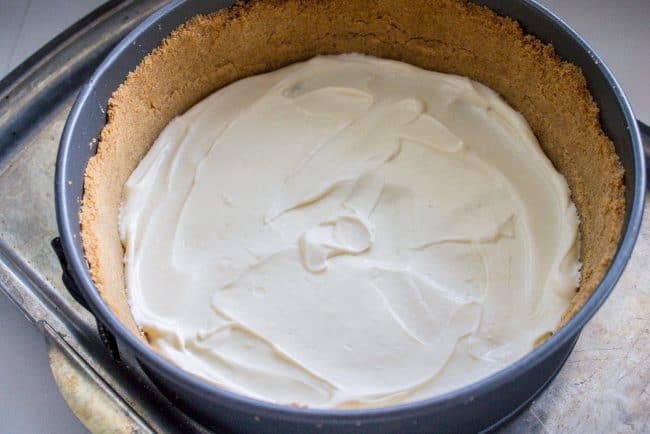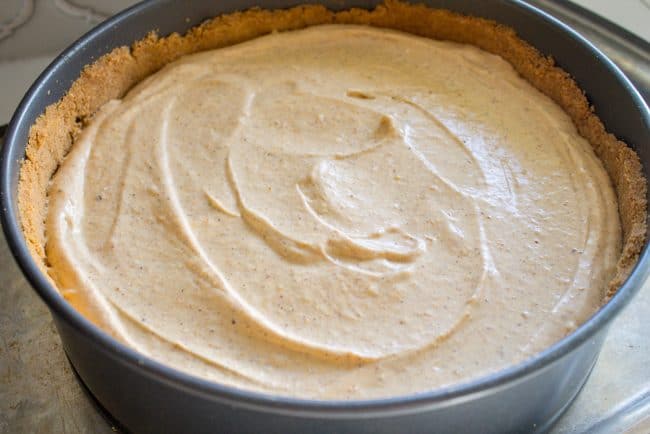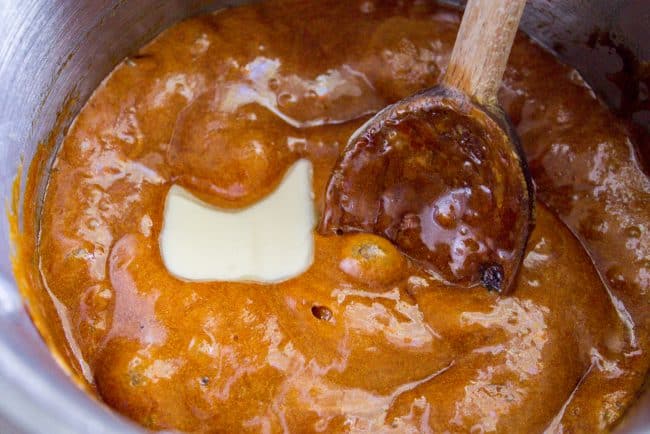 (Here is the delicious caramel sauce)
This Double Layer Pumpkin Cheesecake should be the first thing on your Thanksgiving menu list. I posted this recipe a long time ago and it's still a classic around here! How can you go wrong with two layers of velvety cheesecake, topped with whipped cream, homemade dark caramel sauce, and extra graham cracker crumbles??
Here is part of my original post for this double layer pumpkin cheesecake from 2011, including an old photo:
My friend Sarah texted me a few weeks ago to tell me about the most amazing pumpkin cheesecake that I had to try. I looked it up and realized that I made this recipe last year (and actually won a prize for it–although it was one of those prizes with so many specifications in the title that you're pretty sure they were just trying to make you feel good about yourself.  Which it totally did.  See, here I am bragging about it on my blog.)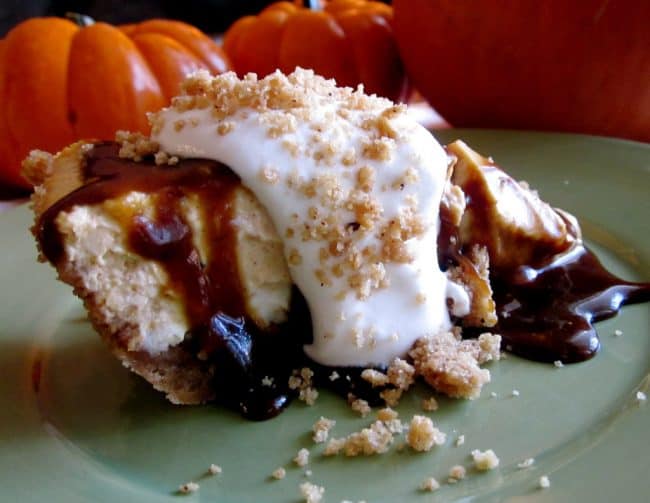 It's good stuff.  Pretty much anything you smother with caramel, whipped cream, and buttery graham crackers is going to be delicious.
Okay back to Karen from the present. Nothing has changed over the last few years, I still love this cheesecake and it continues to be a showstopper. It would be perfect to serve after Thanksgiving dinner!
I love it because you can make it ahead of time. Thanksgiving dinner is insane, you don't want to have to get up after your meal and head back into the kitchen to do anything for dessert. It's why perfectly make-ahead-able pie is perfect for Thanksgiving. Cheesecake too!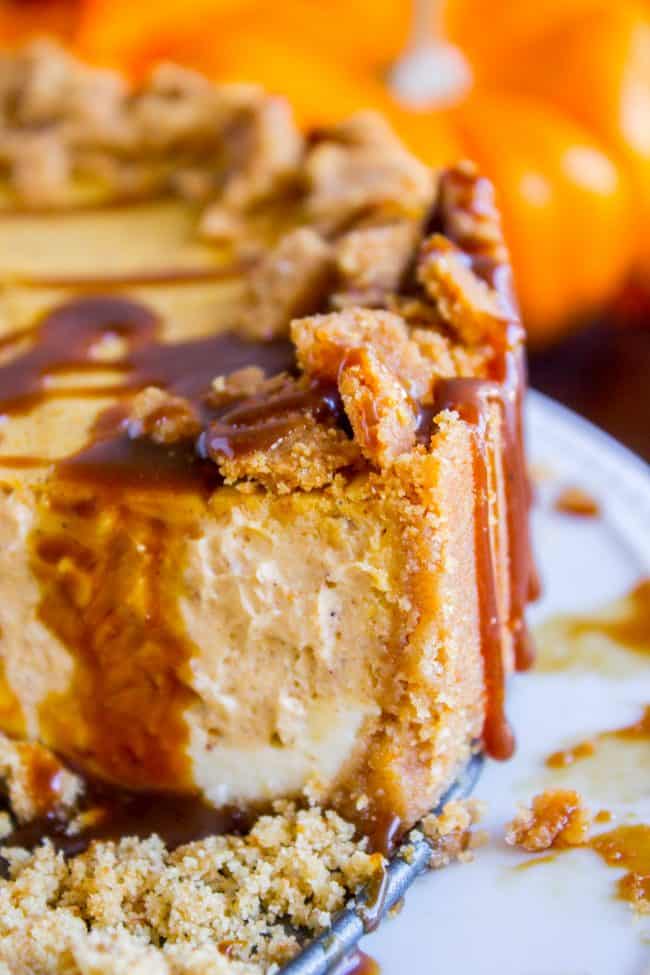 One of the best parts about this cheesecake are the graham cracker crumbles. Am I the only one who is obsessed with graham cracker crust? There is never enough of it for my liking. I've made recipes where I double the amount used in the crust (like this Classic French Silk Pie with Really Thick Graham Cracker Crust) but it doesn't work when you make it in a springform pan  because the butter melts out the bottom. So we are going with a regular, perfectly crispy graham cracker crust, but then making extra graham crumbles to add to each serving. It's basically like a dream come true!
Facebook | Pinterest | Instagram
One year ago: Aunt Shirley's Famous Creamy Mashed Potatoes
Four years ago: Buried Reese's Cookies
Six years ago: Soft Ginger Cookies

Double Layer Pumpkin Cheesecake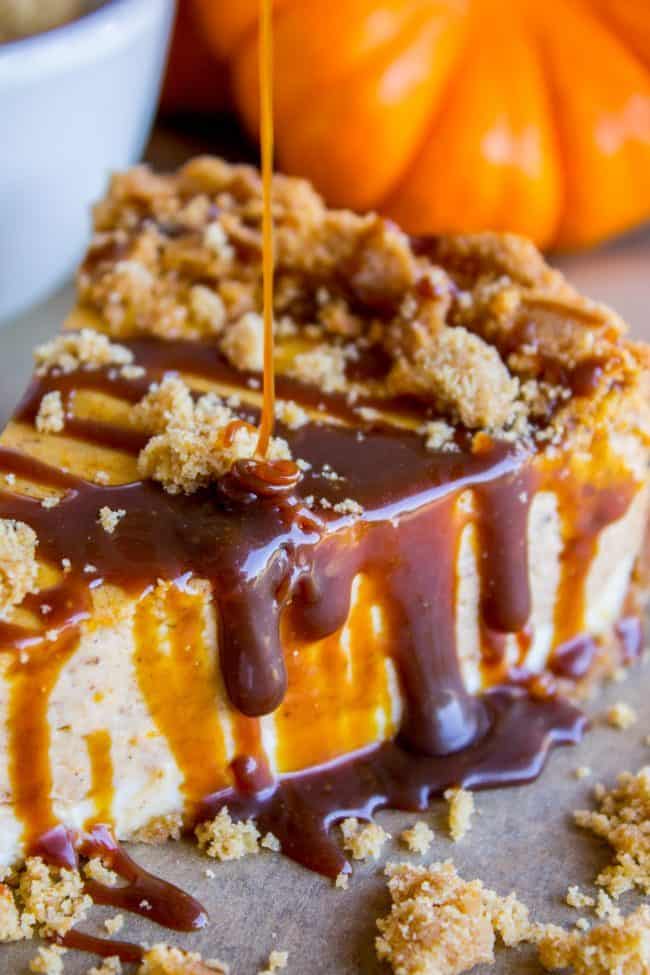 Double Layer Pumpkin Cheesecake: two layers of cheesecake, one vanilla and one spiced pumpkin, in a buttery crust. Top with caramel, whipped cream, and more graham crackers crumbs! The perfect Thanksgiving dessert.
Ingredients
For the crust
1 & 1/2

cups

graham cracker crumbs

,

9 whole sheets

1/3

cup

sugar

1/4

teaspoon

cinnamon

,

optional

1/4

teaspoon

salt

5

tablespoons

melted butter
For the crumble
1

cup

graham cracker crumbs

,

6 whole sheets

3

tablespoons

sugar

2

tablespoons

butter

,

melted
For the cheesecake
3 (8-oz)

packages

cream cheese

,

softened

1

cup

white sugar

1/4

teaspoon

salt

1/2

teaspoon

vanilla

1/2

cup

sour cream

2

large

eggs

1

cup

pumpkin puree

1

teaspoon

ground cinnamon

1/2

teaspoon

ground nutmeg

1/4

teaspoon

ground cloves

1/4

teaspoon

ginger
For the caramel sauce
1/4

cup

butter

1/2

cup

brown sugar

2

tablespoons

corn syrup

1/8

teaspoon

baking soda

1/2

teaspoon

vanilla

1

tablespoon

butter

3-4

tablespoons

milk

,

added slowly
Instructions
For the Crust and Crumble:
Preheat oven to 350 degrees. Add 9 whole graham crackers sheets to the bowl of a food processor and pulse until it turns to fine crumbs. Or put them in a ziplock bag and pound out all your feelings with a rolling pin.

Add 1/3 cup sugar, 1/4 teaspoon cinnamon, and 1/4 teaspoon salt. Melt 5 tablespoons butter in a small bowl and add to the mixture. Pulse to combine, or stir.

Make the crumble: crush 6 whole graham cracker sheets to make about 1 cup of crumbs. Add 3 tablespoons sugar and stir in 2 tablespoons melted butter. Use your hand to squeeze the crumbs into a few rough crumbly chunks (it doesn't have to be perfect), and place on the baking sheet beside the springform pan.

Bake at 350 for 10 minutes.

Remove from the oven and let cool completely. (I put mine in the freezer to speed this up, only took 10 minutes.) Place the crumbles in a bowl, cover, and set aside.
For the Cheesecake:
Lower the oven temperature to 325. Bring a large pot of water to bowl. Place a 9x13 inch pan on the lowest rack in your oven.

In a large bowl or stand mixer, beat softened cream cheese for 4 minutes, stopping to scrape the sides and bottom.

Add 1 cup sugar, 1/4 teaspoon salt, and vanilla. Beat until smooth, about 2 minutes.

Fold in sour cream.

Blend in eggs one at a time. Make sure they are well incorporated, and scrape the bottom and sides of the bowl.

Remove 1 cup of batter and spread into the bottom of your crust; set aside.

Add pumpkin, cinnamon, nutmeg, cloves and ginger to the remaining batter and beat until well blended. Carefully spread over the batter in the crust.

When your pot of water is boiling, pour it into the 9x13 inch pan on the lower rack in your oven. This will create a lot of moisture in the oven, and help keep your cheesecake from cracking.

Place the cheesecake on a baking sheet on a rack set in the middle of the oven.

Bake at 325 for about 45 minutes, or until center is almost set. The center of the cheesecake should still wobble a bit when you shake the pan. The edges should be set.

Do not take the cheesecake out of the oven. Turn off the oven and open the door all the way for a minute or so, to lower the temperature in the oven, then leave the door open halfway. Let the cheesecake come to room temperature in the cracked oven for about 2 hours. If you take it out earlier than than, don't put it in the fridge right away, let it sit on the counter for a bit. When a baked cheesecake changes temperature rapidly, it cracks. Go slow.

When the cheesecake is no longer warm, cover with plastic wrap and chill in the fridge for 3 hours at least, or overnight.
For the Caramel Sauce:
In a small saucepan over medium heat, melt 1/4 cup butter. Stir in brown sugar and corn syrup. Bring to a boil, stirring constantly.

Boil without stirring 4 minutes over medium heat. Set a timer.

Remove from heat and stir in baking soda and vanilla.

Stir in 1 tablespoon butter.

Slowly stir in 3 tablespoons milk, 1 tablespoon at a time. Let the caramel sit at room temperature, and stir occasionally. Add in more milk if it seems like it's too thick. You want it to get to a good drizzling consistency to serve with your cheesecake. You can reheat it over low heat if it gets too hard.

Serve cheesecake drizzled with caramel sauce and sprinkled with graham cracker crumbles. Whipped cream would be a fabulous idea too!
Notes
Source: My dear friend Sarah, who modified it from Allrecipes.com. Then I modified it some more :)
Nutrition
Serving:
1
g
|
Calories:
664
kcal
|
Carbohydrates:
66
g
|
Protein:
8
g
|
Fat:
43
g
|
Saturated Fat:
24
g
|
Polyunsaturated Fat:
2
g
|
Monounsaturated Fat:
11
g
|
Trans Fat:
1
g
|
Cholesterol:
155
mg
|
Sodium:
640
mg
|
Potassium:
240
mg
|
Fiber:
2
g
|
Sugar:
53
g
|
Vitamin A:
5282
IU
|
Vitamin C:
1
mg
|
Calcium:
130
mg
|
Iron:
2
mg
More holiday cheesecakes you are going to love!
Crème Brûlée Cheesecake << this is a hugely popular recipe on my blog!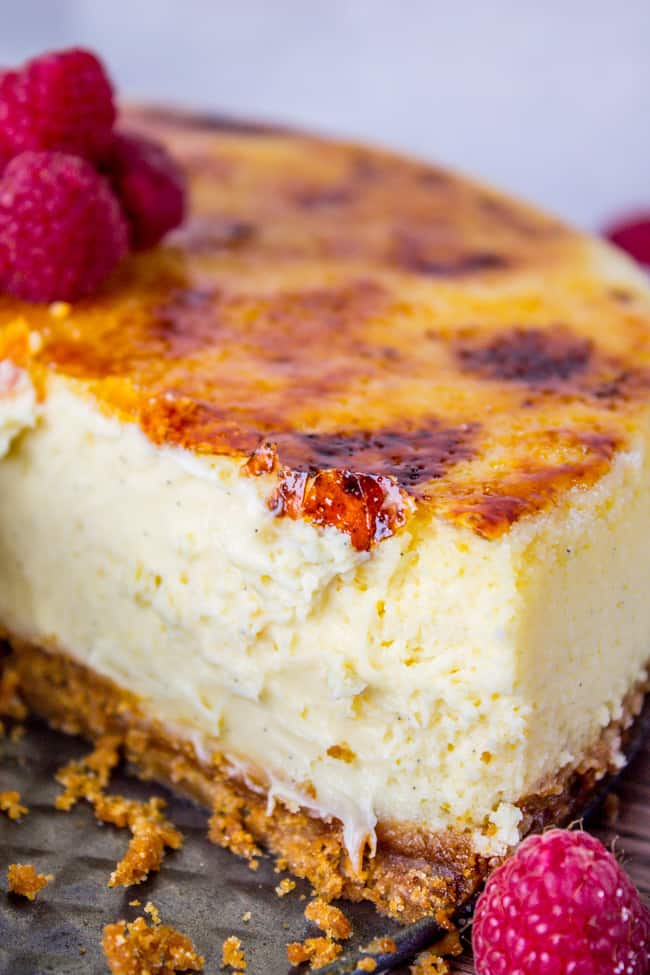 Crème Brûlée Pumpkin Pie << Why don't we always torch the top of pumpkin pie??
Cheesecake Pecan Pie << this is the BEST COMBO EVER!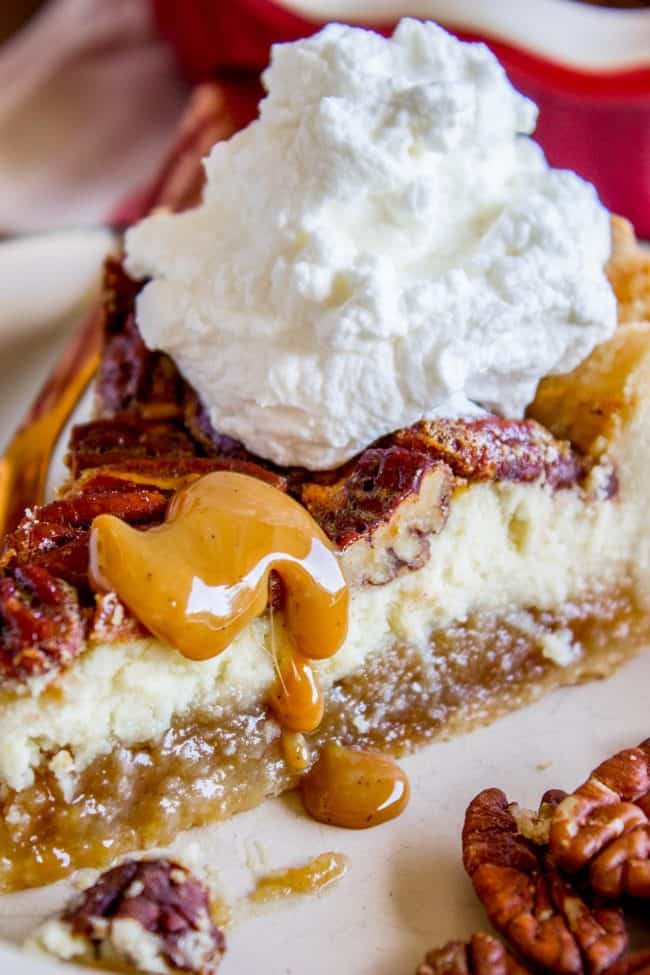 More cheesecake ideas from friends!
Caramel Apple Blondie Cheesecake from Life, Love, and Sugar
Cranberry Jam White Chocolate Mousse Cheesecake from Will Cook for Smiles
Carrot Cake Cheesecake from Shugary Sweets