The only thing better than restaurant style ranch dressing is Homemade Buttermilk Ranch Dressing! It is so dreamy creamy and the recipe is ridiculously easy. I will show you just how to make it! Get ready for the best salad of your life! Originally posted June 3, 2020.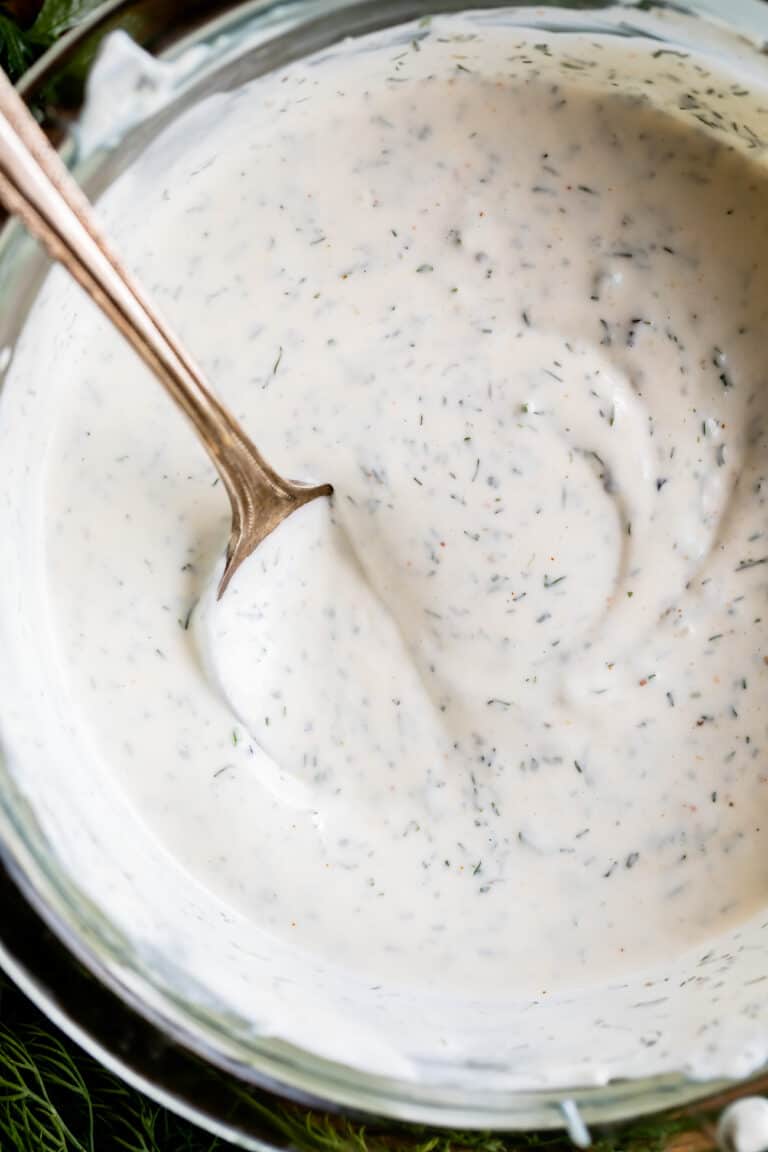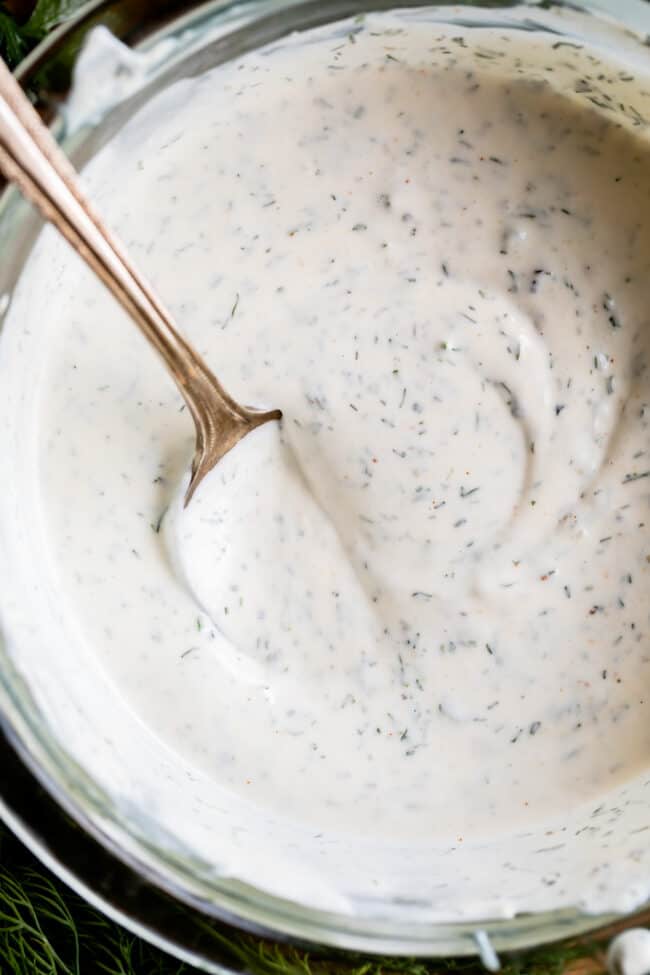 The other day at dinner, Truman was slurping up his noodles rather loudly. I asked him to pipe down a bit, and he immediately pointed his finger at me, eyes wide, and yelled, "STUPEFY!!!" I laughed so hard I didn't even have the energy to send him to a time out. Also maybe I was just a little bit too proud to care. Harry Potter references are a get-out-of-jail-free card in my house, apparently.
It is actually so fun to see my kids get into Harry Potter. I was 11 when I read the first book, and 19 when the last one was published. But my kids are reading them way younger (Truman is 7) and reading a fantasy book at this age is way different than reading it as a teen. My sister told me that her daughters all play "Whomping Willow" together, and my kids routinely incorporate Dementors into their make believe playing. How fun is that? One of the best things about being a parent is seeing your kids grow to love the same things you love.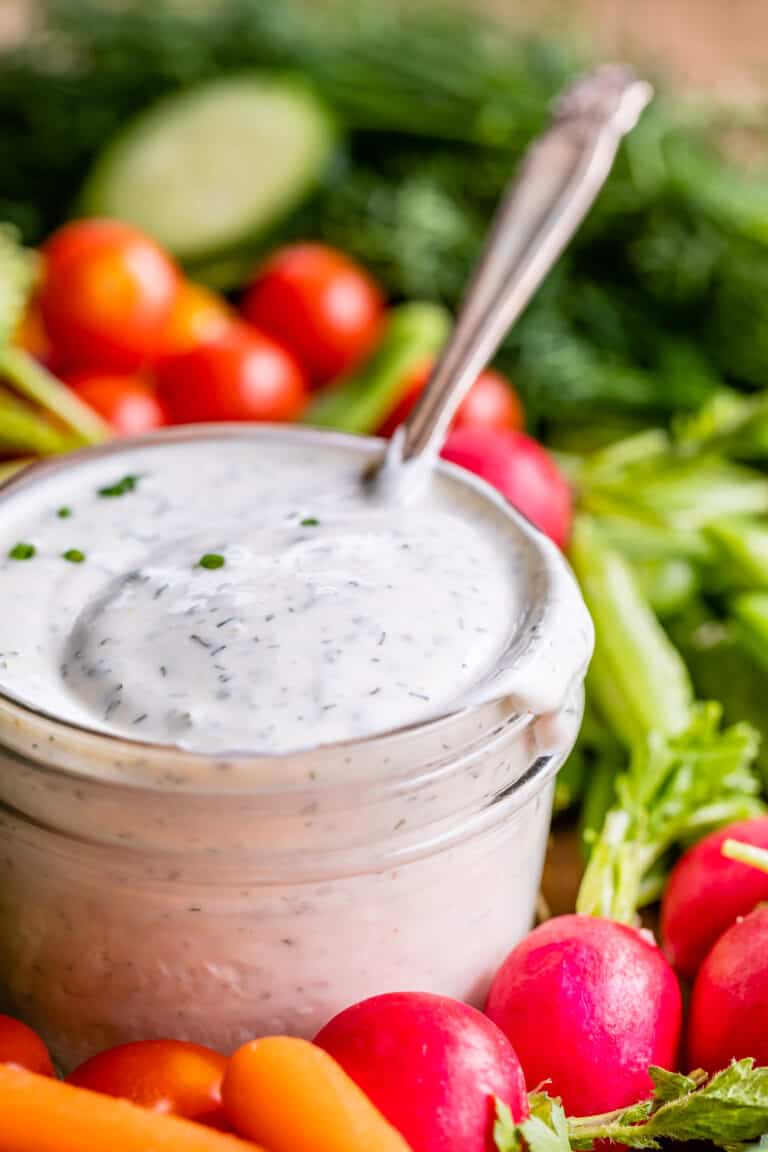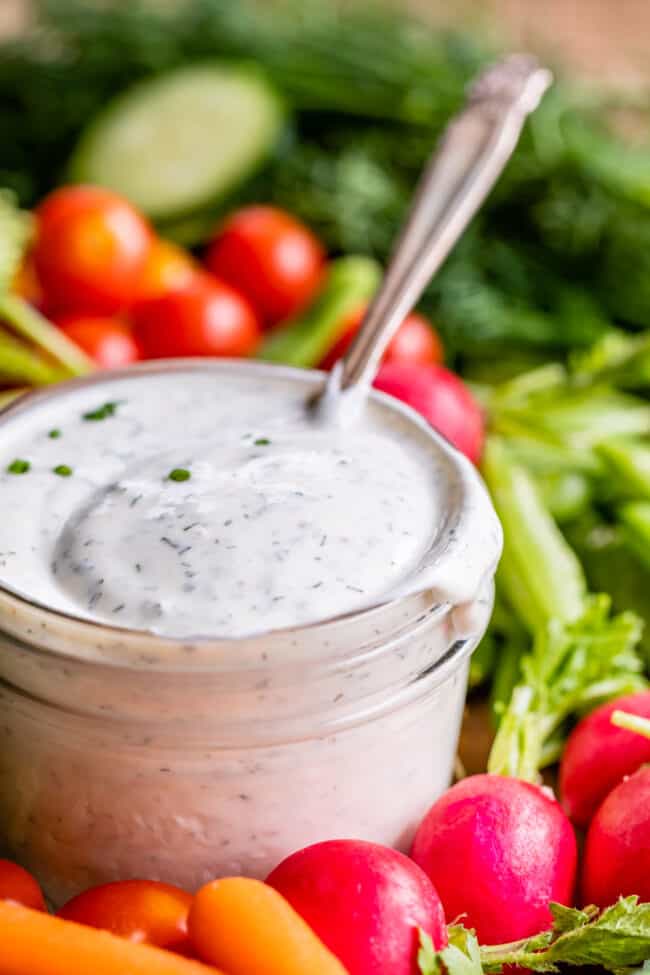 How is everyone's summer starting out?? We are STILL doing school at home. Our district has the weirdest schedule. We have a week to go before summer officially starts. Wish us luck!! I was not born to homeschool!
The Best Buttermilk Ranch Dressing
We have been having a next-level heat wave here in Sacramento this week, and all I want to eat is salad and ice cream. Mostly ice cream, but I'm going for balance, you know, ha.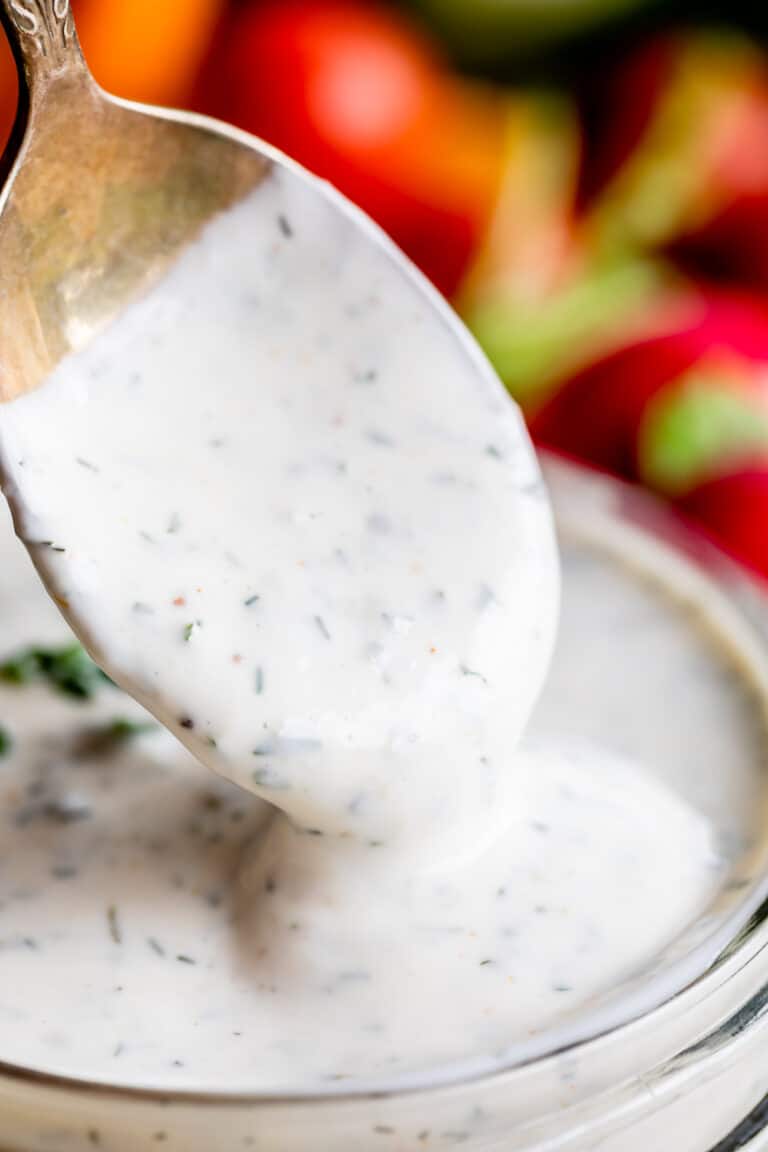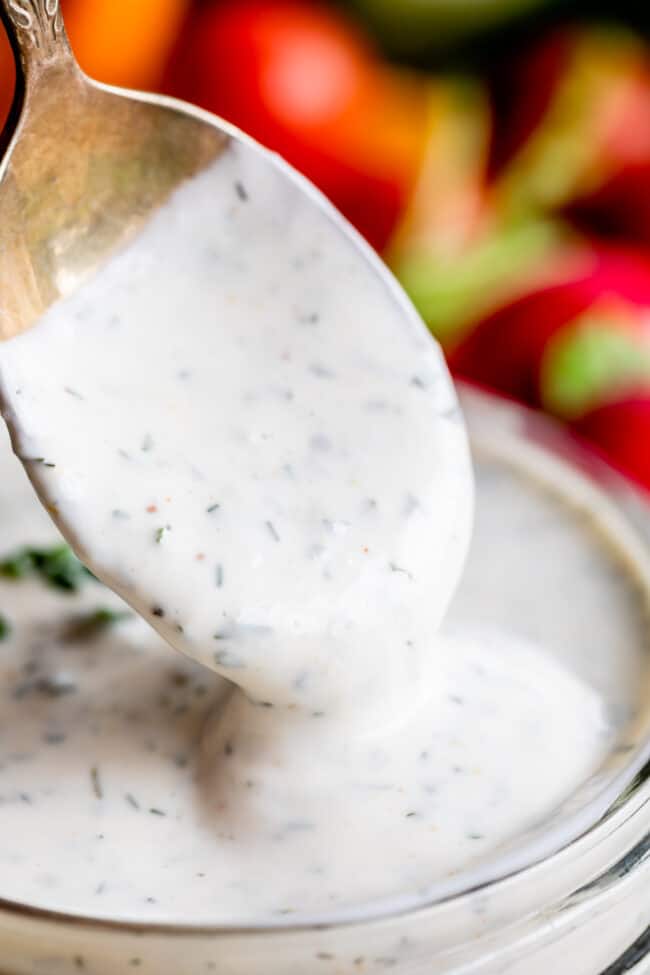 I have been making this buttermilk ranch dressing on repeat lately, so I thought I would share the recipe with you! Ranch is everybody's favorite salad dressing, right? At least it is here in my house. It's just so creamy and delicious, on basically any salad ever!
And no, I'm not even exaggerating when I say that this is the best buttermilk ranch dressing. I mean, for one, it's homemade. Anything homemade is just better. It's also made with the perfect blend of mayonnaise, sour cream, and buttermilk for the ideal balance of rich and tangy. Then it's infused with tons of flavor thanks to fresh herbs and delicious seasonings.
Ranch dressing is already the prom queen of dressings. I don't know what it is when it's homemade…Miss America?? Miss UNIVERSE???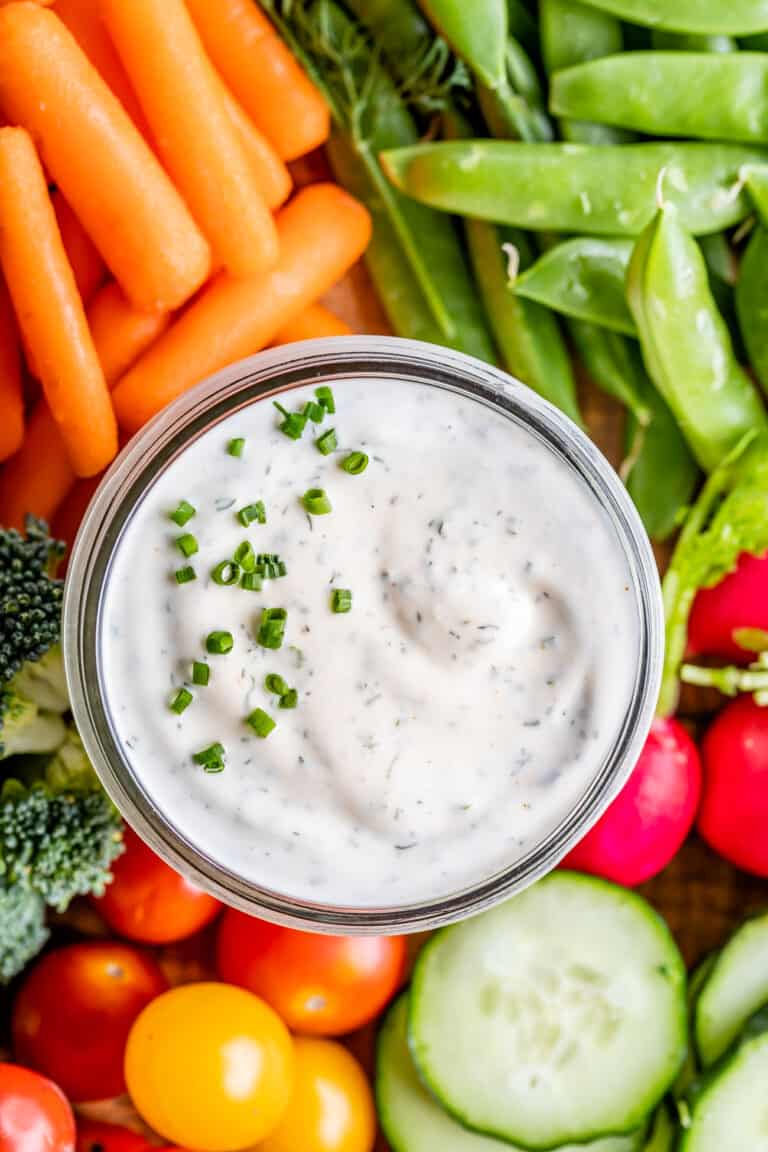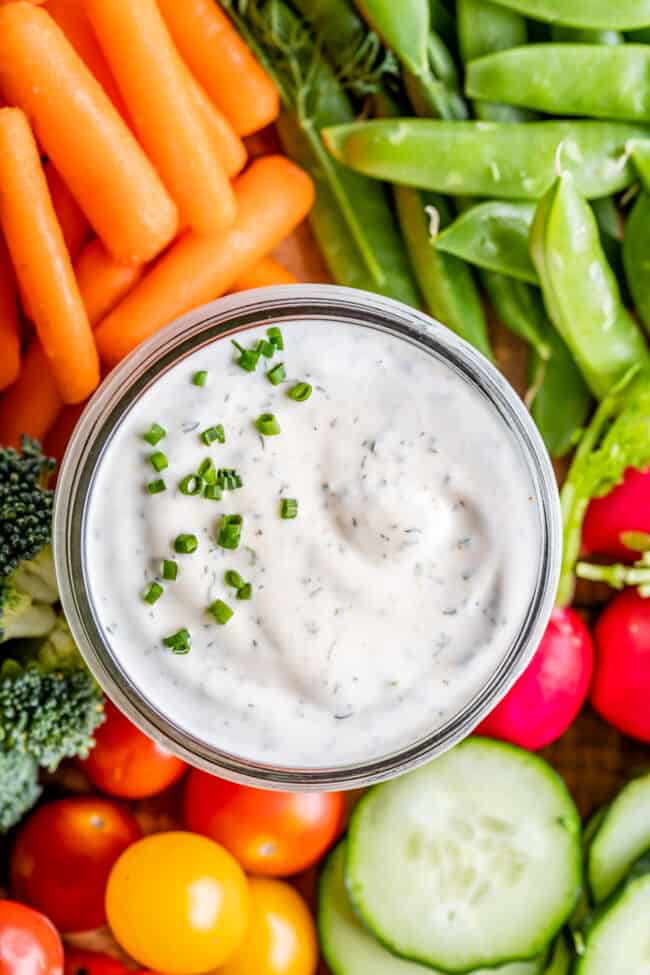 Homemade Buttermilk Ranch Dressing Ingredients
See the recipe card below for complete instructions.
Mayonnaise
Sour Cream
Buttermilk
Minced Garlic
Lemon Juice
Salt and pepper
Garlic powder
Onion powder
Dry mustard powder
Cayenne pepper
Fresh parsley, dill, and chives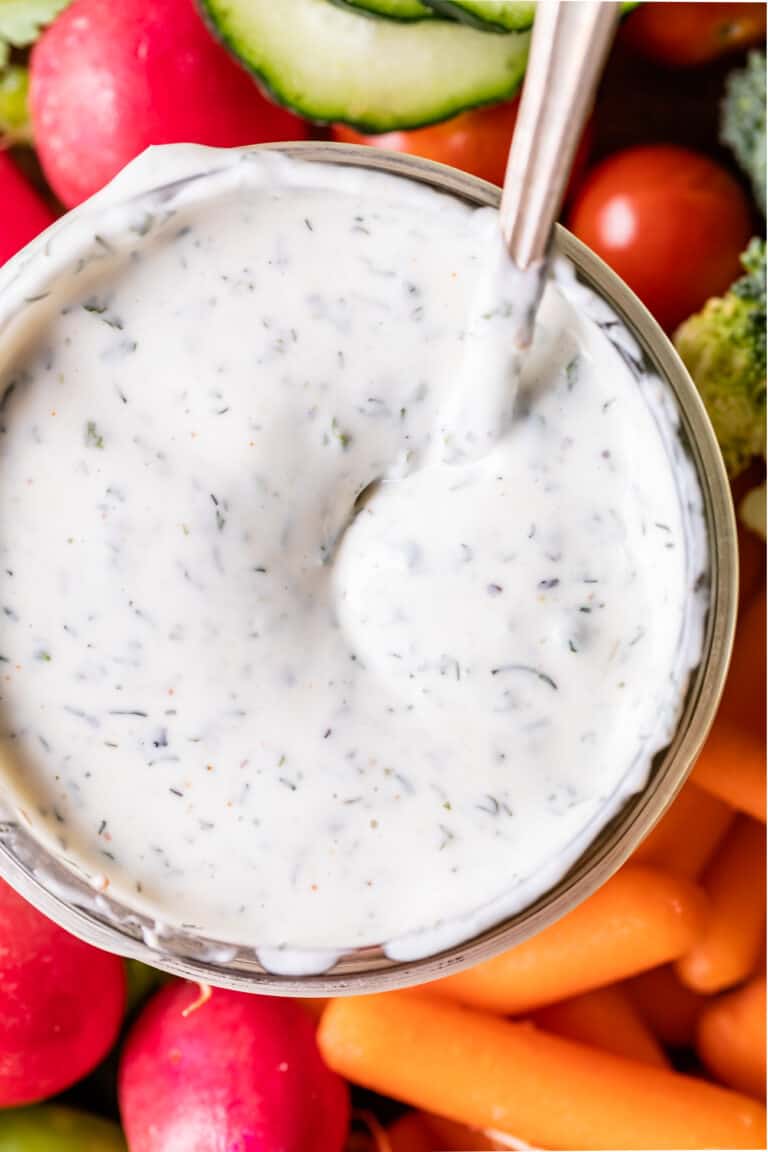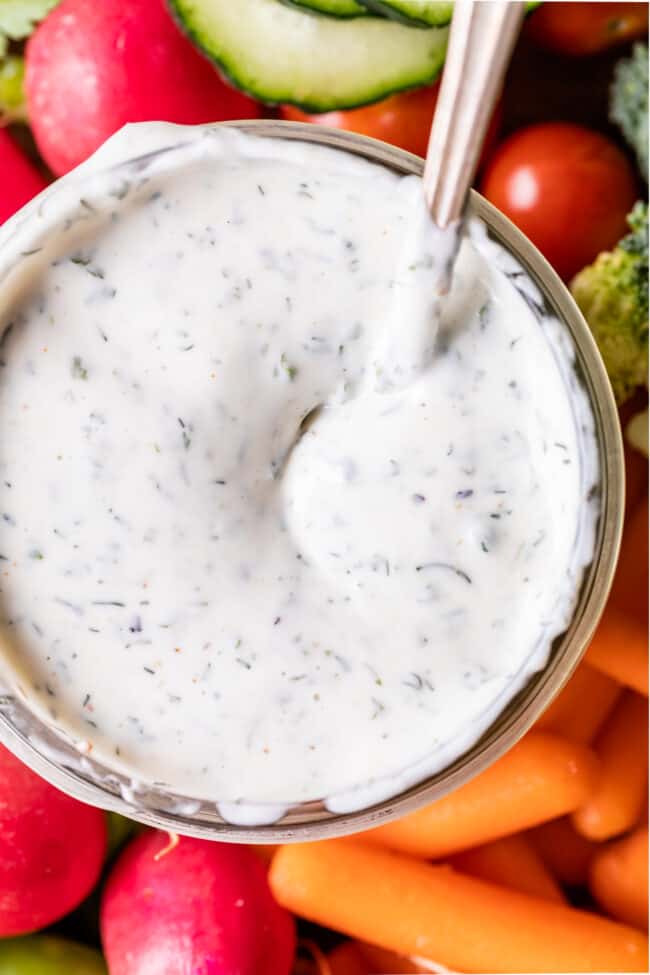 Buttermilk Ranch recipe substitutions
I like the recipe just as it is written, but there are a few easy changes you can make if you don't have everything.
First up: buttermilk. I know it's not a common household ingredient (I only buy it when I need it for something specific) and in this recipe you can replace it with whole milk, or even regular 1 or 2% milk (although it won't be as creamy). If you use milk, increase the amount of lemon juice you add to the recipe to get some of that tang in there that you lost from not using buttermilk.
Garlic. If you don't have fresh garlic, you can omit it and increase the garlic powder to 3/4 or 1 teaspoon.
Fresh herbs. I wrote the recipe to include fresh herbs because they really do make for the BEST ranch dressing. But I get it: they are expensive. You could buy a few bottles of store bought ranch dressing for what it would take you to buy the herbs for one batch of this ranch. (Because of course you can't buy 1 teaspoon of chives, you have to buy the whole bunch!)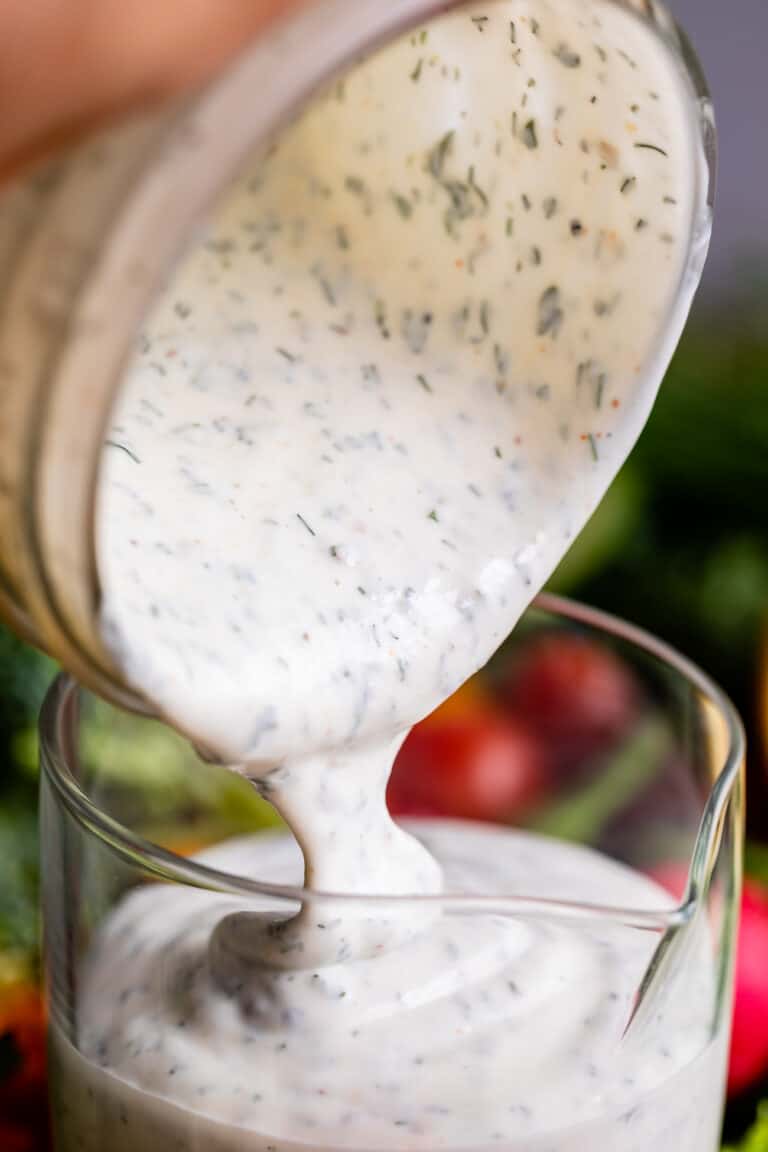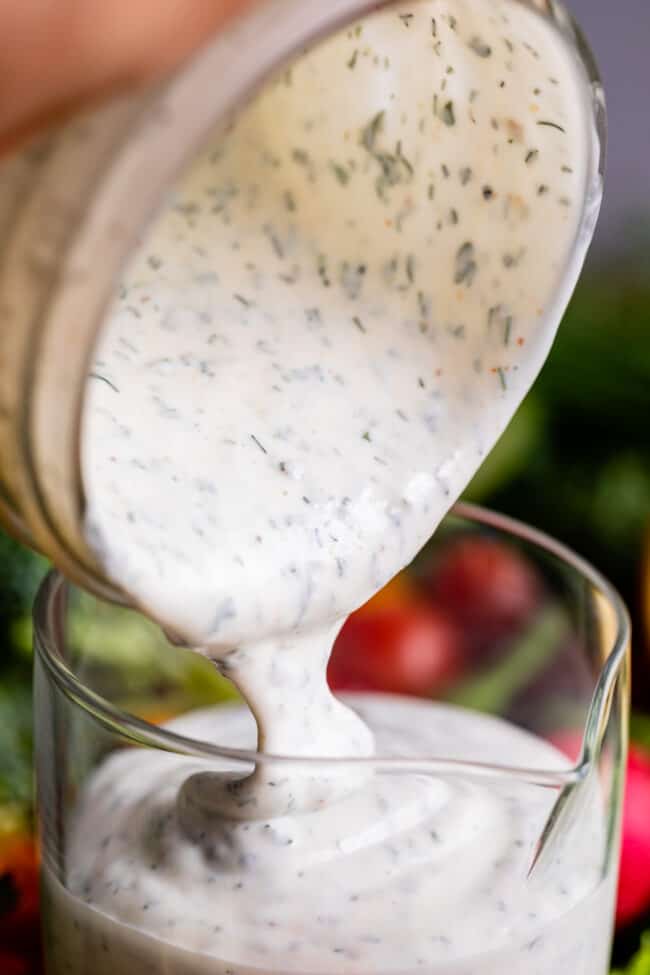 How to make Buttermilk Ranch Dressing
This ranch dressing is super easy to make. It will take you 5 minutes to throw it together.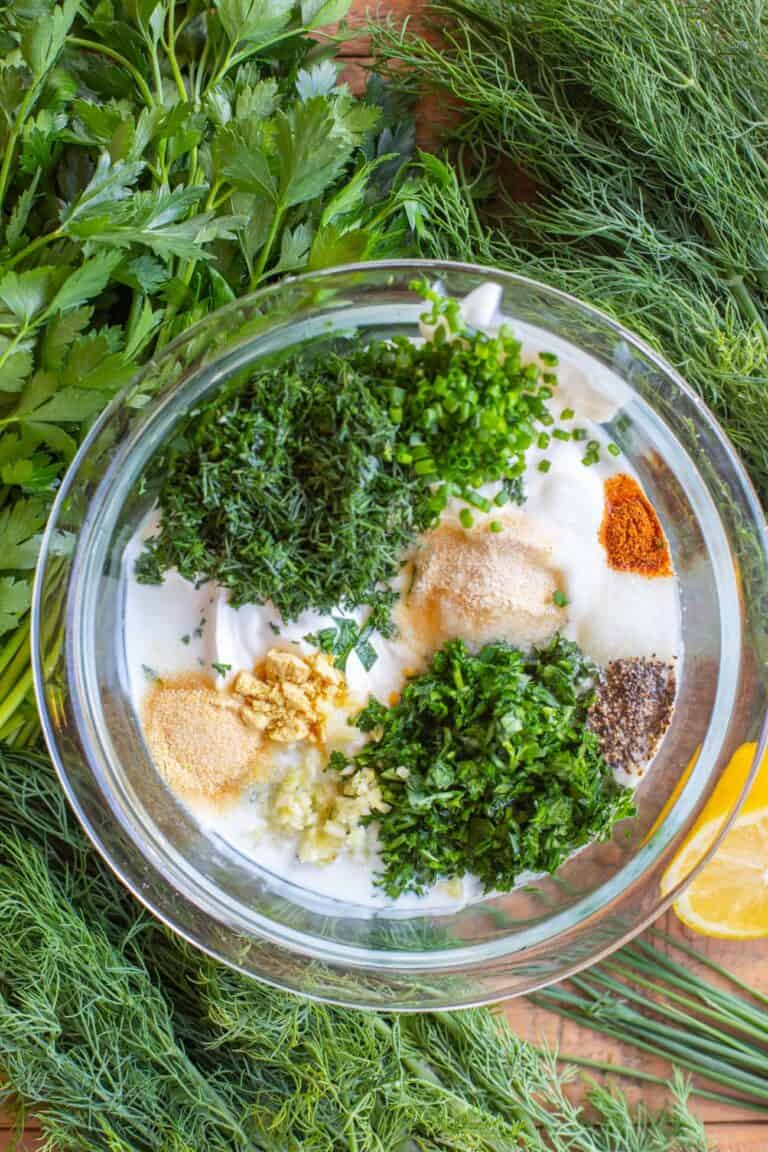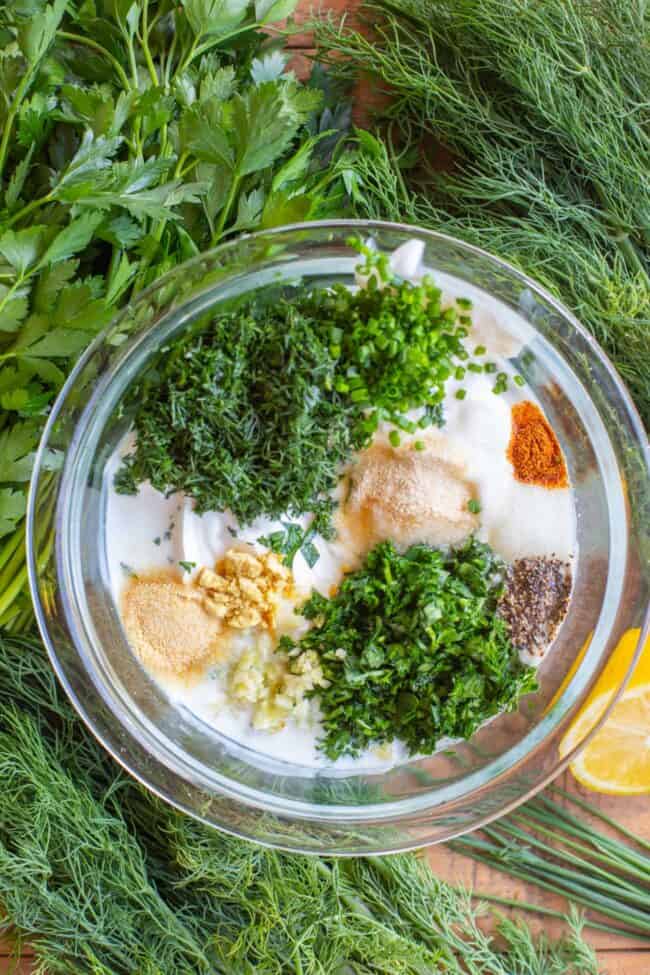 You have the choice to use fresh herbs if you want a REALLY delicious ranch dressing, or you can go the all-dried-herbs route which is still super good. After all, that's what the store-bought ranch that you are used to is made of! I totally prefer using fresh herbs, because, hello flavor! (Fresh dill is one of God's greatest gifts.) But really dried herbs are still going to get you a great salad dressing.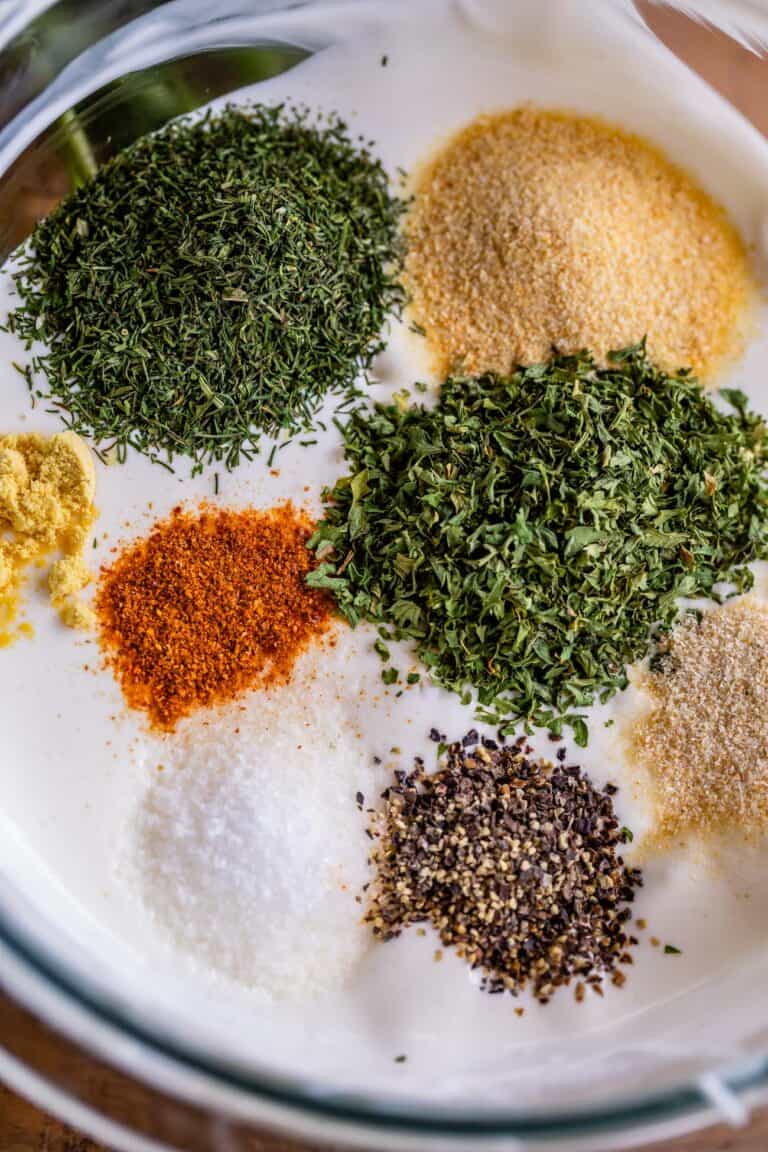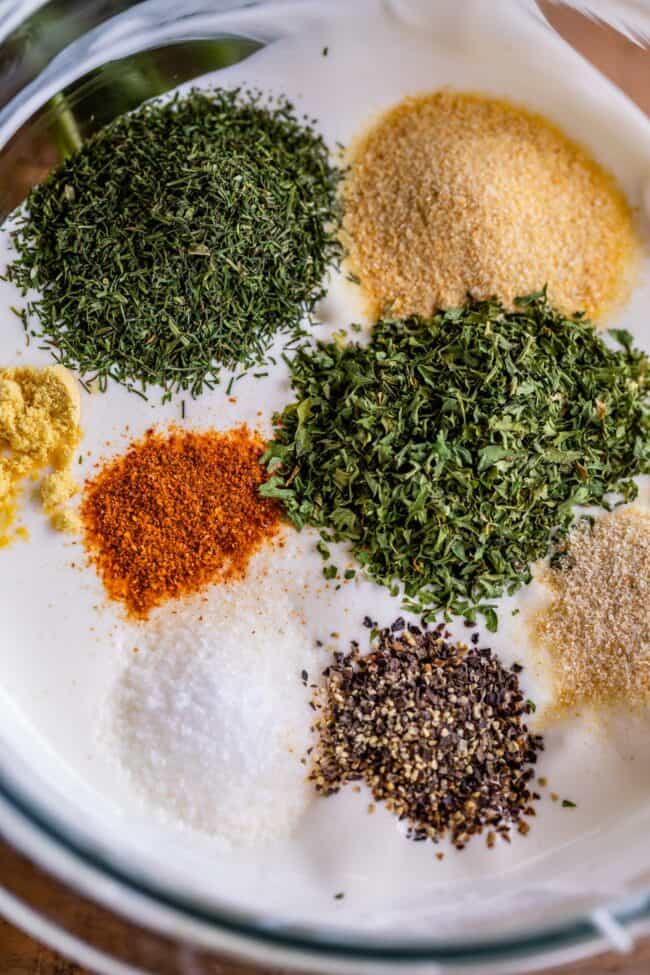 Once you put together all the ingredients and get it nice and whisked, let it marinate in the fridge for about an hour. This will give all the flavors time to marry and get really cozy together! But honestly if you don't have the time to wait, it's okay. It's still going to taste amazing!
Then get out all the veggies and feast! You will not believe how many vegetables your kids will eat if you give them this ranch dressing!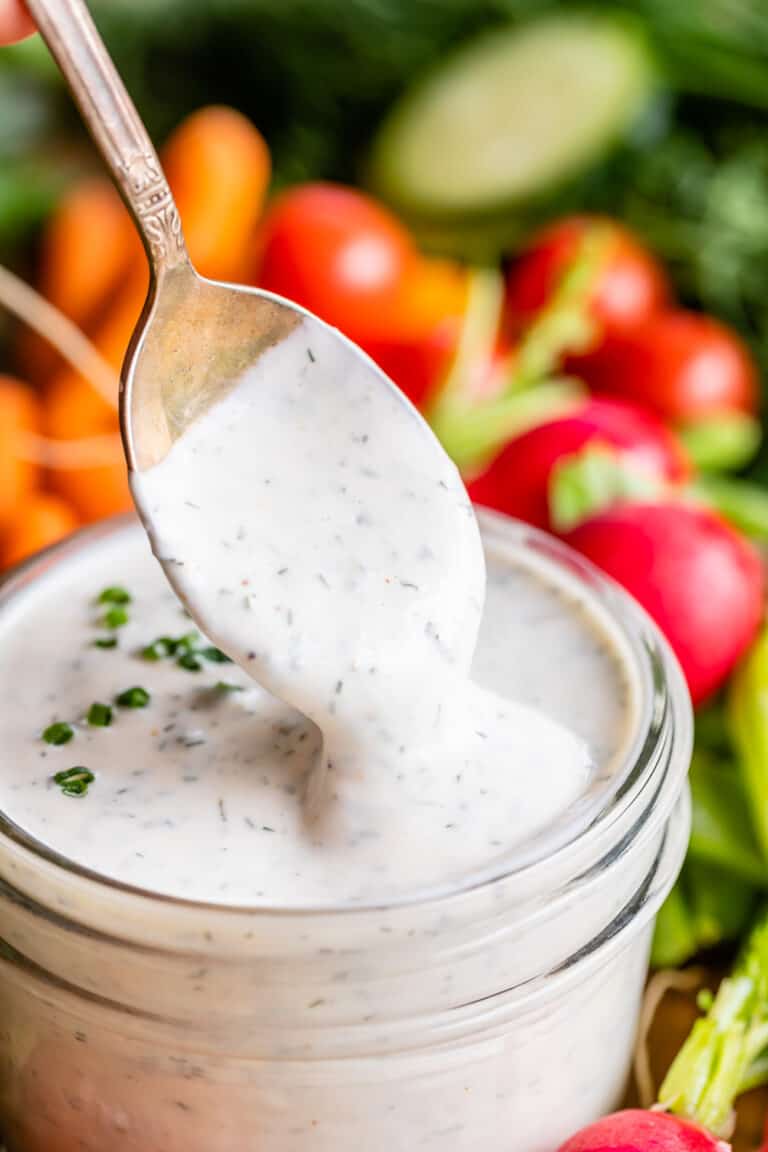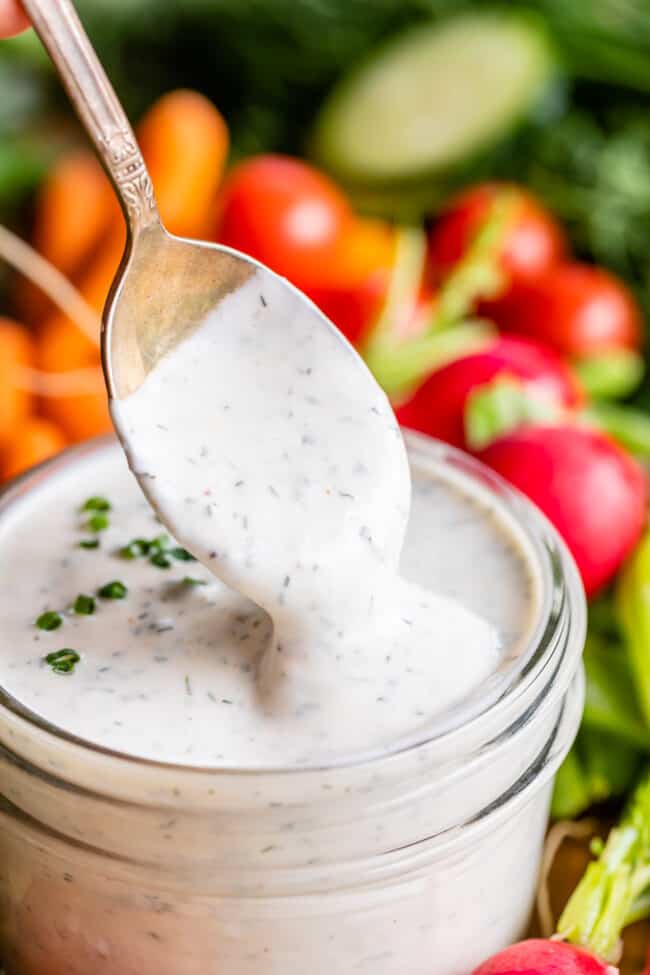 Homemade Buttermilk Ranch FAQs
Why is buttermilk ranch better than other ranch dressings?
Traditional Ranch dressing is made using a mixture of sour cream and mayonnaise. Buttermilk Ranch dressing uses a mixture of sour cream, mayonnaise, AND buttermilk.
The addition of the buttermilk adds a whole 'nother level level of tangy goodness to the classic Ranch dressing flavors. It also thins it out ever so slightly for an ultra drizzle-able texture.
How long does Homemade Buttermilk Ranch last?
Homemade buttermilk Ranch dressing will last in an airtight container in the fridge for up to 2 weeks.
How do you store buttermilk ranch dressing?
Buttermilk Ranch needs to be stored in an airtight container in the fridge, just like the kind you get from the store. I like to keep it in a mason jar in the fridge so I can easily pour it over whatever I'm serving it with, but any old Tupperware will do.
What kind of salad goes best with this Buttermilk Ranch recipe?
Ranch dressing is so versatile, you can serve it on pretty much any salad you like! Try it on a Loaded Cobb Salad with Chicken and Bacon, a Crispy Chicken Salad, a Green Salad with Feta and Beets, or use it on Broccoli and Bacon Salad.You really can't go wrong!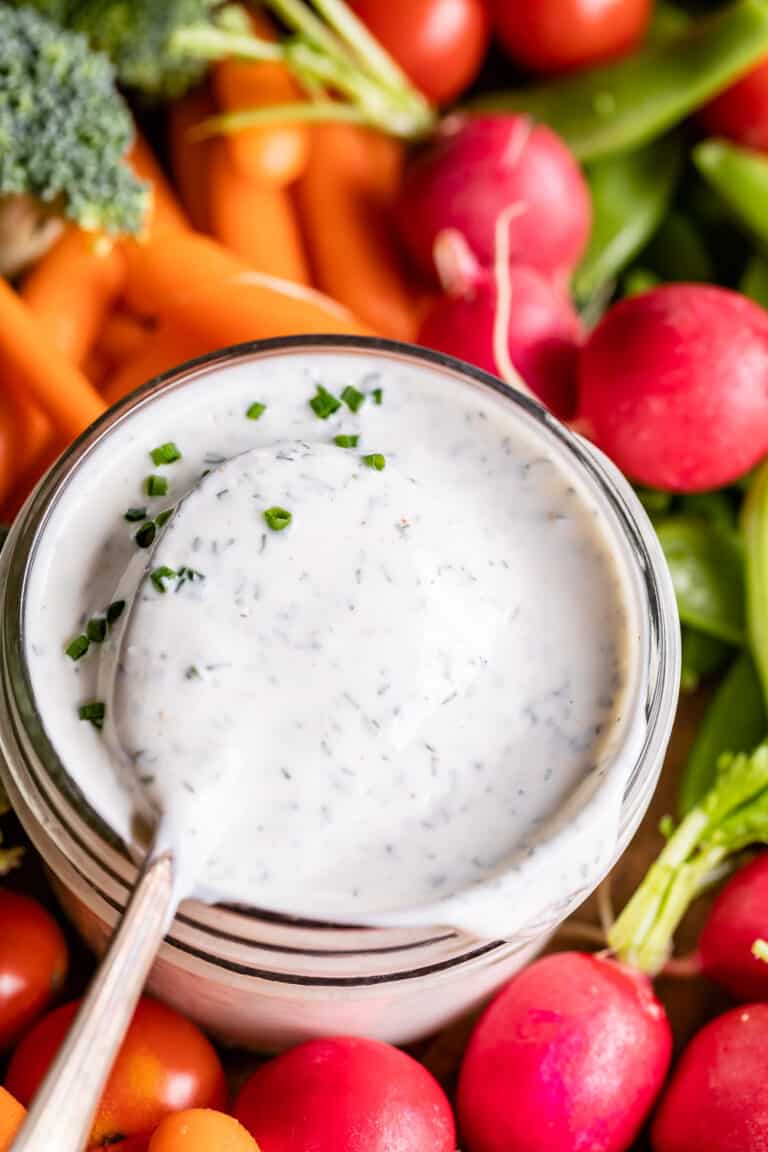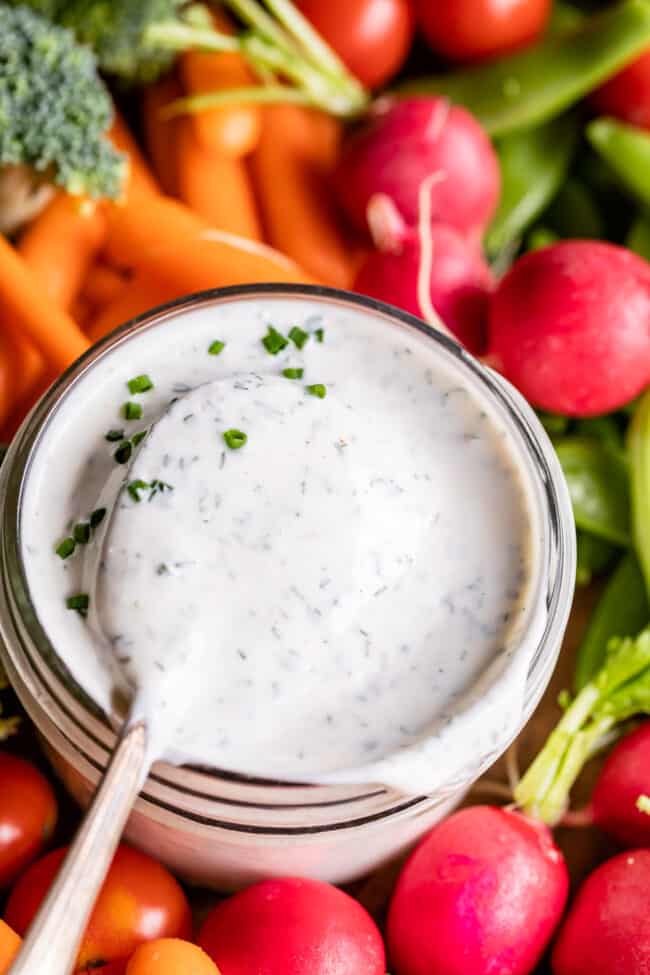 What do you love to dip in ranch? I did a post of 10 Easy Holiday Appetizers a while back, all of which are so good dipped in ranch. Veggies, salads, quesadillas, fried chicken, pizza (you know it), these Bacon Wrapped Jalapeno Poppers. It's all so good!
I made this ranch specifically to go on top of a this Crispy Chicken Salad. So Good!
More salad dressing recipes you will love!
Facebook | Pinterest | Instagram

Homemade Buttermilk Ranch Dressing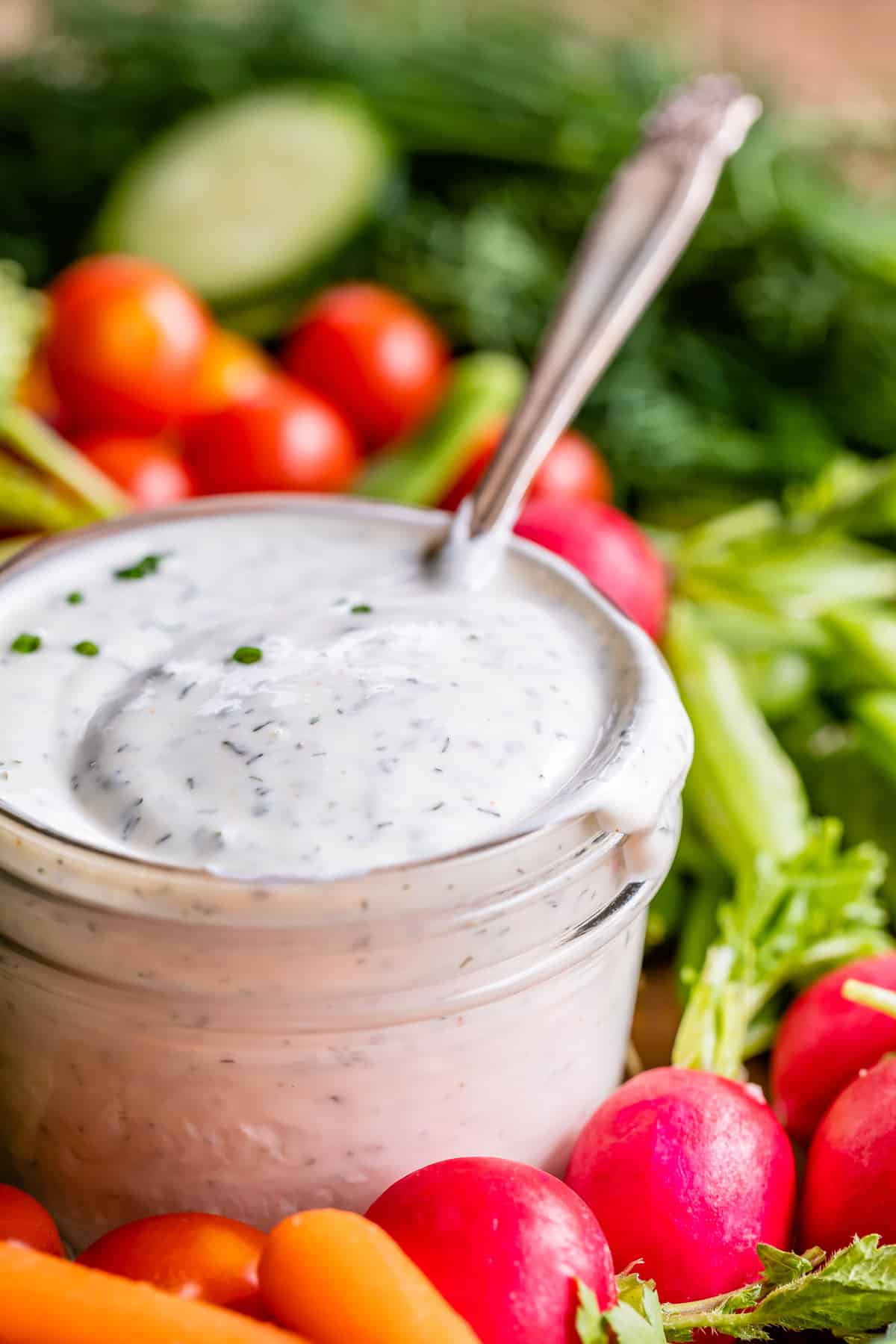 The only thing better than restaurant style ranch dressing is Homemade Buttermilk Ranch Dressing! It is so dreamy creamy and the recipe is ridiculously easy. I will show you just how to make it! Get ready for the best salad of your life!
Ingredients
1

cup

mayonnaise

1/2

cup

sour cream

1/2

cup

buttermilk

1

teaspoon

minced garlic

1

teaspoon

lemon juice

1

teaspoon

kosher salt

1/4

teaspoon

pepper

1/2

teaspoon

garlic powder

1/2

teaspoon

onion powder

1/4

teaspoon

dry mustard powder

1/8

teaspoon

cayenne pepper

3

tablespoons

fresh parsley

,

minced*

2

tablespoons

fresh dill

,

minced*

1

teaspoon

fresh chives

,

minced*
Instructions
Add all ingredients in

a medium bowl

and whisk until combined! Taste it and see if you want to add any more salt. Refrigerate for about an hour before serving, to give the flavors a chance to marry. Or don't. It will still taste great!

See notes about substitutions.
Notes
*The parsley, dill, and chives can be replaced with dried herbs. Use 2 teaspoons dried parsley, 1 teaspoon dried dill, and 1/2 teaspoon dried chives. If you don't have fresh garlic you can increase the garlic powder to 3/4 or even 1 teaspoon. If you don't have buttermilk, you can use whole milk instead; increase the lemon juice to 1 and 1/2 teaspoons.
Nutrition
Serving:
1
g
|
Calories:
115
kcal
|
Carbohydrates:
1
g
|
Protein:
1
g
|
Fat:
12
g
|
Saturated Fat:
3
g
|
Polyunsaturated Fat:
6
g
|
Monounsaturated Fat:
3
g
|
Trans Fat:
1
g
|
Cholesterol:
10
mg
|
Sodium:
248
mg
|
Potassium:
32
mg
|
Fiber:
1
g
|
Sugar:
1
g
|
Vitamin A:
143
IU
|
Vitamin C:
1
mg
|
Calcium:
20
mg
|
Iron:
1
mg