Have you tried the Chicken Lettuce Wraps at P.F. Chang's? I've got the best copycat recipe for you today! Finely diced chicken thighs are sautéed with shiitake mushrooms in a killer Asian-inspired sauce, then nestled into butter lettuce leaves and garnished with fried rice noodles. It is a super easy, fast, and TASTY weeknight meal. The perfect low carb dinner! Originally published April 11, 2021.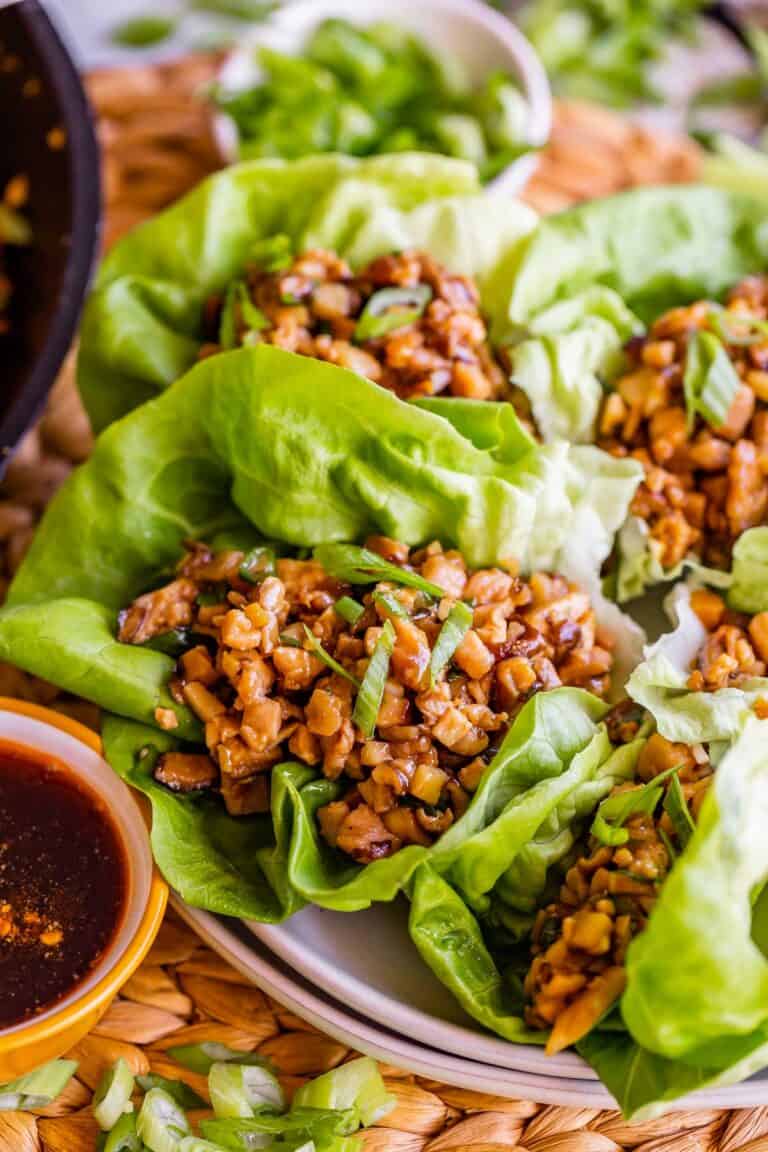 Table of Contents
The other day Eric was looking everywhere for his wallet. We hadn't been anywhere recently and he was pretty sure it was at home, so I kept doing what I was doing (going through my closet, actually, a horrendous task indeed) and left him to it.
Eric's parents were in town, and his dad joined him in the search. I heard them list off all the places they had looked: the car, under the bed, in the couch. I silently took note, and then when it seemed like they were getting desperate, I stepped in.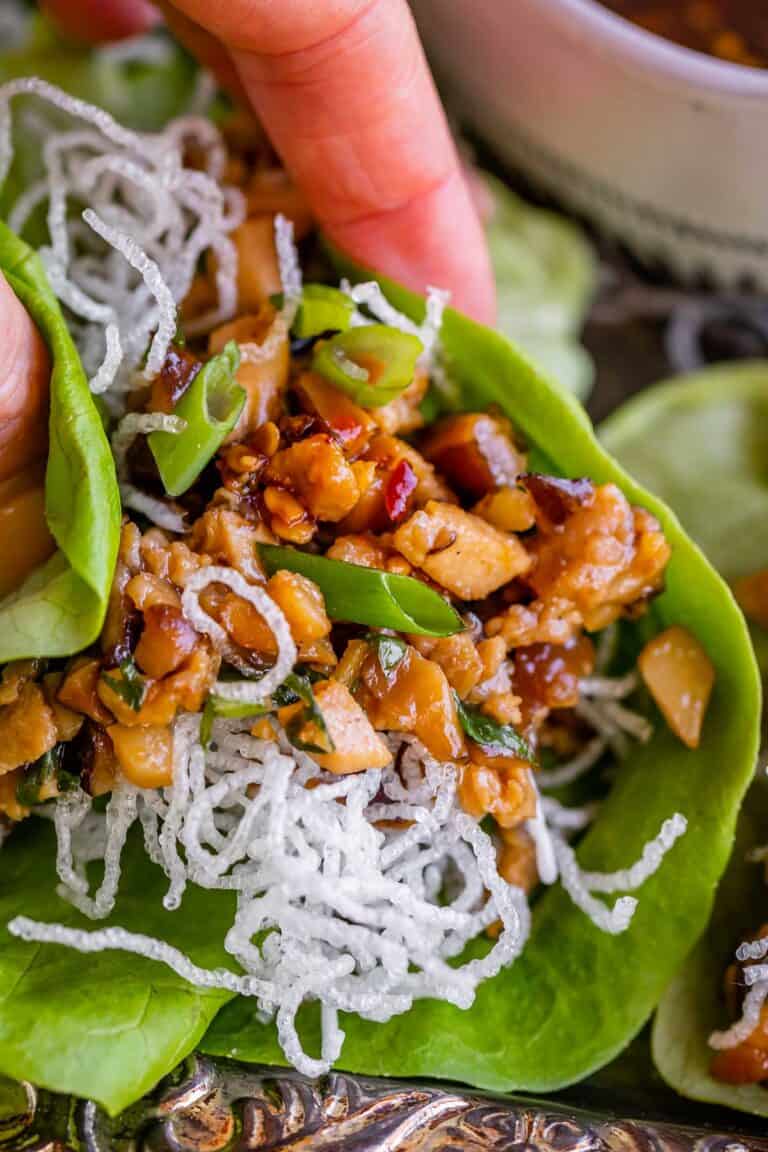 I found the wallet within 4 minutes of starting my search. Where was it? In the car, of course, the first place they had looked.
I mean, I don't want to say out loud that men have absolutely no clue when it comes to searching for things….but okay, seriously, what is it with men having no idea where to find their own things. I've discussed this with many a girlfriend, I know I'm not alone here.
I'm sitting here writing out this wallet story right now, and Eric is on the other end of the couch. I look over at him, and he looks up, gives me a face, and says, "You're writing a story about me, aren't you?" How did he know?? Was it the mischievous gleam in my eye?? The suppressed grin? Was it the "why yes, I am throwing you under the bus right now" snicker??
Sorry Eric. How many times has your dignity been sacrificed at the altar of the blog? My husband is actually a really cool human, guys ;) Not enough? How 'bout I make you dinner, Eric, hmm? Lettuce wraps sound good??
Lettuce Wraps
Have you tried the lettuce wrap appetizer at P.F. Chang's? It is famous for a reason! Juicy chicken, shiitake mushrooms, and water chestnuts combined in a killer Chinese sauce, nestled in a lettuce leaf and garnished with fried rice noodles. Heaven!!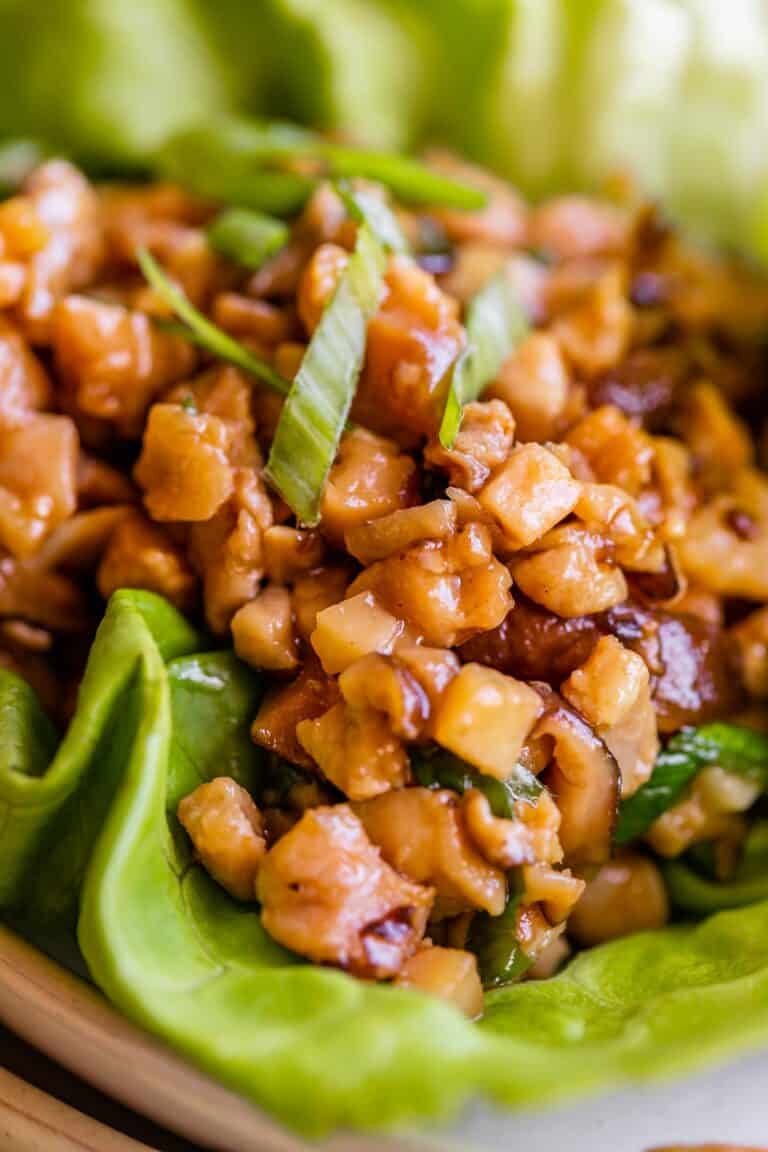 Most recipes I found online just didn't look right. They all start off with ground chicken (or ground turkey, which is definitely not right.) If you look at P.F. Chang's menu, you can tell from the picture that they are not using ground meat at all, instead it looks like finely diced pieces of chicken. Texture is everything in this very simple dish, and ground meat just isn't gonna cut it. (Of course, you CAN substitute ground chicken if you are in a rush. See note.)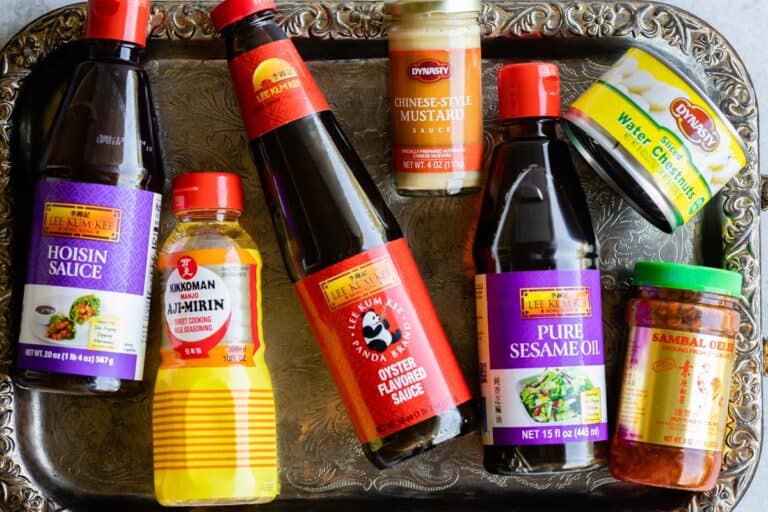 You need a few special ingredients to make this recipe, but it is a good excuse to outfit your pantry for Asian cooking anyway. Once you have these ingredients you will be one step closer to making this Asian Pork Tenderloin, or this Asian Chicken with Green Beans, this Chinese Beef Broccoli Soup, or this 10 Minute Wonton Soup.
You also need shiitake mushrooms for this recipe. They are crucial for getting the flavor of these lettuce wraps just right. They are tricky to find at your regular grocery store, so I'm using dried mushrooms as a hack. I found them on the Asian aisle at my grocery store. (I'm sure if you ventured to an international market you can find fresh shiitake, I was just lazy.) If you can't find dried or fresh shiitake, see note for details; you can definitely use fresh mushrooms of a different variety as a substitute, no problem.
Besides not using diced chicken, the other thing many recipes skip when they make this copycat dish is the fried rice sticks, or rice noodles. Why, why??? They are a game changer! I couldn't believe how many copycat recipes I found that didn't even touch on this! When you order this appetizer, you get a plate with 3 things on it: a half head of iceberg lettuce, a small bowl of dipping sauce, and the chicken filling….layered on top of a HUGE pile of fried rice noodles. It's an essential element of the dish, in my opinion. They add so much interest and the perfect crunch. Plus, they are SUPER fun to make!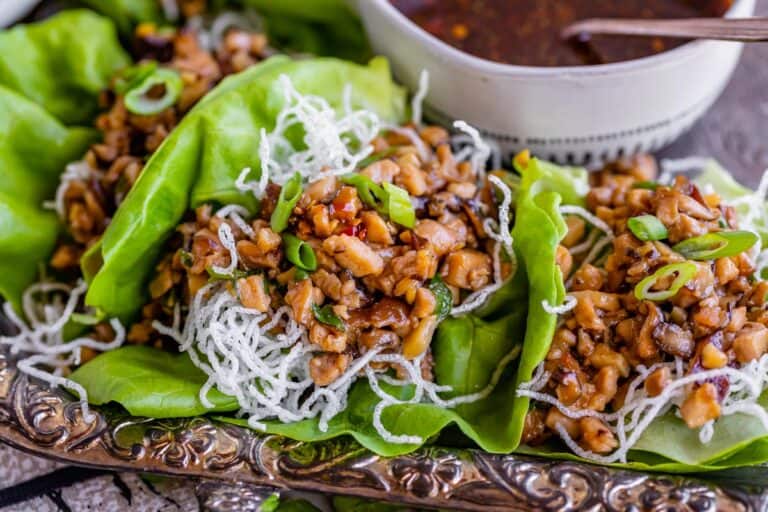 To sum up: here's what makes these lettuce wraps special and just like the ones at PF Chang's:
Use diced chicken instead of ground meat
Use the right Chinese sauces (more on that below)
find yourself some shiitake mushrooms
Don't skip the fried rice noodles garnish
Let's make them!
Chicken Lettuce Wraps Recipe Ingredients
Don't let this list scare you, now. Once you have these ingredients on hand, you will be prepared for all kinds of Asian cookery! A very exciting prospect indeed! All amounts and specifics given in the recipe card below.
Oil (canola and sesame oil)
Chicken thighs
Salt and black pepper
Dried shiitake mushrooms
Water chestnuts
Garlic
Fresh ginger
Green onions
Maifun Rice Sticks (totally optional)
Soy sauce
Oyster sauce
Aji Mirin (aka rice wine)
Hoisin sauce
Granulated sugar
Cornstarch
Rice vinegar
Chili garlic sauce
Sesame oil
How to make Lettuce Wraps (PF Chang's Style)
Start out with some dried shiitake mushrooms. I used two 1-ounce packages.

Soak them in hot water for about 30 minutes. When you squeeze them out and chop them, you get about 1 and 3/4 cup, about 7-8 ounces. If you can find fresh shiitake mushrooms, just dice up 8 ounces and call it good. If you can't find shiitake, fresh cremini mushrooms are the best substitute. You can use baby bellas or button mushrooms in a pinch though, too.

Now for the chicken. I like to start with frozen chicken. (See, I told you this was a perfect weeknight meal! How many times have you forgotten to defrost the chicken??)
Completely thaw chicken is a nightmare to chop into small pieces. But half-frozen chicken works great. So if you've got frozen chicken, pop it in the microwave for a minute or two. If you've got thawed out chicken, toss it in the freezer for 20-30 minutes before starting your prep work for the recipe.

After dicing, wait a bit to make sure the chicken is completely thawed before you cook it. I stuck mine in a ziplock and put it in a bowl of water. Takes just a few minutes since the chicken is diced so small.
Sear your chicken in a HOT HOT pan. A wok is best, because they get super duper hot. Next best is a cast iron skillet. If you don't have one, use a regular large skillet and let it preheat on the stove on medium high for at least 3 minutes before adding in the oil. Searing the chicken only takes a couple minutes because the pan is so hot. Remove from the pan so it doesn't get over cooked.

Next chop up your water chestnuts. I found this 8 ounce can right in the Asian aisle of my grocery store. Add it to the pan with the mushrooms, then add in the garlic and ginger.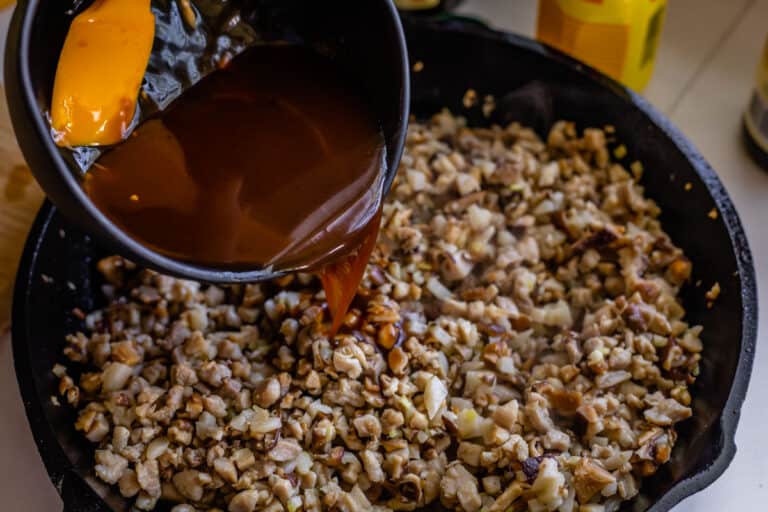 Then add in the sauce. The smell is gonna knock you out! It's so good! The sauce is a mixture of soy sauce, oyster sauce, aji mirin (rice wine), hoisin sauce, sugar, and a bit of cornstarch. You can find most of these ingredients on the Asian section of your grocery store. I found the aji mirin in the vinegar section. Aji mirin is a sweetened rice wine. If you can't find it, you can use rice vinegar instead. See notes for details.
How to fry rice sticks for Chicken Lettuce Wraps
Meanwhile, it's rice noodle time. I'd never fried rice sticks at home before, and I thought it must be kind of a pain if almost every copycat recipe I see omits them. Or maybe they don't add much to the dish?

WRONG. They are everything. Seriously. I tried a few bites right after frying them and thought, meh, not worth it. Then I added it to my lettuce wrap with the chicken, and whoa. SO good. It adds the perfect crunch and texture. Such a unique thing.
Plus they are ridiculously fun to make. I know there are drawbacks to having to fry anything (hello, what do I do with you, giant vat of leftover oil) but I promise it's super simple and only takes a few minutes. (I'll walk you through the clean up in the notes.)

You heat oil in a pot for a few minutes, then toss in a handful of noodles and KAZAAM. They explode into these super puffy birds-nest looking things. It is so fun to watch, and happens so fast I could hardly get a picture of it.
What lettuce is best for Lettuce Wraps?
Now it's time to assemble these beauties into lettuce wraps! The only purposeful variation I've taken on this recipe is to use butter lettuce instead of iceberg lettuce. I'm convinced they only use iceberg in the restaurant because it's so much cheaper. I love how soft and tender butter lettuce leaves are; iceberg brings in that irresistible CRUNCH. Either one will work great! Other lettuce options are romaine hearts or red leaf lettuce hearts.

The one last final touch you need for these wraps is a killer dipping sauce! This sauce is super easy to put together: you need a bit of soy sauce, rice vinegar, chili garlic sauce (I used Sambal Oelek), Chinese style hot mustard, oyster sauce, and sesame oil. You can skip the hot mustard if it's just one more thing to buy; add an extra bit of chili garlic sauce. Be sure to taste the sauce and adjust it however you like!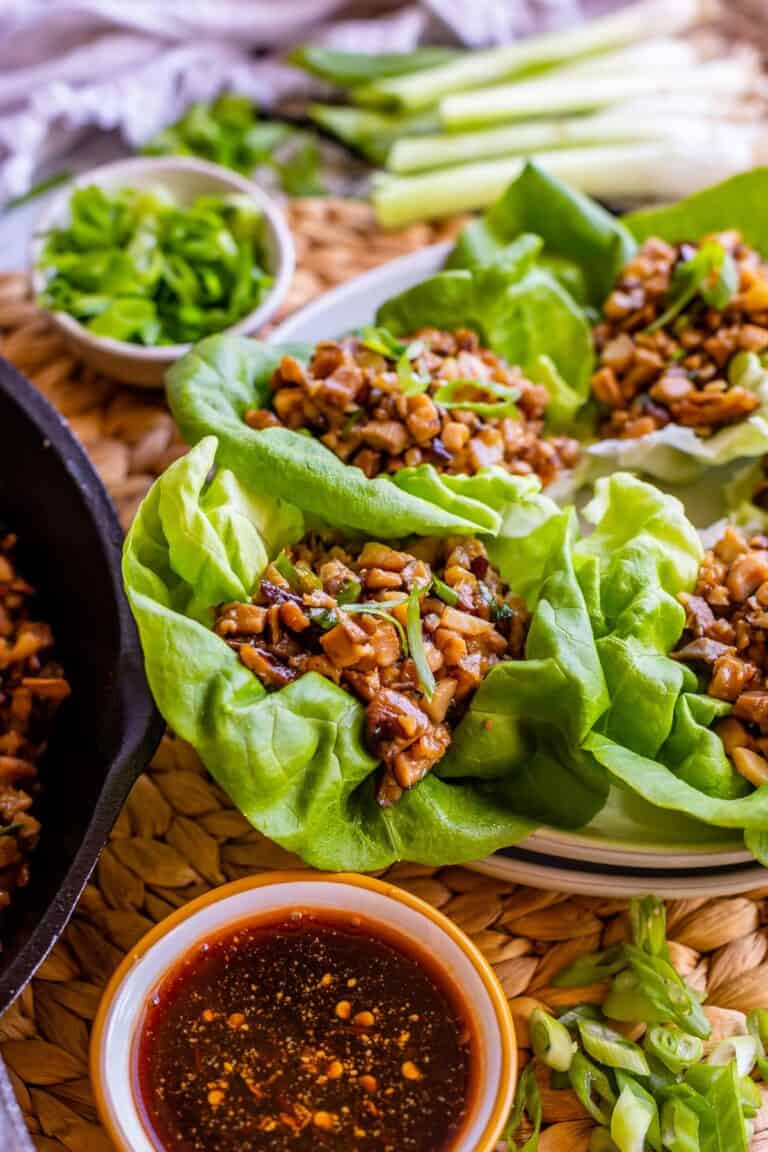 Finally, make sure you clean your lettuce leaves very well. Place a handful of fried rice noodles in the center of a lettuce leaf, then top with a generous amount of chicken and mushroom filling. Sprinkle with fresh green onions, dip in your sauce, and devour!
How to make Lettuce Wraps Dipping Sauce
My copycat version of the PF Chang's Lettuce Wraps sauce is a little salty, a little spicy, a little tangy, and a lot delicious! It's also super easy to put together.
You'll need soy sauce, rice vinegar, chili garlic sauce, Chinese style hot mustard, oyster sauce, and sesame oil. Just mix it all up, taste and adjust as needed, and it's ready to go!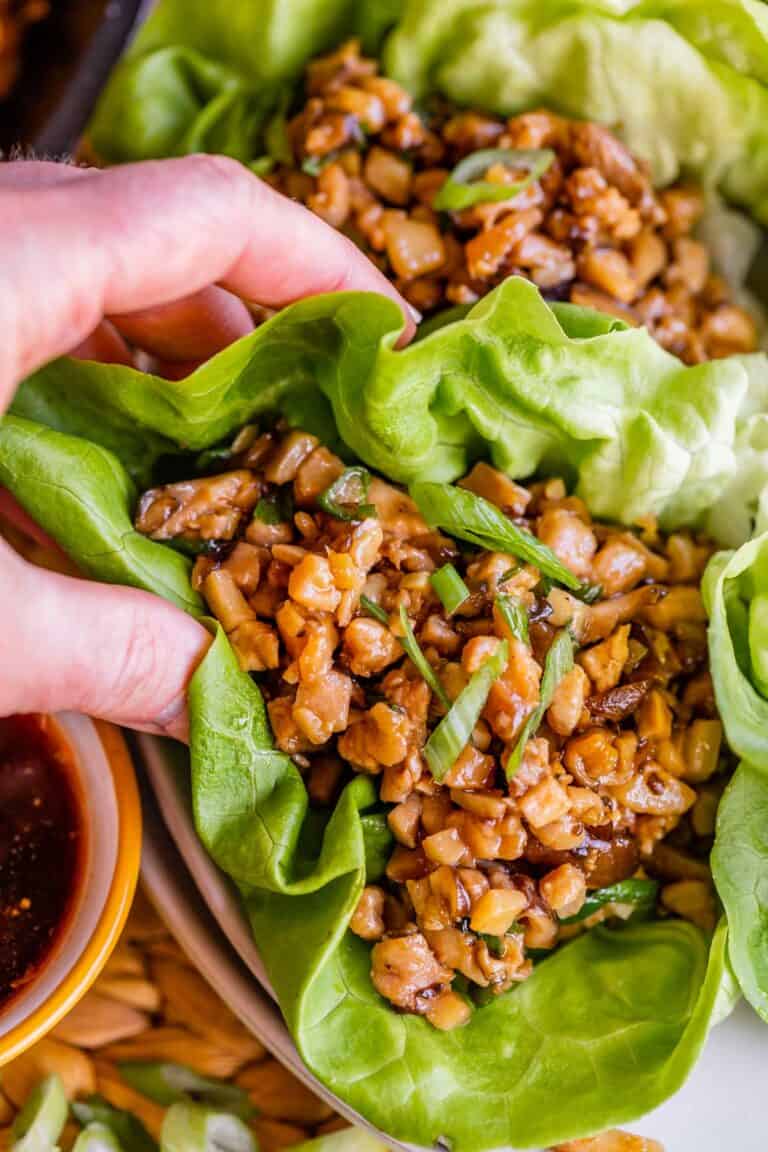 What to serve with Lettuce Wraps
I love to serve lettuce wraps with rice, cauliflower rice, vegetables, and/or bread. Here are some ideas!
How to store Leftover Lettuce Wraps
Once your chicken lettuce wraps are assembled, they're definitely best served right away. However, you can totally prep and store the different components until you're ready to serve.
The chicken and mushroom filling will last in an airtight container in the fridge for 3-4 days or in the freezer for 2-3 months. To serve, thaw in the fridge if frozen, then warm on the stove on low until heated through.
The sauce will last in an airtight container in the fridge for up to a week! You can also prep and wash a few lettuce leaves and have them ready to go in the fridge for a couple of days. Voila! Lunches done!
Lettuce Wraps Recipe FAQs
How many calories are in PF Chang's Lettuce Wraps recipe?
Calories schmalories 😉 Okay fine, I know you're here for low carb diet days. I've been there. There are about 550 calories in one serving of these chicken lettuce wraps, without the fried rice sticks. The serving size is pretty large because I figure most of you are going to be eating this as a main dish, not an appetizer. These wraps are loaded with lean protein, healthy veggies, and tons of flavor. Skip the frying if you are counting!
More quick and healthy dinner ideas you are going to love!
Facebook | Pinterest | Instagram

Chicken Lettuce Wraps (PF Chang's Copycat)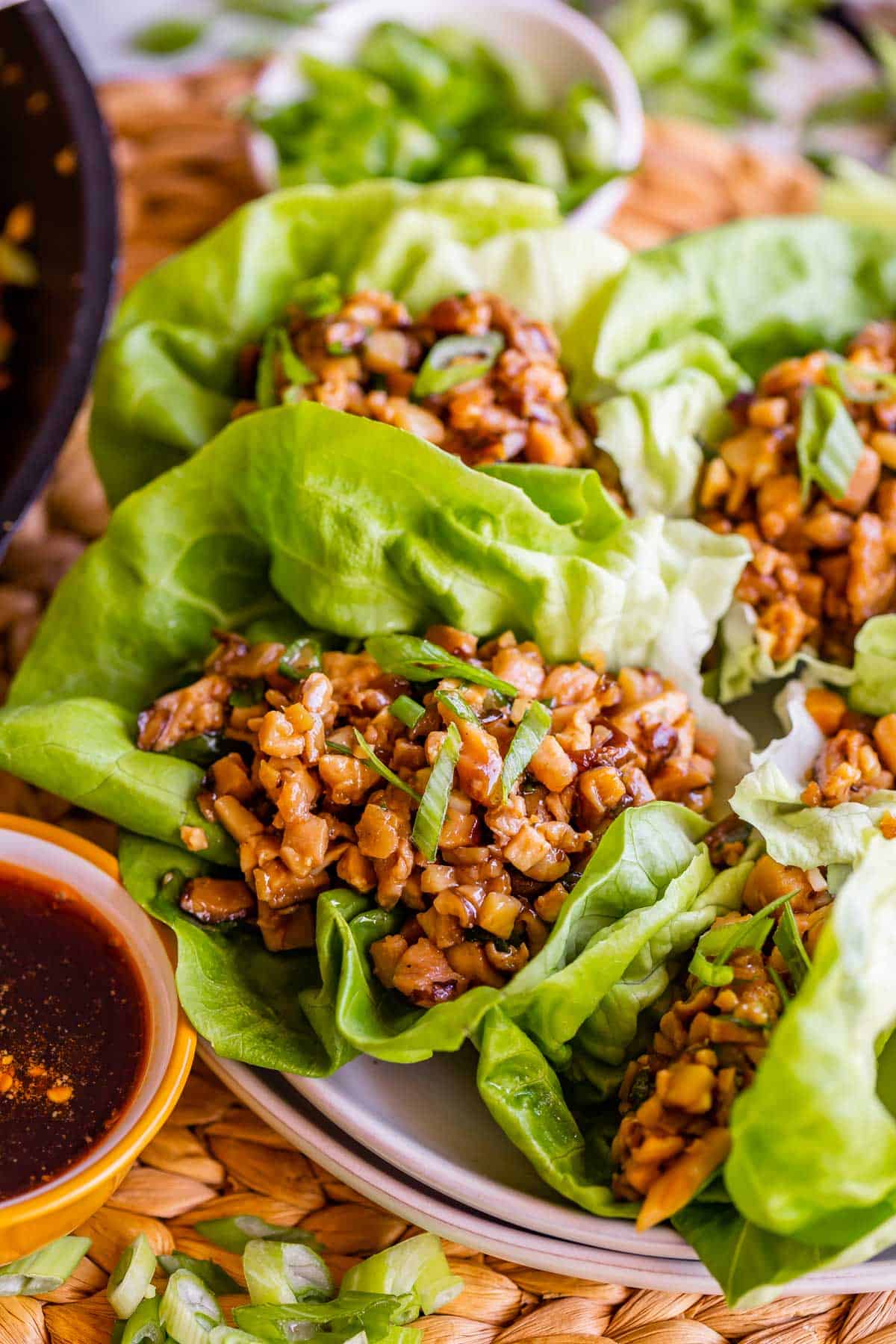 Have you tried the Chicken Lettuce Wraps at P.F. Chang's? I've got the best copycat recipe for you today! Finely diced chicken thighs are sautéed with shiitake mushrooms in a killer Asian-inspired sauce, then nestled into butter lettuce leaves and garnished with fried rice noodles. It is a super easy, fast, and TASTY weeknight meal. The perfect dish for when you are going low carb!
Ingredients
For the chicken filling
2 & 1/2

tablespoons

canola oil

,

divided

2 & 1/2

teaspoons

sesame oil

,

divided

1

pound

chicken thighs

,

chopped into very small pieces

1 & 1/2

teaspoons

kosher salt,

for seasoning chicken

black pepper

,

to season chicken

2

ounces

DRIED shiitake mushrooms*

hot water

,

for rehydrating mushrooms

1 (8-oz)

can

water chestnuts

,

chopped

1

tablespoon

garlic

,

smashed and minced

1

tablespoon

fresh ginger

,

minced

4

green onions

,

chopped and divided
For frying rice sticks
2

inches

frying oil

,

canola oil, vegetable, etc

1 (6.75-oz)

package

maifun rice sticks
For the sauce to go in chicken filling
1/4

cup

cold water

2

tablespoons

soy sauce

2

tablespoons

oyster sauce

2

tablespoons

aji mirin

,

rice wine**

3

tablespoons

hoisin sauce

1

tablespoon

granulated sugar

1

teaspoon

cornstarch
For the dipping sauce
1/4

cup

warm water

2

tablespoons

granulated sugar

3

tablespoons

soy sauce

4

teaspoons

rice vinegar

1

teaspoon

chili garlic sauce

,

I used Sambal Oelek

1/4 to 1/2

teaspoon

Chinese-Style Hot Mustard

1 to 2

teaspoons

oyster sauce

1/2

teaspoon

sesame oil
To assemble
2

heads

butter lettuce

,

or iceberg
Instructions
Prep the chicken. First things first, if you are using thawed chicken, place it in the freezer so that it is easier to chop later. If you have completely frozen chicken, take it out of the freezer to start thawing. You want to chop partially-thawed chicken.

Rehydrate the shiitake mushrooms.* Add 2 ounces DRIED mushrooms to a medium bowl and cover with very hot water. Let sit for 30 minutes. Once they are softened, squeeze out as much water as you can and place on a cutting board. Chop off the stems and discard (they are too tough). Chop the mushrooms into small pieces, see photos. You should end up with about 1 and 3/4 cup mushrooms, about 7-8 ounces. Set aside.

Prepare the vegetables. Meanwhile, drain the 8 ounce can of water chestnuts and chop them into small pieces. Smash and mince 1 tablespoon garlic. Peel a knob of ginger with a spoon (it's easier than a peeler) and mince 1 tablespoon. Set aside.

Assemble the filling sauce. In a small bowl add 1/4 cup cold water, 2 tablespoons soy sauce, 2 tablespoons oyster sauce, 2 tablespoons aji mirin**, 3 tablespoons hoisin sauce, 1 tablespoon sugar, and 1 teaspoon cornstarch. Stir together and set aside.

Chop the chicken.

Once your chicken is partially frozen (if it's still rock hard, you can put it in the microwave in 30-second increments until it is chop-able), use a chef's knife to chop the chicken into very small pieces. Smaller than you have ever chopped chicken before, probably. See photos. You want them to be about 1/4 to 1/2 inch dice. It doesn't need to be perfect, but the smaller your chicken pieces, the more homogenous your wrap filling will be. It's all about the texture in this recipe. Seal the still-partially frozen chicken pieces in a ziplock, place in a medium bowl, and cover with water. The chicken should be thawed out within 10-20 minutes. Do not cook the chicken until it's completely thaw.

While the chicken thaws, fry the rice sticks. This step is optional but delicious. In a 3 quart pot, heat 2 inches frying oil to about 400 degrees (I set my burner to just above medium heat.) It will take several minutes for the oil to come to temperature. Use a thermometer to see the temperature.

Break off a small handful of rice sticks and carefully drop it into the oil. Within 2-3 seconds, they will rise to the top of the oil. They will be puffy and huge compared to what you dropped in. It's so fun! Remove the puffed rice sticks to a paper towel lined plate and set aside. Continue the process until you have as much as you think you will want to eat on your wraps. Set the oil on a back burner to cool.***

Cook the filling. Heat a wok (best), cast iron skillet (better), or large skillet (ok) over medium high heat. (You want to cook over very high heat; woks are best for this. I don't have one, so I used cast iron). Drain the chicken well. Once the pan is very hot, add 1 and 1/2 tablespoons neutral oil and 1/2 tablespoon sesame oil.

Drain the chicken. Add the diced chicken and stir constantly until thoroughly cooked. Season with 1 and 1/2 teaspoons kosher salt, and black pepper to taste. It will only take 2-3 minutes to cook. Remove the chicken to a plate.

Keep the heat on medium high. Add another 1 tablespoon neutral oil and 1 teaspoon sesame oil. When hot, add in the mushrooms and water chestnuts. Saute for 2-3 minutes. Add in 1 tablespoon garlic and 1 tablespoon ginger and saute for another 1 minute.

Return the chicken and any juices to the pan. Add the prepared sauce to the chicken and mushrooms. Lower the heat to medium and cook for another 2 minutes.

Chop 4 green onions. Set aside a small amount to add as a fresh garnish to each wrap. Add the remaining green onions to the pan and saute for another 1-2 minutes. Remove from heat.

Make the dipping sauce. In a small bowl, combine 1/4 cup warm water, 2 tablespoons sugar, 3 tablespoons soy sauce, 4 teaspoons rice vinegar, 1 teaspoon chili garlic sauce, 1/4 to 1/2 teaspoon Chinese hot mustard, 1 to 2 teaspoons oyster sauce (taste it!) and 1/2 teaspoon sesame oil. Whisk it together.

Assemble the wraps. Carefully remove the core of the butter lettuce from the head, and clean each butter lettuce leaf. There is a LOT of debris in butter lettuce, so take your time washing each leaf. Lay on paper towels to dry. (You can also try iceberg lettuce.)

Place a handful of fried rice sticks in each lettuce leaf. Top with a spoonful of warm chicken and mushroom filling. Sprinkle with fresh green onions. Devour!
Notes
*Shiitake mushrooms are a key flavor element in PF Chang's lettuce wraps. They can be tough to find in the US. I used DRIED shiitake mushrooms that I rehydrated, as described in the recipe. If you can find fresh shittake mushrooms, use 8 ounces. Chop them into small pieces. If you can't find fresh or dried shiitake, buy cremini mushrooms. If you can't find those, buy baby portabellas. If you are using any type of fresh mushroom, you will need about 8 ounces, chopped into small pieces. Add them to the recipe as you would if you had rehydrated shiitake mushrooms, in step 10.
**If you can't find aji mirin (which is rice wine), you can use rice vinegar, which is widely available. Use 2 tablespoons rice vinegar. Add 1 teaspoon extra sugar to your filling sauce to make up for the lack of sweetness in the vinegar.
***You can save cooled frying oil to use another time. Save the oil container that it originally came in. Place a funnel on top, and a mesh strainer over that to catch any large bits. Have someone help you pour the (completely cooled) oil back into the container. Label it "fry oil" and use it next time you want to fry something. I usually use my oil 2-3 times before returning to the container and tossing it in the trash.
Note on the chicken: you can substitute 1 pound ground chicken for the finely diced chicken thighs! So many recipes call for this and it's totally delicious. The flavor will be the same, it will just be lacking in texture. But it is so much easier that I'm not judging you ;)
Nutrition
Serving:
1
serving
|
Calories:
552
kcal
|
Carbohydrates:
43
g
|
Protein:
25
g
|
Fat:
31
g
|
Saturated Fat:
6
g
|
Polyunsaturated Fat:
8
g
|
Monounsaturated Fat:
15
g
|
Trans Fat:
0.1
g
|
Cholesterol:
111
mg
|
Sodium:
2779
mg
|
Potassium:
867
mg
|
Fiber:
6
g
|
Sugar:
16
g
|
Vitamin A:
2908
IU
|
Vitamin C:
8
mg
|
Calcium:
69
mg
|
Iron:
4
mg