This to-die-for easy Blackberry Cobbler recipe is ridiculously simple to make! The crunchy oat topping comes together super fast, and is the perfect compliment to summer's finest offering: blackberries.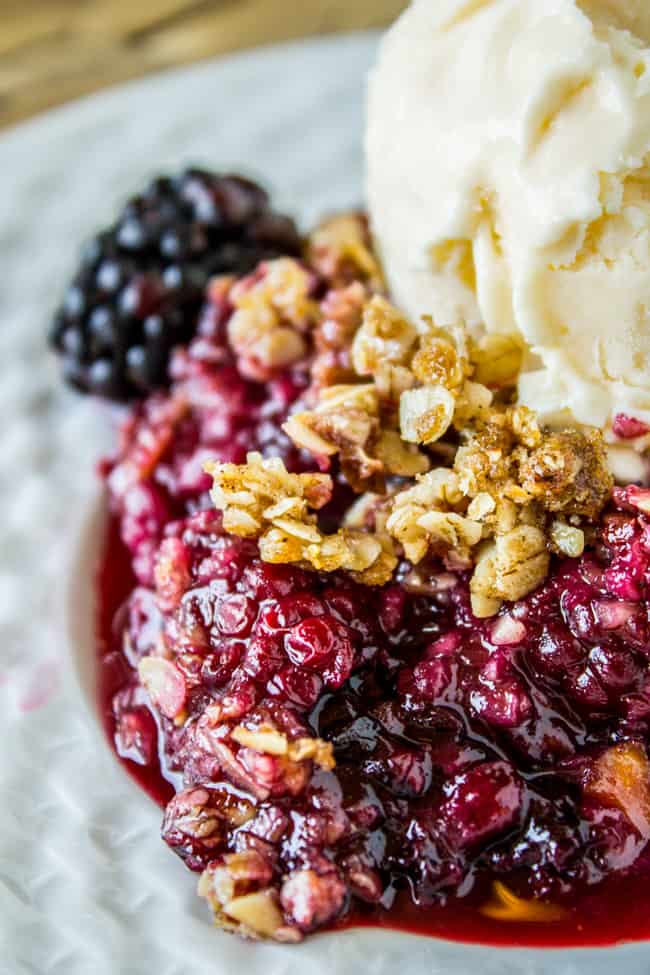 Originally posted May 17, 2016
So do you want to know the BEST part about driving from California to Pennsylvania? That's right: it's the part where you're not driving from California to Pennsylvania anymore.
I just finished a 4 day cross country road trip with my brother Nathan. I should amend the above statement to say: the best part is hanging out with my brother while listening to music and reading a book, watching the cows pass by WITHOUT ANY SCREAMING CHILDREN. Although I've been gone long enough now that I've forgotten reality, and all I can remember are bedtime cuddles and story time and tickle fights.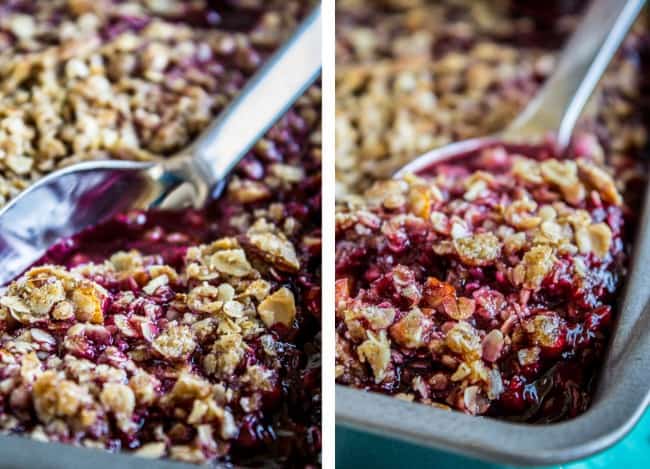 Eric is holding down the home front with the kids while I go galavanting across the country. Coming in with strong reinforcements (sorry Eric, just telling it like it is) are Kris and Jessie (his mom and sister) who are awesome, and who I will owe cookies for the indefinite future. Pretty sure they will win me out for Co-Mom of the Year for 2016.
Example: Kris texted me from the store asking for Truman's shoe size. And that was when I guiltily remembered that Truman has been wearing the same pair of light-up Storm Trooper snow boots for the last 6 months. They are so worn out that you can see his toes when he wears them. Not just a big toe. Oh no. We're talking 20 visible toes.** These boots open up like a muppet's gaping mouth. And I let him wear them every day because they are the only pair of shoes that Truman can put on by himself. Yes, I really am THAT lazy.
Easy Blackberry Cobbler Recipe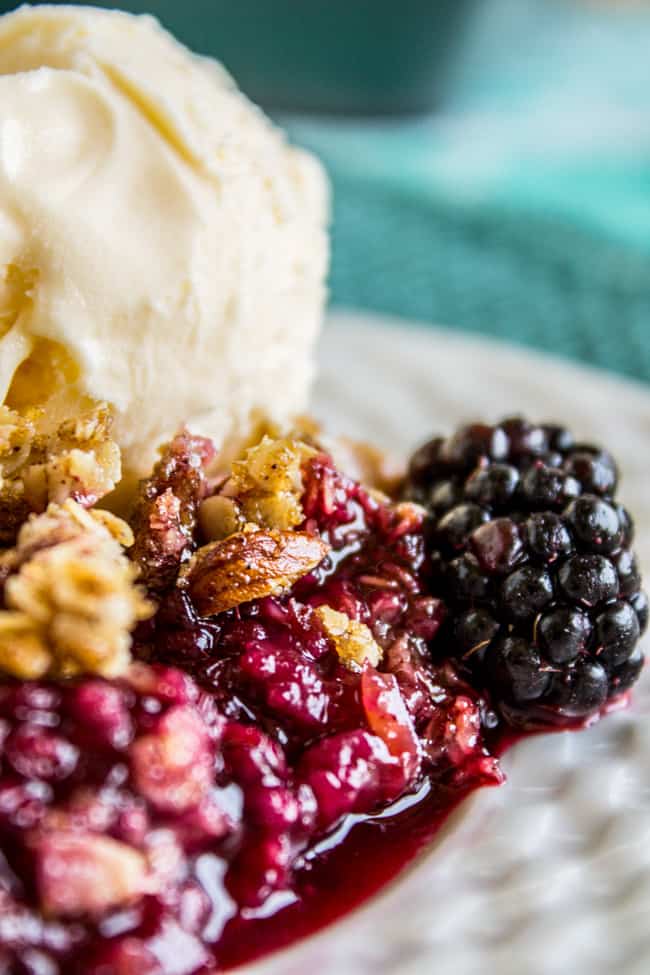 Are blackberries on sale in your grocery store yet? If not, find yourself a farmer's market or one of those pick-your-own-berries farms. Fresh blackberries are just one of those things about early summer that I feel is an absolute crime to miss out on. Around here in Sacramento we are spoiled: all I have to do is drive around until I see someone selling fruit on the side of the road. It's the best.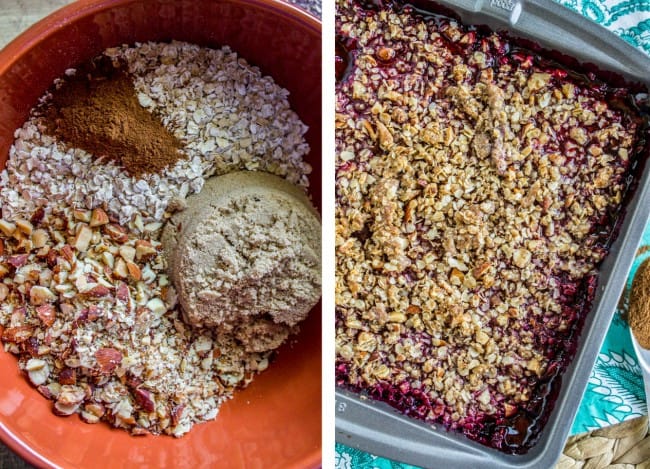 How to make Blackberry Cobbler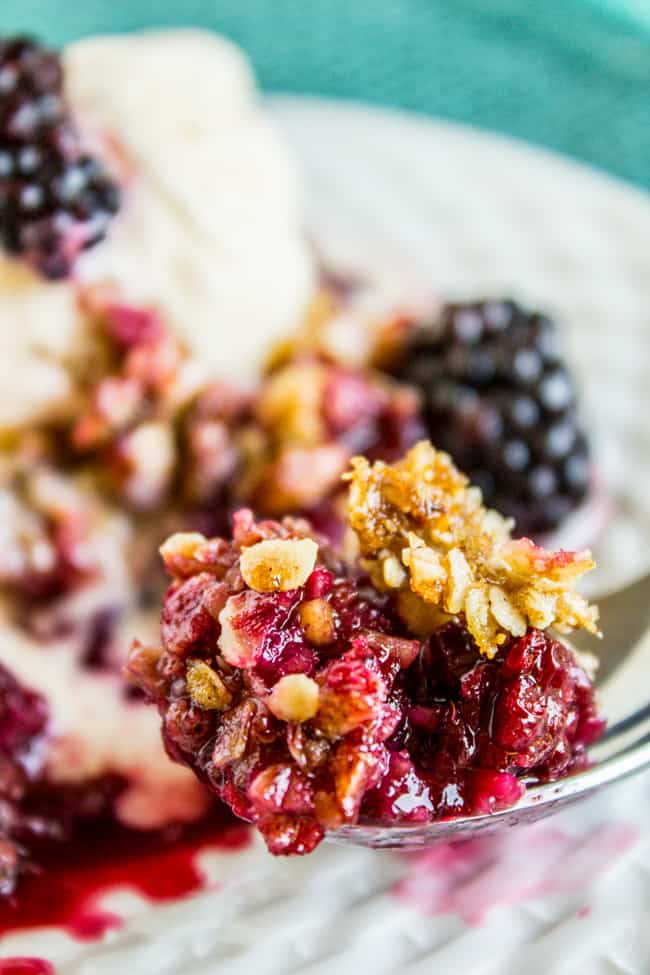 This cobbler is loosely based on a recipe from my Aunt Shirley, who is an amazing baker. I love a good crunchy topping, and oats add the perfect amount of chewiness. I decided to chop up some Lightly Salted Almonds for the topping, which brings even MORE crunch. It almost makes the topping granola-ish, not in a healthy-breakfast way, but in a wow-that's-amazing way.  Also, this is a great dish for when you're serving gluten-free friends because there's no flour.
If you make this cobbler, snap a photo and share on social using #TheFoodCharlatan. I would love to see it!
Facebook | Pinterest | Instagram | Twitter
1 year ago: Thin Mint Mint Cookies
2 years ago: Extra Cheesy Penne and Mozzarella Casserole
3 years ago: The Fastest (No Yeast) Cinnamon Rolls Ever
**UPDATE: It took me 24 hours and my mom reading my blog post to realize that Truman only has 10 toes. That's what I get for writing in the wee hours. Whatever, I'm leaving it. You don't like my mutant child, beat it.

Easy Blackberry Cobbler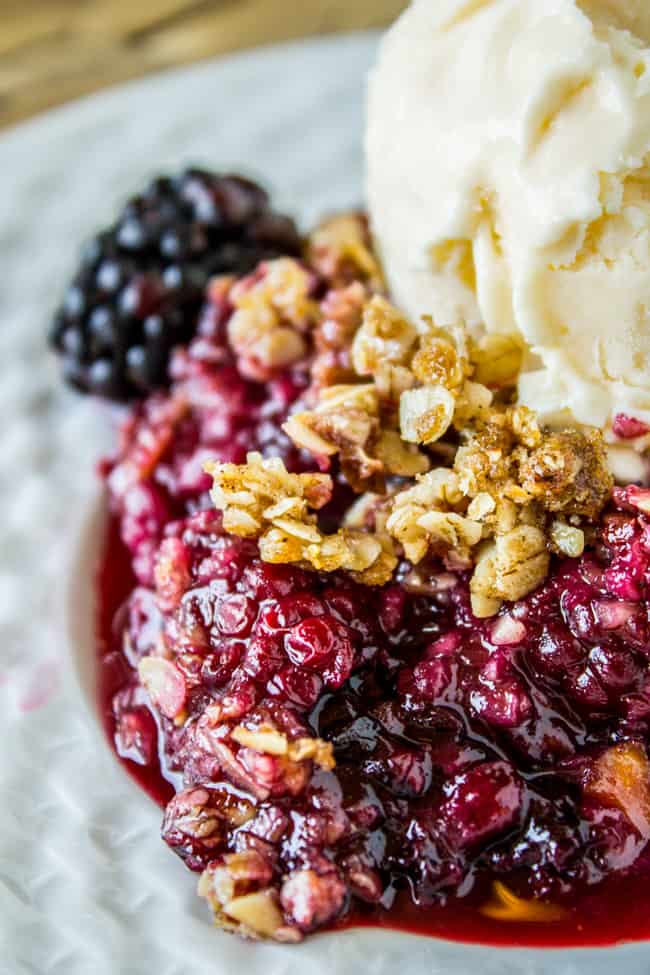 This to-die-for easy Blackberry Cobbler recipe is ridiculously simple to make! The crunchy oat topping comes together super fast, and is the perfect compliment to summer's finest offering: blackberries.
Ingredients
For the filling
4-5

cups

blackberries

,

fresh or frozen

3/4

cup

white sugar

2

tablespoons

cornstarch
For the topping
1

cup

quick oats

1/2

cup

Blue Diamond Lightly Salted Almonds

,

chopped fine

1/2

cup

brown sugar

1/2

teaspoon

cinnamon

1/3

cup

butter

,

melted

vanilla ice cream

,

to serve with (not optional...)
Instructions
Preheat the oven to 375 degrees F. Grease the sides of

a square pan

, either 8x8 or 9x9.

If you are using frozen berries, drain them. (I drained mine until they were about halfway thawed. There was still quite a bit or moisture in them.) Drink up that juice, don't be shy now.

Add berries to a medium bowl. Add white sugar and cornstarch and stir. Transfer the mixture to the square pan.

In another medium bowl, combine oats, chopped almonds, brown sugar, and cinnamon.

In a small bowl, melt the butter. Add the butter to the oats and stir.

Cover the berries with the oat topping and spread around.

Bake at 375 for about 25-30 minutes, or until lightly browned on the top.

Serve with vanilla ice cream! Seriously. Don't skip it.
Notes
This recipe as written as written makes a pretty wet cobbler, which is how I like it. If you prefer less, make sure you drain your berries very well (or use fresh) and you could even add another tablespoon or two of cornstarch if you'd like it more thick.
Nutrition
Serving:
1
g
|
Calories:
427
kcal
|
Carbohydrates:
66
g
|
Protein:
6
g
|
Fat:
18
g
|
Saturated Fat:
7
g
|
Polyunsaturated Fat:
2
g
|
Monounsaturated Fat:
7
g
|
Trans Fat:
1
g
|
Cholesterol:
27
mg
|
Sodium:
97
mg
|
Potassium:
316
mg
|
Fiber:
8
g
|
Sugar:
48
g
|
Vitamin A:
521
IU
|
Vitamin C:
20
mg
|
Calcium:
86
mg
|
Iron:
2
mg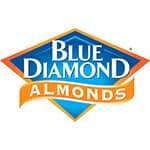 This post is sponsored by Blue Diamond Almonds. I absolutely love working with Blue Diamond on a long-term basis. They are seriously the best kind of company! Thanks for supporting our partnership!
More blackberry recipes:
In case you have buckets of blackberries in your life, like I do every spring because of my parent's vines, here are some other ideas!
Blackberry Pie << my mom has been making this pie forever. Probably like over 150 times. I'm not exaggerating. My family does NOT mess around when it comes to berry pie.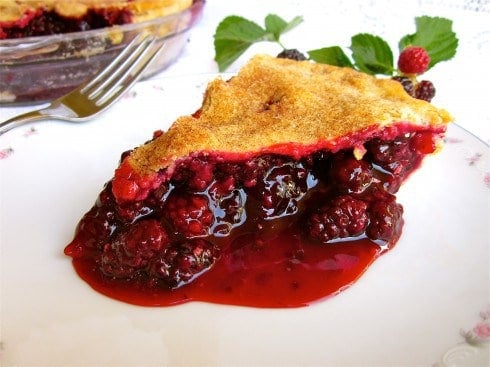 Fresh Blackberry Glacé Pie << this is the only pie that comes close to rivaling the pie in the photo above. (I think I like it better. Mom, pretend you didn't read that.) It's like this Strawberry Glacé Pie, except with blackberries instead.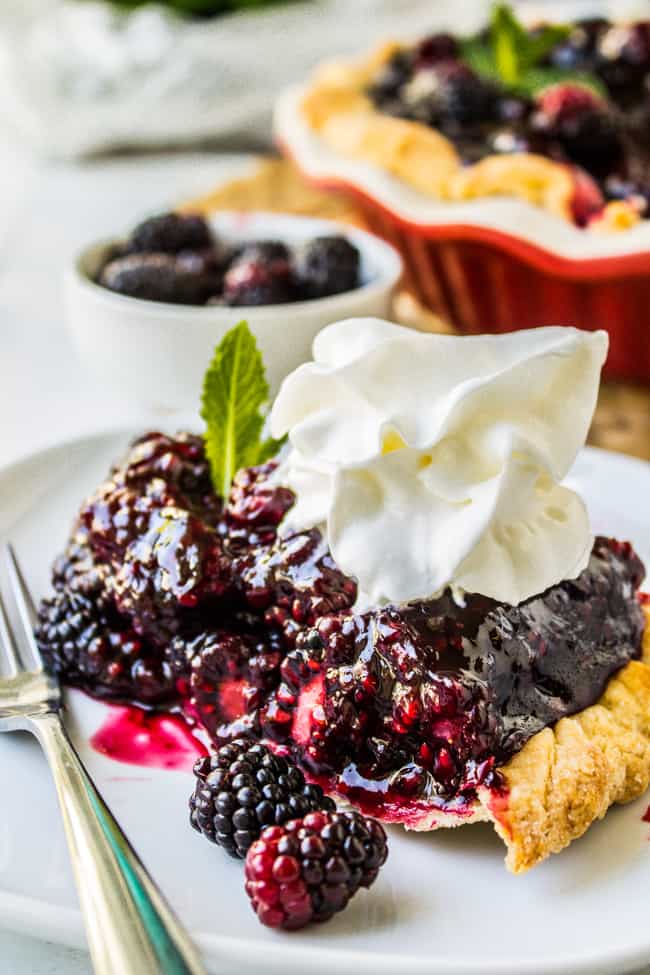 Or if you're feeling something savory, try out this Blackberry Ricotta Pizza with Basil! It's so good.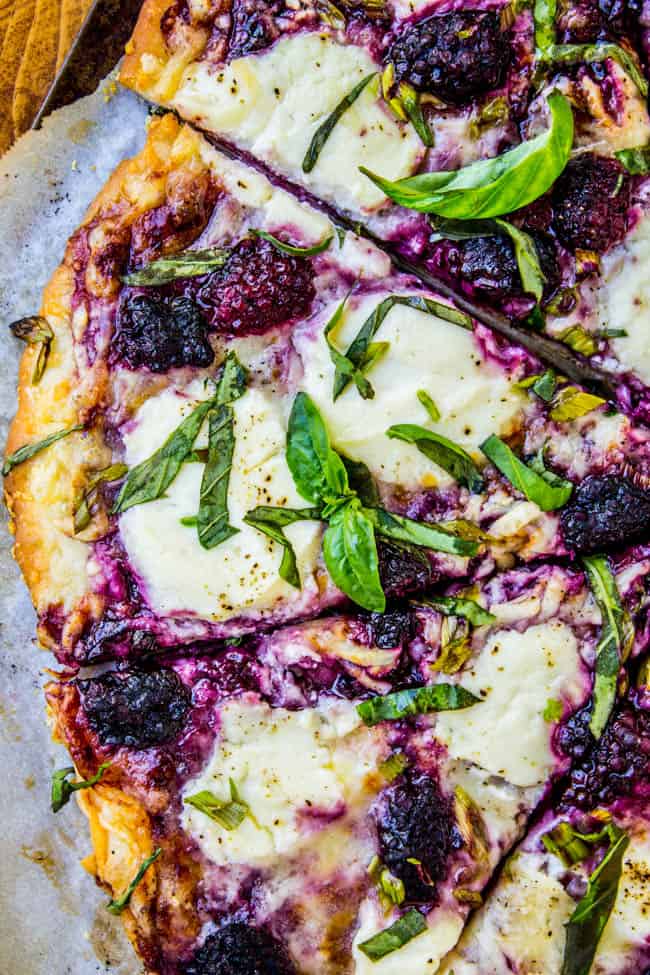 Or this Blackberry Balsamic Glazed Chicken:
More cobblers to love!
Blackberry Cobbler from Five Heart Home
Black and Blue Berry Cobbler from TidyMom
Blackberry Cobbler from Great Grub, Delicious Treats