This homemade stuffing is the perfect autumn side dish for Thanksgiving! Stuffed with butternut squash, cranberries, and (surprise!) lentils! This may sound like a weird combination, but stay with me guys. It's so good!
If you had to pick your TOP Thanksgiving dish, what would it be? Turkey? Stuffing? Mashed potatoes? Cranberry sauce from a can?? <<that was totally my favorite when I was a kid. All neatly sliced up, like we were going to slap it on a sandwich or something. (The idea of adding a slab of canned cranberry jelly on a turkey sandwich still sounds good to me, a testament to the power of food nostalgia.)
I think I would have to pick mashed potatoes as my number 1. With tons of gravy.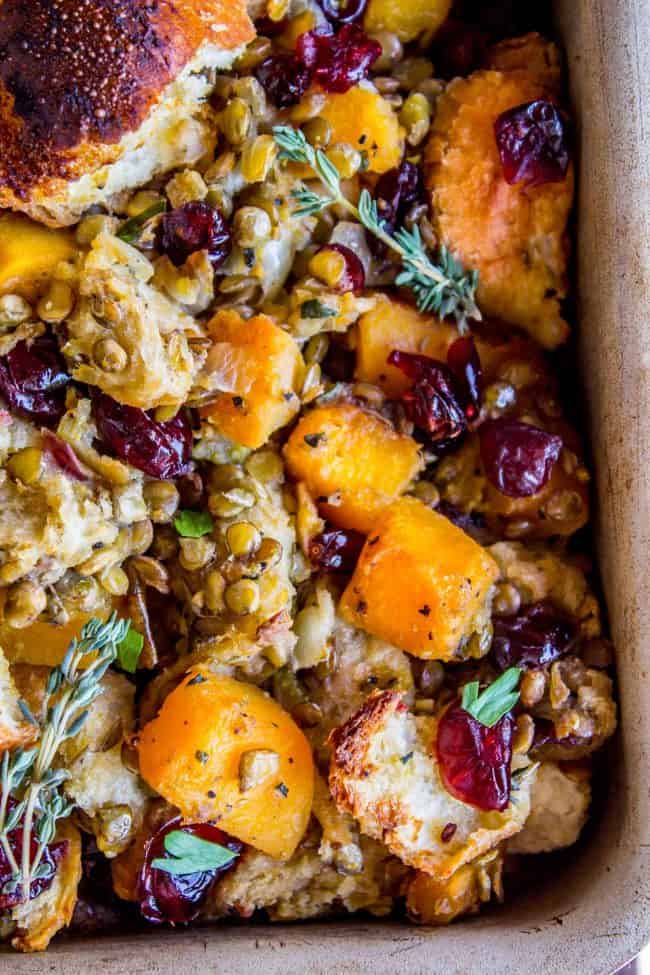 You know what is at the BOTTOM of my list, like, even below the can of cranberry jelly? STUFFING. What is it with the soggy bread, people?? There are ZERO recipes for stuffing on my blog.
I always add it to my plate, of course. It's a crime not to, it's Thanksgiving for heaven's sake, you can't NOT eat the stuffing. But usually while I'm eating it, my mind wanders: "why isn't this mashed potatoes" or "I could be eating a 3rd yeast roll right now," or "seriously, why so soggy."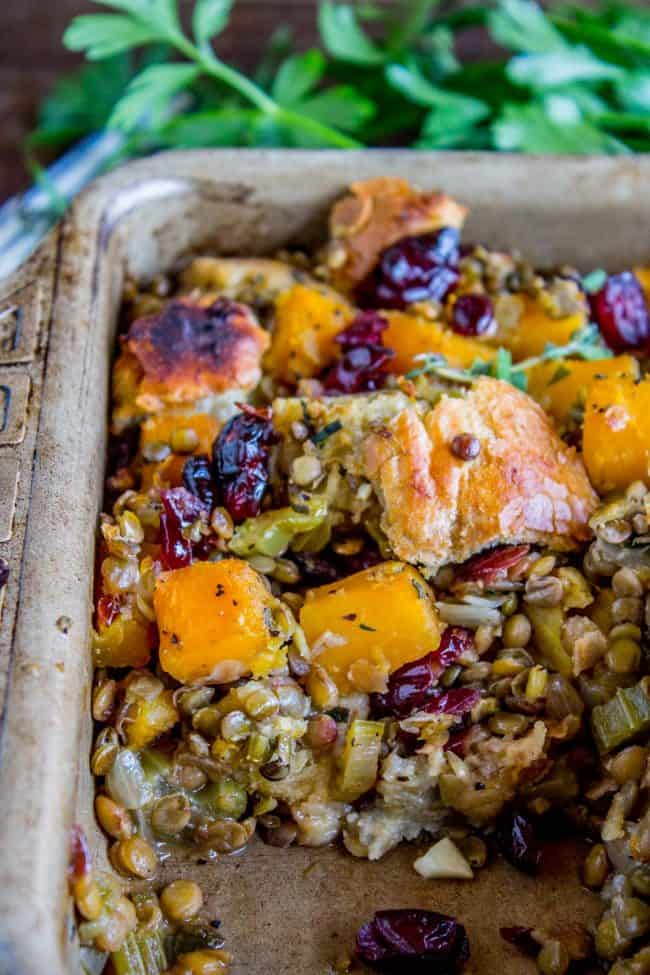 And then there are the recipes that try to jazz up regular stuffing by adding sausage. This is not a solution in my opinion. I'm here to eat TURKEY, thankyouverymuch, take your sausage and go home. No meat competitions, please.
But, guys. I think I've done it. No, I know I have. A stuffing that I actually like. A stuffing that I LOVE, even. A stuffing that I would make on Thanksgiving and also a day that is not Thanksgiving. A stuffing that I will happily eat an entire plateful of for lunch 2 days in a row because that's how many days I spent testing this recipe.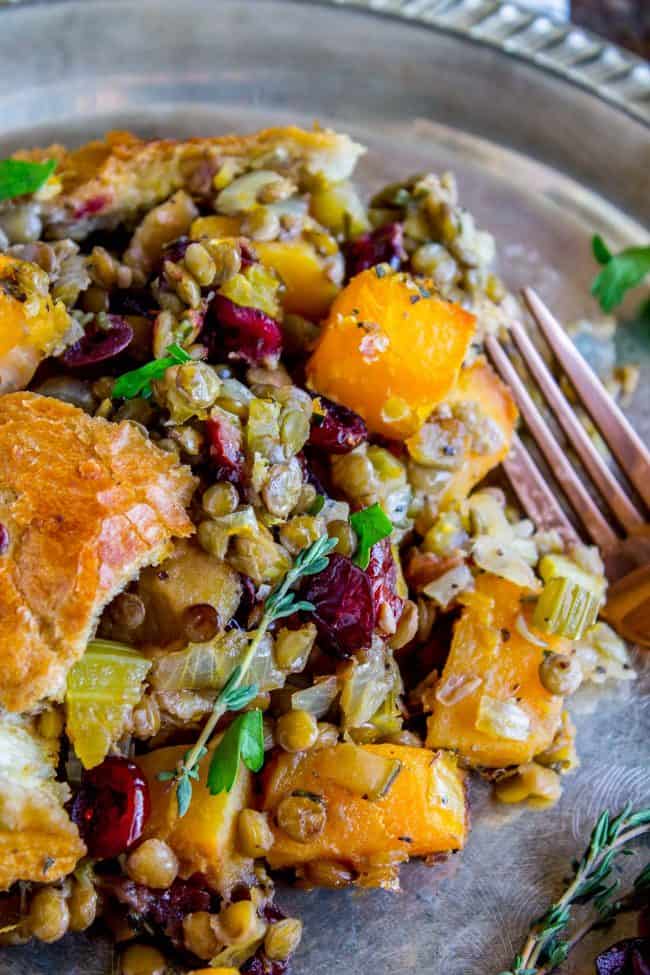 First, there has to be something more interesting that onion and celery, the base of every stuffing ever. To me, those flavors are meant to be background flavors. They enhance whatever ingredient comes next, and in this case I chose butternut squash. What could possibly be more Thanksgiving-y than butternut squash?
Next we add the cranberries. I learned years ago from making this Butternut Squash, Cranberry, and Goat Cheese Crostini that butternut and cranberries were meant to be.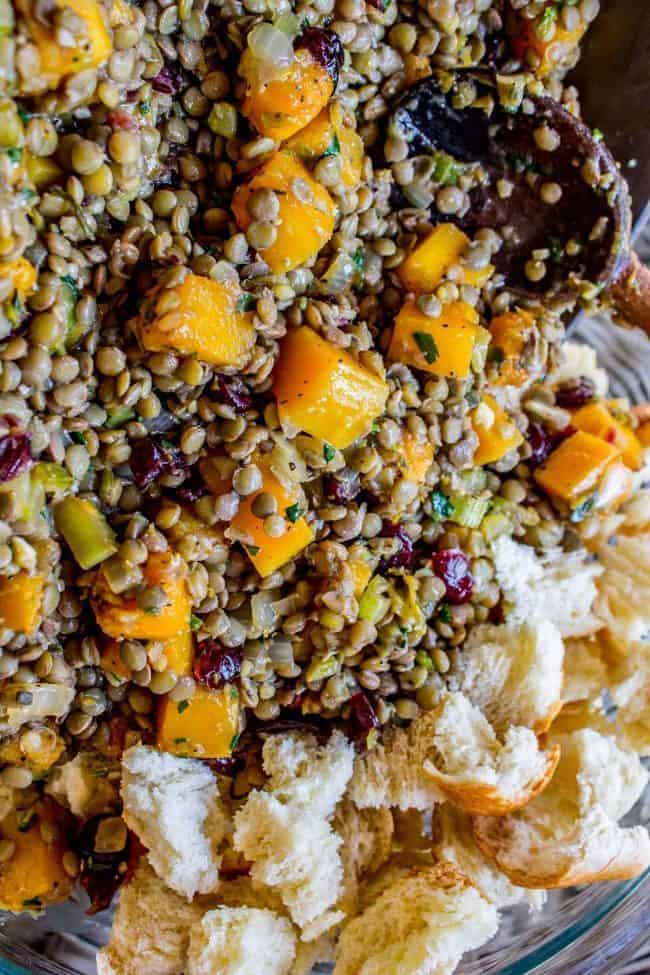 Next come the lentils. Lentils make sense here because try as I might, I just need more than bread in my stuffing. I need something else for my teeth to sink into. I think lots of people do, which is where the sausage idea came from most likely. But lentils are a way better choice, in my opinion. They are not too heavy. They add a bit more substance and protein without being "meaty." And when you cook them with sage and thyme, oooh boy are they delicious.
I'm partnering with USA Pulses and Pulse Canada for this post. "Pulses" refers to dry peas, chickpeas, lentils and beans. (Did you know that?? 100 points! I did not!)
Pulses are super good for you, making this stuffing basically a health food. Tons of protein and fiber. (How much protein and fiber does soggy bread have? How much??) The folks over at Pulses.org have a Half-Cup Habit challenge going on. See if you can add a 1/2 cup serving of pulses to your diet 3 times a week. If I can add lentils to stuffing, people, it can totally be done. Check it out!

You can use fresh herbs or dried herbs for this recipe!

Make sure you peel your butternut well. You need to peel all the way to the really orange part, like on the bottom of the photo on the right.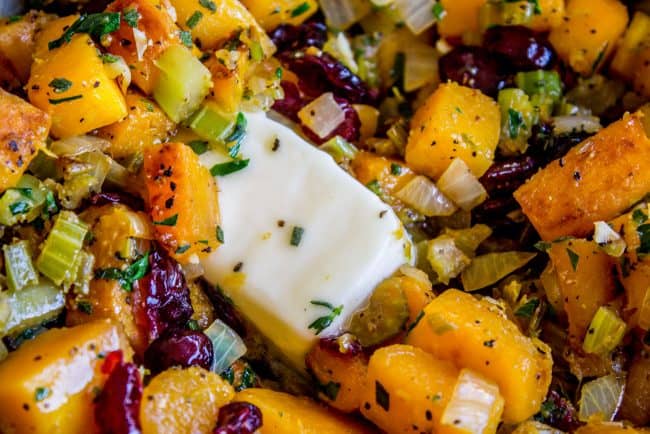 (You might think you don't need to add this butter. You're wrong.)
Now I did add lentils, but I didn't kick out the bread entirely. We've got a solid 8 cups of rustically torn French bread to work with, for all you traditionalists out there. I tore the bread instead of chopping because I like to have bigger pieces. This way they are a more chewy and interesting piece of the stuffing, instead of just being mushy background.
I chose to bake my stuffing for almost a full hour, covered and then uncovered. If you prefer a very moist stuffing, don't take the foil off.
Will you be hosting Thanksgiving this year? I'm actually not sure if I am or not. (Mom?? We should talk??) I do know that I'll be taking my parents to the airport that night. They are going to Fiji and New Zealand. TAKE ME WITH YOUUU!!
This post is sponsored by USA Pulses and Pulse Canada. Thanks for supporting the brands that keep The Food Charlatan chugging along! You guys are the best!
Facebook | Pinterest | Instagram | Twitter

One year ago: Pan-Seared Chicken and Broccolini in Creamy Mustard Sauce
Two years ago: Bacon Blue Cheese Brisket (Slow Cooker!)
Five years ago: Chipotle Chili with Steak

Butternut Squash, Cranberry, and Lentil Stuffing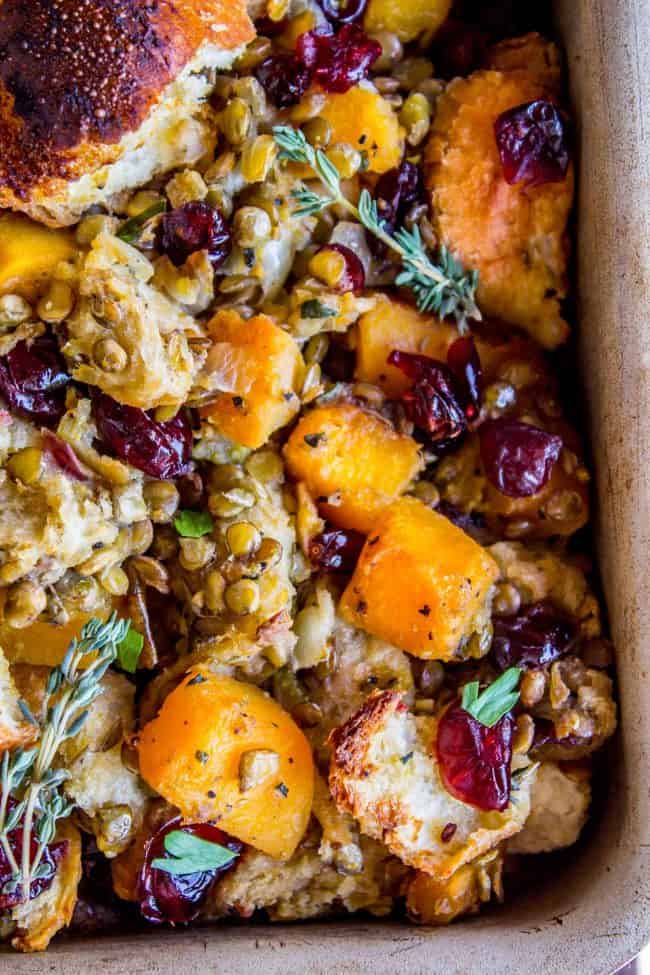 This homemade stuffing is the perfect autumn side dish for Thanksgiving! Stuffed with butternut squash, cranberries, and (surprise!) lentils! This may sound like the weirdest combination, but stay with me guys. It's so good!
Ingredients
For the lentils
1 & 1/2

cups

dry green lentils

2 & 1/4

cups

cups water

1

bay leaf

1

clove

garlic

,

smashed and minced (or 1 teaspoon from a jar)

1/2

teaspoon

dried sage*

1/4

teaspoon

dried thyme*

pepper to taste

1/2

teaspoon

salt

,

add after lentils are cooked
For the rest
3/4

loaf

day-old French bread

,

torn (about 8 cups)*

2

tablespoons

salted butter

5

cups

butternut squash

,

chopped bite size

1

large

onion

,

chopped

2

cups

celery

,

chopped

2

teaspoons

kosher salt

1 & 1/2

teaspoons

pepper

1

tablespoon

dried parsley*

2

teaspoons

dried sage*

2

cloves

garlic

,

smashed and minced

1 & 1/2

cups

dried cranberries

6

tablespoons

salted butter

3

cups

chicken broth
Instructions
Rinse and pick through the lentils. Place them in a small pot and add 2 and 1/4 cups of water, the bay leaf, 1 clove garlic, 1/2 teaspoon sage, 1/4 teaspoon thyme, and some pepper. (NO SALT!)

Bring to a boil over medium-high heat. When the water is at a rolling boil, lower the heat to low and cover the pot. Set a timer for about 10 minutes and leave it alone.

Taste test the lentils. They should be tender but still a bit firm. You don't want them turning into mush, mushy lentils are a mess. If they taste at all chalky, keep cooking.

When the lentils are tender, add 1/2 teaspoon salt. Remove the bay leaf and set aside. Leave the lid on.

Meanwhile, toast the bread. (You can skip this step if you left your chopped bread out overnight. It needs to be nice and dry so that it can absorb all the chicken broth we're about to pour all over it.) Heat your oven to 300 degrees F. Tear or chop your bread into bite-size pieces, it doesn't need to be perfect. Spread out onto a baking sheet and bake for 12 minutes at 300. Remove from the oven and set aside. Turn the oven up to 350.

In a large high-sided skillet, melt 2 tablespoons butter over medium high heat. When it is hot, add butternut squash, onion, and celery. Season with 2 teaspoons salt, 1 and 1/2 teaspoons pepper, parsley, and 2 teaspoons dried sage.

Saute for about 10-15 minutes, until the butternut is fork tender but not mushy. Taste it and adjust seasonings to your taste.

Stir in 2 cloves garlic, dried cranberries (if using fresh herbs, add them now), and cook for 1 minute until fragrant.

Stir in 6 tablespoons butter until melted. Turn off the heat.

Spray a 9x13 inch casserole dish with nonstick spray.

In a very large bowl, add the toasted bread, lentils, and butternut squash mixture.

Pour the chicken broth over the stuffing and stir.

Transfer the mixture to the prepared 9x13 inch pan.

Cover the pan with foil and bake for 40 minutes. Remove the foil and continue baking for another 15-20 minutes, until the top has browned. I broiled the top of mine for about 2 minutes, but that's only because I'm obsessed with crispy toppings. Totally optional.
Notes
I haven't tried it yet, but it would be really easy to make this recipe ahead of time. Toast bread up to 1 week ahead and store in large sealed ziplock at room temperature. Up to 2 days ahead, prepare butternut squash mixture and lentils; toss with bread and broth. Transfer to greased baking dish; cover with foil and refrigerate. When ready to heat, bake in a 325°F oven on the bottom rack (below the turkey) for 35 minutes covered, then 35 minutes uncovered.
*I put the measurements for dried herbs, but you can easily use fresh herbs. I tested it both ways and thought they were both great. When cooking the lentils, add 1 sprig of thyme before cooking (in step 1). Add 1 tablespoon fresh sage after the lentils are cooked (when you add the salt in step 4). To add fresh herbs to the butternut squash mixture: when you add the garlic and cranberries in step 8, also add 3 tablespoons parsley, 2 tablespoons sage, and 1 tablespoon thyme.
Nutrition
Serving:
1
g
|
Calories:
372
kcal
|
Carbohydrates:
60
g
|
Protein:
13
g
|
Fat:
10
g
|
Saturated Fat:
6
g
|
Polyunsaturated Fat:
1
g
|
Monounsaturated Fat:
3
g
|
Trans Fat:
1
g
|
Cholesterol:
24
mg
|
Sodium:
1099
mg
|
Potassium:
715
mg
|
Fiber:
13
g
|
Sugar:
16
g
|
Vitamin A:
7839
IU
|
Vitamin C:
23
mg
|
Calcium:
92
mg
|
Iron:
4
mg
More lentil recipes you will love!
Fresh Bruschetta and Lentil Dip: << This recipe is so delicious! A great healthy appetizer idea!
Greek Lentil Tacos with Cucumber Pico de Gallo: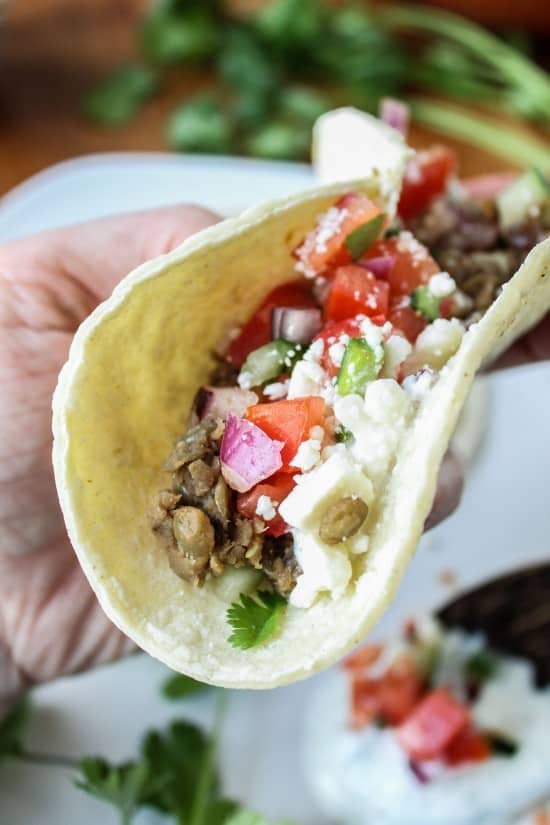 More butternut!!
Butternut Squash, Cranberry, and Goat Cheese Crostini << this is such a fun appetizer for fall!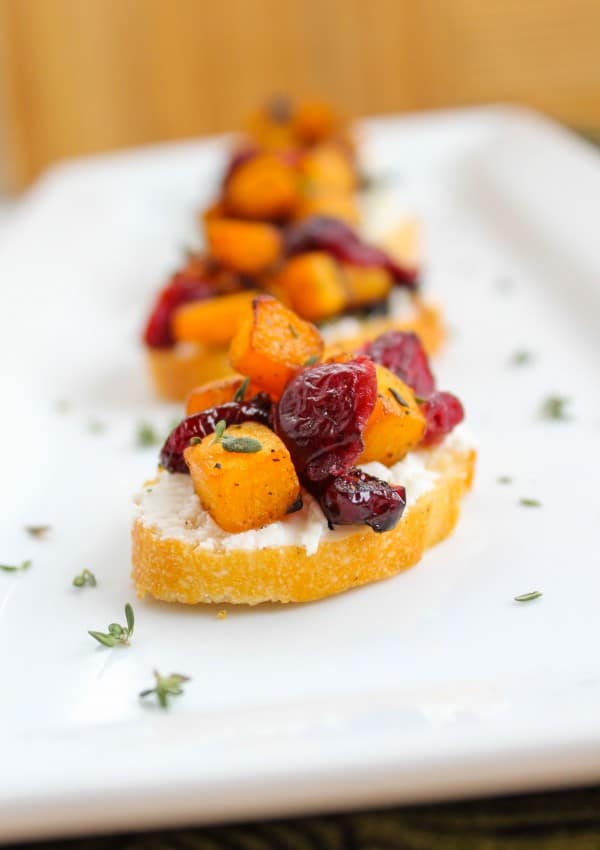 Slow Cooker Risotto with Italian Sausage and Butternut Squash: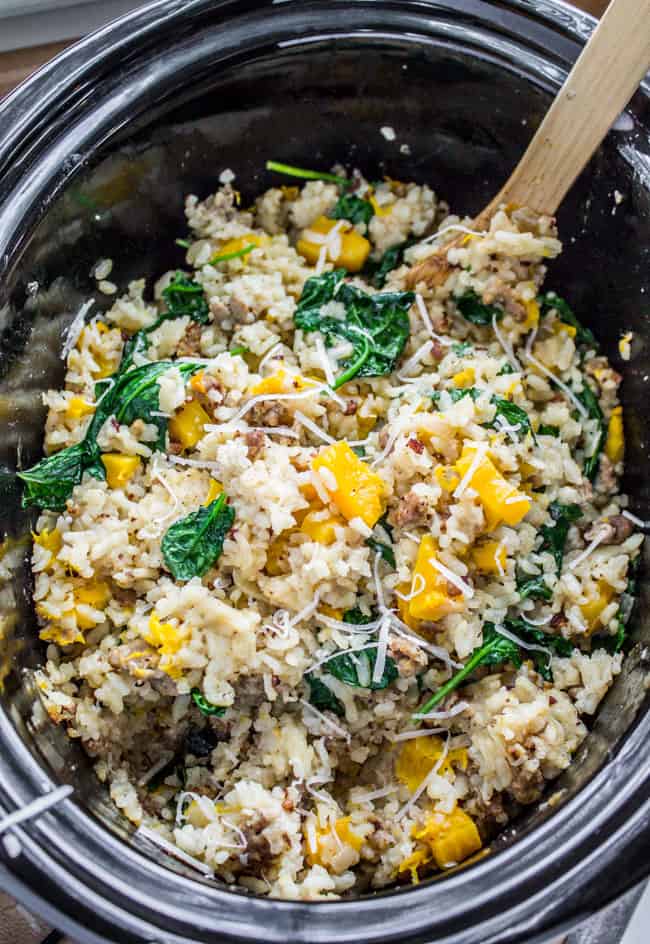 More stuffing to love! Lentils, Farro, and Barley, oh my! Just look at all this creativity:
Lentil and Mushroom Stuffing from Foxes Love Lemons
Farro, Butternut Squash, Sausage and Dried Cherry Stuffing from FoodieCrush
Butternut Squash and Barley Stuffing from Country Cleaver