Use canned biscuits and a couple other ingredients to throw together these easy donuts. The apple cider glaze has tons of flavor because you boil it down first.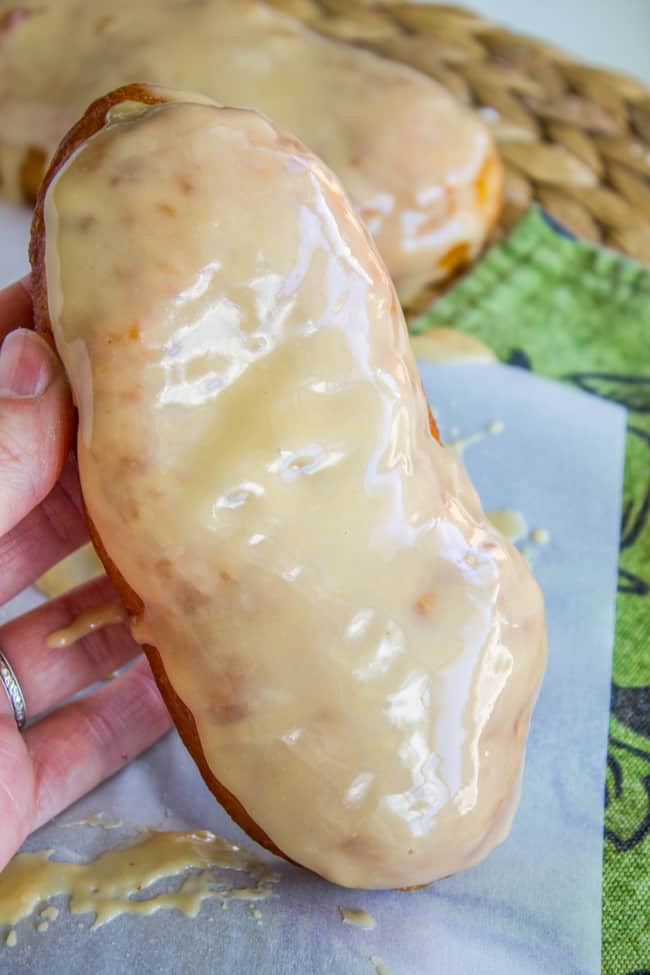 Eric is out of town this week so I am going it alone with with kids. Basically my life is exactly the same (except evenings), but for some reason when he is out of town I just totally let things go. You want Halloween candy for breakfast, kids? Well sure, Dad's out of town. You want to wear a tutu over your jeans with a striped cardigan over your floral shirt? And rain boots? Why not. (okay, I'm lying, this is every day.)
And let's not even get started on me. I'm not telling you the last time I showered. I'm glad we're married, Eric. I think I would live like a total animal if it weren't for you. Thanks for keeping me hygienic. Most of the time.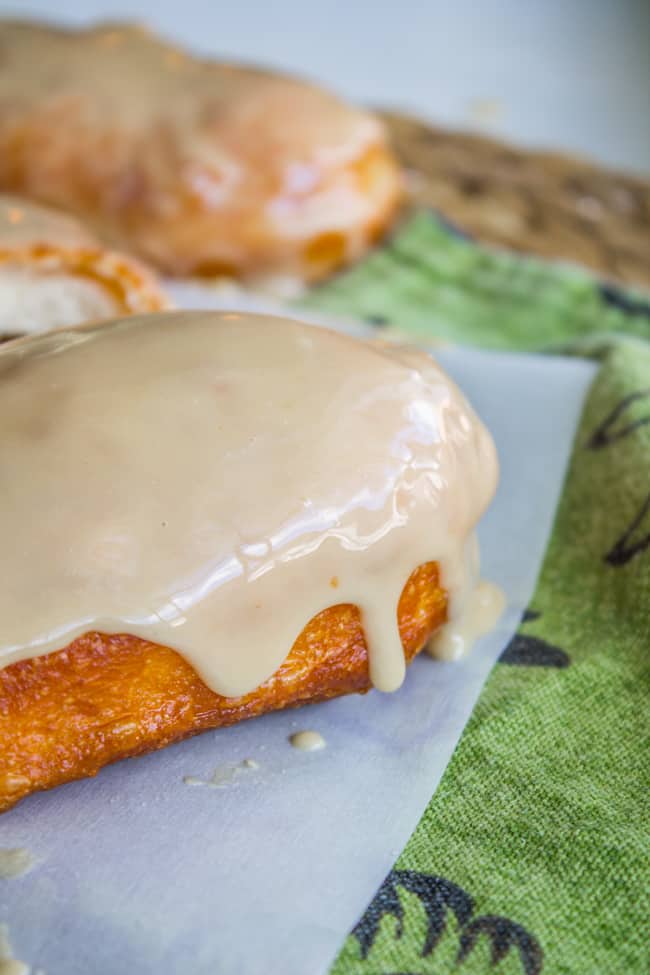 It's DONUT TIME. We just moved to our new house a couple months ago and there is a place called Donut Time right around the corner from us. Charlotte and Truman ask to go like every single day, and every day I say no, it's not time for donuts. But that's ridiculous. Because it's ALWAYS time for donuts.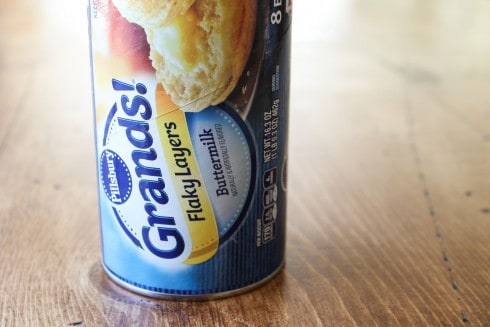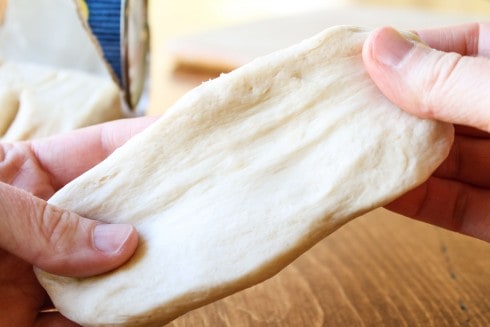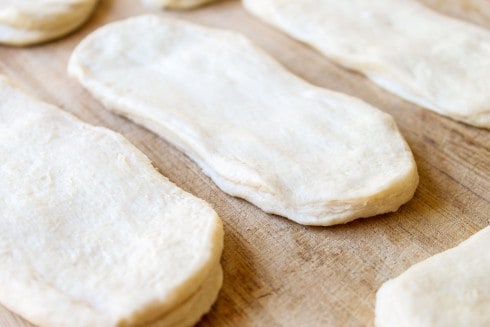 Especially when you add these Apple Cider Donuts to the equation. The first time I tried this was a few years ago when my sister-in-law Sandi and I decided to make homemade donuts at her Halloween party, because you know, there's not enough sugar with all the candy. We made the Pioneer Woman's doughnuts and had a glaze bar where people could dip their own.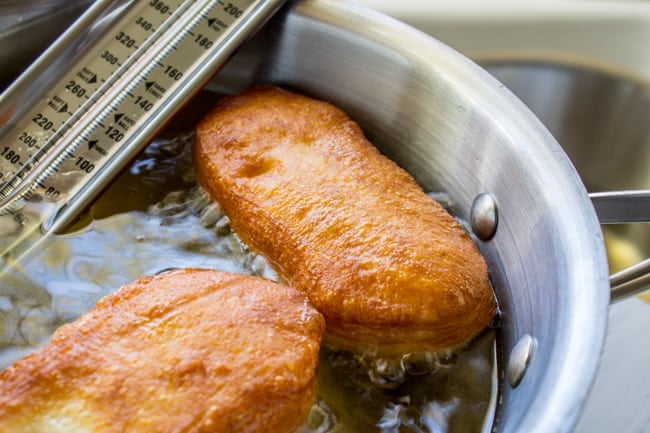 We made nutella glaze, chocolate, regular, and this apple cider glaze, which is just apple cider that's been REDUCED down to its very essence, whisked up with some powdered sugar. Basically you boil off most of the liquid and what's left is apple cider concentrate. Which means tons of flavor. (It blew away all of the other flavors, by far.) Eric and I love to add reduced apple cider to milkshakes with some caramel. Heaven.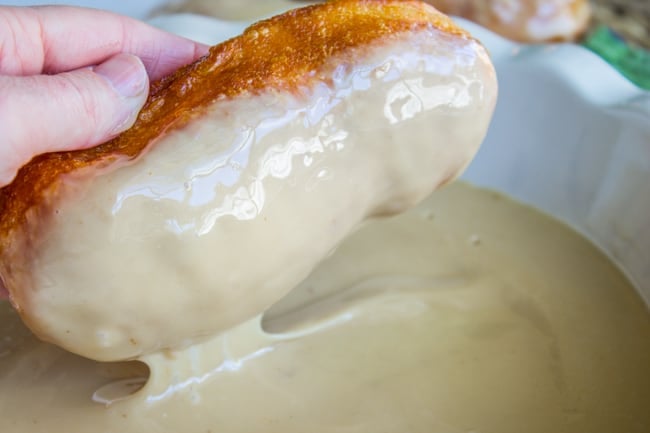 I decided to try out the apple cider glaze with this super easy doughnut recipe from these 30 Minute Maple Bars. All you do is pop open a can of Pillsbury Grands (I grabbed mine at Safeway), stretch the dough, toss it in some hot oil, and voila, hot donuts. Dip it in this 2-ingredient-yet-incredible-glaze and you have a super quick donut breakfast!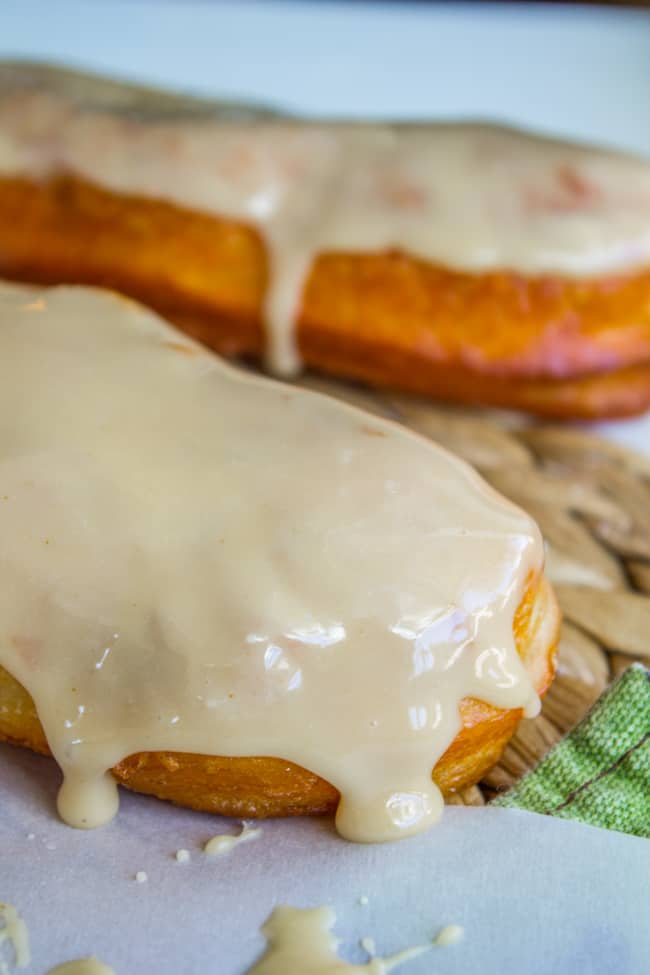 These would be a fun and simple breakfast to serve Thanksgiving guests. And kids love the dipping part! The best part about homemade donuts is that there is no limit to how many times you can dip your donut in the glaze. 2 times? Maybe 3? Maybe for every bite? I'm sitting over here in my pajamas, so you know I'm not judging you.
More fall recipes you are going to love!

4 Ingredient Apple Cider Doughnuts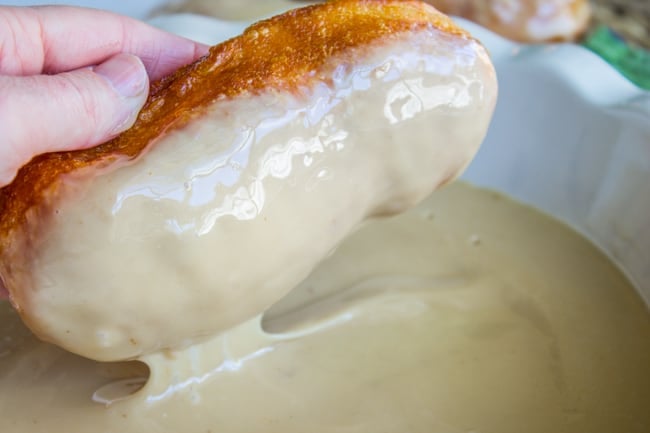 Use canned biscuits and a couple other ingredients to throw together these easy donuts. The apple cider glaze has tons of flavor because you boil it down first. 
Ingredients
2

cups

apple cider

peanut oil

1

can

Pillsbury Grands Flaky Layers Buttermilk Biscuits

2

cups

powdered sugar
Instructions
Start by reducing the apple cider. Pour into a medium pot and bring to a boil over high heat. Continue to boil uncovered for 15 minutes to a half hour, depending on how wide your pot is. Remove from heat when the cider has reduced to 1/2 cup liquid.

Refrigerate or freeze the cider until it is completely cool. You can do this ahead of time, it will keep for a long time.

Pour 1 and 1/2 to 2 inches of oil into a high-sided skillet. Set over medium heat and wait at least 5 minutes for the oil to get to frying temperature (between 350 and 375 degrees F.)

Pop the can of biscuits and separate them out. Use your fingers to stretch the dough to about the size of a dollar bill, about 6 inches.

Fry the doughnuts 2 at a time in the hot oil. Fry for about 2 minutes, or until the dough is light brown on the bottom. Flip with tongs, then fry for another 1-2 minutes or until light brown.

Remove to a paper towel lined plate. Repeat with the remaining doughnuts.

Let the doughnuts cool completely. Good luck with this step.

In a medium bowl, whisk together 2 cups of powdered sugar and 3 tablespoons of the reduced apple cider. Mix it all together and add more apple cider to get to a consistency you like. Keep covered until the doughnuts are ready.

Dip one side of the doughnuts into the apple cider glaze. Serve immediately!
Nutrition
Serving:
1
doughnut
|
Calories:
355
kcal
|
Carbohydrates:
65
g
|
Protein:
4
g
|
Fat:
10
g
|
Saturated Fat:
1
g
|
Polyunsaturated Fat:
4
g
|
Monounsaturated Fat:
4
g
|
Cholesterol:
1
mg
|
Sodium:
547
mg
|
Potassium:
190
mg
|
Fiber:
1
g
|
Sugar:
37
g
|
Vitamin A:
2
IU
|
Vitamin C:
1
mg
|
Calcium:
33
mg
|
Iron:
2
mg