These easy Cheeseburger Sliders are what dreams are made of! Soft Hawaiian rolls stuffed with extra cheesy beef, and a butter and mustard glaze to go on top. They are so easy and come together in just a few minutes. Perfect appetizer for your Halloween party! Originally posted October 17, 2017.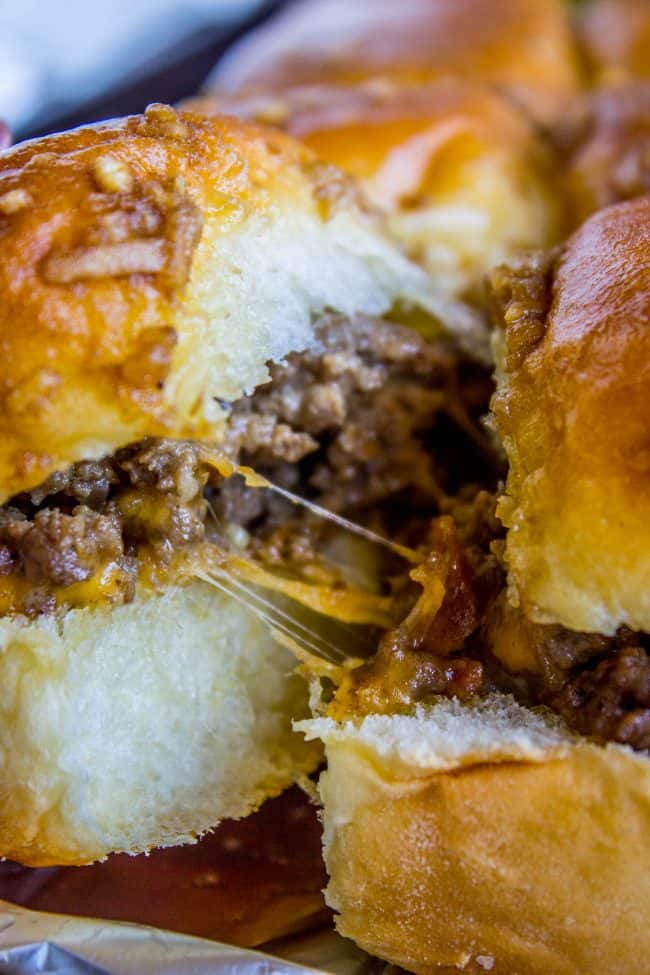 Table of Contents
Winco finally broke me. I bought a massive amount of Halloween candy today. I've been seeing it in stores for weeks of course, but kept thinking "too soon, too soon, you will just eat it all." But Winco. I mean what was I supposed to do? It's BULK CANDY, for heaven's sake, even the Reese's cups and Milky Ways! How can you pass up a deal like that?? I saved so much money I decided to buy a small mountain of it.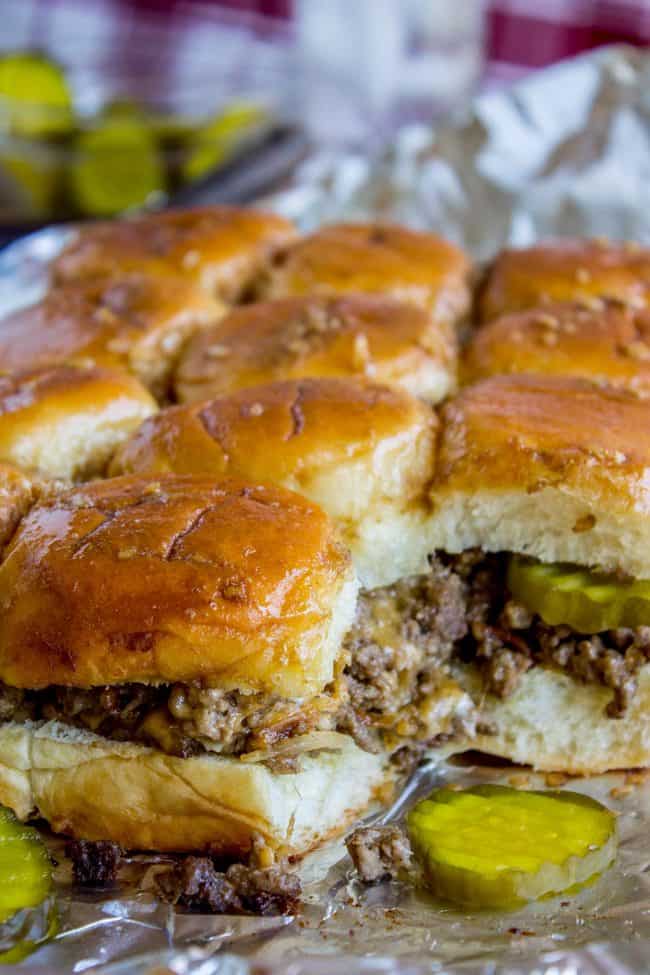 Did I mention that we live at the end of a super long court, and probably get like 5 Trick-or-Treaters every year? So this choice makes perfect sense.
I got home and hid it. Not from the kids, from myself. But a few stragglers got left on the counter (those dang Reese's, amiright?) so Eric knew I had caved.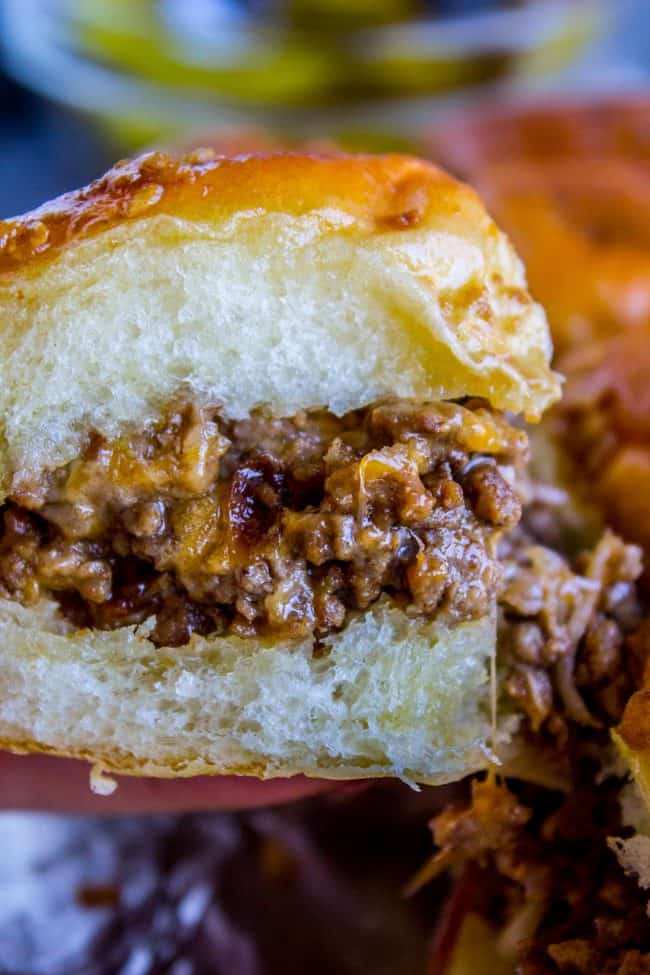 "Where's the Halloween candy?" he said. I said I hid it, we're both trying to be better about eating healthier, right? "WHERE IS IT," he said, "I'm not even going to eat it, I hardly ever eat candy." Sure, sure. I told him it was in the cupboard above the washing machine, and I hadn't even gotten the words out before he made a beeline for the stash. He ate more that I did, for the record.
You will love this Cheeseburger Sliders Recipe
I'm going to put the candy back in the cupboard and stuff my face with these Cheeseburger sliders instead, who's with me?? They may not look like much, but trust me. I've been making these sliders for YEARS, they are SO good and so easy. It's one of those "no duh" kind of recipes, it's really simple, but that's the thing; people love simple. These would be great to bring as an appetizer for any Halloween parties (or really any type of parties) you're heading to! Or heck, even dinner on Halloween night. They are also great for tailgating and football watching.
Best Sliders Recipe Ingredients
Here's a quick shopping list to help you gather your ingredients. See the recipe card below for the full ingredients and instructions!
80% lean ground beef
Onion soup mix
Hawaiian Dinner Rolls (1 package of 12)
Mayo
Sharp cheddar cheese
Butter
Minced dried onion
Worcestershire sauce
Dijon mustard
Sliced dill pickles
Cheeseburger Sliders Substitutions and Variations
These Cheeseburger Sliders are perfect just the way they are, but you can make changes to suit your tastes. Here are a few ideas to get you started.
Substitute ground turkey for the ground beef if you like a leaner meat.
Instead of sharp cheddar, feel free to experiment with pepper jack for a spicy kick or monterey jack for a more mellow option.
If you love the classic melt of American cheese, lay out 12 slices on top of the beef instead of the shredded sharp cheddar.
How to make Burger Sliders with Cheese
1 – You start by browning up some ground beef with some dry onion soup mix. You kind of always know it's gonna be good when you start a recipe with these two ingredients, don't you think?
2 – Once cooled you finish your beef filling with mayo and shredded cheese. Again – two more great ingredients for a crowd-pleasing recipe. This is what the people want!

3 – Then you choose your favorite hawaiian rolls, pull out the whole bunch and, keeping them connected, slice them in half.
4 – Spread the filling over the bottom half of the rolls and replace the tops.
5 – Then you prepare the glaze with melted butter, minced dried onion, worchestire sauce, and dijon mustard. Liberally spread that glaze over the whole thing before wrapping in aluminum foil.
6 – Bake for 30 minutes and try and keep from burning yourself by ripping them apart.
7 – And don't forget sliced pickles when you serve them! Of course, the appeal of sliders is that they are so small and greasy that they basically slide right down. That's where the name came from!

I promise they will disappear fast. I remember one time when I was a kid we were at a church potluck and somebody brought a huge basket of 29¢ hamburgers and 39¢ cheeseburgers from McDonald's (29¢! remember those days??) There was a ton of amazing food at this potluck, all homemade and slaved over. And you guessed it, those McDonald's hamburgers were the first thing to disappear from the potluck table. People just love familiar food! You know what you're getting. What you're getting in this case is a deliciously cheesy, beefy slider (that are way better than the fast food version :) Make them!!
How to serve Cheeseburger Sliders
I like serving these cheeseburger sliders as an appetizer during the Super Bowl, a New Year's Eve party, or anytime I'm putting out a spread. They're also great for a super easy, crowd-pleasing dinner. If you do make them for dinner, plan on kids eating 2 and adults eating 3 (what I'm saying is, you might need to double the recipe if you have ravenous teens or a big group of people).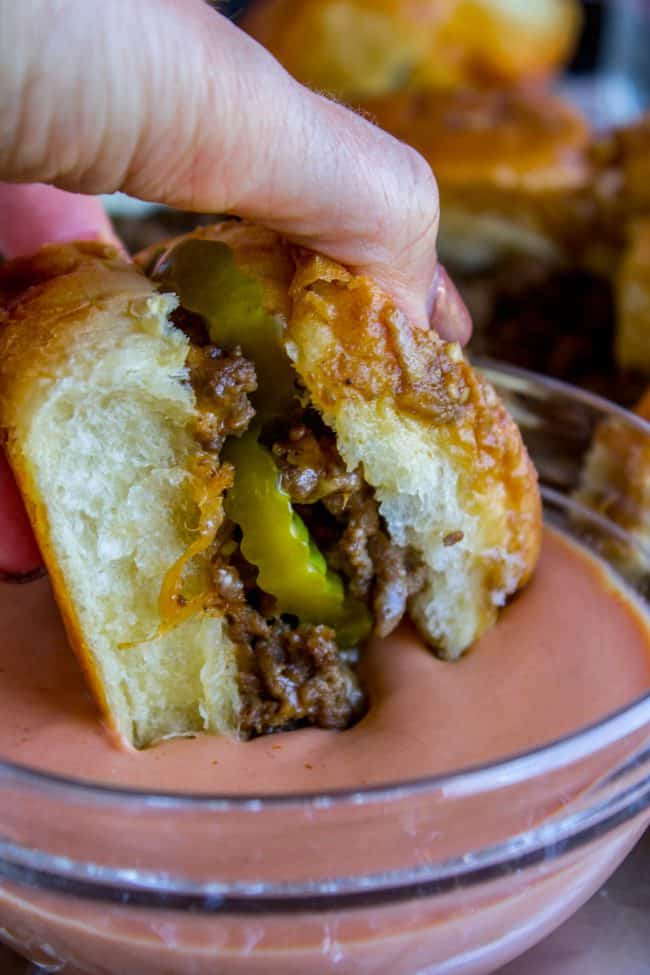 How to store Cheese Burger Sliders
These sliders are best fresh and warm, but if you'd like to save leftovers, you can keep them in the refrigerator for 2-3 days. I recommend that you warm them up by wrapping them in foil and placing them in the oven at 350 for 20 minutes or so. You can also just microwave individual sliders, wrapped in a single paper towel.
If you'd like to freeze leftover sliders, it's best to wrap them individually so you can also warm them up that way. Wrap them tightly so they don't dry out!
Burger Sliders FAQs
What makes a burger a slider?
Sliders are smaller than burgers, usually about 2 inches across. They often feature onions, like the onion soup mix and minced dried onions here. They can be served as a main dish (with multiple sliders per person) or as an appetizer.
What is the difference between slider and sandwich?
Sliders are a form of mini sandwich, usually served on small buns. All sliders are sandwiches, but not all sandwiches are sliders. While sliders originally referred exclusively to small hamburgers (or cheeseburgers), today the term "slider" may refer to any small bun sandwich.
How big should patties be for sliders?
If you were making traditional sliders with little burger patties, they'd be about 2 inches in diameter – the perfect size to fit tiny buns. The sliders we're making today are super easy and don't require you to make patties at all! Just cook the ground beef with the dry onion soup mix, combine with mayo and cheese, and spread the mixture onto the sliced Hawaiian rolls. So easy, so delicious.
More tantalizing appetizers and sandwiches! (Great for tailgating!)
Facebook | Pinterest | Instagram

Hamburger Sliders with Cheese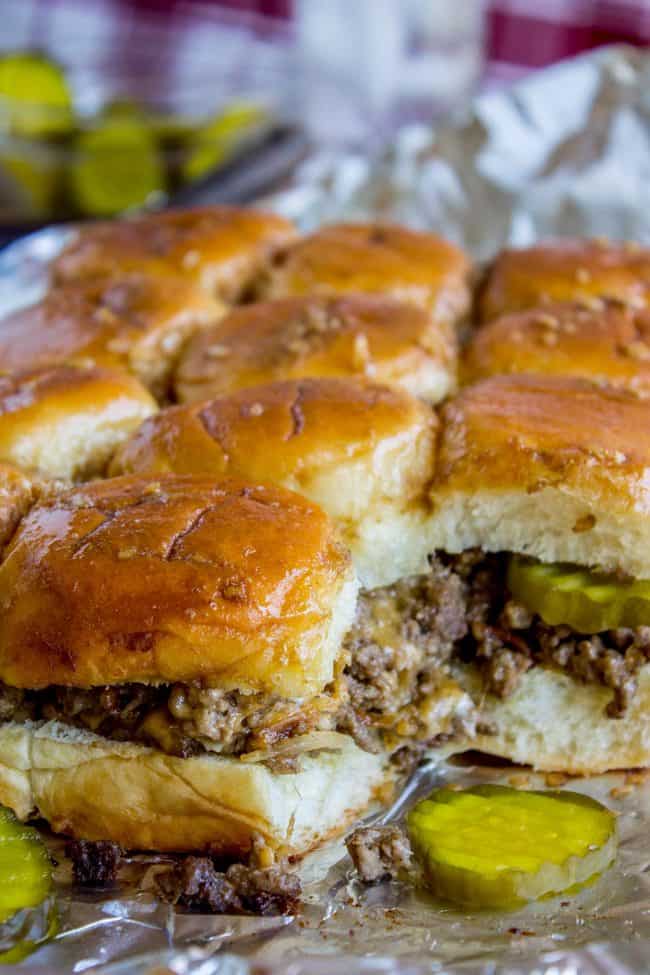 These Cheeseburger Sliders are what dreams are made of! Soft Hawaiian rolls stuffed with extra cheesy beef, and a butter and mustard glaze to go on top. They are so easy and come together in just a few minutes. Perfect appetizer for a party!
Ingredients
1

pound

80% lean ground beef

1 & 1/2

teaspoons

onion soup mix

,

1/2 package onion soup mix

1

package

Hawaiian Dinner Rolls

,

12

1/3

cup

mayonnaise

1

cup

sharp cheddar cheese

,

shredded
For the butter glaze
3

tablespoons

butter

,

melted

1

tablespoon

minced dried onion

2

teaspoons

Worcestershire sauce

2

teaspoons

dijon mustard

sliced dill pickles

,

to serve with
Instructions
Preheat your oven to 350 degrees F.

In a skillet over medium heat, cook the ground beef and DRY onion soup mix.*

When the meat is browned, drain the fat.

Transfer the ground beef to a bowl and let cool a bit.

Meanwhile, remove the rolls from the package and discard the cardboard.

Spray a large sheet of aluminum foil generously with nonstick spray.

Use a serrated knife to slice the rolls in half so that they have a "top" and a "bottom." Do not separate them into individual rolls. Place the "bottoms" onto the aluminum foil that has been sprayed.

Stir the mayonnaise and cheddar cheese into the ground beef.

Spread the beef mixture all over the bottom half of the rolls. Replace the top half of the rolls to make one giant sandwich.

In a small bowl, melt 3 tablespoons butter. Add the minced onions, Worcestershire sauce, and dijon. Stir it together, then use a pastry brush to coat the top of each roll with the butter mixture.

Wrap the sliders in foil; fold up the one that it's sitting on, then spray more foil and cover the top.

Place the foil-wrapped sliders directly on the middle oven rack. (No sheet pan is necessary. It makes the bottoms get too crispy.)

Bake for about 30 minutes.

Remove from the oven and serve with plenty of dill pickles!

I don't think these sliders need any sort of dipping sauce honestly, but if you are feeling like you want to dip, mix together 1 part mayo and 1 part ketchup. Serve with the sliders.
Notes
*Don't make onion soup, just use the dry mix. I know it's annoying to only use half the package. If you are making this for a crowd, you could easily double the whole slider recipe and use 1 whole package of soup mix for 2 lbs. of ground beef.
Goes great with this Chipotle Mayo recipe.
This recipe is slightly adapted from
Allrecipes.com
.
Nutrition
Serving:
1
sandwich
|
Calories:
289
kcal
|
Carbohydrates:
15
g
|
Protein:
12
g
|
Fat:
20
g
|
Saturated Fat:
8
g
|
Polyunsaturated Fat:
3
g
|
Monounsaturated Fat:
7
g
|
Trans Fat:
1
g
|
Cholesterol:
47
mg
|
Sodium:
500
mg
|
Potassium:
177
mg
|
Fiber:
1
g
|
Sugar:
1
g
|
Vitamin A:
187
IU
|
Vitamin C:
1
mg
|
Calcium:
131
mg
|
Iron:
2
mg