Easy Cheesy Cheeseburger Sliders
These Cheeseburger Sliders are what dreams are made of! Soft Hawaiian rolls stuffed with extra cheesy beef, and a butter and mustard glaze to go on top. They are so easy and come together in just a few minutes. Perfect appetizer for your Halloween party!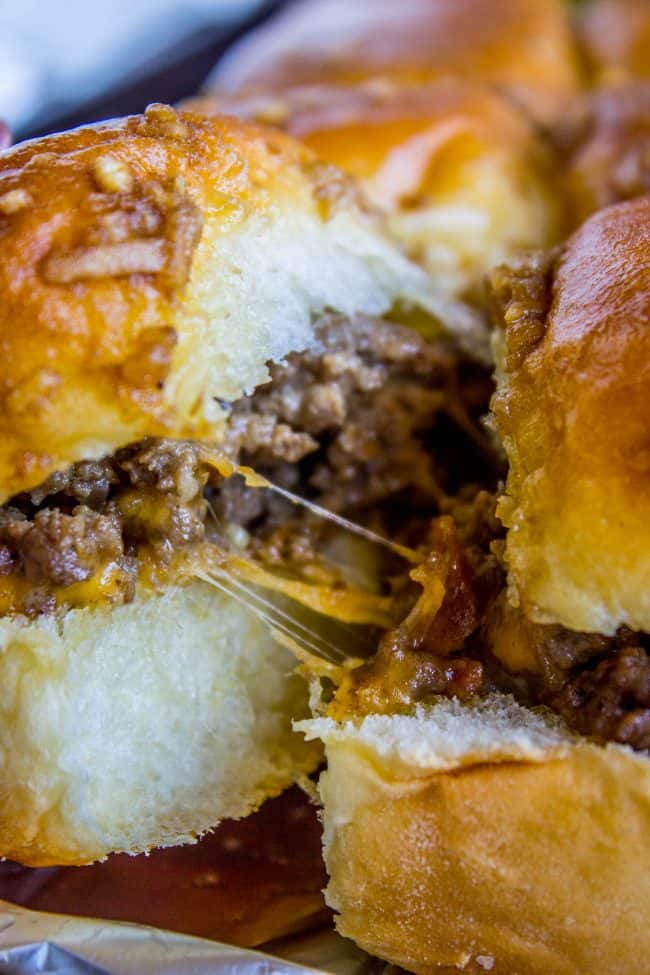 Winco finally broke me. I bought a massive amount of Halloween candy today. I've been seeing it in stores for weeks of course, but kept thinking "too soon, too soon, you will just eat it all." But Winco. I mean what was I supposed to do? It's BULK CANDY, for heavens sake, even the Reese's cups and Milky Ways! How can you pass up a deal like that?? I saved so much money I decided to buy a small mountain of it.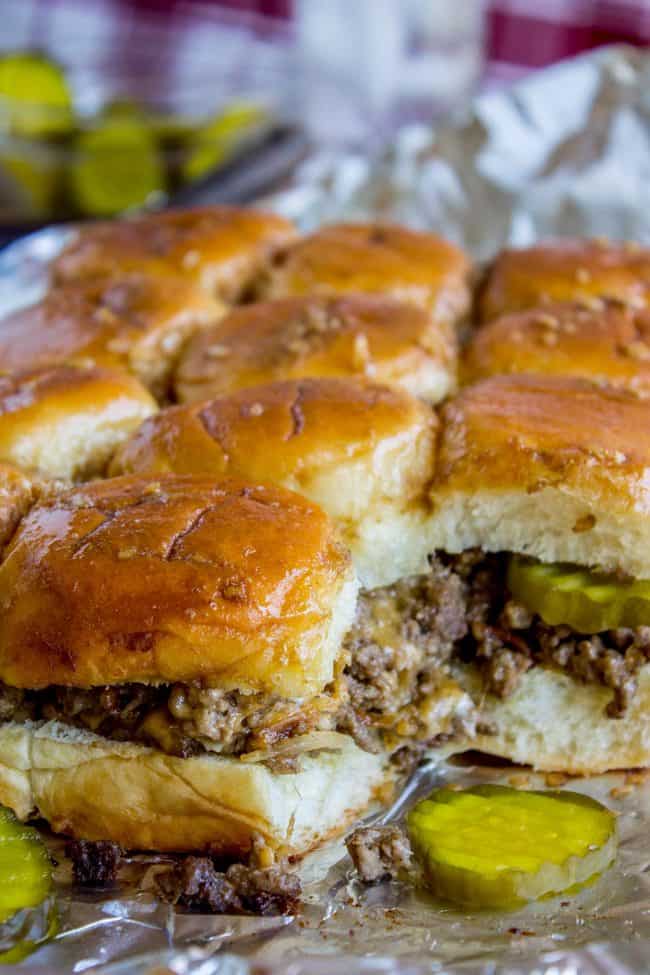 Did I mention that we live at the end of a super long court, and probably get like 5 Trick-or-Treaters every year? So this choice makes perfect sense.
I got home and hid it. Not from the kids, from myself. But a few stragglers got left on the counter (those dang Reese's, amiright?) so Eric knew I had caved.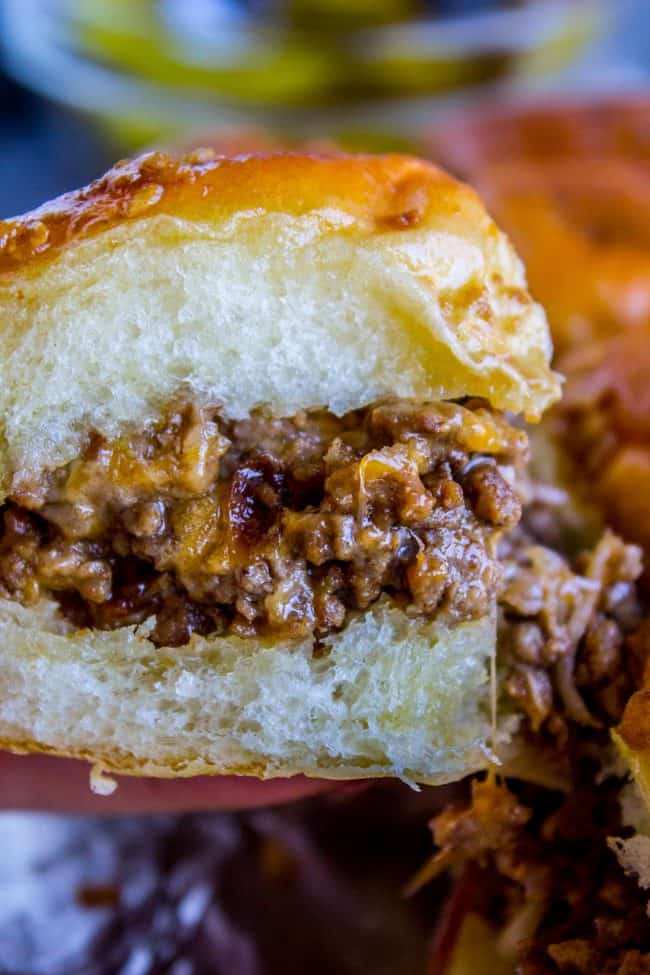 "Where's the Halloween candy?" he said. I said I hid it, we're both trying to be better about eating healthier, right? "WHERE IS IT," he said, "I'm not even going to eat it, I hardly ever eat candy." Sure, sure. I told him it was in the cupboard above the washing machine, and I hadn't even gotten the words out before he made a beeline for the stash. He ate more that I did, for the record.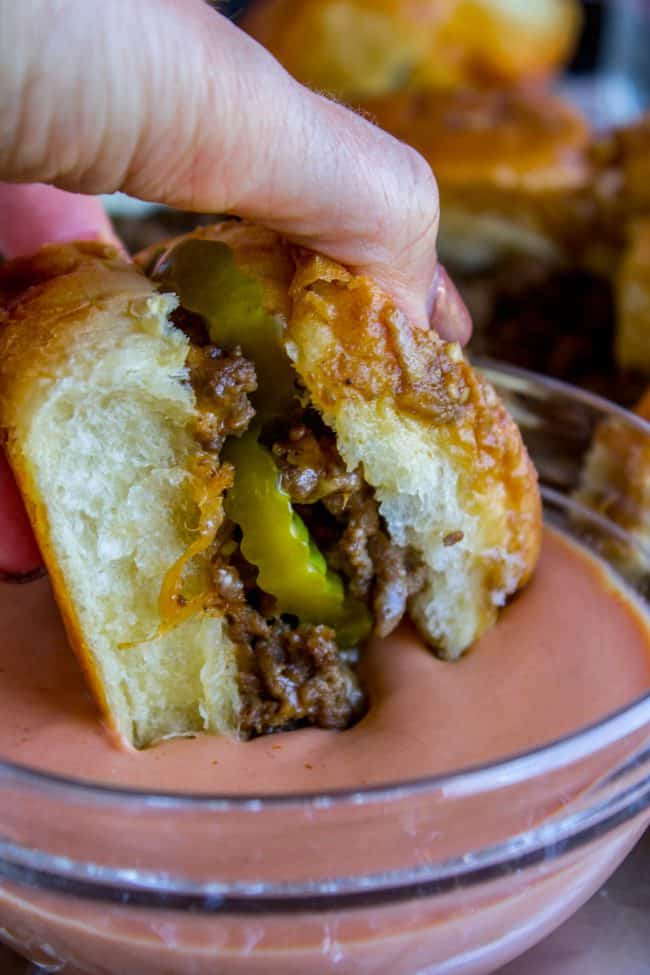 I'm going to put the candy back in the cupboard and stuff my face with these Cheeseburger sliders instead, who's with me?? They may not look like much, but trust me. I've been making these sliders for YEARS, they are SO good and so easy. It's one of those "no duh" kind of recipes, it's really simple, but that's the thing; people love simple. These would be great to bring as an appetizer for any Halloween parties you're heading to! Or heck, even dinner on Halloween night. They are also great for tailgating and football watching.


I promise they will disappear fast. I remember one time when I was a kid we were at a church potluck and somebody brought a huge basket of 29¢ hamburgers and 39¢ cheeseburgers from McDonald's (29¢! remember those days??) There was a ton of amazing food at this potluck, all homemade and slaved over. And you guessed it, those McDonald's hamburgers were the first thing to disappear from the potluck table. People just love familiar food! You know what you're getting. What you're getting in this case is a deliciously cheesy, beefy slider (that are way better than the fast food version :) Make them!!
Facebook | Pinterest | Instagram | Twitter

One year ago: Garlic and Rosemary Skillet Bread
Four years ago: Restaurant-Style Olive Oil and Balsamic Bread Dip
Five years ago: Honey Salmon with Brown Butter Lime Sauce < just made this AGAIN the other day!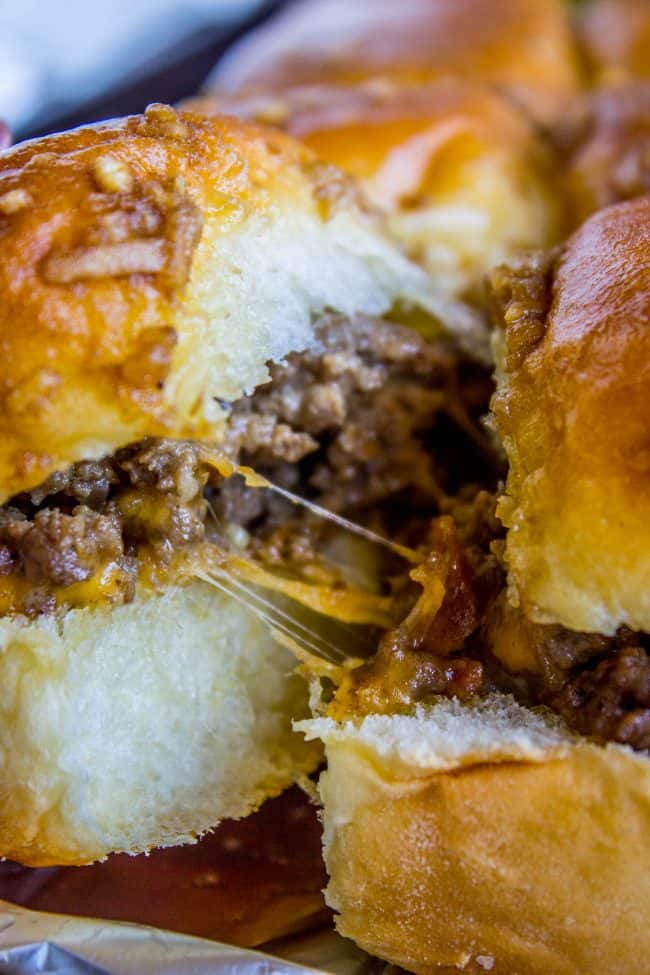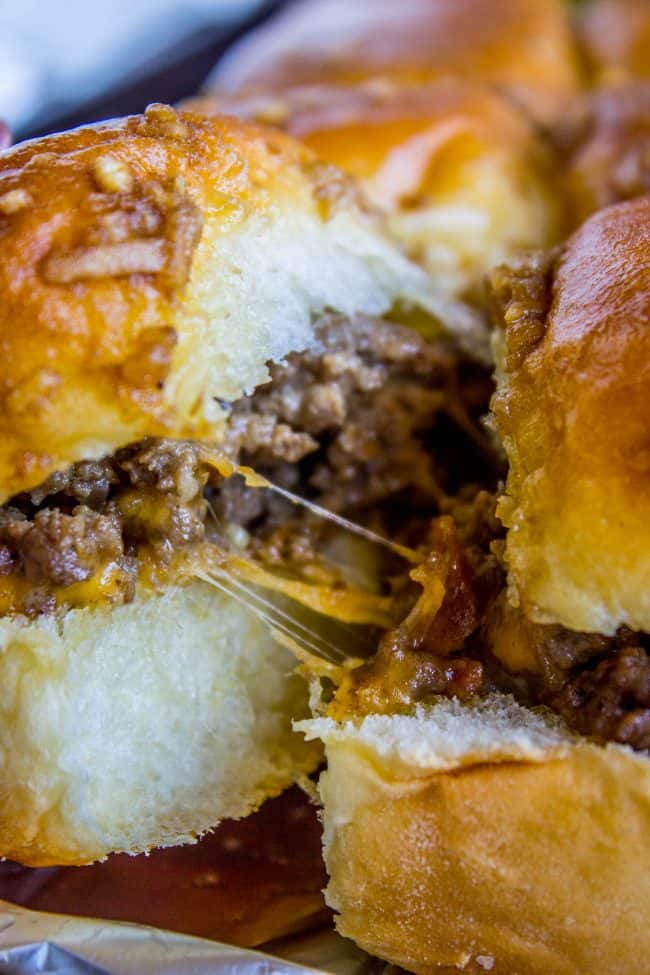 print
Did you make this recipe?
Leave a review »
Easy Cheesy Cheeseburger Sliders
12 sliders
adjust servings
These Cheeseburger Sliders are what dreams are made of! Soft Hawaiian rolls stuffed with extra cheesy beef, and a butter and mustard glaze to go on top. They are so easy and come together in just a few minutes. Perfect appetizer for your Halloween party!
Ingredients
1

pound 80% lean ground beef

half of a (1 ounce) package onion soup mix (about 1 and 1/2 tablespoons*)

1

package (12) Hawaiian dinner rolls

1/3

cup mayonnaise

1

cup sharp cheddar cheese, shredded
For the butter glaze
3

tablespoons butter, melted

1

tablespoon minced dried onion

2

teaspoons Worcestershire sauce

2

teaspoons dijon mustard

sliced dill pickles, to serve with
Instructions
Preheat your oven to 350 degrees F.
In a skillet over medium heat, cook the ground beef and DRY onion soup mix.*
When the meat is browned, drain the fat.
Transfer the ground beef to a bowl and let cool a bit.
Meanwhile, remove the rolls from the package and discard the cardboard.
Spray a large sheet of aluminum foil generously with nonstick spray.
Use a serrated knife to slice the rolls in half so that they have a "top" and a "bottom." Do not separate them into individual rolls. Place the "bottoms" onto the aluminum foil that has been sprayed.
Stir the mayonnaise and cheddar cheese into the ground beef.
Spread the beef mixture all over the bottom half of the rolls. Replace the top half of the rolls to make one giant sandwich.
In a small bowl, melt 3 tablespoons butter. Add the minced onions, Worcestershire sauce, and dijon. Stir it together, then use a pastry brush to coat the top of each roll with the butter mixture.
Wrap the sliders in foil; fold up the one that it's sitting on, then spray more foil and cover the top.
Place the foil-wrapped sliders directly on the middle oven rack. (No sheet pan is necessary. It makes the bottoms get too crispy.)
Bake for about 30 minutes.
Remove from the oven and serve with plenty of dill pickles!
I don't think these sliders need any sort of dipping sauce honestly, but if you are feeling like you want to dip, mix together 1 part mayo and 1 part ketchup. Serve with the sliders.
by The Food Charlatan

If you make this recipe,
share it on Instagram
 using the hashtag
#TheFoodCharlatan
so I can see it!
More Halloween-friendly appetizers and sandwiches! (Or great for tailgating!)
Canadian Bacon and Havarti Cheese Sliders with Pesto Glaze < havartiiiii!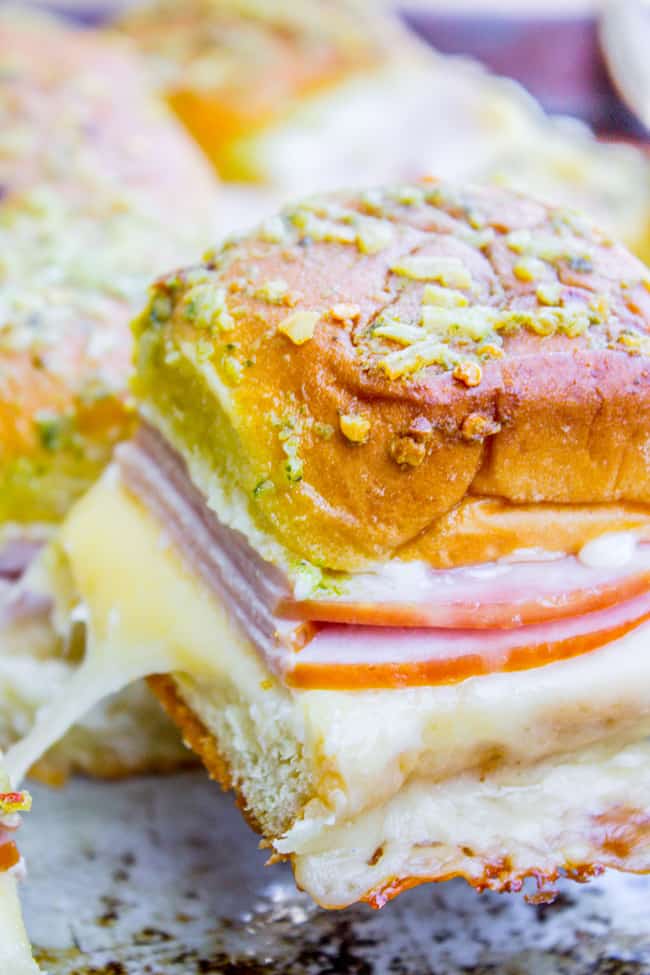 Cuban Sandwiches (Cubanos) < you guys HAVE to make these.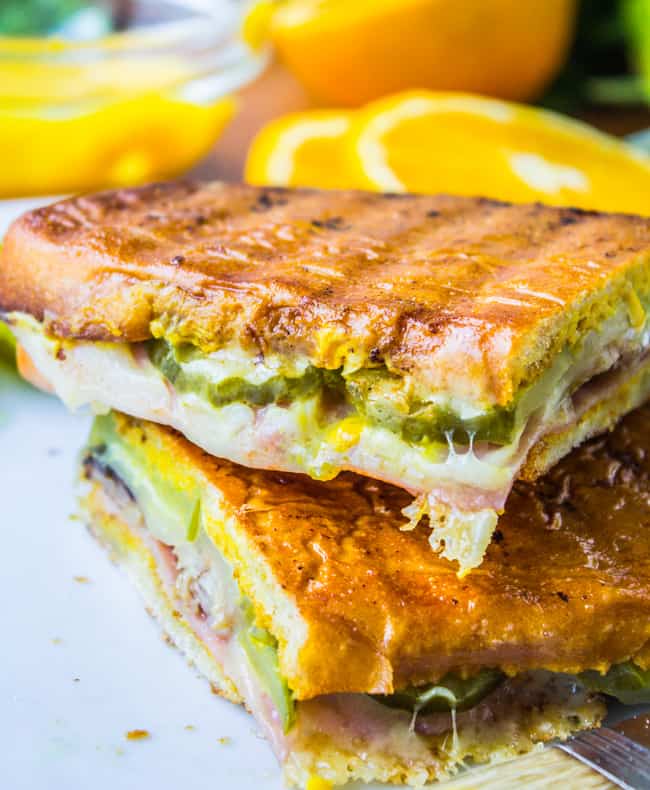 Classic Stromboli << more prefect game day food!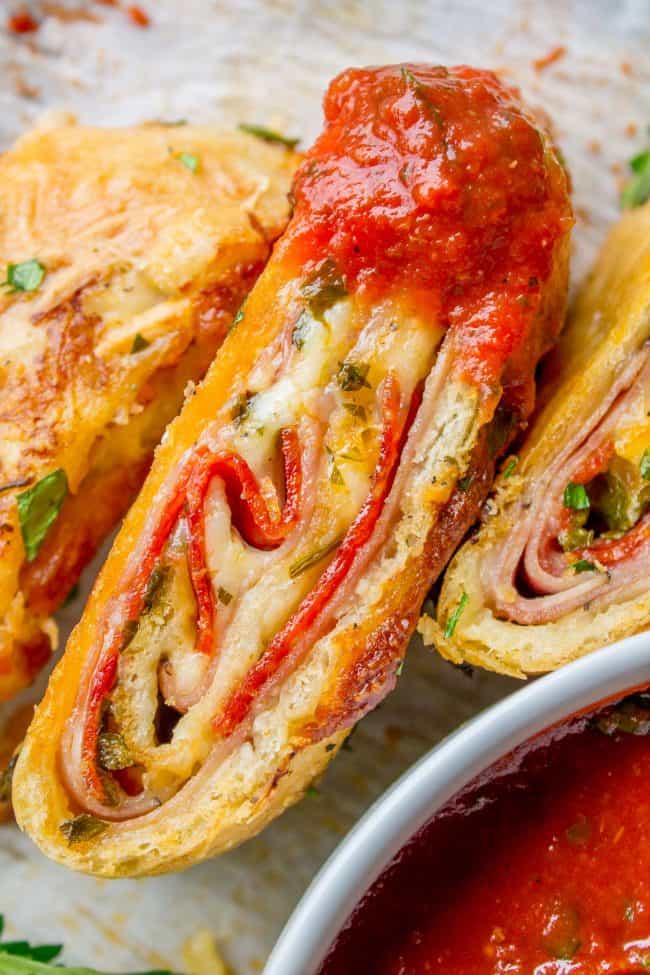 Check out these other slider recipes! They sound amazing!
Caprese Slider Sandwiches from The Salty Side Dish
Cheddar Bacon Onion Sliders from The Little Kitchen
Chopped Cheeseburger Sliders from Bellyfull
Animal Style Cheeseburger Sliders from Foodness Gracious << neeeeed!
We are a participant in the Amazon Services LLC Associates Program, an affiliate advertising program designed to provide a means for us to earn fees by linking to Amazon.com and affiliated sites.