Caramel Nougat Pecan Rolls
The sweetest vanilla nougat, wrapped up in soft buttery caramel, with a layer of pecans on the outside to make a perfect candy log. This is Christmas at it's finest! Perfect for host or neighbor gifts. 
So how was everyone's Thanksgiving?? My turkey was raw. No, I'm not kidding. You think I'm joking when I call myself a charlatan? RAW TURKEY PEOPLE. First time hosting.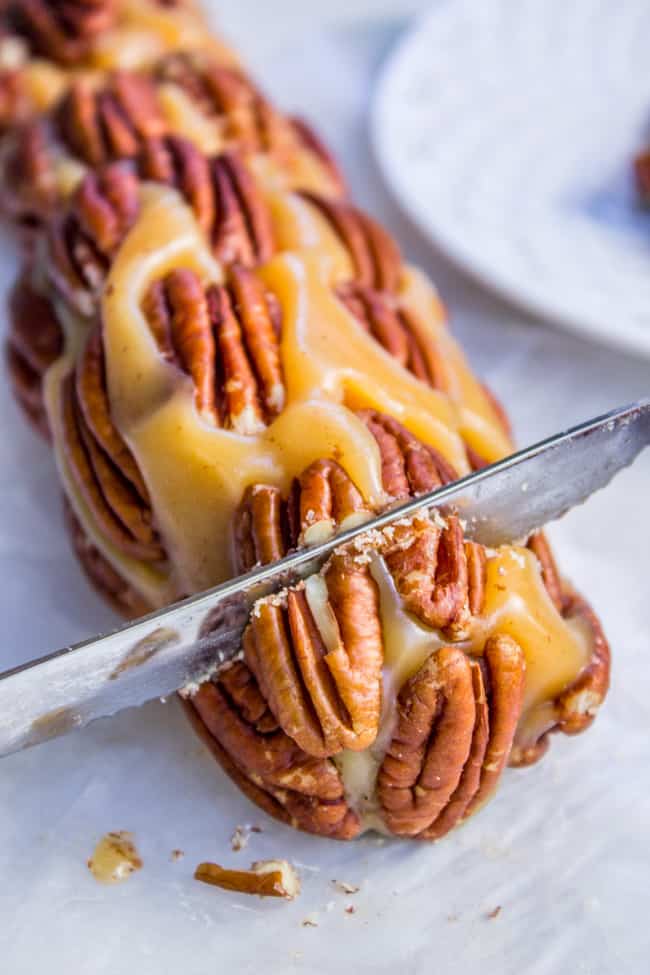 I can laugh about it now. I was not laughing on Thursday. (It was still really tasty, btw. Hard to go wrong with Sage Butter Turkey…even if you have to wait a little longer for it.)
But now that we've got Thanksgiving out of the way (sorry Thanksgiving) it's time for CHRISTMAS!!! Specifically Christmas in the form of this Pecan Log.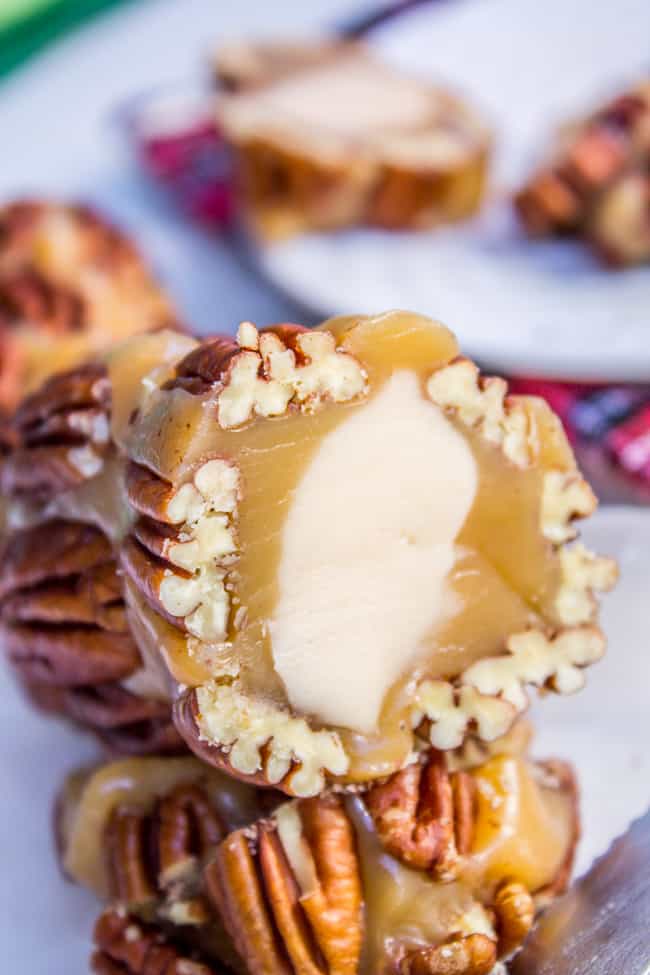 Guys. I have been waiting for this recipe for years. My cousin's wife (hi Emily!!) makes these Pecan Rolls every year as gifts and I EAT THE WHOLE THING. Every year. Eric gets maybe one slice (forget the kids) and I eat the rest. It is SO GOOD.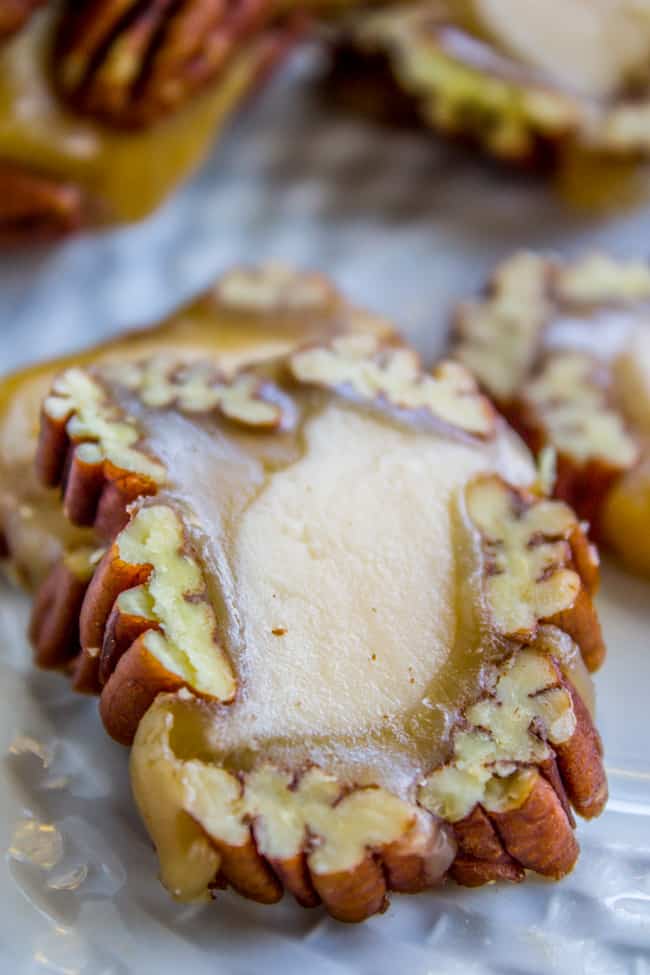 Let's get one thing straight, I am not a candy maker. (RAW TURKEY, PEOPLE.) Candy making is not for the faint of heart, I know. I've never even attempted it, besides the occasional caramel sauce. But I did it! And you can too! You must! It's so good.
First you make the nougat. It is the best part. It is creamy and rich and vanilla-y and a little bit grainy but not in a weird way. Then you let that chill while you make the caramel. Then wrap the caramel around the nougat (it takes some practice but it's really not bad. I took pictures for you! (below the recipe) There is still caramel on my camera. You're welcome.) Then you place pecans on the outside and chill for a bit, then slice and eat!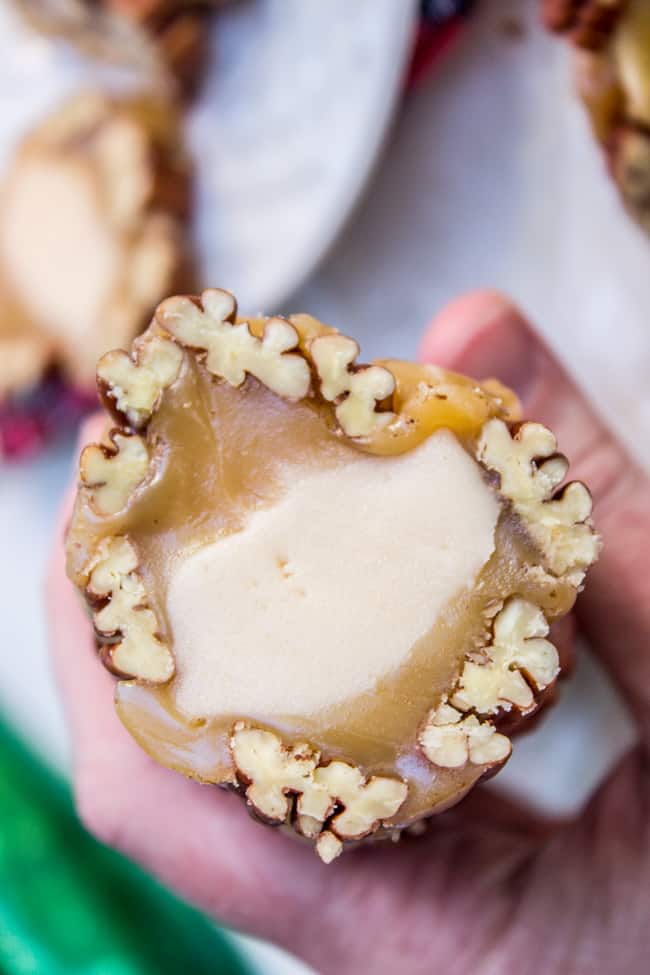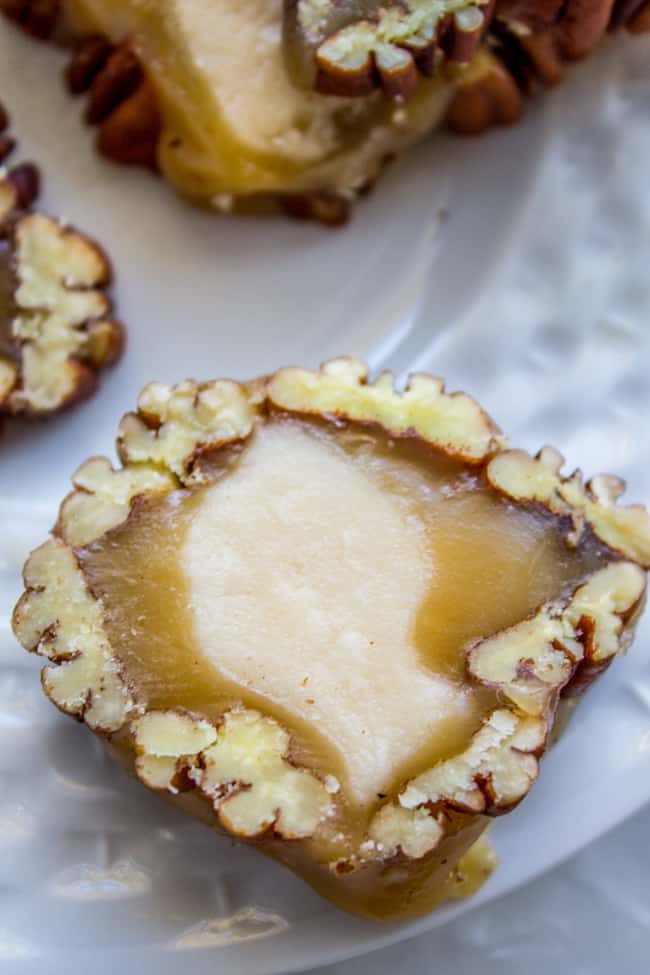 I know what you're thinking. Ain't nobody got time for that. And it's certainly not an every day treat (like these 30-minute Almond Roca Bars, or these 2-Ingredient Nutella Puffs) but if you can't spend an afternoon making candy  at Christmas time, then when can you? These keep great in the fridge or freezer, so you can make them well ahead of time. Mine are already in the freezer and I will gift them to my neighbors as the holidays get closer.
You have to tell me if you try this! Snap a quick photo and share on social using #thefoodcharlatan so I can see it!
Facebook | Pinterest | Instagram | Twitter


print
Did you make this recipe?
Leave a review »
Caramel Candy Pecan Roll
Makes 7 pecan rolls
adjust servings
Ingredients
For the nougat
1

stick (1/2 cup) butter, for greasing (plus more if necessary)

1

and 1/2 cups heavy cream

3

cups sugar

3

tablespoons corn syrup

1/4

teaspoon salt

3

tablespoons butter (from the stick you used to rub the pans)

1

and 1/2 teaspoons vanilla
For the caramel
1

cup heavy cream

1

stick (1/2 cup) butter

1

cup dark corn syrup

2

cups sugar

1

cup heavy cream

1

and 1/2 teaspoon vanilla

7-10

cup pecans, toasted if you like
Instructions
For the nougat:
Use 1 stick of butter to rub the bottom and sides of a heavy 3 quart saucepan, all the way to the top. Don't be stingy.
Use the same stick of butter to rub the bottom and sides of a 9x13 inch pan. Set aside the rest of the stick of butter, you will need it later.
Add 1 and 1/2 cups cream, 3 cups sugar, 3 tablespoons corn syrup, and 1/4 teaspoon salt to the buttered pan. Stir together over high heat. Attach your candy thermometer to the side of the pan, and make sure the bottom of it is not touching the pan.
Let the mixture boil until it reaches 238 degrees F. Once the mixture is at a steady rolling boil, you can turn the heat down to medium or medium high, but make sure it stays at a rolling boil. I stirred pretty frequently, but I asked Emily and she said she doesn't stir at all. The mixture will rise up to the top of the pan. I didn't time this part, but it was at least 10-15 minutes.
When the mixture reaches 238, pour it into the prepared 9x13 pan.
Let cool for a minute or two, then add 3 tablespoons of butter cut from the stick that you used to rub the pans.
Add 1 and 1/2 teaspoons vanilla and stir.
Cover and refrigerate until the nougat is hardened enough to be molded. Divide the mixture into 7 logs that are about 6 inches long. Continue refrigerating covered.
Meanwhile, make the caramel. Wash and dry the 3 quart heavy saucepan. If there is any butter left in the original stick that you used to grease the pans, use it to grease the pan again, all the way to the top. Grease a second 9x13 pan.
Combine 1 cup cream, 1 stick butter, 1 cup dark corn syrup, and 2 cups sugar.
Bring to a boil over high heat. Attach your candy thermometer and boil until it reaches 238 degrees F. (Again, I stirred, Emily doesn't). Once the mixture reaches a rolling boil, you can lower the temperature to medium or medium high, just make sure you maintain a rolling boil.
Measure out another cup of cream. Once it reaches the 238 mark, slowly pour in the cup of cream and stir.
Continue boiling over high or medium high heat until it reaches 238 degrees again.
Pour the mixture into the buttered 9x13 inch pan. Wait a minute or two, then stir in 1 and 1/2 teaspoons vanilla.
Let the caramel sit at room temperature until it is cool (or I suppose you could refrigerate it)
Use a spatula to slice the caramel into 7 strips. Work the caramel off the pan using a rubber spatula. Mold each strip of caramel around each nougat roll.
Press pecans into the sides of the roll and on the ends. I like to leave them whole, but you can chop them if you want. They are really delicious toasted too.
Wrap each roll in wax paper and secure with scotch tape. Roll in cellophane and tape. Tie the ends with ribbons.
Store the rolls in the refrigerator. Let them sit out for about 10 minutes before slicing with a sharp serrated knife.
If you are going to freeze or refrigerate for an extended period of time, store the wrapped rolls in a ziplock bag.
by The Food Charlatan

If you make this recipe,
share it on Instagram
 using the hashtag
#TheFoodCharlatan
so I can see it!
Source: This recipe is from my cousin Emily's mom.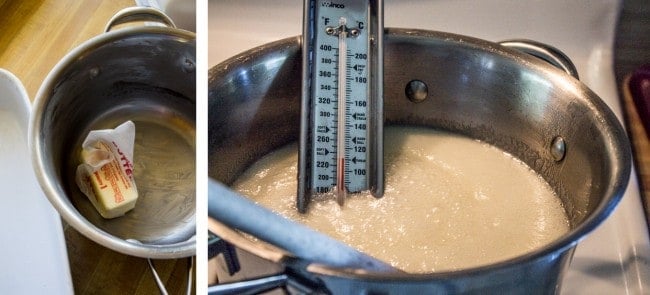 Butter that pan really well. And make sure you use a good candy thermometer.

This is the nougat layer. It will start out thin but get thicker as it cools.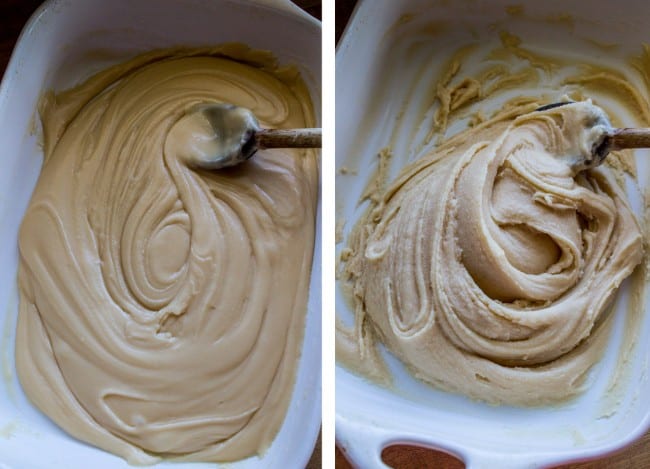 When it is cool enough to work it with your fingers, form it into 7 logs about 5-6 inches in length.


Here is the caramel layer. When it is cool enough that you can make cuts, slice into 7 strips.(I know there are only 6 here, I forgot the first photo).

The caramel is pretty sticky at room temperature.


Shape it into a log, line it with pecans, then wrap it in wax paper and tape it shut.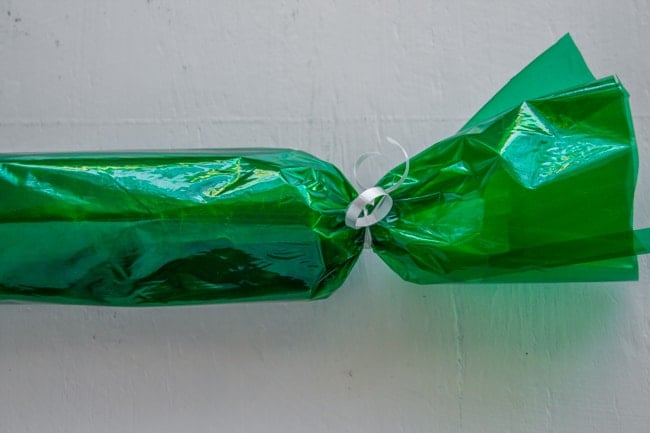 Wrap it in cellophane and tie the ends! You will be everyone's favorite neighbor this year.
Here are some other neighbor gift ideas!
Cinnamon Honey Butter: <<this is a HUGE reader favorite! 4 ingredients and done in 5 minutes!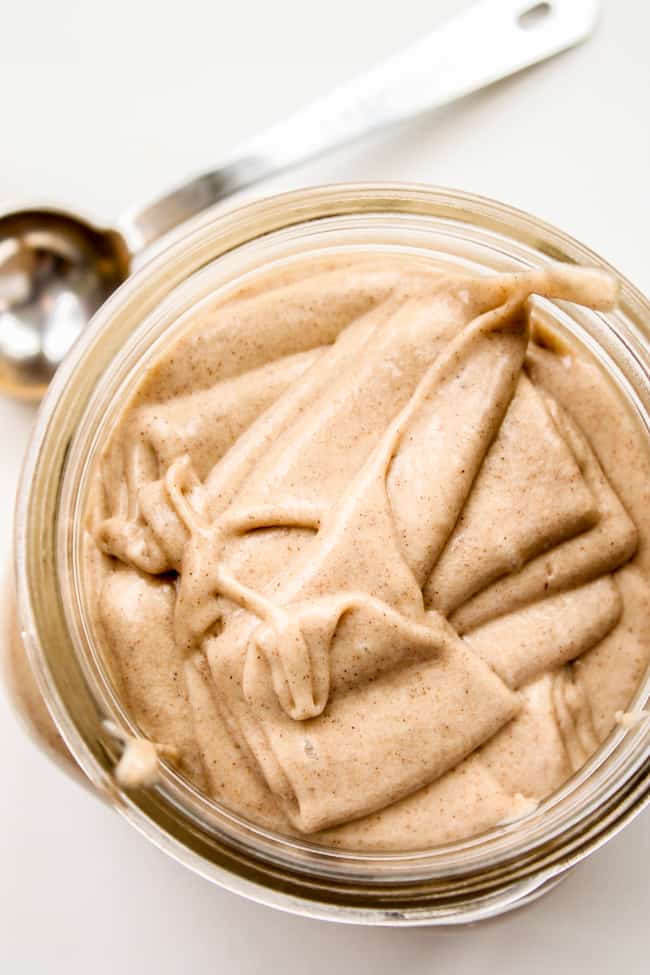 The Best Lemon Curd << no one can say no to this :)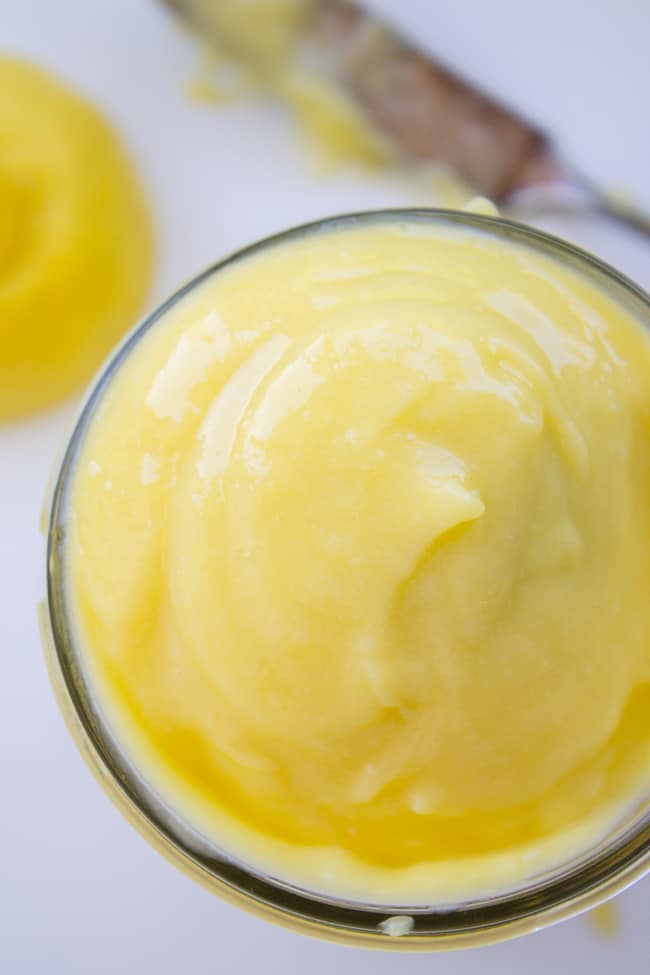 Easy Sugared Cranberries: << these are so festive!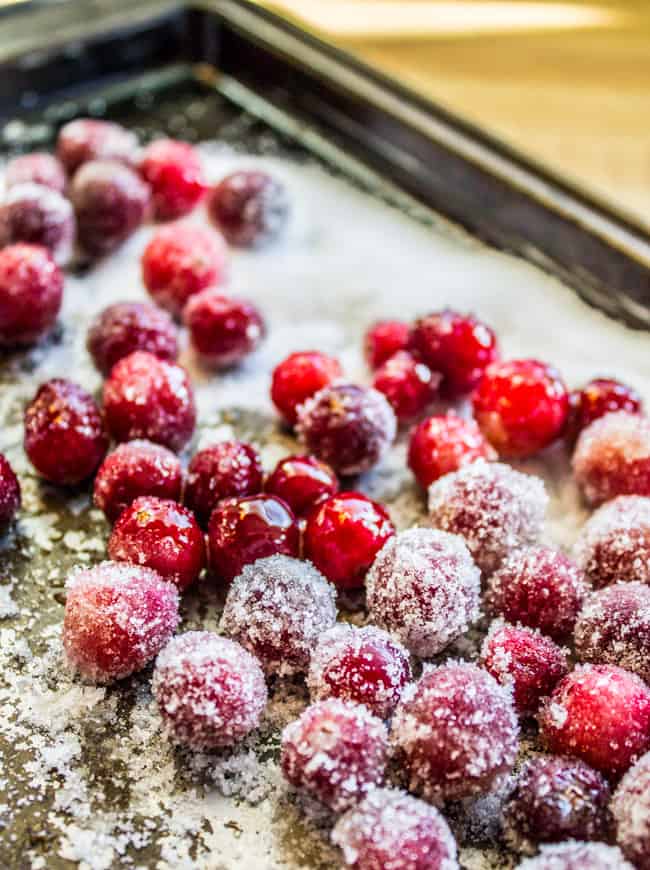 Mint Chocolate Chip Cookies << If you are going to gift cookies, make these ones!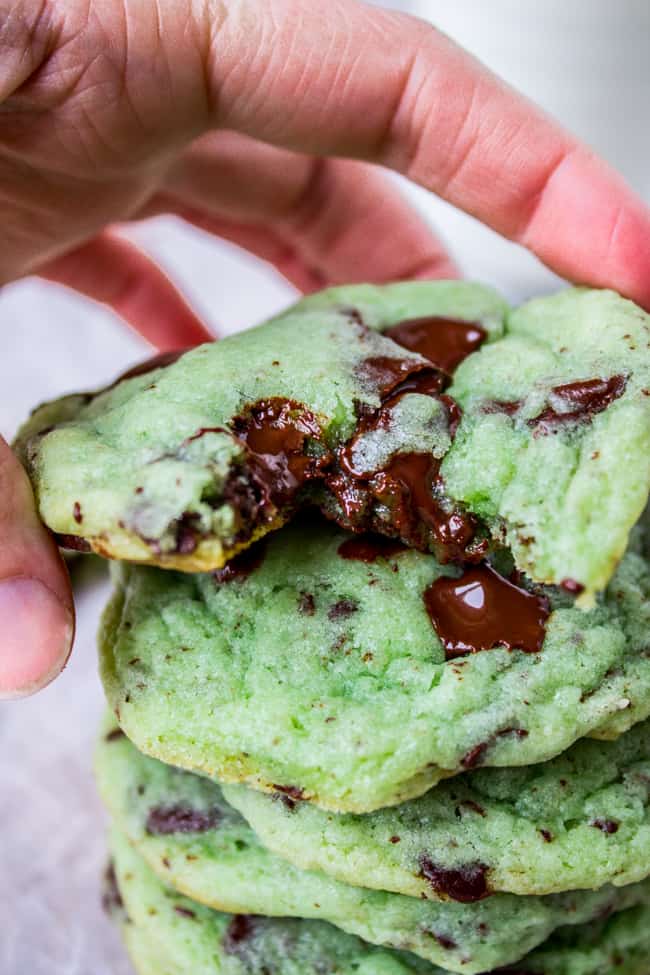 Maple Pecan Granola with Cherries << a not-so-sweet gift idea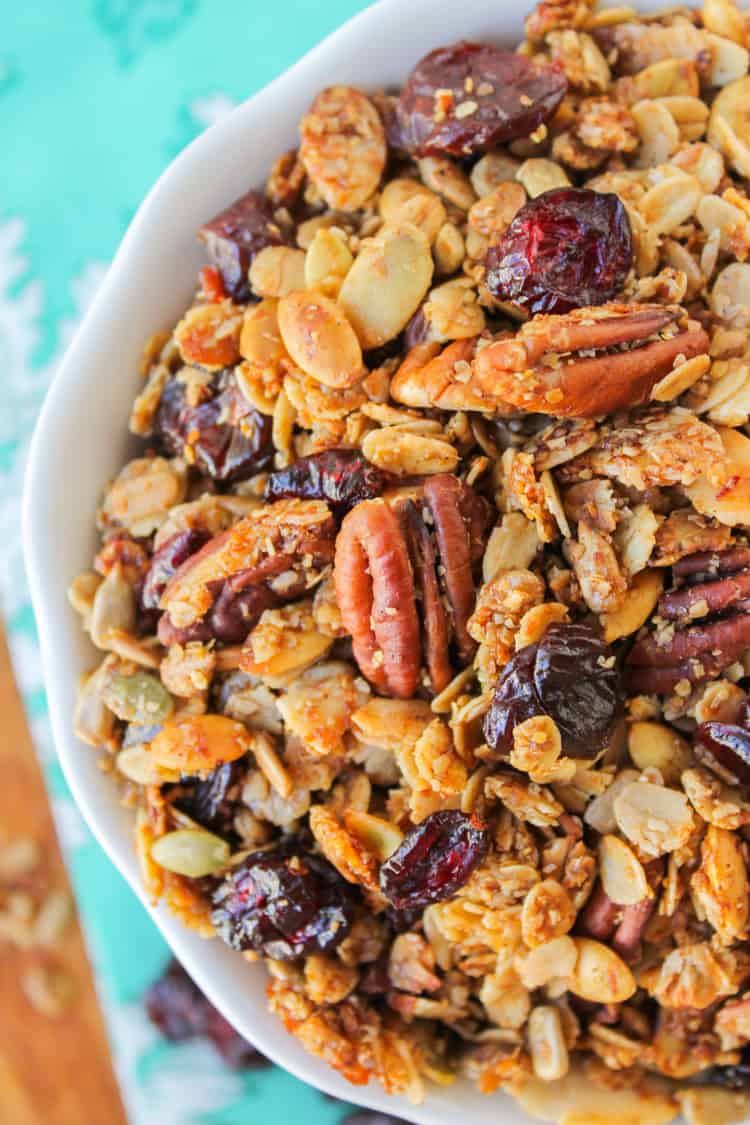 Maple Bacon Fat Caramels from Snixy Kitchen
Crockpot Candy from Fake Ginger
Praline Crack from Cookies and Cups
We are a participant in the Amazon Services LLC Associates Program, an affiliate advertising program designed to provide a means for us to earn fees by linking to Amazon.com and affiliated sites.