These Pumpkin Cinnamon Streusel Pancakes are deliciously decadent. First, there's pumpkin to give the pancakes a different flavor. Then you add the cinnamon streusel for something entirely different with a little crunch. Try it for a deliciously sweet breakfast treat!
My husband has a slight obsession with waffles.  I think that man could eat waffles 3 times a day and be happy.  I didn't grow up eating waffles, so while I certainly like them, they don't have the same nostalgic feel for me.  I really like pancakes, but whenever I suggest that we make them instead of waffles I get this look, like, Are you crazy?
But when I found this recipe I knew even Eric wouldn't be able to complain.  I mean, pancakes are already a pretty decadent breakfast, with all the butter and syrup.  But pancakes with cinnamon streusel??  Why didn't I think of that?  I shouldn't need to tell you this, but these are pretty rich. After I took this picture I started digging in and managed to finish half.  I gave the rest to Eric and he couldn't even get through all of it.
This recipe has pumpkin in it but the original doesn't.  So you could slowly clog your arteries all year long!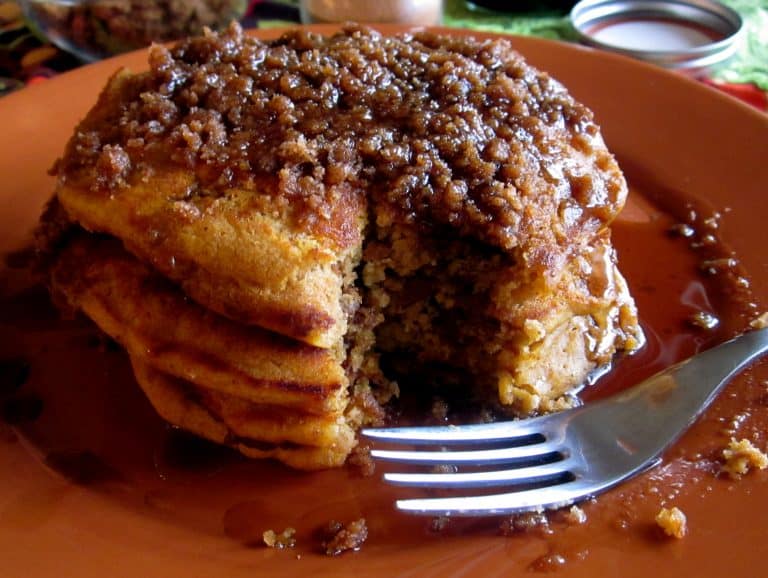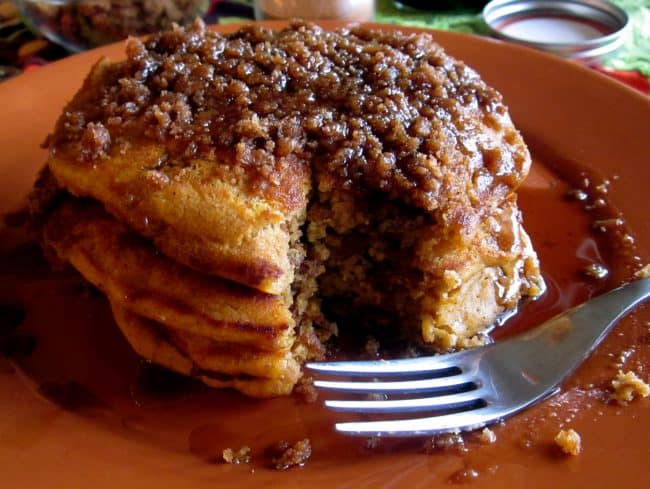 Pumpkin Cinnamon Streusel Pancakes
Source: Two Peas and Their Pod
Pancakes:
3/4 cup all-purpose flour
1/2 cup whole wheat flour (I used white wheat flour)
2 tablespoons light brown sugar (I used dark)
2 teaspoons baking powder
1/4 teaspoon salt
1 teaspoon ground cinnamon
1/4 teaspoon nutmeg
1/8 teaspoon ground ginger
1/8 teaspoon ground cloves
1 cup milk
1/2 cup canned pumpkin (not pumpkin pie filling)
1 large egg
2 tablespoons canola oil
1 teaspoon vanilla extract
Streusel:
1/2 cup all-purpose flour
1/2 cup brown sugar, packed
1 teaspoon ground cinnamon
6 tablespoons cold unsalted butter, cut into chunks
Make the cinnamon streusel. In a medium bowl, combine flour, brown sugar, cinnamon, and butter. Mix together with your hands or a fork, until you have a crumbly mixture. Set aside.
In a large bowl, whisk together flours, brown sugar, baking powder, salt, cinnamon, nutmeg, ginger, and cloves. Set aside.
In a medium bowl, whisk together milk, egg, pumpkin, canola oil, and vanilla extract. Add wet ingredients to the flour mixture and whisk until combined.
Heat a griddle or pan to medium low. Coat with cooking spray. Drop 1/3 cup of batter onto heated skillet. Add 2 tablespoons of the cinnamon streusel. Cook on the first side until bubbles begin to form, about 2-3 minutes. Carefully flip pancake over and cover very generously with cinnamon streusel. Cook for another 2-3 minutes or until golden brown. Continue this process to make the rest of the pancakes.
More great breakfast recipes:
The Best Pancakes I've Ever Made << These are my go to classic!
Cream Cheese French Toast Casserole << Another decadent morning delight
Classic Waffle Recipe << It's the whipped egg whites that make these the very best
The Fluffiest Homemade Cinnamon Rolls of Your Life << No lie. My mouth waters just thinking of these!
4 Ingredient Apple Cider Donuts << For a bit more of fall flavor
Quick & Easy Apple Fritters from Small Town Woman