Boiling the apple cider to reduce it before making these shakes is what makes it so rich and flavorful. Salted caramel puts it over the top!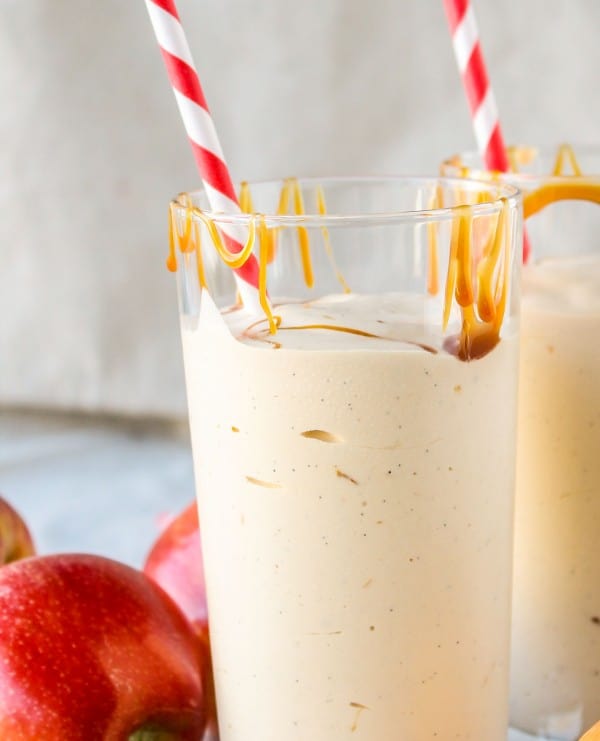 My milkshake brings all the boys to the yard…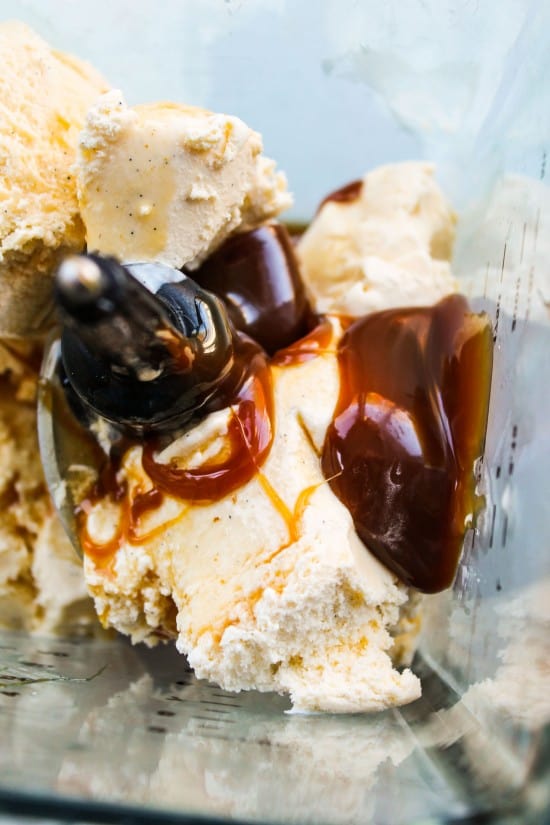 Actually, it's my sister-in-law Sandi's milkshake, not mine. She told me the other day that her 7-year-old son pointed to her chest and said, "Are you ever going to use those things again?"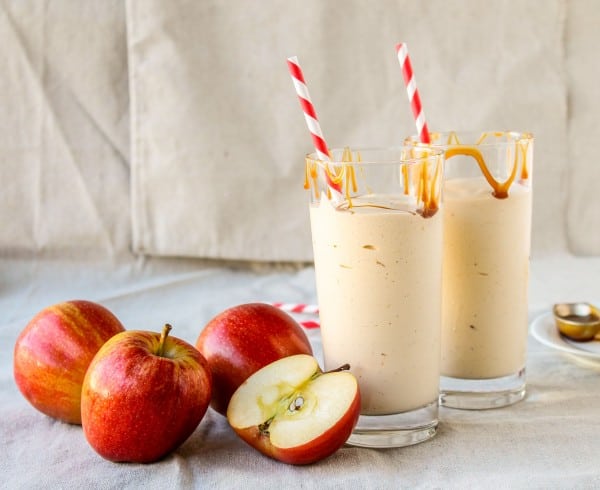 His little brother Eli hasn't nursed in a good 3 years. This kids got a long memory and a minimalist attitude apparently. Throw out that useless bosom, already, Mom. Geez.
Or maybe he's just confused about this whole breast concept. Years ago, he came up to his dad and said, "I found the things that hold the things that feed Eli," and held up his mom's bra.
Very astute, I must say.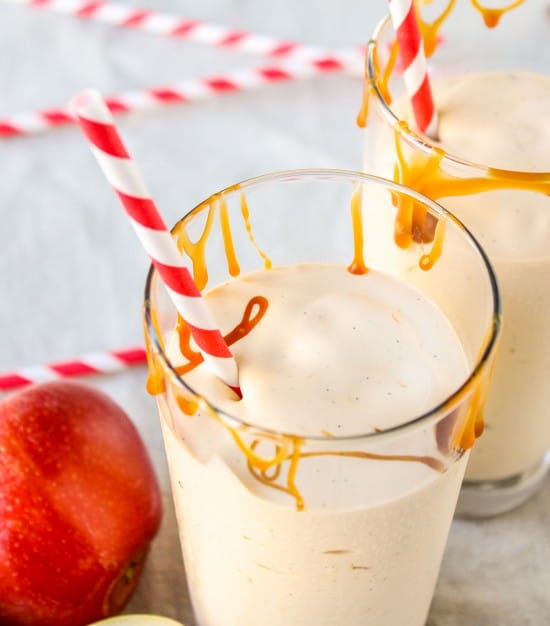 On Halloween we had a doughnut party. We made the Pioneer Woman's doughnuts and set up a glaze bar where people could top their own. We had chocolate, nutella, vanilla, and apple cider. The apple cider glaze stole the show, if you ask me. It was just reduced apple cider whisked with powdered sugar. It was out of control good, I wanted to drink the stuff.
Then a few weeks later Eric saw some spiced cider in the fridge and said he wanted to make a shake with it. (My husband is addicted to milkshakes. Like really. He probably makes them 3 times a week.) So I told him to reduce the apple cider first…and this shake was born.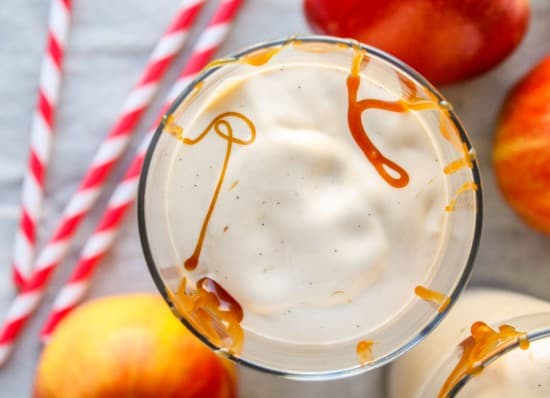 It is pretty incredible. The flavor is so concentrated that you get all the apple-cidery goodness without watering down your shake. The salted caramel just puts it over the top. I've tried it with and without the caramel, and I like it both ways, so if you're not feeling the caramel or don't have any, leave it out no prob.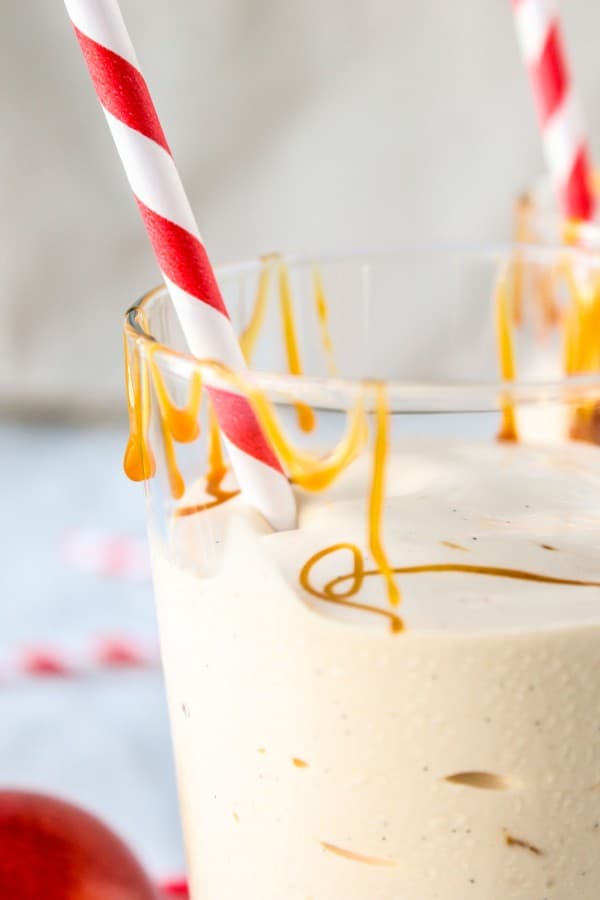 Oh, and I don't care that it's record-breaking cold in your town right now. Man up. It's never too cold for shakes.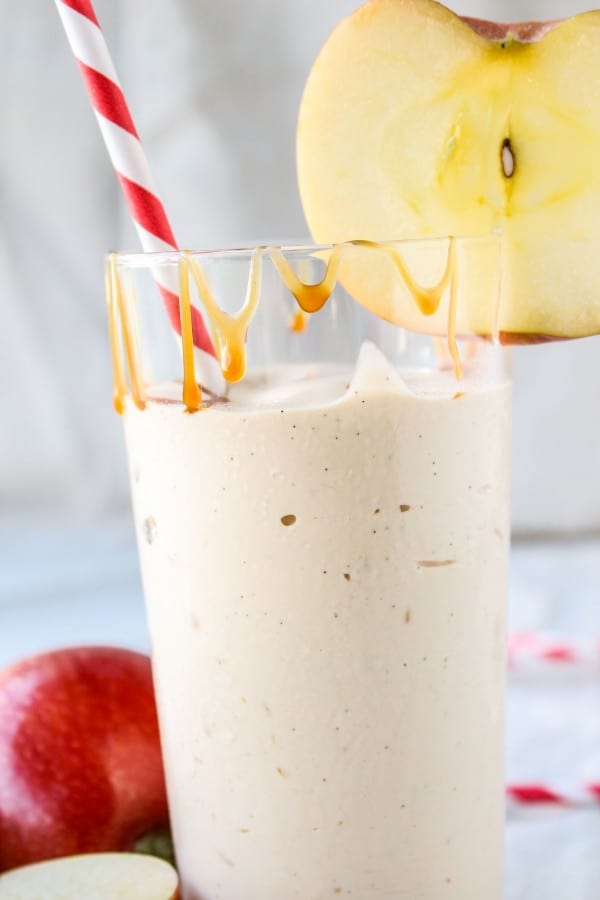 P.S. I just added Pin it buttons to all my photos, so now you can easily pin whichever photo you want. Woohoo!

Caramel Apple Cider Reduction Shakes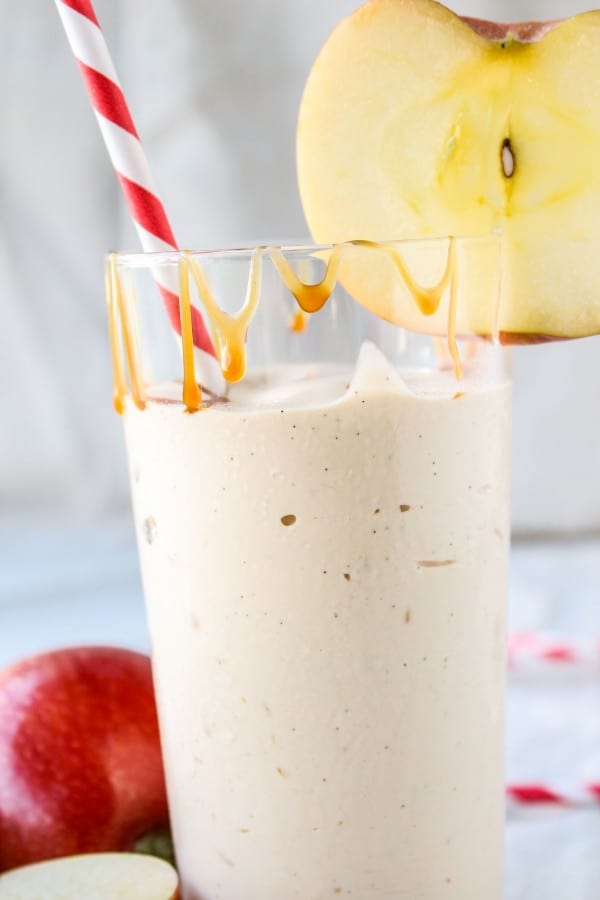 Boiling the apple cider to reduce it before making these shakes is what makes it so rich and flavorful. Salted caramel puts it over the top! 
Ingredients
2

cups

spiced apple cider

2

cups

vanilla ice cream

2

tablespoons

salted caramel sauce

,

or to taste
Instructions
Add 2 cups of spiced apple cider to a saucepan and turn the heat to high. Boil until it has reduced to about 1/2 cup of liquid, stirring occasionally. In a large saucepan, this took almost exactly 15 minutes. In a small saucepan, it took more like a half hour.

Transfer to a container and chill completely. You can freeze for one hour, or stick it in the fridge for 2-3 hours.

Add 2 cups of vanilla ice cream to a blender. Add the reduced cider. Add 2 tablespoons caramel sauce. Blend until smooth. Add more regular apple cider if it is too thick, or more ice cream if it's too thin.

Serve with additional caramel drizzled on top.
Notes
The deliciousness of this shake depends a great deal on the quality of the ingredients. I mean, there are only 3. Buy the good stuff.
Source: The Food Charlatan
Nutrition
Serving:
1
cup
|
Calories:
432
kcal
|
Carbohydrates:
71
g
|
Protein:
5
g
|
Fat:
15
g
|
Saturated Fat:
9
g
|
Polyunsaturated Fat:
1
g
|
Monounsaturated Fat:
4
g
|
Cholesterol:
58
mg
|
Sodium:
185
mg
|
Potassium:
518
mg
|
Fiber:
2
g
|
Sugar:
51
g
|
Vitamin A:
576
IU
|
Vitamin C:
3
mg
|
Calcium:
198
mg
|
Iron:
1
mg
Do you guys give up? Or are you thirsty for more?
Facebook | Pinterest | Twitter