3 Ingredient Roasted Potatoes with Crunchy Onions
These tender roasted potatoes and onions are done SO fast, because instead of adding a whole bunch of spices to make them delicious, you just dump on some onion soup mix and throw it in the oven. The dehydrated onions get all crunchy and glorious! Perfect side dish for Thanksgiving!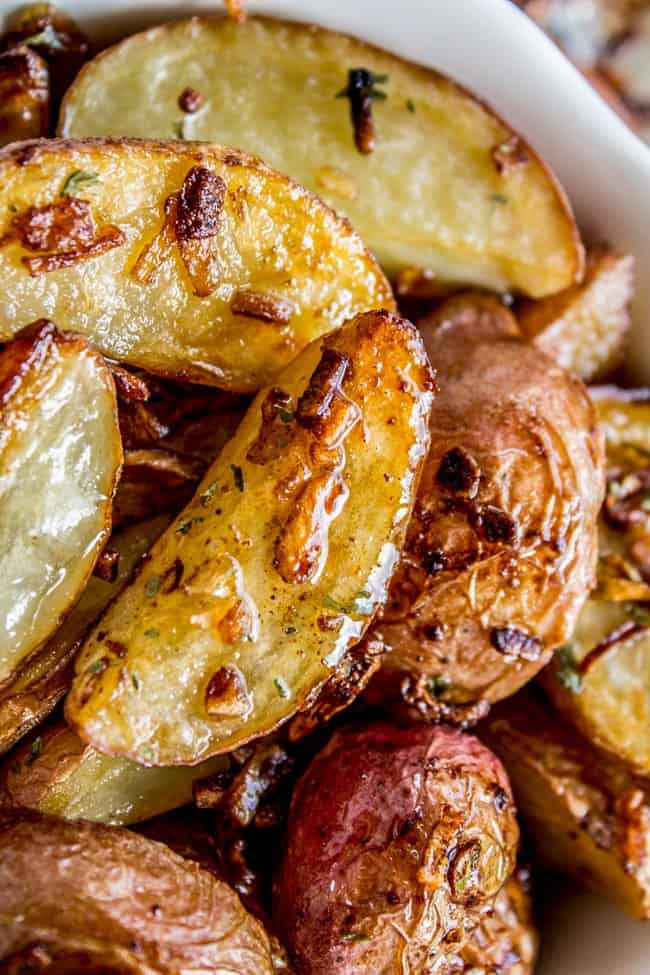 Originally posted October 28, 2016
What do you do when you can't fall asleep at night? Do you stay in bed? Read a book? Get up and do the dishes? Count sheep?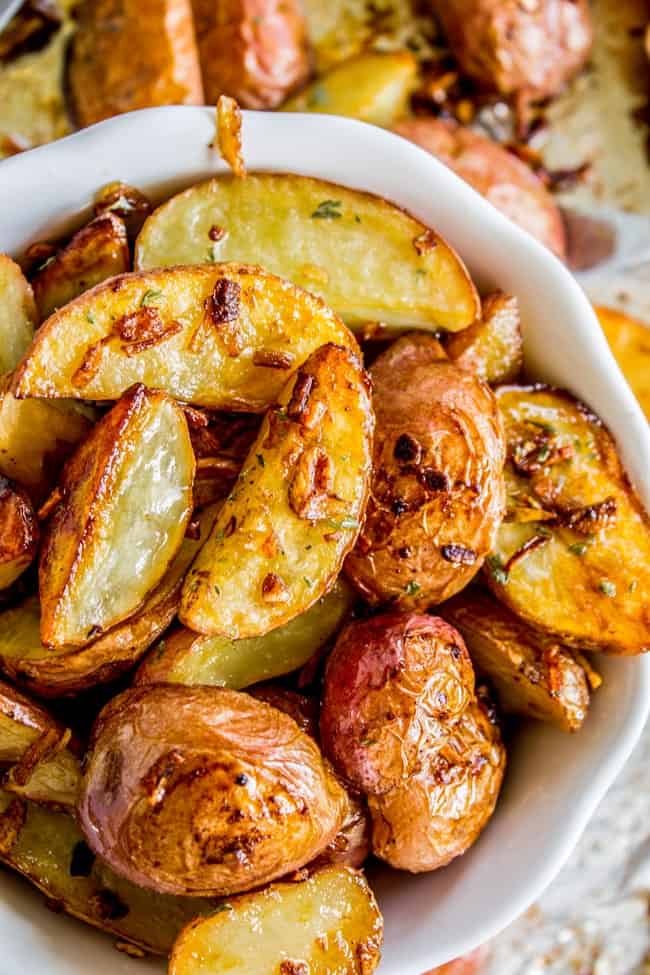 I'm one of those lucky people. I rarely have problems falling asleep. But last night at 3am I was awoken by a contraction and my muddled brain was CONVINCED I was going into labor. (one measly contraction people. ONE.) I could not shut my brain off. I decided October 27 was a great day to have a birthday. (ONE CONTRACTION.)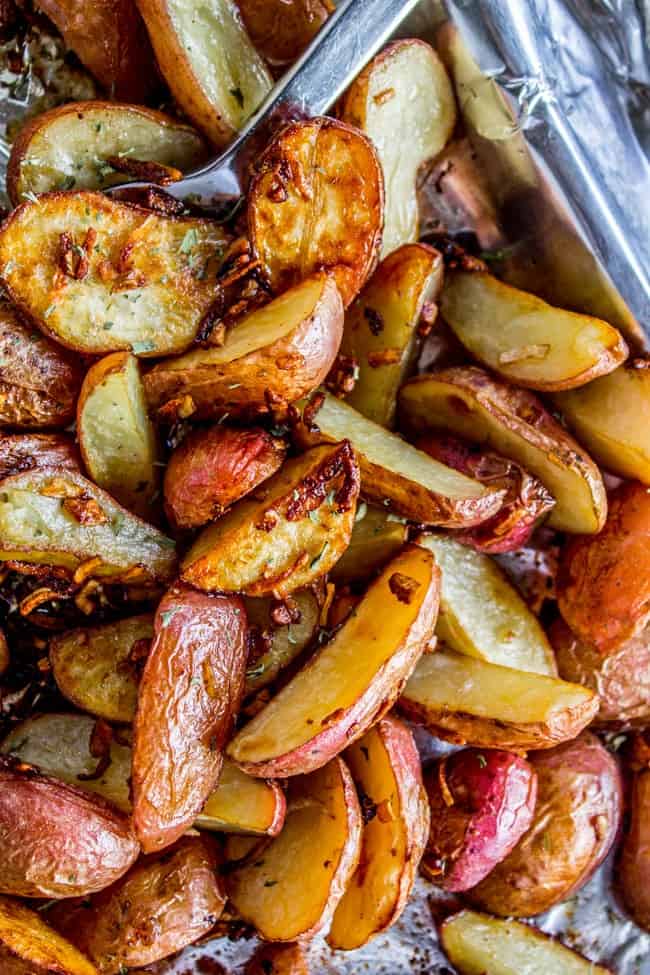 Eventually I decided I needed something to lull me to sleep and I picked Numbers. Numbers, like, Old Testament style. Did you know you can listen to the scriptures on the LDS Library app? Even if you're not Mormon you should check it out, it's pretty nice to be able to listen to the Bible (King James version) whenever you want. It's free.
It did work eventually, but it took me 18 chapters, drifting in and out. I still don't have a baby, by the way, in case you were wondering.
How to make Roasted Potatoes and Onions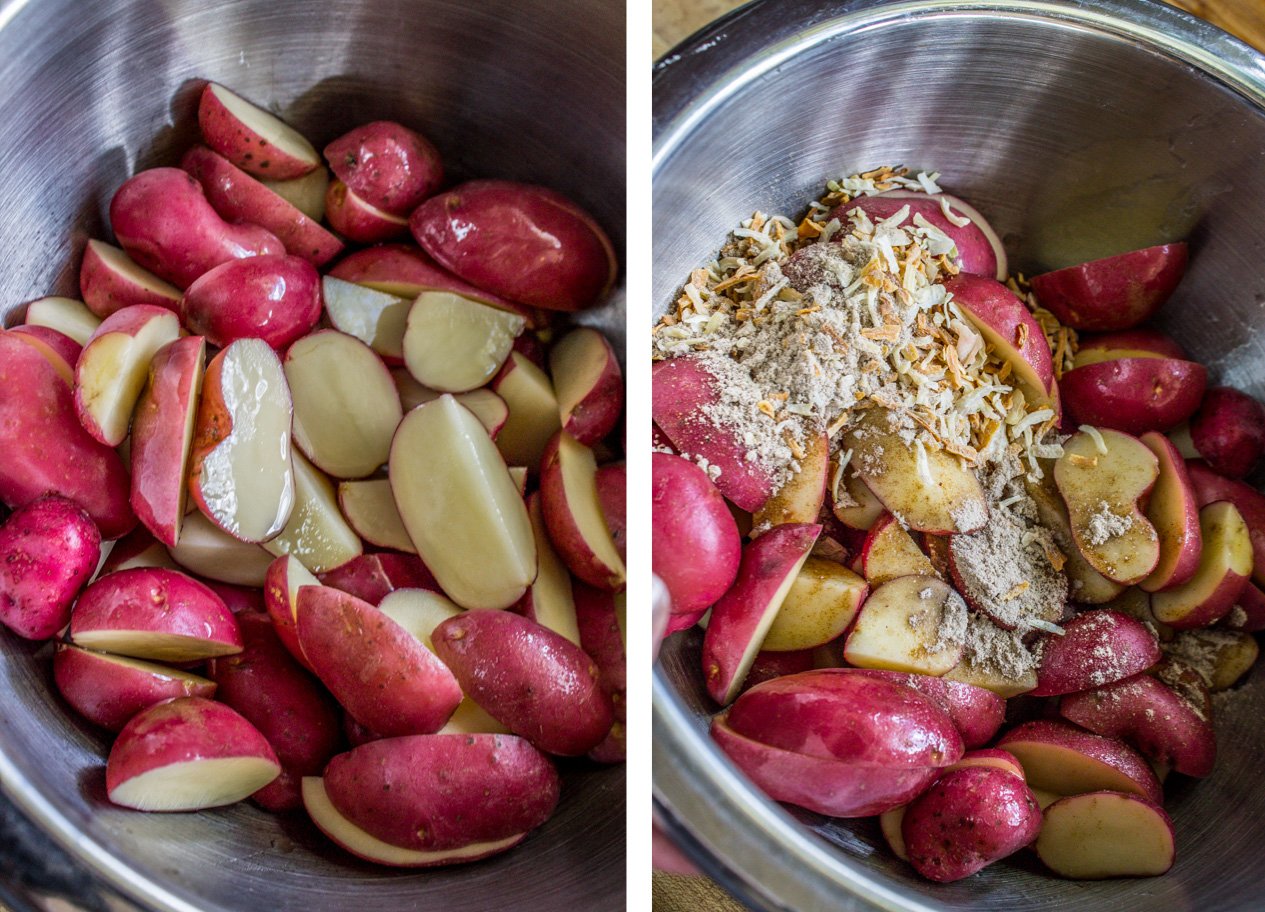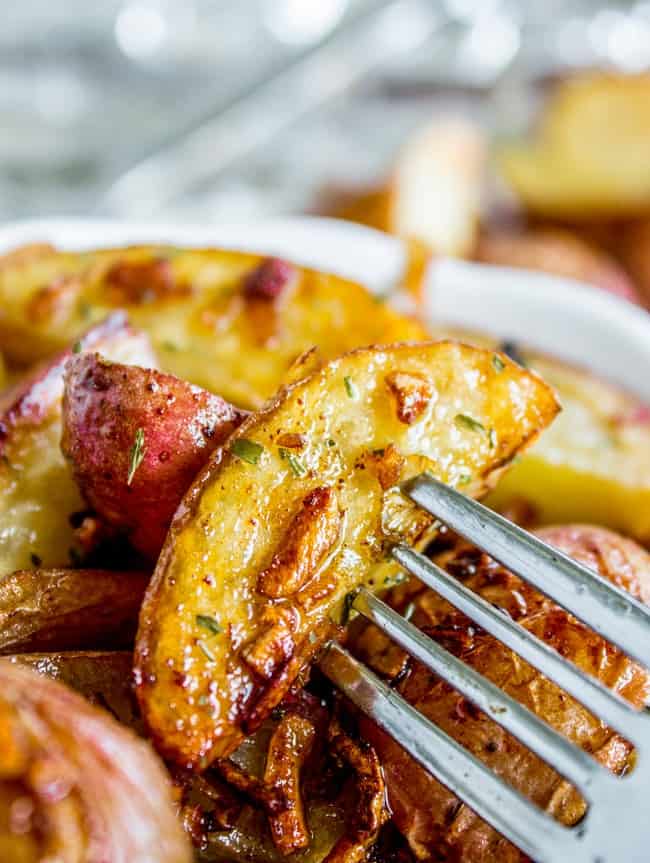 Last year we visited Eric's Aunt Linda, who is a fabulous cook. (She's my legendary mother-in-law's sister, so I think it's in their blood.) She made us these roasted potatoes and onions and I think I was that awkward house guest who's still eating dinner's side dish with my fingers during dessert time. (Sorry I'm such a gross guest, Linda.)
I begged the recipe off her, and she told me how she made it: tiny potatoes, oil, and a Lipton onion soup mix. Genius!! It is so good. The dehydrated onions get all crisp and crunchy. It is the perfect (easy!) side dish for Thanksgiving this year!
Thanksgiving is just around the corner! Check out my Thanksgiving Board on Pinterest for more menu ideas.
Facebook | Pinterest | Instagram | Twitter
1 year ago: Oven-Roasted Cranberry-Dijon Glazed Ham
3 years ago: Buttery Sweet Potato Rolls
6 years ago: Turkey Stock from the Bones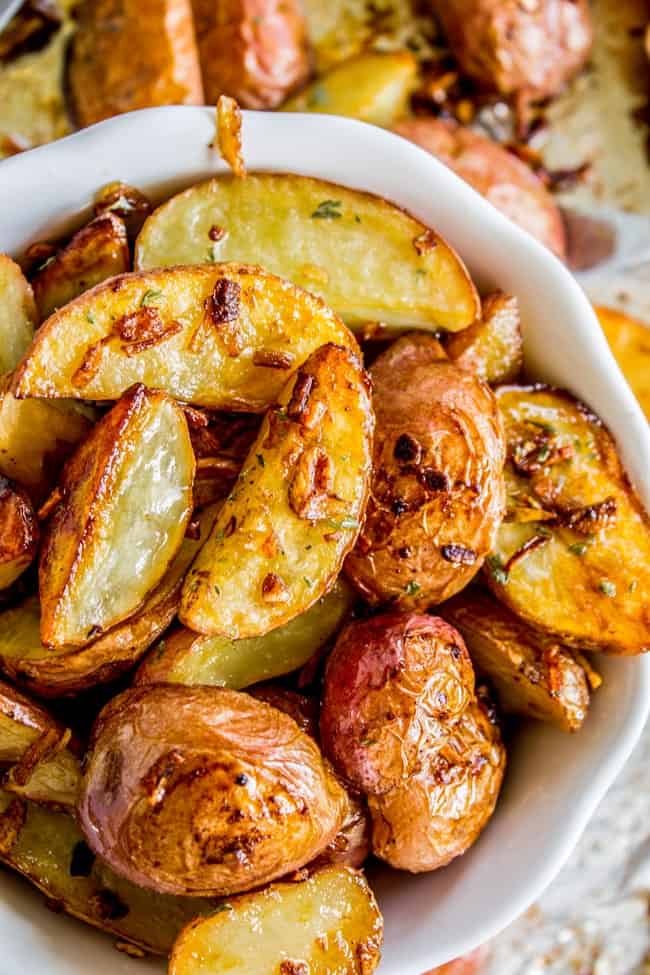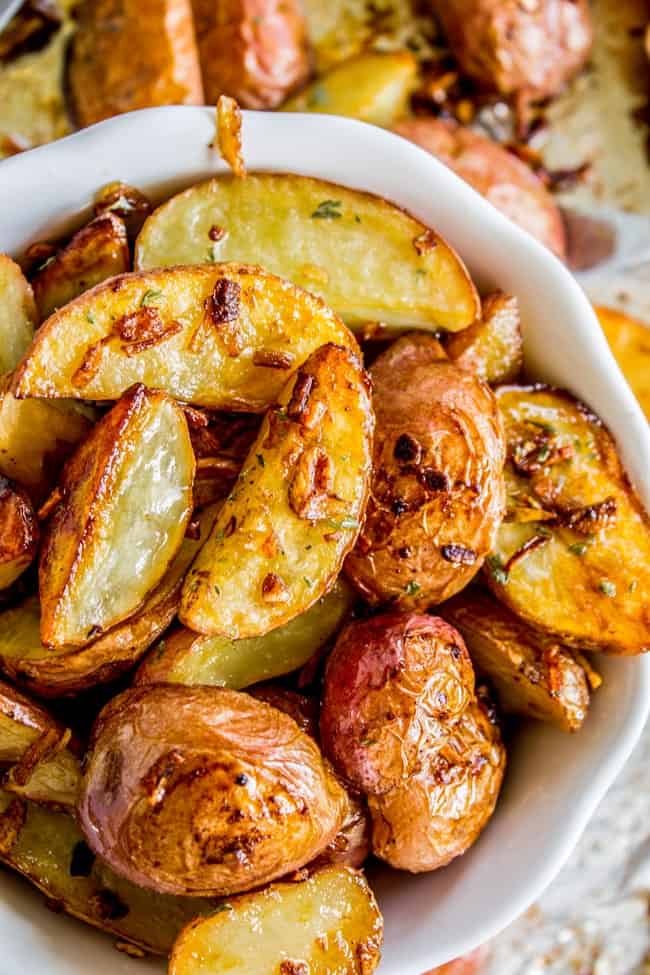 print
Did you make this recipe?
Leave a review »
3 Ingredient Roasted Potatoes with Crunchy Onions
Serves 5-6
adjust servings
Ingredients
2

pounds baby red potatoes*

1/3

cup olive oil

1

(1 ounce) package Lipton onion soup mix (dry)
Instructions
Preheat your oven to 400 degrees F.
Slice the potatoes in half or quarters. Just make sure they are all about the same size.
Add the potatoes to a medium bowl.
Add the oil and soup mix and stir.
Line a large baking sheet with aluminum foil and spray with nonstick spray.**
Roast in the preheated oven for 20-25 minutes, turning the potatoes halfway through. Take them out when they are fork tender.
Serve hot!
by The Food Charlatan

If you make this recipe,
share it on Instagram
 using the hashtag
#TheFoodCharlatan
so I can see it!
Here are some other potato/side recipes you might like for Thanksgiving!
Gruyere Crisped Potatoes Au Gratin: The creamiest, cheesiest potatoes!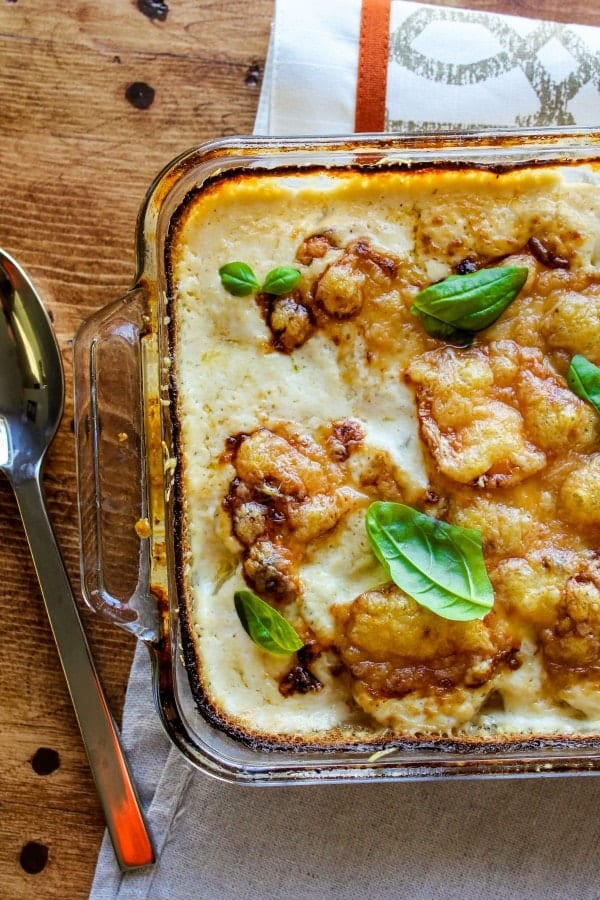 Brown Butter Mashed Potatoes << forget the gravy. Embrace the brown butter.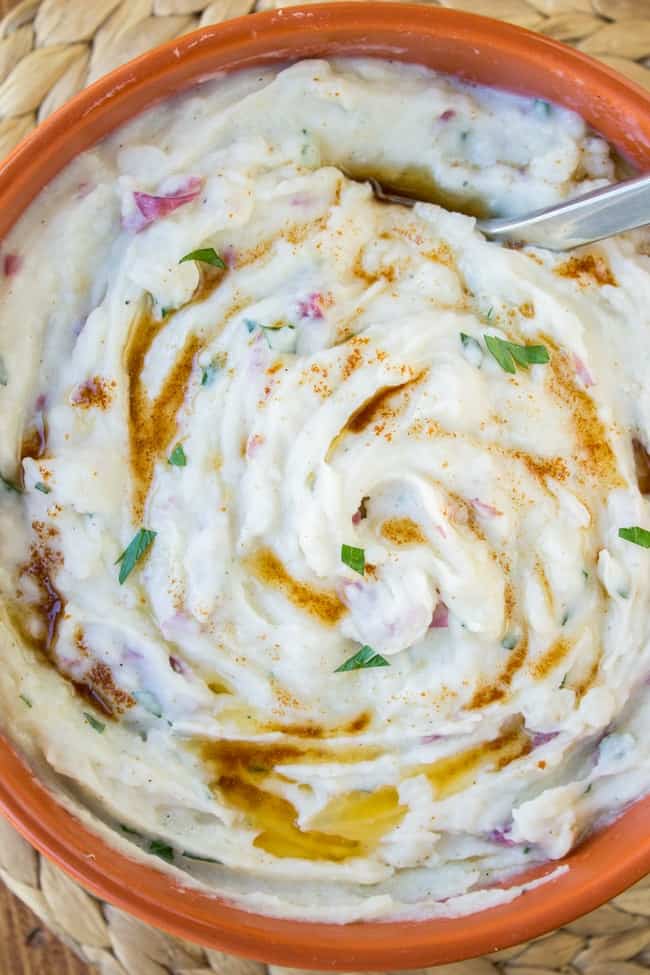 Roasted Sweet Potatoes and Brussels Sprouts: one of the most popular recipes on my blog!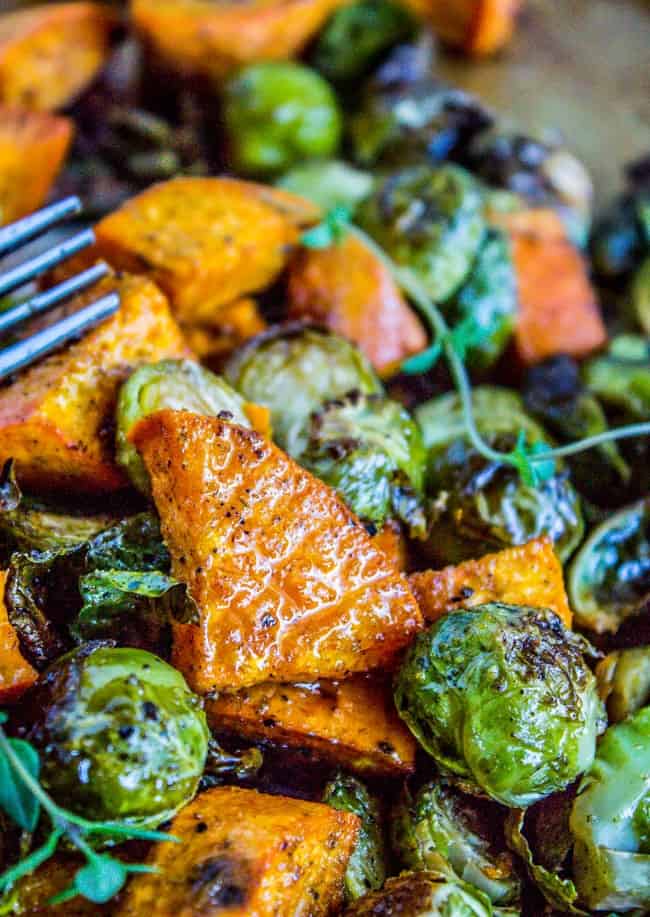 More potato recipes from a few other bloggers!
Parmesan Roasted Potatoes from What's Gaby Cooking
Lemon Cilantro Roasted Potatoes from A Cedar Spoon
Roasted Potato Side Dish Recipe from Wonky Wonderful
We are a participant in the Amazon Services LLC Associates Program, an affiliate advertising program designed to provide a means for us to earn fees by linking to Amazon.com and affiliated sites.